Key Points:
There are five simple steps to SOC compliance before an audit, to create administrative policies, set technical security controls, anomaly reports, detailed audit trails, and make forensic data actionable.
Learn everything you need to know about SOC 2 compliance, understand the importance, preparation guide, and readiness assessment in the compliance checklist before performing the audit.
Introduction
Cybersecurity is an important issue in all organizations, especially since there were approximately 3.1 million external attacks on cloud accounts throughout 2020.
Enterprises are commonly subjected to cyberattacks like malware, phishing, and DDoS attacks. Thus, enterprise customers require SaaS and cloud computing vendors to undergo SOC 2 audits to assess their internal security controls.
Since a SOC 2 audit takes some time to complete, having a SOC 2 compliance checklist handy helps service providers prepare for the audit.
What is SOC 2?
The American Institute of Certified Public Accountants (AICPA) created the SOC 2 framework (System and Organization Controls) in response to growing concerns over data security and privacy.
SOC 2 is an independent auditing procedure that ensures that service providers handle sensitive client data securely on the cloud and maintain its privacy.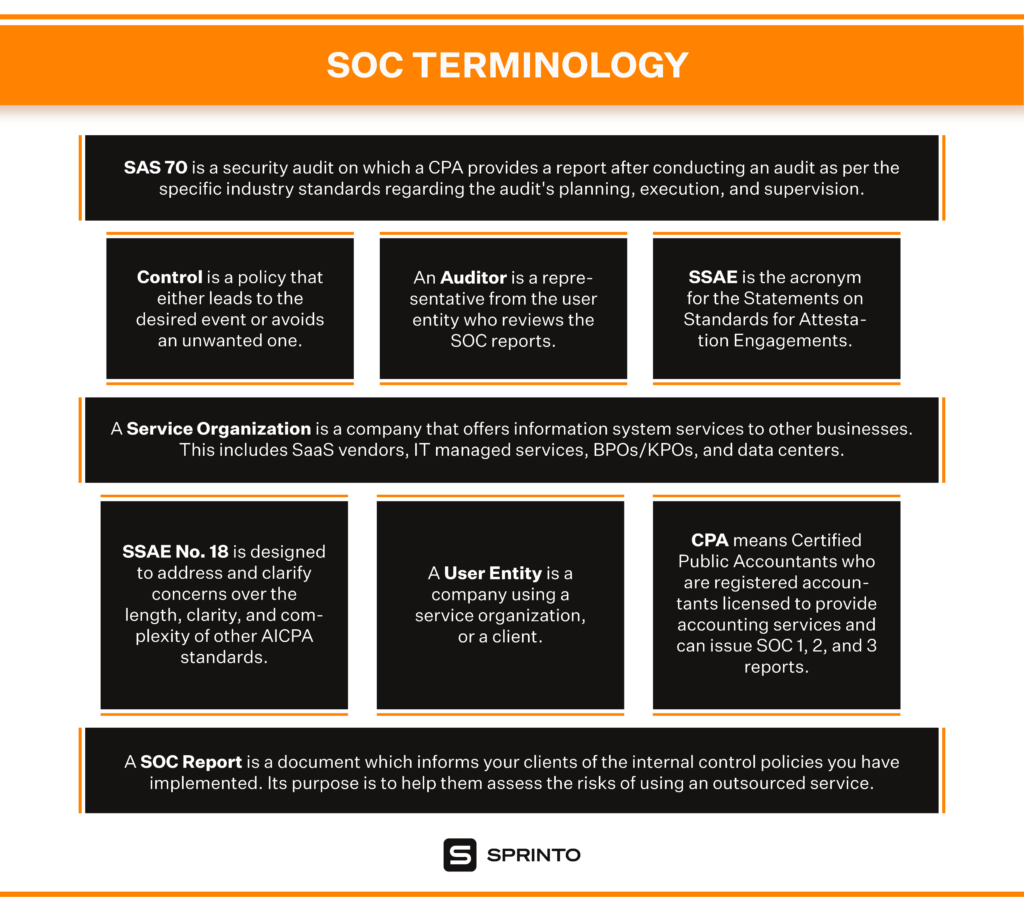 Why Is SOC 2 Compliance Important?
Technology service providers or SaaS companies that manage customer data in the cloud should be SOC 2 compliant.
Most enterprise organizations require SOC 2 compliance as part of the SaaS vendor vetting process. If selected by the enterprise, the vendors have to perform a SOC 2 audit annually.
Even though it is not a legal requirement, having a SOC 2 report signals that the service provider is trustworthy. It assures enterprise clients that their data will be securely stored on the cloud and gives vendors a competitive advantage.
Who Can Perform a SOC Audit?
Only independent CPAs (Certified Public Accountant) or CPA organizations can perform SOC 2 audits.
The AICPA specifies certain professional standards to which SOC auditors must adhere. It also sets out certain guidelines for planning, executing, and supervising SOC audits. AICPA members undergo peer review to ensure that their audits are being performed as per given standards.
SOC 2 Security Criterion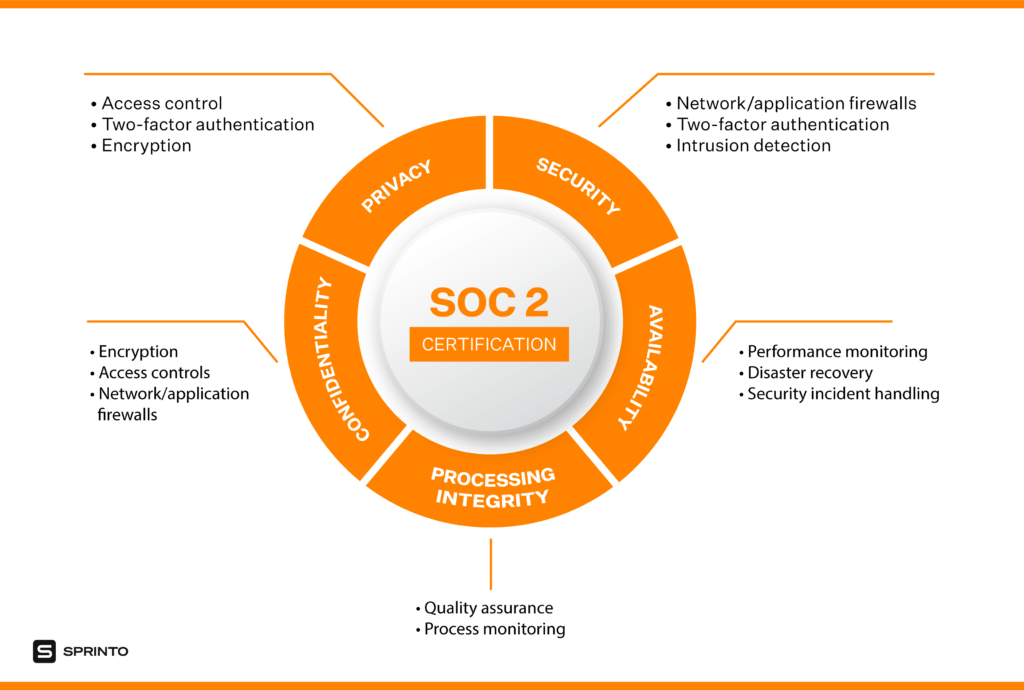 The AICPA Assurance Services Executive Committee (ASEC) developed five Trust Service Criteria (TSC), which are the basic elements of security.
Security
The audited organization should protect information and systems against unauthorized use, access, or modification—both physically and logically.
Some examples of security controls are:
Access Controls
Intrusion Detection Systems
Anti-virus/malware
Firewalls
Security is also known as "common criteria."
Security availability
Information and systems should be available for use and operation to meet the organization's objectives.
Systems must maintain, evaluate, and monitor current capacity.
The organization should perform backups of data and undertake annual testing to ensure that backup data is complete.
There should be a plan for disaster recovery, including tools like incident response planning (IRP) and DDoS protection.
Processing Integrity
The organization should ensure error-free system processing and should detect errors on time and correct them. The inputs and outputs to the system should be accurate throughout processing and should not create false information or accidentally manipulate data.
Confidentiality
The organization should protect information designated as confidential to meet its objectives.
It should store sensitive data such as trade secrets and intellectual property correctly and protect personal data (personally identifiable data (PII) and protected health information(PHI) from exposure.
Encryptions at rest and during transit protect sensitive data.
Depending on the industry and type of data collected, organizations also have to document their process of erasing data.
Privacy
The confidentiality criterion applies to various types of sensitive information, whereas the privacy criterion applies only to personal information.
The privacy criterion ensures that organizations are able to track and manage the data they collect, determine who can access it, and decide which consent forms and disclosure requirements they need.
The privacy criteria are usually not included in a SOC 2 audit. Companies tend to focus their privacy efforts around HIPAA or EU regulations like GDPR.
SOC 2 Preparation Guide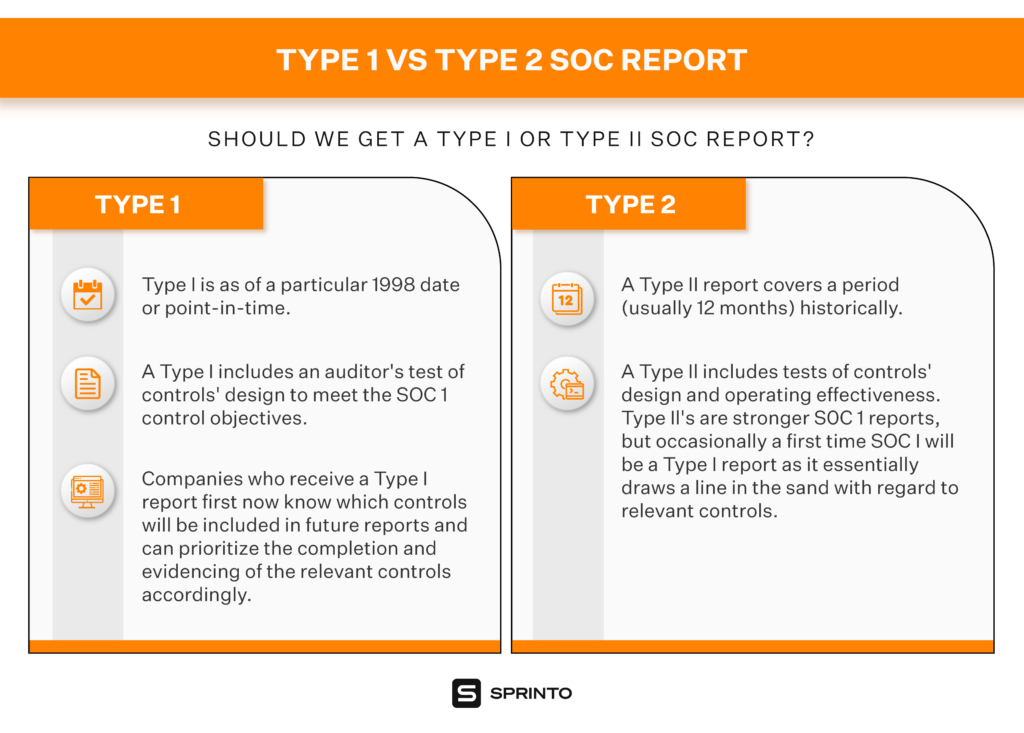 Service organizations may receive either of these SOC2 reports:
SOC 2 Type 1 report
It evaluates the design of security processes at a specific point in time. It can be generated quickly after the service provider completes a readiness assessment.
The audit costs less because the compliance posture of the provider can be determined with less data.
SOC 2 Type 2 report
It evaluates how effective the security controls are over a specified period. As compared to SOC 2 Type 1 reports, it provides a higher level of assurance and requires a larger financial investment and more time.
Service providers with Type 2 reports are more likely to bag contracts from large enterprises.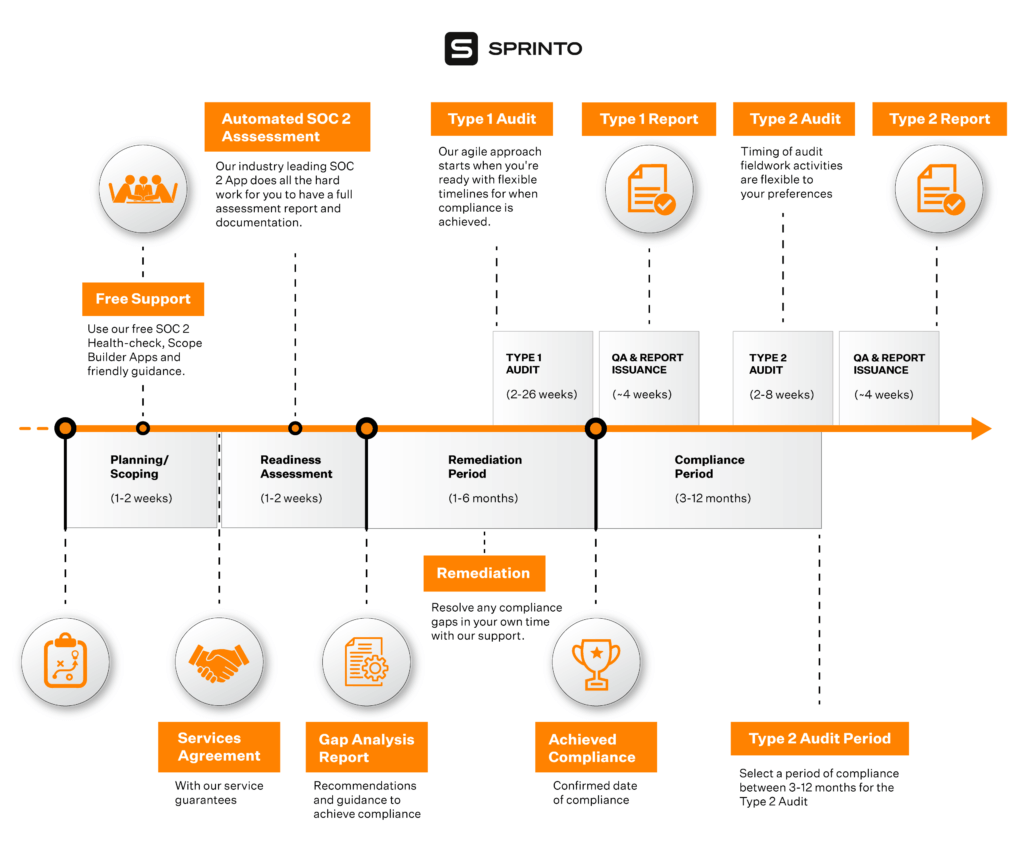 SOC2 audit preparation has eight steps:
1 – Defining the soc reporting period
2 – Quantifying risk
3 – Defining the scope
4 – Building a strong compliance team
5 – Readiness assessment
6 – Identifying gaps
7 – Remediation
8 – Gathering additional documentation
Let's take a closer look at the important phases:
Scoping
The scope of a SOC2 audit is determined by what clients expect and what they require from the service provider.
For example, for a SaaS provider, the audit scope will cover software applications offered to clients, which will include the data stored in them, the infrastructure used to host them, and the procedures and people that support them.
Regulatory Compliance Concerns
Service providers also consider any regulatory, contractual, or legal obligations to identify specific TSC requirements. Security and Availability are the most commonly included criteria.
For example, the healthcare industry has to comply with the Health Insurance Portability and Accountability Act (HIPAA) regulations.
Readiness assessment
A readiness assessment helps service providers understand which elements of the control environment require attention before the execution of the audit.
The core activities in a readiness assessment are:
Client cooperation – The client performs a guided assessment to create a profile of their activities and scope.
Gap analysis – It aims to detect vulnerabilities and gaps and generate a list of specific recommendations and actions. It takes around 2-4 weeks from start to finish.
Controls matrix – It is a listing of the objectives map, internal controls identification, and control characteristics.
Auditor documentation – It involves drafting the request list for auditors and testing procedures.
Controls
Auditors will perform a variety of activities to test the organization's security controls.
SOC 2 controls list will include:
A detailed review of policies and procedures
A walkthrough of the office and data center spaces
Employee interviews
The AICPA does not issue a standard SOC 2 controls list, but auditors usually have a set of controls that they look at.
Combined with automation and effective design of controls, this process is faster if you leverage a tool like Sprinto.
SOC 2 Compliance Checklist
As a service provider, you may find it challenging to understand the sequence of events in the SOC 2 audit process.
Our SOC 2 audit checklist includes a comprehensive and updated version of all the SOC 2 criteria under the major governing TSCs.
(Note that the AICPA does not have an official SOC 2 requirements checklist.)
So, are you ready to begin your SOC 2 audit preparations?
PDF – https://sprinto.com/wp-content/uploads/2021/11/SOC-Compliance-PDF.pdf
Best Practices for a Successful SOC 2 Audit
Five best practices that organizations can adopt for a successful SOC 2 audit are:
Create updated administrative policies
The compliance team should create and implement administrative policies that match the organization's processes and daily workflow.
Security policies should consider the following topics:
System access
Disaster recovery
Incident response
Risk assessment and analysis
Organizations should review and update these policies regularly. The SOC 2 auditor can use them as evidence of a security program.
Set technical security controls
Implement cloud security controls that match the service provider's policies.
The compliance team should look at creating technical security controls around the following:
Access control
Firewall and networking
Encryption
Set up anomaly alerts
SOC 2 compliance requirements include setting up alerts for activities that cause unauthorized exposure or modification of data, configurations, and controls.
The anomaly alerting process can be customized to the organization's environment and risk profile to avoid having too many false positive alerts.
Implement detailed audit trails
Ensure that audit trails are detailed and provide the necessary cloud context to identify the root cause of an attack and draw up an effective remediation plan.
Detailed audit trails provide insights into:
Unauthorized alteration of data and configuration
Removal or addition of key system components
The point of origin and the breadth of the attack
Make forensic data actionable
SOC 2 compliance requires decreased mean time to detect (MTTD) and mean time to remediate (MTTR).
The organization's forensic data should offer insights into the point of origin of an attack, the impact on various parts of the system, the path of travel, and the next move of the aggressor.
Leverage Sprinto to Streamline SOC 2 Certification
SOC 2 focuses on trust services principles and policies rather than technical tasks. Since the requirements are not prescriptive, service providers can aim to become compliant by implementing convenient solutions.
It can take up to six months to get a SOC 2 Type 1 certification and up to 12 months to get a SOC 2 Type 2 certification. The actual time varies based on the size of the company being audited and its readiness levels.
However, Sprinto's proprietary compliance automation software and workflows help accelerate the process and help you acquire a SOC 2 certification in just 10 – 20 hours. It has built-in templates for over 20 security policies that you can apply.
Thus, your engineering team and other relevant teams need not devote time to gather evidence when they could be focusing on product improvements, new customers, and data security.
Conclusion
SOC 2 audits and reports provide detailed evidence that the service providers have effective security controls in place. Being SOC 2 compliant makes vendors trustworthy and gives them an edge over their competitors.
Book a personalized demo with Sprinto today to understand how we can efficiently and accurately guide you through your SOC 2 certification 10X faster!