Key Points:
SOC 1 is a financial audit report, SOC 2 is a security and controls report and SOC 3 report is similar to SOC 2 drafted to be presented to a general audience.
As a service provider, you may find it challenging to understand the difference between all three SOC reports, below article helps you understand the types, benefits, and when to acquire them easily.
Introduction
If you run a SaaS business and want to target mid-market or enterprise customers, you are going to be asked about the security posture of your company at one point or another.
You may try to pass through them by answering security questionnaires but when your sales deal is stuck and cannot move forward because your customer demanded a SOC 2 certificate, that is when you will realize how important it is to get compliant.
In our previous company "Recruiterbox," when we had to undergo the SOC compliance process, we were confused and clueless about what was needed. We did not know where to even begin and which type of certification we were supposed to apply for — SOC 1 or SOC 2 or SOC 3.
It was nothing less than a nightmare. We somehow pulled it through and got ourselves certified after investing nine months of effort and more than $50K.
This exercise literally brought Recruiterbox to a standstill and we fretted at every possible instance of why in the world did we even take this up. Because of the shift in focus, our product development came to a grinding halt and impacted our other planned projects.
If you are in a similar boat, we get it! Implementing a compliance program is surely an uncertain, manual, and error-prone process. If you are confused, frustrated, because you have to undergo the compliance process, relax.
In this detailed guide, we answer all the questions related to SOC, its different certification types, and its differences. By the end, you will know pretty much everything there is to know about SOC certifications — the what, why, and how of each type of SOC report — and also know which certification is the most relevant and necessary for your business. Let's dive in.
What is a SOC report?
It is a verifiable auditing report performed by a Certified Public Accountant (CPA) designed by the American Institute of Certified Public Accountants (AICPA) concerning the systematic controls in place at a service provider, including:
Data privacy
Cybersecurity
Confidentiality
Processing integrity
Controls related to financial reporting
SOC reports help establish more credibility for you — a competitive advantage worth both monetary and time investments. There are three types of SOC reports — SOC 1, SOC 2, SOC 3 — wherein SOC 1 and SOC 2 are the most used.
The main difference between SOC 1 and SOC 2 reports is that the former focuses on financial reporting and the latter on operations and compliance. Whereas SOC 3 is less common and is a variation of SOC 2, designed for the company's clientele.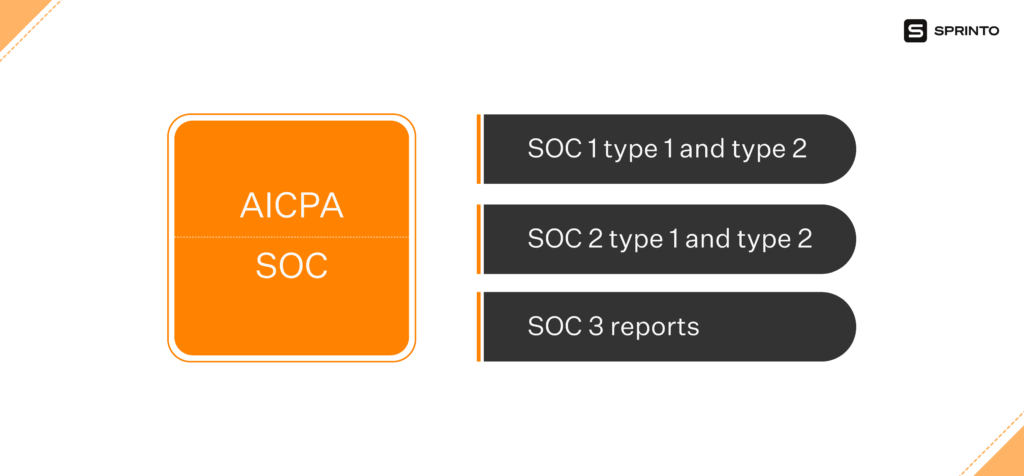 SOC 1 vs SOC 2 vs SOC 3: A Comparison Table
Want a quick yet comprehensive comparison between the three types of SOC reports? Just enter your email and get a handy SOC comparison table delivered straight to your inbox!
PDF – https://sprinto.com/wp-content/uploads/2021/11/SOC1-vs-SOC2-vs-SOC3-PDF.pdf
Everything You Must Know About SOC 1
Developed mainly for third-party service providers by the AICPA, a SOC 1 report gives your company's clients assurance that their financial information is being handled safely and securely.
Types of SOC 1 reports
SOC 1 offers two types of reports: Type I and Type II. While Type I showcases that your company's internal financial controls are properly described and designed at a point in time, a Type II report tests the effectiveness of your controls over a period (for example, six months).
Benefits of SOC 1 compliance
SOC reports help your clients acquire an objective evaluation of the effectiveness of controls that address operations, compliance, and financial reporting processes of your organization. It:
Assures your clients that their sensitive data is protected
Evaluates policies and procedures that are key to your company's operability
Verifies that you have proper internal controls and processes in place to deliver high-quality services to your clients
Please note that a SOC 1 audit reviews internal controls over financial reporting rather than a review of your financial statements.
When to get SOC 1 compliance
If you are a newly-started business, SOC 1 is not likely to be on your radar. However, the timing of your compliance is essential as you do not want to be scrambling to get certified when a deal is in jeopardy. Here are three SOC 1 report examples:
Your client asks for a "right to audit"
Your company is going to be publicly traded
You need to apply with another regulation (e.g., SOX)
Who should go for SOC 1 auditing
If you are a service provider such as a payroll or medical claims processor, loan servicer, data center company, and SaaS provider that stores and processes your clients' financial or sensitive data, you must become SOC 1-compliant.
Everything You Must Know About SOC 2
SOC 2 is a framework that helps businesses demonstrate their data center and cloud security controls. After SAS 70 started being used to measure the effectiveness of an organization's security controls, SOC 2 was developed with an emphasis on security. SOC 2 is rooted in the criteria called the Trust Services Criteria, which the AICPA defines as:
Availability: Systems must be available for use.
Confidentiality: Information marked as "confidential" should be adequately safeguarded.
Privacy: Any personal information collected must be used, retained, disclosed, and discarded properly.
Processing integrity: Systems processing must be accurate, timely, and authorized.
Security: Systems and data should be protected against all cyber threats that compromise confidentiality, availability, integrity, and privacy.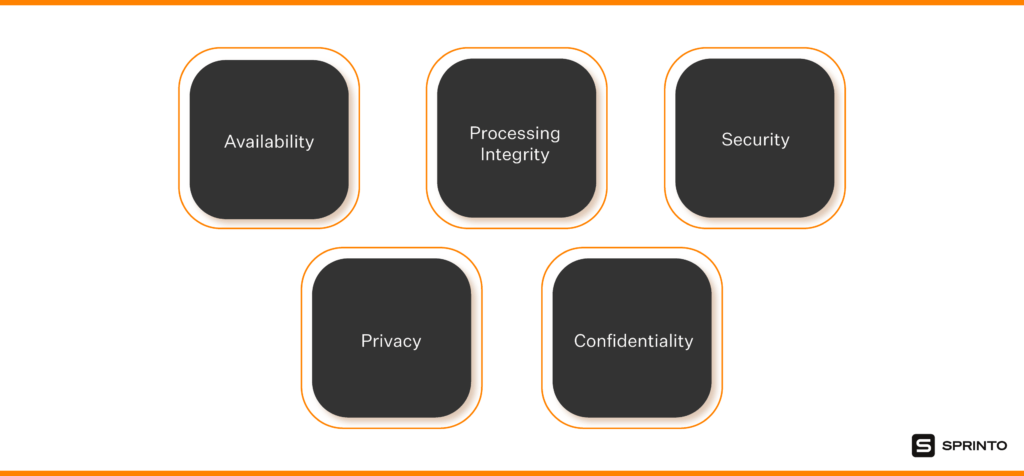 Types of SOC 2 reports
Similar to SOC 1, SOC 2 also has Type I and Type II reports. SOC 2 Type I compliance audit covers design controls' suitability and effectiveness and provides a point-in-time snapshot of the organization's controls.
On the other hand, SOC 2 Type II compliance audit looks at the effectiveness of the same controls over a period, say, six months or a year, and takes longer for service providers to prepare for it.
Benefits of SOC 2 compliance
A SOC 2 audit plays a crucial role in regulatory oversight, corporate governance, and internal risk management processes. Any client that needs detailed information and assurance about the controls deployed at the service organization may request a SOC 2 audit.
SOC 2 compliance ensures:
Your company's information security measures align with the evolving requirements of data protection in the cloud.
You have the infrastructure, tools, and processes to protect your clients' sensitive information from unauthorized access.
Your system maintains high availability, and their processing occurs as intended on time.
When to get SOC 2 compliance
The marketplace will influence how much you need to be compliant for SOC 2. The bigger the client you pursue, the more likely you will need it. If you process or host non-financial data, you should pursue SOC 2 at some point.
Please note that SOC 2 is not required by big-time compliance frameworks like PCI-DSS or HIPAA. However, with the number of data breaches, enterprises especially will want to see SOC 2 compliance before finalizing a deal.
Who cares about SOC 2 compliance
Unlike SOC 1, where the report is prepared for the clients' auditors and controller's office, SOC 2 reports are shared by the service providers, under an NDA agreement, with the clients, managers, and regulators.
Who should go for SOC 2 auditing
Companies that should go for SOC 2 audit include services such as data hosting and processing, cloud storage, colocation, and SaaS.
If you are a service provider storing, processing, or transmitting any information, you may need to get compliant to gain a competitive edge in the market, much like the decision to have an ISO 27001 certification.
SOC 2 audits may also be performed as part of your regular security program or if you suspect a data security issue.
Moreover, if you do not materially impact your clients' Internal Control over Financial Reporting (ICFR) but do provide critical services to them, you will need to be SOC 2-compliant.
Everything You Must Know About SOC 3
According to the AICPA, a SOC 3 report is prepared to meet the requirements of those who want assurance about the controls — related to security, processing integrity, availability, confidentiality, or privacy — of a service provider but do not need the knowledge to use a SOC 2 report effectively.
In simple words, SOC 3 comprises the same information found in SOC 2, but it is drafted to be presented to a general audience.
Businesses often use SOC 3 reports to post on their website, along with a stamp or seal that indicates compliance. A SOC 3 report is always a Type II, and the auditor testing of controls is not described in the report.
When to get SOC 3 compliance
Any time you want to add another layer to your company's marketing, you can do a SOC 3 audit to showcase your commitment to excellent service. Look at SOC 3 auditing as a way to reinforce your SOC 2 report's results.
It is considered a brilliant marketing tool to attract new customers who instantly recognize the stamp of approval from a credible third-party auditor.
Who cares about SOC 3 compliance
This report is designed for those who want assurance on your company's controls but do not have the expertise or knowledge to understand the detailed and comprehensive SOC 2 report. A SOC 3 report is easy to understand by the general public.
Who should go for SOC 3 auditing
If you are a cloud service provider (SaaS, PaaS, IaaS) housing third-party data, a data center colocation facility, or an IT systems management and you want to communicate your controls effectively minus the complexity of a SOC 2 report, in that case, SOC 3 auditing is for you.
How to Get Your SOC 2 Certification With Sprinto in 4 Simple Steps
As you know, when we started our first company and had to get a SOC 2 attestation while running the business, we spent months and tens of thousands of dollars in the process.
We soon realized that there were many companies facing the same issue and so Sprinto came into existence with a mission to help companies get their SOC 2 compliance certificates with little hassle.
SOC 2 auditing is complicated as it requires you to implement numerous security policies. Piecing together policies and procedures from the internet with dense language can be quite a hassle. Unlike generic compliance platforms, Sprinto is designed specifically for cloud-based companies. Here is how you can get your SOC 2 certification in just four steps:
1. Connect your systems
Sprinto integrates with a wide range of systems, which takes just minutes to get all set up.
2. Bespoke to your needs
Sprinto is designed to meet your company's specific needs. Once integrated, the tool continuously monitors your systems and gathers evidence, further cataloging the evidence as per SOC 2 criteria via standard read-only API access. Thanks to managed implementation by Sprinto's compliance experts, this step is a breeze.
3. Tend to alerts
Once the platform is up and running, Sprinto detects new gaps and sends trigger alerts for you to fix them.
4. Pick an audit partner
Sprinto does the heavy-lifting for you and partners with accredited (AICPA/ISO) third-party audit firms to conduct your audits. It also trains auditors on the platform, so you get a hassle-free experience.
Conclusion
Although it can be difficult for a service provider to determine which of the most common SOC reports is appropriate for them, they all serve a different purpose.
Opting for either SOC 1 or SOC 2 depends on whether your controls impact a client's internal control over financial reporting.
And if you are SOC 2-compliant but do not know if a SOC 3 audit report is ideal for you, please remember that a SOC 2 audit report is a restricted use report comprising details on the systems and the controls in place for safeguarding information.
SOC 3 is a mere general report which is a brilliant marketing tool consumable by the general public. If you are clear you need to get SOC 2-compliant, what are you waiting for?
Save hundreds of hours, fix issues quickly with continuous monitoring, and obtain a hassle-free SOC 2 compliance automation software with Sprinto.
Book your free demo today!