The advent of digital technologies that automate and expedite operations, as well as remote work patterns, has led to an increase in ransomware and phishing attacks, which have recently targeted hospitals, banks, and other critical service providers.
Despite the fact that cyberattacks are nothing new, technological improvements have made more companies vulnerable than before. The American Institute of Certified Public Accountants (AICPA) has created numerous compliance guidelines for data security and management in response to these concerns.
SOC 2 audits are among the most popular forms of audits. Through SOC 2 audits, a company can be sure that a vendor it intends to work with has proper cybersecurity protections
In this blog, we will uncover everything that you need to know about SOC2 audits for 2023.
What is SOC 2 audit and why does it matter in today's business world?
SOC 2 is a set of standards that are used to evaluate the security, availability, processing integrity, confidentiality, and privacy of a company's systems and controls. Set by the AICPA, SOC 2 audits are designed to demonstrate how an organization secures their systems and sensitive data.
Companies generally adopt SOC 2 audits to demonstrate to their clients and partners that they comply with all rules and regulations. Hence, SOC2 audits are crucial for internal governance, regulatory supervision, and risk mitigation.
There are two types of SOC 2 reports generated during SOC 2 auditing: SOC 2 Type 1 and SOC 2 Type 2.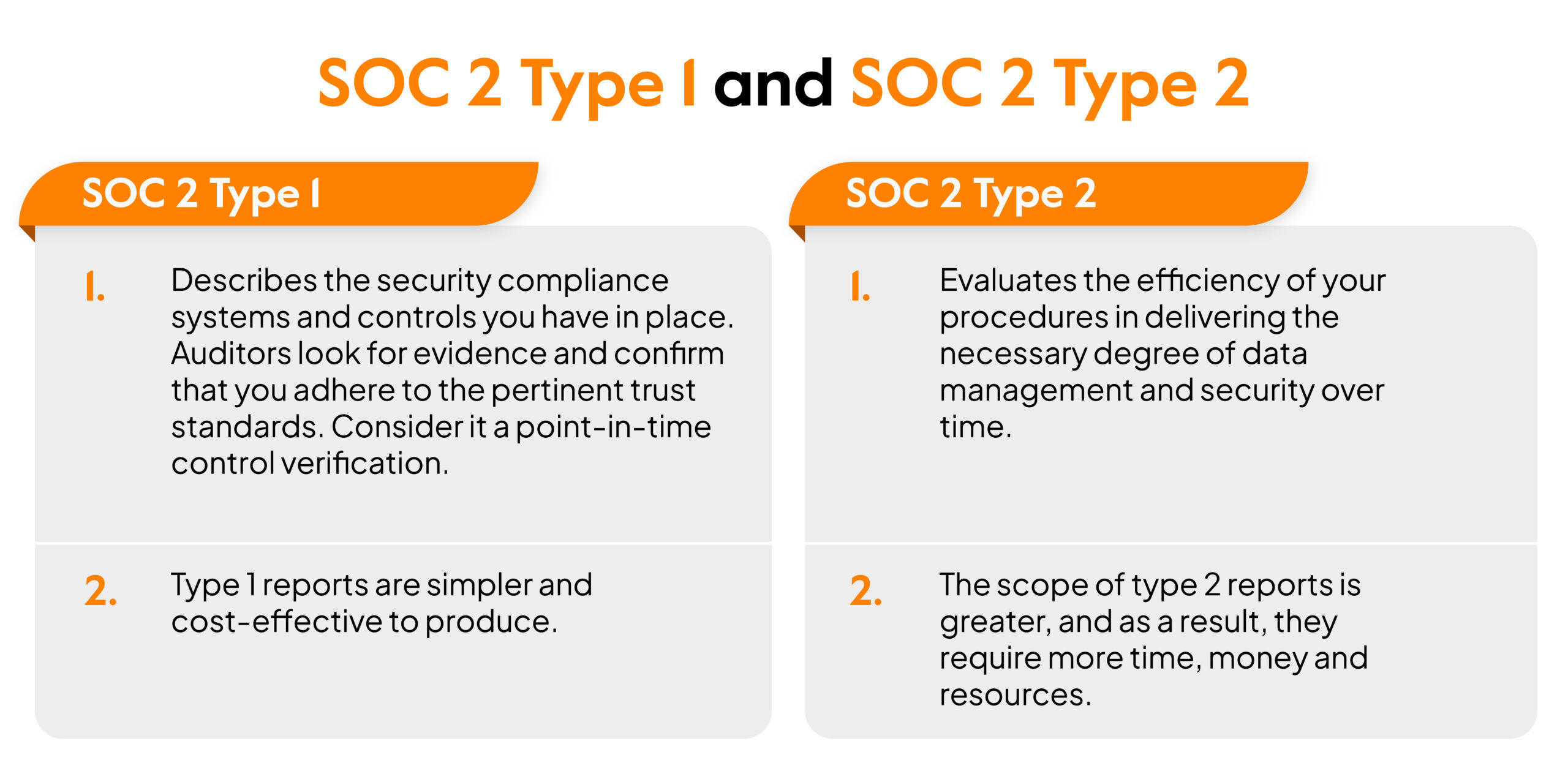 Three primary factors make SOC 2 audit essential for organizations:
Building customer confidence
SOC 2 audit contributes to client data safety and builds trust. As cyber threats loom, businesses prefer collaborating with entities they can trust.
Reports produced by SOC2 auditors verify that businesses handle customer data securely, which is crucial as cyber risk takes the top spot among corporate priorities in 2022.
Cost reduction
SOC 2 audits can save you a great deal of money in the long run despite the upfront cost of an audit, constituting roughly $50,000 for a six-month report.
According to predictions from Statista's Cybersecurity Outlook, the cost of cybercrime is expected to rise over the next five years, expanding from $8.44 trillion in 2022 to $23.84 trillion by 2027.
An edge over competitors through security insights
SOC 2 audits offer insightful information on the governance, regulatory oversight, internal controls, and security architecture of your business, which you can utilize to further reduce risks, enhance systems, and increase compliance readiness.
What are the SOC 2 audit requirements?
Your organization's security measures play an important role in the SOC 2 audit. Here are 5 key measures that will help organizations stay SOC 2 compliant.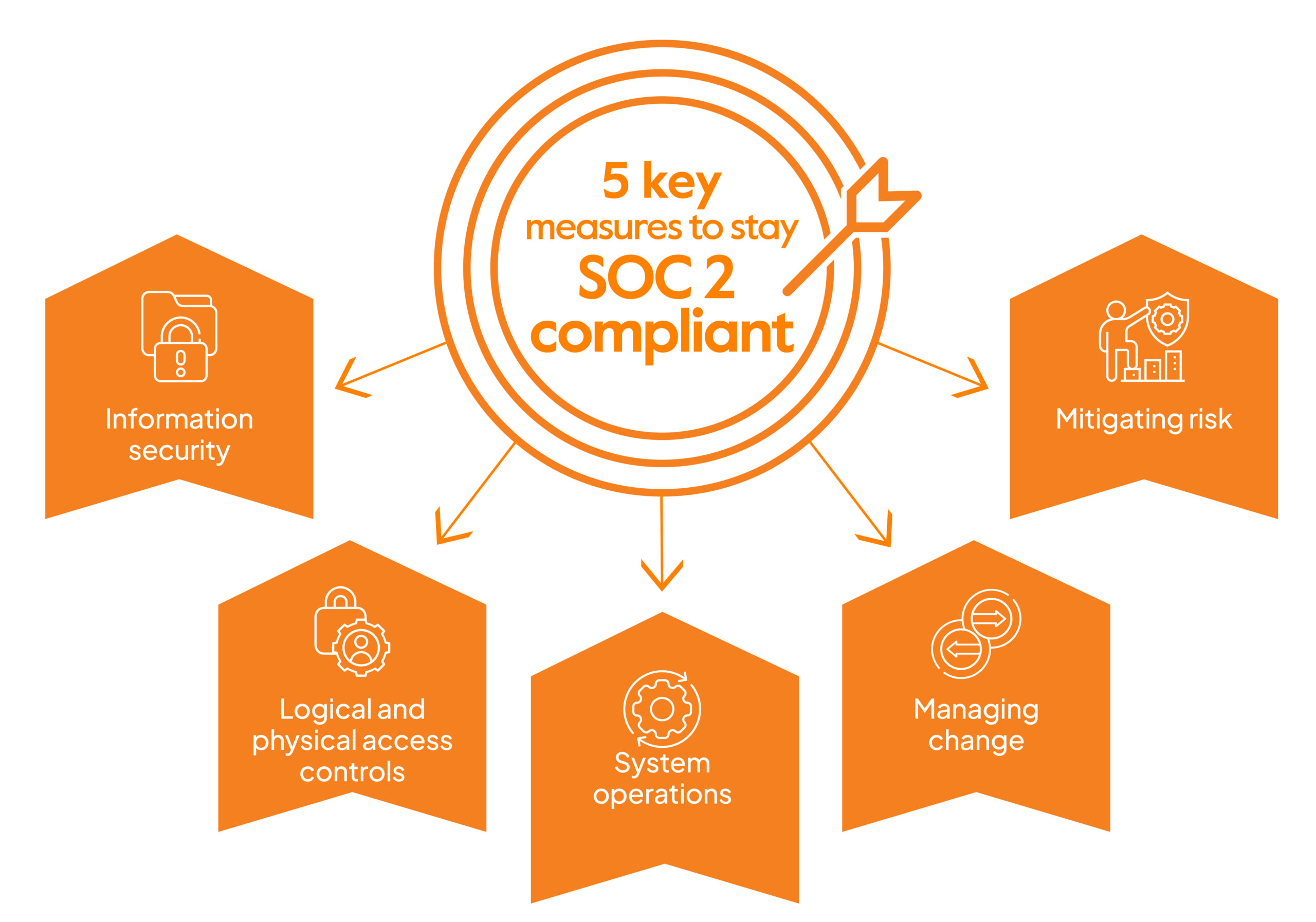 Information security: This helps prevent unauthorized users from accessing and misusing your data. This measure covers all types of attack defenses including malevolent users accessing your servers and man-in-the-middle attacks.
Logical and physical access controls: This measure limits assets that are both logical and physical to prohibit access by unauthorized persons.
System operations: This measure helps keep an eye on ongoing activities, spot any deviations from organizational procedures, and fix them.
Managing change: Provides ways for preventing unauthorized changes as well as a controlled approach for managing IT system updates.
Mitigating risk: Includes strategies and actions as a part of the SOC 2 framework that enable you to recognize risks, as well as react to them and reduce their impact while taking care of any ensuing business.
Trust Services Criteria (TSC) – The Cornerstone of SOC 2 compliance
SOC 2 audit process evaluates an organization's internal controls over its services, data, and the aforementioned measures. For instance, when your customers need assurance that their data is secure with you, they will most likely want to see how your organization meets the security principle of SOC 2 compliance.
AICPA has identified a SOC 2 framework with five critical controls known as the "Trust Services Criteria (TSC)." They cover security, availability, processing integrity, confidentiality, and privacy. To simplify your lives, TSC provides a basic SOC 2 compliance checklist.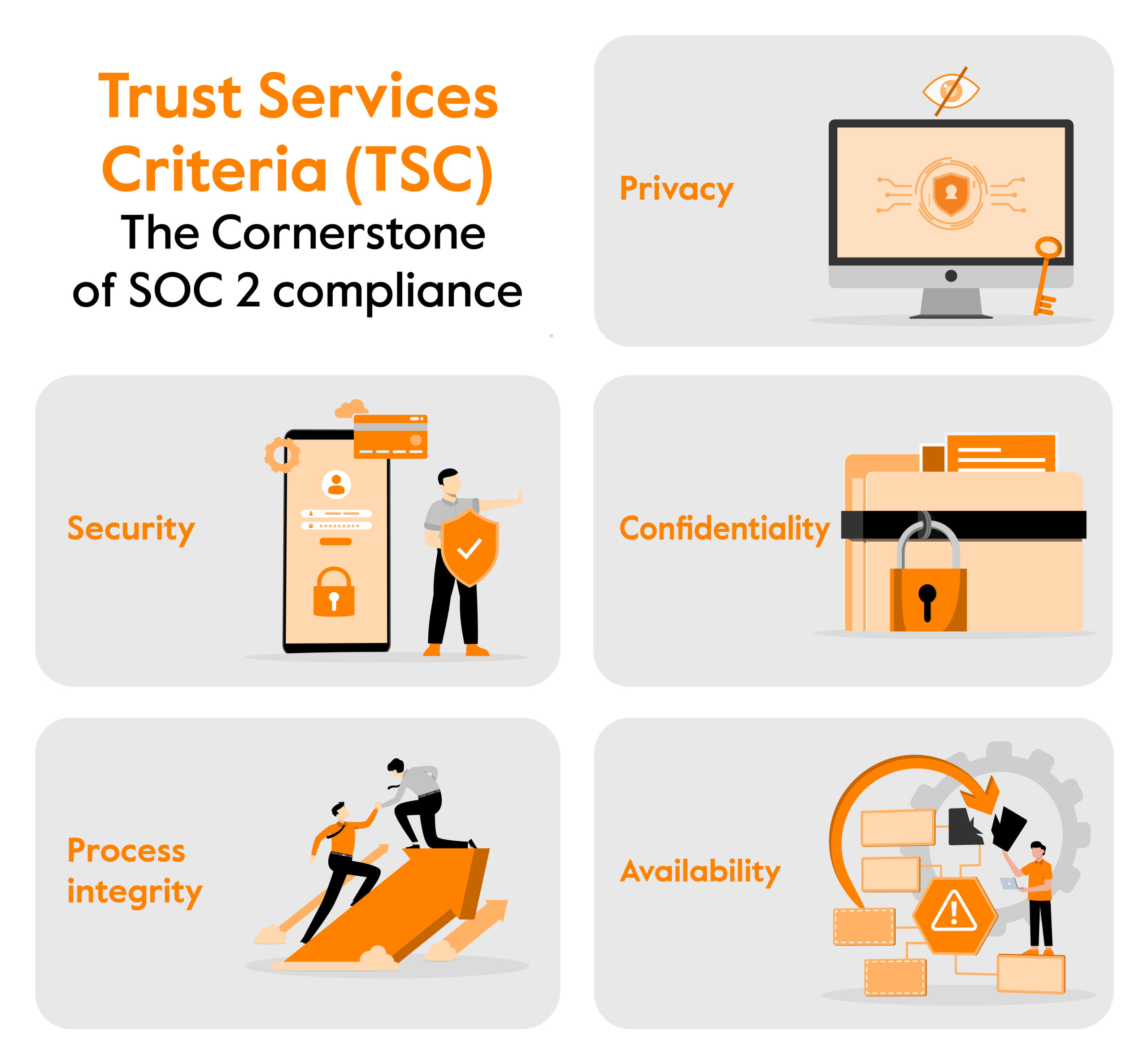 Here is the TSC checklist along with a few instances of controls that an auditor might extrapolate from each.
Privacy
The privacy principle focuses on how well the system complies with the client's privacy policy and the Generally Accepted Privacy Principles of the AICPA (GAPP). The methods for collecting, analyzing, and preserving private information, as well as the procedures for data disclosure and destruction, are included in this SOC 2 framework category.
For instance, if a business claims to notify customers each time it collects data, the audit report must precisely detail how notifications are made via the business's website or other channels. At the least, personal data management must comply with the AICPA's Privacy Management Framework.
Further, the privacy principle establishes rules for safeguarding Personally Identifiable Information (PII) against security lapses and unwanted access. It can be put into practice by implementing encryption, two-factor authentication, and access controls, to mention a few.
The requirements for SOC 2 compliance in this sector are:
Use simple language: The company's privacy notice should be written in clear, consistent language that eliminates any room for misinterpretation.
Gather data from credible sources: The business should ensure that its data-gathering practices are fair and legal, and that third-party data sources are dependable.
Security
Security is the cornerstone of the SOC 2 compliance and audit process and a comprehensive requirement shared by all five TSCs. It outlines the basic rules to guarantee the security of customers' information across its entire life cycle, from creation to use to processing to transfer to storage. Access control, firewalls, and other operational and governance controls can be used by organizations to achieve the same results.
These measures deter, among other things, unlawful access to or removal of data, unauthorized modification, destruction, or misuse of software (such as code repositories), and unauthorized disclosure of sensitive information.
There are 9 common criteria (CC) for security, five of which are based on the Committee of Sponsoring Organizations of the Treadway Commission (COSO) framework and are fundamental.
Confidentiality
The question to ask here is, are there any limitations on how data is shared in your company? For example, the SOC II audit document should include any special guidelines your business has for handling personally identifiable information (PII) or protected health information (PHI). The document should specify the data storage, transfer, and access techniques and processes that must be followed to abide by privacy policies. This is where the confidentiality principle weighs in.
In a nutshell, the confidentiality principle limits access to and publication of private information so that only specific people or organizations have access to it.
The requirements for SOC 2 compliance in this sector are:
Recognize sensitive information: Use techniques to recognize private information as it is produced or transmitted
Data retention: Determine how long the produced data should be retained.
Data removal: Use techniques to remove confidential data when it has been determined that it should be deleted.
Process integrity
The processing integrity principle assesses your cloud environment to determine whether your data processing is authorized, timely, accurate, and legitimate. Data processing can be observed using quality control techniques and SOC tools like Sprinto.
The requirements for SOC 2 audit and compliance in this sector are:
Create and maintain a record of system inputs
Define processing steps to ensure that services or products meet specifications
Availability
This principle focuses on backups and replication, continuity of business operations, recovery plans & tests, and technology & capacity monitoring. It guarantees your organization's operational availability and performance standards.
In simple terms, "availability" describes how easily your company can access both the information it uses and the products or services it offers to its clients.
There are three main components in this sector – A1.1, A1.2, and A1.1. Want more information on the criteria and requirements? Click here.
Who can perform SOC 2 audit?
The AICPA regulates SOC II audits, which must be undertaken by an external auditor from an authorized Certified Public Accountant (CPA) firm to obtain formal certification. To ensure impartiality in the SOC 2 audit process, the CPA should be an expert in information security and should have no ties to the company they are auditing. To help with the audit preparation, CPA firms may hire a non-CPA expert with relevant skills. A CPA must, however, issue the final report.
How much does it cost to get a SOC 2 audit?
SOC 2 audit requires significant time, financial, and resource commitment. The overall investment must account for the complexity of an organization, attestation type, human costs, tool costs, training costs, and audit costs in addition to the audit itself. A 6-month SOC 2 audit process could cost as much as $20,000 – $50,000 in total.
Check out our article on what to expect in a SOC 2 audit budget for a complete cost estimate.
How frequently should you perform SOC 2 audit?
SOC 2 audits are a crucial component of your armory of cybersecurity tools. Conduct annual (every 12 months) security audits to keep customer, employee, and stakeholder data secure throughout the year.
Are you ready to complete the SOC 2 audit? Check out the next section on ways Sprinto will help your organization stay SOC 2 compliant.
Sprint through security audits without breaking your stride with Sprinto
Several companies now consider SOC 2 audits to be essential since it enables them a way to prove that their data is being managed and maintained in a secure manner.
Sprinto maps risks to SOC 2 controls and allows you to run automated checks to ensure continuous compliance for your SOC 2 audits.
Sprinto has a plethora of features and tools to help organizations maintain regulatory compliance and prepare for SOC 2 audit processes. They include:
Provides prebuilt, security training modules for SOC 2 audits.
Sprinto's risk library aids in locating and putting into place relevant controls to meet SOC2 criteria.
Sprinto's centralized compliance plus dashboard aids in gathering compliance evidence in a way that is auditor-friendly.
Availability of pre-made templates for system descriptions and policies.
Mobile device management (MDM) built-in for entity health inspections.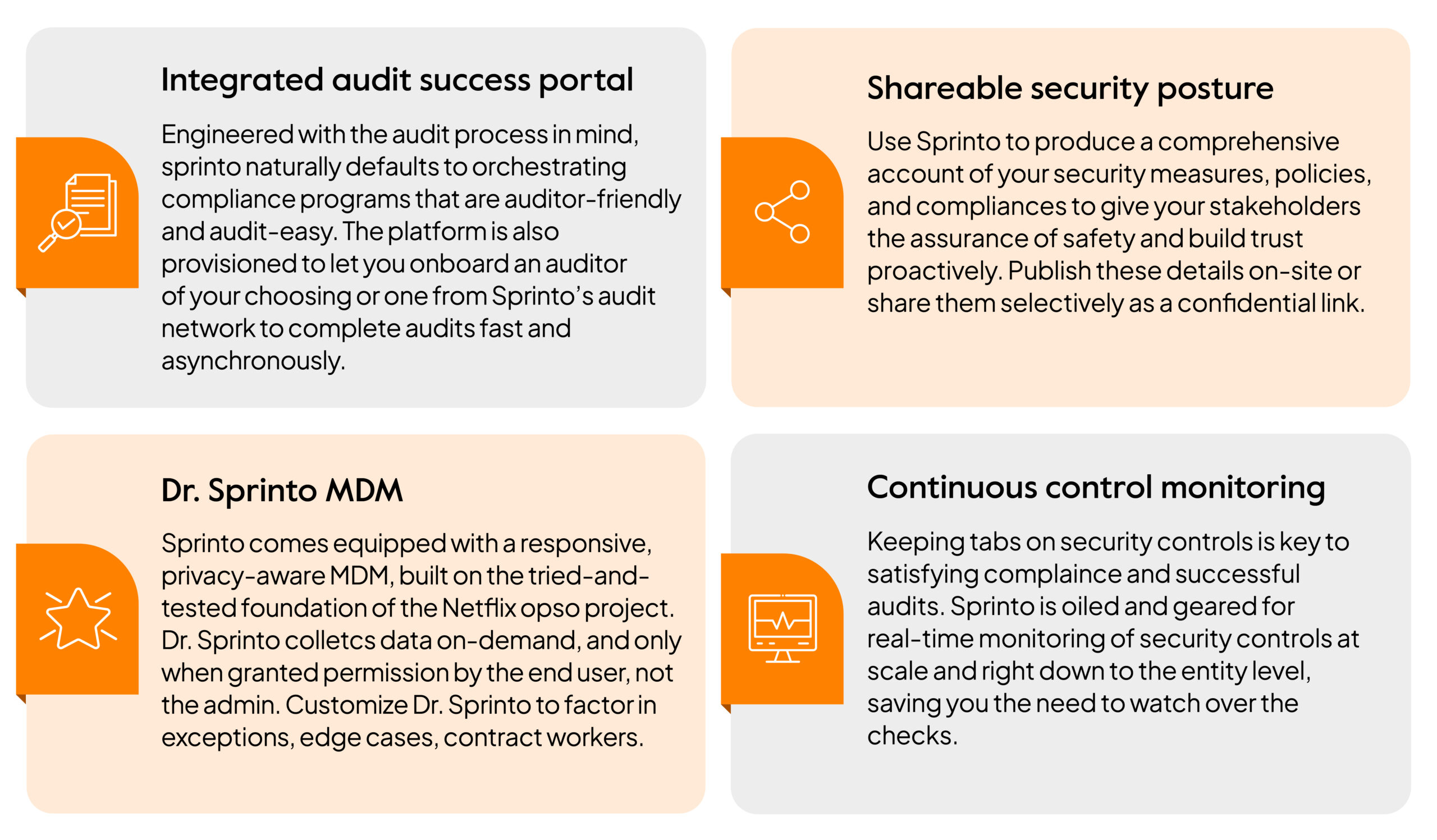 Here are four other effective Sprinto features and advantages for preparing for a SOC 2 audit.
Creates a pipeline of entity-wide SOC2 controls and automated checks that is tightly integrated, making it simple to become compliant.
Permits managed 1:1 implementation with compliance experts.
Allows integration with your cloud-based systems to define all entities that have an impact on data security, whether directly or indirectly.
Offers improved workflows, segmented notifications, and progress history for SOC ii audits process.
FAQs
1. What does a SOC 2 audit process involve?
A SOC2 audit process includes the following:
Assessing the audit strategy
Creating a project strategy
Evaluating controls for design and operational effectiveness
Capturing the findings
Delivering the client report and disseminating it.
2. What is the key distinction between SOC 2 Type 1 and SOC 2 Type 2?
These two audit types, which relate to the TCS criteria, both present information on non-financial reporting controls. The main distinction between these reports is that a SOC 2 Type 2 report covers a longer time period, allowing auditors to verify the operational efficacy of controls.
3. Is SOC 2 a mandate by law?
No. Legally speaking, SOC 2 compliance is not required, and certification is not mandated. However, because SOC 2 is frequently a requirement in vendor contracts, the majority of business-to-business (B2B) and software-as-a-service (SaaS) providers ought to seriously consider becoming certified.