Key Points
HIPAA Compliance requires the covered entities and business associates to protect Protected Health Information (PHI) as per HIPAA regulations.
There are 3 different types of safeguards that covered entities and business associates need to implement — Technical Safeguards, Physical Safeguards, and Administrative Safeguards.
Non-compliance with HIPAA can lead to criminal charges and civil action lawsuits along with hefty penalties/fines. This HIPAA Compliance Checklist will help evaluate whether your organization is subject to HIPAA compliance regulations or not & how to adhere to them.
Introduction
Understanding HIPAA and the steps you need to take to become HIPAA compliant is both — a lengthy process and a time-consuming task. Over the years, we've witnessed countless instances where either the covered entities or business associates ignored the HIPAA regulations and got penalized for it.
To prevent you from making the same mistake, and also figure out if your organization is subject to HIPAA compliance or not, we've created a comprehensive HIPAA Compliance Checklist.
In this article, we're going to explain what HIPAA compliance is, and the eight critical steps you must follow to be HIPAA compliant.
What is HIPAA Compliance?
Health Insurance Portability and Accountability Act (HIPAA), enacted in 1996, is a collection of closely aligned regulations created to protect private and sensitive patients' electronic health records.
The HIPAA Compliance process basically involves securing and maintaining private and sensitive patient health data, which is also referred to as protected health information (PHI). Organizations that deal with PHI in any way must be HIPAA compliant.
To achieve HIPAA compliance, you need to implement certain safeguards, personal HIPAA training, risk assessments, reporting, and so on for protecting PHI. 
On the surface, there are two types of organizations that must comply with HIPAA: Covered Entities and Business Associates.
What is a Covered Entity?
A covered entity is any company, organization, or institution that is obligated by law to compulsorily adhere to HIPAA regulations. By default, healthcare service providers of every capacity including hospitals, clinics, pharmacies, doctors, nurses, dentists, psychiatrists, psychologists, chiropractors, and health insurance firms fall under the 'Covered Entity' umbrella.
What is a Business Associate?
A business associate is any company, organization, or institution that has access to PHI for providing its services to the covered entity. Medical equipment companies, data storage businesses, billing service providers, cloud-hosted companies, CPA firms, and even attorneys are prime examples of business associates.
That said, if your organization is providing its services to a covered entity and has access to PHI, you must become HIPAA compliant.
If you're not sure how to achieve HIPAA compliance for your organization, we've got you covered. This HIPAA Compliance Checklist will explain every step you need to take to become HIPAA compliant.
8-Steps HIPAA Compliance Audit Checklist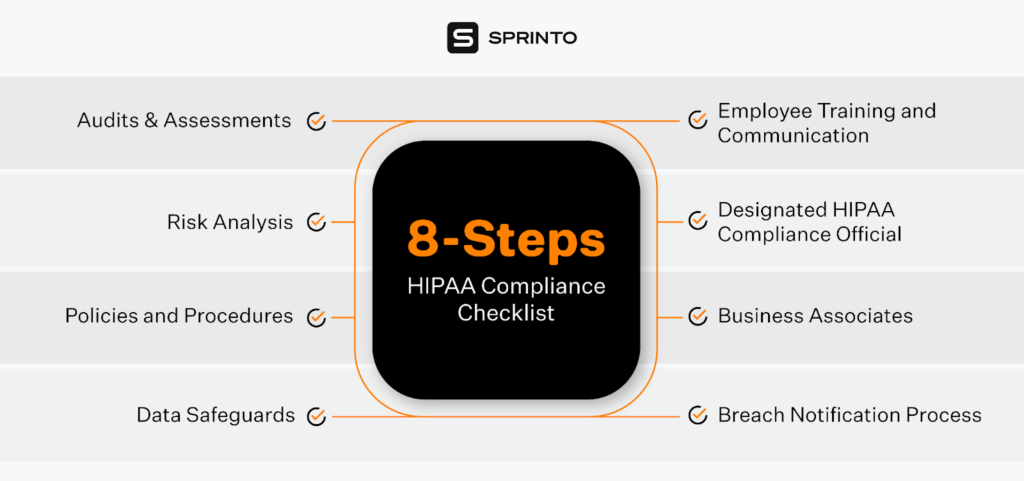 Following are the eight steps we recommend executing to make your organization HIPAA compliant. Use this checklist to measure your cloud-hosted company's HIPAA compliance readiness.
1 – Audits & Assessments
The first step to achieving HIPAA compliance is to conduct internal audits, privacy audits, and perform security assessments. Then, analyze the report and record any weaknesses or issues found during the evaluation.
If there are any weaknesses or issues discovered during the audit, create a remediation plan to address and resolve those weaknesses and issues.
Put the plan immediately into action as soon as it is reviewed, analyze the report, and verify if the remediation plan helped to achieve desired results.
2 – Risk Analysis
After internal audits and security assessments, the next step of the process is performing risk analysis in line with National Institute of Standards and Technology (NIST) guidelines.
The NIST guidelines are developed to help businesses meet specific regulatory compliance requirements.
To conduct a thorough risk analysis, start by performing a basic risk assessment, and test various risk evaluations for the systems that store electronic PHI (ePHI).
Along with that, you must also create a risk management policy and incorporate suitable security measures as well as maintenance standards for high-risk documents & recognized threats to establish best practices for security standards.
3 – Policies and Procedures
Next, you need to ensure that all appropriate policies and procedures comply with the HIPAA privacy, security and breach notification rules.
For this, you'll need to create and implement the following:
Privacy Policies & Procedures – To keep track of data usage, limit requests for sensitive data, regular and non-regular disclosures, and other similar issues.
Policy for Business Associates – Modify the existing contracts as well as agreements signed with your business associates in a way that complies with the HIPAA regulations. Furthermore, it is even more important to attain sufficient assurances in the contracts & document sanctions in case of compliance violations.
Procedures for PHI Access Request – Lastly, make sure to collect written permissions from patients before utilizing or sharing their PHI for any healthcare-related operations including treatment, payment, etc.
4 – Data Safeguards
Implementation of high-level data safeguards is becoming increasingly critical due to the growing number of cyberattacks in the world. According to a survey, cyberattacks will cost companies around $10.5 billion worldwide by 2025.
To protect your organization from such cyberattacks, it's vital to incorporate necessary safeguards to protect ePHI & become HIPAA certified.
As per the HIPAA regulations, three specific data safeguards need to be implemented for adhering to HIPAA compliance regulations: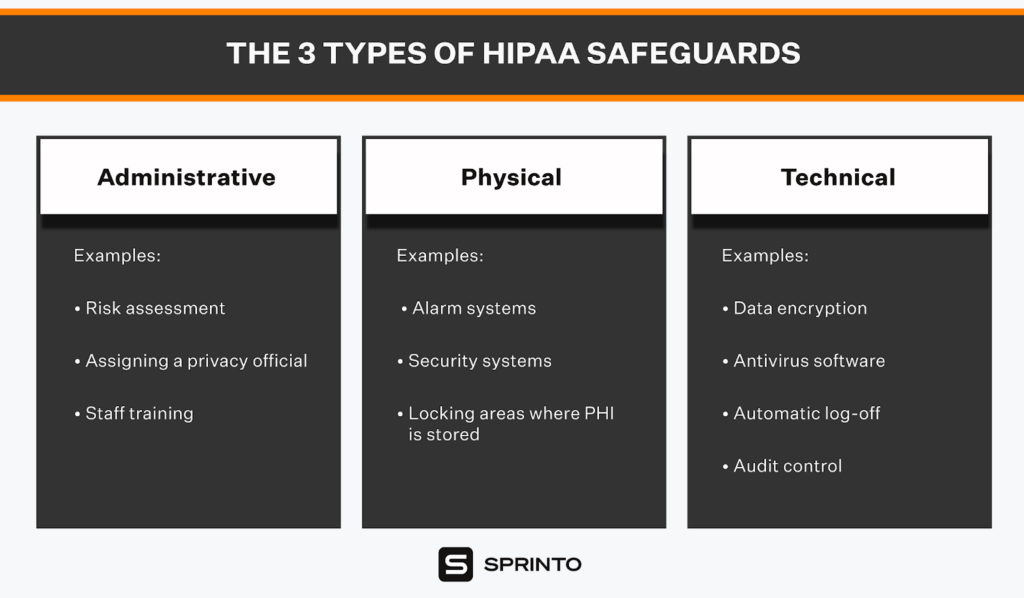 Technical Safeguards
Technical safeguards that are included in the HIPAA guidelines, specifically in the HIPAA Security Rule, can be broken down into the following four categories:
Access Control – Access controls must be implemented to limit access to electronic PHI. Through access control, covered entities must make sure that only authorized personnel has access to confidential ePHI.
Audit Control – Covered entities must utilize necessary software, hardware and procedures that record ePHI properly, monitor all systems that access the PHI files and send alerts about any suspicious activities.
Integrity Control – Covered entities must implement procedures that verify no ePHI is destroyed or altered inadequately.
Transmission Security – Covered entities must take every action necessary to protect ePHI whenever they're either in-transmit or received over the internet.
In a nutshell, the technical safeguards of HIPAA guidelines clearly require every covered entity to put appropriate policies & procedures in the right place to keep ePHI secure whether it's stored, transmitted, or in use.
Physical Safeguards
Along with the technical safeguards, covered entities must also incorporate physical safeguards to keep ePHI safe.
The physical safeguards generally involve facilities where the PHI is stored and the devices used for accessing them.
Following are a few ways you can implement physical safeguards:
Document Shredding – Any documents containing sensitive and private patient data must be shredded and destroyed properly.
Workspace Security – Limit workspace access along with access to ePHI to only specified people. You can implement certain policies that regulate when and how workspaces can be used and by whom.
Mobile Device Controls – If ePHI is allowed to be accessed via mobile devices, you must establish precise policies that control how ePHI can be removed from a mobile device in case it gets stolen or lost.
Overall, access to your facility must be limited to authorized individuals only. Anyone who is not granted authorization must be prohibited from entry to the facility and access to workspaces that store ePHI.
Administrative Safeguards
The third type of safeguard you need to implement is administrative. It requires five parameters as described below.
Security Management Process – The covered entities must incorporate a security management process that automatically identifies all potential security risks to ePHI, analyses them, and curbs the risk down to a minimum level.
Information Access Management System – The HIPAA Privacy Rule already limits access & use of ePHI. Therefore, the covered entities must employ appropriate procedures that restrict ePHI access based on the individual user's role.
Employees Security Awareness & Training – The covered entities must educate their staff members on ePHI and train them to identify and report any security breaches by teaching best cybersecurity practices.
Evaluation System – Every covered entity must assess its security policies as well as procedures regularly.
Contingency Plan – Each covered entity must craft a contingency plan to safeguard important ePHI in emergency times while also protecting the confidentiality & integrity of ePHI.
All in all, the administrative safeguard is equally critical to implement as the other two safeguards to become HIPAA compliant. Therefore, covered entities & business associates must comply with all five specifics explained above.
5 – Employee Training and Communication
After placing all safeguards in the right place, it's time to provide extensive training to each employee to educate them on the significance of HIPAA Compliance.
Covered entities can begin training by sharing all privacy & security-related policies and procedures with all employees. It should be made compulsory for each employee to read and sign the HIPAA policies and procedures you've established.
Additionally, the covered entities must ensure every employee undergoes a basic HIPAA compliance course. In fact, it is a best practice that the covered entity documents all HIPAA compliance teaching sessions and employees' signed agreements of HIPAA policies and procedures.
To avoid unfortunate circumstances in the event of HIPAA compliance infringement by staff members, the covered entity should develop rigid sanctions & disciplinary regulations.
6 – Designated HIPAA Compliance Official
The covered entities should consider appointing a designated HIPAA Compliance official. There are three reasons for this recommendation.
The appointed HIPAA Compliance official will be responsible for developing as well as implementing your HIPAA privacy & security policies and procedures.
The appointed official will make sure every party involved abides by the HIPAA Compliance policies and procedures.
The appointed person will conduct periodic HIPAA compliance teaching sessions for all staff members.
7 – Business Associates
At this step, covered entities need to determine who will receive, transmit, process, maintain, and access the private ePHI records.
Once they decide on the business associates who may have all these privileges, they must prepare a Business Associate Agreement (BAA) and have it signed by every business associate involved.
Furthermore, covered entities must evaluate HIPAA compliance policies & procedures, and review BAAs. While doing so, it is often recommended to create a system that prepares reports for documenting as well as demonstrating the course of action taken regarding your business associates.
8 – Breach Notification Process
The last step involves establishing appropriate procedures & systems for security breach notification.
To implement a seamless HIPAA breach notification process, the covered entities must keep track of all investigations that possess the risk of compromising the security of ePHI.
One way to do this is by creating high-level standards & preparing strict instructions for mitigation and disciplinary policies to be utilised in the event of a security breach.
In addition to this, the covered entity must also create a protocol for its staff members to notify about every breach that occurs and develop a system to inform concerned patients, Office for Civil Rights (OCR), and the news media about the security breach if it has affected 500+ people.
Conclusion
Achieving HIPAA Compliance is undoubtedly a daunting task. But failing to comply with HIPAA regulations can lead to severe penalties including costly fines, criminal charges, and civil action lawsuits.
In fact, HIPAA fines start from $100 to $50,000 (per violation) with a maximum penalty of $1.5 million per year for the same provision violations.
Fortunately for you, Sprinto can help you simplify the process of achieving HIPAA compliance in your cloud-hipaa release forms company. Learn more about how we can help to automate your HIPAA compliance through our demo.
HIPAA IT Compliance Checklist: FAQs
What is HIPAA Compliance Checklist?
HIPAA Compliance checklist is a handy list of key measures that must be implemented by covered entities and business associates to become HIPPA compliant.
How to Become HIPAA Compliant?
To become HIPAA Compliant, you must adhere to the physical, technical, and administrative safeguards outlined in HIPAA regulations that are established to protect the integrity and confidentiality of protected health information (PHI).
What are the Most Common HIPAA Violations?
The most common HIPAA violations include failing to encrypt and protect PHI, device theft, employee misconduct, improper PHI disposal, inadequate staff training, non-compliant business associate agreements, and failure to execute company-wide risk analysis.
What are the Three Rules of HIPAA?
The three rules are HIPAA privacy rule, HIPAA security rule, and HIPAA breach notification rule.
Who is Responsible for Enforcing HIPAA Compliance?The Office for Civil Rights (OCR) of the U.S. Health and Human Services (HHS) department is responsible for enforcing HIPAA regulations.