The Health Insurance Portability and Accountability Act (HIPAA) requires healthcare entities to implement policies and procedures to safeguard the privacy and security of patients' protected health information (PHI). And one of the critical requirements to ensure the safety of PHI is HIPAA risk assessment.
Risk assessments can lay a strong foundation for the organization's security posture when done thoroughly. They can help healthcare entities identify vulnerabilities, strengthen their controls, and ward off breaches, leaks, and loss of business. And perhaps even keep bad PR at bay!
Risk assessments and management, therefore, aren't to be taken lightly. In this article, we explain what privacy risk assessment and security risk assessment are per HIPAA and break the process into eight easy-to-implement steps that you can take. Read on for a complete lowdown on HIPAA risk assessment.
What is HIPAA Risk Assessment?
HIPAA risk assessment is an audit process by which an organization can ensure that it complies with HIPAA's administrative, physical, and technical safeguards. Conducting HIPAA risk assessment aids in identifying potential threats to the protected health information(PHI) of your organization.
The risks and vulnerabilities identified can impact the confidentiality and integrity of the electronic PHI (ePHI) in your environment. Hence, covered entities (healthcare providers, health plans, and healthcare clearinghouses) and business associates (service providers and vendors of covered entities that use or disclose PHI) must conduct risk assessments periodically to comply and maintain compliance with HIPAA.
It is best to conduct risk assessments annually; when new technology or significant changes get introduced, such as upgrades in your health information technology systems and process.
Why is HIPAA Risk Assessment important for any organization dealing with ePHI?
HIPAA risk assessment is important because it forms the basis for identifying and implementing safeguards that comply with the HIPAA Security Rule standards. It's a mandatory HIPAA requirement and can attract fines from the Office for Civil Rights (OCR) for noncompliance; penalties can range from $100 to $50,000 per violation up to a maximum of $1.5 million per year for each violation.
While risk assessment is foundational to the HIPAA Security Rule, it doesn't prescribe a specific methodology to go about it. Instead, it establishes several objectives you must achieve, no matter the assessment methodology.
The outcome of risk analysis HIPAA should help organizations assess whether an implementation specification or an equivalent measure is reasonable and appropriate.
Here are some of the outcomes that get decided based on the security risk assessment (SRA):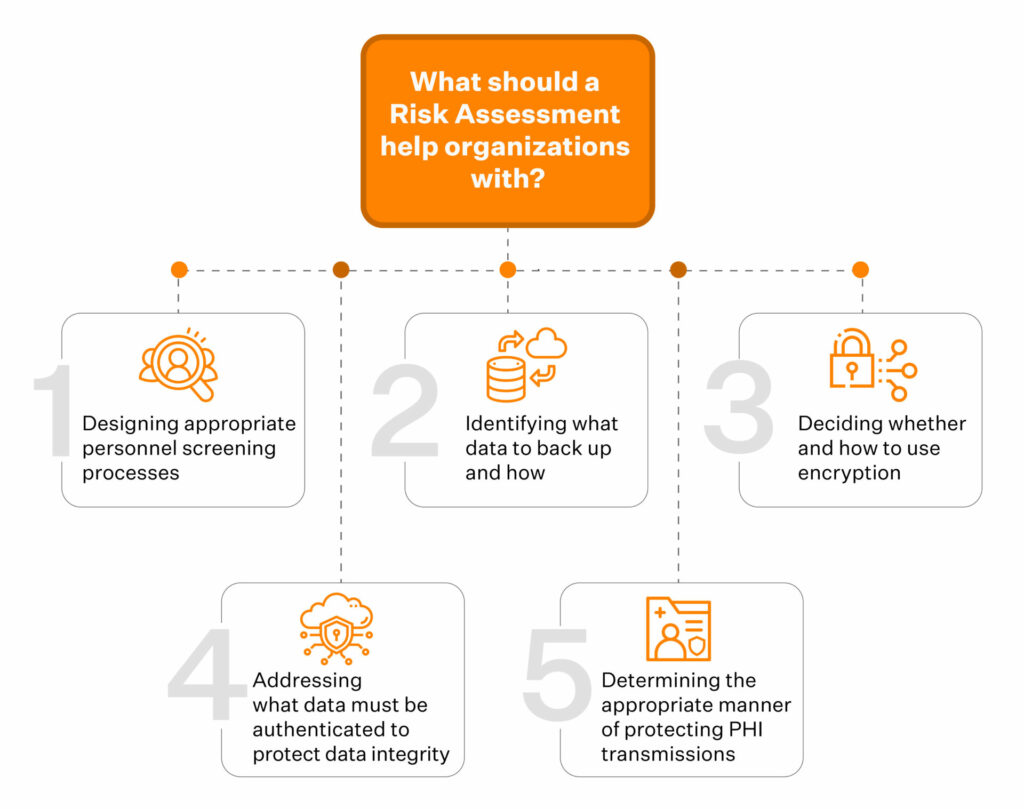 Also check out: How to become HIPAA certified
Eight Steps to performing HIPAA Risk Assessment
HIPAA risk assessments can help medical and healthcare organizations identify risks and map them to the appropriate security measures and controls. Doing this helps organizations confidently reduce risk impact, minimize residual risk, and prevent ePHI breaches and leaks.
Here's an 8-step HIPAA risk assessment guide you can use to help you through the process.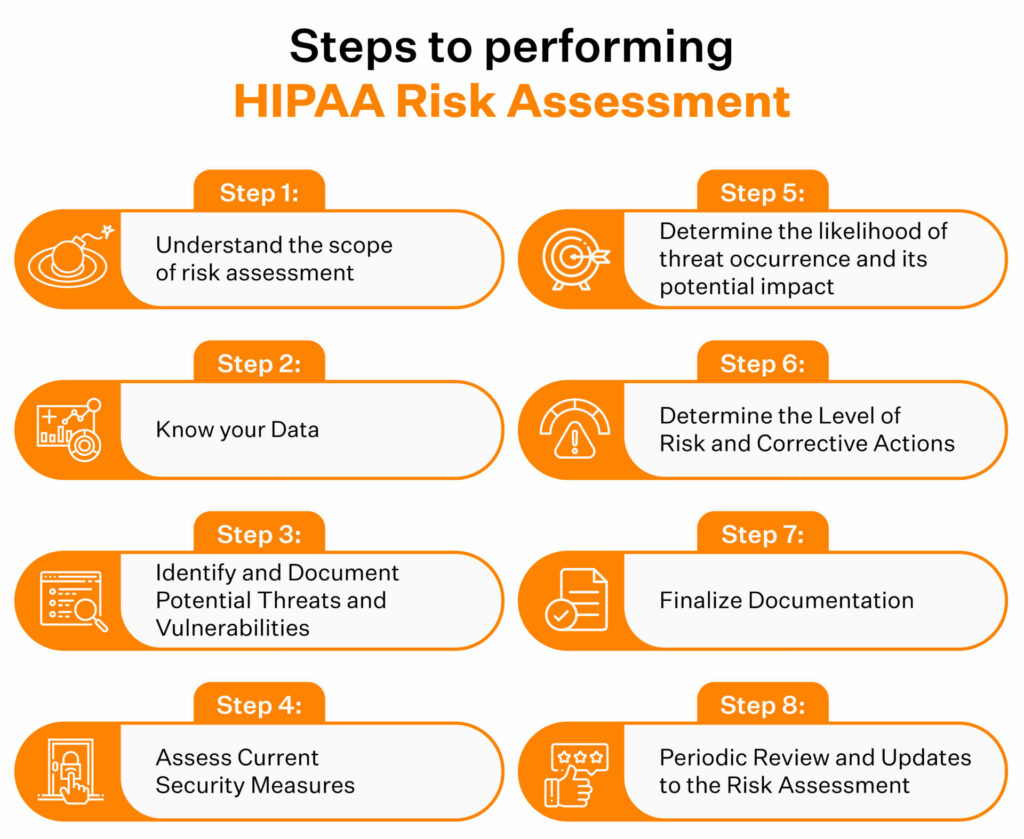 Step 1: Understand the scope of risk assessment
HIPAA compliance risk assessment, as we mentioned earlier, is a thorough audit of the risks and vulnerabilities to the confidentiality, integrity, and availability of electronic PHI (ePHI) in your environment.
This includes e-PHI in all forms of electronic media, such as hard drives, CDs, DVDs, smart cards, personal digital assistants, and portable electronic media. And electronic media includes single workstations as well as complex networks connected between multiple locations.
Therefore, the scope of your organization's security risk assessment must take into account all of its e-PHI, regardless of the electronic medium or the location of ePHI.
Step 2: Know your Data
You must identify where ePHI is stored, received, maintained or transmitted in your organization. You could review the organization's past and existing projects, perform interviews, review documentation, and use other data-gathering techniques to gather all information needed for risk assessment.
The Department of Health and Human Services (HHS) offers examples of questions organizations must ask at this stage:
Have you identified the e-PHI within your organization? This includes e-PHI that you create, receive, maintain or transmit.
What are the external sources of e-PHI? For example, do vendors or consultants create, receive, maintain or transmit e-PHI?
Note that the data on ePHI that's gathered must get documented.
Step 3: Identify and Document Potential Threats and Vulnerabilities
You must now identify and document the potential threats to ePHI. What are the human, natural, and environmental threats to information systems that contain e-PHI? You must also determine the different threats that are unique to your environment.
You could do this by interviewing your staff that handles ePHI, reviewing documentation, and evaluating past observations, if any, to get an overview of the potential risks.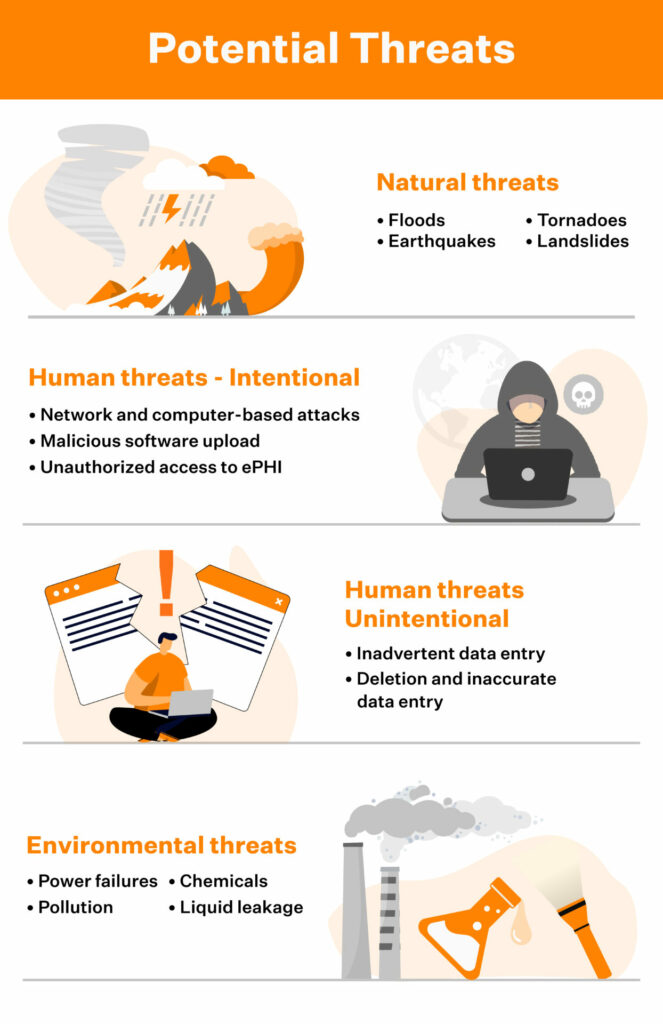 This step also entails the identification of vulnerabilities that, if triggered, can risk ePHI safety.
Step 4: Assess Current Security Measures
You must now ascertain the effectiveness of your existing security measures to protect ePHI and evaluate whether they are appropriate and effective; if yes, assess whether they are configured and used correctly. These safeguard measures will vary depending on the size and complexity of the organization.
Don't forget to document the measures you have already implemented, including your assessment.
Step 5: Determine the likelihood of threat occurrence and its potential impact
You must now determine the likelihood of occurrence for each identified threat and vulnerability. You could label the possibility of occurrence as high, moderate, or low or assign numbers (1,2 and 3).
Next, you must determine the potential impact (qualitatively and/or quantitatively) on the confidentiality, integrity, and availability of ePHI if such a threat or vulnerability were to occur.
For instance, it could be unauthorized access, loss of data, and more.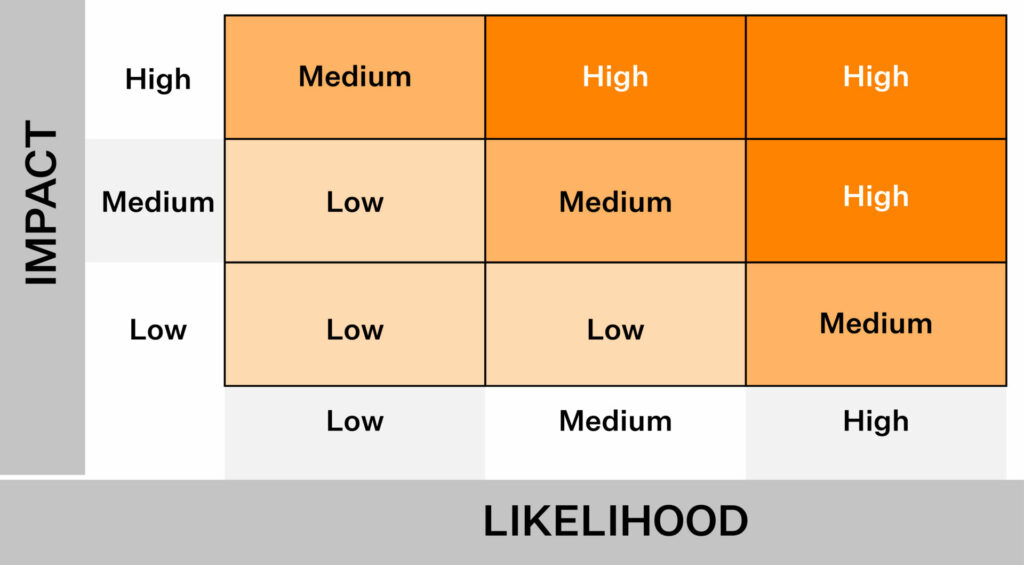 The output of this step should be detailed documentation of the likelihood of a threat occurrence and its potential impact on the ePHI.
Step 6: Determine the Level of Risk and Corrective Actions
The next step is to assign risk levels for all the threat and vulnerability combinations. The level of risk could be determined, for example, by analyzing the values assigned to the likelihood of threat occurrence and the resulting impact of threat occurrence.
The HHS suggests that you could determine the risk levels based on the average of the assigned likelihood and impact levels. You must now identify the potential security measures that you can implement to reduce each risk to a reasonable level.
Security measures include organization policies, procedural requirements, and specific technical safeguards such as encryption, data backup, and more.
As is the outcome for each step, documentation of the assigned risk levels and a list of corrective actions you must take to mitigate each risk level is necessary.
Step 7: Finalize Documentation
HIPAA places much emphasis on maintaining documentation. So, ensure you document your risk assessment process diligently at every step. The documentation is evidence that you executed the HIPAA risk assessments in all earnest and may stand you in good stead in the event of a breach or a regulatory oversight that shows up in an OCR-led audit of your HIPAA privacy risk and HIPAA security risk compliance.
'Good faith efforts' are seen in a good light by the OCR.
Step 8: Periodic Review and Updates to the Risk Assessment
The risk analysis process isn't a 'one-and-done' event. While the Security Rules don't specify the number, risk assessments should be conducted at least once a year or following significant organizational changes, such as the addition of new technologies or business operations, or even a security incident.
For instance, if your covered entity experiences a breach or sees a change in ownership, you must adjust your risk weights and deploy security measures accordingly to ensure ePHI remains protected. If the analysis shows insufficient protection against the newly-added risks, you must implement additional security safeguards in time.
For a detailed overview, look up HIPAA's guidelines on the risk assessment tool. The tool is designed to help healthcare providers conduct a security risk assessment as required by the HIPAA Security Rule.
Automate your HIPAA Risk Assessment with Sprinto
As you would have noticed by now, HIPAA risk assessment is pretty detailed. Lapses in your risk assessment can snowball into breaches and huge penalties if left uncorrected. And that you have to do this assessment each year with the same diligence, if not more, can be overwhelming.
Sprinto's compliance automation platform offers an integrated risk assessment feature that can automate the entire HIPAA risk assessment process without compromising its effectiveness. It provides a comprehensive summary of org-wide cybersecurity risks and makes entity-level checks.
Made for cloud-hosted business associates, Sprinto also offers in-app employee training modules, an editable HIPAA policy template, and common benchmark risk references to quantify the real impact of your risks. Sprinto is built to ensure you can easily comply with all HIPAA rules.
Sprinto also makes it easier for you to collect evidence and maintain documentation of every step in the process.
Talk to us today to learn more about how Sprinto can help you kickstart your HIPAA compliance journey.
FAQs
How do you perform HIPAA risk analysis?
You must perform HIPAA risk analysis at least once a year by following these steps:
Step 1: Understand the scope of risk assessment
Step 2: Know your Data
Step 3: Identify and Document Potential Threats and Vulnerabilities
Step 4: Assess Current Security Measures
Step 5: Determine the likelihood of threat occurrence and its potential impact
Step 6: Determine the Level of Risk and Corrective Actions
Step 7: Finalize Documentation
Step 8: Periodic Review and Updates to the Risk Assessment
HIPAA, however, doesn't give any specific rule or process on how to conduct your risk analysis.
Does HIPAA require security risk analysis?
The Security Rule requires covered entities and business associates to undergo risk assessments to determine the risks and vulnerabilities that can impact the confidentiality, integrity and availability of electronic PHI (ePHI) in their environment.
An understanding of the security rule will help you here.
What is HIPAA risk management?
The HIPAA risk management process constitutes the correction action and additional safeguards and security measures that organizations undertake following a thorough risk analysis. Risk management dynamically manages the risks to ePHI while ensuring no HIPAA rule is unmet.