If you own a healthcare facility or provide a service to one, you know how important it is to be HIPAA compliant. HIPAA has a long list of requirements, and documentation is important. The struggle with HIPAA documentation is often confusing. The legal speak often leads non-compliance folks down the rabbit hole.
But worry not, we have made it easier for you. In this article, you will learn what HIPAA document requirements are, why it is important, and how to maintain HIPAA documents.
What is HIPAA documentation?
HIPAA documentation is a combination of policies, processes, and tracking per the requirements mandated by the Security and Privacy Rules of HIPAA.
This is a necessary process that enables you to gain visible demonstrable evidence (VDE). The documentation can be achieved using electronic means such as HIPAA compliant software or maintained on non electronic formats like paper.
Why is HIPAA documentation important?
HIPAA documentation is a requirement of the security rule. If you are a business associate or covered entity, you should not consider this requirement a burden to avoid legal issues.
It helps compliance officers understand how compliant you are, and what actions are yet to be implemented. It shows how your facility functions and helps with maintaining records and thus helps to demonstrate transparency.
HIPAA documentation facilitates a culture of compliance. It is necessary to determine when there has been a violation of the privacy rule to take corrective action against the responsible employee and determine if the breach notification has been triggered.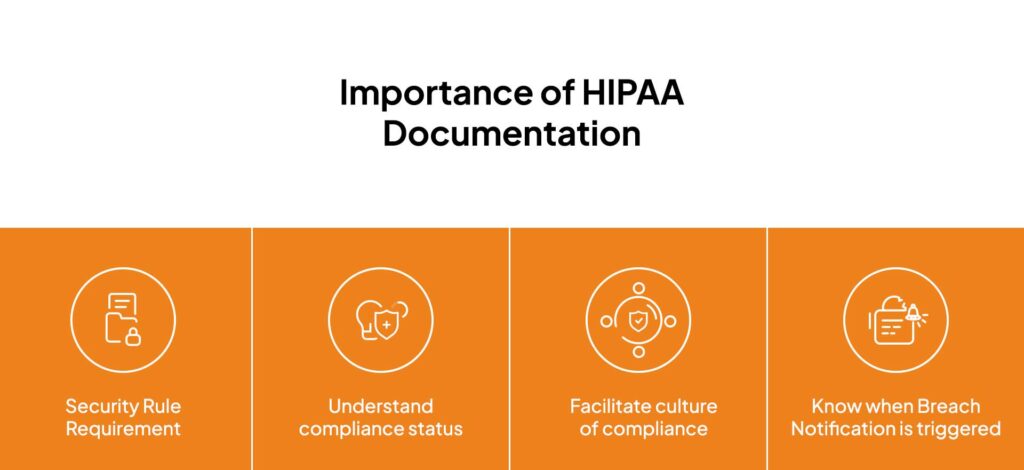 What are the HIPAA documentation requirements?
Refer to these HIPAA documentation requirements if you are a covered entity or business associate.
Covered entities must document designation in written or electronic format.
CEs and BAs must document log authorizations for every patient.
Covered entities must designate parts of health components and document the same in keeping with paragraph (c).
If a standard adopted in 164.308, 164.310, 164.312, 164.314, or 164.316 includes implementation specifications, CE and BA must document why it is not necessary to implement the concerned specification.
A CE and BA must review or modify security measures needed to adequately protect electronic protected health information (ePHI) and update the relevant documents as per 164.316(b)(2)(iii).
CE and BA must document security incidents and their outcomes.
Covered entities must document any agreement and assurance in a Business Associate Agreement (BAA).
Implement policies or processes to document corrections or updates to physical security components of a practice.
As per 164.306, CEs and BAs must maintain policies and processes related to this subpart in written or electronic form. Additionally, activities or assessments that are required to be documented must be maintained as a written record of the activity or assessment. Maintain this document for six years since its creation or when it went into effect.
If a PHI breach impacts less than 500 individuals, covered entities must keep a log of the same.
If a law official orally notifies a CE or BA that a notice or posting would impede criminal investigation, the CE or BC should document the statement.
Plan sponsors must adequately document the difference between them and group health plans.
CEs must document and store signed authorizations as per 164.530(j).
CEs must obtain research documentation from the researcher on the death of the concerned individuals.
CEs may declare a health information to not qualify as PHI. in such cases, CEs must document the method used by an expert to determine the same.
Healthcare providers are required to obtain a written acknowledgment of the receipt of the notice provided as per (c)(2)(i) and document the same. In case it is not obtained, make an effort to document the efforts to obtain it.
CEs must document with notice requirements as stated in 164.530(j).
CEs must document a restriction in keeping with 160.530(j).
CEs must document titles of people who receive and process requests for amendments by individuals and retain those documents.
A CE must document and the data required in accounting for PHI disclosure, written accounting provided to individuals under section 164.528, and the title of people who receive and process requests for accounting by individuals.
A CE must document administrative requirements and training.
All complaints received must be documented by CEs.
CEs must document sanctions against employees who fail to comply with HIPAA privacy policies.
How to manage your organization's HIPAA documents
The tracking method should allow you to track and even produce VDE to all HIPAA requirements. In order to achieve this, you must have:
A comprehensive understanding of all requirements applicable to your facility.
You must be able to produce VDE for each of these requirements.
If you are unable to produce VDE for some reason, there must a strategy to achieve the same.
You should be able to track every requirement at a granular level.
As previously outlined, both hard copies or electronic means are acceptable to maintain the records. However, electronic format is preferable due to ease of use and sustainability.
Conclusion
Let's get one thing straight. HIPAA documentation requirements are long and not easy to maintain. A small miss can land you in legal trouble or interrupt your workflow. Doing it manually is tedious, time-consuming, and error-prone – it can quickly mutate and become a mess.
There is a better, smarter, easier, and faster way to get this done – the Sprinto way. How does it work, you ask? Sprinto has all the requirements built into it. Sprinto captures logs, documents every granular detail you may ever require, tracks unauthorized actions, and automates all your documentation requirements. It also gives you the visibility required to track your compliance posture and identity areas where you are currently non-compliant and predict future non-compliance scenarios.
Let's make compliance easier. Talk to our experts about your needs.

FAQs
How do you document patient information?
You can document patient information using an electronic format like a HIPAA compliant cloud solution or non-electronic format like paper.
What should you document as per HIPAA?
As per the privacy and security rule of HIPAA covered entities and business associates must document policies, processes, and procedures related to patient health information.
What documents does HIPAA protect?
HIPAA protects sensitive patient health information or protected health information (PHI) documented in electronic or non-electronic format. There are 18 identifiers that qualify as PHI.