The ISO 27001 certification typically requires gaining familiarity with the standard, diligent planning, committed implementation, and ongoing maintenance. The readiness and existing processes of the organization determine the complexity of each of these steps. For first-time certification seekers that can feel like a significant workload and a lot of moving back and forth between auditor and the product.
In this blog, we'll provide a beginner-friendly overview of the complete ISO certification process. Read on as we shed light on everything that you need to know
What is ISO 27001 certification?
ISO 27001 certification is a globally accepted set of rules that businesses comply with to demonstrate their ability to protect business data from unauthorized access. With an increase in the number of organizations moving to cloud computing, it has become a norm for organizations to be ISO 27001 certified.
Why do you need ISO 27001 certification?
Before we dive deep into the process, let's take a closer look at why ISO 27001 certification is important.
As more and more organizations embrace cloud computing, they are becoming aware of the glooming threat landscape. As a result, it has become a norm for organizations to work only with businesses that can demonstrate the security of sensitive data. Becoming ISO 27001 certified goes a long way in establishing your security prowess.
Becoming ISO 27001 compliant also helps your internal operations too. It gives you an overview of your organization's security policies and practices and helps you determine the next steps to achieve elevated security prowess while optimizing expenses and resources.
How to get the ISO 27001 certification?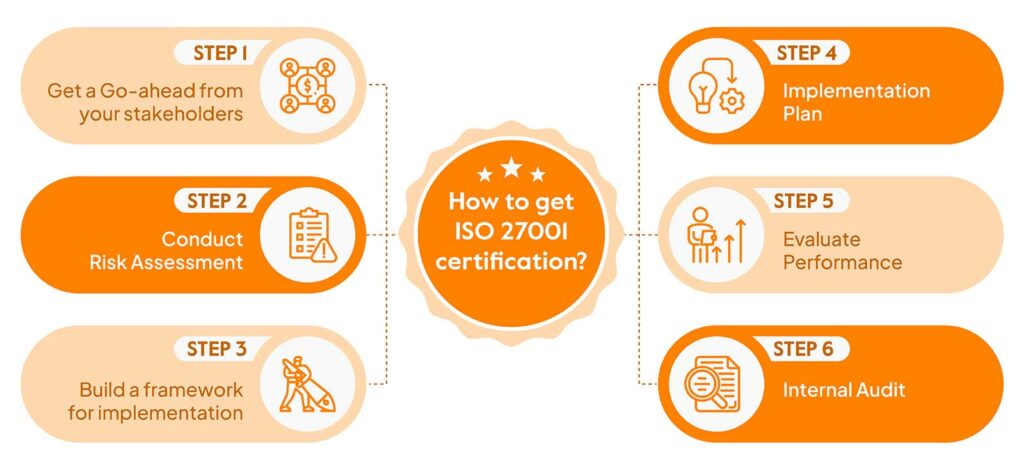 The ISO 27001 certification process takes work. For there are multiple steps and processes involved, these seem daunting, especially for those venturing into the compliance space for the first time.
Below is the process to get ISO 27001 certification in 2023:
1. Get a go-ahead from your stakeholders
The ISO 27001 implementation process is complex and involves a lot of stakeholders. It requires active participation and goes to the top of the management hierarchy. Briefing the stakeholders about the tasks and getting their participation will ensure that you don't run in circles when the actual implementation process starts.
2. Conduct a risk assessment
A detailed risk assessment of your current business environment is essential to prioritize compliance-related tasks. A risk assessment gives you an overview of your business's security posture. It helps you with the visibility required to identify vulnerabilities and prioritize them depending on the risk they pose to your business.
3. Build a framework for implementation
With the findings from your risk assessment, build a framework for implementing patches and policies. The framework will help you track progress, identify blockers, and plan your next steps smoothly. This framework will also double up in the evidence submission process when your organization submits its compliance evidence during the audit.
4. Implementation plan
Once you've identified the risks and the weak zones in your business environment, you should get the ball rolling with the implementation. Implementation goes beyond the confines of your excel sheet. Often this involves an org-wide change and is met with resistance. Before beginning the implementation process, start introducing your team to best practices for creating a secure business environment. Conducting periodic security training programs should solve this.
5. Evaluate performance
As you go on with the implementation, periodically analyze your performance reports to uncover ongoing vulnerabilities. Then assess these vulnerabilities to understand how they could negatively impact your final audit with an external auditor.
6. Internal audit
Once you have implemented all the systems and assigned stakeholders, you continuously evaluate your compliance posture. It is an excellent practice to have your ISMS audited by an external resource or a qualified internal auditor. This internal audit will help you get an unbiased view of your business environment and the visibility you need to evaluate the performance of your compliance program.
How long does it take to become ISO 27001 certified?
Depending on the size and the intricacies involved in your business, it could take anywhere between 3 to 12 months to become ISO 27001 certified.
This process includes setting technical controls, implementing policies, and conducting security training. A lot of time also goes into curating and gathering evidence to become ISO 27001 audit ready. Using the services of a compliance automation service provider could reduce your time significantly.
Benefits of ISO 27001 certification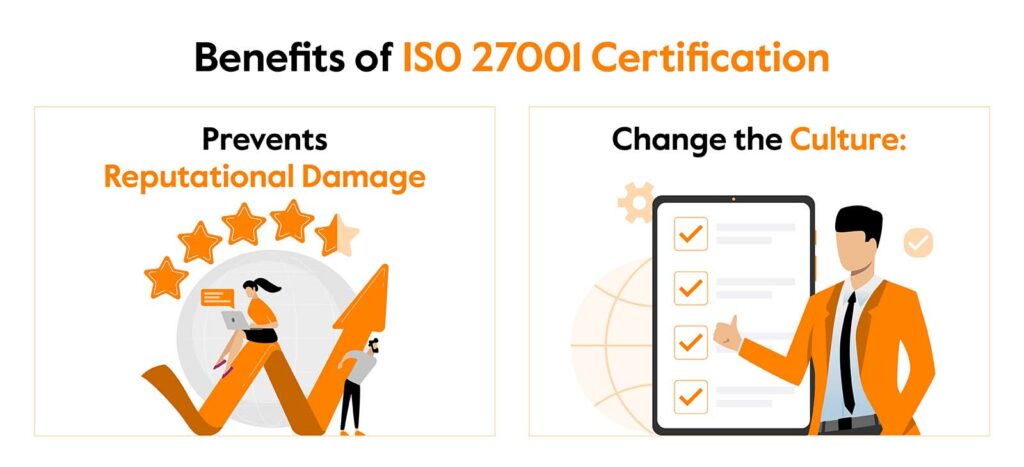 There are many benefits of being ISO 27001 compliant. The most obvious one is that it shows the world that you take information security seriously and have what it takes to keep your critical data secure. The major benefits of getting ISO 27001 certification are:
Protects you from cyber threat
To become ISO 27001 certified, you must create a strong security posture for your organization. This posture covers everything from conducting security training for all your employees implementing secure coding practices, and ensuring MFA is enabled. These wide-spectrum security nets make it difficult for bad actors and hackers to penetrate your defences and gain unauthorized access to your sensitive information.
Prevents reputational damage
Cybersecurity incidents have increased significantly across the globe. By becoming ISO 27001, you now start your journey towards implementing a security-first culture within your organization. This pro-security culture of your team will ensure that you don't become another cyber security breach statistic. Thus, keeping your organization away from the spotlight for the wrong reasons.
Not just that, the B2B SaaS has now transformed. Businesses now only prefer to conduct commerce with organizations that can showcase their compliance. Being compliant with a security compliance system like ISO 27001 instills trust in organizations about the security and integrity of their data.
Change the culture
Often security training programs and security activities are considered a checkbox items and should be remembered after the training activity is finished. These learnings are seldom implemented. Becoming ISO 27001 compliant instills a culture where internal audits and security training become common. This increases org-wide awareness of cyber threats and how everyone in your team helps create a secure business environment.
Here's a handy ISO 27001 checklist you should definitely have.
How can Sprinto help?
Sprinto is a compliance automation platform purpose-built to enable organizations to become ISO 27001 compliant. By automating all the repeatable processes (there are a lot of those), we ensure that the audit readiness period is reduced significantly. Automation also helps us reduce costs, thus, allowing us to enable organizations like yours to become ISO 27001 certified at a fraction of the price the world charges now.
Talk to our experts today to understand how Sprinto can optimize your ISO 27001 timelines and expenses.
FAQs
What does being ISO 27001 certified mean?
Being ISO 27001 certified means that the organization with the certification has implemented all the technical controls and policies required to achieve global security standards. The certification proves that an external auditor has audited them for the same.
Can an individual get ISO 27001 certified?
Individuals can get ISO certified by taking the required courses and examinations. Those individuals on the path to becoming lead implementers are usually the ones who choose to become ISO 27001 certified as individuals.
How long is an ISO 27001 certification good for?
An ISO 27001 certification is valid for three years. That said, organizations must conduct external annual surveillance activities and get the effectiveness of their implemented controls attested by external auditors every year.