Much like the fear of examinations, the fear of audits can be pretty real if you haven't put in the necessary work. Even after extensive preparation, it isn't uncommon to have a fear of having missed doing something critical to ensure successful certification. Having ISO 27001 audit checklist will help you ensure you have met all the requirements and can help allay these fears.
In this article, we give you an overview of the ISO 27001 audit and provide you with an ISO 27001 audit checklist of specific to-dos to complete before you appear for a certification audit.
What is an ISO 27001 Audit?
An ISO 27001 audit is a formal review of your organization's Information Security Management System (ISMS). A certified and independent third-party auditor evaluates whether your ISMS meets the requirements of the ISO 27001 security standard and maintains the confidentiality, integrity and availability of your sensitive data. The audit also reviews whether the organization's policies and procedures, and other security controls are effective and efficient.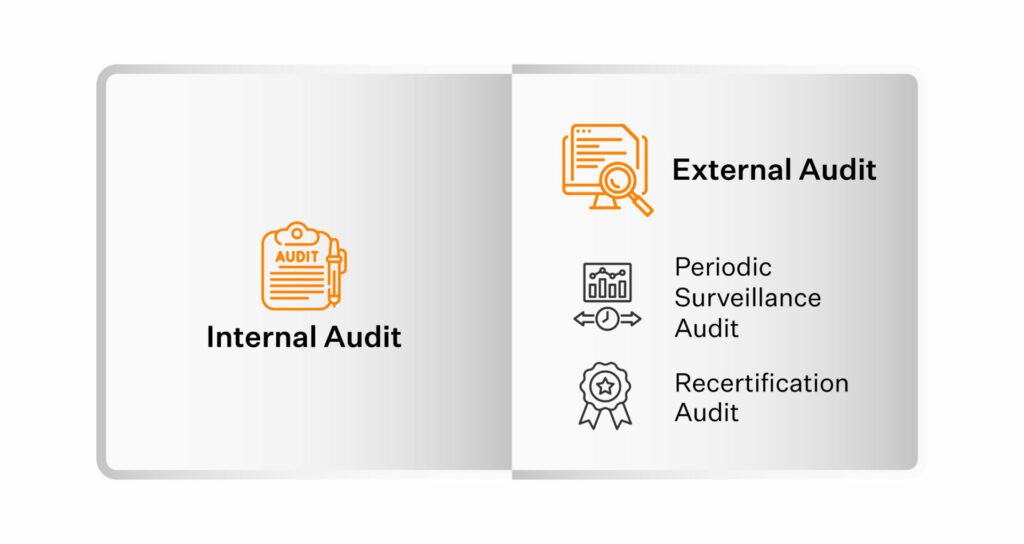 There are two types of ISO 27001 audits.
Internal Audit
External Audit
The external audits comprise the annual periodic surveillance audits and the recertification audit that's carried out at the end of three years (from certification).
The ISO 27001 standard mandates organizations to conduct an internal audit before they present themselves to an accredited external auditor for certification.
Is an Audit Needed?
Unlike other frameworks, such as SOC 2, the certification audits for ISO 27001 aren't an annual affair. Once certified, your next certification audit would happen only at the end of the third year. But don't let out that sigh of relief just yet; ISO 27001 standard mandates you conduct regular internal audits (typically once a year) as well as periodic surveillance audits in the interim period.
While these aren't as extensive as your certification audit, they require you to be on top of your compliance game. Here's why audits are needed.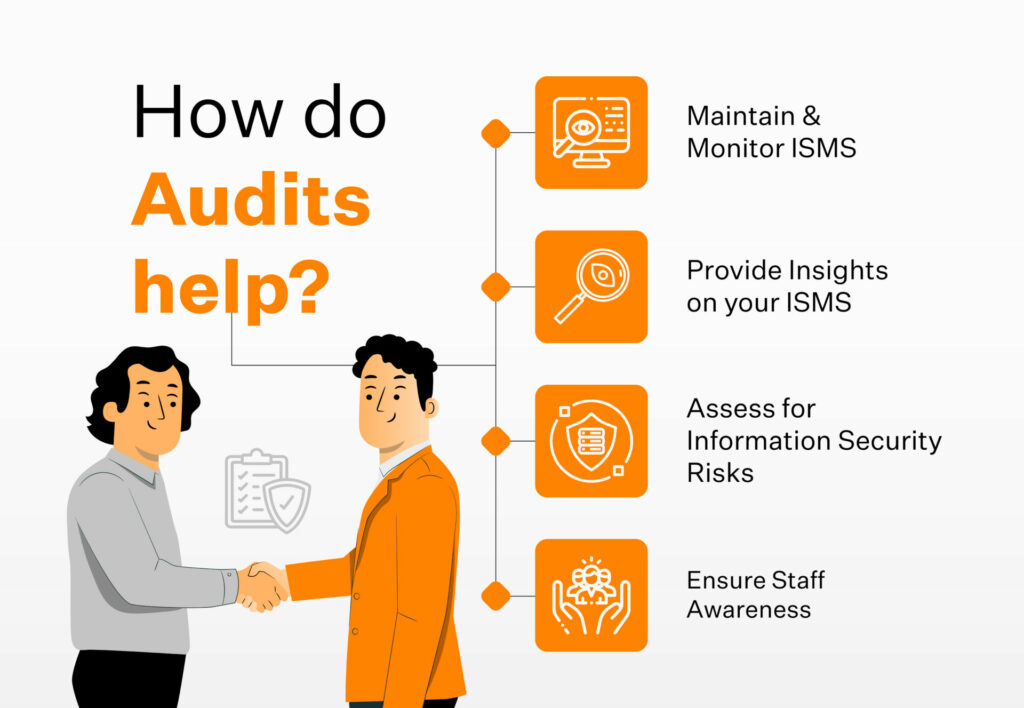 Maintain and Monitor ISMS
Audits help you maintain and monitor whether or not your Information Security Management Systems is working effectively in keeping with the standard's requirements and implementation roadmap.
Provide Insights on your ISMS
A lot can change in a business environment. Audits help identify whether such changes have a bearing on your security posture, and help you stay on your compliance course throughout.
Assess for Information Security Risks
In the course of business, new information assets get created. Audits ensure your asset inventory is updated, and all new information assets are assessed for security risks, and eventually protected using relevant risk treatment plans.
Ensure Staff Awareness
Audits and preparation for audits help educate and empower your staff to understand and imbibe an organization-wide security culture and follow processes.
Achieving ISO 27001 using an Audit Checklist – 5 Simple Steps
Irrespective of whether it is an internal audit or an external certification audit, here's a simple five-step process you can follow to get yourself audit-ready as per the ISO 27001 audit checklist.
Step 1: Set up an Internal Team
Create a team of internal resources to spearhead the compliance process in your organization, and later run point during the certification audit. This team can comprise relevant function heads, Security Officer & IT heads, and People Ops, among others. This team would be involved in the different stages of designing, building and monitoring the ISMS, and, therefore, is best placed to answer the queries raised by the external auditor during the certification audit.
Step 2: Ensure ISMS Scope & Plan are in Sync
Collaborate with function heads and review the scope of your ISO 27001 certification. This could be based on the information, products, processes, services, systems, functions, subsidiaries, and geographies your organization needs to protect through its ISMS. Ensure the scope covers all the information your organization wants to protect through its ISMS. Look for internal audit findings on this aspect and incorporate the suggestions.
Step 3: Review Documentation
Go over the many ISO 27001 documents, such as Statement of Applicability, Risk Treatment Plan, and Information Security Policy, to name a few, and ensure management has reviewed and approved them all. Also, ensure all the policies are documented and available for all staff via the company intranet.
Step 4: Evidence Collection
Ensure there is evidence collection and a trail of documents and records to demonstrate compliance with the ISO standard requirements. For instance, policies such as Vendor Risk Management Policy, Change Management Policy, Data Backup Policy, Business Continuity Management Policy, Vulnerability Management Policy, and Data Retention Policy, to name a few, should be documented and made available to all staff on the company intranet.
Step 5: Incorporate Internal Audit Findings
Review the internal audit report and ensure all the findings, recommendations, and corrective actions have been incorporated. Your internal audit report would be one of the first things your external auditor would look for during the main audit.

Some of the questions you can be asked during the audit are as follows:
– Is user access to your application secured using HTTPS (TLS algorithm) and industry-standard encryption?
– Does your senior management review and approve all company policies annually?
– Do all your staff complete Information Security Awareness training upon hire, and undergo Information Security Awareness training annually?

Here's an exhaustive ISO 27001 audit checklist that you can use to know your audit readiness before internal and external audits.
Download your ISO 27001 Audit Checklist
Remember, it is not enough that you have these processes and policies in place. What your auditor needs are demonstrable proof of compliance.
Also read: ISO 27001 checklist
What to do during the Audit?
Once the audit has begun, there is precious little that you can do to alter the course of your compliance decisively. You can, however, ensure the auditor has all the documentation, evidence, and other details in the format they seek. Have a list of staff they can talk to (if need be) and ensure their availability.
Your work, however, doesn't stop with the final audit.
You must ensure you incorporate all the suggestions/feedback from the Audit Report as per the ISO 27001 audit checklist. You must rectify all major nonconformities (if any) and share evidence of correction with the external auditor.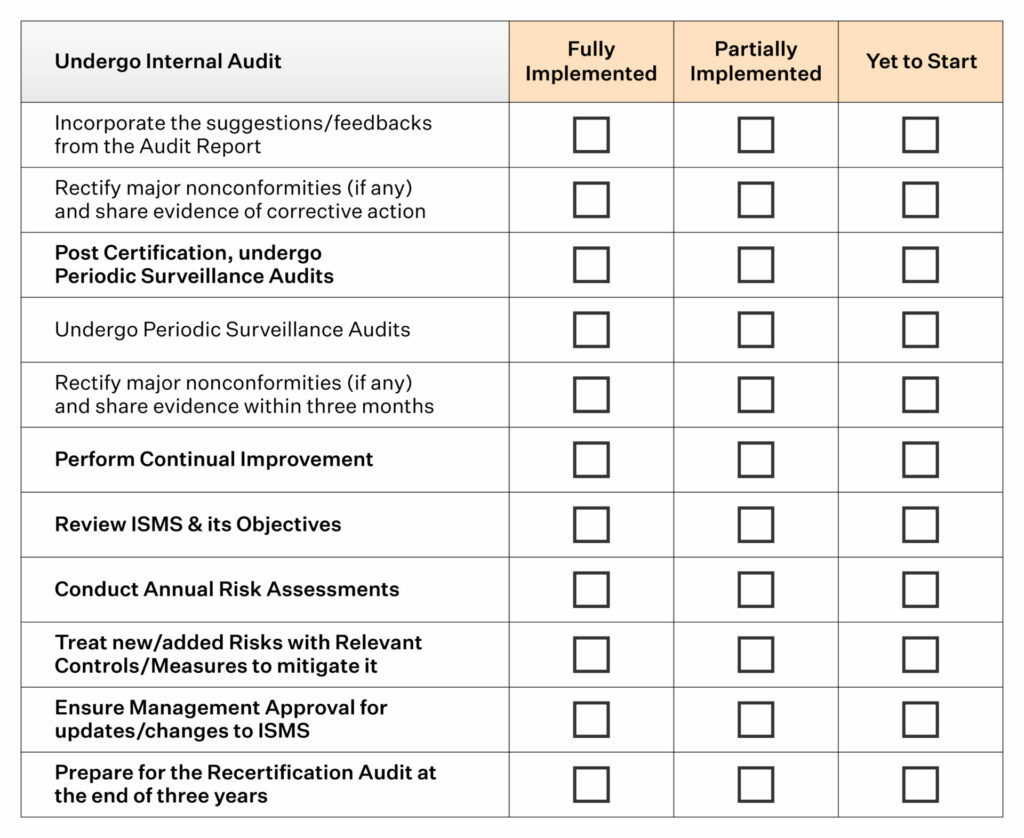 Get Audit-ready the Smart Way
As you would have realized by now, ISO 27001 isn't an easy compliance to get certified for. It requires a whole lot of work! The framework is exhaustive and heavy on documentation, making it progressively challenging to shake off the fear of something critical slipping through the crack.
Make the switch to Sprinto, an intelligently-built compliance automation platform to breeze through your ISO 27001 certification audits. With inbuilt checklists, editable policy templates, management reviews, evidence collection, and risk assessments, Sprinto makes it effortless to keep tabs on your audit preparedness. It gives you a dashboard overview of what's done and what isn't, and helps you stay on top of your Todos at any point in time.
ISO 27001 certification process isn't a 'one-and-done' exercise. It requires continuous monitoring and continual improvement, and a slew of audits every year. Invest your time focussing on your core business needs while the Sprinto app helps maintain your security posture with limited involvement from you.
Choose the smart way to ISO 27001. Talk to us today!