SOC 2 Criteria Mapping to ISO 27001
Shivam Jha
Jul 21, 2023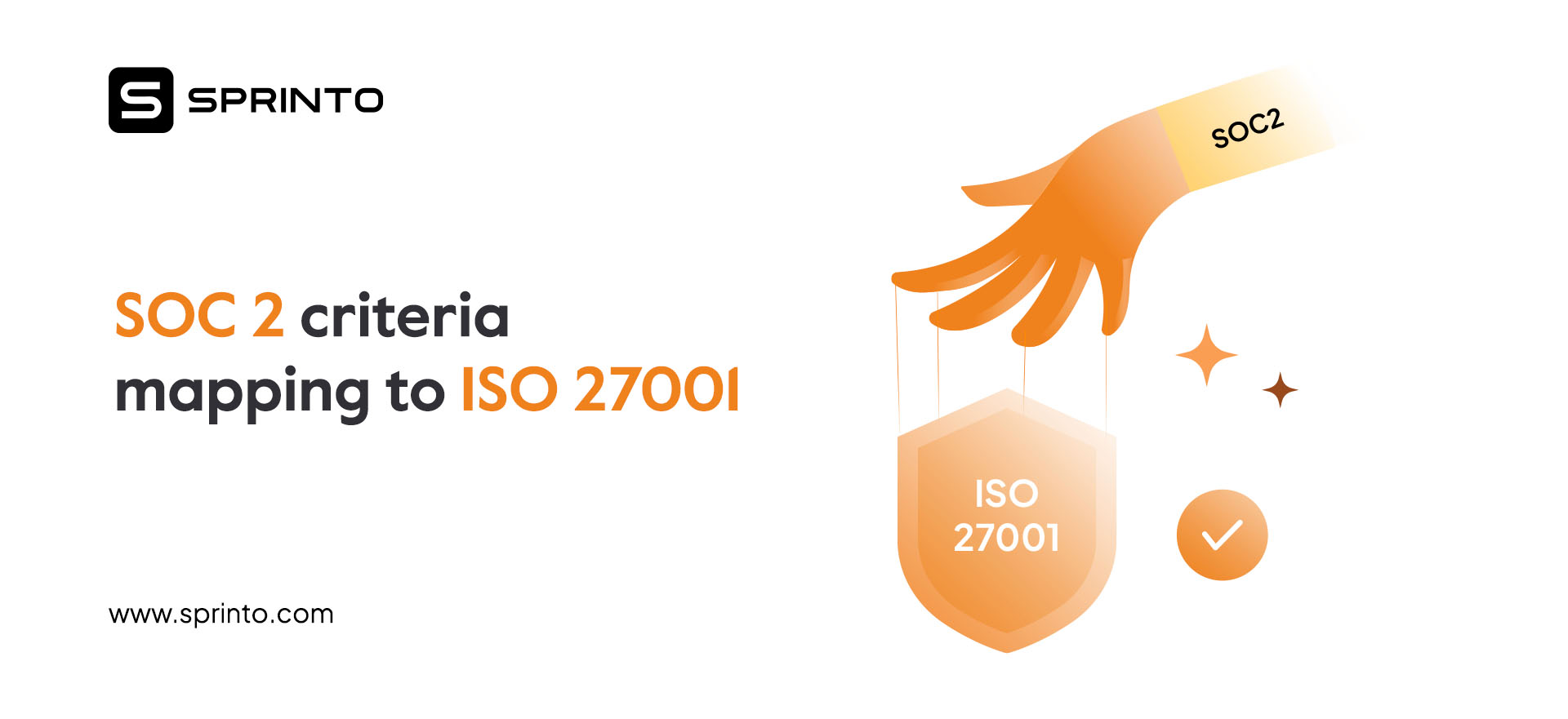 SOC 2 and ISO 27001 are both crucial compliance certifications that organizations go for in their compliance journey to enhance security and accelerate growth. Getting compliant with either of these compliances can be time taking and strenuous on your teams. Now imagine getting compliant for both. Are we looking at doubled expenses, resource utilization, opportunity cost, and legal fee? You could, but you don't have to.

Instead of looking at this from a linear approach angle, imagine an integrated structure that lays the foundation for multiple frameworks. Here's where mapping comes in.
What are SOC 2 and ISO 27001 Mapping?
ISO 27001 is a standard for the design and implementation of an information security management system (ISMS). SOC 2 puts more emphasis on how security principles are operationalized to handle the pertinent risks. The services offered to clients are taken into account when evaluating these risks.
SOC 2 criteria mapping to ISO 27001 is the process of matching the requirements and controls specified in the ISO 27001 standard with the criteria and controls of the SOC 2 framework. Organizations can use the controls and processes already in place to meet the needs of both frameworks by using the mapping exercise to understand how the two frameworks connect to one another.
Many companies decide to work towards compliance with various security compliances. The Common Criteria are mapped by the AICPA onto specifications for various frameworks, such as ISO 27001.
What is the common SOC 2 criteria mapping to ISO 27001?
You're in luck if your organization plans to implement SOC 2 and ISO 27001 because these two frameworks have a lot in common. Since many requirements, controls, and criteria overlap, there is a good probability you won't need to exert twice as much effort. You can speed up the compliance process by systematically completing each standard's requirements at once. Using common criteria, mapping is what this is.
How much of an overlap is there, then? There is no definite answer because every organization is held to a unique set of standards and regulations. The vast majority of SOC 2 and ISO controls, however, overlap, as shown by AICPA's mapping spreadsheet.
The Trust Services Criteria, a set of five guiding principles, encapsulate the specific controls that makeup SOC 2:
Security
Availability
Confidentiality
Privacy
Processing Integrity
The controls that makeup ISO 27001 are contained in 10 "clauses" that address an organization's security obligations:
Scope
Normative references
Terms and definitions
Context
Leadership
Planning and risk management
Support
Operations
Performance evaluation
Improvement
What is SOC 2 vs. ISO 27001 control mapping?
The process of control mapping for SOC 2 and ISO 27001 entails locating the controls specified in one compliance framework and mapping them to equivalent controls in another framework.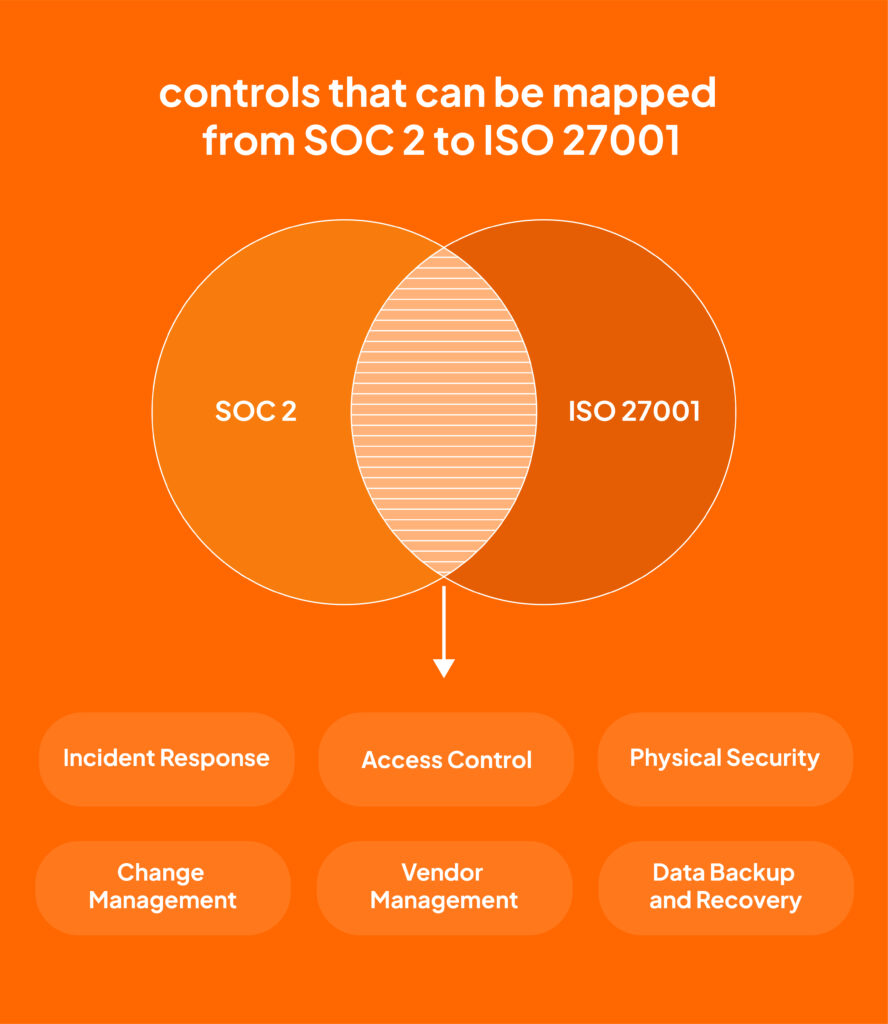 The alignment of certain control requirements between two sets of controls is the main focus. Control mapping's goal is to find areas of overlap, similarity, or gaps between controls so that the right controls are in place to satisfy the requirements of both frameworks.
The mapping will depend on the specific controls defined in your SOC 2 report and the controls outlined in your ISO 27001 implementation.

Examples of the controls that can be mapped from SOC 2 to ISO 27001:
Incident Response:
SOC 2 Control: Create an incident response strategy to identify, address, and recover from security incidents.
ISO 27001 Control: Develop and execute an incident management strategy to manage information security incidents and limit their effects.
Access Control:
SOC 2 Control: Put in place and implement logical access controls to guard against unauthorized access to systems and data
ISO 27001 Control: Define access control policies and practices to assure authorized access and guard against unauthorized access to information systems.
Physical Security:
SOC 2 Control: Implement physical security measures to guard against unauthorized access to buildings, machinery, and sensitive data.
ISO 27001 Control: Establish physical security perimeters, access controls, and monitoring systems to safeguard physical assets and avoid unauthorized access.
Change Management:
SOC 2 Control: Create change management processes to guarantee that modifications to systems and applications are duly authorized and put to the test.
ISO 27001 Control: Implement a systematic change management procedure to handle information system changes and reduce business interruptions.
Vendor Management:
SOC 2 Control: Establish a vendor management program to evaluate and control the risks related to using outside service providers.
ISO 27001 Control: Create a procedure for assessing, choosing, and keeping track of the information security measures taken by third-party suppliers.
Data Backup and Recovery:
SOC 2 Control: Regularly back up critical data and test the effectiveness of data backup and recovery procedures.
ISO 27001 Control: Implement a data backup strategy and regularly test data restoration procedures to ensure data availability and integrity.
Benefits of SOC 2 and ISO 27001 criteria mapping
Organizations can benefit from the SOC 2 and ISO 27001 criteria mapping in numerous ways. It streamlines compliance efforts by locating overlaps and utilizing existing controls and procedures.
Mapping enables businesses to improve risk management procedures, develop a comprehensive security posture, and allocate resources more effectively. Organizations gain compliance, confidence, and a competitive edge by aligning with recognized frameworks.
Criteria mapping creates a unified and effective approach to implementing ISMS resulting in thorough coverage, optimal resource utilization, improved risk management, and a stronger security posture.
Sprinto's thoughts on SOC 2 vs. ISO 27001 criteria mapping
To summarize, mapping SOC 2 vs. ISO 27001 criteria is like finding the perfect puzzle pieces that fit together seamlessly. Organizations are not required to follow all of the specified criteria and controls in SOC 2 and ISO 27001. So how do you choose which ones to stick to? Working with a credible compliance partner like Sprinto will enable you to get professional advice on the best course of action.
Sprinto is a compliance automation solution that takes care of everything compliance for you. Sprinto's automated evidence collection, structured implementation, and continuous monitoring takes it to the next level to save you time and resources.
From policy creation to mapping of controls to the audit, Sprinto's got you covered with its hassle-free automation, integration, and clear checklist. Book a demo with us and see how Sprinto can help you go through an uncomplicated, resource-light security audit and certification.
FAQ's
How can businesses make sure the mapping of SOC 2 to ISO 27001 is successful?
Organizations should carefully examine the requirements of both standards, identify shared controls and procedures, evaluate any gaps, and create a thorough plan to remedy those gaps within the ISO 27001 framework to ensure successful mapping.
Should businesses regularly update their mapping?
Yes, businesses should examine and update their mapping of SOC 2 to ISO 27001 on a regular basis. Organizations must make sure that their controls and processes continue to be in line with the most recent specifications of both frameworks as both standards improve over time.
Does mapping SOC 2 to ISO 27001 guarantee compliance with both regulations?
SOC 2 to ISO 27001 mapping does not ensure automatic compliance with both standards. Although it offers a framework for aligning controls, organizations must still make sure that all of the standards' requirements are completed and go through audits to receive certification.
Shivam Jha
Shivam is a senior content marketer who loves writing about cybersecurity and software. His six years of experience as a cybersecurity expert enables him to have a unique perspective on topics. In his non-working hours, you'll find him listening to rock music and cooking Indian cuisine.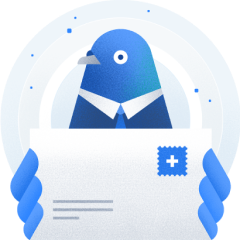 Subscribe to our newsletter to get updates
Schedule a personalized demo and scale business
Subscribe to our monthly newsletter

Sprinto: Your growth superpower
Use Sprinto to centralize security compliance management – so nothing
gets in the way of your moving up and winning big.