What is SOC 2 Type 1 and Its Importance
Anwita
Mar 24, 2023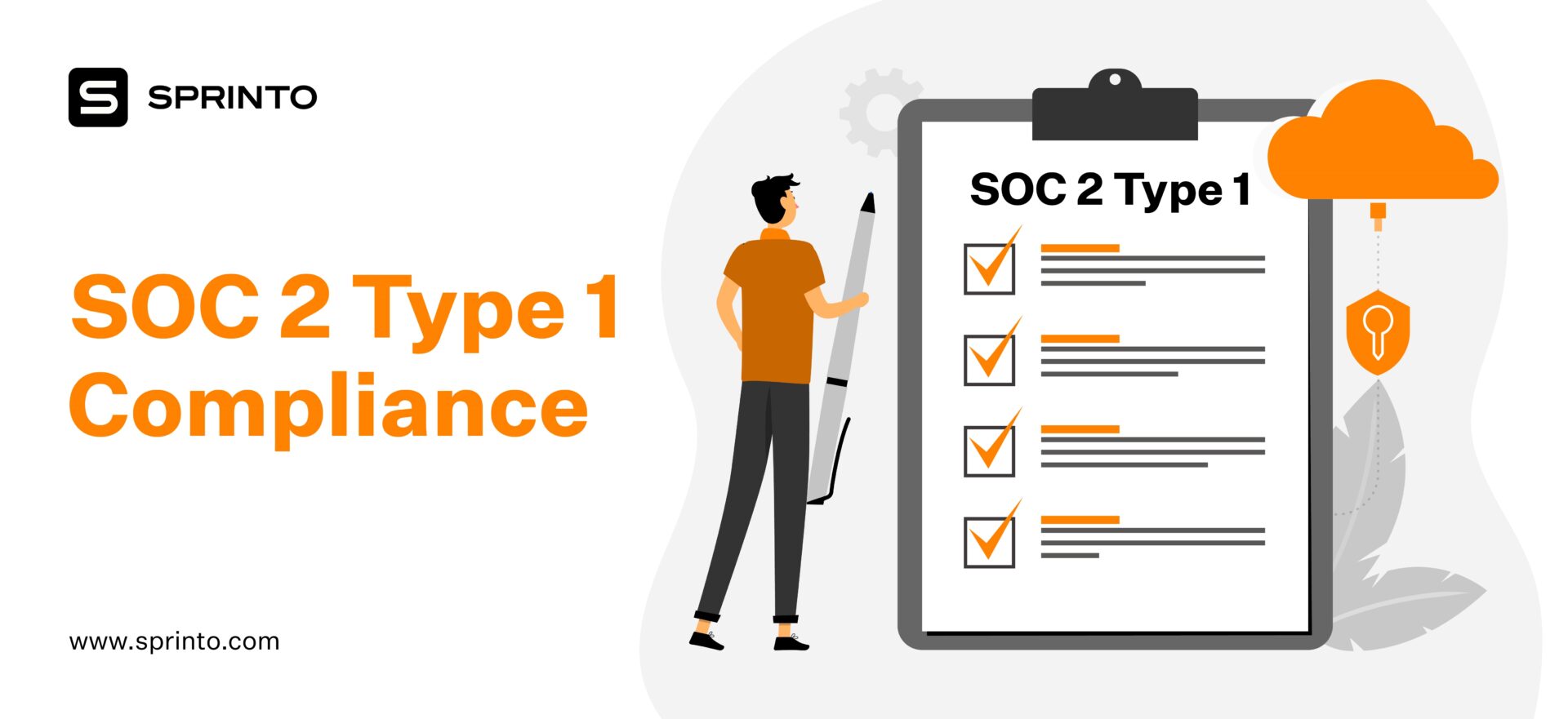 Cyber attacks are on the rise and it has become difficult for businesses to share their data with other businesses for partnership and collaboration purposes. More and more SaaS businesses working with vendors want proof that their sensitive data is in safe hands. As a business provider how can you ensure information security?

You could fill out lengthy questionnaires and answer 300-400 questions on your current security policies and systems or you could become SOC 2 compliant.
SOC 2 is a security framework that helps demonstrate security processes and controls to ensure data security. Developed by the American Institute of CPAs (AICPA), it works on five trust criteria – security, availability, confidentiality, processing integrity, and privacy.

SOC reports are unique to every organization and are of two Types – Type 1 and Type 2. Businesses generally pick the SOC 2 type based on their current business needs.
This article focuses on SOC 2 Type 1 compliance and is for SaaS businesses looking to strengthen their security posture to acquire more clients and reduce the sales cycle. You will learn the basic difference between SOC 2 Type 1 and Type 2, its importance, and how to prepare for a SOC 2 Type 1 audit.
What is SOC 2 Type 1?
SOC 2 Type 1 reviews the design of your organization's internal controls at a point in time. It assesses your organization's SOC 2 compliance posture and determines whether the implemented controls meet the framework's requirements.
SOC 2 controls could be preventative, detective, or corrective.
The basic idea is to assure your current and potential clients that you follow security best practices to manage sensitive information.
While getting SOC 2 compliance isn't compulsory, it is highly beneficial. This is because large organizations put paramount importance on information security. They are unlikely to partner with any organization that does not present a strong security-first posture.
Types of organizations that can consider SOC 2 Type 1 compliance
SOC 2 is the gold standard to establish advanced security posture and your key to unlocking growth opportunities. You should consider SOC 2 Type 1 compliance if you:
Are a SaaS vendor who processes, gathers, or manages sensitive data
Need to demonstrate security compliance urgently, Type 1 will come to your rescue as the timeline is significantly shorter
Are starting your security compliance journey and want to know if you can meet the goals of Type 2
Are low on the budget but need one to land more sales deals
Make compliance your super power
Getting SOC 2 compliance isn't compulsory. Usually, businesses opt for SOC 2 Type 1 first, but this depends on your organizational needs. It surfaces areas for improvement, which you can address during a SOC 2 audit.
What is The Difference Between a SOC 2 Type 1 and Type 2?
SOC 2 Type 1 and SOC 2 Type 2 differ in the assessment and monitoring period of the internal controls. SOC 2 Type 1 evaluates the design of the security controls at a point in time, whereas SOC 2 Type 2 reviews the design and operating effectiveness of the controls over a period of 3-12 months.
If you are just starting your security compliance journey or a customer wants to review your security practices immediately, opt for Type 1. If you have already completed Type 1 or do not need the report immediately, Type 2 is more suitable. SOC 2 Type 1 is generally opted by those who are beginning their security compliance journeys. It is sometimes also used as a buffer to buy in time. Businesses start off with a Type 1 attestation to show their prospects their intent towards becoming compliant to move their business deals forward while simultaneously laying the roadmap to becoming SOC 2 Type 2 compliant.
Another differentiating factor is the objective of the report. SOC 2 Type 1 testifies that you have the controls in place. Soc 2 Type 2 on the other hand attests to the operating effectiveness of your internal controls along with the design.
Also check out: A quick guide to SOC for supply chain.
Why does an organization need a SOC 2 Type 1 report?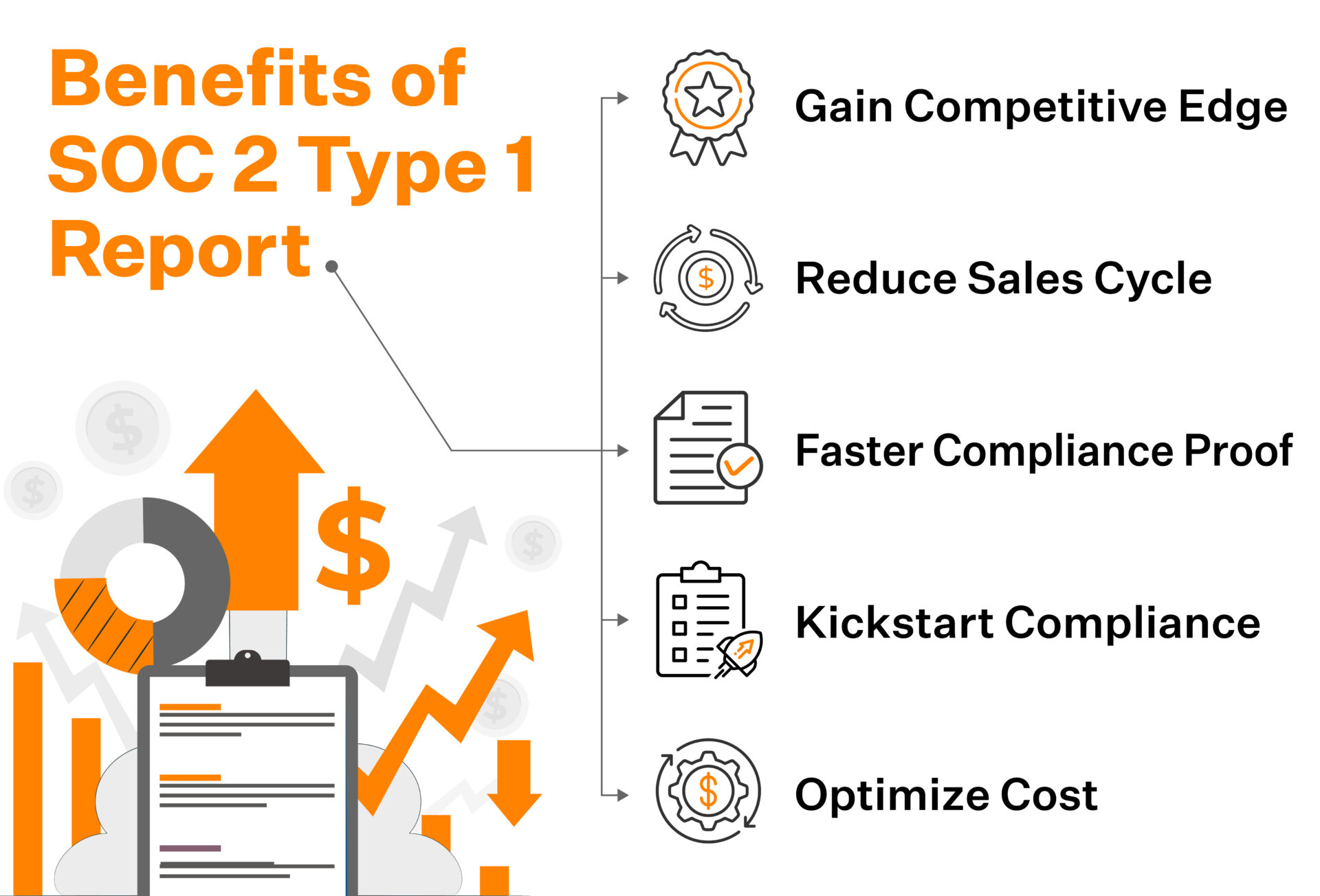 As previously outlined, SOC 2 report is not a must-have but rather a good to have. Below are the 5 reasons to get Soc 2 Type 1 for your organization.
Competitive Edge for Startups
Shorter Sales Cycle
Immediate Requirement
Cost Effective
Kickstarts Compliance
Competitive edge for startups: As a SaaS vendor, customer acquisition and retention can be daunting. With so many new vendors offering the same service, you must square up to survive an ever-expanding B2B space. As a new player in the market, you won't have the time to wait for months to get Type 2 to show security compliance.
At this stage, you should consider Type 1 compliance. It works as a unique selling point (USP) for your business and provides a competitive edge against other new players.
Shorter sales cycle: With growing security concerns, your prospects can keep going back and forth on infosec controls before finalizing the deal. A SOC 2 report here can help you answer security questionnaires easily and shorten your sales cycle.
Immediate requirement: Many SaaS organizations don't implement security protocols unless there is an immediate requirement. If your client wants proof of good security practices and you don't have one, the Type 1 will come to your rescue.
This is because a SOC 2 report, irrespective of the Type, is the primary document to demonstrate your overall data security efficiency. It is an industry-standard report accepted by organizations of all sizes.
Kickstarts compliance: If you are considering security compliance, Type 1 is a good option to start with. This is because it is ideal to check if you are ready for Type 2 and can handle more rigorous security protocols.
Cost-effective: If you are a startup or small business, security compliance is important but budget restrictions may keep you from getting one. While both Types of SOC 2 reports are costly, Type 1 cost between $8000 to $30000 while Type 2 will set you back anywhere from $20000 to $50000.
How to prepare for SOC 2 Type 1 report?
A Type 1 audit evaluates the organization's security processes and other internal controls at a point in time. An AICPA-accredited Certified Public Accountant (CPA) will conduct this audit.
Below are some steps your organization can take to prepare for Soc 2 Type 1:
Planning your scope
Or getting your ducks in a row.
There's a ton of things to sort out before, during, and even after an audit, so things can get messy without a roadmap. We suggest setting the following roles:
Department-wise team leads: Get someone from each department, like sales, IT, operations, and more.
Executive sponsor: Basically a fancy term for a project lead. A senior member with a good understanding of company processes and policies is right.
Document creator: You should record every process, so it makes sense to assign the compilation task to another person.
Once you decide who does what, it is time for more planning. As the SOC 2 report is based on the five trust principles, use those to define and scope your project.
Not every principle is applicable to every organization, so identify the areas of work. Security is an absolute must have, irrespective of the type of data you process and how you handle it. Other principles are optional and depend on organizational needs.
For example, while availability can be relevant for all cloud-hosted businesses, processing integrity needn't. Processing integrity comes into play when you manage financial transactions, data processing, and more. Confidentiality is required if you store sensitive information secured by a non disclosure agreement (NDA).
Implement controls based on your trust principles
Work in progress…
It is time to set up administrative and technical security policies across your IT environment. This will be based on the trust criteria. Here are the controls for each:
Security: It has nine common criteria (CC), out of which five are compulsory. These are control environment, risk assessment, communication and information, monitoring of control, and design and implementation of controls.
Availability: Possible control to meet this requirement may include Incident Response Planning (IRP) and Distributed Denial of Service (DDoS) protection.
Confidentiality: You should have internal controls like data encryption, access control, and network firewall to meet this criteria.
Processing integrity: Controls related to policies and procedures to maintain operational efficiency and data accuracy. Endpoint security and server safety are important if you work with a Cloud Service Provider (CSP).
Privacy: Comprises eight controls related to data management, security, use and disposal, and more. Possible internal controls to meet this requirement include encryption, two-factor authentication, and access control.
While this is a much-needed step to identify cybersecurity gaps, don't strive for perfection at this stage. Instead, let the small gaps be and keep testing the procedures. Resolve issues as they arise and document them.

Conduct readiness assessment
Get ahead of breach scenarios
You are almost there, we promise.
Readiness assessments give an idea on how prepared you are. All the documents, processes, and evidence you gathered will finally come to use. At this stage:
The consultant reviews if your audit scope aligns with the controls
They will also review your documents and evidence
You get an idea of what the overall security posture looks like
Gain insight into the existing gaps and work to fix them before the grand finale – your compliance audit
The consulate communicates their observations and suggestions to your organization's heads
There are two ways to do it: hire an external vendor or use internal resources.
Select an auditor to review and certify your reports
You finally did it. Phew!
Look for a reputed auditor who has previously worked with organizations of similar size and complexity. Verify the reviews from various sources and ask questions about their process and approach. Your SOC 2 auditors will:
Set a date to conduct the test
Demand a list of evidence for your controls
Test the processes, document them, and work on issues
Create and deliver the final report
How Sprinto helps organizations become SOC 2 Type 1 compliant
Compliance means a ton of work and a lot of headache. We know you would rather focus on your sales and customers.
What if there was a super easy solution that took care of the boring and time-consuming tasks? Well, there is one. Meet our compliance automation platform that makes your life easier.
Instead of manually looking for evidence of compliance and oversights, you get a continuous monitoring feature on Sprinto that keeps your compliance game on all the time.
Instead of spending hundreds of hours looking for gaps, improvement areas and following up repeatedly with your staff for policy acknowledgments and whatnot, automate it all at the click of a button.
Lost in piles of data and processes? Sprinto enables you to track every action, process, and issue from a centralized dashboard. You can automate workflows and create custom rules.
Figuring out the nuances of compliance can burn you out for months. With Sprinto, you can do it in weeks.
Sounds good? Or need more convincing? Talk to our experts today.
Get compliant without any hassle with the help of Sprinto
FAQs
Who needs to be SOC 2 Type 1 compliant?
SaaS firms, companies that store sensitive customer information on the cloud and cloud service providers can consider getting SOC 2 Type 1 compliant.
How much does it cost to become SOC 2 Types 1 compliant?
The cost of SOC 2 compliance depends on factors like the type of attestation, audit scope, security tools, business size, and more. Typically, it should cost you $8000 – $30000. You can learn more about the cost structure of SOC 2 compliance here.
Anwita
Anwita is a content marketer. Her love for everything cybersecurity started her journey into the world of viruses and vulnerabilities. With multiple certifications on cybersecurity, she aims to simplify complex security related topics. She loves to read nonfiction, listen to progressive rock, and watch sitcoms. She wishes to master the piano and learn unicycling. Reach her at anwita@sprinto.com.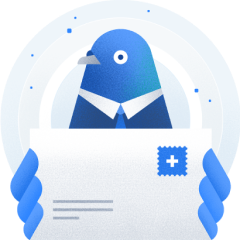 Subscribe to our newsletter to get updates
Schedule a personalized demo and scale business
Subscribe to our monthly newsletter

Sprinto: Your growth superpower
Use Sprinto to centralize security compliance management – so nothing
gets in the way of your moving up and winning big.