SOC 2 for Startups – A Detailed Guide
Srividhya Karthik
Jul 22, 2023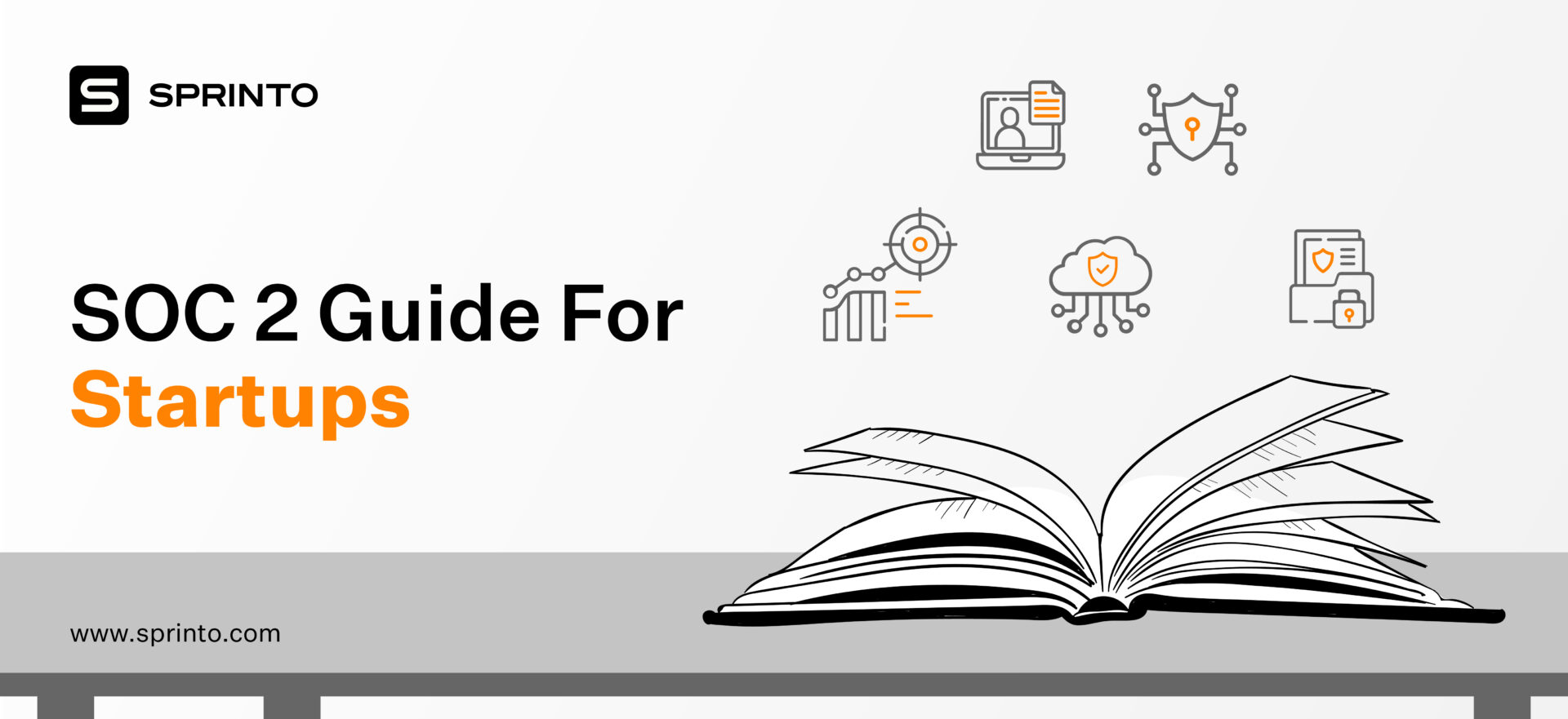 Did you know that your compliance with SOC 2 can become a critical competitive differentiator for driving sales and revenue? As a startup constantly scouting for growth opportunities, your SOC 2 attestation can make you stand out against your competition and help swing deals in your favour.
SOC 2 also helps build a pro-security culture in your organization. And, instead of painstakingly filling those long and exhaustive security questionnaires from prospects and customers each time, SOC 2 attestations lead to fewer questions on your cybersecurity posture. The result? You get to invest your time where it matters the most – your product!
So, does a startup need to be SOC 2 compliant? The answer is a resounding yes. Read our specially-crafted SOC 2 for startups guide to understand why and how to go about your SOC 2 journey, which pain points to solve, and the pitfalls to avoid. Along the way, we will also talk about nifty solutions to evade some of the compliance blockers.
What is SOC 2?
SOC 2 is a voluntary security framework that defines how organizations must design their internal controls and other security-related operations to preserve customer data and privacy.
The American Institute of Certified Public Accountants (AICPA) created the Service Organization Control 2 (SOC 2) to assess, using third-party accredited auditors, whether organizations manage customers' data safely and effectively within the cloud. It is based on the five Trust Services Criteria (TSC) of Security, Availability, Confidentiality, Processing Integrity, and Privacy (more on that later).
Why is SOC 2 certification important for startups?
More often than not, SOC 2 can be a critical decision-making component for enterprise customers. Startups with SOC 2 certifications stand a better chance at landing enterprise deals as against those that don't have SOC 2.
If your startup handles sensitive customer information, SOC 2 is a given eventuality. So, instead of waiting for a prospective customer to ask, get your SOC 2 compliant sooner than later.
Make compliance your super power
Types of SOC 2 reports you must know before getting started
There are two types of SOC 2 reports: SOC 2 Type 1 and SOC 2 Type 2.
SOC 2 Type 1 report validates that an organization's security controls are designed appropriately, and the procedures align with the chosen TSCs at a given point in time. It's akin to a snapshot and stands as testimony that the organization has implemented data security best practices.
A SOC 2 Type 2 report offers proof of the design and operational efficiency of an organization's security controls. It verifies whether the controls are working as desired over a specific period of time – three-twelve months for the first audit and one year for subsequent audits.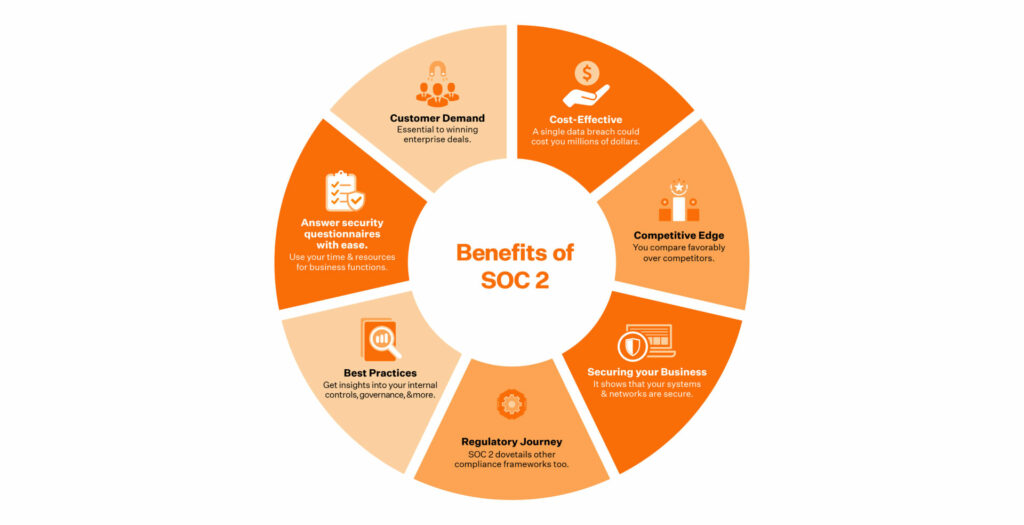 What type of report is more suitable for your startup?
Now that you have a fair idea of both Type 1 and Type 2 reports, you must decide which type of report you need.
Here's what most of our customers based their decision on:
Reasons to Choose SOC 2 Type 1
To test the waters and see how your organization stacks up
As a good starting point before your eventual SOC 2 Type 2
Since its easier and faster to get than Type 2
If the prospect/customer hasn't explicitly asked for Type 2
Reasons to Choose SOC 2 Type 2
If a prospect/ customer has specifically asked for it
To demonstrate your continued commitment to data security
To offer customers more significant insights into your organization's security posture
Also check out the difference between SOC 1 vs SOC 2, and SOC 3
Steps to get SOC 2 for your startup
To become SOC 2 certified, you must understand the framework requirements and interpret them to fit your specific environment. To do that, you will need to do the following: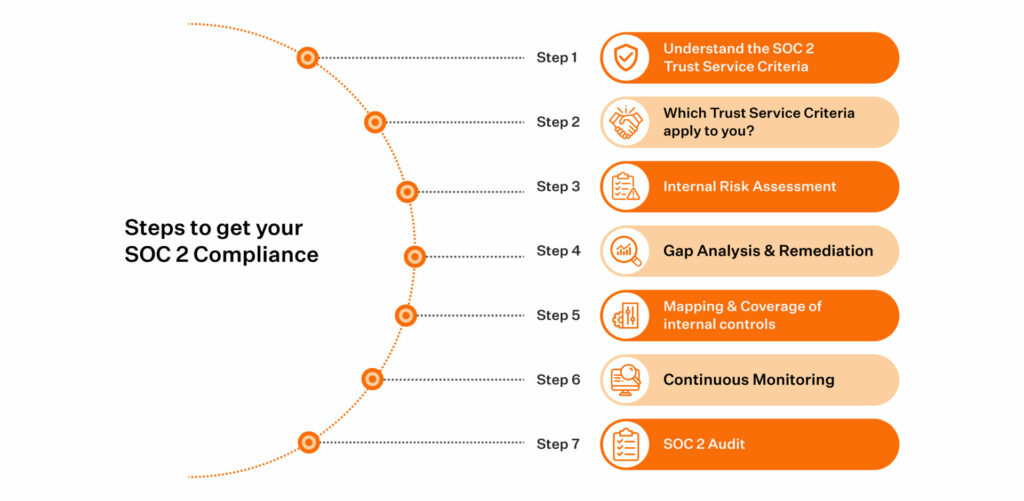 Automate your compliance: Achieve Always-on compliance!
1. Understand the SOC 2 Trust Service Criteria
Your SOC 2 scope is determined by your choice of the five Trust Services Criteria (TSC). Formerly known as the Trust Principles, you must consider them a focus area for your compliance program. Each of the five TSCs defines a set of compliance goals your organization must meet by implementing the necessary security controls.
Of the five TSCs, Security is a compulsory requirement. The other four are optional and left to the discretion of each organization. Here's a quick look at the TSCs and what they entail.
Security
It's a must-have scope for every SOC 2 audit, and is often referred to as common criteria.
Availability
This TSC requires you to demonstrate that your systems meet operational uptime and performance standards.
Confidentiality
It requires you to demonstrate your ability to safeguard confidential information throughout its lifecycle.
Privacy
It assesses whether your cloud data is processed accurately, reliably and on time and if your systems achieve their purpose.
Processing Integrity
This TSC lays guidelines on the protection of Personally Identifiable Information (PII) from breaches and unauthorized access.
2. Which Trust Service Criteria are more suitable for your startup?
Empirically, we have seen that nine out of ten cloud-hosted companies choose only Security as their TSC for SOC 2. Of the remaining, a good majority pick Security, Availability, and Confidentiality.
Only in rare industries and use cases do customers ask for all five TSCs. The TSCs of Processing Integrity and Privacy are highly specific to your environment.
We suggest you go with the three TSCs outlined earlier and leave Privacy and Processing Integrity out unless they've been specifically asked for. Our recommendation is to do it only when really necessary.
Reprioritize growth. Leave the complexities of compliance to us.
3. Internal Risk Assessment
SOC 2 risk assessment can be a time-consuming and exhaustive process when done well. It requires you to:
identify the many business risks associated with your startup's growth, location, or infosec best practices,
assign a likelihood of occurrence and impact to each risk, and
implement controls to mitigate them.
But risk assessments, in reality, aren't as simple and, therefore, don't always get the attention they deserve in the run-up to getting audit-ready. Unwieldy spreadsheets, double-guessing risk parameters, and constant back-and-forth reviews can make the entire process rather tiresome.
Sprinto's newly-introduced Integrated Risk Assessment feature has been designed to ensure your approach to risk assessment is holistic and sure-footed.
4. Gap Analysis & Remediation
Once the controls are implemented, you must check for control gaps and remediate them. Doing this helps get an overview of the operationalized policies, procedures, and controls, and how they stack up against SOC 2 requirements. In case of controls gaps – where your measures don't meet SOC 2 requirements, you must form a remediation plan (policies, procedures and processes) to plug the gaps.
Also, check out how SOC 2 bridge letter is helpful.
5. Mapping & Coverage of internal controls
Mapping of controls calls for opening up your spreadsheets again! You must now map your implemented security controls to the SOC 2 requirements for your chosen TSCs. Did you know that each TSC has multiple individual criteria, and you must address all of them? For instance, Security TSC has 33 individual criteria. In that, if any criterion is out of scope, you can keep it out of the audit purview with a suitable justification.
6. Continuous Monitoring
SOC 2 isn't a 'checkbox only' compliance. It would help if you established continuous practice so that you can always be SOC 2-ready. Having a robust continuous monitoring set-up also helps you with evidence collection. And it alerts you when something isn't done or is done incorrectly.
7. SOC 2 Audit
While you maintain your audit readiness using continuous monitoring, you must authorize an independent certified auditor to complete your audit and generate a SOC 2 report at this stage.
You can expect a long-drawn back and forth with the auditor to share evidence, answer queries and discover lapses in your control coverage/non-conformities.
Check out a detailed guide on SOC 2 audit
How long will it take to get your SOC 2?
There's no straight answer to that. The time organizations take to get SOC 2 ready depends on a number of factors, such as the size of the organization, chosen TSCs, which approach you to choose to SOC 2 (more on that later), and more. For startups, it may take relatively less time. But that again will depend on the complexity of your business operations. Expect the process to take three-six months at the minimum.
The next phase after audit readiness is the actual audit. In the case of a Type 2 report, the audit entails a monitoring period of three-twelve months.
Get SOC 2 compliant in weeks with Sprinto
How much does SOC 2 cost?
The answer depends on various factors; hence, the SOC 2 certification costs will vary accordingly.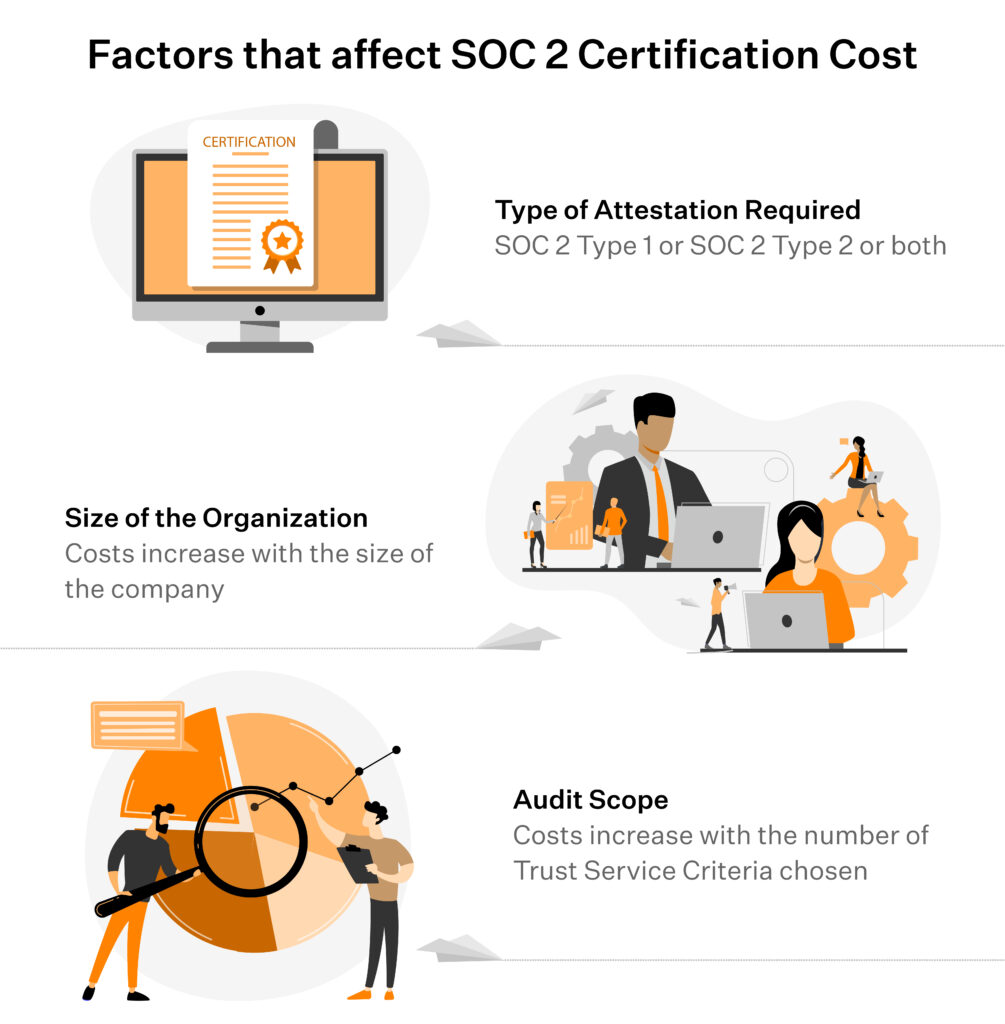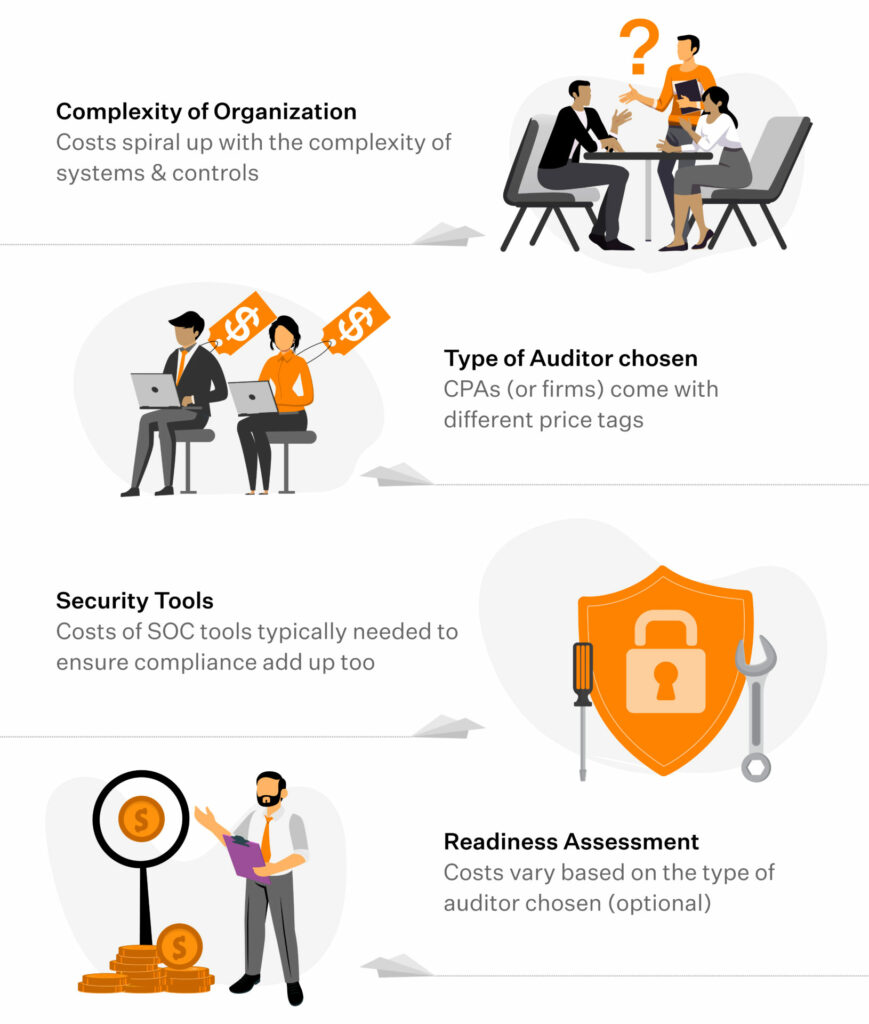 We'd estimate the starting price of a SOC 2 Type 1 audit alone to range between $5000 and $25000. SOC 2 Type 2 with a more extended evaluation window costs a tad more. We'd estimate SOC 2 cost for Type 2 reports between $20000 and $50000.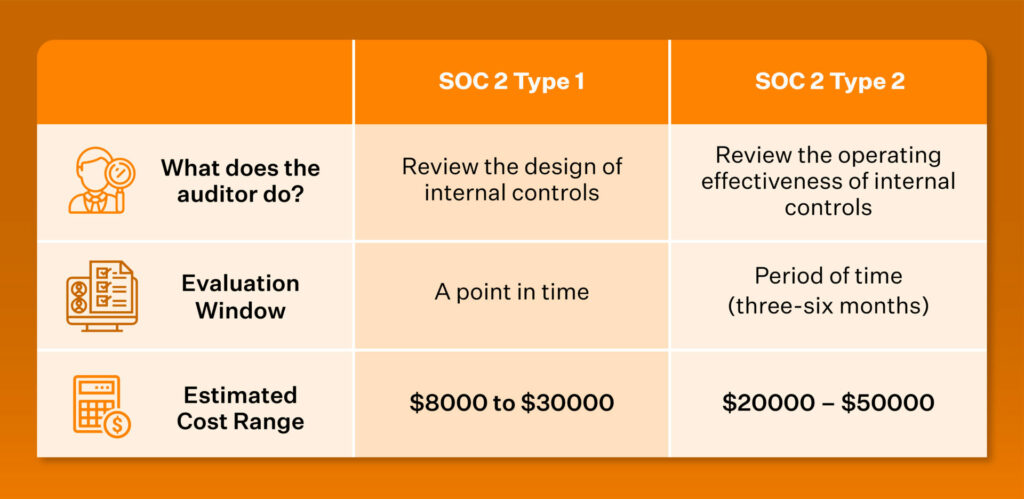 Talk to our compliance experts for a detailed analysis of your SOC 2 costs.
Who performs a SOC 2 Audit, and how often do you need to do it?
Your chosen independent certified auditor performs your SOC 2 audit. Your SOC 2 report is valid for 12 months only. So, you will need to get audited a year later to maintain your compliance with SOC 2.
Recommended: Key SOC functions you must know
Ways to get SOC 2 for your Startup
As we see, there are four ways to get your SOC 2.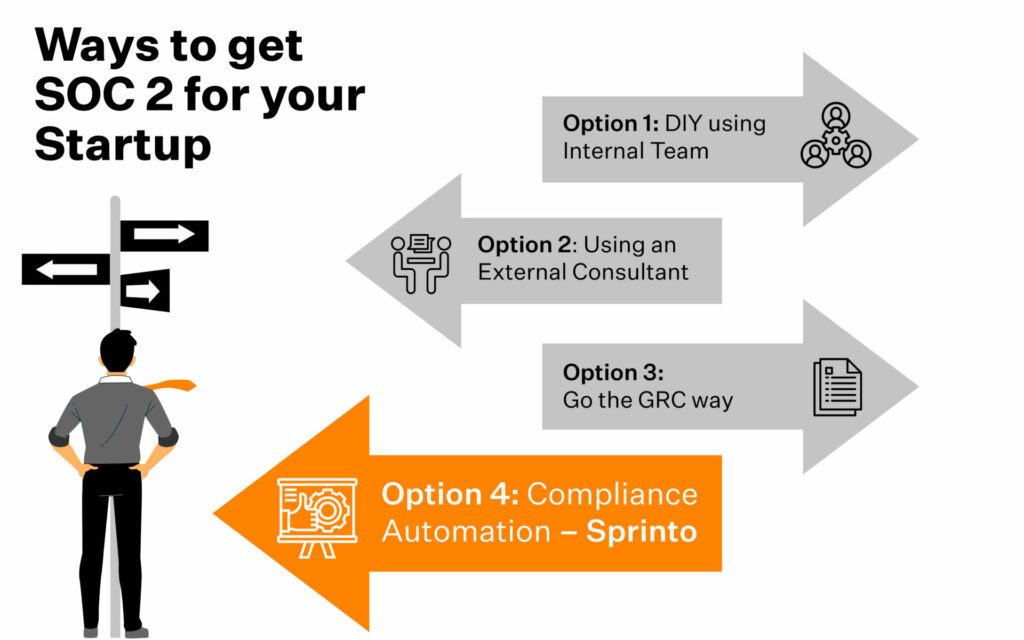 Option 1: DIY using Internal Team
Most startups take up this option since it doesn't involve any costs (outside of auditor costs). But what they forget is the cost of lost productivity of their engineering team. The engineering team could have otherwise worked on their product! Besides, a DIY approach assumes you have in-house compliance expertise.
Trust us; you don't want compliance to take up a chunk of your engineering leadership's time. Time spent on getting audit ready is the time they could have better spent on scaling your product!
Recommended: SOC team roles and responsibilities
Option 2: Using an External Consultant
Alternatively, you could bring external consultants to guide you through the process. This route also requires your engineering team's involvement but not as much. Also, the consultant can point you in the right direction at any time. Consultants are typically brought in to do a readiness assessment. And they could cost you roughly $10000. Apart from this, you will need to spend on other SOC tools.
Also check out: SOC 2 auditors and service providers
Option 3: Go the GRC way
You have the option of working with a GRC tool. Most such tools offer dashboards and built-in reporting, provide documents template, and exhaustive checklists. These tools, however, don't account for edge cases, require manual intervention, and aren't specifically built for startups. Therefore, they don't snug fit into the SaaS/startup ecosystem. Outside of the GRC tool cost, you will need to spend on security training, pen tests, MDM, and more.
Option 4: Compliance Automation – Sprinto
Compliance automation platforms like Sprinto offer the best way to create regular, repeatable processes that set up your security culture. Instead of working with lawyers or paying consultants to prepare your organization's infosec policies, you could build off the editable 20+ policy templates that Sprinto offers. And instead of toggling between Google Drive, SharePoint and whatnot to share evidence with the auditor, you can do it with a few simple clicks using Sprinto.
Sprinto also has an in-built progress dashboard that captures your audit readiness at any time. Sprinto bundles MDM, security awareness training, and incident tracking into the platform and offers built-in support for free/open-source vulnerability scanners.
Find the difference between SOC 2 automation and manual work
Find out how Sprinto is helping startups become SOC 2 compliant
Sprinto is tailored to suit the specific needs of startups. From 100+ integrations to 15+ frameworks, Sprinto's platform makes it easier for startups to manage and demonstrate their information security compliance and certifications.
Take the case of Fyle, a Delaware-based expense management software firm. With Sprinto's help, it became SOC 2 audit-ready in three weeks after struggling for months with an external consultant. You can also read about how HackerRank chose Sprinto to complete its SOC 2 compliance program without trading off its teams' priorities.
FAQs
How important is SOC 2 for startups?
SOC 2 Compliance is an industry-accepted way for startups and other businesses to assure customers that their data is secure with them.
What SOC report is useful for my startup?
If you are a cloud-hosted business, SOC 2 report is what you are looking for. You must get a SOC 1 report when your bookkeeping compliance impacts your client's financial reporting.
How long does it take to get SOC 2 report for a startup?
The time taken to get SOC 2 report for a startup depends on many factors, such as the scope of the report, the type of report needed (type 1 or type 2), and the SOC 2 approach. A DIY approach could take up to six months minimum. In contrast, a compliance automation route with a platform such as Sprinto could only take weeks.
How much does it cost for a startup to get SOC 2 compliant?
The estimated starting costs of a SOC 2 Type 1 audit is between $5000 to $25000. A SOC 2 Type 2 audit, on the other hand, costs between $20000 and $50000. However, Sprinto can reduce these costs significantly. Speak to our experts to learn more.
How much does a SOC 2 audit cost for a startup?
SOC 2 audit costs depend on the choice of auditor. The Big 4 are expensive, boutique CPA firms slightly less expensive, and individual CPAs even less. That said, startups will do well not to base their choice of auditor on costs alone. Startups should look for auditors with established credibility, experience auditing similar businesses, and past work records.
Srividhya Karthik
Srividhya Karthik works as a Content Lead at Sprinto. She hopes to simplify compliance and make it interesting with the power of content. You can reach her at srividhya@sprinto.com.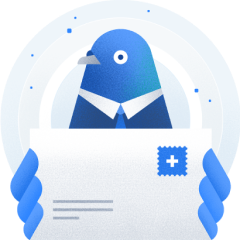 Subscribe to our newsletter to get updates
Schedule a personalized demo and scale business
Subscribe to our monthly newsletter

Sprinto: Your growth superpower
Use Sprinto to centralize security compliance management – so nothing
gets in the way of your moving up and winning big.