Trusted vendor risk management platform
See and track vendor risk in
one place
Vendor reviews become thorough, regular, and fast with Sprinto's end-to-end risk management. Automate new vendor discovery and manage risk throughout vendor lifecycle with greater control, and more confidence.
Integration-first
Automated-led

Collaboration-ready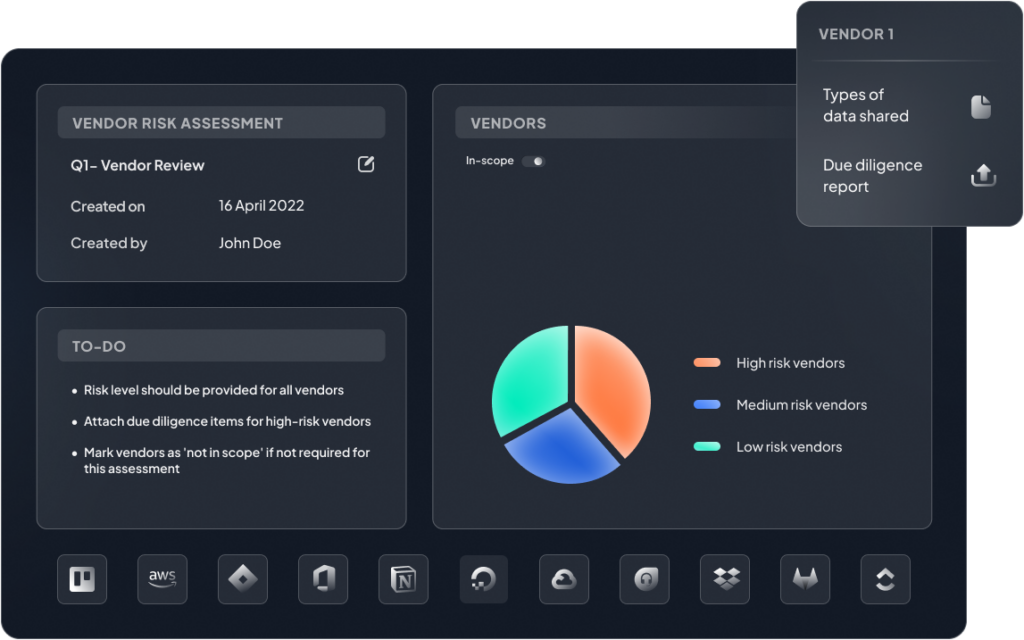 Silos?
No problem!
Your team uses various software, cloud applications, and contractors to run and grow your organization. However, this can make it difficult to keep track of the risks. Sprinto cuts through silos to create a comprehensive inventory of all vendors underpinning your operations. It empowers you with tools and mechanisms to evaluate and manage vendor-related risks throughout their lifecycle.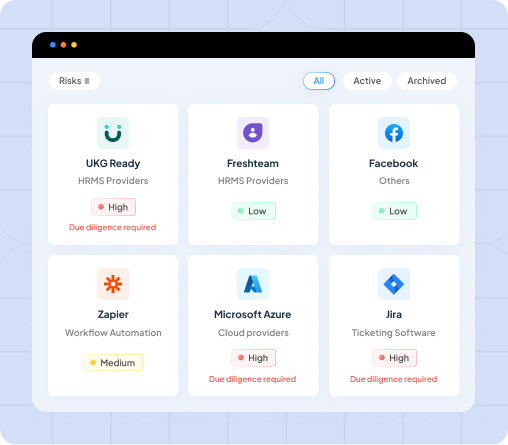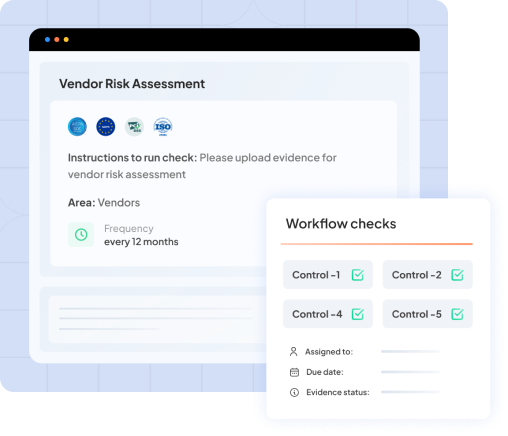 Complete control over risk.
No running around.
With Sprinto's all-in-one vendor risk management solution, you can build remediation machinery that clicks into place with your existing vendor management policy and practice. Streamline workflows by defining owners, steps, buffers, and protocols for thorough vendor risk management. Gain iron-clad protection against vendor system vulnerabilities.
Your struggle

Poor visibility into new vendors due to organizational silos and lack of good processes. 

Concerns, confusion, and disagreements about over and under-indexing risk. Quantifying risk is tricky without benchmarks. 

Monitoring vendors throughout their lifecycle, from onboarding to offboarding.
Our solution

Google Workspace integration automatically and accurately catalogs vendors tagged to your company. 

Sprinto identifies risk based on vendor type, nature of the relationship, and data access level.

Sprinto tracks risk assessment history and alerts you of breaches and high-risk vendors.
How Sprinto's Vendor Risk Management works
Sprinto helps you get organization-wide alignment on vendor risk management practices. Magic happens when all teams speak the same vendor risk language – everyone becomes more proactive about risk assessment, monitoring, and remediation. Over time, vendor risk management becomes reflexive and efficient.

Catalog
Auto-select vendors from our ready lineup or add your own. With just a few clicks, you can upload vendor contracts and privacy policy information.

This way, you build a comprehensive inventory of vendors and stack information in order. From there, covering your bases becomes easy.

Assess
Score risk levels independently or use our default risk rankings. Define the level of risk based on the vendor's access to your systems and their security credentials. Review and update the risk level as your relationship with the vendor evolves.

With Sprinto, you always have a reference point for your risk assessment logic.

Monitor
Set up and automate workflows for vendor risk assessment and assign owners to each.

By implementing a system of assessment, you can ensure a robust, consistent, and compliance-friendly vendor management program throughout your organization.

Remediate
Tiered alerts and notifications help you resolve issues promptly and ensure compliance.

This way, you remain proactive and never lose sight of vendor risk status.
Get robust vendor risk management with Sprinto
Use Sprinto to bring speed and efficiency to vendor risk management – get all the software, apps, and support you need to win, and none of the loose ends.