#1 Rated security compliance automation platform
Breeze through your security compliance
Ambitious cloud companies all over the world trust Sprinto to power their security compliance programs and sprint through security audits without breaking their stride.
Integration-first
Automation-enabled
Audit-aligned
Over 1 Million compliance checks evaluated every month
Security compliances
don't have to be hard
The broad nature and the difficulty of the regulatory language make it incredibly hard for tech companies to launch compliance programs that sufficiently minimize risk and raise the bar on security.

Automates more. Costs Less.
Sprinto takes away the burden (and the burnout) of figuring out security compliances with its pre-approved, auditor-grade compliance programs you can launch in a matter of clicks.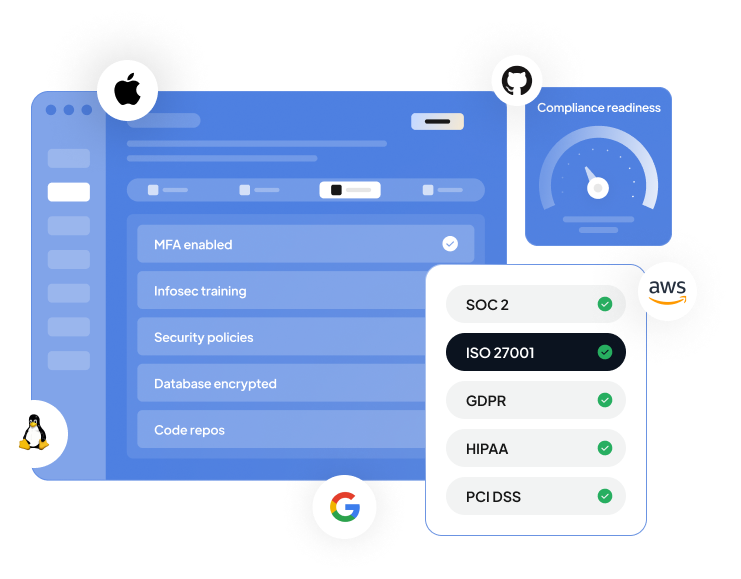 Sprinto is a simple yet powerful software that puts any security compliance program on autopilot. It seamlessly integrates with your cloud setup to consolidate risk, map entity-level controls, and run fully-automated checks. It goes the length to prompt remediation and ensure compliance – all in real-time, all on its own.
Assess
Integrated risk assessment for scoping out risks and controls
Activate
Automated checks for inspecting controls and tracking compliance
Attest
Contactless audits using platform-generated evidence
Compliance stack for the win
Frequently Asked Questions

Sprinto: Your growth superpower
Use Sprinto to centralize security compliance management – so nothing
gets in the way of your moving up and winning big.