Secureframe Alternatives: Compare Top Competitor Pricing, Pros, Cons, & Rating
Anwita
Sep 09, 2023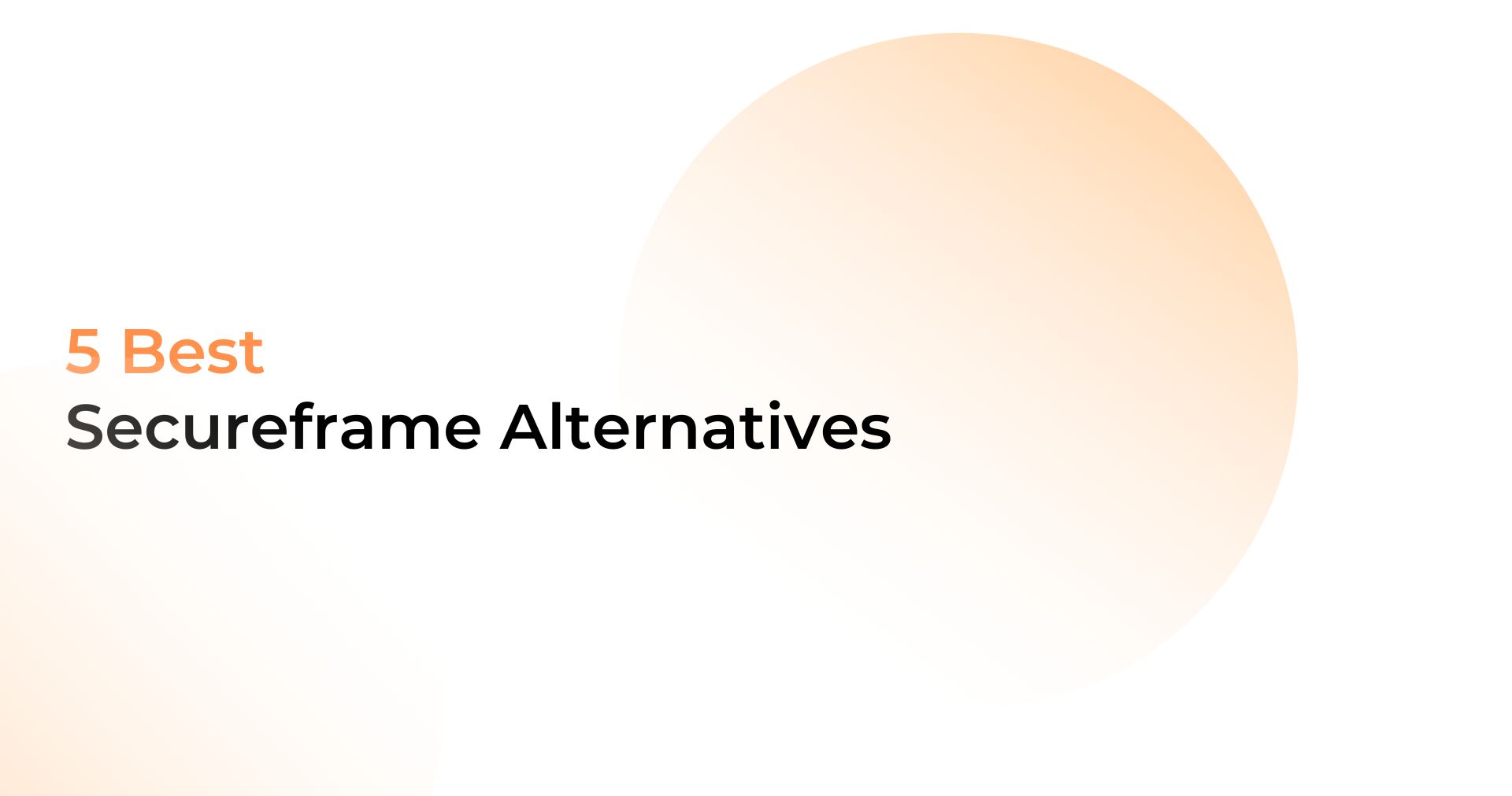 Picking for the perfect compliance automation tool is easier said than done – specially when there are alternative solutions tailor-built for different use-cases. One ends up spending hundreds of hours on competitor analysis, scanning through features, mapping reviews, comparing scores, and more. It can drown you in a sea of confusion. The paradox of choice becomes real here. Doesn't it?
To make your life easier, we did the hard work – we went through dozens of competitors, hundreds of reviews, and compiled the data to help you make an informed decision.
What is Secureframe?
Secureframe is a risk and compliance automation platform that helps businesses with end-to-end activities for SOC 2, ISO 27001, PCI DSS, HIPAA, GDPR, CCPA, and NIST.
It scans the IT ecosystem for vulnerabilities, assesses vendor risks, trains employees for security, and collects evidence to support seamless audits. Businesses can monitor their compliance status in real-time to gain actionable insights into the overall posture.
Benefits
Provides useful insights into security protocols and authentication by analyzing suspicious behavior
Stores sensitive data on-premise or on an adjacent cloud base to minimize loss of data at rest
Identifies risks based on source, classifies it based on the severity, or a custom value
Tracks, collects, and consolidates data on passing and failing checks to help IT teams meet compliance requirements
Facilitates supplier scoring based on the estimated level of risk of partnering with them
Offers a library of pre-built plan and procedure templates. Users can create or compare these plans
Why look for a Secureframe alternative?
With a solid G2 score of 4.7, Secureframe is one of the leaders in the security and compliance space. Nevertheless, the product has a few misses in terms of features and functionalities. As a GRC solution, Secureframe offers some but not full automation capabilities.
Users can expect to put in a considerable amount of manual effort compared to its core competitor products that do most of the heavy lifting.
A quick analysis of user G2 reviews surfaces these common concerns:
Configuration of compliance for complex systems like Google Cloud, Jira, and GitHub requires some level of manual intervention
Does not offer the required level of granularity and insight into failing tests. Resolution steps clack clarity
Security checks cannot be customized and automatically assigns fail/pass value – users could overcome this by uploading manual proof
Some users found minor bugs in the integration process that require manual intervention
Top Secureframe alternatives
Let's walk through the key capabilities and fallbacks of products similar to Secureframe.
Here are the 5 best Secureframe alternatives and competitors to look for:
Sprinto
Sprinto is a highly automated compliance and security platform that facilitates monitoring, tracking, auditing, and risk appetite for cloud-hosted SaaS partners.
It maps common control requirements of popular or custom frameworks to consolidate risks and run fully automated checks. The solution empowers IT teams to scale their compliance and audit efforts without compromising engineering bandwidth.
All features, strengths, and capabilities considered, Sprinto is a better alternative to Secureframe.
Pros
Compliance programs are designed keeping auditor friendliness in mind. Auditors can collect, edit, and view evidence using a customizable dashboard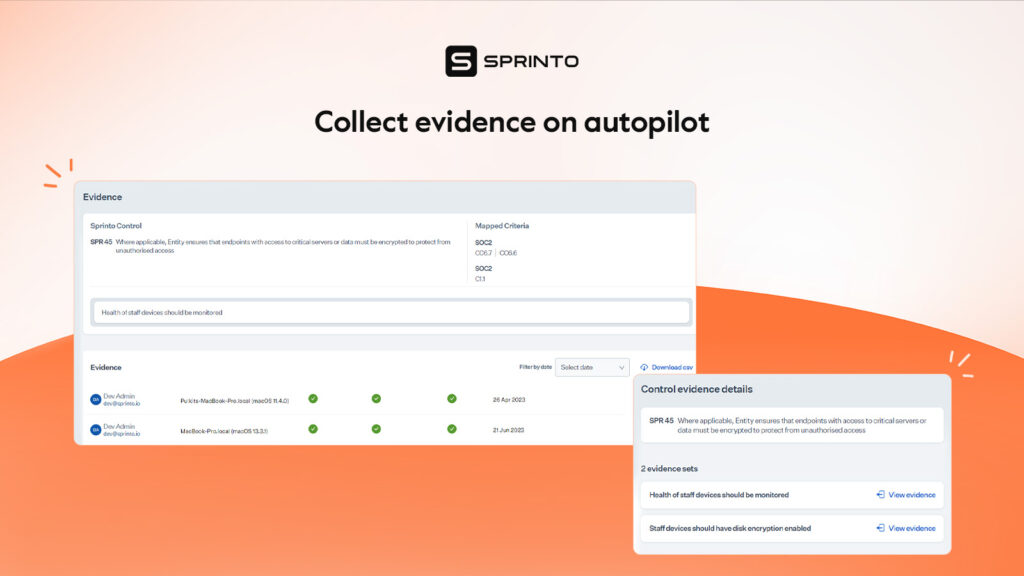 Liquidates costly incidents by supporting all entry-level preventive and defensive security controls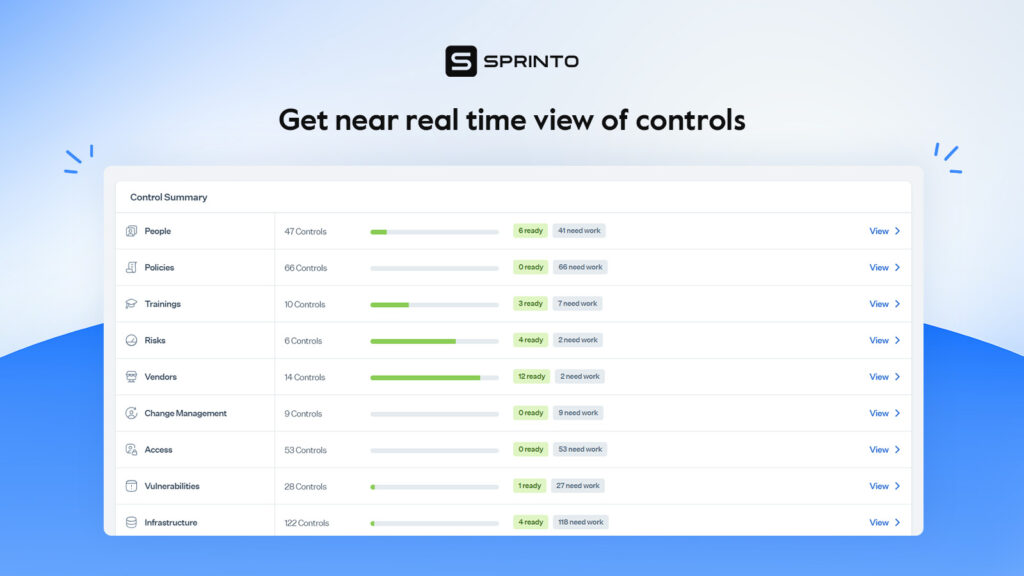 Notifies and flags non-compliant activities in real-time. Escalates issues to accountable person with deep insight into the type of risk, recommended actions, and level of risk
Facilitates users to set up role-based access controls to segregate tasks, minimize data usage, and avoid unintentional data tampering
IT teams can prioritize and profile risks with ease. The ticketing system goes beyond raising issues by suggesting an appropriate course of action and generating audit proof
Offers comprehensive visibility into the IT environment to assist teams in identifying and triage assets
The BYOF (Bring Your Own Framework) and magic mapping feature automatically scans and maps custom frameworks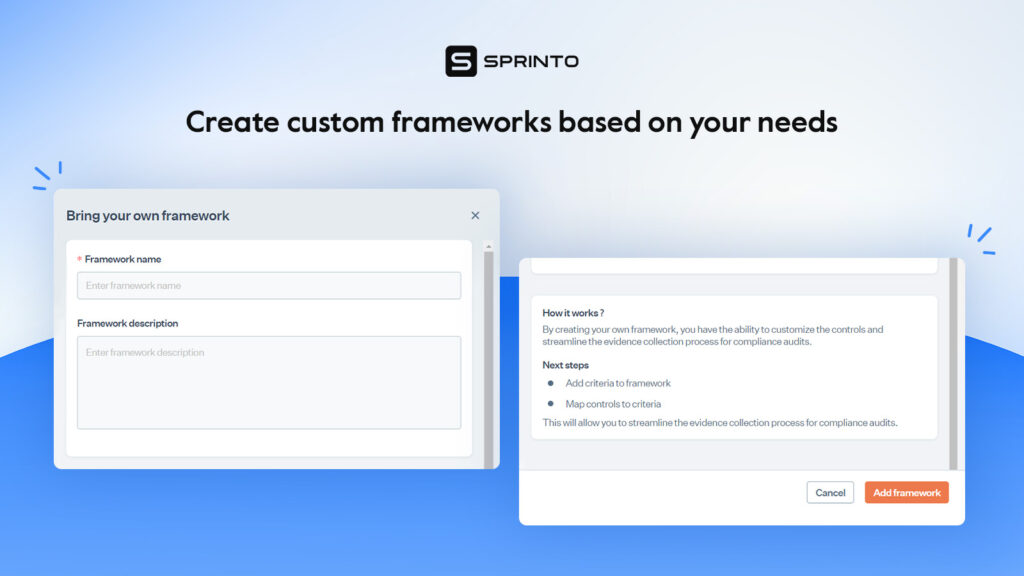 Offers AI-assisted suggestions to mark checks as exceptions. Users can leverage the snooze option to assign a time limit to manage exception checks
The vendor management system allows users to mark the type of data exposed to vendors while providing a risk level based on data exposure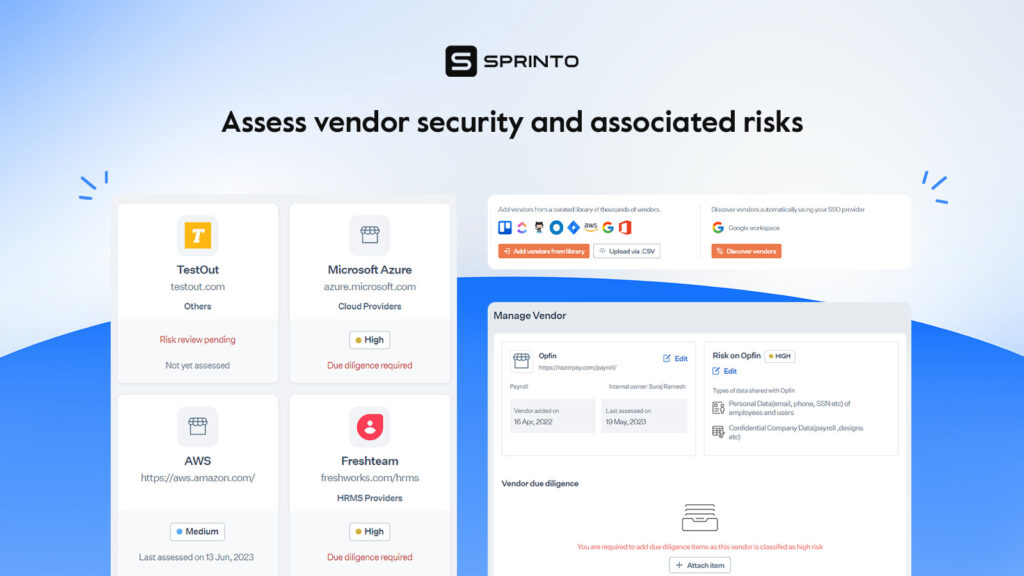 Deeper integration like the code repository integrations for GitHub checks if codes are peer reviewed and branch-level changes
Offers one tap, adaptive, smooth integration with 100+ cloud applications and services
Cons
New features and updates added on a regular basis can make some features on the dashboard unfamiliar to existing users
The solution is designed keeping cloud hosted companies in mind, making the tool not highly accessible on on premise services
Some users felt that the policies were over simplified, raising concerns about the reliability in contrast to previous policies which were comparatively complex
Drata
Drata helps companies streamline security and compliance efforts by automating monitoring and evidence collection. It supports regulatory frameworks like SOC 2, HIPAA, GDPR, ISO, etc.
Drata connects with existing tech to allow IT teams to build a compliance program using their proprietary control library and continuously monitor controls.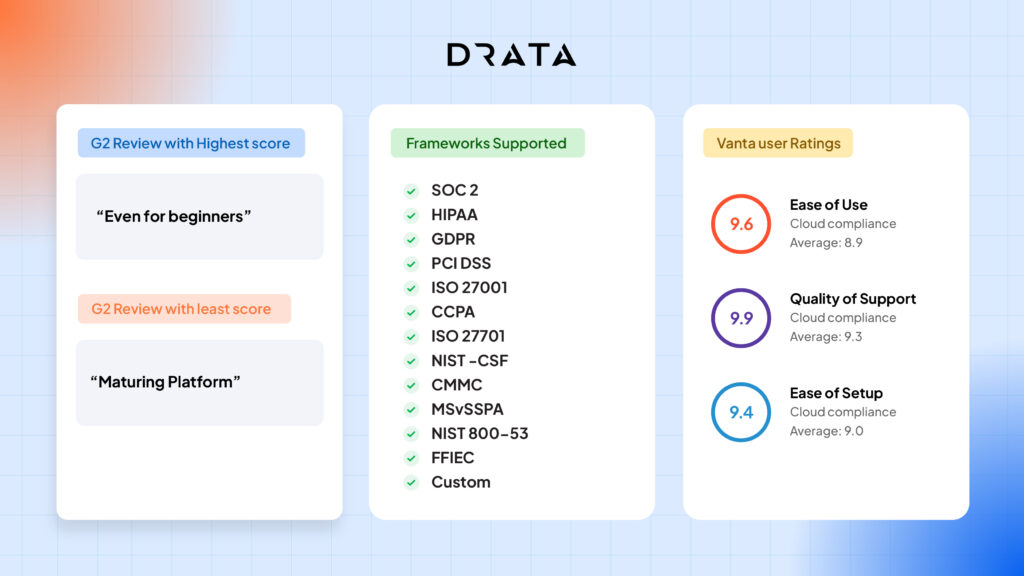 Pros
Offers a comprehensive overview of compliance status of the current posture and pending requirements
IT teams can easily create, edit, and track access privileges. Ensures data lineage and data encryption
The level of customer support and technical assistance adequately meets user expectations
The highly automated platform streamlines compliance certification process and reduces extensive paperwork
Users can create and streamline workflows related to ticketing and services. IT teams can set security and data governance-related policies.
Cons
Some users reported that features like policy management are clunky and not seamless
Does not allow users to edit evidence once uploaded, creating duplicate evidence in the system
Lack of transparency on the pricing model during the sales stage can create post purchase surprises. For example, users changred for add-on features face budgeting issues.
Lack of transparency during pre-sales stage for add-on features can result in budgeting issues
The system does not offer tiered escalation for critical and failing checks
Vanta
Vanta helps SaaS businesses scale and manage compliance programs like SOC 2, ISO 27001, and HIPAA. It automates compliance related activities, surfaces risks across the ecosystem, collects evidence to reach audit readiness, continuously monitors the security posture, and helps to manage vulnerabilities.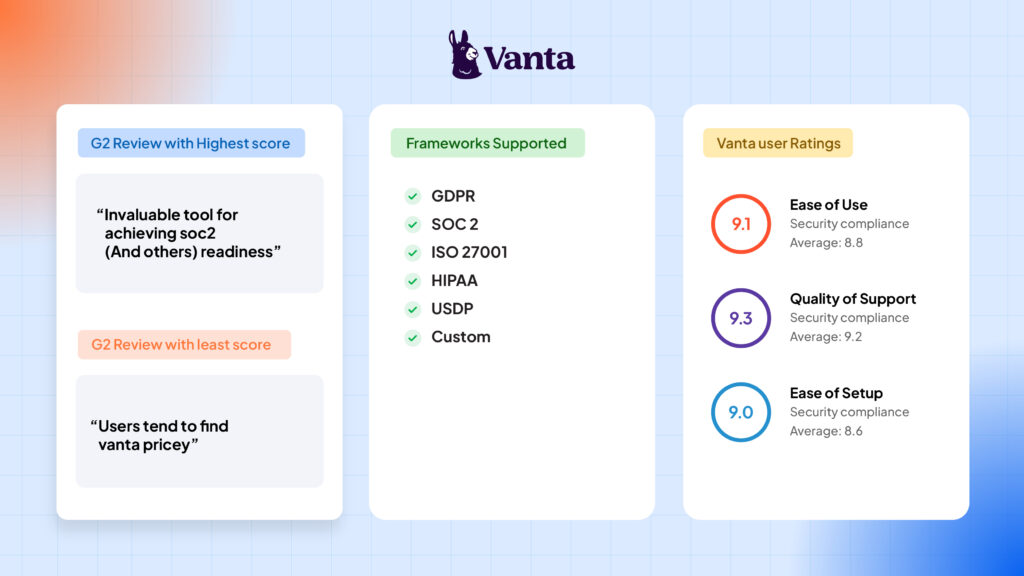 Pros
Detects, remediates, and evaluates risks in real-time to show passing and failing checks
Pre-built and custom templates help to easily track policies and ensure continuous compliance
Simplifies and streamlines audit preparation process through automated compliance monitoring of security controls
The centralized dashboard helps to manage security guidelines, policies, procedures, and track failing or non-compliance issues
Cons
Some users felt that the onboarding and implementation process could be smoother and more efficient for first-time users
The pricing module is not small organization or startup-friendly. Add on features are a potential drawback as they stretch user's budget
Despite offering a comprehensive set of capabilities, users noted that some features have limited customization options
The platform lacks modularity, adding to the complexity of transferring SOC 2 tasks
Check out: Guide to compliance framework
Hyperproof
Hyperproof is a security compliance management tool that helps IT teams manage their organizational risks.
The solution integrates with common cloud services to manage risks, automate workflows, collect evidence, and prepare for audits. It enables users to map controls across frameworks like SOC 2, ISO, and NIST and collaborate with stakeholders from a centralized dashboard.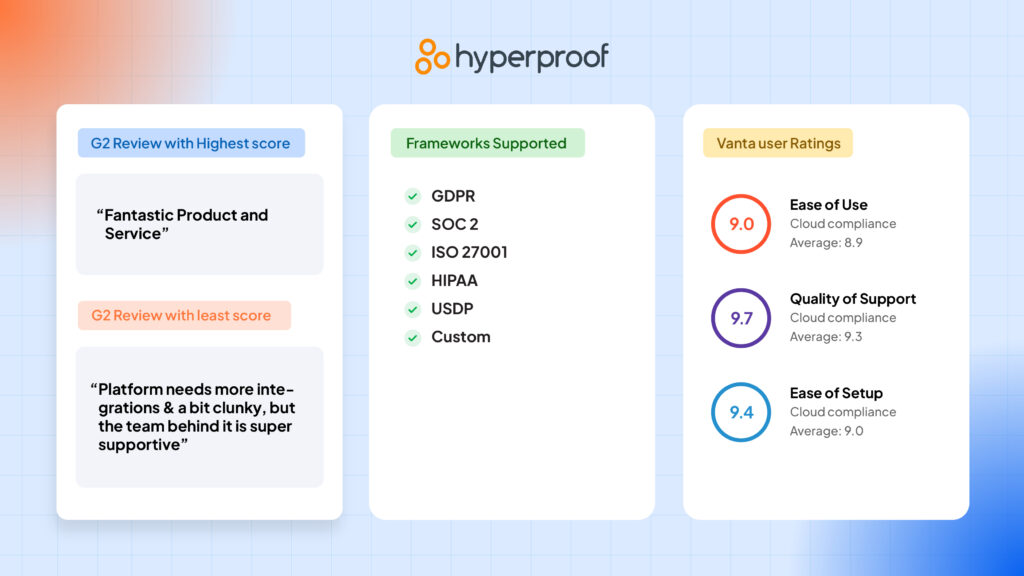 Pros
The all in one bundles solution offers training and learning resources to help new and existing employees
Intuitive UI allows users to set up a compliance program without help from the technical support team
Identifies and triages risks across the system based on human, technical, and external sources or based on the requirements of selected framework
Cons
While most users found the UI to be intuitive, some reported minor bugs that limited the platform's capability to operate seamlessly
The overall solution lacks the desired level of granularity and comprehensiveness to facilitate a wide range of custom functions
Some auditing functions are limited – auditors reported no function that enables them to upload, download, or edit request status from the dashboard
The reporting system lacks the desired level of automation and requires manual intervention
Thoropass
Thoropass (formerly known as Laika) integrates with existing systems to help IT teams continuously monitor their environment, easily pass audits, and demonstrate compliance with several infosec and privacy frameworks. Users gain a seamless auditing process, automate compliance-related activities, and complete due diligence processes using a single dashboard.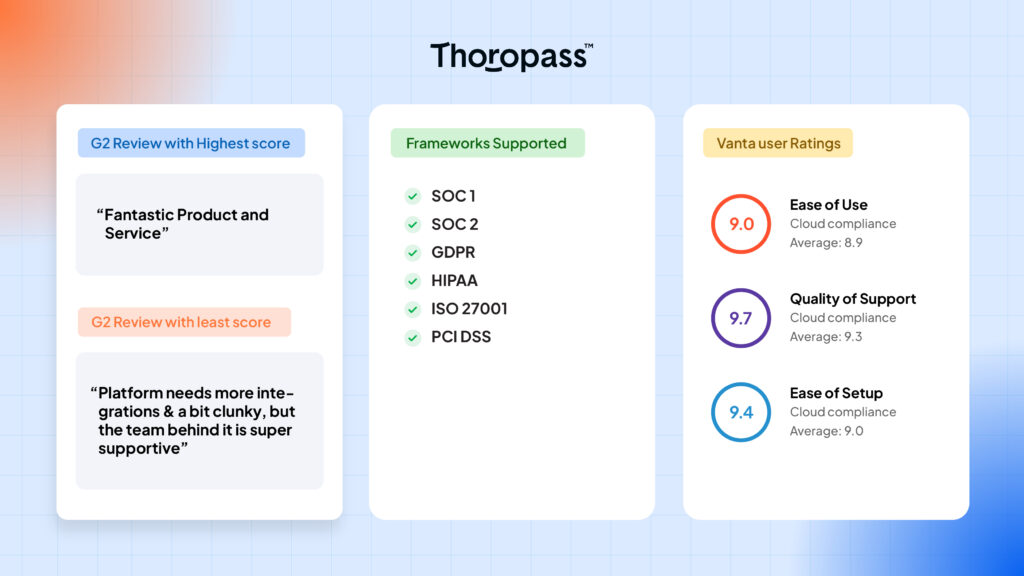 Pros
Easily create custom policies related to data governance, set up role-based access, and manage access privileges
Monitors the IT environment and generates reports based on violation or malicious behavior
Streamlines audit process, trains employees, helps to respond to due diligence questionnaires, and tracks compliance-related activities
Helps to manage SOC 2 compliance-related tasks
Cons
Limited options for integrations. Users reported the integration system to be clucky and buggy
Users from small organizations reported that the pre-built templates are custom made for large organizations and can be an overkill for their size
The learning curve is high and frequently requires assistance from the support team
We add the sass in SaaS
We hope this helped you move closer to making a decision. If you are still in two minds, we understand your skepticism. We don't claim that our solution is the best one for your business, but it wouldn't hurt to talk to our compliance experts and know how we helped companies like yours and how we can help you scale. Get started today and make your life easier!
Anwita
Anwita is a content marketer. Her love for everything cybersecurity started her journey into the world of viruses and vulnerabilities. With multiple certifications on cybersecurity, she aims to simplify complex security related topics. She loves to read nonfiction, listen to progressive rock, and watch sitcoms. She wishes to master the piano and learn unicycling. Reach her at anwita@sprinto.com.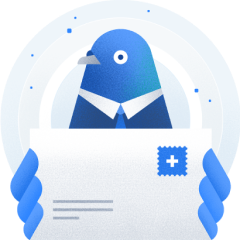 Subscribe to our newsletter to get updates
Schedule a personalized demo and scale business
Subscribe to our monthly newsletter

Sprinto: Your growth superpower
Use Sprinto to centralize security compliance management – so nothing
gets in the way of your moving up and winning big.