SOC 2 is critical to moving your business to the next growth orbit. Compliance with SOC 2, when used smartly, can become a good growth enabler and help swing those lucrative big deals in your favor. Moreover, becoming SOC 2 compliant is an internationally-recognized way to highlight that you are serious about information security and risk management. The SOC reports, attested by an external auditor, assure your clients about the effectiveness of your organization's infosec controls.
But before we tell you how to become compliant, here is a SOC 2 questionnaire that will help answer some of the common questions about SOC.
What is SOC 2?
SOC 2 is a voluntary compliance standard that specifies how organizations should manage customer data. The standard is based on the Trust Services Criteria (TSC) of Security, Availability, Confidentiality, Processing Integrity, and Privacy.
The AICPA (American Institute of Certified Public Accountants) created the Service Organization Control 2 (SOC 2) as a compliance protocol that assesses whether your organization manages customers' data safely and effectively within the cloud. It provides evidence of the strength of your data protection and cloud security practices in the form of a SOC 2 report. Though SOC 2 compliance isn't a regulatory requirement, it is a globally-accepted compliance benchmark.
Who needs SOC 2 Report?

The SOC 2 compliance is explicitly designed for businesses that store customer data in the cloud. So, in essence, it will apply to most SaaS companies and cloud vendors. A SOC 2 report captures your organization's control over one or more TSC – Security, Availability, Processing Integrity, Confidentiality, and Privacy. It is, therefore, the most trusted way to showcase to your customers and prospects how well you provide a secure, available, confidential, and private solution.
The SOC 2 framework also offers good security practices for data loss prevention, incident response, intrusion detection, unauthorized access and other security incidents to ensure business continuity.
SOC 2 Trust Services Criteria
Formerly known as the Trust Principles, there are five Trust Services Criteria that businesses are evaluated on during a SOC 2 audit. Think of each criterion as a focus area for your infosec compliance program; each defines a set of compliance objectives your business must adhere to with your defined controls. 
Security – It must be in scope for every SOC 2 audit and is often referred to as common criteria. These criteria need you to enable access control, entity-level controls, firewalls, and other security measures to protect your data and applications.
Availability – The Availability principle requires you to demonstrate that your systems meet operational uptime and performance standards. For instance, it includes network performance monitoring, disaster recovery processes, and your procedures for handling security incidents. Business continuity, data recovery and backup plans are critical pieces here. Choose Availability if your customers have concerns about downtime.
Confidentiality – This principle requires you to demonstrate your ability to safeguard confidential information throughout its lifecycle. It encourages you to establish access control and proper privileges to ensure that data can be viewed/used only by the authorized set of people or organizations. Confidential data includes financial information, intellectual property, and any other form of business-sensitive details specific to your contractual commitments with your customer. Include Confidentiality if you store sensitive information protected by non-disclosure agreements (NDAs) or if your customers have specific requirements about confidentiality.
Processing Integrity – This principle assesses whether your cloud data is processed accurately, reliably and on time, and if your systems achieve their purpose. It includes quality assurance procedures and SOC tools to monitor data processing. Include Processing Integrity if you execute critical customer operations such as financial processing.
Privacy – The privacy principles check if you are protecting Personally Identifiable Information (PII) from breaches and unauthorized access through rigorous access controls, two-factor authentication, and encryption. Include Privacy if your customers store PII such as healthcare data, birthdays, and social security numbers.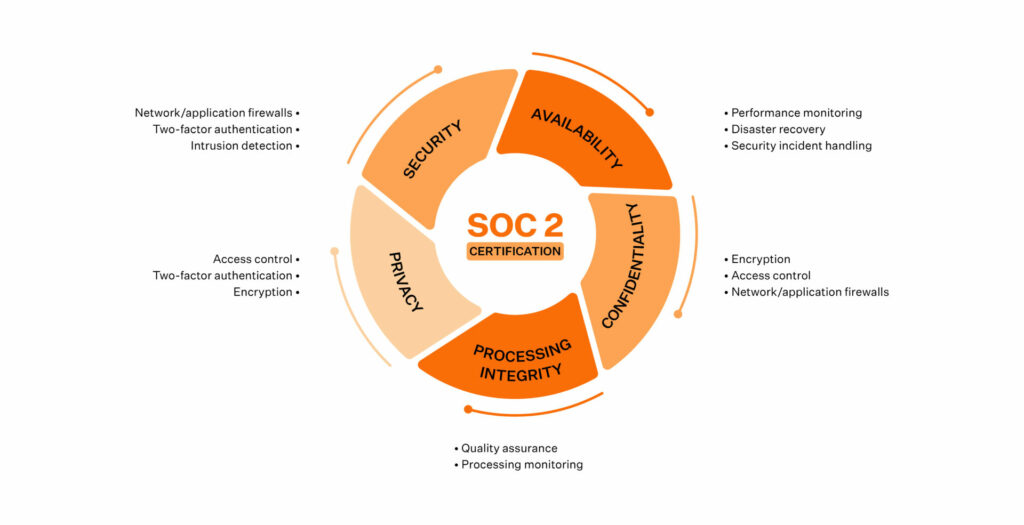 Why do you need SOC 2?
Based on customer stories, here's a quick overview of the benefits of SOC 2.
Customer Demand. Essential to winning enterprise deals
Cost-Effective. A single data breach could cost you millions of dollars.
Competitive Edge. You compare favorably over competitors who aren't compliant.
Securing your Business. It shows that your systems & networks are secure.
Regulatory Journey. SOC 2 dovetails other compliance frameworks too.
Best Practices. It provides deep insights into your internal controls, governance, and more.
No more difficult security questionnaires. Use your time & resources for business functions.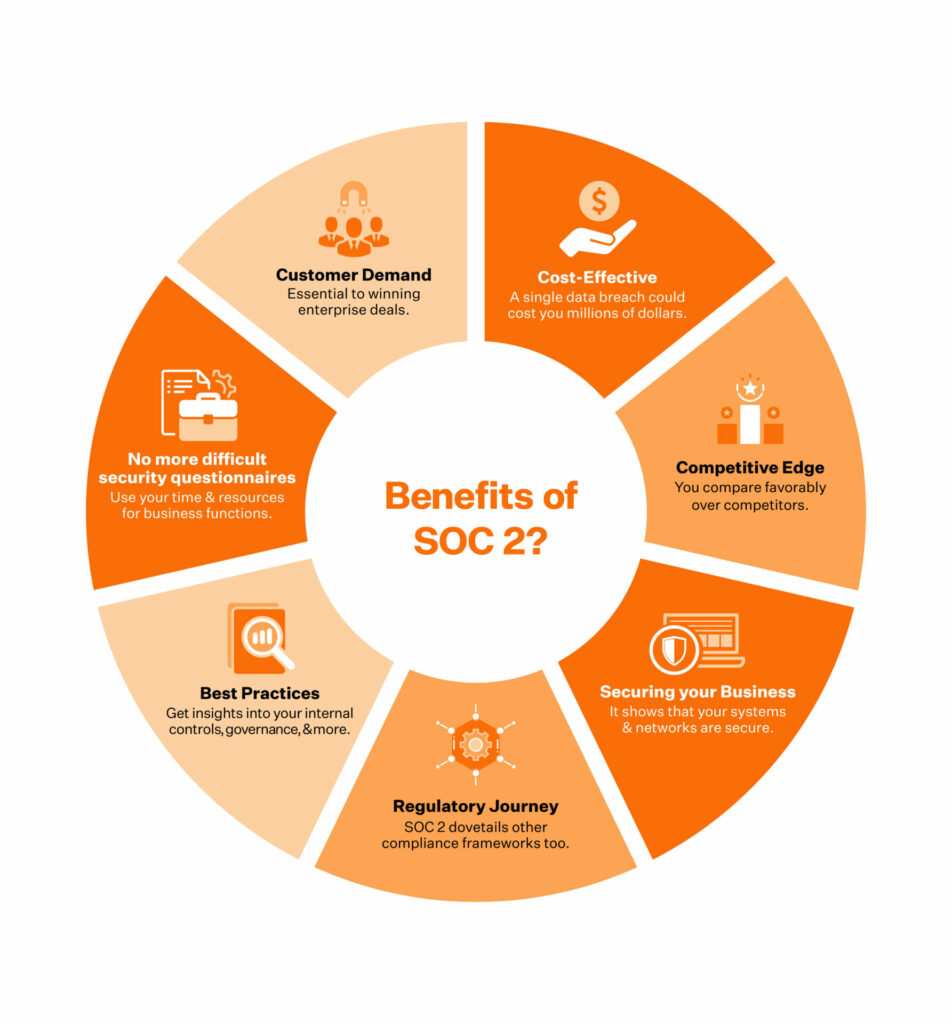 SOC 1 vs. SOC 2
SOC 1 vs. SOC 2: Prior to 2014, SOC 1 was the compliance requirement that cloud vendors had to meet. A SOC 1 audit focuses on the internal controls in place related to financial reporting (IFCR). It's essentially confirmation that a business has done its due diligence when it comes to how their service may affect their clients' financial reporting. 
SOC 2 was introduced as more and more companies moved to cloud-based data storage. It focuses on the five trust principles outlined earlier in the guide and provides evidence of long-term, ongoing processes that can be trusted to protect customer data.
SOC 2 Type 1 and SOC 2 Type 2
There are two different types (Type 1 and Type 2) for SOC 2 Compliance Reports, and you can decide which one you want based on what your customers require of you (in terms of Trust Services Criteria) and your overall budget. SOC 2 Type 1 affirms that controls are in place at a point in time. A SOC 2 Type 2 certification confirms that the controls in place are working too over a period of time.
If you decide to go for Type 1, here's what it would mean:
It shows you're committed to data security
It indicates you plan on eventually becoming fully SOC 2 compliant
It gives you a ringside view of which organizational controls to include in the Type 2 report
It offers you a practical understanding of the criteria auditors will want to test against in a Type 2 report
Even though a Type 1 report is less expensive and makes for a great starting point, as your business grows, your vendors and prospects will typically ask for the more comprehensive Type 2 compliance before working with you. Again, you ought to be aware that to obtain your Type 2 report, you must operate the controls over some time (about three-six months) for the first audit and one year for subsequent audits.
Learn more about SOC 2 Type 1.
Learn more about SOC 2 Type 2.
Steps to get SOC 2 Compliant
We can, for quick reference, divide your SOC 2 compliance journey into four steps.

1) Set Technical Security Controls
2) Sign up an Auditor
3) Share Evidence of Controls Implemented
4) Establish Continuous Monitoring
That said, the process isn't as simple as that. It is painstakingly meticulous and requires much time (up to a year) and effort to put in place.
While the AICPA doesn't have an official SOC 2 compliance checklist, here's a handy ready-reckoner on how to go about the SOC 2 process.
You can download the PDF here.
Step 1: Set Technical Security Controls
SOC 2 comprises the five TSC totaling more than 60 individual criteria. The security controls testing is mandatory for SOC audits; others are optional. So, you will need to evaluate your operating environment and scope out the right set of criteria and zero in on which controls best fit your business model and customer asks (based on the type of data stored or transmitted by you). Doing this will help you cut the flab out in the audit process. And you won't waste your business-critical time and resources chasing attestations and evidence that aren't meaningful to your business and customers.
For instance, if you are a SaaS firm that stores personal data, availability and privacy as TSC would be more relevant. But if you manage financial transactions for customers, then processing integrity could become a critical criterion. To that extent, SOC 2 reports are unique to each business.
The TSC for SOC 2 isn't prescriptive. It allows you to choose your controls based on individual systems, policies, procedures, and processes that you should implement to comply with the chosen SOC 2 criteria. To best understand how to select your controls, we have broadly outlined SOC 2's control areas as follows:
SOC 2 Logical and Physical Access Controls
As the name suggests, these SOC 2 controls require you to show that you are taking physical and virtual measures to ensure data privacy, integrity and confidentiality. These controls include restricted access to sensitive data and devices or networks (role- and responsibility-based), safeguards to monitors, and issuing of credentials, among others. It also includes restricting physical access to facilities, workstations and protected information assets to authorized personnel only. You can use a strong Identity and Access Management (IAM) program to ensure there is no inappropriate access to your data. 
SOC 2 Systems and Operational Controls
These controls pertain to your infrastructure's efficiency and test how quickly you can normalize deviations/disruptions to operations to mitigate the security risks. These include threat detection, incident response, root cause analysis and compliance.
SOC 2 Change Management Controls
You need to showcase an effective change management system comprising policies and procedures for updating infrastructure, data, software or processes. An exhaustive database that captures all the changes made in your firm, who authorized them, who designed them, who configured them, who tested them, who approved them and who implemented them is a good starting point.
SOC 2 Risk Mitigation Controls
Risk mitigation and assessment are crucial in SOC 2 audits as it identifies any risks associated with growth, location, or infosec best practices. You will need to document the scope of risks from identified threats and vulnerabilities and demonstrate how you monitor, identify, analyze and prevent losses that could come from those. Some of the areas you can consider for risk assessment are vendors and business partners, misuse of access to information, leadership changes, regulatory, economic and physical environment changes, and technology changes. You will need to assign a likelihood and impact to each identified risk and then deploy controls to mitigate them.
Step 2: Sign up an Auditor
Once you are ready, you will need to authorize an independent certified auditor to complete the SOC 2 audit and generate a report. While SOC 2 Compliance costs can be a significant factor, remember to choose an auditor with established credentials and experience auditing businesses like yours. Additionally, you will need to find a way to securely share all the documentation and evidence to meet the auditor's request.
Step 3: Share Evidence of Controls Implemented
Each TSC has a list of requirements. Your auditor will assess your compliance against the list of requirements based on the TSC chosen. The auditor will attest to the effectiveness of the controls you have put in place.
Therefore, the next critical step is to share the evidence and documentation to demonstrate the operational effectiveness of your controls based on what your auditor asks for. Evidence collection and documentation is an intensive task and most likely will take away a good majority of your time.
So, as a best practice, be ready with documents that showcase your policies and procedures, your internal security controls, and other evidence that corroborate the effective implementation of your controls.
Step 4: Establish Continuous Monitoring
Even though the SOC 2 audit (depending on which type) is an annual event, you must establish a continuous security monitoring practice. This practice will help detect potential threats, and identify and analyze ongoing risks as your organization grows. Continuous monitoring also helps gather evidence and documents for the next SOC 2 audit.
Did you know that you can circumvent all this by choosing a compliance automation platform? Automating the process will free your employees to work on what they're best at. While you could choose to do it in-house or with the help of an external consultant, the onus of execution, evidence collection and getting employees trained for the internal controls, and a lot more ultimately, will fall on you.
The Smart Way to become SOC 2 compliant
When you work with Sprinto, we do all the heavy lifting by giving you adaptive policy templates, customizing your security monitoring needs, and evaluating hundreds of compliance checks with evidence. Sprinto replaces all the manual, error-prone, repetitive busy work in your compliance journey with automation. You will also get access to Sprinto's network of independent third-party auditors. The auditors (trained in using Sprinto) get all the information they need on Sprinto's custom Auditor's Dashboard. This makes the entire process easy for both of you.
Book a free demo here to see how Sprinto can help you start and sail through your SOC 2 journey successfully.