Key Points:
With the increase in data breaches today, it is not surprising to see a greater focus on building a proper Security Operations Center (SOC). However, various things are involved in constructing a SOC, making the process very tedious and time-consuming.
That is why tools for evidence collection, implementation, and management, vulnerability management, access rights management, and security information and event management (SIEM) come in handy.
Introduction
Cybersecurity issues are rising and pose a massive challenge for businesses to detect and mitigate the threats on time. According to recent research on data breaches, organizations take an average of 287 days to identify a breach and over a month to contain it.
What's more, ever since the pandemic furthered the idea of remote work, along with the use of personal devices (smartphones and laptops), cloud services and apps, and remote desktop software, organizations' security measures have taken a hit and cyberattacks have increased.
Not surprisingly, as per a recent global industry study, 74% of companies attribute malicious cyberattacks to remote work technology vulnerabilities that arose during the pandemic.
Therefore, cloud computing companies of all sizes require a formal organizational structure to enhance information security and create and follow an efficient workflow to spot, alleviate, and prevent data breaches. That is where a Security Operations Center (SOC) enters the picture.
What is a SOC?
A SOC is a facility from which the information security team supervises an organization's networks, websites, databases, servers, applications, and other systems using data processing technology on an ongoing basis.
A SOC serves as a point of contact for all events logged within the organization. According to Accenture, staying ahead of cyber attackers is a constant challenge for 69% of companies. The expenses incurred for network security, threat detection, and security monitoring prove unsustainable in the long haul.
However, SOCs are turning out to be extremely useful in managing this pain point. As the SOC team's goal is to identify, analyze, and respond to cybersecurity incidents quickly, the arrangement helps minimize the damage caused to businesses, allowing them to continue operating even under attack.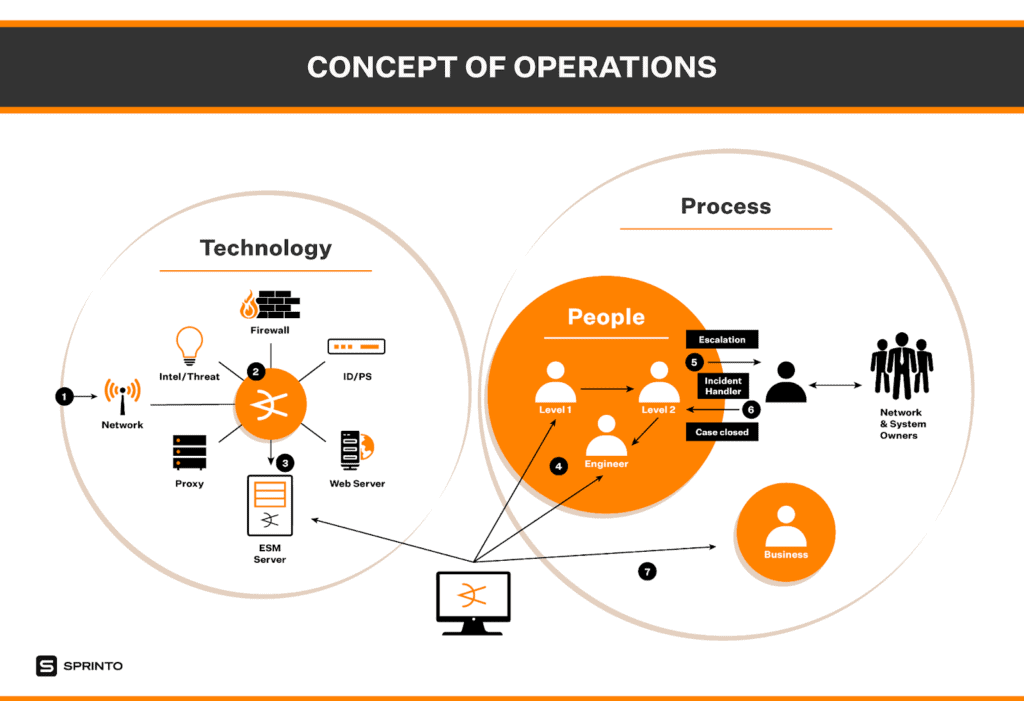 Although the SOC team size varies depending on the business type and size, most members have similar roles and responsibilities. SOCs typically staff security analysts, engineers, and event managers to ensure security operations function smoothly.
How does SOC work?
Gartner estimates over half of all SOCs will turn into modern centers with integrated incident response, threat detection, and advanced business intelligence capabilities in the coming year.
At the end of the day, any organization's goal is to stay focused on building a security strategy, designing appropriate infrastructure, and deploying protective measures. The SOC analysts, more specifically, manage the regular operations for enterprise information security.
The first step in setting up a company's SOC involves defining a strategy, which incorporates business-focused goals from different departments as well as suggestions from executives. The organization then engineers and readies the architecture following the strategy.
Additional capabilities of some SOCs include cryptanalysis, advanced forensic investigation, and malware analysis for detecting cyber incidents. Mentioned below are three focal points of a SOC:
a. Prevention and detection
When it comes to cybersecurity, prevention is certainly better than reaction. Instead of responding to threats when they happen, a SOC team monitors the organization's network round-the-clock to pick up on anomalies and act on them before they cause any damage.
b. Investigation
When the SOC team spots something suspicious, they investigate it to determine what type of threat it is and how it has penetrated the infrastructure. The team studies the network from the cyber attacker's point of view besides gathering specifics about the analysis tools and techniques used to carry out the attack effectively.
c. Response and mitigation
Once the incident is confirmed and investigated, the SOC acts as a first responder. It performs a range of actions such as isolating endpoints and terminating affected processes to prevent them from compromising sensitive data, executing and deleting files, and so on.
In the aftermath of the incident, the SOC team restores systems and recovers any compromised or lost data. The process includes:
Wiping off and restarting endpoints
Deploying backups to circumvent the ransomware
Reconfiguring systems
If the team is successful, the last step returns the network to its original state — before the cyberattack happened.
Given how helpful the tech stack is in the day-to-day functioning of a SOC, companies must research thoroughly before they invest in a solution, which leads us to the question…
What constitutes a good SOC tool?
An operation center retains the traditional command structure and roles despite integrating with development and ops departments. Empowered by new technologies, a SOC identifies and responds to critical security incidents, thus ensuring business continuity.
That is why choosing ideal Security Operations Center tools is essential — an automated system that covers all aspects of IT security.
Points to consider when choosing a SOC tool
The plethora of tools available in the market to solve the issue, as mentioned above, often confuse founders and CTOs. Identifying the most suitable tool for the business is a challenge. To make your job easier, here are four factors you must consider while selecting SOC analyst tools:
1. The provision for sending alerts and notifications
Many a time, alerts fail to provide the context required to assess a situation, which further distracts the SOC team from investigating the real problem. Therefore, besides monitoring content, the SOC tool must be able to distinguish between low and high fidelity alerts and notify the team about the anomaly accordingly.
2. Protection measures for network and device security
Traditional signature-based or endpoint detection and firewalls cannot identify an unknown threat. A proper SOC tool can deploy advanced threshold-based threat detection solutions by leveraging behavioral analytics to single out abnormalities in the system.
3. Log management and security scanning capabilities
One of the responsibilities of a SOC tool is to project the perimeter with a dedicated team focused on detecting vulnerabilities. As a SOC aims to gather as much data and context as possible about the related threat, the tool must empower the SOC team to prioritize incidents and ensure the important ones are dealt with quickly with minimum damage.
4. A valuable package of tools with ML powers
Network defense forms an integral part of an organization's information security strategy, which demands a robust and intuitive tool that can tackle the software and know-how used by hackers to evade traditional defenses such as container security and firewalls. A SOC tool with ML capabilities can be helpful in many respects.
Common mistakes to avoid while finalizing a SOC tool
Tools used by the SOC team scan the network round-the-clock and flag any abnormalities or suspicious activities immediately, thus giving them the best chance to prevent or remediate harm. To make sure you do not get overwhelmed with the selection process and pick an appropriate solution for the business, here are common mistakes to avoid:
1. A truly enterprise-level SOC tool costs money. When it comes to maintaining your organization's information security measures, this is no place to skimp or to cut corners.
2. In an effort to spot every possible threat, many businesses procure multiple security platforms. These are often disconnected and do not possess the sophistication required to identify complicated threats. Move away from this silo mentality and choose a SOC tool that integrates well with your network operations and associated staffing.
3. Think of the big picture. Getting excited with the latest technology is tempting. But if it does not fulfill your business requirements, is it even worth it? Finalize SOC analyst tools based on sound risk assessment and data security policies. Rely on the technologies that best support the organization.
4. Choose SOC monitoring tools that match your current information security devices, network monitoring suites, and ticketing systems, besides being extremely easy to customize as per your business objectives and requirements.
But with so many tools in the market, the task of picking the best from the lot can be overwhelming. Not when you know the most efficient SOC tools list.
Key tools useful in setting up a Security Operation Center (SOC)
For the SOC team to detect and mitigate a security threat, it needs the support of a diverse technology stack to monitor security activities in the organization's IT infrastructure continuously. There are four types of tasks that a SOC undertakes, namely:
1. Evidence collection, implementation, and management
Data is the most crucial element for a SOC to function and logs serve as the vital source of information concerning network activity.
Since the SOC sets up direct feeds from enterprise systems to fetch and store data in real-time, the team takes the help of AI-powered log data scanning tools to make sense of the enormous volumes of data. This is especially handy during SOC 2 auditing, which is highly complex as it requires you to implement various security policies.
Weaving together procedures and policies in dense language from the internet can be quite a hassle. Still, as documentation is paramount in SOC 2 auditing, one needs a robust tool that can integrate with a range of systems, be customized as per specific company needs, detect new gaps, and send trigger alerts to fix them.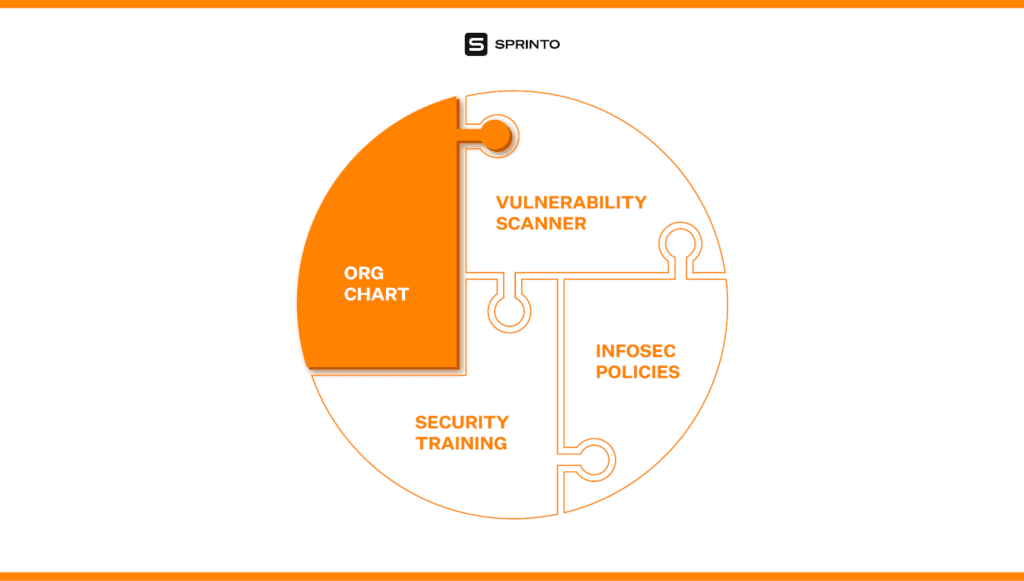 Using a tool like Sprinto makes SOC 2 security compliance for SaaS companies easy with easy workflow and automation. Once integrated, the tool continuously monitors the systems and gathers and catalogs the evidence as per SOC 2 criteria via standard read-only API access.
2. Vulnerability management
Vulnerability management is essentially the process of identification, evaluation, reporting, and resolution of cloud security weaknesses in systems and related software. It highlights tiny cracks that a cyber attacker can use to penetrate critical networks of any organization.
Vulnerability management offers a systematic review of the security procedures in place, assessing the entire IT landscape of the organization for any vulnerabilities. This helps prioritize possible threats and minimize the attack surface.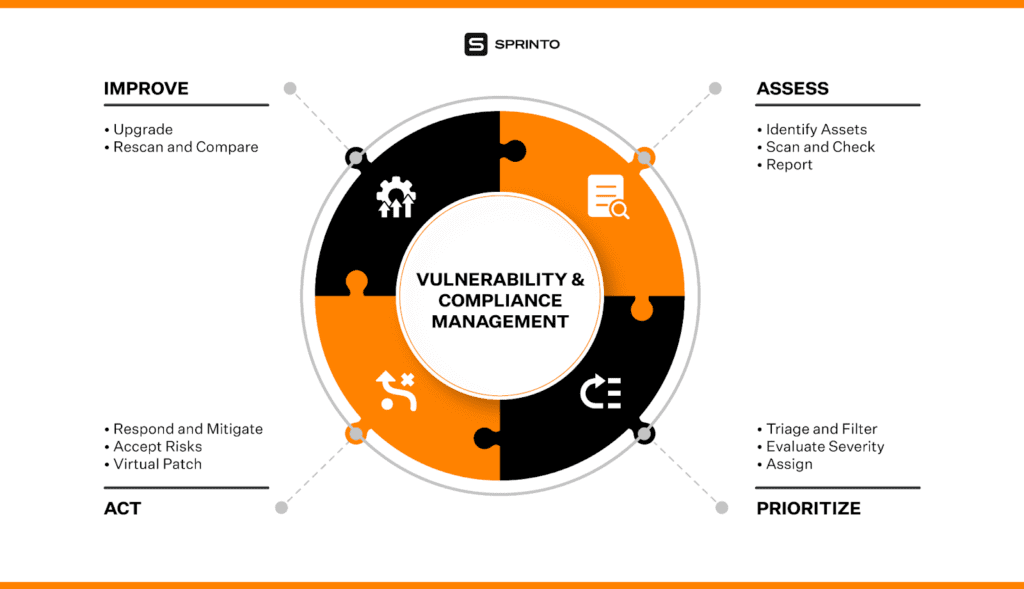 Besides, you could be subject to a number of regulatory and contractual mandates. These come in the form of PCI, DSS, and SOX and may need periodic vulnerability assessments for maintaining compliance.
In the context of SOC, a vulnerability manager focuses on known technical weaknesses in both firmware and software. A technical vulnerability could arise due to defects in processes, such as the lack of a proper software QA process.
That is where using a tool like OpenVAS can make a huge difference. This open-source, full-featured software boasts vulnerability assessment capabilities such as vulnerability scanning and management.
OpenVAS performs various tasks, including authenticated and unauthenticated testing, performance tuning for large-scale scans, high-level and low-level internet and industrial protocols. It also deploys a strong internal programming language for any vulnerability test.
OpenVAS supports different operating systems and ensures the scanning engine stays updated with the network. It performs an in-depth network vulnerability scan by leveraging more than 57,000 plugins.
The tool detects open ports and services and queries the database for any known vulnerabilities that might affect specific software versions. It also identifies issues related to unified security in the servers and other network devices.
3. Access Rights Management
Short for ARM, Access Rights Management ensures people in an organization have appropriate access to technological resources. Any access control system, whether logical or physical, comprises five main components:
a. Authentication:
The function of proving the identity of a person or computer user, for example, verifying the authenticity of a website with a digital certificate.
b. Authorization:
The act of specifying access privileges or rights to resources, for example, authorizing HR to access employee records by setting access control rules in the system.
c. Access:
Once the first two steps are done, the person can access the resource.
d. Manage:
This involves adding or removing authentication and authorization of users or systems in an access control system.
e. Audit:
Used to enforce the principle of least privilege. For instance, removing access to those users who are no longer part of the system or have changed roles.
Good access management tools for SOC ensure that users can access areas of the network to do their job while keeping other areas off-limits to safeguard the organization.
Known for its threat intelligence, SolarWinds Access Rights Manager gives good visibility on everyone's access rights and helps with accurate access granting, good reports, and compliance.
The tool provides an overview of the permission rights of every user in the filer servers and Active Directory. It prevents data leaks by notifying the team whenever there is unauthorized access.
For instance, in the case of Microsoft Exchange servers, the ARM helps track changes made in the mailbox, calendars, associated calendars, and so on to avoid data breaches. SolarWinds also tells who made what change to the Active Directory and when.
In addition, you can modify various access rights by making use of standardized role-specific templates, allowing you to easily create, modify, activate/deactivate, and delete user access to files and servers.
4. Security information and event management (SIEM)
SIEM is a subcategory of computer security combining security information management with security event management in software solutions. SIEM forms the core of a SOC due to its capability to apply correlation rules against massive data sets to spot threats.
It collects data from the entire security architecture of the organization, provides context to the alerts, and prioritizes notifications based on urgency thanks to rapid threat detection and response. SIEM performs many valuable functions, including:
a. Automatically detects signs of a potential intrusion into a company's systems or network.
b. Collects security data from the organization's networks and transforms that information into a single, usable dataset.
c. Demonstrates regulatory compliance for the data a SIEM tool collects and stores, helping enforce that the company has not experienced any threats.
SolarWinds Security Event Manager is a SIEM security system that provides analysis services as well as automated response routines. The solution identifies and responds to threats faster, thus increasing the speed and effectiveness of investigations dramatically.
It helps minimize the time taken to prepare and demonstrate compliance with proper tools and reporting for PCI, DSS, SOCX, HIPAA, and so on. 
Over to you
Whether you integrate security functionality, outsource the majority of all your organization's SOC functionality, or staff an in-house team to set up and run a SOC, investing in the best SOC tools and security measures is worth the investment.
To plan, build and manage a SOC takes time and resources. As every organization requires strict security, a SOC helps maintain cybersecurity effectiveness across departments.
Depending on your business size and the availability of expert resources, choose the best tools in the market that help you conveniently build a SOC. Hopefully, the tools mentioned above have laid down the groundwork for you.
SOC 2 requires you to deploy numerous security policies. If you are looking for a solution that can integrate with diverse systems, be personalized as per specific business requirements, and identify and notify about new loopholes in the systems, then Sprinto is ideal.
It offers best-in-class security and enables 10X faster SOC 2 auditing. Book Personalized Demo with Sprinto today!
FAQ: SOC reports
1. What is a SOC?
A SOC is a facility from which the information security team supervises an organization's networks, websites, databases, servers, applications, and other systems using data processing technology on an ongoing basis.
2. How does a SOC work?
A typical SOC monitors security data permeating an organization's IT infrastructure — from networks, databases, and security devices to host systems, applications, and websites. By leveraging advanced technologies and the skills of experienced security analysts, a SOC performs functions such as cloud security event monitoring, detection, investigation, and response and mitigation.
3. What are SOC tools?
SOC tools comprise specific capabilities such as evidence collection, implementation and management, vulnerability management, Access Rights Management (ARM), and SIEM (Security Information & Event Management). Check out this article to study these tools in greater detail.
4. Who works in a SOC?
Although the SOC team size varies depending on the business type and size, most members have similar roles and responsibilities. SOCs typically staff security analysts, engineers, and managers to ensure security operations function smoothly. The SOC team's goal is to quickly identify, analyze, and respond to cybersecurity incidents, thus minimizing the damage caused to businesses and allowing them to continue operating even under attack.