Things You Need To Know About SOC 2 Policies and Procedures
Gowsika
Jul 16, 2023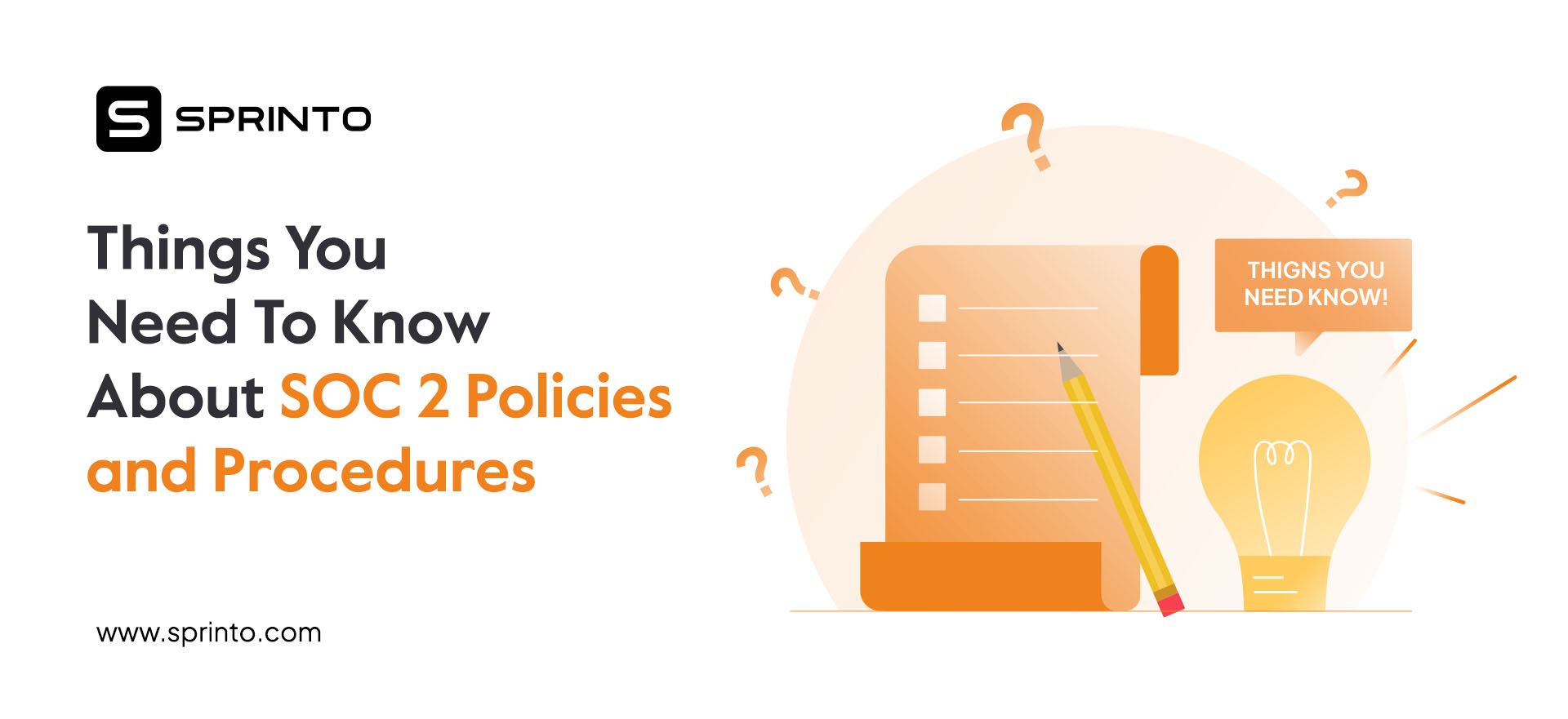 Clear and Concise documentation is the key that unlocks doors to a successful SOC2 implementation. It is imperative to document the applicable SOC 2 policies and procedures for your organization. This includes the roadmap to SOC 2 certification, TSC, Gap analysis findings, implementation of policies, audit preparation, and more.
SOC 2 policies help organizations to optimize their operations and build a security-driven culture. But what's the first step?
The task of aligning relevant policies and achieving effective results can be challenging. Working on those complex requirements and achieving desired efficiency results with a narrow margin for error can be even more daunting.
Fear not! This post is designed to equip you with all the essential know-how about SOC 2 policies and procedures with ease.
What is a SOC 2 Policy?
SOC 2 policies establish a document/framework for implementing data security. These policies act as primary requirements for the organization's employees and third-party vendors to help them meet those requirements.
SOC 2 requires organizations to deploy a series of technical controls and implement policy changes in their business environments to ensure the safety and confidentiality of user data. These controls and policies are mapped with the requirements mentioned in the AICPA SOC 2 guidelines. To achieve SOC 2 certification, organizations implement these requirements to demonstrate compliance.
Organizations address all relevant applicable SOC 2 requirements, such as documenting the details of implementation, controls used, delivery metrics, owners of the control, and evidence to demonstrate completion. This comprehensive document that covers all these specifics is commonly referred to as SOC 2 Policies.
Organizations are required to have all applicable policies and procedures to adhere to SOC 2 controls, as these policies will be thoroughly reviewed by the auditor. Moreover, the SOC 2 policies are expected to be well-documented and accepted by employees.
List of SOC 2 Policies
Each policy below supports a crucial element of your organization's overall security and process for handling consumer data. The scope for which policies need to be drafted and implemented varies based on the organization's size, the nature of services, and the Trust Services Criteria (TSC) chosen.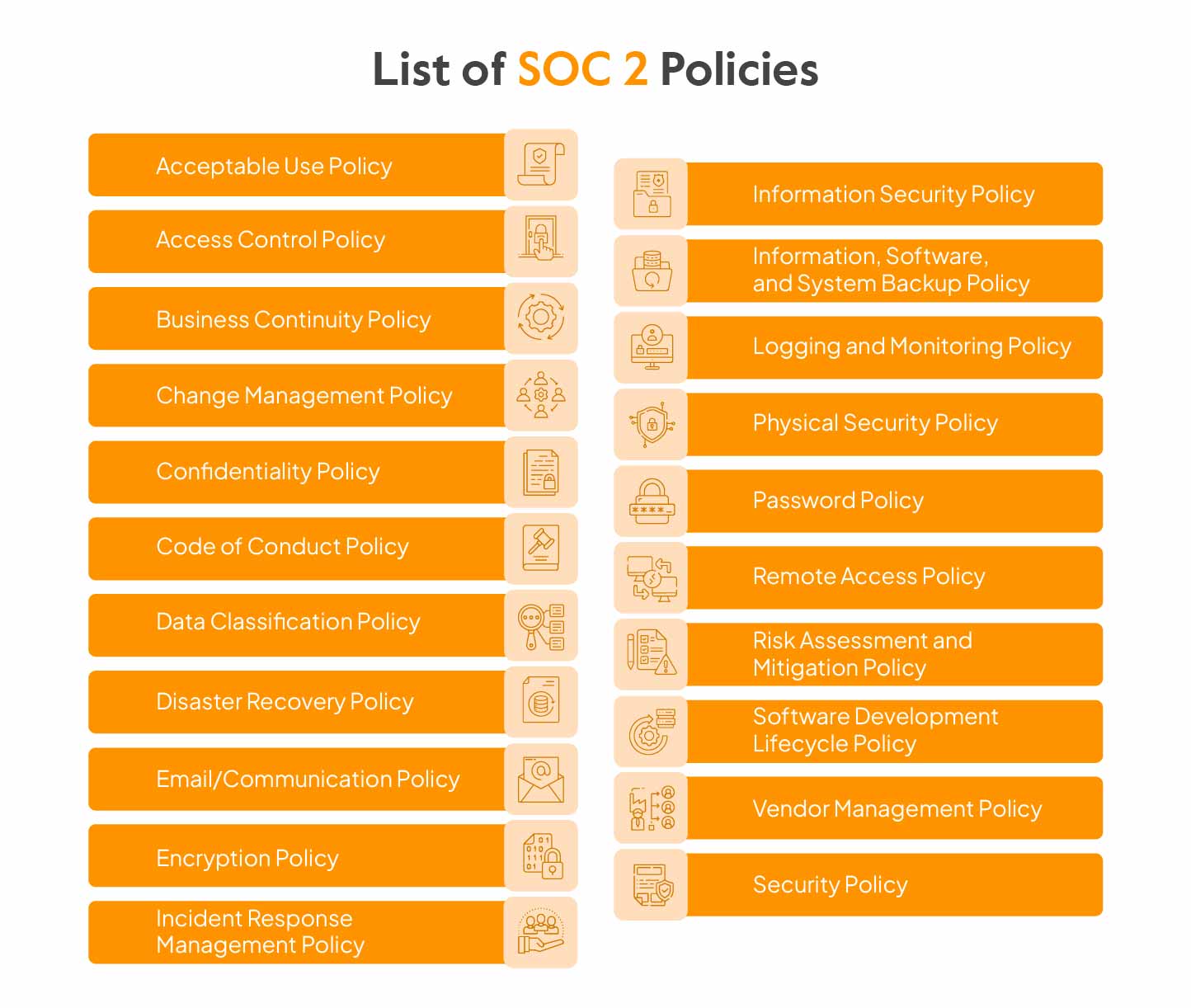 We have listed 21 SOC 2 policies that the auditor, in general, will be looking for:
1. Acceptable Use Policy
The acceptable use policy defines the restrictions and regulations for utilizing the network, website, system, or organization's other technology assets. It also mentions which devices can be used, how they will be issued and returned, and password requirements.
2. Access Control Policy
The access control policy provides access guidance on various systems and applications. It mentions who will have access to the organization's systems and how often these access controls will be reviewed.
3. Business Continuity Policy
The business continuity policy defines the processes and procedures employees must follow in case of a disruptive event to keep the business functions running smoothly. It also covers how the hardware, applications, and other crucial data will be restored in case of a disaster.
4. Change Management Policy
The change management policy defines how the system changes will be implemented, documented, and communicated across the organization. It also includes the stakeholders involved in each layer of the change process. This allows you to debug issues and respond to any incident efficiently.
5. Confidentiality Policy
The confidentiality policy defines how your organization and employees will handle the confidential data of clients, business associates/partners, and/or the company itself. As the clients expect the security of their data, this policy is a must to ensure the same.
6. Code of Conduct Policy
The code of conduct policy defines certain policies and procedures that employees and employers must adhere to. It includes how employees should interact with each other and define their expected behavior toward colleagues, supervisors, and everyone else in the organization.
7. Data Classification Policy
The data classification policy defines how to classify sensitive data by weighing the risk parameters. This ensures that the sensitive data is effectively handled according to the level of risk it poses to the organization.
8. Disaster Recovery Policy
The disaster recovery policy defines the guidelines and instructions for the organization to recover from a disastrous event. This aligns with the business continuity policy to prepare the organization for a disaster. It outlines the minimum necessary functions your company needs to run its operations.
9. Email/Communication Policy
The email/communication policy defines the guidelines for using the organization's communication mediums. It mentions what is acceptable and unacceptable for employees while they communicate using the company's devices, networks, email, etc.
10. Encryption Policy
The encryption policy defines the efficient use of encryption in your organization to safeguard sensitive data. It mentions the type of data that needs to be encrypted and how it will be encrypted (encryption mechanism and process).
11. Incident Response/Management Policy
The incident response/management policy defines the roles and responsibilities of employees in response to a data breach or any other incident. It also mentions what is expected of everyone in the organization during the ensuing investigation.
12. Information Security Policy
The information security policy defines how you approach information security and why you put policies and procedures in place. This policy is a cornerstone for SOC 2 and other infosec-related policies and compliances.
13. Information, Software, and System Backup Policy
The information, software, and system backup policy defines how the information from business applications and systems will be stored for effective data recovery. It ensures that data can be retrieved from the backup in case of disaster.
14. Logging and Monitoring Policy
The logging and monitoring policy defines what logs you will collect and monitor. It also mentions what will be captured in those logs and what systems you must configure for logging.
15. Physical Security Policy
The physical security policy defines how to secure access to your company's physical location. It mentions the systems/tools you will use for monitoring physical security and preventing theft and unauthorized physical access to the company's devices, equipment, and data centers.
16. Password Policy
The password policy defines the guidelines and requirements for using strong passwords (or passphrases). It mentions using password managers for different portals and includes a password expiration policy so employees regularly change passwords.
17. Remote Access Policy
The remote access policy defines who has access to work remotely and how they will be securely establishing the remote connection. It also describes what type of connectivity will be used and how it will be logged and monitored.
18. Risk Assessment and Mitigation Policy
The risk assessment and mitigation policy define potential security threats and cyber attacks that could occur and the action/response plan to prevent those incidents. It also describes the potential impact of these attacks and the mitigation strategies to respond to such cases effectively.
19. Software Development Lifecycle Policy
The software development lifecycle (SDLC) policy defines how you will ensure that you will build your software/application using secure coding practices. It also mentions that you will regularly test the software and ensure that the development process meets the compliance requirements.
20. Vendor Management Policy
The vendor management policy identifies and prioritizes vendors (third-party and fourth-party) that potentially put your business at risk and then defines security controls to minimize the risks.
21. Workstation Security Policy
The workstation security policy defines rules and guidelines for securing the employees' workstations. This helps you reduce the risk of unauthorized access and data loss through workstation use.
How Do You Prove You're Following Necessary SOC 2 Policies?
You are required to prove in the SOC 2 Type II audit that you are following the SOC 2 policies and procedures you've put into place. You will have to present the evidence to the auditor in the audit phase. There are two ways of doing so.
The first is a manual process in which you must collect and organize the evidence of implementing and following your defined SOC 2 policies. It is a daunting and time-consuming task. You will have to take screenshots of the processes and keep documentation of everything in the spreadsheets and cloud.
The second way is choosing an easy-to-use automation platform – Sprinto. Sprinto's automated, intuitive platform makes the process audit friendly. Enabling Sprinto improves your efficiency in the policy creation process. It includes every step, such as mapping risks to required controls, providing all technical control and policy details, the owner of the desired policies, their associated responsibilities, and more.
Sprinto's evidence collection and automated catalogs will minimize your entire certification time. You will also get access to a network of independent third-party auditors. Sprinto's custom Auditor's Dashboard will provide all the information needed for the auditors to make evidence sharing easy for both of you.
So, to prove that you're following the required SOC 2 controls, you can choose Sprinto the smart, automated way. That's not it. You can also go audit ready from months to weeks!
Get compliant faster with the help of Sprinto
Closing Thoughts
SOC2 policies form the foundation for a successful SOC2 audit. You need to meticulously choose the crucial SOC 2 policies that fit your organization's goals and document the policies you opt for. With clear documentation of selected policies, the SOC2 audit is a cakewalk.
To fast-track your SOC 2 audit and to facilitate an error-free compliance journey, remember to choose Sprinto! Enabling Sprinto makes auditors spend less time on an audit compared to a consultant or GRC. As they spend less time, they charge less.
Smart and cost-efficient! Something to Think About! Try the demo or get in touch with our SOC 2 experts at Sprinto to know more!
FAQs
Is it mandatory to follow and implement all SOC 2 policies?
No, it is not mandatory to follow and implement all SOC 2 policies. You only need to choose the necessary applicable policies per your business requirements, security posture, and services you offer.
What is SOC 2 log management and review policy?
The SOC 2 log management and review policy defines the outline for collecting logs, capturing the specific log details, and monitoring/reviewing them.
Gowsika
Gowsika is an experienced content writer, passionate about the cyber security and compliance world. She constantly explores the depths of this ever-changing compliance space to bring new information and insights to her readers. She has a knack for taking complex compliance topics and making them accessible to everyone. On weekends, you can find her dancing her heart out, sitting by the sea, and cracking jokes while watching the waves roll in. Reach her at gowsika@sprinto.com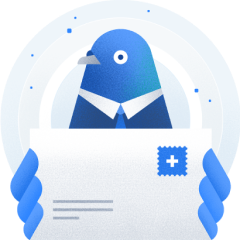 Subscribe to our newsletter to get updates
Schedule a personalized demo and scale business
Subscribe to our monthly newsletter

Sprinto: Your growth superpower
Use Sprinto to centralize security compliance management – so nothing
gets in the way of your moving up and winning big.