How to Create a Vendor Management Policy? [Template]
Gowsika
Jun 21, 2023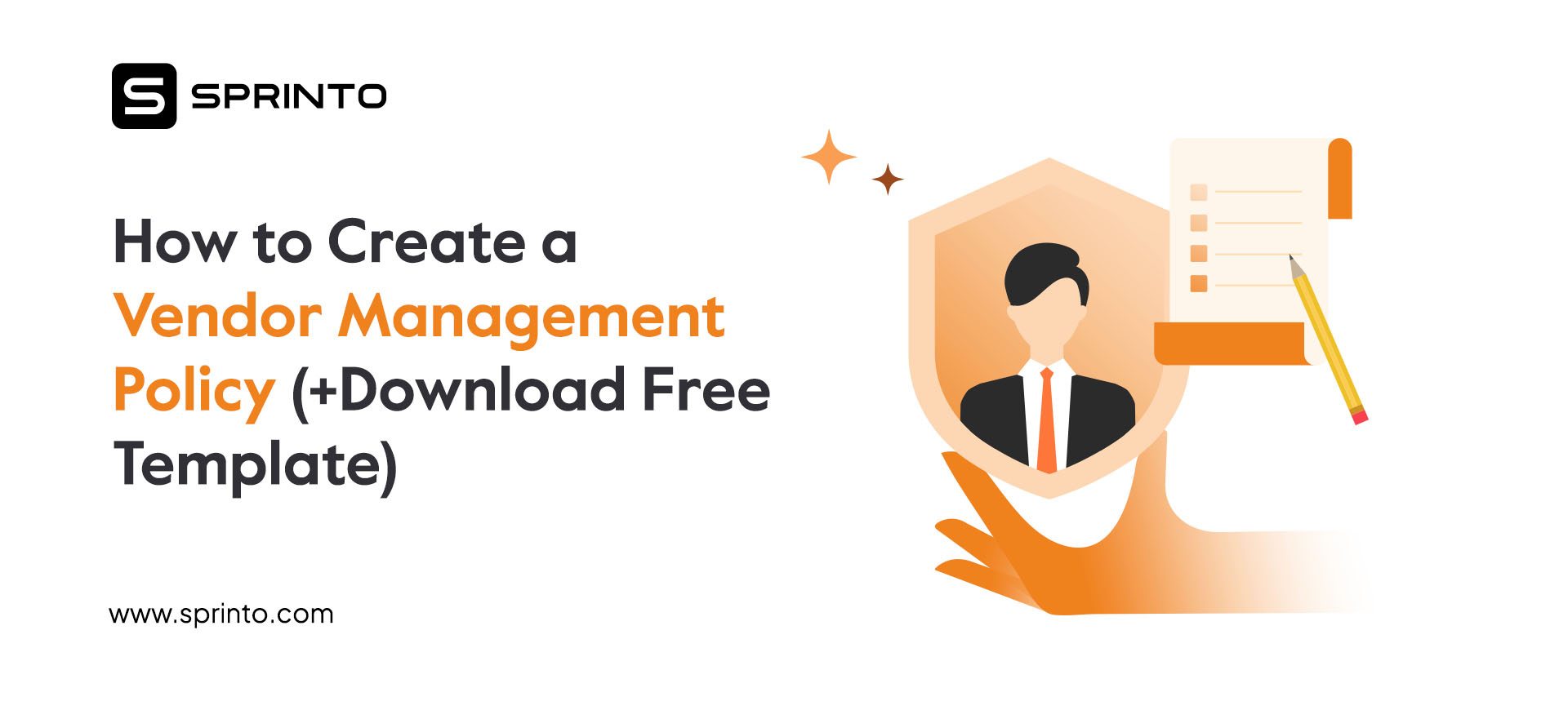 While framing the risk management module, organizations often overlook the importance of vendor management. At some point, cyber threat actors try to exploit and gain access to your sensitive data through the vulnerabilities of third-party vendor systems. So, it is crucial to understand how vendors and third-party organizations handle your data.
How can a vendor management policy help you with that?
With a proper policy, you can control the risks associated with third parties. This will help you improve your security posture and maintain your organization's compliance with frameworks like ISO 27001 and SOC2. In this blog guide, we will define vendor management policy, why you should have one, and how to create one effectively!
What is a Vendor Management Policy?
A vendor management policy (VMP) is a structural control for identifying and prioritizing the vendors that put your organization at risk. It helps your company minimize the risks associated with third-party and fourth-party vendors by defining security controls.
It also helps maintain your compliance risk management strategies to ensure compliance with different security standards.
Why do you need a vendor management policy?
Companies mostly place a strong emphasis on secure endpoints like servers, routers, and firewalls. But are they the only points of entry for threat actors, though? Indeed, there are additional hazards because hackers can breach your defense through networks connected to third parties. Let's look at a few more advantages of using a vendor management policy.
Protect sensitive data
While outsourcing various activities such as sales, accounting, IT, and so on, vendors have access to sensitive client data. So, while onboarding vendors, a vendor management policy can help you define security controls for limiting data access and protecting sensitive data from cybercriminals.
Improve vendor network visibility
The vendor management policy allows companies to understand the security structure of the vendor. This helps in understanding the security vulnerabilities to reduce the related risks.
Stay compliant
There are specific compliance requirements in each industry. While the best compliance audit software can help you cover most requirements, you also need to have a vendor management policy in place to stay compliant with different regulations. This will help you avoid legal troubles.
Minimize data breach impacts
It is essential to prevent data breaches as they can land you in financial trouble by attracting hefty penalties. Having a vendor management policy will ensure that your organization is likely safe from vendor-related security risks.
Download Your Vendor Management Policy Template
How to create a vendor management policy?
While drafting a vendor management policy, there are three things to keep in mind. Let's have a look at these: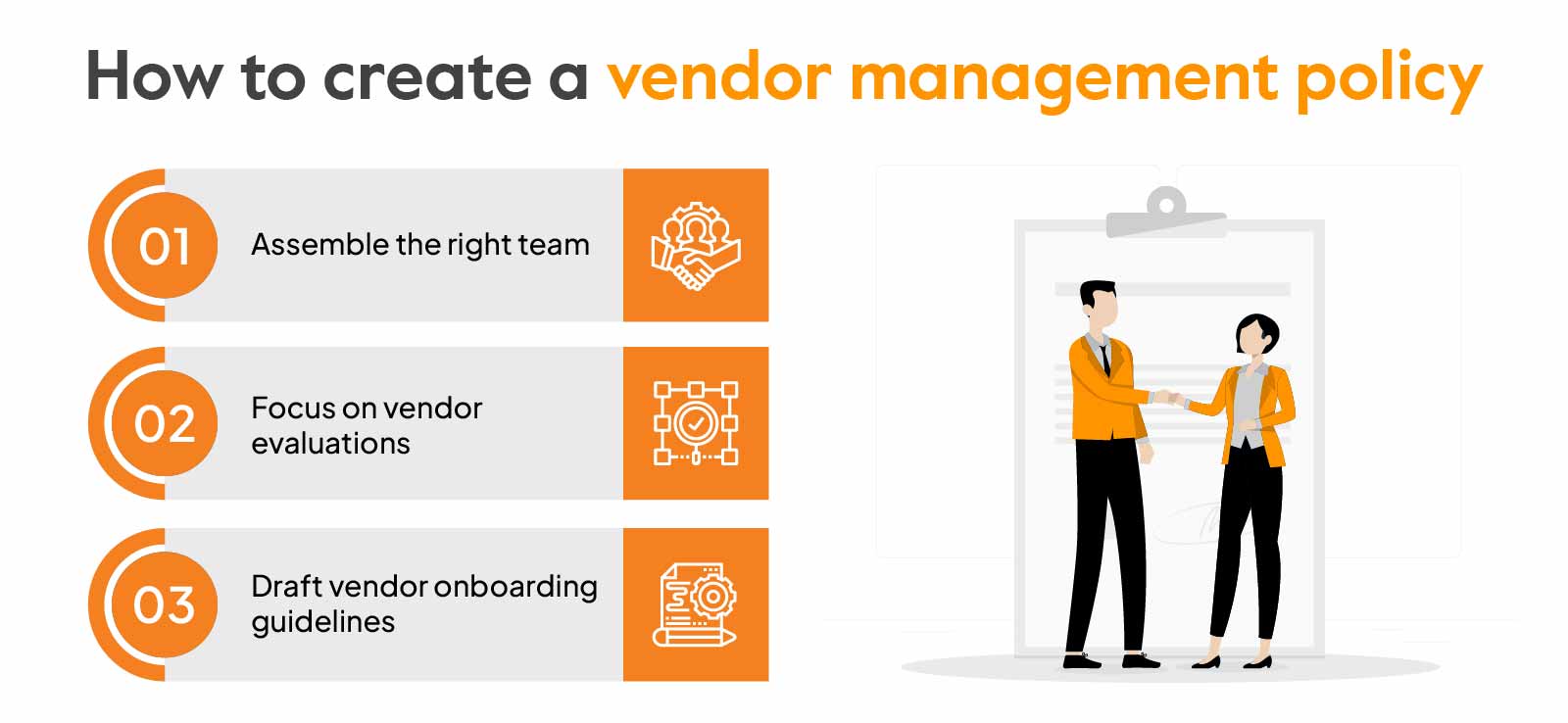 Assemble the right team:
The primary step for creating a vendor management policy is gathering the right team. You should bring in stakeholders from various teams such as finance, IT management, cyber security, legal and compliance, senior management, etc. This ensures everyone is on the same page and can contribute with their valuable input.
Focus on vendor evaluations:
It is important to have proper insights on how your vendors are performing in terms of risk management. This includes vendors, such as current contractors, software providers, and any other third parties. Evaluating vendor relationships helps you analyze and list the risks associated while using third-party products and services. Doing so early ensures you're able to identify risks early and address them swiftly.
Draft vendor onboarding guidelines:
You should be ready with a set of guidelines from a risk management point of view while onboarding new vendors. Ensure that you have a pre-screening process to categorize the vendor as per their risk profile. This will help you streamline the onboarding process by being clear about your vendor risk management policies.
When you follow these three steps, your team will be able to understand the risks associated with third parties. That will help you devise security controls and policies for managing and mitigating risks.
What to include in your vendor management policy?
Surely, there is no one-fit-all policy when it comes to vendor management. However, there is an outline comprising a few crucial elements that you should consider including in your vendor management policy.


1. Purpose of the policy
This section defines the purpose of your vendor management policy. It talks about why this policy is in place. Generally, the primary focus of a vendor management policy is to secure sensitive data from exposure through third-party vendors.
2. Scope
The policy defines the scope to clarify who falls under the jurisdiction of this policy. This includes the list of all your existing vendors and third parties, plus any potential acquisitions with which you might be doing business. The policy will be applicable to everyone who is defined in the scope of the vendor management policy.
3. Internal roles and responsibilities
When you put together a team to create the vendor management policy, the roles and responsibilities of the team don't end there. For efficient vendor management, you should assign a vendor manager to each vendor. This person will assess the vendor's compliance with your policies. By reviewing vendors' security, they will be responsible for updating the policies.
4. Vetting process
The vetting process of the vendor management policy focuses on your company's processes to audit and assess the vendor before doing business with them. It includes details on non-disclosure agreements, data access controls, vendor assessment timelines, etc. This information helps you understand whether your organization can deal with the vendor and their terms from a security standpoint.
5. Vendor compliance criteria
Vendor Compliance criteria help you create appropriate risk management and security standards for your vendors. The policy specifies which risks should be addressed by your internal team and which ones by vendors.
Additionally, for continuous compliance, you need to schedule audits to check the security posture of the vendors and install controls, if necessary. Also, the policy should include the procedures to be followed when discontinuing the vendor when the contract ends.
6. Enforcement of the policy
Finally, to efficiently enforce the vendor management policy, you need to specify the details regarding the execution of the same. This includes when and how the policy will be applicable and what the ramifications will be in case of failure to follow the policy. There can be different actions for various failures to comply, such as civil/criminal sanctions, contract termination, access privileges withdrawal, etc.
Figuring out your vendor management policy from scratch? Here is a handy template to get started effectively. You can use this vendor management policy template as a baseline to curate and draft your policy.
Download Your Vendor Management Policy Template
Closing thoughts
A vendor management policy is crucial to strengthen your security posture while dealing with third parties. The document serves as a firewall to protect your sensitive data from threat actors. You can use this template to draft your vendor management policy.
Moreover, a comprehensive compliance management and automation solution like Sprinto puts compliance on autopilot so that you can effectively manage the risks associated with vendors.
If you need help creating an effective vendor management policy with respect to various compliance requirements such as SOC 2 and ISO 27001, we have just the thing for you. Speak to our experts here.

FAQs
1. What is the vendor management process?
The vendor management process includes different activities such as choosing vendors, managing and minimizing vendor-related risks, controlling costs, and so on.
2. What are the key roles of vendor management?
The key roles of vendor management include facilitating and maintaining relationships between your organization and the vendor by effectively managing risks, negotiating contracts, and more.
3. Is vendor management policy necessary to stay compliant with SOC 2 and ISO 27001?
Yes, it is necessary to have a vendor management policy with respect to different compliance frameworks such as SOC 2 and ISO 27001 to assess and manage the risks associated with vendors and business partners.

Gowsika
Gowsika is an experienced content writer, passionate about the cyber security and compliance world. She constantly explores the depths of this ever-changing compliance space to bring new information and insights to her readers. She has a knack for taking complex compliance topics and making them accessible to everyone. On weekends, you can find her dancing her heart out, sitting by the sea, and cracking jokes while watching the waves roll in. Reach her at gowsika@sprinto.com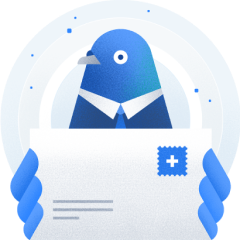 Subscribe to our newsletter to get updates
Schedule a personalized demo and scale business
Subscribe to our monthly newsletter

Sprinto: Your growth superpower
Use Sprinto to centralize security compliance management – so nothing
gets in the way of your moving up and winning big.