A Quick Comparison of Drata Alternatives
Anwita
Jul 10, 2023
With every compliance solution claiming to be the best, choosing the right one can land you in a sea of marketing gimmicks and false promises. There are many solutions in the market, Drata being a frontrunner. But even big names like Drata can have pitfalls.
If you are looking for Drata alternatives, chances are you have a basic idea of what the tool delivers, similar expectations, and pre-set criteria. We have compiled a list of Drata competitors to ease your solution shopping journey – a list of what to expect from each, pros, cons, and how to pick a great alternative.
What does Drata do?
Drata is a security platform that helps businesses become SOC 2, HIPAA, GDPR, and ISO compliant. It integrates with the existing tech stack to monitor the IT environment, collect evidence on security controls, and streamlines compliance workflows. The Drata solution offers a significant amount of automation capabilities and scalability.
Why do you need an alternative to Drata?
Despite being one of the leaders in the compliance category, the solution does not come without limitations. Here are the common pain points of the solution, as per actual user review from G2:
The package does not offer a bundled solution – add-on features increase the overall cost.
Automation capabilities require manual intervention for evidence submission, risk assessment, and mapping remediation to control.
Currently the platform does not support frameworks like NIST and CMMC.
Evidence cannot be edited once uploaded. Creates duplicate evidence upload for systems that are not integrated with the solution.
Clunky document and policy management features prevent a seamless experience.
Lacks tiered escalation ability for critical or failing checks.
Top 5 Drata Alternatives You Should Try in 2023
We compiled a list of the best alternatives to Drata based on user reviews, capabilities, and features.
Sprinto
Vanta
Hyperproof
Thoropass
OneTrust
Sprinto is an end-to-end compliance automation, management, and tracking solution for cloud-hosted SAAS companies. It supports and maps the requirements of frameworks like SOC 2, ISO 27001, GDPR, HIPAA, NIST, PCI DSS, and more using a single, comprehensive view. The solution empowers organizations to scale their compliance efforts without compromising engineering bandwidth. All capabilities, features, and strengths considered, Sprinto stands out as one of the best alternatives to Drata.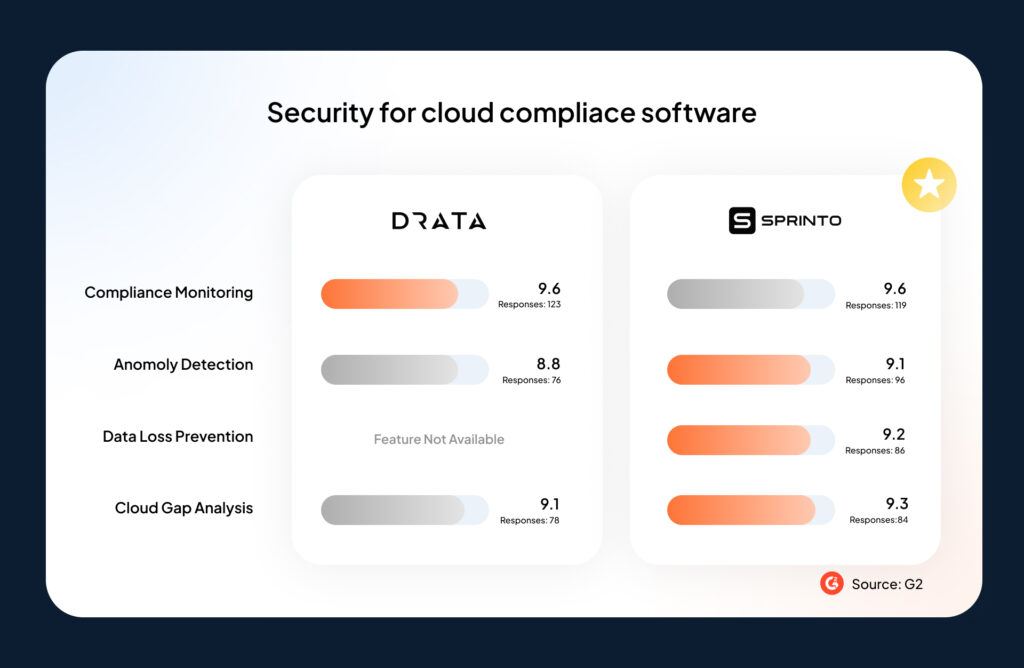 Key features and benefits
Offers pre-built, auditor-friendly compliance programs designed with the auditing process in mind. The auditor customizable dashboard enables users to collect, edit, and view evidence
Supports a wide range of entry-level preventive and defensive security controls to liquidate costly incidents
Continuously monitors controls in real time to satisfy the requirements of selected frameworks
Triggers alerts to escalate non-compliance issues to concerned individual with detailed insight into the nature of risk, level of criticality, area of concern, and more
The role-based access feature facilitates segregation of tasks, data minimization, and assigns security failures to the right person
Risk prioritization and profiling capabilities that go above and beyond raising tickets – it prompts corrective actions and generates proof to help audits
Provides deep visibility into cloud assets across service providers to enable IT teams to identify and triage assets
Maps common control requirements across frameworks to eliminate duplicate efforts and quickly scale
A quick analysis of G2 reviews shows that the overall efficiency is higher by a small margin for use cases like data protection, gap analysis, anomaly detection and monitoring.
Get in touch with our experts now!
2. Vanta
Vanta, a security and compliance platform helps businesses comply with most in-demand privacy frameworks like SOC 2, ISO 27001, HIPAA, and more. It monitors the security posture in real-time, surfaces risks across key business functions, and simplifies the auditing process.
Pros
Triggers alerts for violations and malicious behavior by continuously monitoring the environment.
Analyses data with web traffic and performance to offer better security insights and best practices. Site administrators can set security and data policies.
Allows users to create and manage an inventory of the software, hardware, cloud, and mobile assets.
Cons
Pay per feature model that charges users on release of new additions.
Steep learning curve that requires a considerable amount of time, support, and understanding.
The customization capabilities lack the required amount of granularity. This limits the ability to add custom evidence, define accounts from offboarding tasks, and monitoring.
Limited integration options require manual effort to add services to the existing system.
3. Hyperproof
Hyperproof is a risk and compliance platform to manage multiple frameworks like SOC 2, ISO, and NIST CSF. It integrates with commonly used cloud services to automate compliance workflows, collect evidence, and collaborate with stakeholders using a single dashboard.
Pros
The package offers a security knowledge base consisting of training and learning materials for users.
Provides sufficient flexibility to configure the solution without much technical assistance.
Identifies and classifies risks based on human, technical, or external factors or the framework requirements.
Cons
Slow and buggy UI limits the ease of use for certain functions.
The overall solution is not comprehensive and robust enough to fit every action's scope.
Limited customization, lack of useful visuals, and poor control management.
Lacks automated reporting capabilities and the custom framework requires manual intervention.
Get compliant without any hassle with the help of Sprinto
4. Thoropass
Thoropass (previously known as Laika) integrates with existing systems to facilitate continuous monitoring and maintain compliance for infosec and privacy frameworks. It combines compliance automation, security questionnaire tools, and penetration testing to offer a seamless auditing experience.
Pros
Security administrators can set policies for data governance, set up role-based access, and manage access privileges.
Monitors the cloud environment and creates reports based on violations or malicious behavior.
Helps to easily pass and manage SOC 2 compliance.
Cons
Does not offer adequate integration options. The integration system is clunky and buggy.
Pre-built templates are suitable for large organizations and can be overkill for small businesses.
The UI is not clean and lacks granularity.
5. OneTrust
The OneTrust privacy and data governance solution offers a centralized solution that enables teams to control and manage organizational data. It leverages AI to improve business visibility, scale risk functions, provide actionable insights, and automate privacy.
Pros
The vendor risk management module is robust and automated.
Offers Data Subject Access Request (DSAR) functionality that helps organizations comply with user requests.
The data mapping functionality offers useful insights into the data flow network within the organization.
Cons
Complex UI that limits scalability and is not intuitive
User management implementation requires a significant amount of manual work to ensure proper mapping of assessments.
Lacks the flexibility to customize workflows to cater to unique business use cases
4 Steps to pick a great Drata alternative that works for you
While choosing an alternative, remember that there is no "best solution" that is guaranteed to solve every business problem. Your best solution is the one that caters your unique needs, eliminates the gaps, and sufficiently addresses the pain points. So here is how you can make an informed decision.
Define your key problem areas
To evaluate alternatives better, sit down with your team and sum up your pain points.
Establish criteria
These are qualitative or quantitative measures that reflect your goals, organizational values, and key objectives.
Identify and evaluate
Compare your requirements against the features, users review, expert analysis. Check how well it caters to your needs and addresses the gaps.
Discuss
Almost all vendors offer free demos and have sales associates to address your concerns or queries. Discuss what you are trying to solve, to understand how well the solution aligns with your goals.
Still Not Sure?

Hope we've helped you make an informed decision. We know the uncertainty and skepticism involved in the new-vendor onboarding process… No one wants to spend a fortune with high expectations, only to regret afterward.
While most compliance solutions have similar capabilities, it is not a size fits all kinda deal. For example, some are designed for large organizations, and the same solution could be overwhelming and complicated for smaller ones. So go through user reviews, product demos, and do the necessary research before making a purchase decision.
If you are still not sure, talk to our compliance gurus. Ask them about their expertise and double-click with questions on how organizations that are similar to yours achieved great results. Don't forget to ask them about how the compliance would look like Sprinto was brought in to serve your compliance needs. Support is important, especially when compliance is not your area of expertise, get details on the support offered and analyze if the support offered can make your life easier.
FAQs
What is the pricing of Drata?
Drata's pricing depends on the size of the company, selected compliance framework, and more. The price can range between $20,000 to $100,000 compared to $5,000 to $50,000 for the same functionalities.
Which is better: Drata or Sprinto?
Both solutions offer highly robust features to automate compliance requirements and improve the overall security status. The better solution for your business depends on your unique requirements. Drata's capabilities in a few use cases like use of admin, use of setup, and others exceeds that of Sprinto by a small, negligible margin. The Sprinto platform fares better in capabilities like Compliance Monitoring, Anomaly Detection, Data Loss Prevention, and Gap Analytics.
Anwita
Anwita is a content marketer. Her love for everything cybersecurity started her journey into the world of viruses and vulnerabilities. With multiple certifications on cybersecurity, she aims to simplify complex security related topics. She loves to read nonfiction, listen to progressive rock, and watch sitcoms. She wishes to master the piano and learn unicycling. Reach her at anwita@sprinto.com.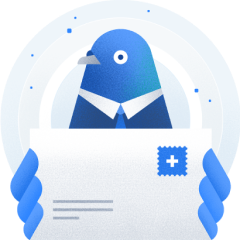 Subscribe to our newsletter to get updates
Schedule a personalized demo and scale business
Subscribe to our monthly newsletter

Sprinto: Your growth superpower
Use Sprinto to centralize security compliance management – so nothing
gets in the way of your moving up and winning big.