All businesses want to be secure. No one wants to be in the line of fire or be in the news for a security breach. So, the intent to be secure is clear and present, and there is an overall consensus on the merits of getting SOC 2 compliant.
We won't broach the why of SOC 2 in this article. But we will discuss the how of it. 
What's the best way to approach your upcoming SOC 2 compliance requirement? Do you adopt a manual approach or consider SOC 2 compliance automation?
In this article, we discuss SOC 2 automation software in detail, list the features and benefits of automating your SOC 2 and answer some of the frequently asked questions on the topic.
What is SOC 2 automation?
SOC 2 automation is a software that automates repeatable compliance tasks to give organizations a real-time, 24×7, continuous overview of their security program. It automates the evidence collection needed to demonstrate SOC 2 compliance, making it easier and error-free for organizations to become and stay compliant.
Why do you need SOC 2 automation?
As a cloud-hosted business, you have several information assets, such as servers, S3 buckets, load balancers, laptops, and more. And if you list all the assets where information is stored, including your vendors, the list could run into thousands! SOC 2 Compliance requires you to secure all your information assets per the risks identified for each of them.
For instance, if it's an S3 bucket, you must ensure it isn't publicly accessible. Or, if it's an EC2 instance, you need to protect its Secure Socket Shell (SSH) access and keep the database and hard disk encrypted.
In essence, every asset type needs a different kind of security check. Now imagine running and monitoring these checks on thousands of assets every day. Trust us; it will soon snowball into a security nightmare!
With SOC 2 automation softwares, this is a solved problem. The SOC 2 compliance automation software lists all your information assets, defines and maps controls for different information assets, and continuously monitors them to ensure compliance status gets maintained always.
So, SOC 2 automation makes the compliance process faster, easier, and error-free.
SOC 2 Manual vs Automation: What's the Difference?
As cloud-hosted companies, you would have an intrinsic understanding of the benefits of automation. Aside from the generic advantages, here are the key factors that swing the deal in favor of automation.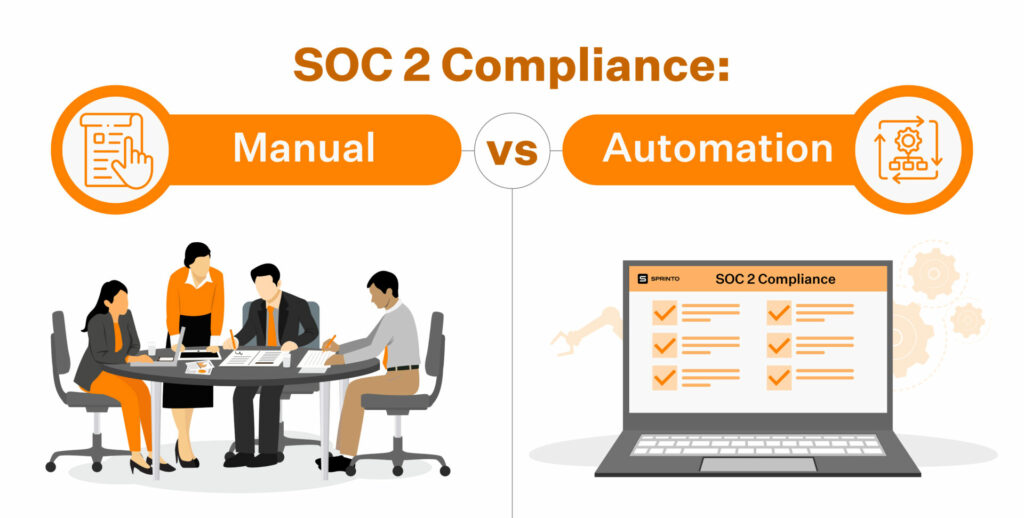 The opportunity cost of time and employee productivity
It is possible and common for organizations to use a DIY approach or hire a consultant to get their SOC 2. Many organizations have taken up the task and succeeded in it too. However, it would help if you asked whether you have the time and resources to allocate toward getting SOC 2 audit ready in-house.
Taking up the manual approach to SOC 2 requires your key engineering hires and the CTO to spend considerable time setting up the processes and documentation initially. And later, after a successful attestation, they will need to monitor and maintain compliance and repeat the entire process before the SOC 2 attestation expires (a year later).
Automation solves this problem smartly. It only needs an initial investment of time and effort during the implementation of SOC 2 compliance automation software. However, subsequent audits and monitoring are relatively simple. 
Sprinto's SOC 2 automation software further reduces your team's investment in terms of time by allocating a dedicated compliance expert who walks you through the entire process. Having a dedicated compliance expert's support allows your infosec team to eliminate the time they would have otherwise spent attending self-learning tutorials on software implementation. 
Read about how HackerRank streamlined security due diligence and regained 20% of engineering time with Sprinto.
A faster and more confident approach to SOC 2
A manual approach to SOC 2 (whether you do it yourself or hire an external consultant) easily takes up 3-4 months in audit preparation. Much time gets spent understanding the SOC 2 requirements, implementing them, and undergoing rounds of SOC 2 self-assessments and SOC 2 readiness assessments. Even after all this, you wouldn't walk into an audit as confidently as when using automation software.
Most SOC 2 compliance automation softwares offer health dashboards that give you an objective real-time overview of compliance. Once you have plugged all the control gaps and hit the 100% audit readiness mark on your dashboard, rest assured that you can walk into the audit without worrying about the outcome.
What's more, when you automate SOC 2, your audit prep time reduces considerably. Depending on the type and size of your organization, the scope and type of SOC 2 report and your security readiness, it would roughly take you anywhere from a couple of weeks to a maximum of a month to get your SOC 2 ducks in a row if you work with Sprinto.
Here's how PreSkale completed SOC 2 audit in under 30 days using Sprinto's compliance automation software.
Cost of compliance 
Other significant factors that tilt the scales in SOC 2 automation's favor are the costs and the ease of evidence collection, the default outcome with automation. Let's tackle the price first, though, shall we?
Aside from the auditor's fee, the SOC 2 compliance cost depends on the type of attestation needed, the size of your organization, the scope of the audit, and the cost of security tools needed. While adopting a DIY approach may seem like a low-cost option, the cost of lost productivity can add up significantly.
Sprinto's compliance automation platform is priced at a starting price of only $8000 (depending on the organization's size).
The evidence collection
The manual route requires you to maintain pieces of evidence to demonstrate compliance, such as screenshots, policy documents, and whatnot. Therefore, the back-and-forth email threads with the auditor tend to be long and cumbersome.
It also requires you to establish a secure way to share the required evidence with the auditor.
SOC 2 automation softwares integrate with your systems and infrastructure and simplify evidence collection and audits. So, instead of sifting through folders looking for specific evidence, your auditor gets presented with pieces of evidence that are bagged and tagged – in a neatly organized manner.
Pro Tip: Look for a SOC 2 automation software that supports automatic and manual evidence collection to accommodate edge cases.
Continuous monitoring 
As we mentioned, SOC 2 automation software continuously monitors your compliance status and alerts you in cases of lapses, delays and non-compliance.
For instance, most softwares automatically alert you if an employee has yet to be offboarded (in terms of revoking access) or if a new employee still needs to undergo the staff security training program.
Real-time monitoring helps you know your compliance status at any point in time. And take quick remedial actions when needed. In contrast, the manual route isn't continuous and relies on spot checks to monitor your compliance status.
Vendor risk management
Most SOC 2 compliance automation softwares offer robust vendor risk management features, allowing you to manage vendor agreements and certifications. The manual approach, in comparison, is long-winded and less robust.
Also check out: SOC 2 guide for startups
Must-have SOC 2 automation software features
There are plenty of SOC 2 automation tools available in the market. How do you pick one that best fits your current and future needs?
Here's a list of the must-have SOC 2 compliance automation software features.
Supports current and future framework requirements – not just one but multiple frameworks
Supports automated integrations with all the cloud infrastructure
Supports 24×7 real-time monitoring of the compliance status
Provides auditor-friendly dashboard with all evidence data
Provides out-of-box policies template & supports customization of the same
Supports workflows related to onboarding & offboarding of employees
Supports common control framework, such that controls get automatically mapped to multiple frameworks
Offers a secure way to share your security posture (both publicly and on-demand)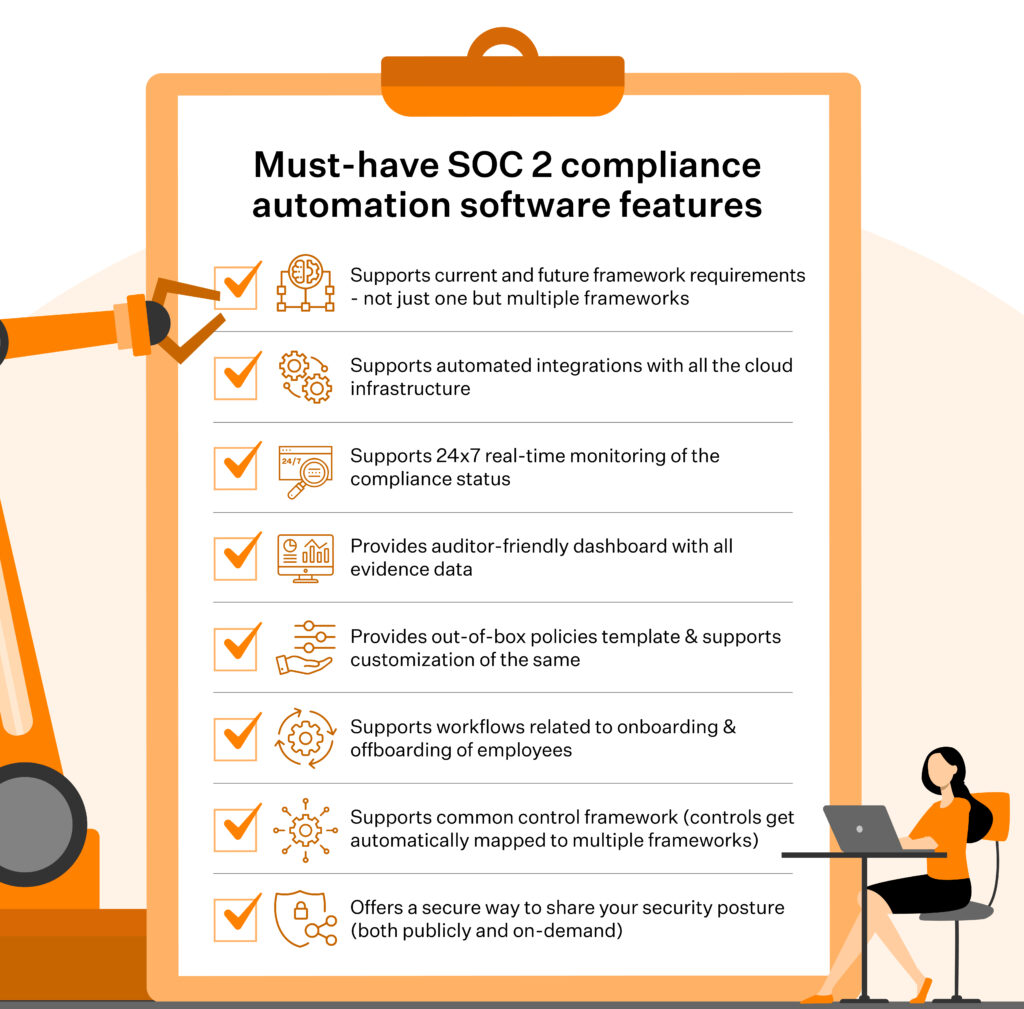 Automate your SOC 2 with Sprinto
SOC 2 automation with Sprinto brings in the best of both worlds. It packs in the advantages of automation, such as continuous monitoring, automated evidence collection and more, and offers dedicated compliance experts to handhold you through the process.
You can automate SOC 2 with Sprinto in three easy steps.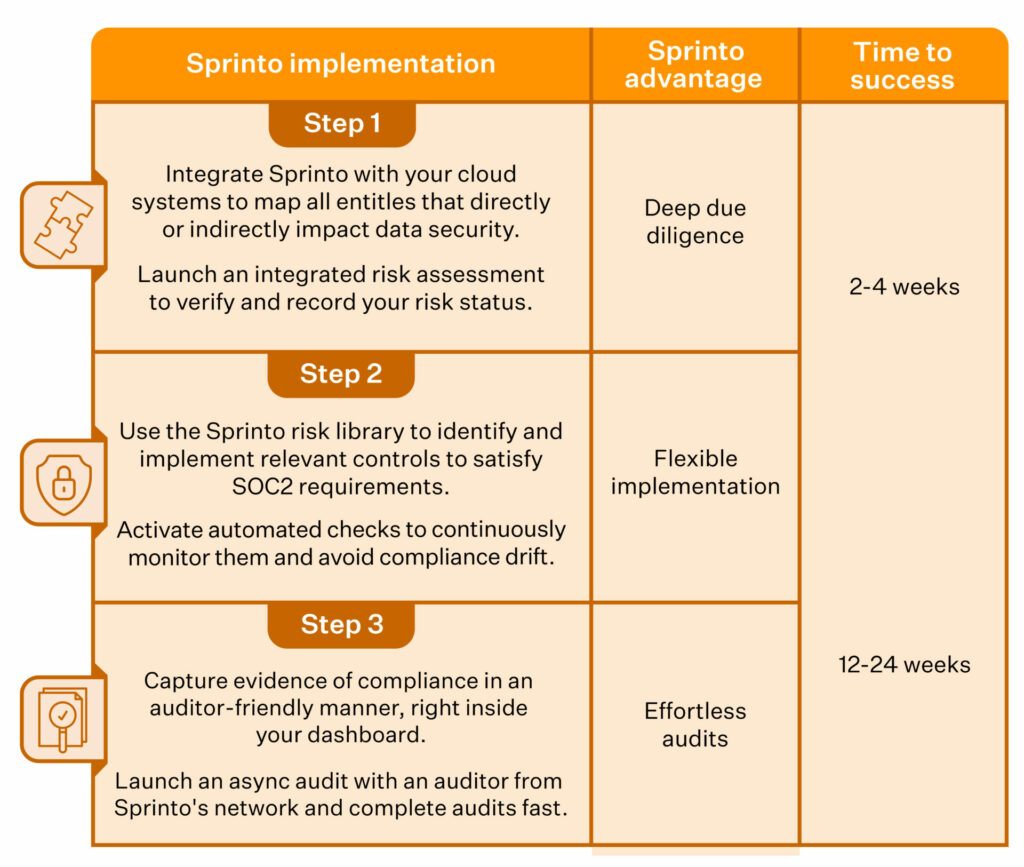 For a detailed lowdown on the features and more, talk to us.
FAQs
How does SOC 2 automation work?
SOC 2 automation removes the grit and grinds from infosec compliance by automating repeatable tasks. It uses APIs to integrate with your many applications, such as cloud servers, code repos, and HRMS, and automates procedures for evidence collection and 24×7 real-time continuous monitoring.
This ensures you have a proof for every implemented SOC 2 control, reducing the back and forth with the CPA. When done manually, these tasks could eat up hundreds of hours!
Why SOC 2 automation is important for companies?
SOC 2 automation is important for companies on multiple counts. These include:
Saving time and cost of compliance
Improving evidence collection
Managing growing compliance needs
Ensuring 24×7 real-time continuous monitoring
Reducing the scope for human error
Ensuring quicker remediation to oversights, errors and attacks