What is SOC 2 Type 2 Compliance: A Complete Breakdown
Srividhya Karthik
May 30, 2023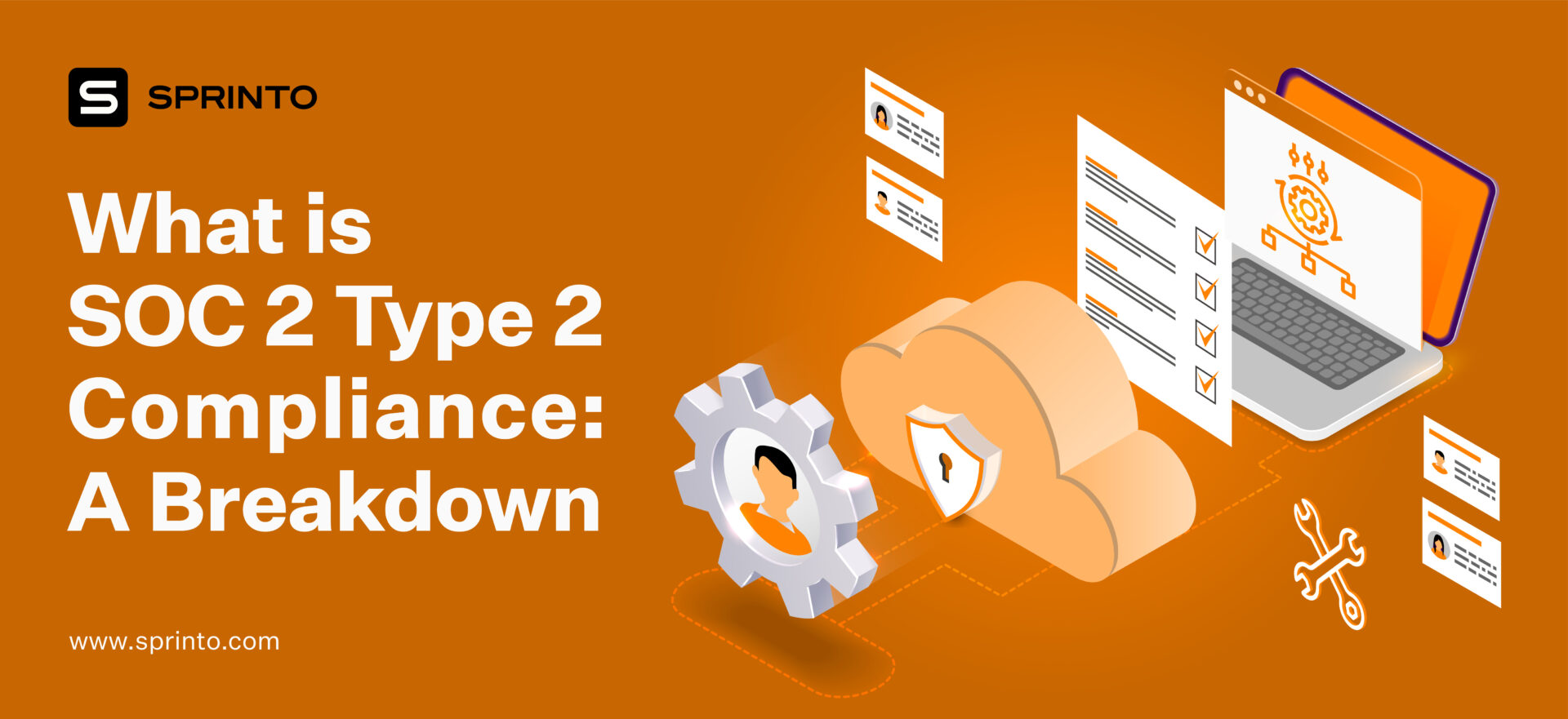 Why do you need SOC 2 compliance? Is it because a client asked for it, your competitors are getting it, you want to bolster your security posture, or you aren't sure why? While all are honest answers in their capacity, it is essential that you have clarity on the type of SOC 2 report you want before you start your SOC 2 prep work.
This article discusses what a SOC 2 Type 2 report is and why and when businesses should consider getting one. Also included are tips on preparing for a Type 2 audit and the time, cost, and effort involved in getting the report.
What is SOC 2 Type 2 Compliance?
A SOC 2 Type 2 compliance is an organization's adherence to implementing effective internal controls for ensuring the security and privacy of customer data.
But before we go any further, let's quickly understand what SOC 2 is.
Developed by the American Institute of Certified Public Accountants (AICPA), Service Organization Control 2, or SOC 2, is a set of requirements designed for businesses that store customer data in the cloud. This makes SOC 2 relevant for all SaaS businesses and those that use the cloud to store customer information.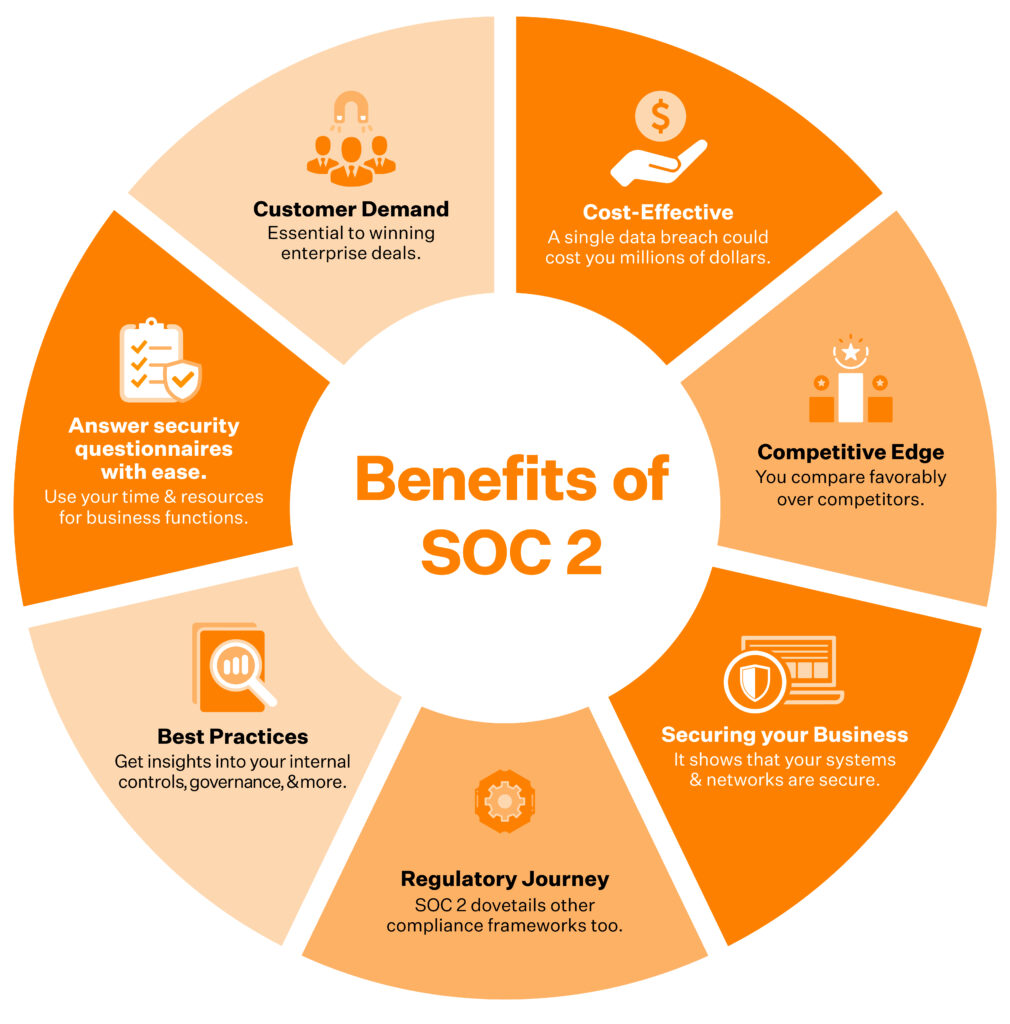 SOC 2 requires businesses to undergo an audit by an external AICPA-accredited auditor. Depending on the depth of the audit and the audit monitoring period, SOC 2 reports come in two types: Type 1 and Type 2. But more on that later.
Why should companies consider becoming SOC 2 Type 2 compliant?
Aside from the compelling reasons to become SOC 2 compliant, here are some reasons why you should consider becoming SOC 2 Type 2 compliant.
Your customers have asked for it
Enterprise customers prefer the more comprehensive Type 2 report for their vendor contracts. A Type 2 report gives them more assurance on your data security and internal controls.
You are already Type 1 compliant
The AICPA doesn't prescribe any rules or hierarchy between Type 1 and Type 2 reports. Companies typically opt for a Type 2 report after receiving the Type 1 attestation.
You want an external review of your security posture
It's one thing to follow the best security practices and another to have a third-party credible authority vouch for it. SOC 2 Type 2 stands testimony to your organization's cyber security information best practices in keeping with the framework requirements.
Your SOC 2 report isn't an urgent need
Your internal controls get monitored over 3-12 months, during which the auditor tests them for design and operating effectiveness per SOC 2 requirements. So, you must opt for a SOC 2 Type 2 only if you have time on your hands – SOC 2 Type 2 reports can take 6-12 months.
When working with Sprinto, a Type 2 report takes roughly three to four months to complete. Read how Sprinto helped businesses fast-track their SOC 2 process.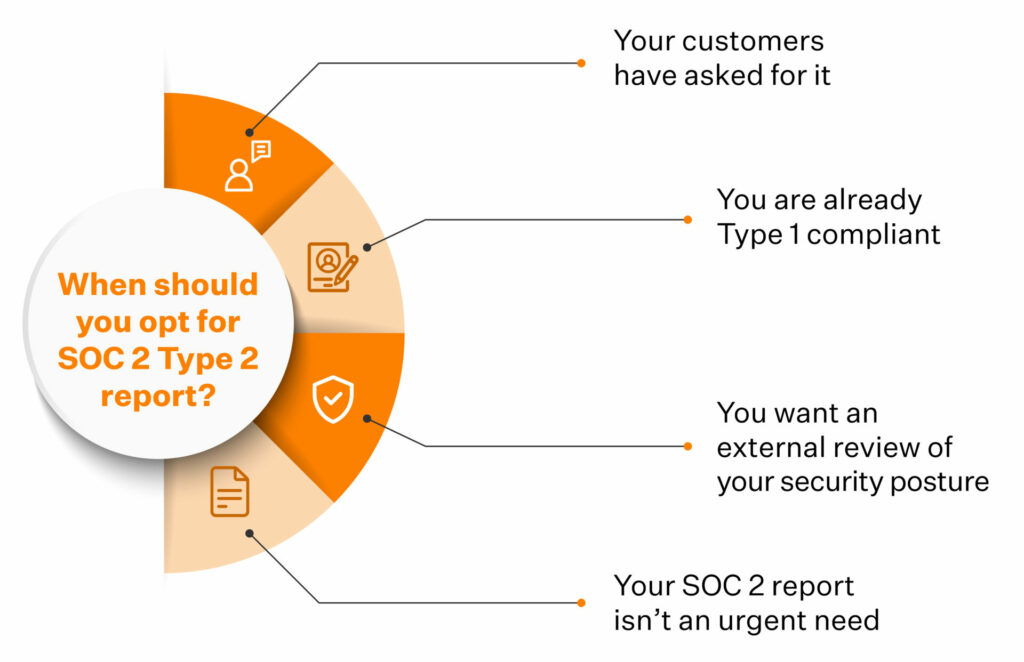 How to become SOC 2 Type 2 compliant?
To become SOC 2 Type 2 compliant, companies should understand the AICPA Trust Service Criteria, define compliance scope, implement controls with supporting evidence and engage an independent CPA to conduct audit.
That said, preparing for SOC 2 Type 2, especially if you are starting afresh, can seem daunting. But you can divide and conquer the SOC 2 behemoth by breaking it down into logical steps.
Get SOC 2 compliant without worrying about its complexities
Typically, the work involved gets broken down into three logical steps:
Define your SOC 2 Type 2 scope
SOC 2 compliance requires organizations to put in place controls in one or more of the five Trust Service Criteria (TSC): Security, Availability, Processing Integrity, Confidentiality, and Privacy. These controls get evaluated on an ongoing basis to ensure the protection of your data.
They were formerly known as Trust Service Principles.
While security is a mandatory SOC 2 need, the others aren't. You can choose the TSC that's relevant to your organization. Typically, the choice of TSC gets based on specific customer needs and the type of business.
For instance, while availability as a TSC is relevant for all cloud-hosted organizations, processing integrity makes greater sense for fintech or data processing organizations.
In our experience, most SaaS businesses choose Security, Availability, and Confidentiality as their scope.
Gather the evidence of the controls – Preparation stage
SOC 2 has a list of sub-criteria for every chosen TSC, and this step requires you to put in place those controls, test them, identify security control gaps, remediate, and test again.
It's, of course, easier said than done. Any company going through an audit will typically need an Infosec Officer who can run this program. This role gets played by CTO if the company does not have a designated Infosec officer. The infosec office spends roughly about 300 hours identifying and fixing gaps.
Save upto 300+ hours with compliance automation
And for a Type 2, the time involved is longer as evidence collection will need to happen for the coverage period of the entire audit. Organizations that take the manual route to SOC 2 (DIY or work with a consultant) tend to tie themselves up in knots at this stage.
It requires them to implement and monitor many processes to ensure that evidence collection and process adherence gets done accurately.
You can make this step effortless and error-free by automating it. A bunch of tools in the market can automate your audit preparation and evidence collection and save you hundreds of hours.
We'll tell you how and what to look for in these tools later in the article.
Before you get to the audit, you can conduct a SOC 2 readiness assessment to ensure you have all your ducks in a row. Trust us; you don't want to enter the audit ill-prepared and risk a qualified opinion in your report.
In SOC 2 parlance, a qualified opinion translates to exceptions and deviations in your compliance. You need an unqualified report, meaning you pass with flying colors!
Automate your compliance: Achieve Always-on compliance!
Partner with for an auditor to certify your SOC 2 Type 2 report
Remember, your SOC 2 report is only as good as the auditor producing it. While it points to your organization's security posture, at the end of the day, it's getting reviewed by an auditor attesting to your security practices. So, your choice of a SOC 2 auditor is also very critical here.
You can choose from the Big4, a CPA firm or an individual CPA.
Aside from choosing one that fits your budget, here are some criteria that can help:
Has the auditor previously worked with organizations like yours?
What are the timelines the auditor works with? Does it match your requirement?
Is the auditor open to suggestions and some back and forth with you? Are they rigid or flexible in terms of working style?
Also, check out: A complete guide on getting SOC2 type 2 certified.
What does a SOC 2 Type 2 report contain?
A SOC 2 report is an information mine on the audited entity. It comprises general information on the audited organization, the auditor's opinion on assessing the organization's controls, and the description of the tests involved.
Recommendations for improving security protocols where needed are also included in the report.
SOC 2 Type 2 report gives deep insights into an organization's internal controls, governance, security processes, infrastructure, practices, and oversights.
SOC 2 reports include:
Management Assertion: Summarises the organization's services, products, structures, systems and controls.
Independent Service Auditor's Report: Contains the auditor's opinion on your audit performance.
System Description: Captures overview of services provided, system components, control activities, and more.
Applicable TSC and Related Controls, Tests of Controls, and Test Results:
Details all the tests (and their results) performed during the audit and gives the insights that explain the auditor's opinion detailed in section 2. A Type 2 report will also include the controls list, auditor's tests, and the test results for each listed control vis-a-vis the selected Trust Service Principles (TSC).
Other information provided by the Management:
Gives the management's response to deviations or exceptions highlighted by the auditor in Section 4.
How can you utilize SOC 2 Type 2 audit report?
There are several benefits to having a SOC 2 Type 2 audit. While you can flaunt your SOC 2 attestation on the company website and marketing materials, your SOC 2 audit report is for private consumption only.
Make compliance your super power
You can share it with existing and potential customers after signing a non-disclosure agreement (NDA), as your report contains confidential information about your organization's security posture and description of infrastructure.
Also check out: A detailed evaluation of the SOC 2 audit cost
Difference between SOC 2 Type 1 and Type 2
As we mentioned earlier, the primary difference between the SOC 2 Type 1 and Type 2 is the extent of detail sought during the audit and monitoring period.
While a Type 1 report reviews the design of your internal controls at a 'point in time' as per SOC 2 requirements, the Type 2 report, in comparison, checks their design and operating effectiveness over 3-12 months.
Type 1 audits, to that extent, are easier – since your organization gets evaluated at a point in time. And therefore, the evidence requirements are fewer too.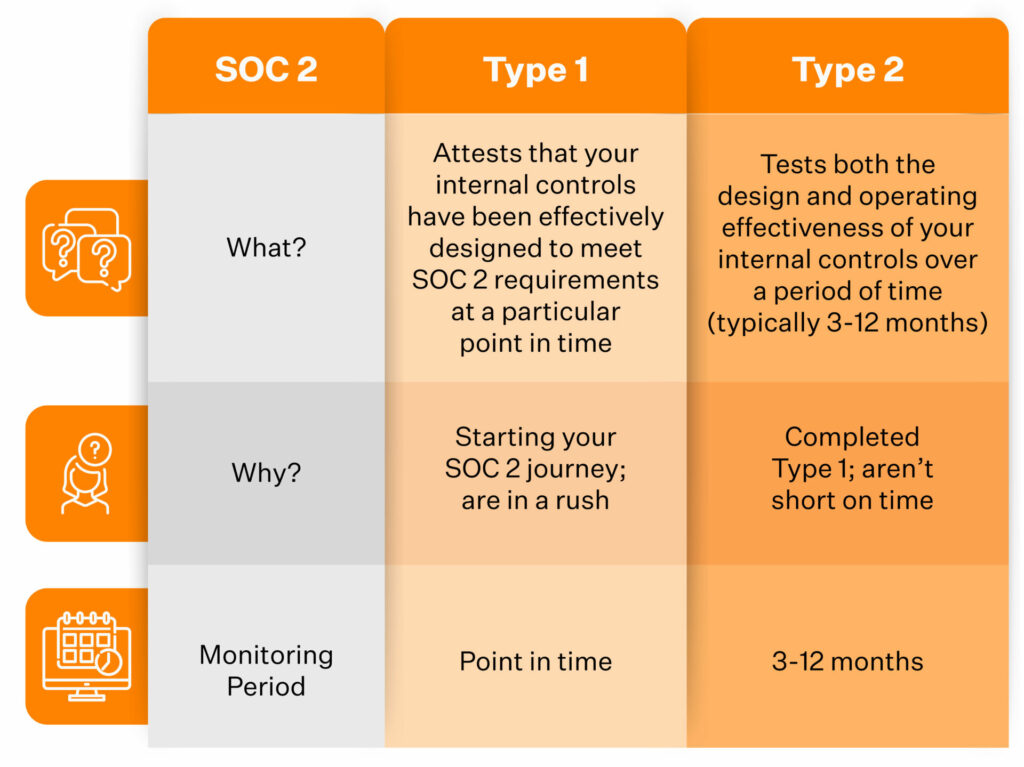 How long does it take to get your SOC 2 Type 2 report?
The time to obtain your SOC 2 Type 2 report depends on several factors. For one, your route to SOC 2. If you choose a DIY approach or rope in an external consultant, you must set aside 3-6 months for audit preparation alone.
Add to that the audit monitoring period of 3-12 months, and the minimum time to procure the report is roughly six months! And that's an optimistic bet.
Manual evidence collection and gaps monitoring take time and effort and eat into your employee productivity.
The smart way to hasten the process while you improve its effectiveness is to automate it. After all, SOC 2 attestation is an annual affair, and you don't want to spend precious work hours chasing compliance attestations when you have time-tested off-the-shelf solutions as a workaround.
Also, check out: Examples of SOC 2 reporting
How much does it cost to prepare for SOC 2 Type 2 audit?
The financial implication, aka costs to prepare for a Type 2 audit, will depend on your organization's size, complexity (of systems & controls) of operations, audit readiness and the type of auditor chosen. And with readiness assessments (optional) and other overheads, you are roughly looking at about $20000-$50000. Again, these are just ballpark estimates.
Again, these are just ballpark estimates.
Save big on compliance, get SOC 2 certified at $8000
You can considerably reduce costs when you work with automation players like Sprinto. Not only is Sprinto's platform cost competent, but it also packs in it many features that can help you reduce other costs overheads, such as readiness assessments, MDMs, staff security training, and more.
Find out how Sprinto can help you become SOC 2 Type 2 compliant
Imagine walking into a SOC 2 audit knowing fully well that you are compliant in every possible way! Sprinto builds confidence in your security posture with its intuitive dashboard and control mapping. The dashboard gives you a bird's eye and a granular overview of your compliance readiness.
Sprinto automates repeatable tasks and makes it easier to show SOC 2 compliance with evidence. Automated procedures for evidence collection and continuous monitoring ensure you have proof for every control and reduce the back and forth with the CPA.
The auditor dashboard ensures that the auditor gets all the information with relevant documentation they seek in the format they need!
And that's scratching the surface. With Sprinto, you can conduct security training for staff and maintain logs of it. You can edit and release company-wide infosec policies using our editable policy templates. You can conduct risk assessments and map your compliance to an entity level!
Talk to us to know why Sprinto makes your perfect SOC 2 partner.
FAQs
Who needs to be SOC 2 Type 2 compliant?
SaaS businesses, firms that use the cloud to store sensitive customer information and cloud service provider can get SOC 2 Type 2 compliance. While it isn't a regulatory requirement, getting a Type 2 attestation instills confidence in your infosec practices.
How much does it cost to become SOC 2 Type 2 compliant?
The costs to prepare for a Type 2 audit depend on your organization's size, complexity (of systems & controls) of operations, audit readiness, and the type of auditor chosen. And with readiness assessments (optional) and other overheads, you are roughly looking at about $20000-$50000. Again, these are just ballpark estimates.
You can reduce these costs significantly when you work with Sprinto.
Srividhya Karthik
Srividhya Karthik works as a Content Lead at Sprinto. She hopes to simplify compliance and make it interesting with the power of content. You can reach her at srividhya@sprinto.com.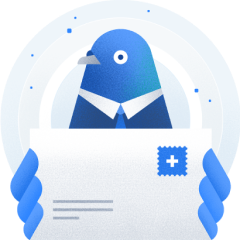 Subscribe to our newsletter to get updates
Schedule a personalized demo and scale business
Subscribe to our monthly newsletter

Sprinto: Your growth superpower
Use Sprinto to centralize security compliance management – so nothing
gets in the way of your moving up and winning big.