Key Points:
SOC2 certification is necessary for service providers like SaaS companies and cloud computing companies. It instills confidence and trust in your clients and partners that your systems are secure.
SOC2 audits validate an organization's internal controls based on one or more of the five trust services criteria (TSC): security, availability, processing integrity, confidentiality, and privacy. SOC2 has two levels of reporting: Type I (at a specific point in time) and Type II (over a period of time, usually six months).
Introduction
While growing our previous company, Recruiterbox, we had to share sensitive data with third-party service providers. This meant putting the privacy and security of the data at risk.
Large enterprises are vulnerable to security breaches and data leaks due to cyberattacks. The COVID-19 pandemic has amplified these attacks as businesses do not have adequate security measures. Thus, cloud security has become a key concern for most organizations.
SOC2 attestation is table stakes for cloud computing and SaaS companies. Large enterprises won't hire vendors without it. It also helps to build trust with stakeholders and clients.
But, meeting SOC compliance requirements is time-consuming, costly, and complex.
In this article, we will take an in-depth look into SOC2 compliance requirements.
What is SOC 2 Compliance?
The American Institute of CPAs (AICPA) provides a definition of system and organization controls (SOC). It refers to "CPAs may provide a suite of service offerings in connection with system-level controls of a service organization or entity-level controls of other organizations.."
There are three types of SOC reports for service organizations: SOC1, SOC2, and SOC3.
SOC2 requirements validate internal controls related to five trust services criteria (TSC):
security,
availability,
processing integrity,
confidentiality, and
privacy of the systems and data of the service organizations.
There are two levels of SOC2 reporting: Type 1 and Type 2.
SOC2 Type 1 report – It describes the design of internal controls at a specific point in time.
SOC2 Type 2 report – It assesses the operational effectiveness of the internal controls over time. Also called type ii report. SOC2 Type 2 requirements entail monitoring over six months on average.
SOC2 audit reports are unique to your service organization unlike other rigid compliance standards like PCI DSS. Thus, you can design your controls to follow the TSCs to suit your specific business practices.
What are SOC 2 Compliance Requirements?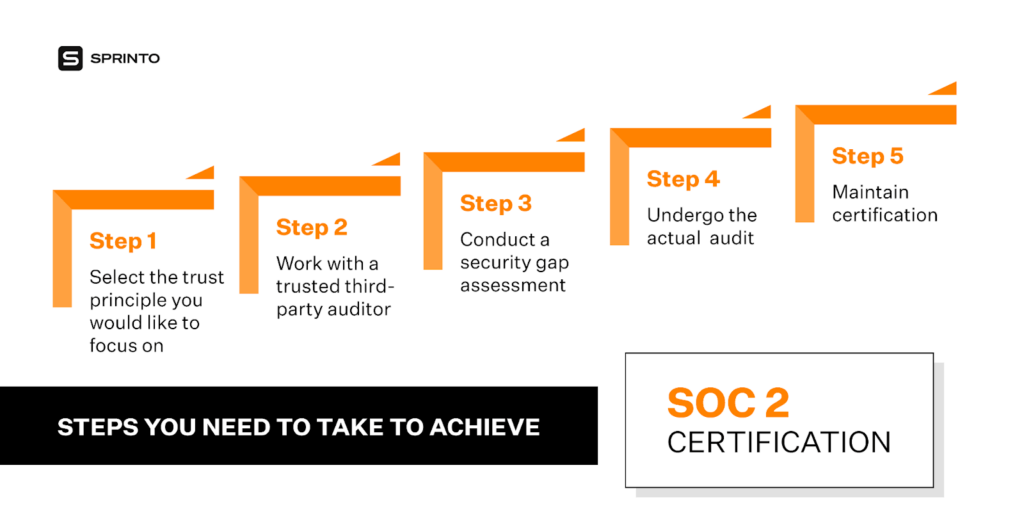 SOC2 compliance requirements ensure that a business or application handles customer data securely and maintains its privacy.
The security principle protects against unauthorized logical and physical access to data and assets.
Access controls can prevent:
malicious attacks,
unauthorized data removal or alterations, and
disclosure of sensitive information.
Here is a 5-step process to get SOC2 compliance:
Bring credible independent auditors
Only licensed CPAs can perform a SOC2 audit. Independent auditors can examine your security standards objectively.
SOC2 reports are an auditor's opinion of how a service provider's controls meet the TSC requirements. Thus, the reputation of the auditor is important.
An experienced auditor will better understand SOC controls and compliance best practices.
Find a CPA firm that understands the specific needs of your industry.
Identify your scope for auditing
You can choose the criteria for your SOC2 audit based on your business requirements. Next, determine which systems, procedures, and policies are relevant to your chosen criteria.
Build a roadmap to SOC2 compliance
Draft a plan to achieve SOC2 compliance for your systems and processes. This is done in consultation with relevant teams and stakeholders. The processes should protect your company's confidential data and ensure controlled access to personally identifiable information (PII).
The formal audit
Your auditor will conduct a SOC2 audit to check if you're following proper processes for your systems. You have to submit evidence that you follow your security and confidentiality policies.
If all your processes are well-documented and followed, you become SOC2 compliant.
Certification and recertification
SOC2 is not a one-time certification. You have to undergo annual SOC2 audits to validate that your controls are operating as designed.
Trust Principles of SOC2 Compliance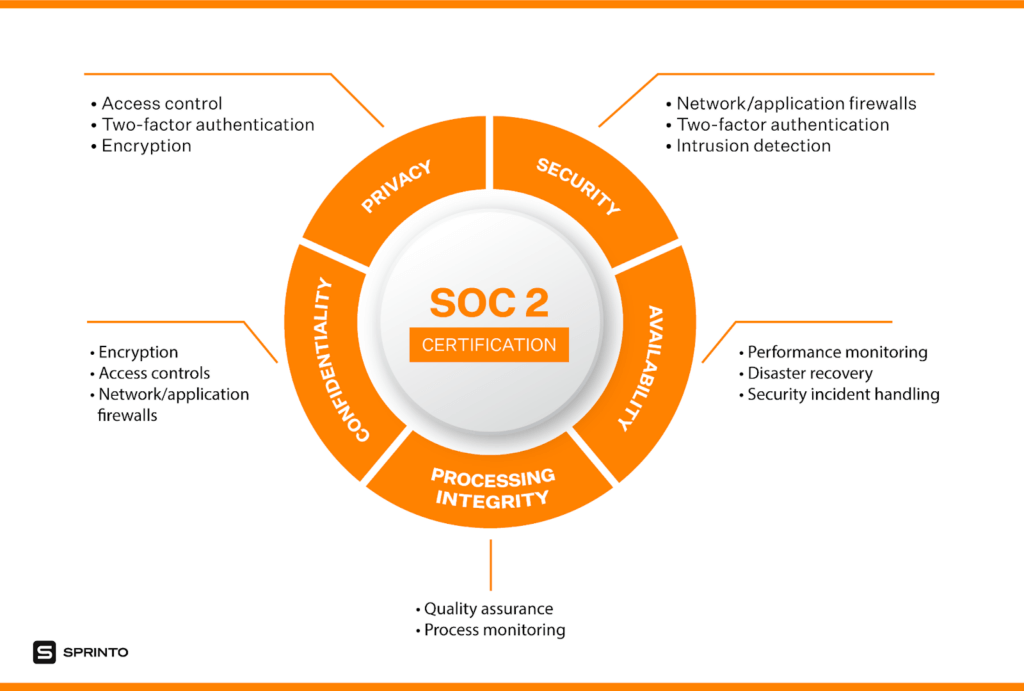 Let's look at the five TSCs in detail to understand what SOC2 audits cover.
Availability
It considers controls that prove the accessibility of a system. It assesses how you track and manage the data, software, or infrastructure.
You should also manage and track the capacity and evaluation of risk. You should also be able to identify and access environmental risk assessments.
For example, a cloud computing company has to provide the following information to customers: type of service, quality, availability, and responsibility.
If your customers have concerns about downtime, including service level agreements (SLAs), consider including availability in your SOC2 audit.
Security (Common Criteria)
This criterion is critical and required so it's always included in SOC2 audits. It shows that your data and systems are protected against unauthorized access, use, or modification — both physically and virtually.
It applies to all phases of data, including collection and creation, ongoing usage and processing, transmission, and storage.
Any systems that use electronic data are included in this criterion.
Security controls are designed to include risk-mitigating solutions like endpoint protection and network monitoring to detect and prevent unauthorized activity.
For example, GoDaddy's data breach in September 2021 impacted over 1.2 million hosting customers. It happened due to a vulnerability that arose from inadequate security practices. Thus, it's necessary to follow industry best practices for security.
Processing Integrity
It focuses on data accuracy and ensuring the completeness of end-to-end processing. Your systems should produce or manipulate information accurately and reliably.
If your customers execute critical operational tasks like data processing or financial processing on your systems, consider including this criterion in your SOC2 audit.
Processing integrity is usually only addressed at the system or functional level because of the number of systems used by customers.
For example, you sell products online via a website. From the time the customer clicks on "Place Order" till it reaches their door, processing integrity demonstrates that the transaction is complete, accurate, and valid, and also provides detailed time updates.
Confidentiality
It focuses on ensuring that confidential information is protected throughout its lifecycle, including collection, processing, and disposal. Confidential information includes PII, protected health information (PHI), trade secrets, and intellectual property.
Controls for confidentiality are encryption and identity and access management.
If you store sensitive information that is protected by non-disclosure agreements (NDA) or if your customers want to delete data that is no longer required, consider including this criterion.
Privacy
This criterion is similar to confidentiality but it focuses especially on PII that you capture from customers. It includes the communication, consent, and collection of personal information.
Controls for privacy include consent management mechanisms and privacy policies.
If your customers store PII such as birthdays, healthcare data, or social security numbers, consider including privacy.
For instance, your clients should be able to conduct their business without government interference or misuse of their sensitive data.
Now that we understand what each TSC entails, let's see which routes to take to become SOC2 compliant.
How Can You Become SOC 2 Compliant?
There are three ways to become SOC2 compliant:
Manual
You plan and carry out the majority of preparations manually or by hiring a consultant. It involves a readiness assessment, interviews, cybersecurity processes, and manual gathering of materials to demonstrate how your company meets the relevant SOC2 controls.
It is a tedious, error-prone, and time-consuming task.
Hybrid
Hybrid tools or GRC tools (Governance, risk management, and compliance) enable risk analysis and auditing by maintaining compliance logs and compiling reports. They form a control repository where you can safely collect evidence to prove that documented policies and procedures are followed.
Automatic
It involves the use of smart tools like Sprinto to get a SOC2 certificate in 10 days instead of six months.
Sprinto automates repetitive and time-consuming tasks in the following manner:
Connect your systems for automated monitoring
Sprinto integrates with your systems and continuously monitors your environment to gather evidence. The platform adapts to fit your specific environment.
Live sessions with compliance architects to fix gaps
Sprinto's compliance experts will guide you through the 100+ SOC2 requirements through live sessions with screen sharing. It includes setting up access controls, policies, cloud monitoring, and so on.
Track and maintain your compliance in one place
Sprinto's continuous monitoring ensures a real-time view of your security and compliance posture. You can identify and fix gaps if any. The platform takes care of the tedious gathering of evidence like screenshots, tickets, logs, and other paperwork.
Zero-touch audits
Sprinto ensures that all evidence and documents required by the SOC2 auditor are ready, auto-cataloged the way the auditor wants it. Thus, you don't need to worry about anything outside of Sprinto.
SOC2 attestation obtained
Sprinto is vertically integrated with AICPA-certified SOC2 audit firms. It automatically collects and catalogs audit evidence. So you can get SOC2 certified in 10 days instead of six months.
Conclusion
SOC2 certification requires well-defined policies, processes, and procedures. It helps build trust among partners and customers in the security and operation of your organization.
Unlike other compliance mandates, SOC2 requires long-term, ongoing internal practices. They involve considerable time and effort.
Partner with Sprinto to get a hassle-free SOC2 with automation and workflows. Book Personalized Demo Today.
FAQ: SOC2 Compliance Requirements
What are the requirements for a risk assessment for SOC2?
The five steps for a risk assessment for SOC2 are:
Define potential risks in the following categories: legal, financial, regulatory, business, reputation & brand
Define risk levels based on company maturity
Understand the likelihood and impact of risks
Discuss plans for the next 2-5 years
Address security concerns and other risk vectors
What are the SOC2 requirements?
Successful SOC2 certification requires adherence to the following criteria:
Security – You should have controls to safeguard against unauthorized physical and logical access.
Availability – Your systems should be available for operation and must be used as agreed.
Processing Integrity – System processing must be accurate, complete, well-timed, and predictable.
Confidentiality – Sensitive information should be protected from unauthorized use.
Privacy – All collected information must be used, retained, and disclosed according to privacy notice and principles.
What are the requirements for my company to do SOC2?
If you are a cloud computing provider, SaaS, or PaaS provider, you should get a SOC2 attestation. It will instill trust and confidence in your clients and partners.