SOC 2 Budgeting: How much does SOC 2 Compliance Cost?
Srividhya Karthik
Feb 24, 2023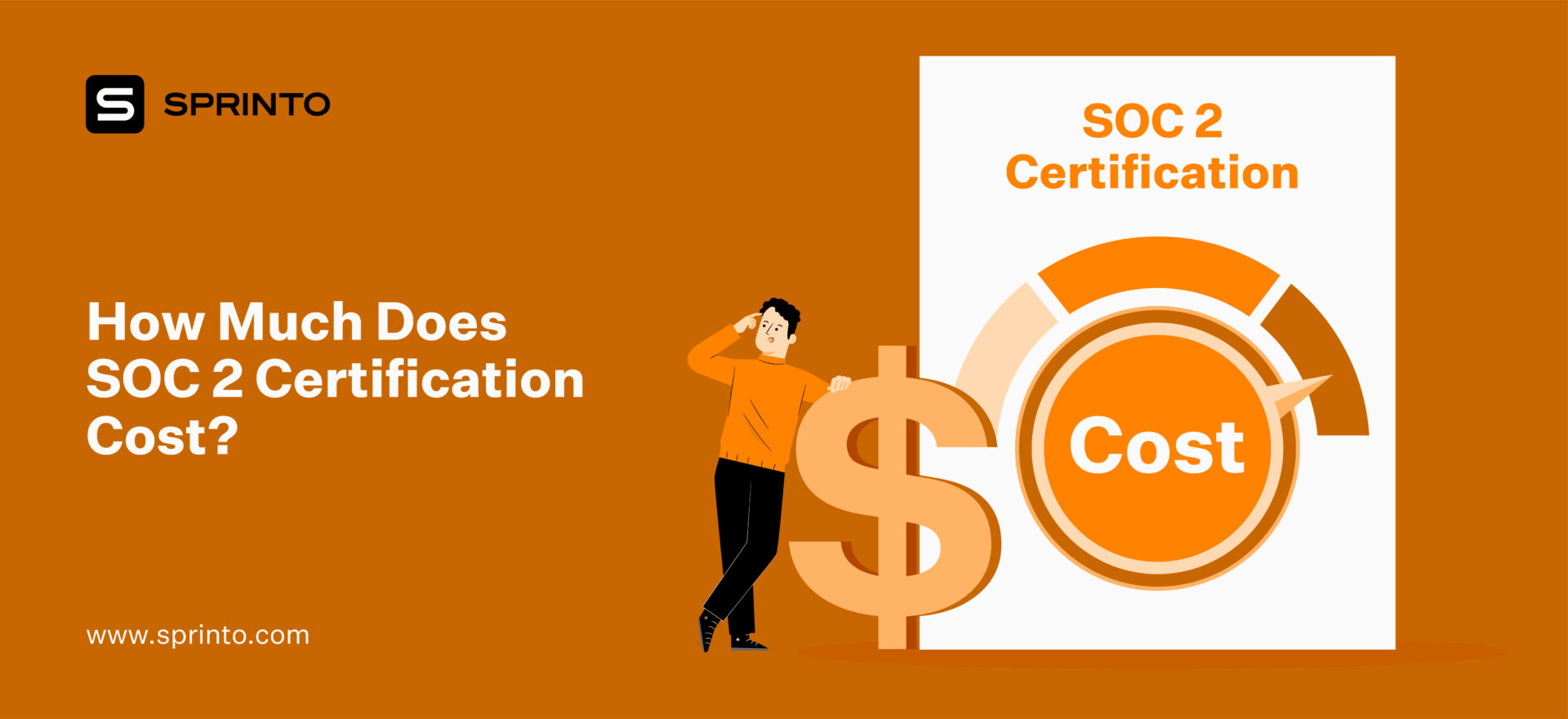 SOC 2 compliance costs aren't cheap. We won't pretend that it is! But that doesn't make it any less worthwhile – in fact, you should view it as an investment that could bring you invaluable business in the future. With cloud-hosted applications proliferating, SOC 2 Compliance is a sure-fire way for B2B SaaS companies such as yours to tell your customers that you have the security muscle to protect your customers' data.
But exactly how much does a SOC 2 compliance cost? The answer depends on various factors; hence, the costs will vary accordingly.
Type of Attestation Required – SOC 2 Type 1 or SOC 2 Type 2 or both
Size of the Organization – Costs increase with the size of the company
Audit Scope – Costs increase with the number of Trust Service Criteria chosen
Complexity of Organization – Costs spiral up with the complexity of systems & controls
Type of Auditor chosen – CPAs (or firms) come with different price tags
Security Tools – Costs of SOC tools typically needed to ensure compliance add up too
Readiness Assessment – Costs vary based on the type of auditor chosen (optional)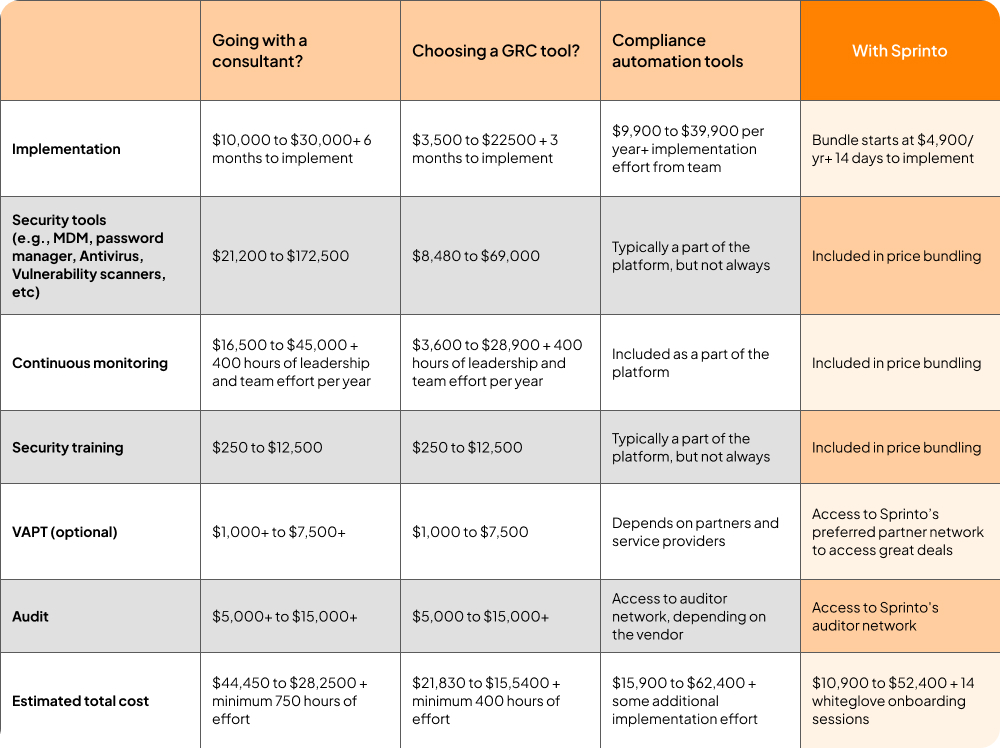 Read on to find out how the costs stack up for a SOC 2 certification and the smart way to keep a lid on it.
Before diving deeper, here's an interesting aside: SOC 2 isn't a certification, even though it's popularly called so. The successful completion of a SOC 2 audit leads to the attestation by an independent certified public accountant. The auditor attests to the strength of your organization's data security and cloud security practices in the form of a SOC 2 report.
Get SOC 2 compliant at the best price, Talk to us now!
SOC 2 compliance costs overview
SOC 2 compliance costs are the sum of time, resources and technological investments that an organisation makes for improving its security stance.
Broadly, it includes the following: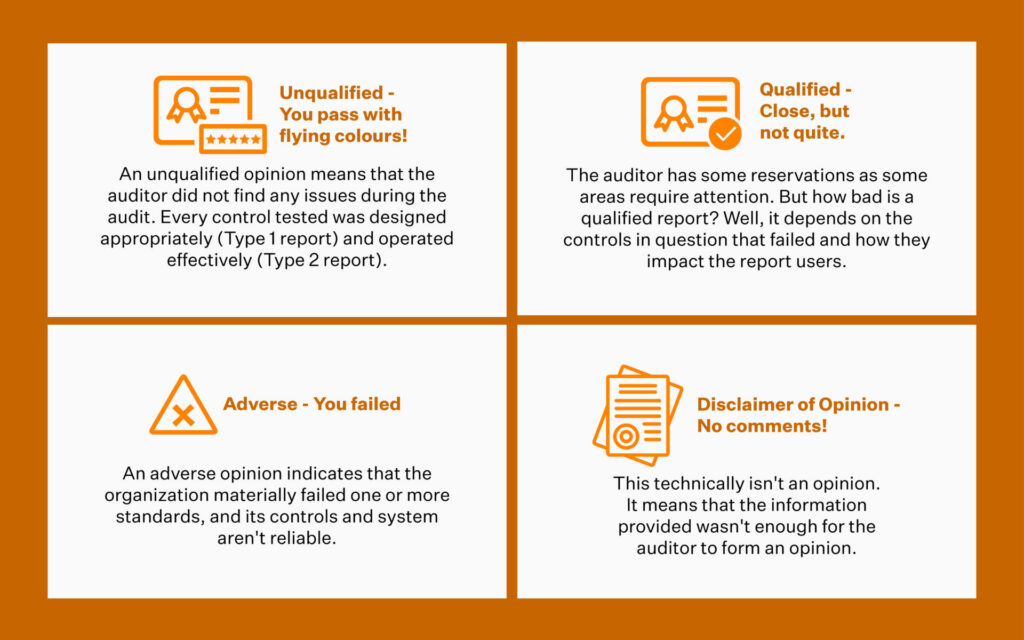 Auditor fees: The third-party auditor will charge the organisation for assessing its security controls
Resources: This includes allocation of time, efforts and money for establishing protocols, creating tactical plans, training of employees, costs of monitoring, documenting etc.
Technological Investments: A number of adjustments in the current IT infrastructure may be required like firewalls installation, data encryption, penetration testing, backups and more.
Remedial expenditure: This involves costs of corrective action that may be required in case of gaps identified during readiness assessment or final audit.
What does SOC 2 Compliance include?
The SOC 2 Compliance evaluates an organization's internal controls over one or more of the TSCs (as chosen by the organization). And depending on the type of SOC 2 report needed – Type 1 or Type 2 – the audit efforts and costs vary.
Typically, a SOC 2 Compliance requires months of preparation to ensure that your internal controls' design and operating effectiveness are in sync with the compliance requirements.
Here's a quick SOC 2 Checklist of all that you need to do before you are compliant and ready.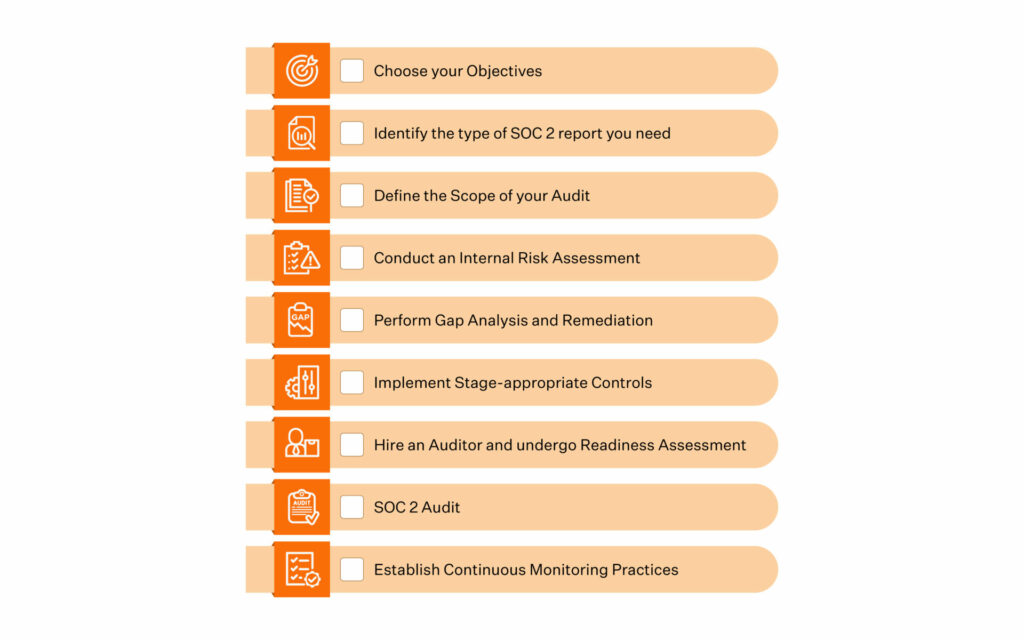 Get SOC 2 audit-ready in days, Talk to out experts
What can you expect in a SOC Type 2 Compliance?
You can expect the audit to be long-drawn to and fro as you spend time answering the questions, providing evidence and fixing non-conformities your auditor raises in during your Type 2 audit. A SOC 2 Type 2 Compliance, typically, may take up to six months – Type 2 has a mandatory monitoring period of three-six months.
The Compliance for Type 1, in comparison, is a shorter affair as it doesn't need a monitoring period. And since the audit only tests the design of your internal controls at a particular point in time (snapshot), the entire process is less intrusive.
Once you clear your SOC 2 Type 1 Compliance, you will need to maintain compliance during the observation period of three-six months before you can apply for Type 2.
Try the SOC 2 Cost Calculator

How Much Does a SOC 2 Type 1 Compliance Cost?
In a SOC 2 Type 1 audit, the auditor will assess your policies, procedures, and controls to ensure they're designed to keep your customers' data safe and secure. The costs will, as mentioned earlier, depend on your organization's size, complexity (of systems & controls), audit readiness and the type of auditor chosen.
We'd estimate the starting costs of a SOC 2 Type 1 audit starts from $5000 for upto 3 TSCs and can go upto $25000 if the audit is to cover more than 3 TSCs. As much as you want to keep the costs down, choose an auditor with established credentials and experience auditing businesses like yours. A SOC 2 compliance is as much about your security posture and best practices as it is about getting the attestation from an established CPA.
Get the best price for SOC 2 Type 1 compliance. Talk to our experts now
The not-so-good news? These costs don't include the cost of readiness assessment (optional), additional security tools needed and the lost productivity costs of involving an in-house team in the run-up to the audit and after that. We have covered these cost overheads in the later part of this article.
Also, refer to SOC for the supply chain.
How Much Does a SOC 2 Type 2 Compliance Cost?
SOC 2 Type 2 has a longer evaluation window of 3-12 months, costing a tad more. The SOC 2 compliance cost for Type 2 reports typically ranges between $7000 – $50000. Again, the costs depend on your organization's size, complexity (of systems & controls), audit readiness, TSCs chosen and the type of auditor. That said, the costs do add up when you include readiness assessments and other overheads.
SOC 2 Compliant Costs – why do they vary?
Typically, auditor costs get steeper with an increase in the organization's employee count and the complexity of the systems and controls involved. For instance, a SaaS firm with under 25 employees will have relatively less complex systems and controls to evaluate during the audit than a firm with more than 200 employees. Therefore, it isn't uncommon for auditors to charge based on these factors.
You can expect discounts on bundled pricing from auditors for Type 1 and Type 2 reports. Some auditors (or firms) also offer discounts on subsequent audits after the first one.
Then again, auditor costs also vary based on the type of auditor (or audit firm chosen). The Big 4 audit firms (Deloitte, E&Y, KPMG, and PWC) are pricey and likely out of budget for startups or smaller organizations. SOC audit costs also vary between mid-tier and boutique audit firms.
In your efforts to keep a lid on costs, don't choose the cheapest. Look for auditors that have established credibility and relevant experience. Remember, your SOC report is only as good as the auditor who attests it.
Also check out: SOC 2 Type 2 certification
Is There Any Other Cost of SOC 2 Certification?
You bet! Let's look at these potential cost mines and how you can navigate them.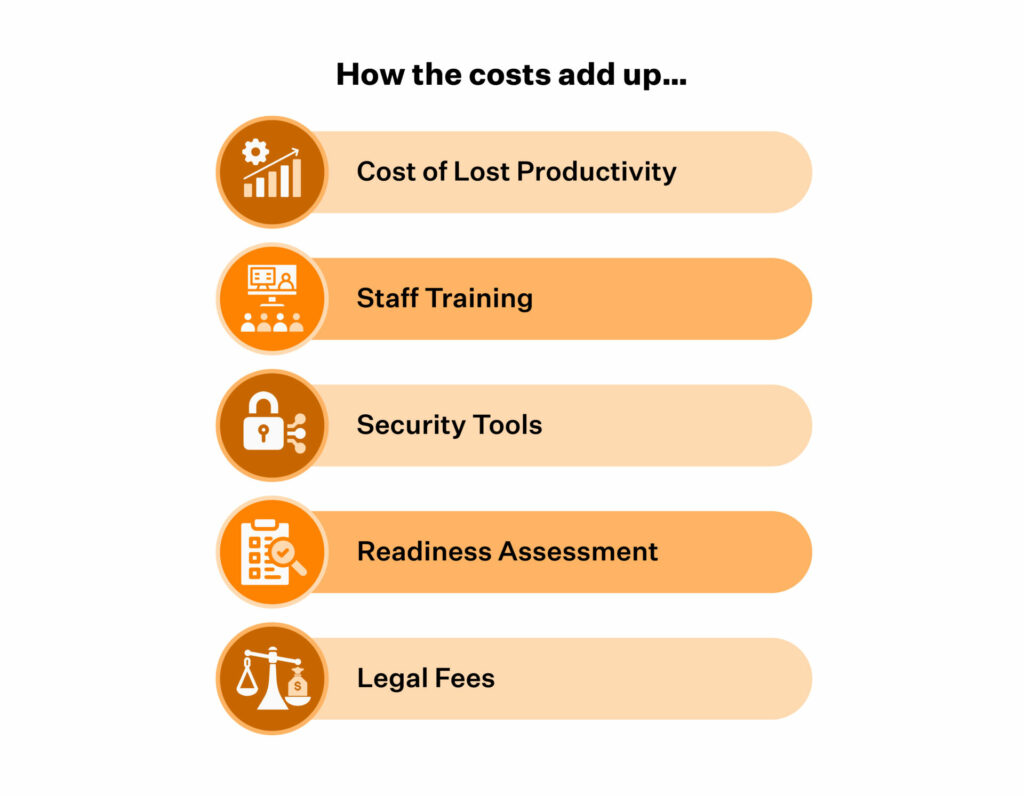 Cost of Lost Productivity
SOC 2 requirements are extensive work and demand many hours from multiple people within your business. These employees would be busy doing their important work in an ideal world. But not when you are staring at SOC 2 compliance. The cost of lost productivity isn't easy to quantify, but when you start losing hours of employee productivity to SOC 2 each week, you will notice.
Even if you have managed to prep for the audit with limited hands on-the-job (or with the help of a consultant), the actual audit will need help and support from most departments within your business. People will almost certainly need to be removed from their day-to-day tasks to work on the audit.
For instance, some of your key hires (engineering leads, people ops, and senior management) will need to join meetings and calls with the auditor, liaise with the consultants, spend time on remediation of issues found in the report, and work on implementations, to name a few.
All these are exhaustive in scope and will require substantial time and effort, something which your staff if better off investing in their primary work.
SOC 2 will likely take much time from the people within your teams with the best knowledge of the security controls under assessment.
Staff Training
Your employees are the first line of defence in a security threat or data breach. And SOC 2, therefore, emphasizes the security training of staff. Generally, staff awareness training costs $25 per user, but can cost up to $15,000 per training session (trainer costs) depending on the content, quality, and training company.
New security tools needed to reach compliance could also require staff training. Examples of these could include:
Background Checking Software
Backup Software
Encryption Tools
Antivirus and Anti-phishing Solutions
Whether you carry out security awareness training in-house or via a third party, there'll be associated time and monetary costs.
Find out how Sprinto can help you with end-to-end compliance solution. Let's discuss!
Security Tools
Before requesting an audit, you may want to invest in software to improve your overall security posture based on the results of your gap analysis & assessments.
Is any of the following technical security measures in place at your company?
Monitoring the security of your staff's laptops with MDM
Laptops with antivirus software
Password manager for your employees
Vulnerability scanning solutions for codebases or hosting infrastructures
Incident response and management system for operational and security incidents
Depending on what you need, the costs will add up. MDM, for example, costs about $48 per user annually, while vulnerability scanners range from $6000 to $25000. Password managers and antivirus software, however, are free.
Readiness Assessment
Even though readiness assessment is optional, it helps prepare you for the eventual SOC 2 audit. Here, an external consultant (whom you employ for the job) tests all your SOC 2 controls and highlights the gaps and remediation needed before the SOC audit.
If your organization does decide to carry one out, you'll get:
A neutral opinion on your SOC 2 audit readiness
Help to see weaknesses and points of failure in your existing internal controls
Ideas on how to make your processes and procedures stronger
Estimates for a readiness assessment start at around the $10000 mark. And of course, if the evaluation throws up many issues that need fixing – those are further costs to be considered.
Legal Fees
All the data protection policies you've signed up for can affect your SOC 2 readiness. Any legal document that involves how data is handled within your organization must be reviewed ahead of the SOC 2 audit – as there's no use in security controls that put you in breach of client agreements.
You'll need to consider any legal fees associated with the review of your existing legal agreements.
These could include:
Contractor Agreements
Employment Agreements
Customer Agreements
Bear in mind that legal documents may also need to be revisited at later dates.
What are the total SOC 2 Compliance Costs?
Certification cost for achieving SOC 2 in 2023 averages between $30000 – $150000 and the actual costs to get Soc 2 Compliance would depend on the below 6 criteria
Size of your Organization
The complexity of your Operations
Maturity of your Security Controls
Number of in-scope Trust Service Criteria
Whether you choose a Type 1 or Type 2 report
Cost of your chosen Auditor

Security compliance can be described as a continuous process that doesn't stop with certification. The cost of running continuing monitoring programs for your information security management systems depends on how you prefer to operate them on an ongoing basis. You could:
Use internal expertise and bandwidth to implement this manually
Hire consultants/external help to run cyclical internal audits
Purchase a continuous monitoring tool
Also read: SOC 2 audit cost
The Smart Way to reduce your SOC 2 Compliance Costs
Sprinto is built to make the entire audit experience seamless, effortless and error-free. Sprinto replaces all the manual, error-prone, repetitive busy work with automation with minimal intervention and time from your staff.
Here's how Sprinto helps you save on your SOC 2 compliance costs.
Sprinto comes built with a continuous monitoring system that validates your compliance with proof and alerts you when something isn't done or done incorrectly.
MDM, Security Awareness Training, and Incident Tracking Software (~$1000+) are bundled into the platform.
You get access to partners to assist you with penetration tests and vulnerability assessments at discounted rates.
Sprinto offers built-in support for free/open source vulnerability scanners.
Additionally, when you utilise Sprinto, you get access to a network of certified auditors who can perform SOC 2 audits for a reduced cost starting at $4999 (depending on the size of the organization).
You can view your audit readiness anytime on the Sprinto dashboard.
You get access to Sprinto's in-house compliance experts, who handhold the entire audit prep process for you.
Sprinto also offers out-of-the-box policies, which are pre-approved by our auditors, helping you indirectly save on legal cost.
It helps save on the opportunity cost of lost productivity by not getting in the way of your employees' work.
You save time as Sprinto can help you get audit-ready in weeks.
The result? You save hundreds of hours, fix issues quickly with continuous monitoring, and obtain a hassle-free SOC 2 report. Sprinto's compliance automation platform is priced at a starting price of only $8000 (depending on the organization's size).
Book a demo today to learn more about how Sprinto can help you breeze through your SOC 2 journey.
Srividhya Karthik
Srividhya Karthik works as a Content Lead at Sprinto. She hopes to simplify compliance and make it interesting with the power of content. You can reach her at srividhya@sprinto.com.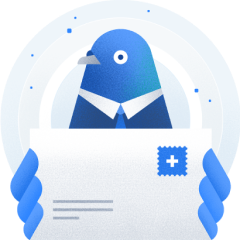 Subscribe to our newsletter to get updates
Schedule a personalized demo and scale business
Subscribe to our monthly newsletter

Sprinto: Your growth superpower
Use Sprinto to centralize security compliance management – so nothing
gets in the way of your moving up and winning big.