Your Guide to ISMS Awareness Training Program
Gowsika
Jul 07, 2023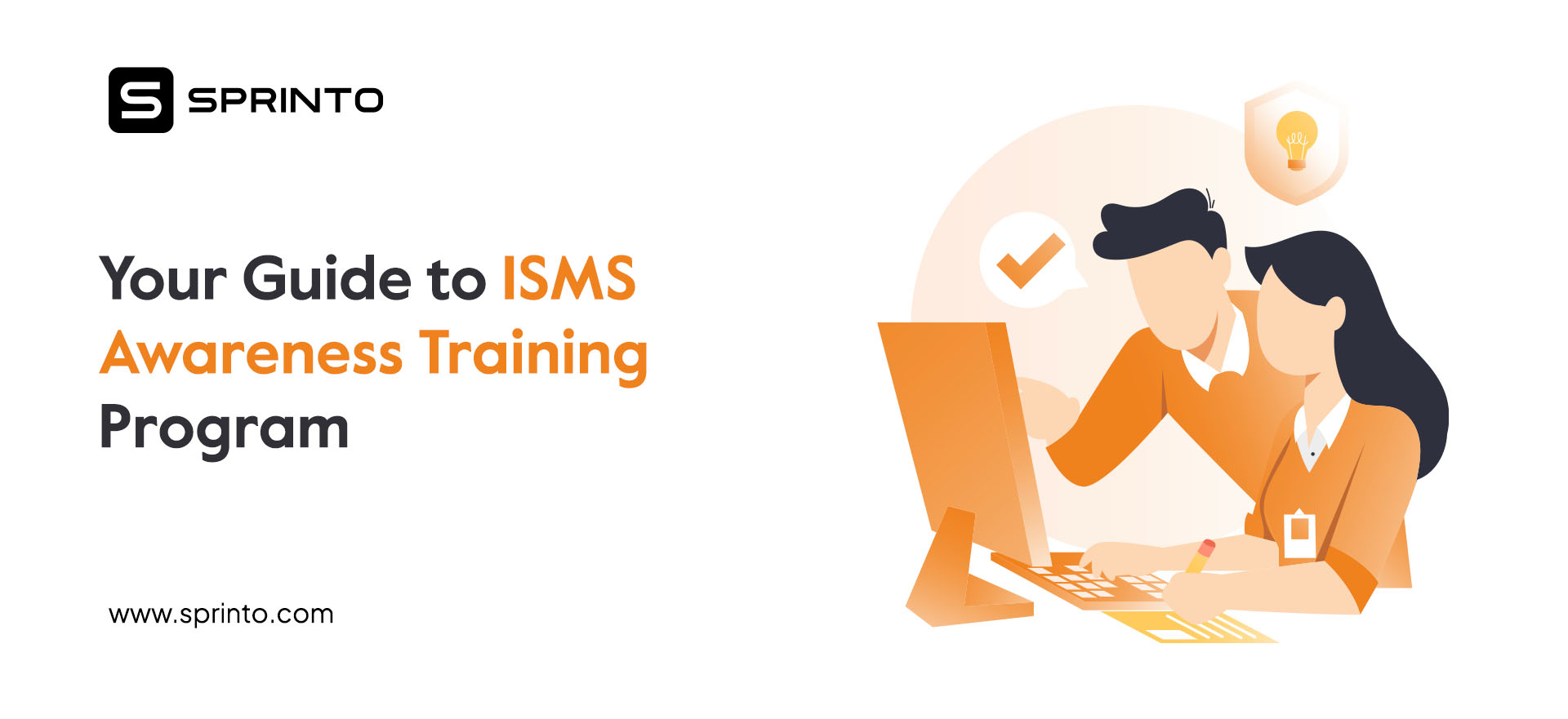 In the age of cloud computing, information is vulnerable. Bad actors are always on the lookout for their next target. They scope for vulnerabilities in an organization's ISMS (Information Security Management System) and exploit them. This often disrupts business activities.
Businesses look at security as a one-time activity and often forget that their employees are the weakest security link(especially the non-tech folks), and that's why ISMS awareness training is the need of the hour!
The first step towards presenting a secure ISMS is to acknowledge that every employee in a business can be targeted to breach your systems. Upon acknowledgment, organizations can convert their employees into their first line of defense.
In this blog guide, we will discuss the importance of ISMS awareness training and how you can develop an effective ISMS training program. Let's get right in it!
What is ISMS Awareness Training?
ISMS awareness training is a program developed by organizations to ensure that all employees have the required know-how and skills to handle ISMS. The ISMS is only effective if the employees and partners are aware of their roles/responsibilities.
ISMS awareness programs introduce employees to information security and its associated risks. Also, the roles of every employee are made clear concerning the ISO/IEC 27001 so that everyone understands what is expected of them.
What does ISO 27001 talk about the ISMS awareness training?
For ISO 27001 compliance, information security awareness, education, and training are essential requirements under Clause A.7.2.2. Clause 7.2 states that organizations should determine the competence of people involved in implementing and working the ISMS.
Clause 7.3 of ISO 27001 mentions that organizations should ensure that the employees are well aware of the information security policy and their contribution towards the effectiveness of the ISMS. This is why organizations establish a culture of information security to keep the ISMS processes streamlined.
How to develop and implement an effective ISMS Training Program?
Developing an effective ISMS training program is important to efficiently maintain your information security management system. Here are a few things you should consider while developing the training program.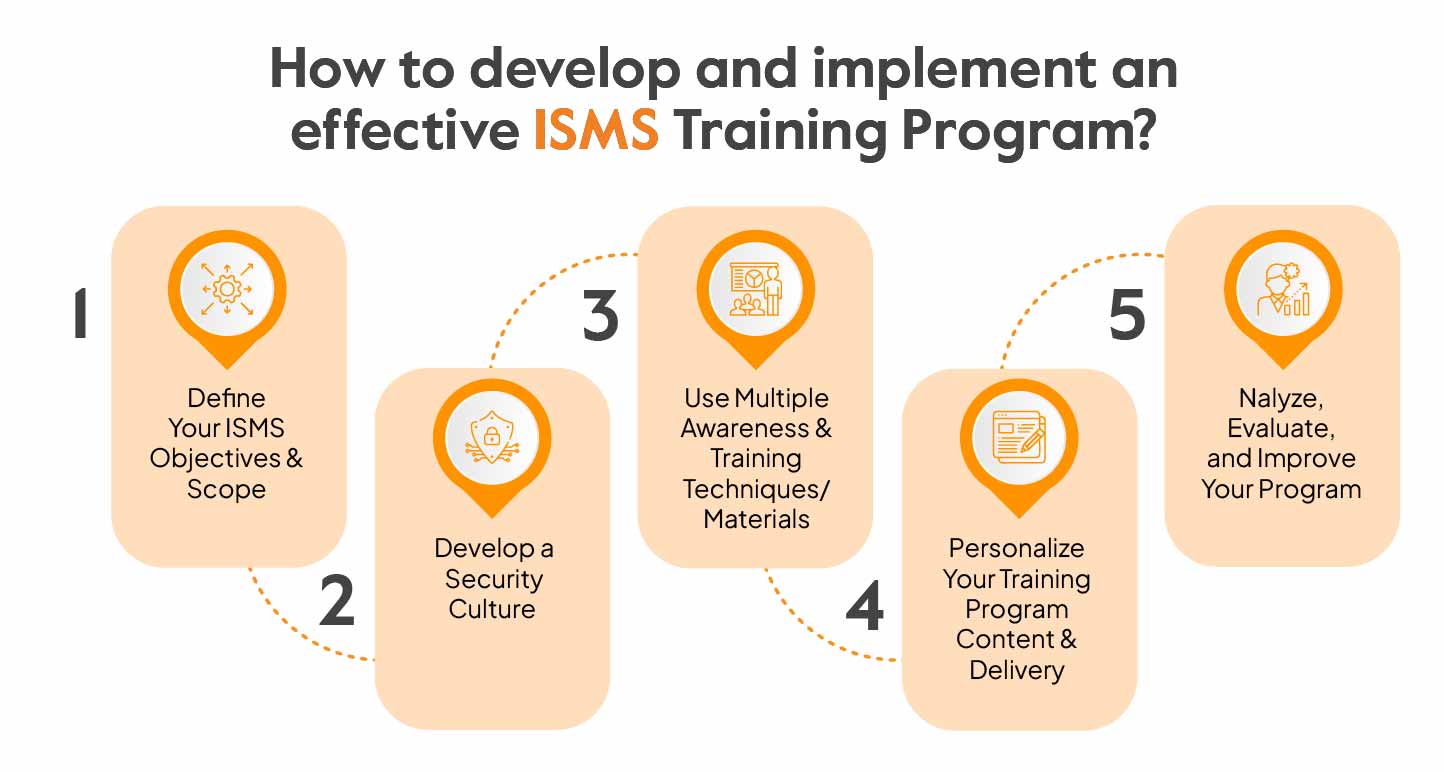 1. Define Your ISMS Objectives & Scope
The first step before developing your ISMS awareness and training program is to clearly understand your goals and the people you want to reach. Your ISMS objectives should align with your risk assessment report and stakeholder expectations. The ISMS scope should mention all the relevant information assets and processes related to the ISMS.
Once you define these, you will clearly understand your target audience, their expected roles/responsibilities, their learning needs, and the topics/courses you must cover.
2. Develop a Security Culture
Security culture in the organization influences how employees and partners look at ISMS and its potential issues to act on. By developing a security culture, you will understand your organization's current security posture and what needs to be done to achieve a better framework with security-driven values and beliefs.
This step is crucial as it helps you align your security awareness program with the organization's culture and goals. Moreover, a culture of information security in the organization is the key to the effectiveness of ISMS.
3. Use Multiple Awareness & Training Techniques/Materials
To keep your employees engaged, you need to have a range of formats and techniques for your ISMS awareness training program. While some prefer online learning courses, others might look for old-school training methods such as seminars and hands-on workshops.
So, use a variety of formal and informal ways such as workshops, quizzes, e-learning courses, seminars, webinars, posters, newsletters, simulations, and so on. Being interactive in your approach with a combination of text, image, video, audio, and other elements goes a long way.
4. Personalize Your Training Program Content & Delivery
Customization of your content and its delivery is crucial for employees from various departments to easily grasp the concepts of ISMS. To make the awareness program more effective, you can divide your employees into different groups per their roles, responsibilities, locations, access levels, and more.
For different groups, you can tailor your content and delivery accordingly. This means using a different approach, a different set of examples, maybe different languages, and more to keep the training sessions fun and effective.
You can also include stories, case studies, emotions, and humor to connect with the employees personally. This way, they can better understand what is expected from them.
5. Analyze, Evaluate, and Improve Your Program
Regular evaluation and improvisation are the key elements for developing a successful ISMS awareness program. To measure your program's impact and value, you need to collect data and feedback from employees and stakeholders and analyze it.
You can conduct surveys, tests, interviews, audits, assessments, focus groups, and more to gather metrics and evaluate the program's effectiveness.
Based on the results, you can identify what is going right and what is going wrong so that you can make the necessary changes to improve your ISMS awareness training program over time.
What Does the ISMS Training Program Include?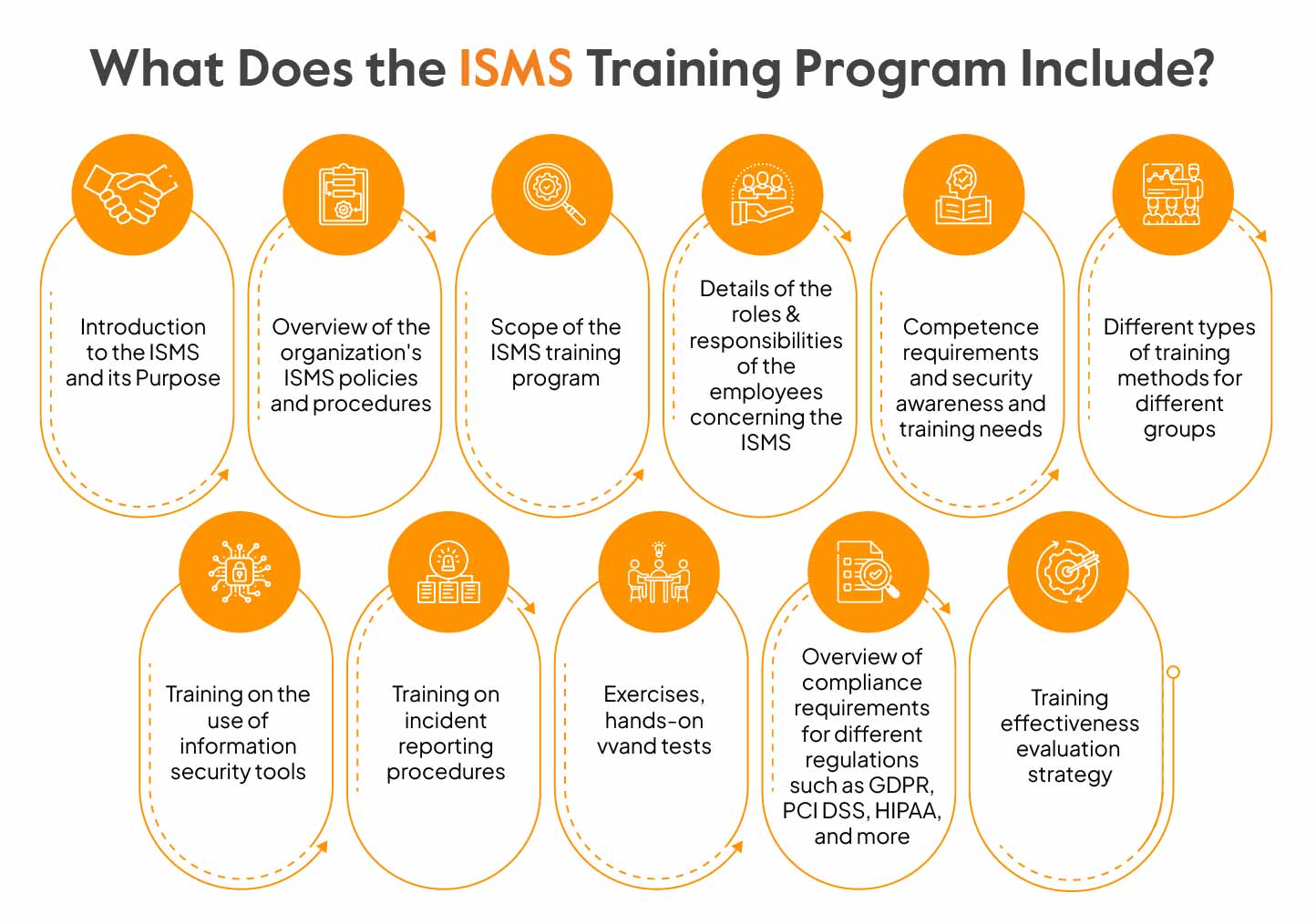 Now that we know all about developing an ISMS awareness program let's outline the elements that you need to include in your program. The ISMS training program generally includes the following elements:
Introduction to the ISMS and its Purpose
Overview of the organization's ISMS policies and procedures
Scope of the ISMS training program
Details of the roles & responsibilities of the employees concerning the ISMS
Competence requirements and security awareness and training needs
Different types of training methods for different groups
Training on the use of information security tools
Training on incident reporting procedures
Exercises, hands-on workshops, and tests
Overview of compliance requirements for different regulations such as GDPR, PCI DSS, HIPAA, and more
Training effectiveness evaluation strategy


When you create your ISMS awareness training program policy or document, you need to define the above-mentioned elements to streamline your program.
Benefits of ISMS Awareness Training
ISMS awareness training plays a crucial role in strengthening the security defense of any organization.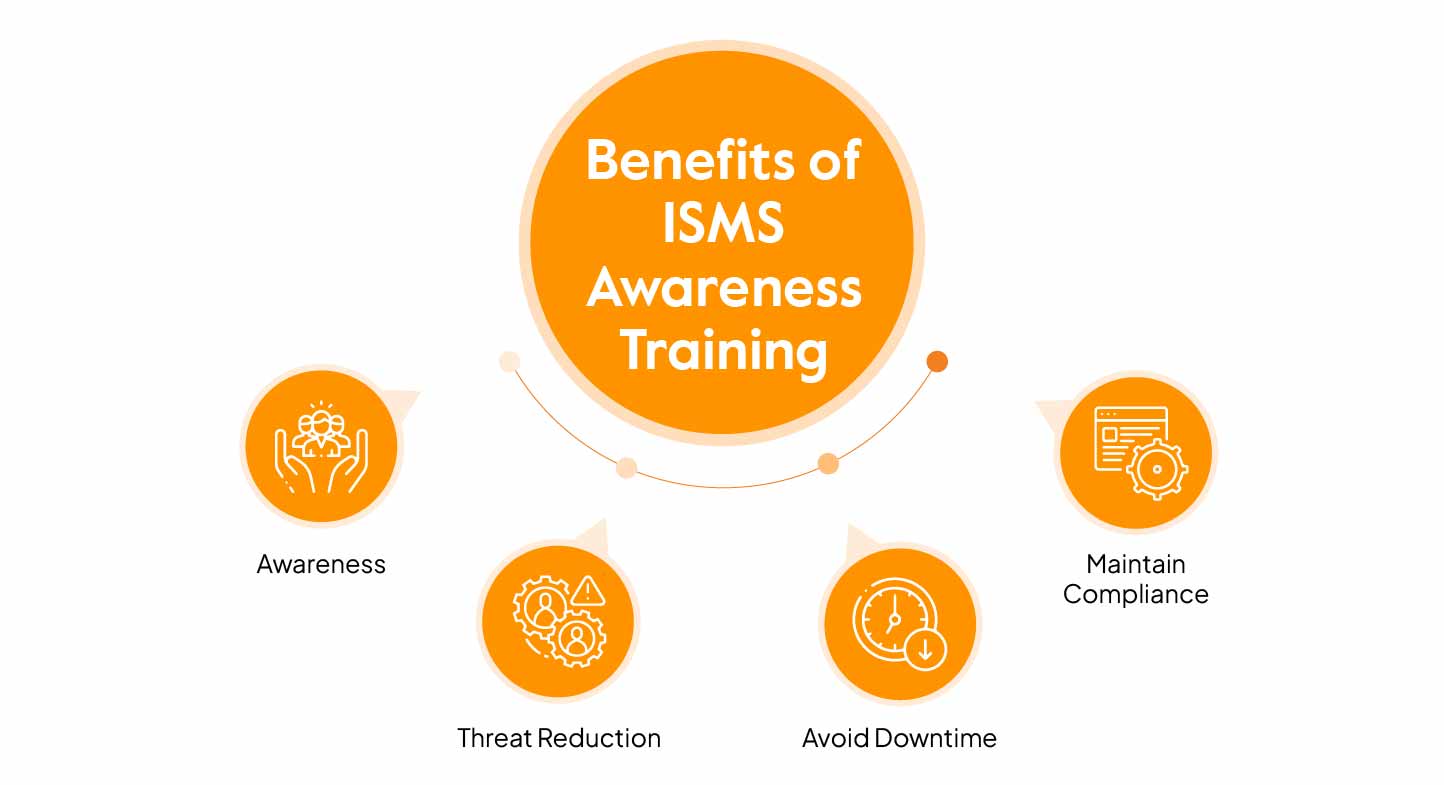 Here are a few benefits of the ISMS:
Awareness: Human errors are the leading cause of many cyber attacks. Through ISMS awareness training, you can drive cybersecurity awareness and teach employees to recognize and effectively respond to security threats.
Threat Reduction: With an ISMS awareness program, employees learn about the security best practices and technologies used in the organization. This helps them understand common social-engineering attacks like phishing and fraud calls. By conducting simulations, you can teach them how not to fall into such traps.
Avoid Downtime: When you give proper ISMS awareness training, you are less likely to face downtime, as employees will clearly understand their roles and responsibilities in dealing with ISMS incidents. This means that critical business operations will remain functional.
Maintain Compliance: An ISMS awareness training program ensures that all employees are well aware of the compliance policies. With adequate training, they will know how to handle sensitive data, which adds a layer of security to your organization and aids your compliance efforts.
Closing Thoughts
ISMS awareness training is the foundation for building a strong information security culture. It helps the organization power the first line of defense against ever-increasing cyber threats. Now that the importance and the process of ISMS awareness are evident, what's next?
To strengthen your ISMS and align it with your ISO 27001 or other compliance requirements, you can rely on a compliance automation solution to streamline your compliance process.
Sprinto is a smart compliance automation platform that helps you achieve compliance quickly and effectively. Get in touch with our ISMS and compliance experts to learn more!
FAQs
What are the 3 ISMS security objectives?
The 3 ISMS security objectives are Confidentiality (ensuring that data can only be accessed by authorized people), Integrity (ensuring that data is accurate and complete), and Availability (ensuring that data can be accessed whenever required).
Who needs ISMS?
Any business that wants to protect its sensitive data from breaches, cyber threats, and unauthorized access needs ISMS. It helps ensure data confidentiality, integrity, and availability and is crucial to any organization's risk management program.
What measures the effectiveness of an ISMS?
The effectiveness of ISMS is measured by key performance metrics based on the ISO 27001 requirements. The KPIs are selected based on various factors such as the relevancy of business, integrated processes, critical vulnerabilities, risk management procedures, and more.
Additionally organizations can use the ISO 27004 standard guidelines to efficiently measure the performance and effectiveness of the ISMS and its controls.


Gowsika
Gowsika is an experienced content writer, passionate about the cyber security and compliance world. She constantly explores the depths of this ever-changing compliance space to bring new information and insights to her readers. She has a knack for taking complex compliance topics and making them accessible to everyone. On weekends, you can find her dancing her heart out, sitting by the sea, and cracking jokes while watching the waves roll in. Reach her at gowsika@sprinto.com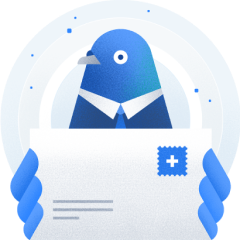 Subscribe to our newsletter to get updates
Schedule a personalized demo and scale business
Subscribe to our monthly newsletter

Sprinto: Your growth superpower
Use Sprinto to centralize security compliance management – so nothing
gets in the way of your moving up and winning big.