Key Points
ISO 27001 certification provides assurance to customers that cloud-hosted companies can be entrusted with their personal data.
ISO 27001 certification costs between $15,000 and $90,000 depending on many variables.
Introduction
Cloud-hosted companies handle vast amounts of data for their customers so they're attractive targets for hackers. They must ensure cloud security and the safety of non-technical controls to maintain business continuity.
The ISO 27001 certification is the gold standard for cloud-hosted companies who want to demonstrate their commitment to security. Getting an ISO certificate from a certification body ensures continued compliance, improves the cloud-hosted company's information security management system (ISMS), and boosts customers' confidence in the security and privacy of their data.
In this article, we will explain how much ISO 27001 certification costs, what are the various steps involved in acquiring the ISO certificate, and what are the hidden ISO 27001 costs.
What is ISO 27001?
ISO 27001 is an internationally recognized standard for the development and implementation of the information security management system. It lays out requirements and best practices for cloud-hosted companies to protect themselves from the risk of disruption or damage to IT-related data.
Since many of the ISO 27001 controls have similarities with PCI-DSS, a mandatory standard that applies to companies that handle card data, if you are ISO 27001 compliant you are halfway to PCI-DSS compliance.
Why is ISO 27001 Certification Required?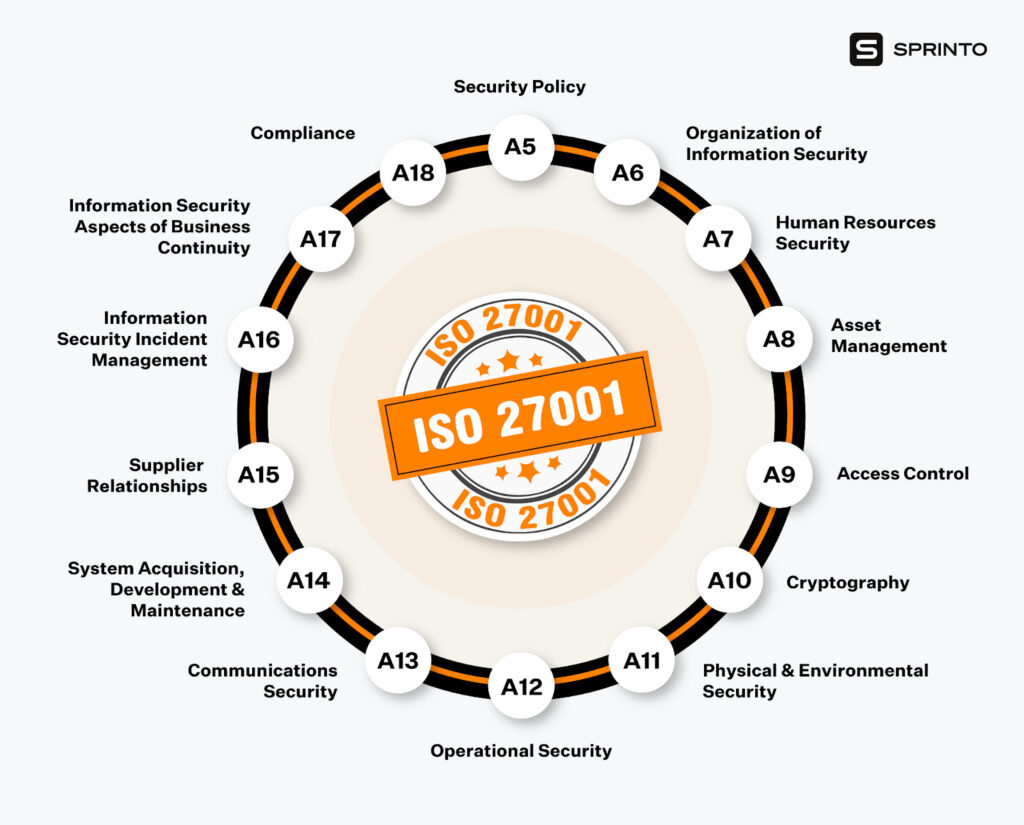 ISO 27001 Certification Process
The ISO 27001 certification process requires these steps:
Establish an ISO 27001 team
Set up a dedicated ISO 27001 team within your cloud-hosted company to oversee the certification process, manage milestones, and set expectations. This team will work directly with the auditor.
Scope your Information Security Management System (ISMS)
Since each business is unique and handles different types of data, you'll need to determine what kind of data you have to protect before you build an ISMS. Ask yourself which service, product, or platform your customers want ISO certified.
Complete a risk assessment and implement controls
You must document that you have conducted a gap analysis and then a risk assessment to identify threats, vulnerabilities, and risks to data assets.
The results of these evaluations confirm the scope of implementation of controls, the functional and operational boundaries, and what resources are required to bridge the gaps.
Document and collect evidence
You have to prove to your auditor that you have set up effective controls and policies that follow ISO guidelines and best practices. You need to collect and organize the proof, which is a time-consuming task.
Fortunately, Sprinto can help you complete documentation and evidence collection with ease.
Complete a Stage 1 audit
It should take you four months to work on your ISMS until this stage. Now, you're ready to request a trusted external auditor to perform an ISO 27001 audit.
The formal audit procedure has two steps:
Stage 1 audit – The auditor reviews your ISMS documentation to ensure you have proper policies and controls in place as per clauses 4-10.
Stage 2 audit – The auditor reviews your business processes and security controls.
Implement Stage 1 audit recommendations
Resolve any issues that your auditor has identified as needing attention. If any information security safeguards are found absent, implement them immediately and document the process.
You're ready for Stage 2 after implementing the suggested changes.
Undergo a Stage 2 audit
Your auditor will review your business processes and controls to ensure they comply with ISO 27001 ISMS and Annex A requirements. He/she will conduct a detailed assessment to check if you've followed through on your ISMS promises.
You will receive ISO 27001 certification, which is valid for three years, after successfully completing the Stage 2 audit.
Maintain ISO 27001 compliance
Within the three-year certification validity period, you must conduct annual surveillance audits to ensure that your ISO 27001 compliance program is still valid and being maintained.
Surveillance auditors check that any nonconformities noted during the Stage 2 audit have been addressed.
At the end of the third year, you can undergo a recertification audit after which your ISO 27001 certification is valid for another three years.
How Much Does ISO 27001 Certification Cost?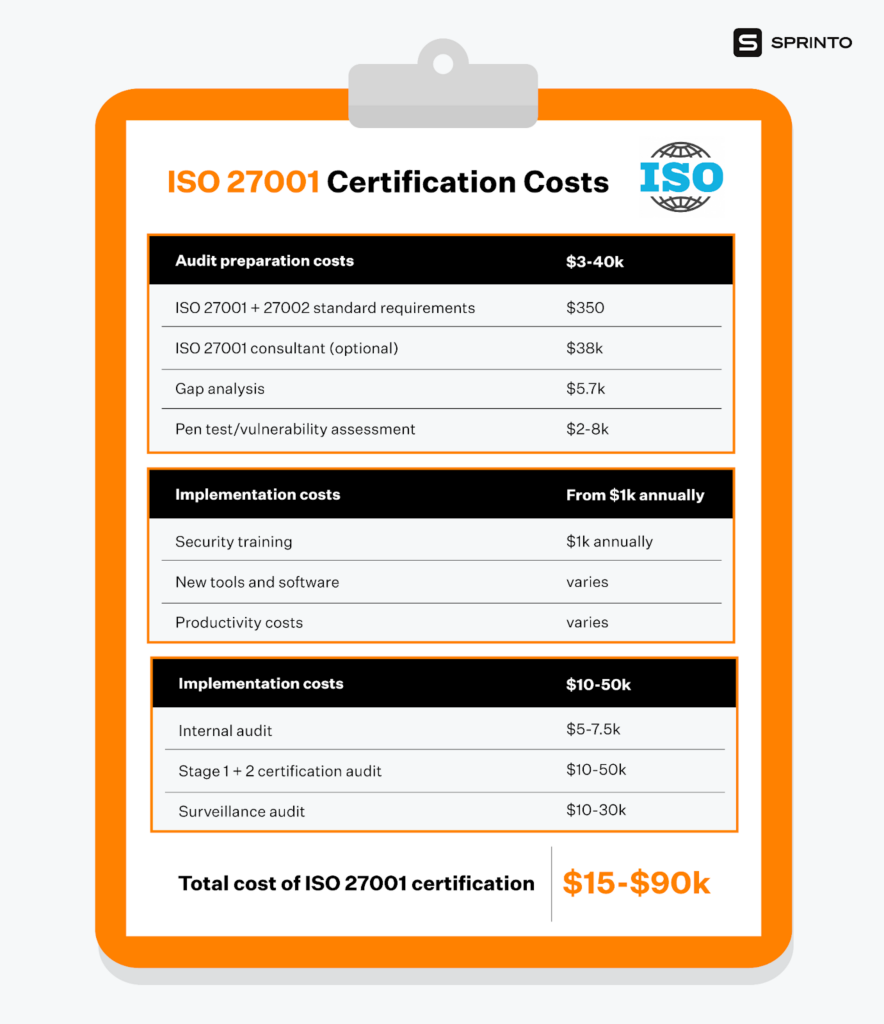 The overall cost of ISO 27001 compliance can be categorized under three heads:
Preparation costs
Implementation costs
Audit costs
Preparation Costs
Implementing ISO 27001 can be lengthy and costly. You have to scope your ISMS, conduct a gap assessment, and implement the identified controls.
You'll need to consider some of the expenses in the list below:
ISO 27001 Standard Requirements: $350
ISO does not make its standards freely available so you have to buy them. Currently, it costs ~ $125 to download a copy of the standard.
You'll also need a copy of the ISO 27002 standard, which costs $225 and provides guidance on implementing controls.
ISO 27001 Consultant (optional): $38000
You can speak to an expert and save time and money because they have specialized knowledge of the compliance process and best practices.
On average, ISO consultants charge $38,000 or between $1,400 – $1,800 per day. The costs associated vary depending on the consultant's experience and the services you need.
Gap Analysis: $5700
Building an ISMS from scratch can be challenging, especially if you're unfamiliar with ISO 27001 requirements. Gap analysis reveals your current security posture and what you need to do to be ready for auditing.
For cloud-hosted companies with 250 employees and a single location, gap analysis costs around $5,700.
Sprinto can also help you with gap analysis.
Penetration Test and Vulnerability Assessment: $2000 – $8000
In a penetration test, you hire a third party to cause a simulated attack on your infrastructure, systems, and applications. It reveals any vulnerabilities and flaws that can be fixed to improve your overall security posture.
A vulnerability assessment involves a review of your ISMS to reveal any vulnerabilities.
Penetration tests typically cost between $5,000 and $20,000 while vulnerability tests cost between $2,000 and $2,500.
Sprinto has approved partners to assist you with penetration tests and vulnerability assessments.
Implementation Costs
During the implementation of security controls, you can expect to incur the following expenses:
Employee Training: $1000 Annually
ISO 27001 certification requires that you conduct formal security training.
Typically, staff awareness training costs $1,000 or less per year depending on the kind of content, the quality of hands-on training, and the training company you choose.
Security Software and Tools: $4999
Based on the results of your gap assessments, you will want to invest in software to strengthen your overall security posture before requesting an audit.
You'll also want to purchase compliance software that simplifies achieving and maintaining ISO 27001 compliance. Costs start at $4,999.
Hidden Costs
Hidden costs in terms of lost productivity occur due to the shifting focus of the engineering and leadership teams in achieving and maintaining compliance. A dedicated ISO 27001 team also spends time keeping the ISMS up-to-date.
ISO 27001 Audit Costs: $10000 – $50000
The initial certification comprises two steps: Stage 1 and Stage 2. The certification is valid for three years and requires annual surveillance audits. You have to budget for these recurring costs.
Certification audits cost between $10,000 and $50,000 and surveillance audits cost between $5,000 and $40,000. The actual costs of implementing these audits are dependent on the size of the company.
Sprinto's approved partners can conduct ISO 27001 audits for you and prices start at $4,999.
A Faster, Easier Way to Get ISO 27001 Certified
It can be challenging to accurately nail down the cost of ISO 27001 certification due to the multiple variables involved. We have broken it down to help you understand the associated costs and plan your budget.
Companies in the process of implementing ISO 27001 know the massive amount of work involved. But addressing compliance in the cloud does not have to be an obstacle in growth.
Let Sprinto help you get ISO 27001 certified with its quick, hassle-free, and tech-enabled audits. Through the platform, you can obtain your ISO 27001 certificate within two weeks at a starting price of $4,999.
FAQ: ISO 27001 Certification Cost
ISO 27001 is a globally recognized standard that lays out requirements and best practices for the development and maintenance of an information management security system (ISMS).
How much does ISO 27001 cost?
ISO 27001 costs can be categorized as:
Preparation costs – $3,000 – $40,000
Implementation costs – starts from $1,000 per year
Audit costs – $10,000 – $50,000
Thus, the total cost of ISO 27001 certification varies between $15,000 – $90,000.
You can achieve ISO 27001 certification in eight easy steps:
Set up an ISO 27001 team
Scope your ISMS
Conduct gap analysis and risk assessment and implement controls
Document and collect evidence
Complete the Stage 1 audit
Implement Stage 1 audit recommendations
Complete the Stage 2 audit
Maintain ISO 27001 compliance