ISO 27001 Certification Cost [A Detailed Evaluation]
Srividhya Karthik
Jun 02, 2023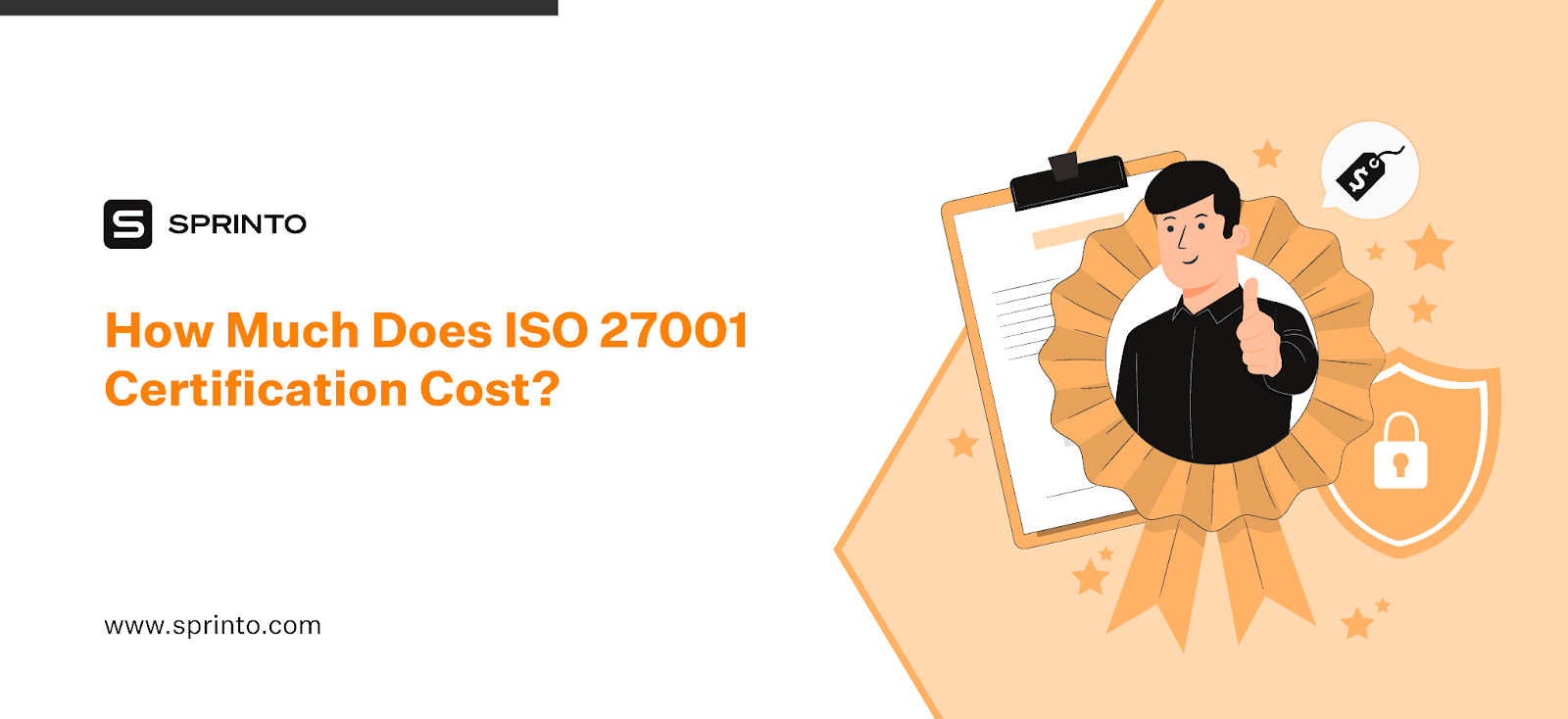 The ISO 27001 certification demonstrates your organization's commitment to upholding global best practices in information security. Information security is fast becoming an invaluable part of SaaS businesses. Securing your digital assets, understandably, comes with a price tag too. In this article, will dive deep into ISO 27001 certification cost, what it entails, and the many ways you can go about it.

TL;DR: Sprinto can help you automate the entire compliance journey & help you get ISO 27001 compliance-ready in just weeks without burning a hole in your pocket. There are four ways to go about your ISO 27001 certification. You can go either with a DIY approach, a GRC tool, an external consultant or automate the entire journey with Sprinto. Depending on your choice prices will vary from $3,500 - $10,000+.  
ISO 27001 Certification Cost Overview
The cost of ISO 27001 certification audits for Stage 1 and 2 is between $14,000 and $16,000. The audit-certification process consists of two primary stages: the documentation audit (Stage 1) and the certification audit (Stage 2). For a small start-up, securing an auditor for these stages will cost around $14K—$16K. To get more info, let's take a look at the steps you can take to achieve ISO 27001 certification below:
It's essential to have an overview of the steps to ISO 27001 certification to understand the costs involved in the process.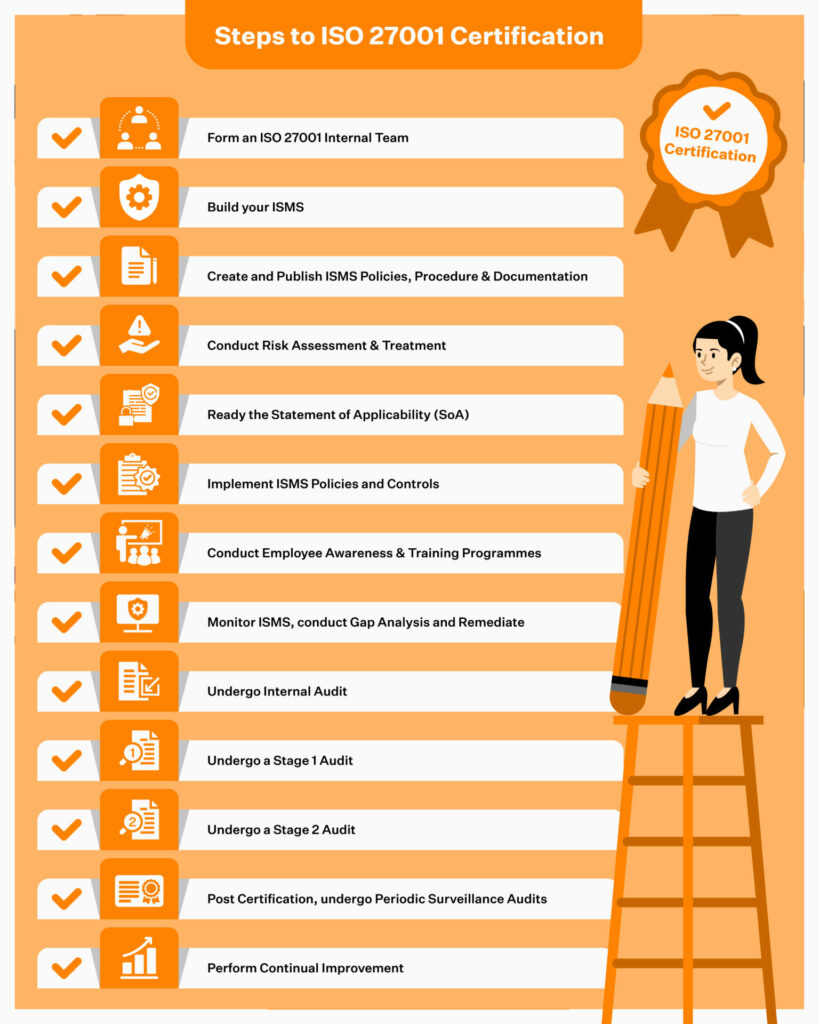 All the steps till the Stage 1 audit comprise the preparation and implementation stage. And organizations have to incur costs to prep up and implement the ISO 27001 standard requirements. These are in addition to the auditor costs.
Get a Free ISO 27001 Certification Cost Estimate! Talk to our experts
How much does ISO 27001 certification cost?
The ISO 27001 certification cost typically ranges between $50,000 – $200,000. Again the costs depend on your organization's size, preferred audit partners, current security stacks, etc.
In this article, we will highlight the four options and details associated with the cost of ISO 27001 certification.
Here are the four options under ISO 27001 certification cost:
Option 1: DIY using Internal Team
Option 2: Using an External Consultant
Option 3: Go the GRC way
Option 4: Compliance Automation – Sprinto
Get Expert Insights on ISO 27001 Certification Expenses
Option 1: DIY using Internal Team
You could set up an internal task force for ISO 27001 certification and have them spearhead the entire process from start to finish until the external audit. While not an impossible task, note that DIY tends to eat away a chunk of your employees' time and can take you months to get audit ready.
As for costs, while on the face of it, this is a zero-cost option, there is a huge opportunity cost of using key employees' productive work hours to chase audit readiness. Never mind the resultant delays in product launches and other business-critical functions they are part of.
ISO 27001 standard is extensive and tends to get complex. Even so, the in-house team's work doesn't just end with certification. They must ensure compliance is maintained across surveillance audits at the end of the first and second year after certification and for recertification audits too.
While you could circumvent this by onboarding a security specialist, it isn't an inexpensive option—no wonder only the more prominent and established firms opt for in-house security professionals to manage compliances.
Cost: The opportunity cost of lost productivity
Time: 5 months +
Option 2: Using an External Consultant
More often than not, external consultants are the popular go-to option. They come armed with compliance knowledge and act as the much-needed guide posts in your organization's ISO 27001 certification journey. They do the bulk of heavy lifting in terms of helping with policy creation, defining the scope of your ISMS, preparing the SOA, risk assessments and risk treatment plans, to name a few.
Design, build and implement ISMS
Draft information security policies and procedures
Implement risk assessment, risk treatment plan and vendor risk management
Help with employee security training and awareness initiatives
Document and collect evidence
Test and conduct gap analysis
Undertake readiness assessment/ internal audits

Cost: $10000+
Time: 5 months +
Option 3: Go the GRC way
You could choose a project planning tool such as a GRC tool. Most tools come with dashboards and built-in reporting and help you embed your ISMS scope into policy management practices. They provide templates for the many documents needed in your ISO 27001 journey and are semi-automated. They also give an overview of your risk implications and audit efforts required for compliance. Most GRC tools, however, don't account for edge cases, require manual intervention, are typically built for bigger organizations and don't snug fit into the SaaS/start-up ecosystem.
Cost: $3600+
Time: 3 months +
Option 4: Compliance Automation – Sprinto
Sprinto is designed to make compliance easy and effortless without compromising its scale and scope. Sprinto offers an entirely automated compliance process for your organization. It helps define the scope of your ISMS, sets up robust data security policies, deploys entity-level checks and implements infosec training programs for employees. From intelligently mapping and minimizing risks to breaking down the entire process into simple, logical and easy-to-understand steps, your compliance experience with Sprinto is designed to be easy, error-free, and fast.
Sprinto's continuous monitoring system not only validates your compliance with proof, it even alerts you when something isn't done or done incorrectly. Sprinto allows for edge cases and replaces all the manual, error-prone, repetitive busy work with automation, giving you a dashboard view of it all!
Cost: $8000+
Time: 14 days +
Talk to our experts to speed up your ISO 27001 certification process
ISO 27001 Preparation Costs
Implementing ISO 27001 controls can be lengthy and costly. You have to scope your ISMS, conduct a gap assessment, and implement the identified controls.
You'll need to consider some of the expenses in the list below:
ISO 27001 Standard Requirements
ISO doesn't make its standards freely available, so you must buy them. Currently, ISO 27001 costs ~ $125 to download a copy of the standard. You'll also need a copy of the ISO 27002 standard, which costs $225 and provides guidance on implementing controls.
Cost: $350 for a copy of the standard
Gap analysis (optional)
Building an ISMS from scratch can be challenging, especially if you're unfamiliar with ISO 27001 requirements. Gap analysis reveals your current security posture and what you need to do to be ready for auditing. For cloud-hosted companies (using the DIY option) with 250 employees and a single location, gap analysis costs around $5700. With Sprinto, gap analysis is built into the platform.
Cost with other options: $7500
Cost with Sprinto: Nil
Penetration test and vulnerability assessment
In a penetration test, you hire a third party to cause a simulated attack on your infrastructure, systems, and applications. It reveals any vulnerabilities and flaws that can be fixed to improve your overall security posture. A vulnerability assessment involves a review of your ISMS to reveal any vulnerabilities. Pen tests typically cost between $5000 and $20000 while vulnerability tests cost between $2000 and $2500. CREST-accredited pen tester would charge more. Sprinto has approved partners to assist you with penetration tests and vulnerability assessments.
Cost with other options: $2000 – $8000
Cost with Sprinto: Access to Sprinto partner network at competitive prices
ISO 27001 Implementation Costs
Your implementation cost will depend on the route you pick in your ISO 27001 certification journey. Here are some other ISO 27001 cost headers for you to consider:
"Talk to our experts" for ISO 27001 Certification cost breakdown
Employee Training
ISO 27001 certification requires that you conduct formal security training for your employees. Typically, staff awareness training costs $25 per user and can go up to $15000 per training session (trainer costs) depending on the content, the quality of hands-on training, and the training company you choose.
Cost with other options: $25 per user up to $15000 per session
Cost with Sprinto: In-app modular training at no additional cost
Security Software and Tools
Based on the results of your gap assessments, you will want to invest in software to strengthen your overall security posture before requesting an audit.
Do you have any of the following technical security measures in place?
MDM to monitor the security health of your staff laptops
Antivirus software on staff laptops
Password manager for your staff members
Vulnerability scanning solutions on your codebase or hosting infrastructure
Incident management system for operational and security incidents
The costs will add up depending on what you need. For instance, MDM costs about $48 per user annually, and vulnerability scanners can range from $6000 to $25000. Antivirus and password managers, however, are available for free.
When you work with Sprinto, MDM, Security Awareness Training, and Incident Tracking Software (~$1000+) are bundled into the platform. Sprinto also makes risk-appropriate suggestions for open source, complimentary or alternative controls suitable for a modern engineering team. The platform offers built-in support for free/open source vulnerability scanners.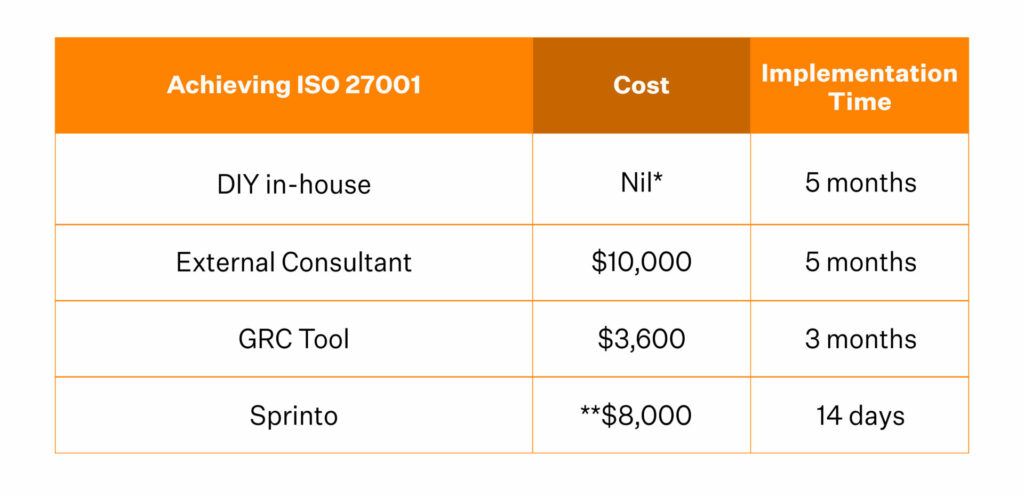 Speed up the ISO 27001 implementation process with the help of Sprinto, Talk to our experts
Continuous Monitoring
Security compliance is a continuous process and doesn't stop with certification. The costs to run a continuous monitoring program for your information security management system will depend on how you prefer to operate it on an ongoing basis.
Use internal expertise and bandwidth to implement this manually
Hire consultants/external help to run cyclical internal audits
Purchase a continuous monitoring tool such as Sprinto to automate this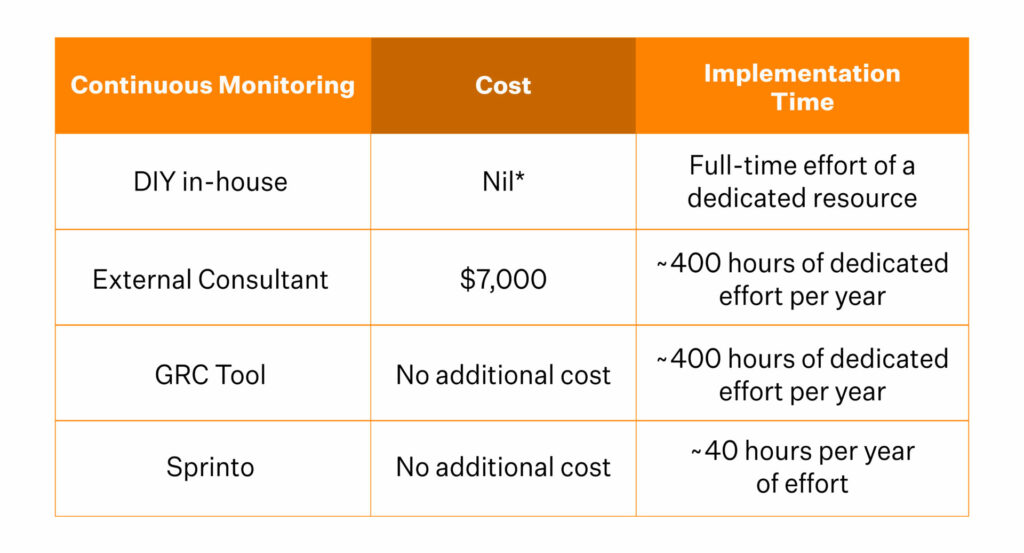 Irrespective of which option you choose, this is a cost that needs to be borne for certification. The initial cost of ISO 27001 certification comprises two steps: Stage 1 and Stage 2.
ISO 27001 Audit Costs
The ISO 27001 certification is valid for three years and requires annual surveillance audits. You have to budget for these recurring costs. Certification audits cost between $10000 and $50000, depending on your choice of certified auditor (or firms). The periodic surveillance audits cost between $5000 and $40000.
Typically, surveillance audits cost about half the initial audit cost. The actual costs of implementing these audits depend on the company's size. And if you use Sprinto, you get access to a Sprinto-approved network of auditors who can conduct ISO 27001 audits at discounted prices starting at $4999 (depending on size of the organization). Book a demo with us and learn about how Sprinto can help you.
Auditor Costs: $10-50K certification cost + $5-$40K surveillance cost
Cost with Sprinto: Access to Sprinto partner network at $4999
How Much Does ISO 27001 Certification Cost in Other Countries?
As ISO 27001 is an international standard, it is globally accepted and implemented. As for the ISO 27001 certification cost in other countries, it vastly depends upon the labor rates. Organizations in countries with higher labor rates may have to pay more to the staff and consultants involved in the certification and audit process.
For example, ISO 27001 certification cost in the UK varies from $12.5K – $60K. In India, it ranges from $1.8K – $6K. In Australia, it ranges from $15K – $27K. So, as per the labor rate, the total cost varies in different countries.
FAQ
Is ISO 27001 expensive?
Yes, the ISO 27001 certification process can be expensive if not done right, the cost of certification could range between $75,000 – 200,000 and this does not include the opportunity cost. The cost of time and effort spent by your internal team members is outside this quoted figure.
What is the ISO 27001 audit cost?
The audit is an integral part of the ISO 27001 certification process and the audit alone can cost you between $5000 – $35000 depending on the auditor and the complexity of your business.
Is the ISO 27001 certification worth the money?
Yes, it is. An ISO 27001 certification demonstrates to your customers and prospects that you take cyber security seriously and have the systems and processes to secure sensitive data.

Srividhya Karthik
Srividhya Karthik works as a Content Lead at Sprinto. She hopes to simplify compliance and make it interesting with the power of content. You can reach her at srividhya@sprinto.com.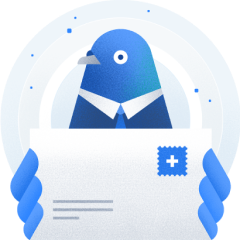 Subscribe to our newsletter to get updates
Schedule a personalized demo and scale business
Subscribe to our monthly newsletter

Sprinto: Your growth superpower
Use Sprinto to centralize security compliance management – so nothing
gets in the way of your moving up and winning big.