The applicability of the ISO 27001 standard can be daunting for companies of all sizes. Faced with a wealth of requirements and best practices, organizations need help determining how to implement the most cost-effective solution.
A proper gap analysis looks at a company's existing security management system about the ISO's guidelines and can help them chart their way forward.
Companies who take this approach usually find some gaps they need to close, but it also allows them to create a tailored plan that meets their business needs while still adhering to the rigorous standards established by ISO 27001.
In this article, let's find out what ISO 27001 gap analysis is and why it is important for your company.
What is ISO 27001 gap analysis?
A gap analysis for ISO 27001 offers a comprehensive understanding of the actions required to gain certification and allows for the examination and comparison of your organization's information security measures against the guidelines outlined in ISO 27001.
A thorough ISO 27001 gap analysis can give you insight into the steps necessary to achieve certification. It also allows you to evaluate your organization's data security practices against the standards set forth by ISO 27001.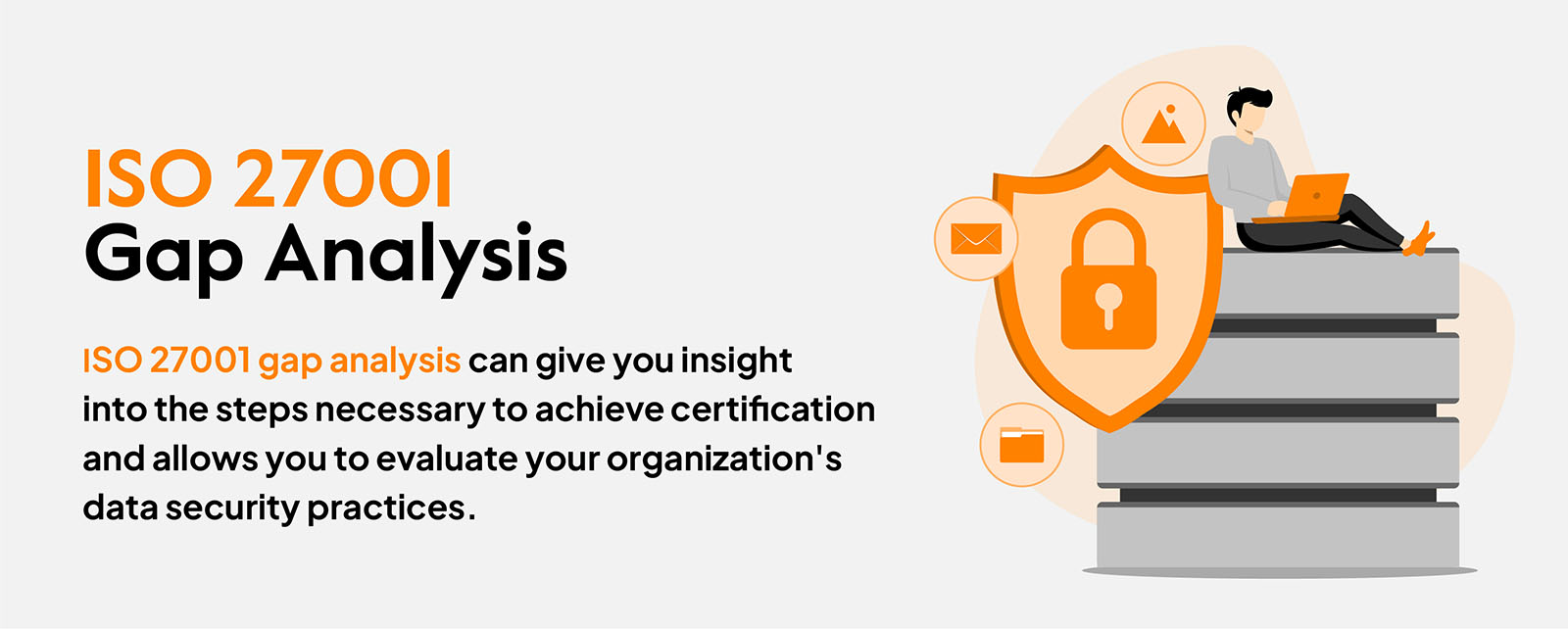 By comparing these arrangements, you'll be able to identify any areas of weakness and confidently make improvements.
A successful ISO 27001 gap analysis is like a well-crafted puzzle – each piece in the jigsaw fits together to make the complete picture. It closely examines current security practices against those required by the Standard.
It assesses the key vulnerabilities: from potential people issues such as communication or training gaps or technical problem areas like access controls.
In short, it provides an understanding of what gaps need to be addressed to help you become more compliant and secure.
It compares existing controls, such as those in place for data privacy, risk management, or cyber-attack mitigation, to the requirements outlined in ISO 27001. Moreover, it looks across all business functions to identify any gaps.
Armed with this understanding, you can confidently move forward knowing exactly which measures and improvements are needed to close the gap and become compliant with the Standard. 
Why is gap analysis important for ISO 27001?
A gap analysis is a key part of achieving ISO compliance. It allows you to assess your company's operations and prepare for what lies ahead.
With it, your businesses will be able to meet the criteria because you cannot accurately determine areas needing improvement or necessary processes that must be implemented. For example, having an ISO 27001 gap analysis checklist can help you save precious time and resources by helping you identify targets instead of engaging in guesswork.
And it will help you build an internal system that meets the painstaking standards of ISO to provide customers with an unbeatable quality experience.
Take Sprinto for example, a compliance software that helps you in your compliance journey automates most of the processes and helps you close the widened gap for security best practices. 
Explore more related to ISO 27001 software
How to get started with ISO 27001 gap analysis?
Although meeting the ISO 27001 requirements can be daunting, it can be made easier with the right help.
Understanding these requirements and seeing where your organization stands in each control area is essential to ensure that your organization is fully compliant.
With the right plan of action, you can become one step closer to achieving hassle-free compliance.
Here are the steps to perform ISO 27001 gap analysis: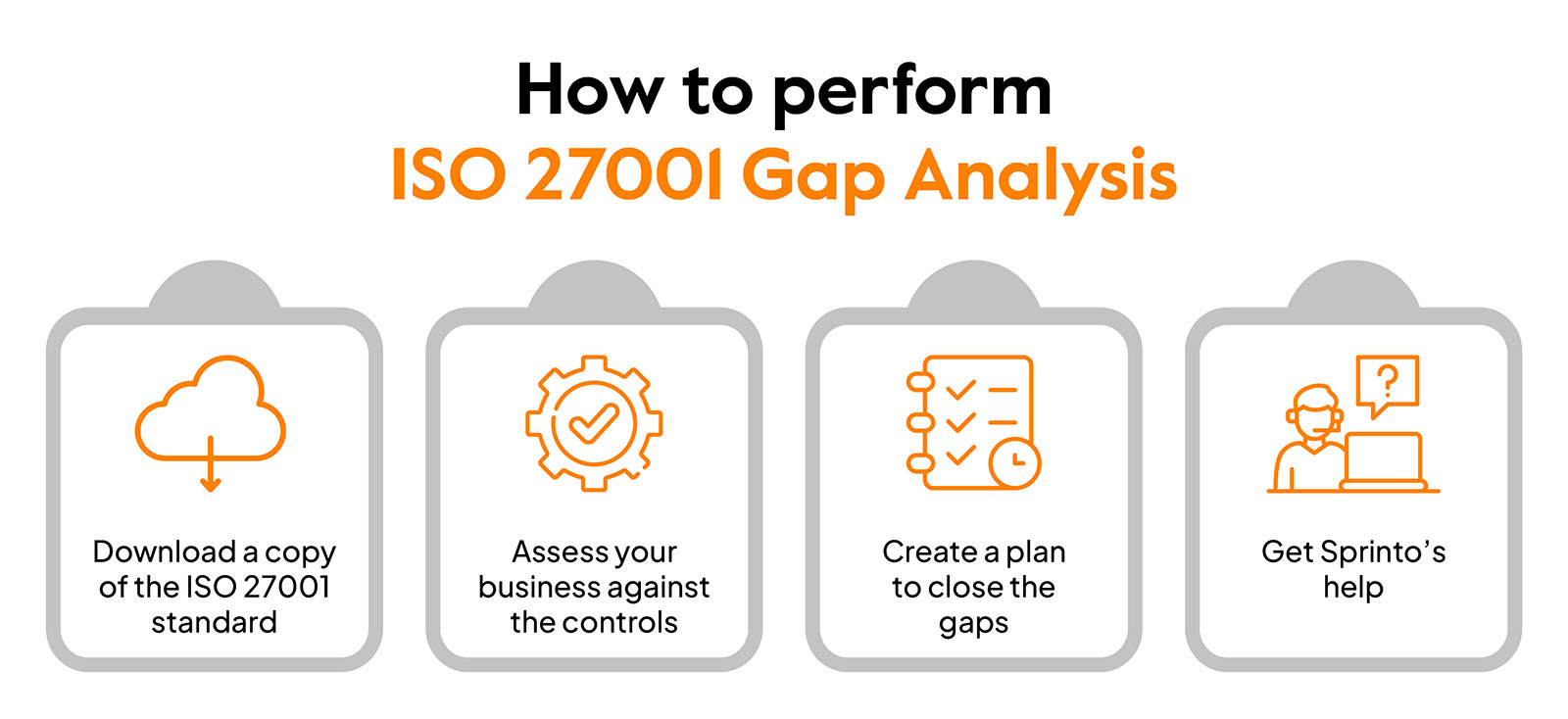 Download a copy of the ISO 27001 standard
Spend some time to understand the ISO 27001 standard. You can download the ISO 27001 gap analysis template (located below).
Assess your business against the controls
Proactively evaluate your business against the latest industry standards to ensure you are up-to-date with effective controls. Analyze how each control is being implemented and identify any areas of improvement necessary for maximum operational efficiency.
Create a plan to close the gaps
To ensure continued success, carefully develop a plan to address any areas of your business that still need to achieve the necessary safeguards. With prompt implementation, you can maintain reliability and effectiveness for every process within your organizational framework.
Get Sprinto's help
If you're looking to make the most of your gap analysis process, seeking guidance from a specialist is an excellent option. With their years of experience and expertise in this area, Sprinto can provide invaluable insights into how best to move forward with your project.
ISO 27001 gap analysis template
Download your ISO 27001 Gap Analysis Template
What next?
If your business is looking to reach the highest levels of ISO 27001 compliance, you should look at Sprinto. We can provide the expert analysis and insights necessary to overcome the complex certification requirements.
While questionnaires-based gap analysis can offer some direction, they rarely consider all scenarios.
That's where Sprinto comes in. From experienced professionals with a deep knowledge base, you have access to every step of the process in one easy-to-use platform.
Ready to talk? Speak to our experts today.
FAQs
What are the three 3 fundamental components of a gap analysis?
The three fundamental components are as follows:
Assess your present situation
Determine your goal
Highlight the gap between both
What is gap analysis in cyber security?
A security gap assessment is a comprehensive evaluation of an organization's safeguards. It's designed to reveal any chasms between their current level of protection and their desired endpoint, ensuring it meets all applicable industry standards.
What is the first step of a gap analysis?
To begin your gap analysis, it is essential to determine precise objectives by studying the organization's mission statement, business strategies, and improvement objectives.