Difference Between GDPR and ISO 27001
Vimal Mohan
Mar 17, 2023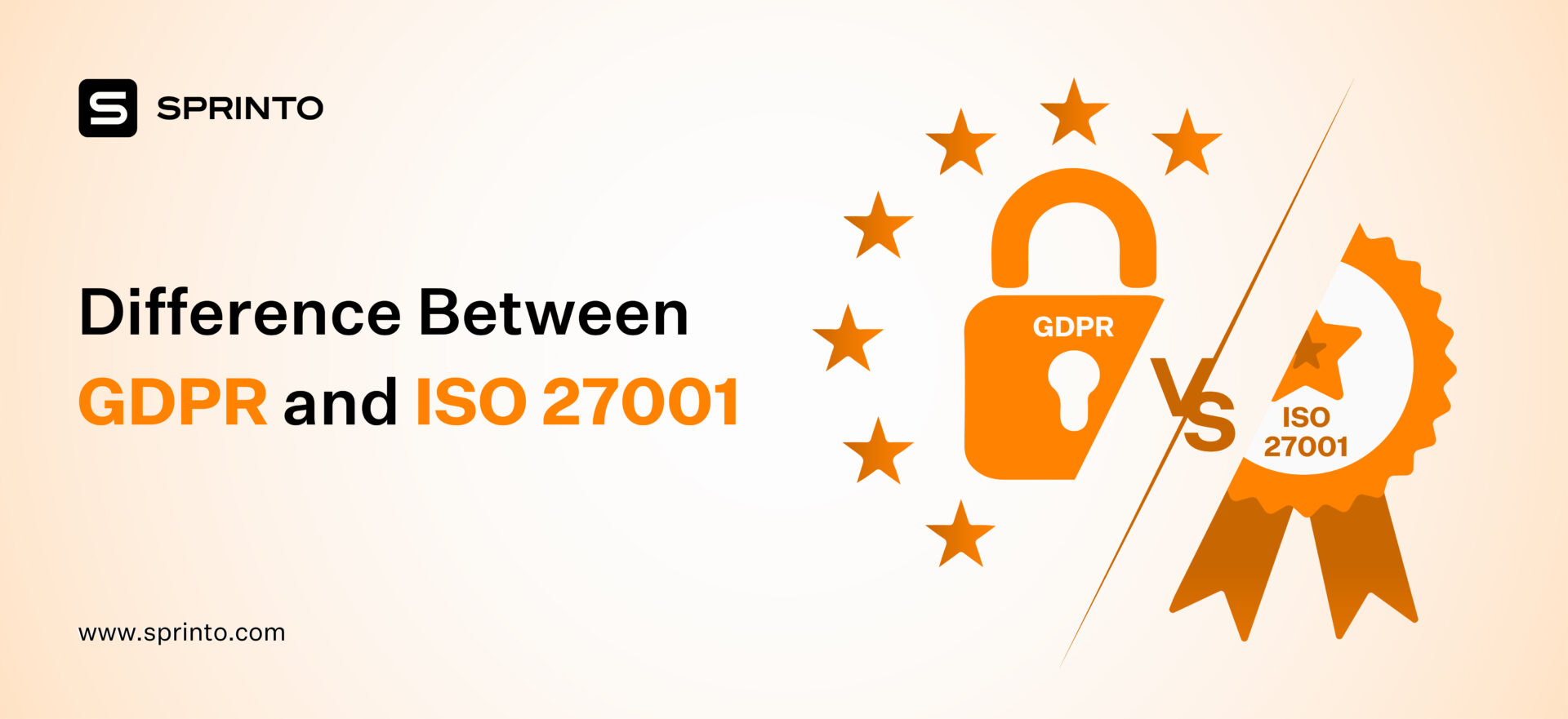 If you think, "I am ISO 27001 compliant. So, I am almost GDPR compliant." Well, you are not! This is a common misconception and we will tell you why in this article. The whole debate about the GDPR vs ISO 27001 is because numerous online communities state how ISO 27001 is a starting point for GDPR and how both these compliance routes showcase certain aspects of data protection. But, those discussions are neither entirely true nor entirely false. While there are a lot of security controls and measures that are similar and interusable, the main focus of the GDPR law and ISO 27001 isn't the same.
While the General Data Protection Regulation (GDPR) talks about protecting the privacy rights of data subjects(individuals) in the European Union (EU), ISO 27001 talks about providing measures to continuously improve an organization's Information Security Management Systems (ISMS).
Before the ISO 27001 vs GDPR comparison begins, let's touch base on what ISO 27001 & GDPR are.
What Is ISO 27001?
International Organization for Standardization (ISO) launched the ISO 27001 framework to build and improve the ISMS of an organization. It defines global best practices on how organizations should protect customer data, manage security processes, and set basic minimum requirements for protection and encryption. These measures are applicable to the organization's data assets and customer data.
The impact of ISO 27001's ISMS standardization is profound. For instance, when an organization shares their ISO 27001 report, they announce to the world that their infosec practices are inline with the current global standards. And this boosts trust and helps them unlock new business opportunities which could have been unachievable otherwise.
Fast-track your compliance Journey
ISO 27001 emphasizes on data protection and ISO data protectionfocuses on: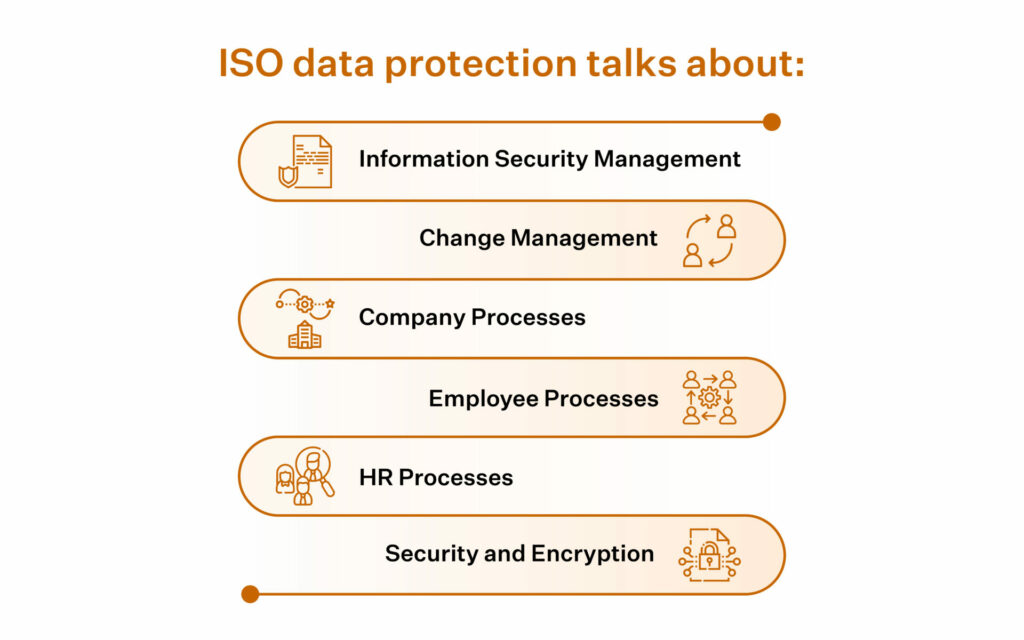 Information Security Management
Change Management
Company Processes
Employee Processes
HR Processes
Security and Encryption
An ISO 27001 reflects a business' maturity towards security and data protection and shows their commitment to invest time, capital, and resources to maintain it on an ongoing basis.
It also enables an organization to foresee the security risks they could be undertaking and helps them plan. Here's the summary of the core principles of ISO 27001
Asset Management
An organization should identify the different information assets they process and assign security measures to manage those assets in a protected environment. This principle focuses on Asset Inventory, Acceptable use of Assets, Ownership, and Return of Assets.
Access Management Control
This talks about how access to certain secure networks or assets is regulated within an organization.
Rules are assigned to each job, and different access levels are assigned to each job. For example, a person with Level A access is provided access to all basic applications.
A Level B employee is given privileged access i.e Level B employees can access basic applications plus sensitive information because their job requires it.
Operational Security
Annex A12 of ISO 27001 talks about operational security.
The focus is on:
Documenting operational procedures
Using change management within an organization
Conducting Capacity Information Management
Separating development, testing, and operational environments
Incident Management
Security incidents/cyber attacks cannot be unavoided, no matter how fortified a business is. ISO 27001 requires organisations to have policies and procedures in place to deal with security incidents.
To this effect, every business looking to become ISO 27001 certified will have to:
Define roles whose primary job would be to deal with security incidents
Identify and report all vulnerabilities within their business environments that could turn into security incidents
Define a process to assess the nature and impact of an incident (in the event of one)
Deploy a predefined incident response program (breach notification plus risk mitigation)
Document your learnings during and after an incident
Collect all evidence that could be related to an incident
Elevate your ISMS with Sprinto's continuous compliance
Synopsis
ISO 27001 helps businesses enhance their security measures to protect themselves from any risk that could cause potential harm.
It is designed to put the business' needs ahead of the data of the individual they process.

The GDPR, in comparison, focuses on protecting the rights of a data subject from businesses. The difference between GDPR and ISO 27001 can get easily overlooked because of the overlapping similarities they share. Let's take a closer look at the GDPR law.
What is GDPR?
The GDPR law was introduced in May 2016 and was fully effective 2018 onwards. GDPR aims to protect the rights and freedom of data subjects (individuals) and the measures and policies organizations should implement when processing personal information of data subjects (individuals). The GDPR explains this with its seven principles:

Lawfulness, Fairness and Transparency
Businesses must obtain data lawfully. They must be transparent with the user on how they intend to process it and how long they intend to use it, and the users should not be mislead in any of these.
Purpose Limitation
Businesses must collect data for a specific stated purpose and later not process it for any other processing activity just because they still have access to it, and the data collection process must not be illegal.
Data Minimisation
When collecting sensitive personal information, businesses should only collect data sets that are required for their data processing activities.
Accuracy
Businesses are responsible for holding and processing data that is accurate. When a data subject reports an inaccuracy or requests a change in their data, companies have thirty days from the date of request to implement the changes.
Storage Limitation
According to the GDPR law, businesses cannot store data for longer durations than initially intended.
Integrity and Confidentiality (Security)
Businesses must have the necessary practices in place to ensure that the personal information of data subjects is not accessed by unauthorized users (internal and external).
Accountability
All Controllers and Processors processing sensitive personal information must demonstrate GDPR compliance when processing personal data of EU citizens and residents.
Synopsis
In GDPR the focus is entirely on protecting the rights and freedom of the data subjects of the EU region. The GDPR principles lay out a list of dos and dont's for organizations to follow when processing personal data. The data subject is also given rights, which enable them to control how their personal data is processed. The power to decide how much of data processing is intrusive lies in the hands of the user with their Right to Erasure and Right to Accuracy.
GDPR vs ISO 27001 Differences?
Here's the GDPR vs ISO 27001 comparison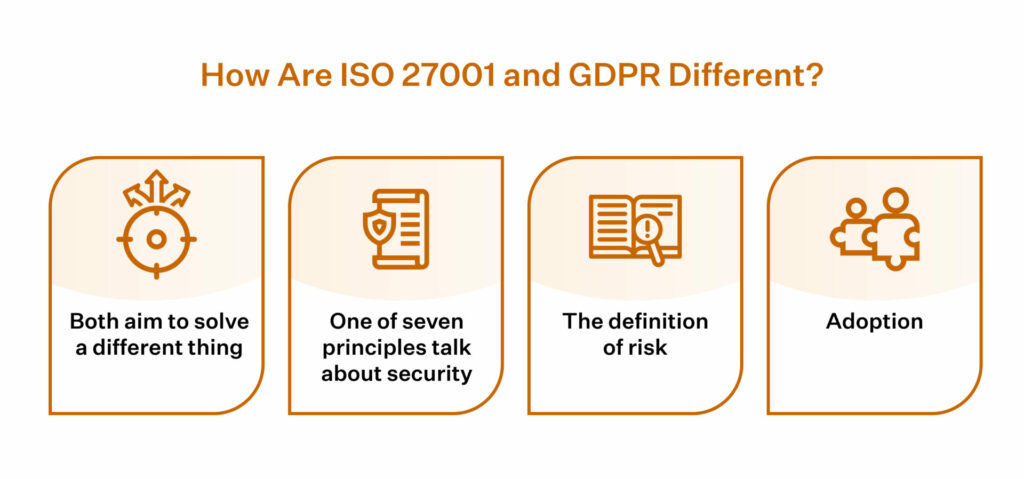 GDPR & ISO 27001 focus on different things.
GDPR aims to protect the freedom and rights of individuals' personal information and the flow of that sensitive data. GDPR emphasizes lawful data collection, getting the user to explicitly consent for sharing information, processing user data by following the seven principles of GDPR, and appointing a Data Protection Officer (DPO) if required. None of that is present in ISO 27001 specifically.
ISO 27001 is designed to help organizations protect the security and integrity of their data.
The aim is to set and help organizations meet global requirements for establishing, implementing, and continuously monitoring and improving their ISMS.
Security is spoken about in ISO 27001, but the focus is more on securing an organization's information assets. When GDPR talks about security, it is from a standpoint that focuses on an individual's data security.
This is still not GDPR, though. With us so far? Great! Let's move on.
One of seven principles in GDPR talk about security
Only one of seven principles of GDPR talks about security, roughly about 14%. The rest of the seven principles detail other aspects of how user data should be processed and the regulations to ensure that the privacy and integrity of data subject is not impacted at all times.
The definition of risk
Risk in the GDPR law does not discuss the risk a business undertakes when processing personal information but emphasizes the risk (risk to fundamental rights and freedom) a user is subjected to. At the same time, ISO 27001 and ISO 27002 (collection of information security guidelines that make up ISO 27001 controls) discuss the risk an organization takes on during their data processing activities.
Adoption
GDPR is compulsory and, therefore, applies to companies in the EU. ISO 27001, in comparison, is voluntary.
Penalties
If your business comes under the GDPR scope, you will need to comply. The cost of non-compliance is high with administrative fines as high as $20 million or four per cent of your business' annual turnover (whichever is higher). On the other hand, if you are not ISO 27001 compliant, you aren't penalized.
Does ISO 27001 Cover GDPR?
Yes, it does. But not entirely. There is an overlap. But the two compliance frameworks aim to solve different problems.
If you wish to become GDPR compliant, going the ISO 27001 way isn't the best first step. Sure, it will shorten your GDPR compliance readiness but only because of the small percentage of overlap present.
Here's a quick and dirty comparison between ISO 27001 and GDPR designed to help you pick the compliance framework for your business.
ISO 27701 extension to the ISO 27001
ISO 27701 is not an independent framework launched by ISO. It's a data privacy extension to ISO 27001. It is like an add-on pack that businesses implement to include privacy regulations and build trust for their brand. But more importantly, ISO 27701 is not a replacement for GDPR either.
Choosing the best compliance framework for your business can get tricky especially when your research has convinced you that your organization's route to compliance could be achieved either through ISO 27001 framework or GDPR.
Choosing a wrong framework could cost you financially in the form of administrative fines or cost you in the form of lost business opportunities. Either way, the damage to your business could be significant.
Sprinto Invites you
If you've made it to this section of the article, it is safe to assume that you are keen on learning about the compliance process and are actively evaluating different routes to achieve compliance for your business. As a good next step, we invite you to contact us and have a chat with one of our compliance experts about the process, get tips on best practices, or get your doubts cleared.
Join Sprinto's 450+ satisfied compliance conquerors
Vimal Mohan
Vimal is a Content Lead at Sprinto who masterfully simplifies the world of compliance for every day folks. When not decoding complex framework requirements and compliance speak, you can find him at the local MMA dojo, exploring trails on his cycle, or hiking. He blends regulatory wisdom with an adventurous spirit, navigating both worlds with effortless expertise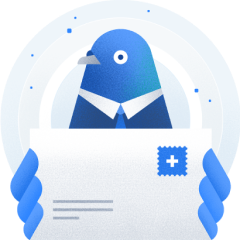 Subscribe to our newsletter to get updates
Schedule a personalized demo and scale business
Subscribe to our monthly newsletter

Sprinto: Your growth superpower
Use Sprinto to centralize security compliance management – so nothing
gets in the way of your moving up and winning big.