ISO 27001 Training Program [How to get started]
Srividhya Karthik
Apr 14, 2023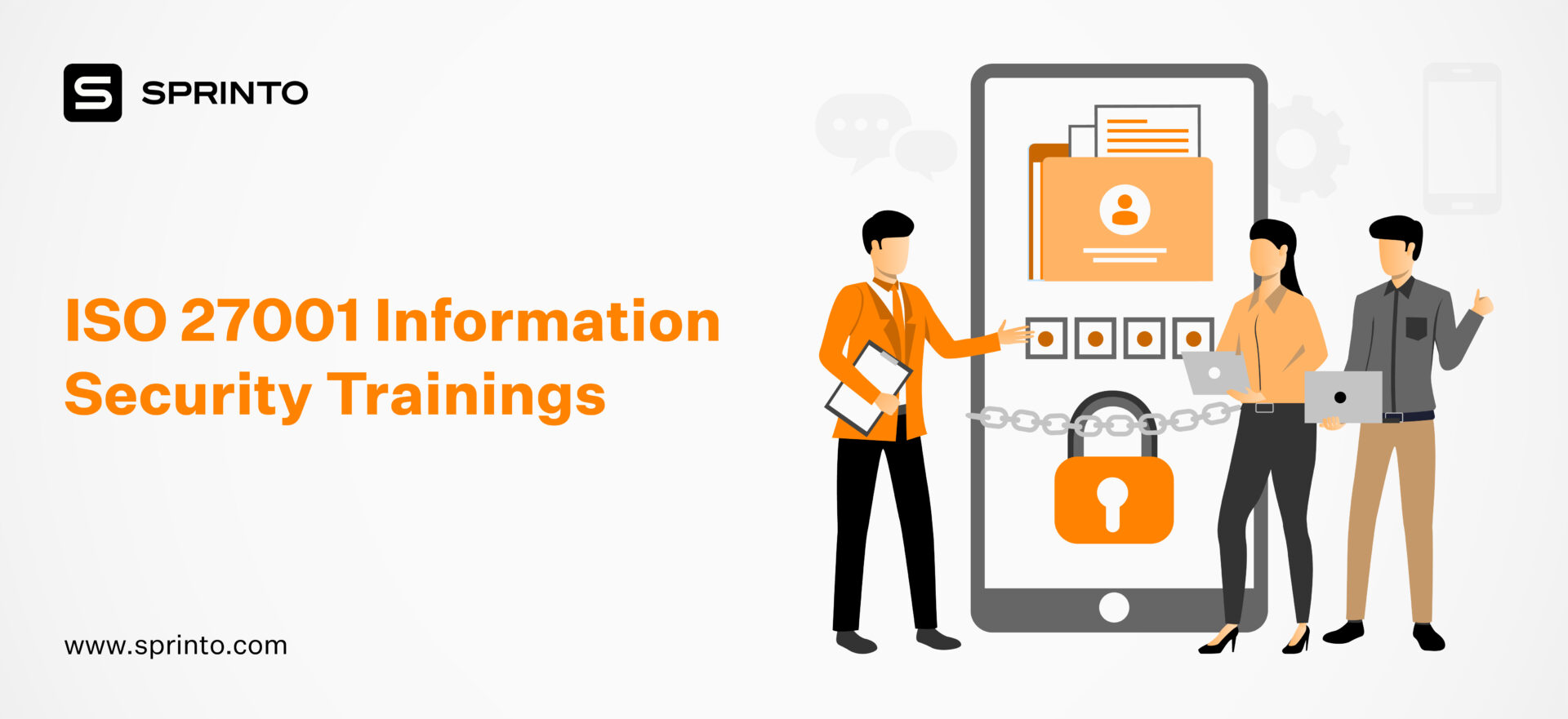 Like it or not, your employees are your first line of defence in the event of cyber attacks, data breaches, and hacks. You must, therefore, never shy away from investing in establishing a robust organization-wide security culture. Whether you are implementing ISO 27001 or are already certified, investing in building a security-savvy workforce will generate returns many times over.

In this article, we have answered some of the oft-asked questions related to ISO 27001 training requirements and lined up some must-have features for the training program you eventually implement.
What is ISO 27001?
ISO 27001 is part of the ISO/IEC 27000 family of standards designed to help organizations keep information assets secure. The International Organization for Standardization (ISO) developed this standard in 2005 in partnership with the International Electrotechnical Commission (IEC) to aid organizations in adopting an Information Security Management System (ISMS) to protect their information systematically and cost-effectively.
The purpose of ISO 27001 is the preservation of confidentiality, integrity and availability of critical business information. The framework defines the requirements and controls for systematic information protection through a mix of policies and processes. The process involves identifying potential threats to an organization's information through risk assessment, and then managing those risks by implementing security controls. It comprises ten clauses and 114 security controls (grouped into 14 sections in Annex A).
Organizations of any size and industry can get ISO 27001 certification to protect their information. The current standard was updated in 2013.
What should your ISO 27001 Awareness Training Program include?
In your ISO 27001 certification journey, you would have defined the scope of your ISMS, identified and assessed your information security risks, and crafted a risk treatment plan for them. You would have also readied your Statement of Applicability (SOA). You can refer to the ISO 27001 checklist for a detailed overview of the steps involved.
Having ticked off some of the critical steps in your ISO 27001 compliance journey, you are now at employee awareness and security training. As we mentioned earlier, this is an equally crucial step. Important how? It doesn't matter if you have the best security controls in place if your employees aren't educated and aware of them. Your people will implement, run, and maintain your ISMS, and the importance of training them on security best practices perhaps cannot be overemphasized.
Requirement 7.2.2 of ISO 27001 states: "All employees of the organization and, where relevant, contractors and third-party users should receive appropriate awareness training and regular updates in organizational policies and procedures, as relevant for their job function."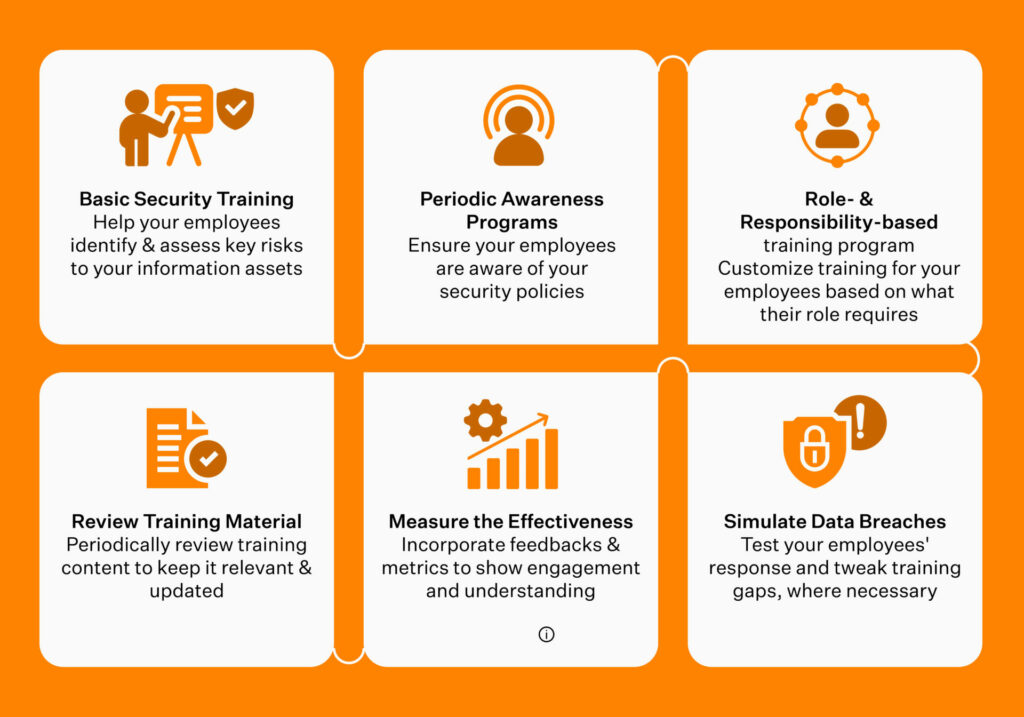 Here are some of the must-haves in your security program:
A basic security training program that helps your employees identify and assess the key risks to some of your most valuable information assets
Periodic awareness programs for employees on your organization's various security policies and processes. This includes responding to some of the common risks your organization faces.
Role- and responsibility-based training programs. For instance, staff that are involved in the implementation of security may need to be trained on the specifics of the framework.
Regular review your training content to ensure it is updated and relevant for your organization.
Incorporation of metrics to show engagement and understanding of the content such that it allows for retraining or suitable tweaks to the training content.
Simulate data breaches to test your employees' incident response and processes to be followed thereafter.
How do I get started with training ISO 27001?
Now that enough's been said about why ISO 27001 and the importance of security training, let's look at how you can start the process.
Talk to your staff and understand what they know and don't
Before creating a security training program, you must establish where your employees are regarding knowledge and awareness of security practices. You can use a security awareness questionnaire to assess the risks. Doing this will help you roll out a program they really need to act as the security moat of your organization.
Create a Security Training Requirements Docket
Use your risk assessment and risk treatment plan to list down high-risk areas for your organization. Juxtapose it against staff awareness level, and create a security training requirements docket.
Schedule it ahead of time
When you eventually roll out the security training program, consider the different employee roles and responsibilities and accordingly schedule it ahead of time. You should also schedule these programs regularly so new employees and contractors can attend them.
In terms of designing the security program, you have a couple of options.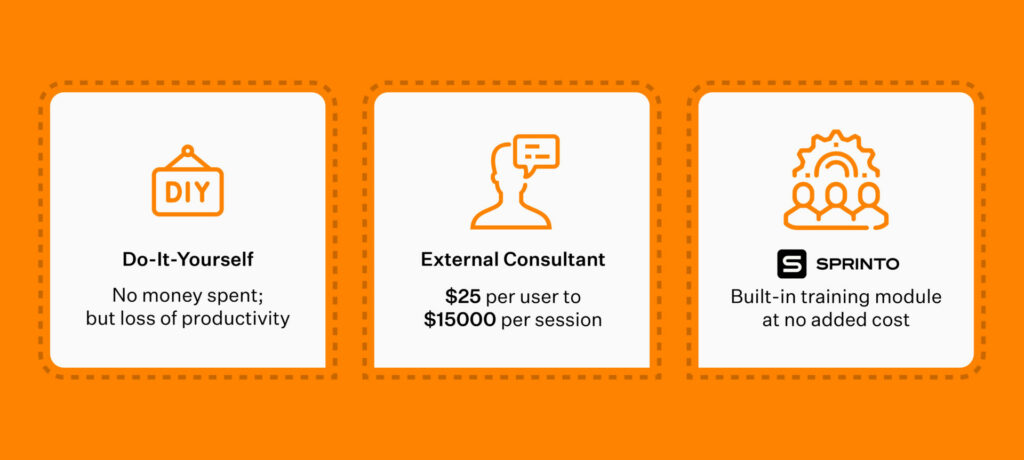 Do-it-Yourself – You could set up an internal team to spearhead the program and ensure its execution and updation. While it will not cost you at all, there will be an opportunity cost in terms of loss of productivity of the team you put on the job. Remember, this would be on top of their regular work responsibilities. Alternately, you could also put your internal auditors on the job. That said, employing a security professional of any kind could make it expensive.
Contract External Training Consultant/Agency – Most organizations use this. While this isn't remarkably inexpensive, at least it doesn't come in the way of your key employees' work. The fee is broad-ranged here. While some may charge you about $25 per employee per session, some charge $15000 as a one-time charge. You also have online self-paced employee security awareness and training modules customizable per your ISO 27001 requirements. Popular e-learning platforms also offer ISO 27001 lead auditor training, risk management training, foundation training course and internal auditor course, among other things.
Use built-in security training programs baked in compliance automation tools like Sprinto – Sprinto is built with basic security training and framework-specific security training modules at no added cost. Sprinto ensures the content is updated and relevant. Moreover, Sprinto gives you detailed visibility on which employee(s) haven't yet undertaken their security training. And collects evidence of compliance automatically in exchange for you doing absolutely bupkis.
So should you invest in training for information security management and ISO 27001?
The answer is both a yes and a no. Yes, you should invest. And no, you shouldn't invest any amount of money. There's a lot to be said. Let's tackle the reasons one after the other.
Employees Aware, Cyberattackers Beware
As cheeky as that sounds, it's what it is. You can decisively add to your security strength by conducting periodic infosec training for your employees. The result? Your employees can ward off many attacks simply by being security aware.
Build Internal SMEs
If you are a small business, you could start with having a select employee(s) undergo ISO 27001 Lead Auditor training. Instead of going for a professional certification course, you could consider self-paced online training courses that offer the training for free without a certification.
While there is no rule in terms of how much you should invest in training, a good practice here would be to base the decision on the budget you have put aside as ISO 27001 certification cost. There are many cost heads in the process, and security training is one of them. Base the decision on your total budget, the growth stage of your organization, the industry you operate in and the prevalent cybersecurity risk.
Benefits of ISO 27001 Information Security Management
ISO 27001 Information Security Management is the foundation of a secure information system, and it can help your business achieve: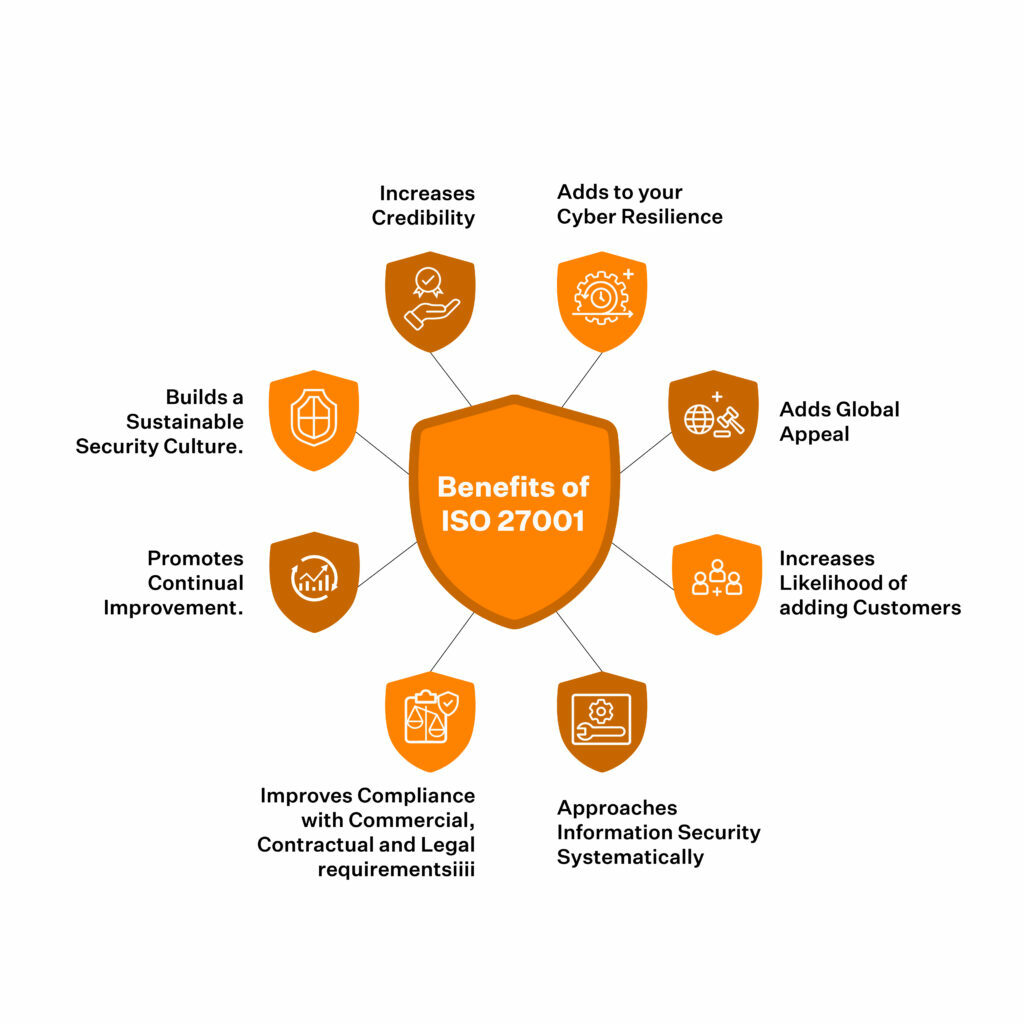 Increases Credibility. When you are an ISO 27001-certified organization, your customers and prospects will know you are serious about security. It helps establish trust and retain customers.
Adds to your Cyber Resilience. Implementation of ISO 27001 standard ensures that you have a globally accepted level of security effectiveness in terms of the processes, policies, and controls to protect your organization against data threats.
Adds Global Appeal. ISO 27001 is known and accepted internationally. Besides, the framework has much in common with other frameworks such as SOC 2 and GDPR, which makes it easier for you to add to your compliance kitty at a later date.
Increases Likelihood of adding Customers. The ISO 27001 certification can add to your competitive edge, attract new clients and turn them into loyal customers. Why not? Everyone wants to work with trustworthy people!
Approaches Information Security Systematically. Improved documentation toolkit, well-defined processes and policies, and response management to imminent threats help your organization not lose sight of its security posture even as you grow.
Improves Compliance with Commercial, Contractual and Legal requirements. The last domain in the ISO 27001 controls (A.18) ensures that your organization identifies the applicable laws and regulations such as IPR, protection of PII, privacy and abides by them. It also ensures you have a risk mitigation plan in place (risks from non-compliance and penalties).
Promotes Continual Improvement. ISO 27001 is designed to continually improve and keep pace with the latest technological changes. Compliance with the standard ensures you are too.
Builds a Sustainable Security Culture. ISO 27001 mainstreams the organization-wide security culture and educates and empowers your people as the frontline defence in any cyber attack, breach, or hack.
One-stop Solution to ISO 27001 Training
Sprinto has solved the problem of plenty for you by integrating ISO 27001 security training module with its platform. When you sign up for Sprinto as your compliance platform, you get access to updated security programs that you can use to educate and train your workforce. You also get an intelligently automated solution that will make getting compliance a breeze.
Book a demo with us today to learn more about everything Sprinto can do for you!
Srividhya Karthik
Srividhya Karthik works as a Content Lead at Sprinto. She hopes to simplify compliance and make it interesting with the power of content. You can reach her at srividhya@sprinto.com.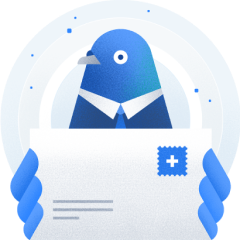 Subscribe to our newsletter to get updates
Schedule a personalized demo and scale business
Subscribe to our monthly newsletter

Sprinto: Your growth superpower
Use Sprinto to centralize security compliance management – so nothing
gets in the way of your moving up and winning big.