Information security compliances such as ISO 27001 have been accorded a quasi-mystical status, mainly led by a lack of understanding. The security management framework is either reduced to a simple checklist (when in fact, the opposite is true) or it is made out to be an extremely complex and unattainable security standard. The truth, like everything else in life, lies in the middle. Yes, it isn't straightforward, but it's earmarked against best world practices. If you are considering getting ISO 27001 certified, fret not. You can seek the professional help of an ISO 27001 consultant.
Who are ISO 27001 consultants? And why do you need them? In this article, we tell you all this and much more. Know how to select an ISO 27001 consultant, the pitfalls you must avoid, and the benefits and drawbacks of hiring a consultant.
But first, let's get a basic understanding of the ISO 27001 standard.
What is ISO 27001 Compliance?
ISO 27001 is an internationally recognized standard that defines best practices for a company's information security management system (ISMS). It is designed to ensure organizations follow security management best practices by deploying comprehensive ISO 27001 controls.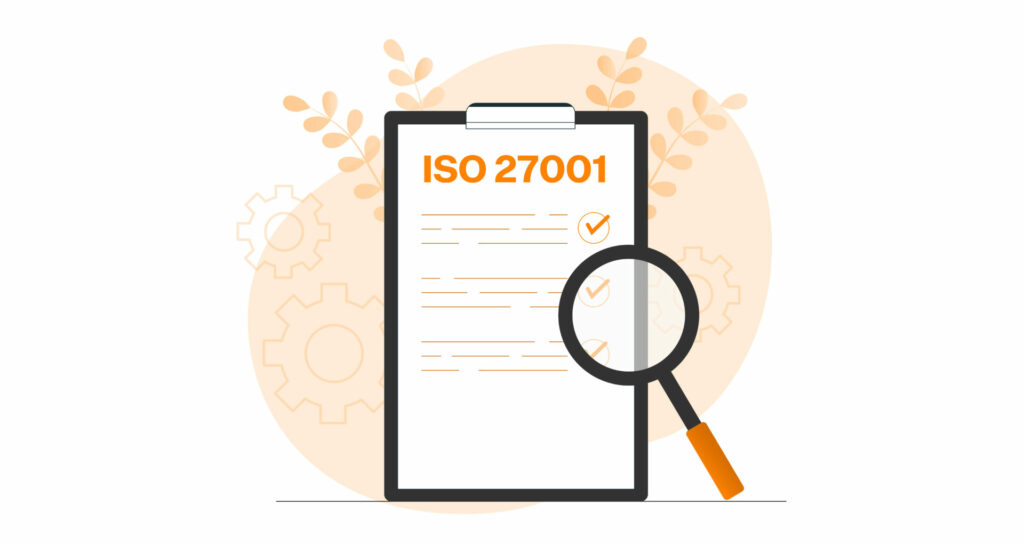 ISO 27001, however, only tells you what to do; it doesn't tell you how to do it. Therefore, it does leave ample wiggle room for interpretation and execution. You can leverage this using ISO 27001 consultancy services by working with security experts (or security consultants) who understand the ISO 27001 landscape as well as the infosec requirements of your organization.
ISO 27001 Requirements and ISO 27001 Checklist
Preparing for ISO 27001 certification can get complicated if you approach it without a plan. The best way to approach it is first to understand the ISO 27001 requirements.
ISO 27001 has ten management system clauses that are mandatory to meet for successful certification. It also lists 114 information security controls in Annex A. These controls define the baseline security level against which will measure your organization's security compliance during the ISO 27001 audit. That said, you should know that not all the 144 controls in the ISO 27001 controls list are mandatory.
Typically, an ISO 27001 risk assessment exercise will help you determine which controls must be deployed and which needn't. If you are excluding certain controls from this list, you must document with evidence the reasons for the same.
Here's a nifty checklist that will give a sneak peek into the mountain of tasks that must be completed to achieve your ISO 27001 certification.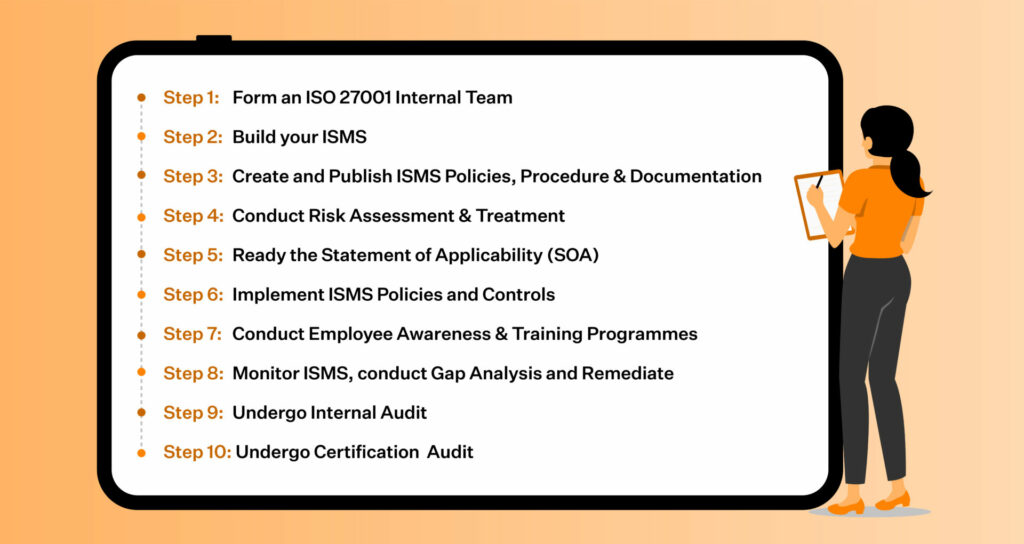 As you can see, the ISO 27001 checklist is a step-by-step implementation guide to procuring your ISO 27001 certificate. Each step requires meticulous documentation and the know-how to establish the core controls and principles of your organization's business model for information management.
Some of the security controls you can deploy to security awareness training, access control, penetration tests (ethical hacking), and vendor risk assessments, among others.
What do ISO 27001 Consultants do?
Before you decide whether you should hire a consultant or not, you must know what ISO 27001 consultants do against the backdrop of the ISO 27001 implementation guide.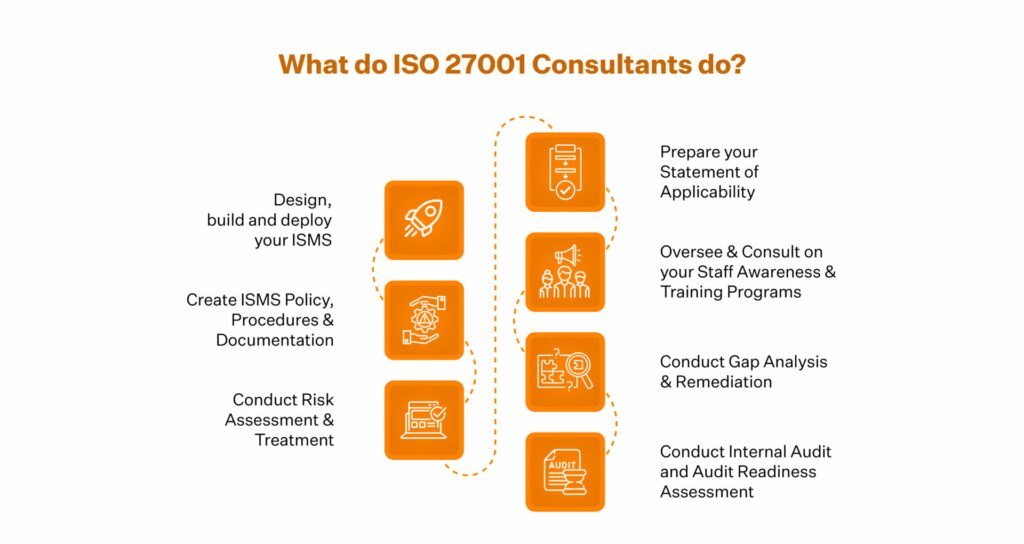 Design, build and deploy your ISMS
The external consultant will help you define the scope, design, and implement your ISMS. With a working knowledge of the ISO standard, they will be able to tailor your information security management system to meet your security assessment and requirements as well as that of the framework.
You must nonetheless allocate in-house resource(s) to work with the consultant. Since each business is unique and handles different types of data, your team's involvement in the process will ensure the ISMS is built to protect the kind of service, product, or platform that's specific to your organization. you have to protect before you build an ISMS.
Creation of ISMS Policy, Procedures & Documentation
As we mentioned earlier, ISO 27001 is heavy on documentation. It requires organizations to set up policies, procedures, and deploy controls to mitigate data security risks to their ISMS. ISO Consultants typically help draft these policies and procedures in organizations. And thanks to their professional consultancy expertise, they can even help you tailor it to meet your organization's specific needs.
Policies on vulnerability management, cyber incident response, business continuity management, and vendor due diligence are some of the measures your cybersecurity consultants will draw up to bolster your security architecture while they implement an ISMS.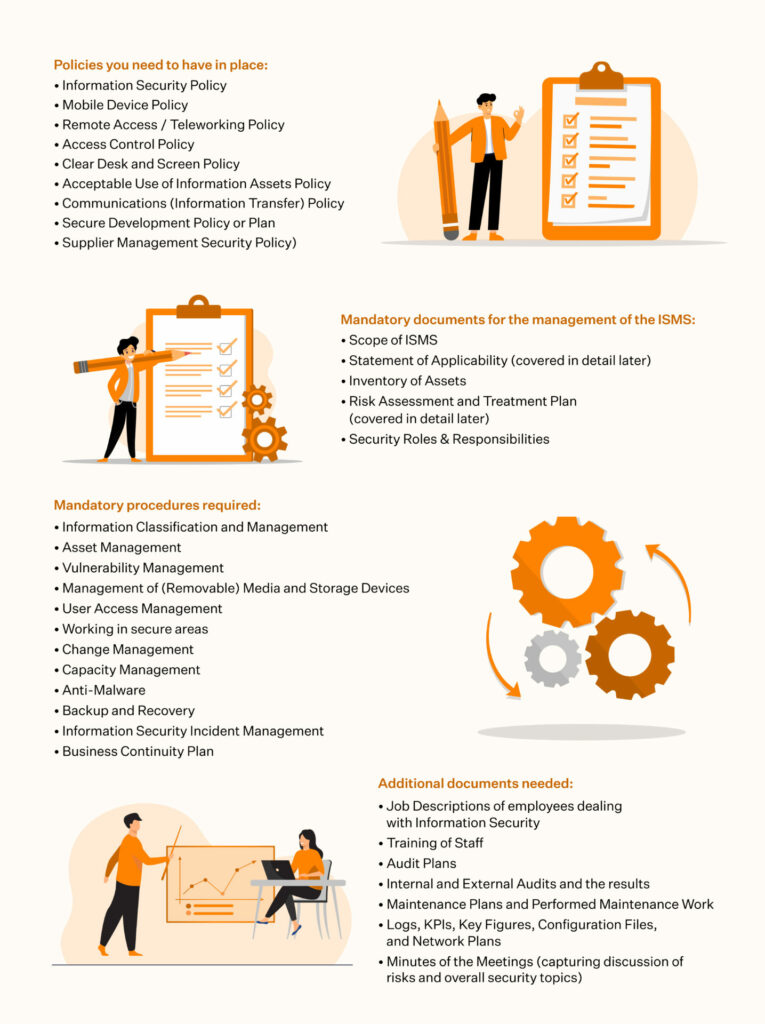 Conduct Risk Assessment & Treatment
Risk assessment is an integral part of becoming ISO 27001 compliant. And ISO 27001 consultants play a crucial role in conducting internal risk assessments of your assets and systems. They help point out and identify the risks to the confidentiality, integrity, and availability of your information assets by assigning a probability of their likelihood and ranking their impact levels (high to low), in consultation with your team and management. They can also help conduct your vendor risk assessment.
Having a consultant on board can help you identify the right risk treatment plan for the prioritized information risk for different assets (based on risk ranking). With the working knowledge of Annex A of ISO 27001, which specifies 114 controls across 14 groups, a consultant can help you fasten and failproof your processes and documentation here.
Consultants also help build your risk treatment plan document, which is intently reviewed during your certification audit.
You will, however, do well to remember that you can't eliminate all your risks. And, therefore, your consultant must also help you design a plan in case of a data breach, cybersecurity attack or any other 'risky eventuality'. Your risk treatment plan must include a well-thought-out incident response to ensure business continuity.
Prepare your Statement of Applicability
The Statement of Applicability (SOA) is another critical document that a consultant helps you prepare for certification. For the uninitiated, SOA is a list of all of the controls from Annex A that apply to your organization, and contains the controls mapping vis-a-vis identified risks with justifications for the inclusion and exclusion of controls.
Oversee & Consult on your Staff Awareness & Training Programs
Consultants can also weigh in on your ISO 27001 security awareness training programs, and review if your programs are comprehensive and meet the ISO 27001 standard requirement.
Requirement 7.2.2 of ISO 27001 states: "All employees of the organization and, where relevant, contractors and third-party users should receive appropriate awareness training and regular updates in organizational policies and procedures, as relevant for their job function."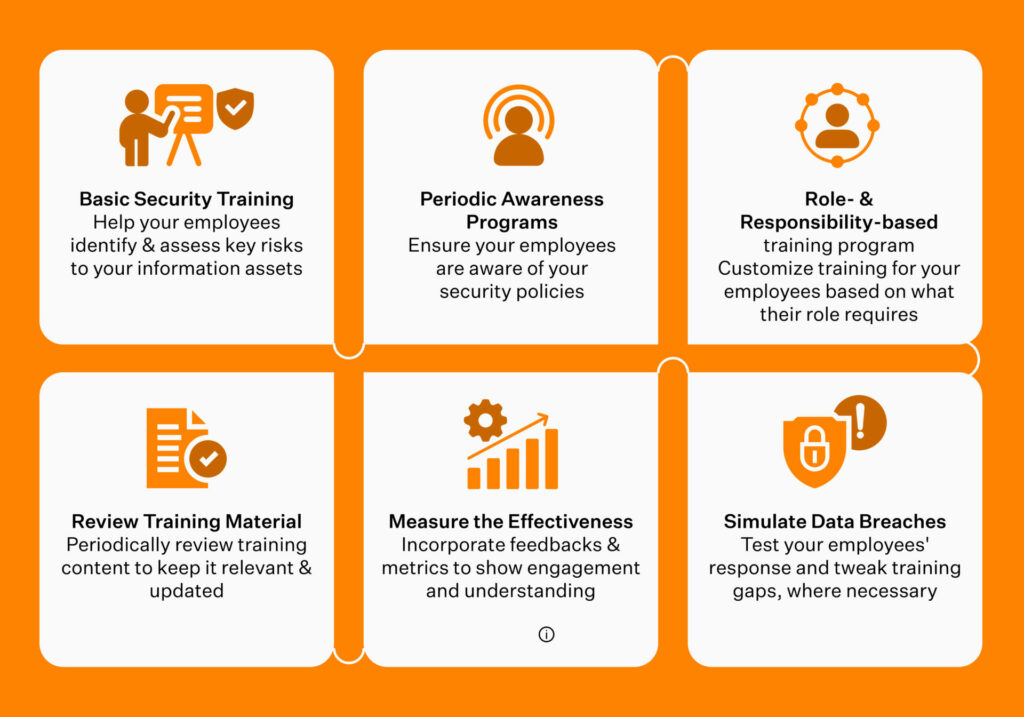 Conduct Gap Analysis & Remediation
Once your ISMS is up and running, your ISO 27001 consultant monitors and reviews it, and conducts gap assessments and remediation based on the review results. They help ensure continual improvement to maintain the robustness of your ISMS.
Consultants also help collect evidence of compliance to the standard; your much-needed documents during ISO 27001 audit.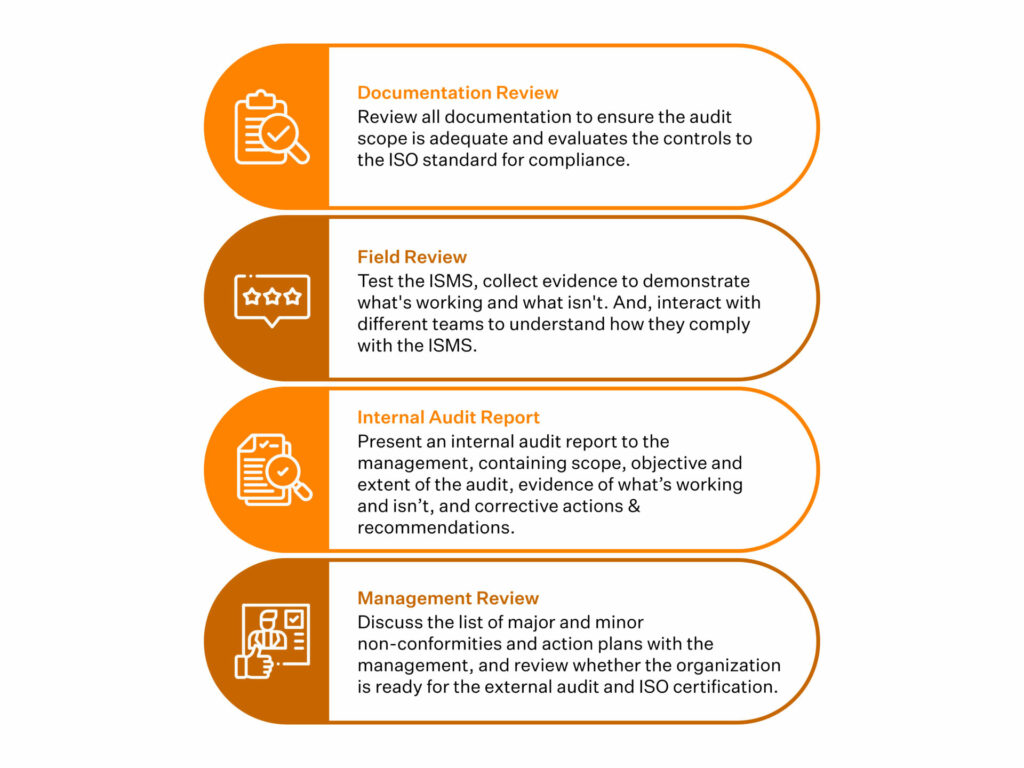 Conduct Internal Audit and Audit Readiness Assessment
Based on your hiring needs and contract, consultants can also conduct internal audits (a much-needed step in your ISO 27001 journey). Internal audits are like a reconnaissance before the external audit. Your consultant will look for gaps, non-conformities, and vulnerabilities, and assess your ISMS performance and review your documentation. Based on their findings, they will produce an internal audit report.
Benefits of ISO 27001 Consultant Services
Now that you have an understanding of what ISO 27001 consultants can help you with in your certification journey, let's chalk down the benefits of hiring one.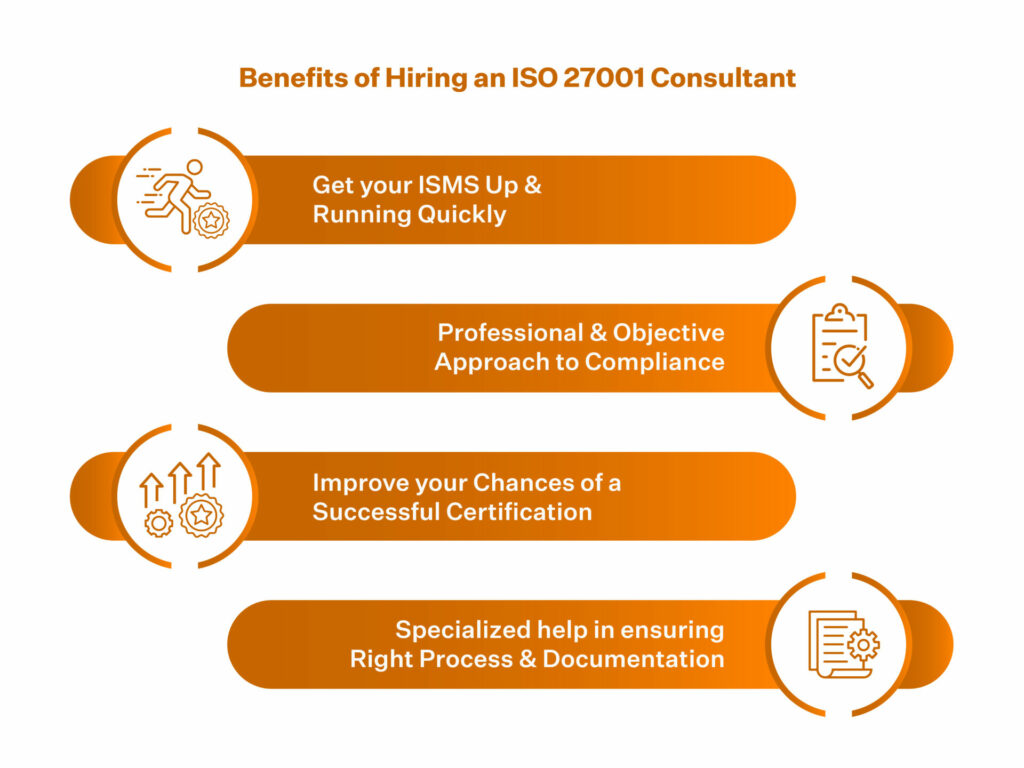 Get your ISMS up and running quickly
ISO 27001 consultants come with the exact know-how to get your ISMS up and running as quickly as possible. From policy creation to plugging control gaps, their extensive experience in building ISMS can be very useful to you. Consultants also help streamline other certification processes and systems in the run-up to the audit.
Professional & objective approach to compliance
Having helped many organizations get compliant, consultants bring in the much-needed professional expertise and understanding of the standard. Instead of guessing how to interpret and implement the many nuances of the ISO 27001 standard, you can benefit from the consultant's objectivity to the entire process and strengthen your security postures.
Improve your chances of a successful certification
The ISO 27001 standard requires much planning that stems from understanding the requirements of the security framework. While you can achieve a successful certification if you put an internal team on the job, you improve your chances of a successful and faster certification when you work with a consultant.
Having a consultant on board helps you leverage their knowledge base to your advantage. They bring in accuracy and specificity to ensure your organization is set up for success.
Save your team's time and resource
As we mentioned earlier, organizations can manage their ISO 27001 compliance in-house. After all your teams have put together your kickass products and services; compliance can't be an impossible feat for such bright minds.
That said, you don't want compliance to take up a chunk of your engineering leadership's time. Time spent on getting audit ready is the time they could have better spent on scaling your product!
Specialized help in ensuring the right process & documentation
ISO 27001 requirements are document-heavy, and oversights at any stage can risk minor and major nonconformities during the audit. Having the specialized review and documentation toolkit, nuances of risk assessment and risk treatment, and internal audits ensure you enter the audit wholly prepared.
Consultants also conduct readiness assessments and prep you to understand what to expect in a security audit. So, you are in the know of the process the entire time.
Drawbacks of hiring ISO 27001 Consulting Firms
While there are many benefits to having an ISO 27001 consultant, you must know that it can also have its drawbacks. Here's what you need to know: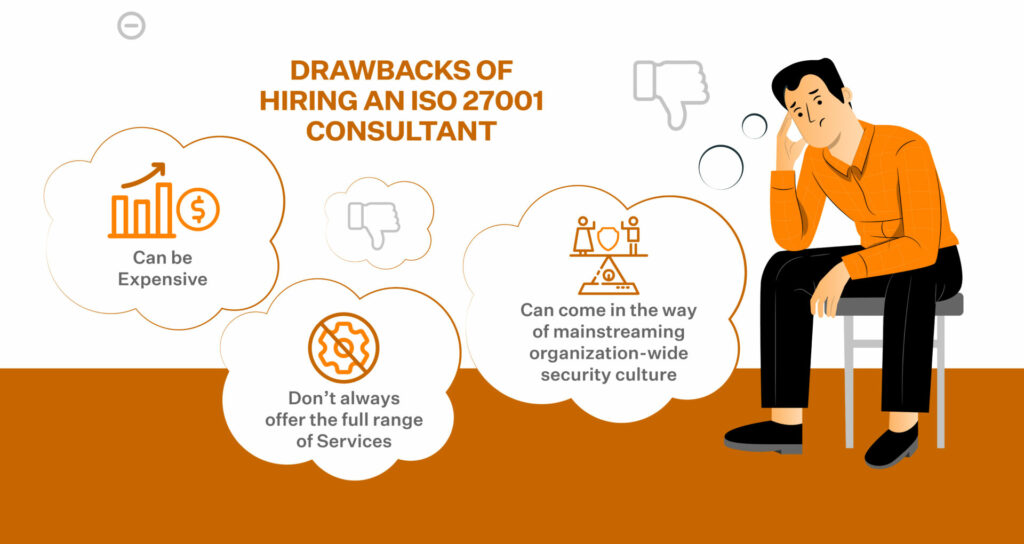 Can be Expensive
Consultants come at a cost. Depending on their experience and credentials, a consultant could charge you roughly $10000+. Again, a lot will also depend on the complexity of your organization, the ISMS, and the extent of work required of the consultant.
Remember, compliance is an ongoing process, and ISO 27001 certification needs periodic surveillance audits every year and a recertification audit every three years. So, it's best you go prepared to shell out a chunk of your greenbacks, and some.
Don't always offer the full range of Services
While we have listed down all that a consultant can help you with, not all of them do everything. Also, you may not always find a consultant with experience in your field. Besides, there is always a risk that they may not fully understand your tech-centred product or service, and as a result, risk compliance oversights.
Can come in the way of mainstreaming organization-wide security culture
Outsourcing your compliance efforts can come in the way of enterprise security awareness and culture in your organization to the select few who work with the consultant. This, however, is an easily navigable drawback.
Adopting a top-down approach and mainstreaming security as an organizational culture can quickly help you overcome this.
Do You Need ISO 27001 Consulting?
Coming to the right decision here may seem difficult. Your decision to hire a consultant also rests on finding the right consultant with the right set of expertise to help your organization.
But fret not. Here's a list of questions to help you through this process; to know the what, why and when of this critical hiring process.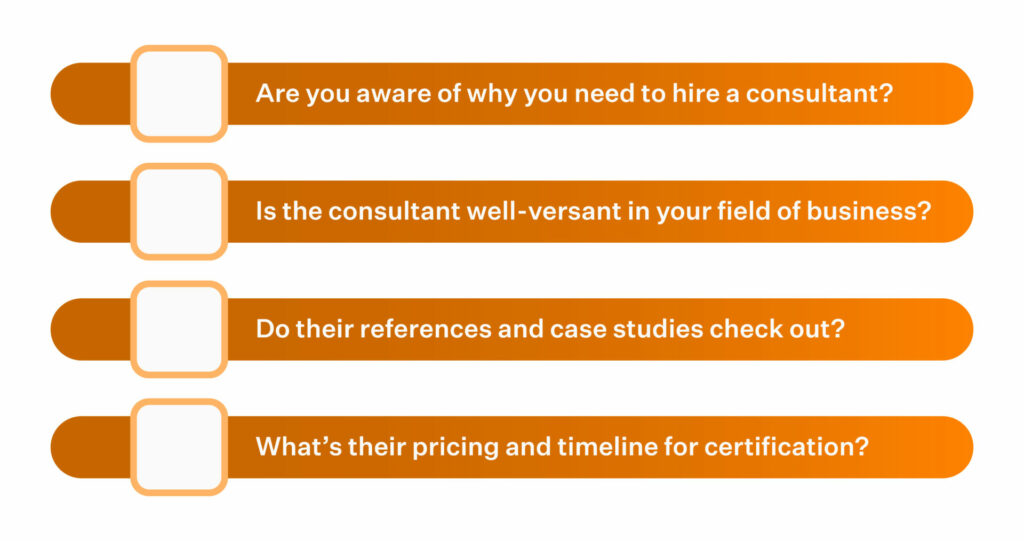 Are you aware of why you need to hire a consultant?
The exact reasons don't matter as long as you know the whys and have management buy-in for the same.
Is the consultant well-versant in your field of business?
Information security is an up-and-coming field. If your consultant has the wherewithal to marry their knowledge of the standard to your field of business, they make a good hire.
Every organization is different. A good consultant should be able to tailor the security policies, procedures and systems, and the ISMS to meet your specific needs and that of the standard.
Do their references and case studies check out?
Much like the background check you do for your new hires, you should also do a background check for your ISO 27001 consultants. Check their credentials, experience, client references, and success rates in taking organizations through their audits and certifications. Trust us, you don't want a greenhorn, or someone who's not had much success in helping their clients get certified.
What's their pricing and timeline for certification?
You want a consultant who meets all your must-have criteria and is within budget. Compliance is a long-term investment and is result-based. Discuss these details with your potential consultant before hiring them. Another critical factor to consider is the timeline they state to get you audit-ready.
Even though it's just an estimation, working with a milestone-based timeline will help avoid project overruns and additional costs.
Get the Advantage of a ISO Consultant at a Lower Cost and Faster Timeline
Sprinto offers a consultative approach to compliance automation such that you get the best features of working with a consultant but at a lower cost and faster timeline. What's more, it can be tailored to meet your organization's specific needs.
ISO 27001 certification costs can be prohibitive when you adopt a DIY approach or work with a consultant. Sprinto solves that problem for you.
Sprinto helps define the scope of your ISMS, gives you an editable list of field-tested robust information security policies, deploys entity-level checks, implements enterprise risk assessment and treatment plan, readies your SOA, implements infosec training programs for employees, and more. It also sets up continuous monitoring of your system for compliance with proof, and alerts you when something isn't done or done incorrectly. And did we mention you can get audit-ready with Sprinto in weeks? Achieving certification is a holistic experience when you work with Sprinto.
Read about how Capptions, a Netherlands-based EHS management software provider, secured their ISO 27001 certification 3x faster with Sprinto than when they had previously worked with an ISO consultant.
Book a demo with us and learn about how Sprinto can help you.