Keeping PHI Secure: Quick Guide on HIPAA Covered Entities
Anwita
Feb 16, 2023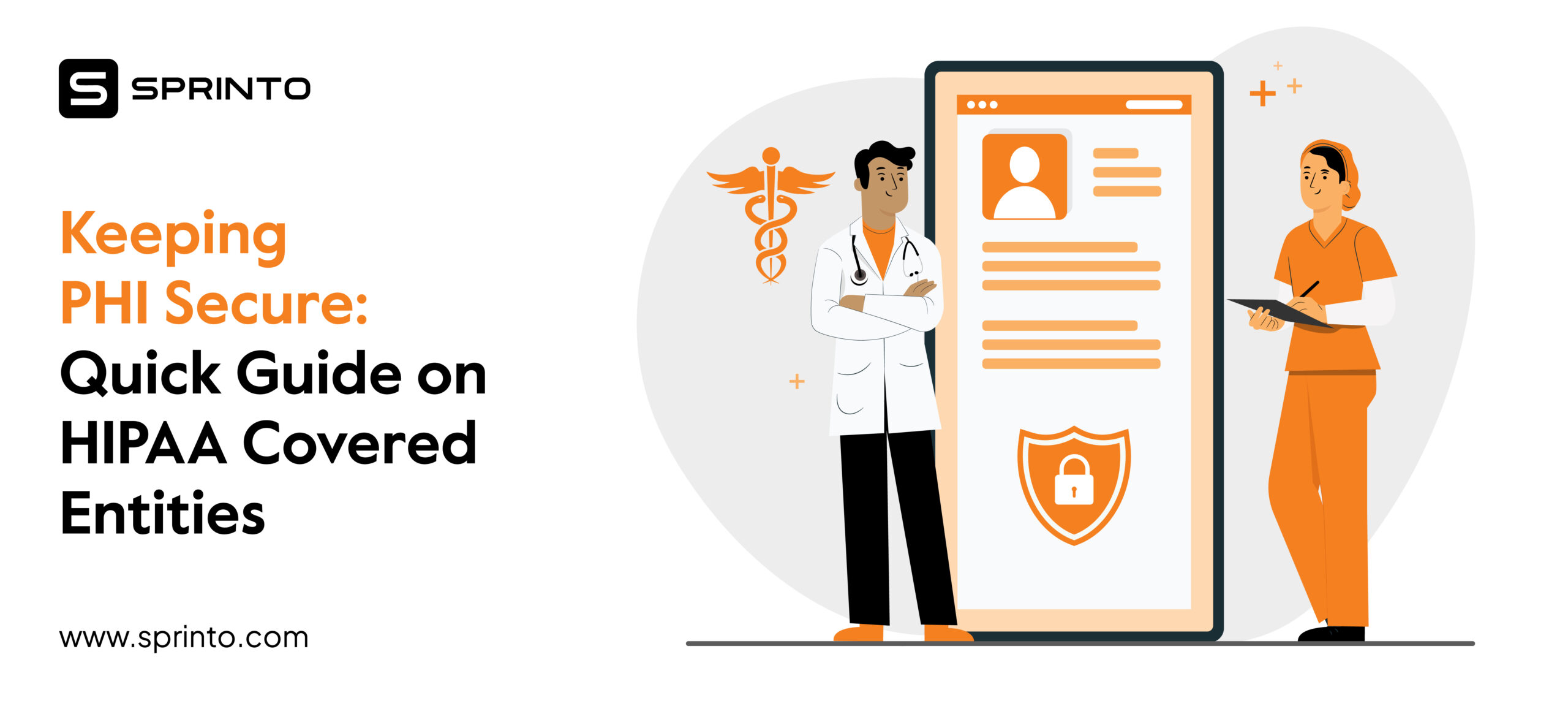 If you own a healthcare business or provide a service to one, you probably handle and manage patient data. While easy access to patient data is crucial to optimize care services, it is equally important to ensure that it does not end up in the wrong hands or accidentally leak. The Health Insurance Portability and Accountability Act of 1996 (HIPAA) holds care providers and their service producers accountable by enforcing a number of regulations.
As more healthcare organizations or covered entities are facing expensive lawsuits due to data breaches, they can no longer afford to ignore patient privacy rights.
If you work in the healthcare industry, chances are you qualify as a HIPAA covered entity – which means you must comply with its regulations. In this article, we define HIPAA covered entities, analyze their rights, and the rules they should comply with.
Don't let the complexities of HIPAA worry you!
What is a HIPAA covered entity?
HIPAA covered entities are health plans, clearinghouses, and healthcare providers who transmit protected health information in electronic format (ePHI). These entities transmit data as regulated by HIPAA.
Covered entities can use and disclose ePHI for payment, treatment, and operations. They must comply with the HIPAA privacy rule to protect and secure the privacy of patient health information. Any individual or organization required to comply with the administrative rules (security, privacy, and breach notification) are referred to as HIPAA covered entity.
Let's understand them in detail.
Health plans
Includes individual or group plans that provide or cover medical care.
Exceptions to health plans include:
Group health plans with less than 50 individuals whose employer is not a covered entity.
Government-funded programs that do not cover or provide health care, like food stamps.
Government-funded programs that directly provide health care, like community health centers, or collect funds for the provision of healthcare.
Insurance entities that provide only worker compensation, automobile insurance, or casualty insurance.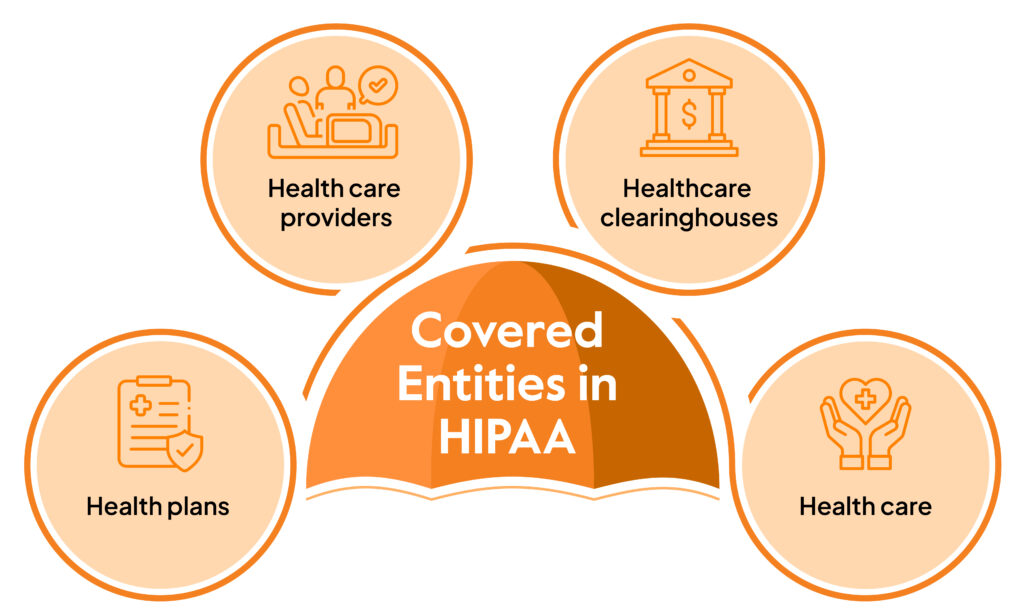 Health care providers
Services of every size that provide health care and transmit health information electronically connected to certain transactions qualify as covered entities. Examples of such transactions are:
Claims
Benefit eligibility inquiries
Referral authorization requests
Transactions that fall under HIPAA transaction rule
However, using electronic means such as e-mail does not automatically qualify the healthcare provider as a covered entity. This is because the transmission must be connected to a standard transaction.
The HIPAA privacy rule covers both types of healthcare providers – those who transact using billing services or third-party service providers.
Healthcare clearinghouses
A healthcare clearinghouse is any entity that processes non-standard information standard one or vice versa.
In most cases, these entities receive Personally Identifiable Information (PII) when they provide a processing service to health plans or healthcare providers. The healthcare clearinghouse qualifies as a Business Associate (BA) in such cases. This also makes them liable to specific provisions of the privacy rule on their use and disclosure of PII.
Health care
Any care, service, or medical supply that affects an individual's health or body function qualifies as health care.
You can download this free tool and checklist to know if you are a covered entity.
Download your Covered Entity Checklist
HIPAA covered entity rights
The privacy rule extensively covers patient rights over their health data and how HIPAA covered entities should use it. At the same time, it seeks to balance out its usage in a way that enables covered entities to maximize care services while staying HIPAA compliant. Here are the rights you have as a CE:
Signed patient consent requirement: You do not need authorization in the form of signed consent from patients if you share health data for treatment.
Incidental disclosure elimination: There is no need to eliminate all incidental disclosures as it is impractical. Incidental disclosures don't violate privacy rules as long as you have policies to sufficiently protect and limit us and disclosure of PHI.
Communication with the patient's family: If you have the patient's authorization, you can:
Share patient information with their friends, family, and other concerned individuals.
Notify family members or any person responsible for the patient care about their location and health condition.
Share information when the patient is incapacitated if that is in the best interest of the patient.
Patient visit and contact: As long as the patient does not object, care centers can share phone number, room number, health condition with family or friends, list it in the hospital directory, share it with those who call and ask for it, and share it with clergy affiliated to a religious institution.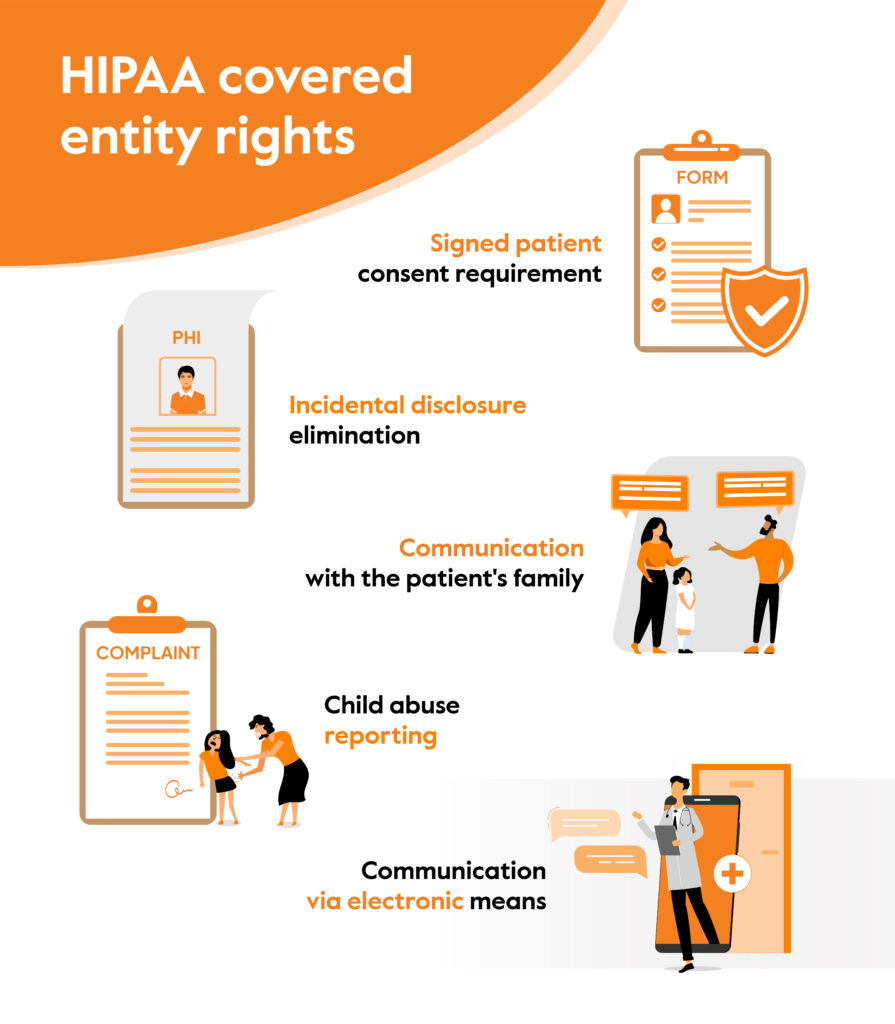 Child abuse reporting: Covered entities can report child abuse or neglect cases to appropriate authorities.
Communication via electronic means: The privacy rule allows you to communicate with patients or providers via e-mail, phone, or other electronic means using appropriate means to protect data.
Examples of HIPAA covered entity
Covered entities can be individuals, businesses, agencies, or organizations.
Health plans:
Health
Dental
Vision
Prescription drug insurers
Long-Term Care Insurers
Health insurance companies
Health maintenance organizations (HMO)
Health plans sponsored by employee
Government-funded healthcare programs such as Medicare, Medicaid, military or veteran health program
Government and church-sponsored health plans
Multiemployer health plans
Health care providers:
Doctors
Clinics
Psychologists
Dentists
Chiropractors
Nursing Homes
Pharmacies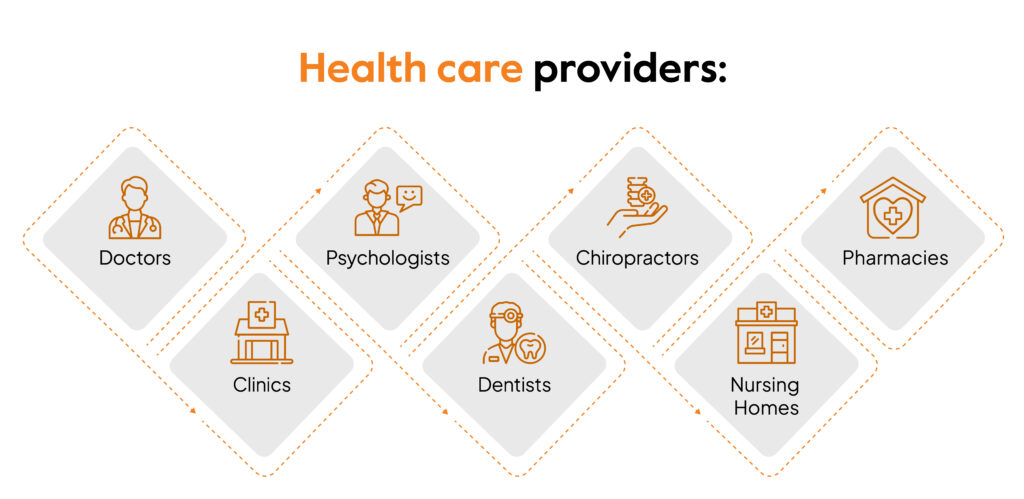 Health care clearinghouses:
Billing service providers
Repricing organizations
Community health management information system
Additionally, researchers or physicians who conduct clinical studies or experiments that require them to transmit ePHI connected with transactions on which an HHS standard exists.
Health care: Care, service, or supply related to:
Prevention
Diagnostics
Therapy
Rehabilitation
Maintenance or palliative care
Counseling service assessment
Procedure concerning the physical, mental, or functional status
Conclusion
Running a healthcare business can be hectic. You never know where a security crack is sitting on your infrastructure, waiting for someone to take the wrong action and unleash the lawsuit monster.
Fortunately, there is a simple yet efficient solution for you. The Sprinto solution is a HIPAA compliance multi-tasker that has one job – to make your life easier.
With Sprinto, you monitor your environment nonstop for non-compliance. It alerts you when someone takes a risky action or when a breach is waiting to pounce on you. Additionally, it trains your employees to turn them into HIPAA soldiers – so that everyone contributes to your security and is not a liability.
Join Sprinto's 450+ satisfied compliance conquerors
We can help you breeze through your HIPAA journey. Speak to our experts today.
FAQs
Who is not a HIPAA covered entity?
Individuals, businesses, or service providers who do not transmit patient health data electronically or do not qualify as healthcare providers, health care plans, or healthcare clearinghouse is not HIPAA-covered entity.
What are the exemptions from HIPAA?
The HIPAA privacy rule states that certain exemptions apply to covered entities. These are enforced when there is unintentional use or access of PHI, accidental disclosure to an authorized individual, and when disclosure of PHI in good faith.
Anwita
Anwita is a content marketer. Her love for everything cybersecurity started her journey into the world of viruses and vulnerabilities. With multiple certifications on cybersecurity, she aims to simplify complex security related topics. She loves to read nonfiction, listen to progressive rock, and watch sitcoms. She wishes to master the piano and learn unicycling. Reach her at anwita@sprinto.com.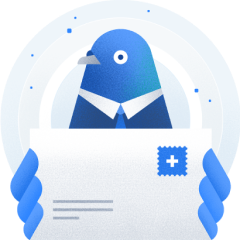 Subscribe to our newsletter to get updates
Schedule a personalized demo and scale business
Subscribe to our monthly newsletter

Sprinto: Your growth superpower
Use Sprinto to centralize security compliance management – so nothing
gets in the way of your moving up and winning big.