A patient's health and financial information are sensitive. The Health Insurance Portability and Accountability Act, or HIPAA, was passed to safeguard patients' Protected Health Information (PHI). The rules laid down by HIPAA are federal law and limit the use and disclosure of PHI by healthcare providers and related entities.
Failure to adhere to HIPAA rules can result in severe penalties, among other detrimental consequences. Hence it is crucial to understand the different types of HIPAA rules to take the necessary action to ensure your organization complies with them.
In this brief guide, we will discuss all types of HIPAA rules you must follow.
What are HIPAA rules?
HIPAA rules are a set of guidelines and regulations that lay down the national standards for safeguarding the privacy and security of a patient's health information. The rules are established to protect the confidentiality, integrity, and availability of electronically protected health information (ePHI). Moreover, HIPAA rules give patients certain rights regarding their healthcare information.
Who needs to comply with HIPAA rules?
The HIPAA rules apply to private hospitals, clinics, nursing homes, pharmacies, healthcare clearinghouses, medical discount providers, health insurance companies, healthcare financing partners, and other business associates.
The business associates that must comply with HIPAA rules are entities with access to patient health information, such as IT support, billing service provider, and so on. Everyone covered in the scope needs to implement safeguards under the rules of HIPAA to ensure the privacy and security of the ePHI.
Want to get HIPAA compliant quickly? Let's show you how it's done. See demo.
7 Different Types of HIPAA Rules

There are six different HIPAA rules that are addressed under HIPAA law. Let's check these out:
The HIPAA Privacy Rule
The HIPAA privacy rule is all about patients' right to privacy. The privacy rule outlines policies and standards to protect the confidentiality and security of patient's personal health information that healthcare providers and related entities handle. Personal health information includes names, medical records, contact information, financial information, etc.
As per the privacy rule, the PHI should only be shared with proper authorization. Healthcare providers and their business associates must treat patients' data carefully. Also, patients should be informed about how their PHI is handled and their rights regarding their healthcare details.
The HIPAA Security Rule
The privacy rule focuses on the usage and sharing of data, whereas the security rule is about how organizations can protect this data from unauthorized access. There are three different types of safeguards outlined in the security rule:
Administrative: The administrative safeguard focuses on security policies, processes, and staff that organizations need to have in place to stay HIPAA compliant. This means that healthcare providers should implement proper security controls to protect ePHI, conduct risk assessments, and train staff.
Technical: The technical safeguard focuses on limiting access to ePHI by introducing security policies for software, hardware, and technologies being used. This includes using antivirus, data encryption, audit control, etc.
Physical: The physical safeguard focuses on limiting access to the physical facility where ePHI is stored. For this, you need to implement security policies involving access to workstations, server rooms, routers, computers, and more. You also need intrusion detection alarm systems to secure the data physically.
The HIPAA Breach Notification Rule
A data breach can occur at any time, even after implementing safeguards and taking adequate security measures. That's when the breach notification rule comes into effect. This rule instructs organizations about how to act and what to do in case of a data breach. In brief, this includes:
Informing the affected individuals about the data breach via an official channel through mail or email within 60 days of discovering it.


If you don't have the contact information of more than 10 affected patients, you should post about the breach on the website for 90 days or publish about the same on a major news broadcast.


In case the number of affected patients crosses 500, you should inform about the breach through a public notice in a local news outlet.


The breach should also be reported to the Secretary of Health within 60 days of discovering it if the affected count is over 500. If less, then the notice can be provided annually.

The HIPAA Transaction Rule
Data sharing is crucial to the healthcare industry, whether about patients' medical histories or billing details. These data transactions can lead to potential data breaches or oversharing of patients' data. This is why entities are required to use standard electronic formats for healthcare-related data transactions.
Moreover, healthcare organizations and related entities should take necessary security steps to protect the integrity of ePHI while performing various transactions. This ensures that only authorized individuals have access to ePHI for legitimate uses.
The HIPAA Enforcement Rule
The HIPAA enforcement rule was added by the regulators in 2015 to expand on the privacy and security rules. The rule was introduced to increase the civil and criminal penalties for data breaches. Also, it mandates federal privacy and security breach reporting requirements.
It also establishes procedures for handling HIPAA violations and penalties accordingly.
Moreover, the rule stipulates that all new privacy and security HIPAA requirements should be included in the business contracts in the healthcare industry.
The HIPAA Identifiers Rule
Hackers, cyber threat actors, and other unauthorized individuals could impersonate healthcare personnel for an organization to access patients' sensitive data. The HIPAA identifiers rule was introduced to ensure that organizations only share PHI with legitimate organizations. Every organization should identify itself with a unique identification number to comply with the rule.
The identifiers have different configurations based on the type of service they offer, such as healthcare provider, employer, insurance provider, etc. This rule ensures that organizations only share the requested PHI with HIPAA-recognized entities. This way, the sensitive data will not fall into the wrong hands.
The Omnibus Rule
Enacted on January 17, 2013, the Omnibus Rule, previously known as the HIPAA final rule, was incorporated as an update to HIPAA regulations with the intension to bolster existing controls.
This rule expanded the definition of "business associate" to include entities that provide data analysis, management, and storage services to covered entities.
The penalties for HIPAA violations were increased from a maximum of $25,000 per violation per year to $100 and $50,000 per violation per year, with a maximum fine of $1.5 million.
New requirements for breach notifications were established including the requirement to notify affected individuals within 60 days of discovering a breach.
Modifications to the privacy rule included new requirements for obtaining individual authorization for certain uses and disclosures of PHI.
We've also laid down the complexities of Omnibus Rule.
Penalties in case of non-compliance with HIPAA Rules
There are certain fines if you break HIPAA rules. The exact fine or severity of the penalty depends on the nature of the violation. There are different deciding factors, such as whether the violation was intentional, lack of security, and so on. There are generally two types of penalties for breaking HIPAA rules:
Civil Fines: Failure to comply with HIPAA rules and regulations can result in civil fines of up to $50,000 per violation, based on the nature of the violation. Also, the fine goes to a maximum of $1.5 million per year per violation.
Criminal Penalties: In case of severe HIPAA violations such as willful neglect of security threats/violations or intentional exposure of patients' health information, the penalties include severe criminal fines and/or imprisonment.
This is why it is essential to have safeguards in place to protect healthcare information and avoid hefty fines and reputational damage.
Benefits of Following HIPAA Rules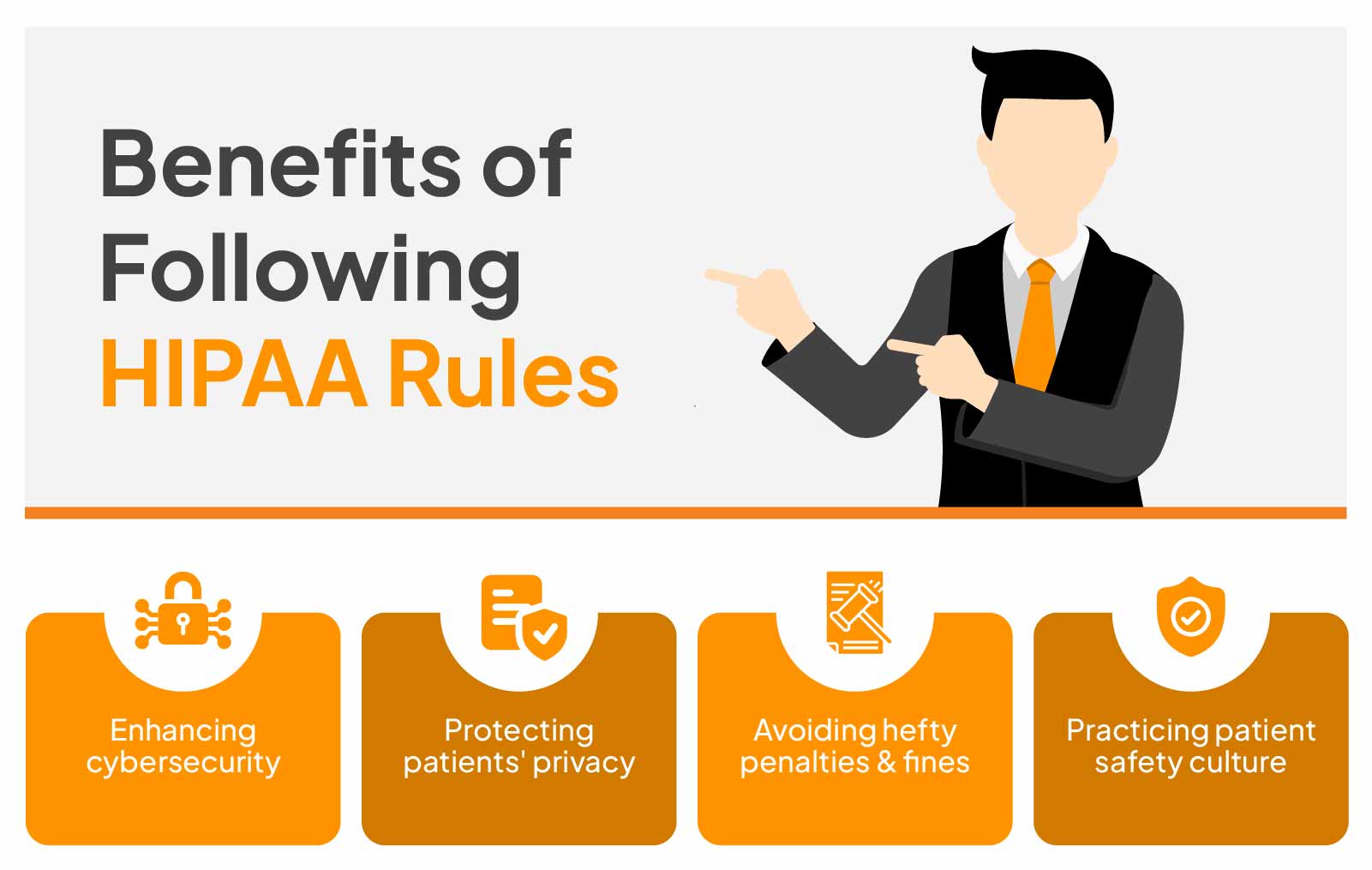 Following HIPAA rules will surely help you dodge hefty penalties. But there are other benefits apart from just dodging penalties. Let's have a look at how following HIPAA rules can be beneficial for your organization.
Enhancing cybersecurity: Enabling appropriate security safeguards protects the ePHI, strengthens your cybersecurity, and lowers the chance of data breaches. This aids in protecting the patients' data safe from unauthorized access.


Protecting patients' privacy: When you adhere to HIPAA rules, you protect the privacy, confidentiality, and security of patients' PHI. This enables your organization to be transparent about how patient data is handled, boosting credibility.


Avoiding hefty penalties & fines: By following the HIPAA rules, you stay compliant with the standards, and that reduces the risks of attracting significant penalties for violations. This also helps you maintain your reputation in the industry.


Practicing patient safety culture: The culture you create and practice by introducing policies and standards is crucial for the success of your healthcare organization. You can develop a patient-centric culture by implementing the HIPAA rules and demonstrating that you care about patients' PHI.

Final Thoughts
HIPAA rules are comprehensive in nature. Getting your healthcare organization or covered entity to conform to these regulations can sound like a daunting task, especially while executing all of it manually. Fortunately, there's a simpler way—automation.

A compliance automation solution like Sprinto not only keeps you compliant with these rules but ensures your organization is up to date with the latest changes in HIPAA rules at all times. Sprinto doesn't just stop there. It helps you automate evidence collection, keep track of all your controls, and enables smarter, more efficient security and compliance workflows. Ready to talk? Speak to our experts today.
FAQs
Is it mandatory to follow all HIPAA rules?
Yes, it is mandatory for all healthcare organizations and entities to follow all the HIPAA rules. Violation of any rule can lead to severe fines and penalties.
What is the best way to achieve HIPAA compliance?
The best way to become HIPAA compliant is through a compliance automation platform such as Sprinto that helps you quickly craft HIPAA policies, establish controls, and collect evidence.
What are the three major HIPAA rules?
The three major HIPAA rules are The HIPAA Security Rule, The HIPAA Privacy Rule, and The HIPAA Breach Notification Rule.