---
Healthcare is a sector that cybercriminals have repeatedly targeted over the years due to its reliance on outdated software and the immense worth of its data, namely, people's health information.
In fact, according to a Trustwave report, someone's medical records can be sold for an astonishing $250 per record, while payment records only fetch an average of $5.4.
Should the wrong hands get their hands on such valuable information, there could be serious repercussions, identity theft and monetary fraud being just two examples. This is where HIPAA compliance for startups comes in.
In this article, we'll talk about the things a Founder or a Tech lead of a startup should know to get their business on the right side of compliance.
HIPAA Compliance For Startups Overview
What does compliance imply for a startup? HIPAA compliance for startups guarantees that the transmission of ePHI between, to and from your product has been rigorously scrutinized and certified as secure in regards to guarding users' information privacy.
HIPAA: The Health Insurance Portability and Accountability Act states that any startup working with a United States healthcare organization must be HIPAA compliant.
We know what you're thinking now!
To clarify, you don't need to be HIPAA compliant if you have a product similar to Fitbit, where the data you access is just for health and fitness goals.
However, if your Startup product records, shares, or even manages PHI on behalf of covered entities – then HIPAA does apply to you.
Let's go into details, shall we?
It all started with the introduction of the Omnibus Rule.
The Omnibus Rule revolutionized privacy and security rules, extending accountability beyond traditional medical sectors to any business that handles Protected Health Information (PHI).
These include Business Associates who work for (or) on behalf of Covered Entities such as physicians, dentists, pharmacies, and insurance companies. So now, every link in the chain must maintain data integrity!
A startup falls under Business Associate because it is an entirety working for business partners with access to patient data. This means you must abide by certain regulations protecting and storing sensitive information.
Sprinto has implemented the Startup Ignite program for startups like yours in mind. With Sprinto, you have the assurance that you can rapidly scale up operations and venture into new markets and unexplored segments of your target market.
Check this link to see if you are eligible for this amazing offer!
What type of startup needs to follow HIPAA law?
Any startup that deals with confidential health records of US citizens must comply with HIPAA. That includes "business associates" from all kinds of companies – especially those that produce software and services for healthcare providers, otherwise known as 'covered entities. Here's a little case study of this strategy in action.
And to clear up the confusion-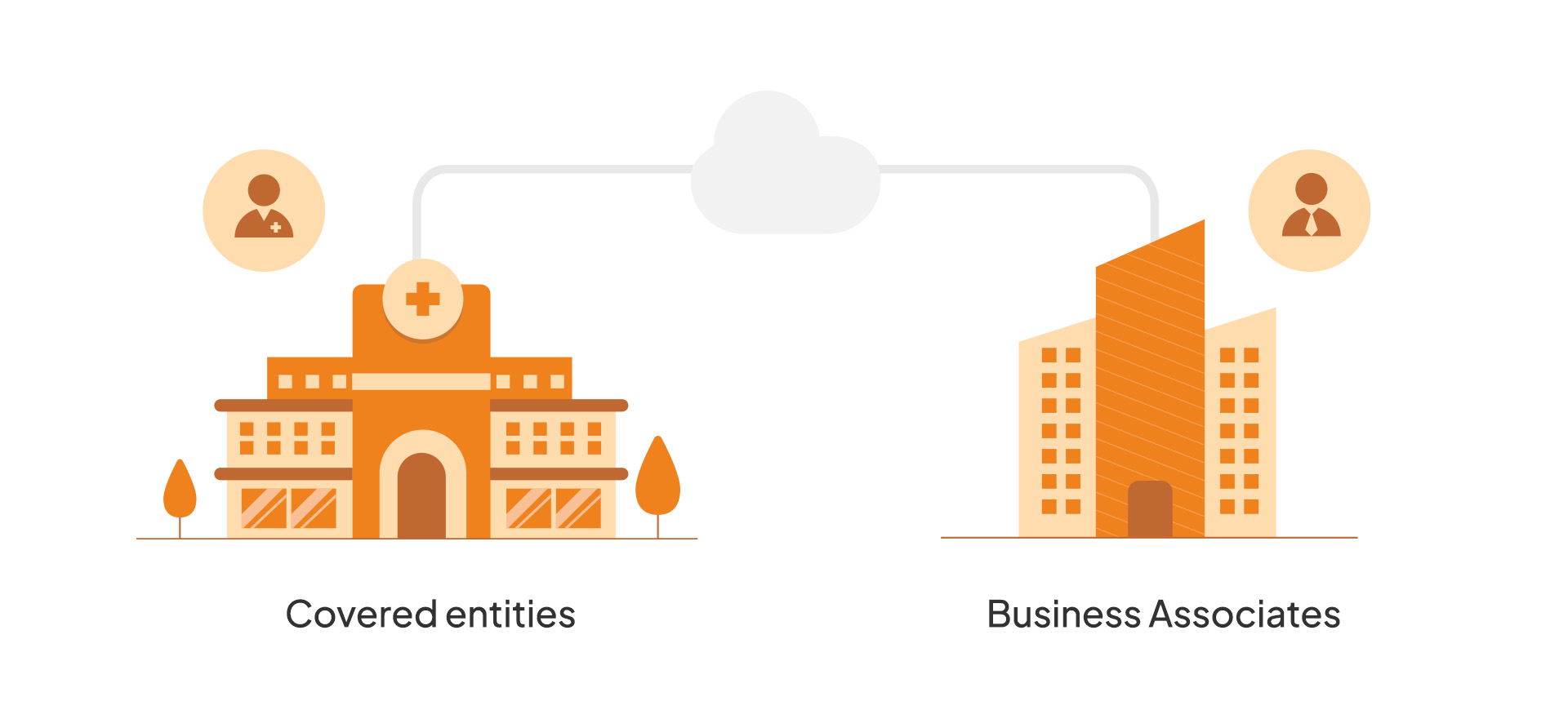 Covered entities: Health-focused organizations, as well as all entities that handle sensitive medical records (doctors and clinics, health plan carriers, and clearinghouses), are referred to collectively as Covered Entities.
Business Associates: Any person or entity that is connected to a covered entity via a contractual agreement must be considered a Business Associate and, therefore, obligated to adhere to HIPAA's Privacy Rule.
If your startup falls into the above categories (any one) – make sure you know what's required of your organization by HIPAA. Even if it's a startup, there are no excuses for lax compliance – and devastating penalties can come with violations!
Don't give regulators or attackers an opportunity; stay informed on how to keep yourself compliant every step of the way.
Remember that there is no compliance grace period for startups who are still learning!
Also check out: Best HIPAA compliance software
What are the HIPAA Rules?
Once it's been established that your startup is subject to The Privacy Rule and, as a result, must follow HIPAA guidelines, you must comprehend exactly what this entails for your business. For startups, remaining compliant with industry requirements is achievable with the straightforward principles outlined in HIPAA's four rules.
Let's take a look at the four rules in detail to comply with HIPAA for Startups!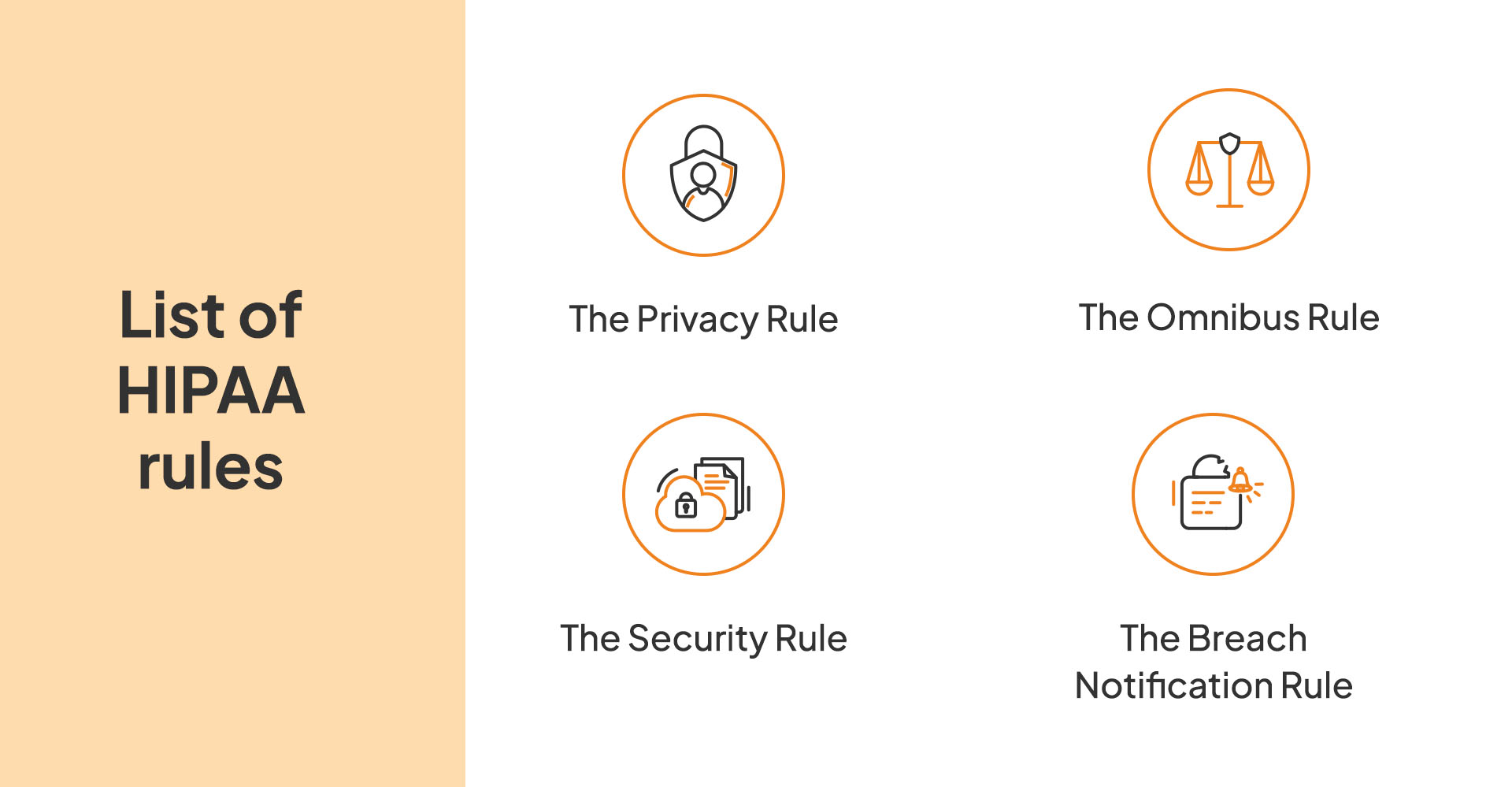 The Privacy Rule
The HIPAA Privacy Rule applies to any company that collects and stores PHI in any form – written, oral, or electronic. It covers the following issues:
Use and disclose only the minimum of PHI necessary to complete your task. Whenever possible, avoid transmitting an entire medical record if unnecessary.
Ensure that your employees only use and reveal PHI for specific business objectives. Avoid inappropriate activities like accessing celebrity medical records, searching for data on friends, or selling private health information.
Establishing Business Associate Agreements with your clients, vendors, and partners to provide a safe and secure working relationship.
Patients have the right to access, amend, limit the use of, and track disclosures related to their PHI.
Appointing privacy officers and providing workforce training on privacy protocols
Maintaining security safeguards for handling complaints
Sanctioning internal violations
Issuing Notices of Privacy Practices
The Security Rule
For many startups, this rule is the hardest and the most burdensome. The security rule only applies to electronic PHI. It contains administrative, technical, and physical safeguards to adhere to. You should retain the documents of all the evidence related to the requirements and retain them for 6 years.
The Breach Notification Rule
The HIPAA Breach Notification Rule is important for organizations to understand and follow. It outlines what would constitute a reportable breach and the steps to take in the event of one.
For example, HIPAA for small business depends on the severity or type of breach, you may be required to alert your customers and individuals whose identity was possibly compromised, HHS, law enforcement, and even the media.
Also, you must act promptly and adhere to a timeline specified by the rule; otherwise, you may face fines or other repercussions.
The HITECH and HIPAA Omnibus Rule also requires startups to take full responsibility for their data practices. This is especially true of business associates and their subcontractors, who have to answer directly to the terms and conditions set out by HIPAA.
For example, companies must notify patients if their data has been breached within 60 days – a regulation that cannot be ignored if an organization hopes to remain compliant.
HIPAA Certification Process for Startups
HIPAA for Startups is easy if you follow the below steps. The process can seem challenging for startups, but these tactics can make your dream of being complaint come true within 2 or 3 months: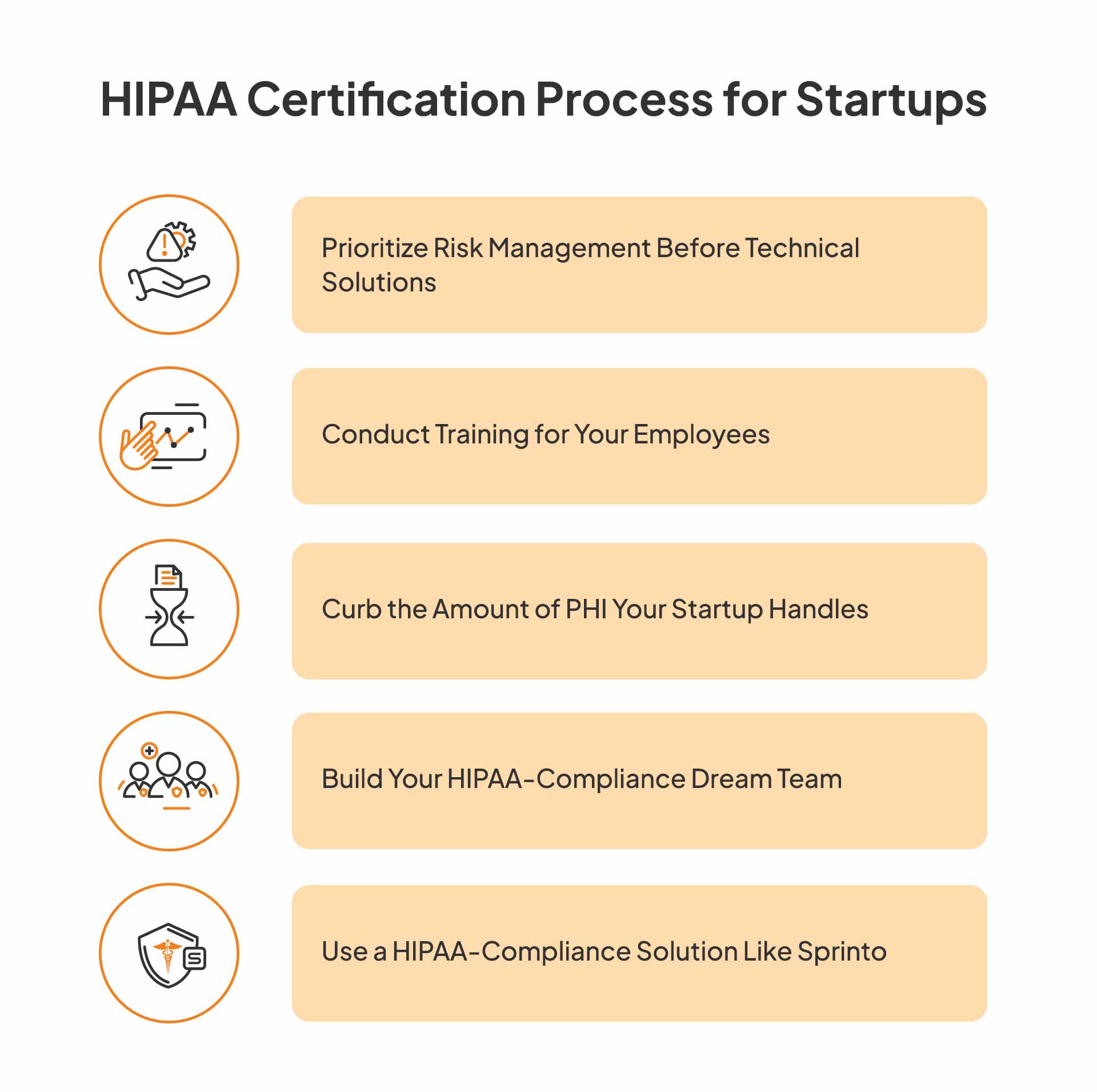 Prioritize Risk Management Before Technical Solutions
Founders should prioritize risk management before jumping straight to technical controls regarding HIPAA compliance.
Risk management is the key to understanding all the possible risks and risk levels associated with HIPAA, allowing founders to identify and implement more effective and appropriate controls.
When you take this approach, you can achieve compliance faster in the long run. This is because much of HIPAA for small business evaluation is based on a systematic risk-management approach that examines potential threats and vulnerabilities before implementing specific controls.
But wait, there's more – when you put risk management ahead of technical controls, you are working towards continuous compliance in the long run!

Slow is Smooth | Smooth is Fast
Conduct Training for your employees
It is crucial to equip your employees with the knowledge and abilities of HIPAA regulations to achieve compliance.
You can do this by providing effective training and education courses to their workflows and infrastructures, allowing them to understand PHI security measures comprehensively.
Such courses should include visual aids, real-life examples, and hands-on projects to create a strong understanding of the terminology and an even deeper appreciation for securing confidential data.
Curb the amount of PHI your startup handles
Startups can protect PHI and maintain HIPAA compliance with data aggregation and tokenization techniques.
Data aggregation helps remove identifiers from health information, making it anonymous. An example is a hospital's annual report detailing intake numbers, average patient age, or other aggregate data that does not tie any information to individuals – thus exempting it from HIPAA regulations.
Tokenization replaces sensitive data with random symbols or code, so even if the data is in breach, the actual PHI remains secure. Together, these methods provide startups with a safe way to manage PHI while ensuring they comply with HIPAA for small business regulations.
Overall, the less PHI you handle, the less your HIPAA burden!
Conduct internal monitoring and auditing
As a startup, you must demonstrate your security program's success and verify that all systems comply with HIPAA regulations.
To do so, conduct a thorough security assessment to analyze the current state and develop mitigation plans to implement when necessary.
And on top of that, all your documentation must go through periodic audits to ensure it is up-to-date.
Build Your HIPAA-Compliance Dream Team
A "HIPAA-Compliance Dream Team" could include an experienced lawyer who specializes in healthcare security, a certified IT professional who can provide technical implementation assistance, and a knowledgeable privacy consultant who understands the current landscape of healthcare regulations.
And this is where people run into trouble; with the rising demand in the industry for compliance experts, those looking to bring them in face the challenge of budget constraints and more difficulty in making the right decision.
And the best part is companies are starting to creatively approach these obstacles by leveraging compliance solutions such as Sprinto to address their market needs.
At Sprinto, we understand the importance of protecting valuable data and ensuring compliance with all HIPAA regulations. That's why we offer powerful features such as customizable security policies and automated processes tailored to fit each startup's unique needs – all backed by 24/7 support from experienced privacy and security experts.
For example, one of our customers, a startup in the US, chose Sprinto to help them quickly set up their infrastructure while complying with all relevant HIPAA privacy laws. With our assistance, they could customize their security policy while easily automating critical processes.
Use a HIPAA-Compliance Solution Like Sprinto
Compliance solutions like Sprinto provide startups with the fundamental structure they need to become HIPAA-compliant.
For example, Sprinto helps create a risk framework so that companies don't need to wait for a consultant's list of controls, giving them the time and flexibility to build their own system at the best pace.
What's more, Sprinto remains available long after the initial assessment, so founders have an experienced partner throughout their compliance journey. Having an expert guide leading the way makes HIPAA for startup compliance much smoother and faster for any startup.
How Much Does HIPAA Certification Cost for Startups?
HIPAA certification for small startups can range between $12,000 to $50,000 depending on the size of the organization. Smaller startups and organizations typically require less resources and have lower costs than larger organizations.
The actual cost will depend on how complex the system is and the number of employees needing certification.
Benefits of being HIPAA certified
Here are some of the benefits of being HIPAA certified as a startup:
Protection Against PHI Loss
HIPAA helps startups navigate the ever-evolving landscape of PHI privacy. When you implement HIPAA procedures and safeguard against PHI loss, your company is safe from potential penalties and security breaches.
For example, imagine a situation in which one of your employees accesses more patient information than they need to complete their job–this would violate HIPAA's guidelines and could incur substantial fines if not caught right away.
Because situations such as this are common threats to PHI security, HIPAA provides business owners with preventative measures they can take to protect patients' information.
Proper implementation and enforcement of HIPAA discourage malicious intent regarding private healthcare data and instances of simple negligence or accidental exposure.
A Reduction in Risk for Your Startup
With HIPAA guidelines in place, your startup and executives can breathe a sigh of relief knowing that the risk for liability decreases significantly.
For example, HIPAA training is mandatory under government regulations when it comes to the protection of patient data and information. This adds an additional layer of security to patient information, but it's a great way to create a defense in the case of any investigations or lawsuits.
If you can prove you provided the correct training to your staff, you can avoid large penalties and fines.
Proactive Data Protection
Perhaps the single greatest benefit of being HIPAA compliant is proactively protecting your organization's sensitive information. It allows your startup to stay current with HIPAA compliance and creates a framework for quickly adapting to counter rising cyber threats.
It can be tricky to stay prepared for today's and future threats, but investing in proactive data protection is a valuable step toward safeguarding against modern intrusions.
Begin Your HIPAA Compliance Journey With Sprinto
Starting a new company is an exciting journey, but the complexities of HIPAA Compliance can be overwhelming and difficult to manage.
Sprinto has the perfect solution for you!
Our cloud based compliance platform allows you to take control and become fully compliant with just a few easy steps. With our fast and reliable service, you can start on your compliance journey with complete confidence.
Plus, at the end of the process, your company carries the badge of becoming HIPAA compliance and demonstrates its security prowess – allowing you to stand out from your competition.
Get in touch with one of our startup experts today.
FAQs
What are the main requirements of the HIPAA security Rule?
The main requirements of the HIPAA security rule are to ensure that users' ePHI is safe. The rule mandates CE's and BA's to utilize appropriate administrative, physical, and technical defenses. This ensures the confidentiality, integrity, and security of said ePHI.
Under what circumstances does HIPAA not apply?
HIPAA and its privacy regulations generally do not apply to employers, most life insurers, persons or entities that are not covered entities (such as many schools and daycare centers), and certain other non-covered entities.