A Detailed Evaluation of PCI DSS Certification Cost
Vimal Mohan
May 26, 2023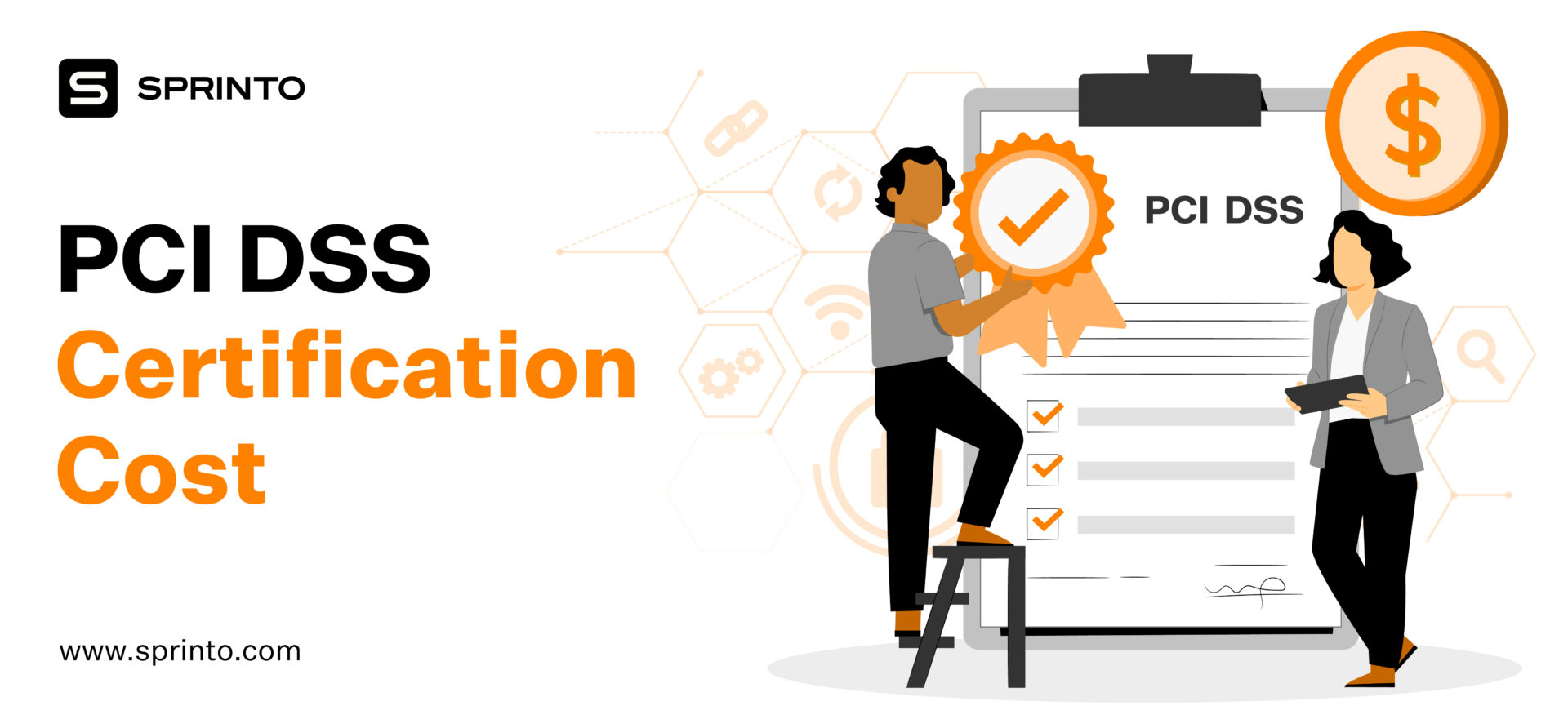 There is no fixed price on the costs involved with becoming PCI DSS (Payment Card Industry Data Security Standards) compliant. Instead, the costs largely depend on the size of your business, the volume of transactions your company conducts annually, and the transmission and storage methods you use.
PCI DSS is designed to ensure the security and integrity of a user's cardholder information. And so, the compliance framework requires every organization processing online transactions to become PCI DSS compliant. If any organization in the scope of PCI DSS is found to be non-compliant, there are significant repercussions. We'll cover the non-compliance angle in detail further in the article.
Read on for insights into the components of the PCI DSS process (SAQ, ROC, Annual Maintenance cost), the cost for each component, and get an estimate of how much the compliance process would cost you.
How much does PCI DSS compliance cost? (Quick overview)
The PCI DSS compliance process involves many variables, which are directly impacted by the requirements that your organization will have to comply with to maintain compliance. Hence, getting an accurate cost calculation on how much the PCI DSS process might cost your organization is not readily available.
But here's a simple logic – a small organization, with fewer employees, that does not process a vast volume of online transactions will incur a lower cost to become compliant as compared to an enterprise that processes millions of transactions annually.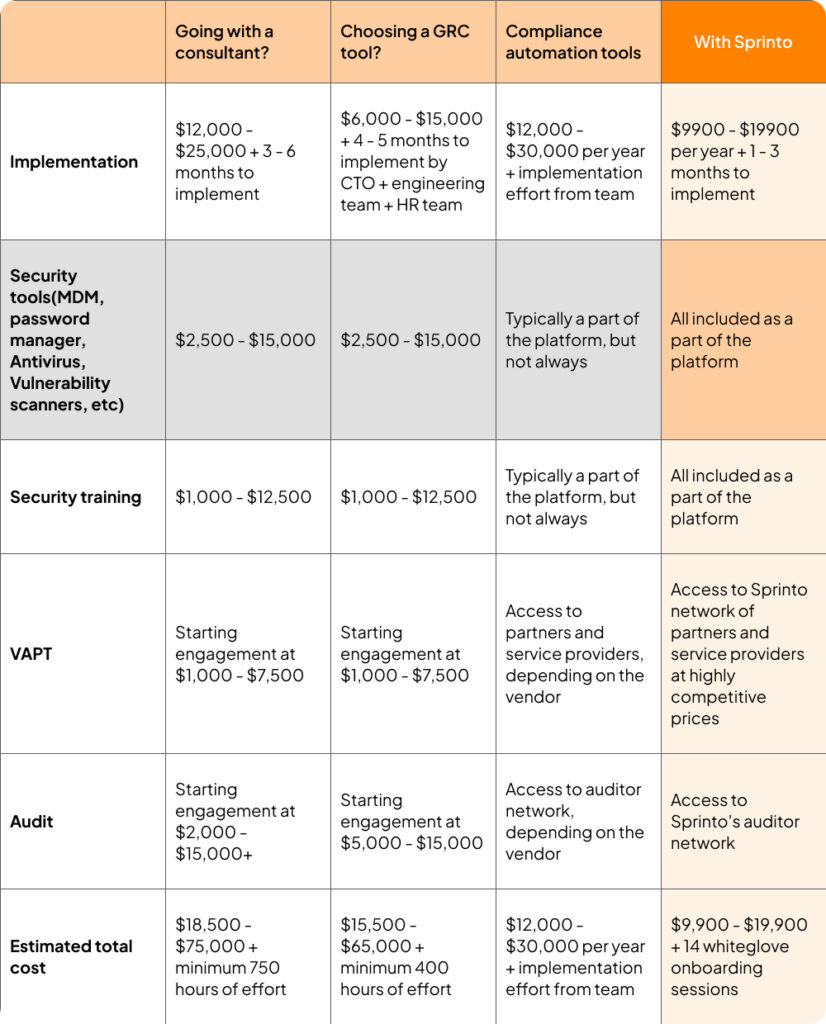 For instance, the PCI DSS certification cost between $50,000 to $200,000 for a large organization while a small organization could incur between $ 5,000 to $ 20,000.
Another factor that impacts the PCI DSS certification cost is the existing security culture of the organization. If your organization already has a strong security culture, follows safe coding practices, and promotes data security in its everyday operations, the cost would be significantly lower; as you would already have systems and policies in place that PCI DSS mandates.
How to calculate PCI DSS certification cost?
As we mentioned, the PCI DSS audit costs largely depend on your organization's PCI DSS compliance level and your existing infrastructure. While getting an estimate on how much a PCI DSS certification costs is possible, it is not the most accurate. Hence, we've broken down the PCI compliance process into stages and stated an average market estimate for each stage.
Network security
PCI DSS mandates that you have a list of network security measures in place, including encryption, DDoS mitigation, unauthorized access detection, etc.
You would also need to assign an internal resource to ensure that your business environments are monitored around the clock.

This activity typically costs around $2400 annually when you hire an external resource. And, this cost is not inclusive of the cost you'll incur to set up the tools required for the job.
Data encryption
PCI DSS mandates encrypting customer data to ensure security. You will either have to have an internal resource working on it or hire an external consultant to do it for you. Include this in your cost calculation.
Antivirus software
Most used antivirus software like Kaspersky and Norton will cost between$ 100 to $150 for an annual subscription with a provision to add up to 10 users to the plan. So, depending on your employee headcount, you can make a cost projection.
Get Expert Insights on PCI DSS Certification Expenses. Talk to Our Experts
Employee training
Your employees are the first line of defense for your business. Training your employees on the latest developments in the ever-evolving landscape of cyber security and cyber risk ensures that the responsibility to maintain a strong security posture is owned by everyone. Thus, making you better prepared to ward-off phishing attacks and other penetration methods.
Typically, security training service providers charge between $20 to $30 per employee per session.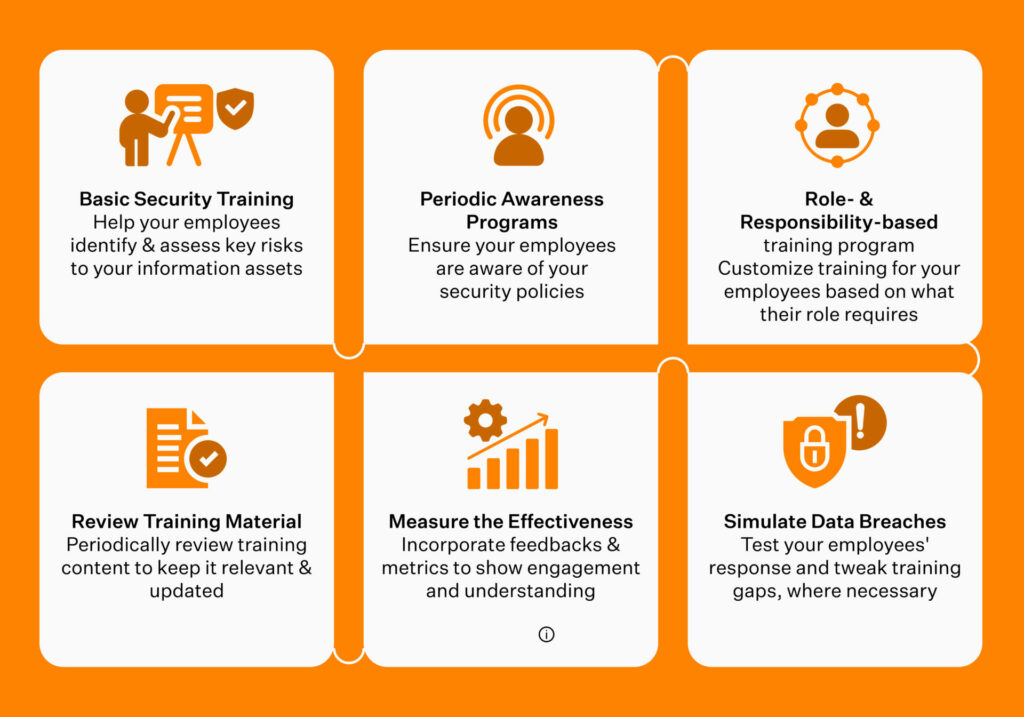 Security policy development: productivity costs
The PCI DSS requirements are exhaustive and require you to use your team's resources significantly to set up and maintain your systems to align with the requirements. In addition, this process will consume a lot more time if your team needs to undergo training sessions to acquire the skills required to implement those changes.
Automate PCI DSS Requirements with the Help of Sprinto. Talk to Our Experts
Vulnerability scans
Every organization in the scope of PCI DSS will have to conduct vulnerability scans every quarter to review its compliance and security posture. And these scans must be performed either by an internal resource with the skills required or by a PCI DSS-Approved Scanning Vendor (ASV).
ASVs usually charge up to $ 200 per IP annually.\
Penetration testing
Penetration tests are activities where organizations hire ethical hackers to look for vulnerabilities in their existing infrastructure that could be used to gain unauthorized access by hackers. These tests usually present findings that get missed by automated scanning tools/services.
Getting a penetration test done is not mandatory for all businesses. It is only applicable if you have to fill out any of these: ROC, SAQ D, SAQ C, SAQ C-VT, SAQ B-IP, and SAQ A-EP.
You must conduct and document your penetration test reports every six months if eligible.
On an average, you would be spending between $3,000 to $30,000 for penetration tests depending on the size of your organization.
PCI Compliance Fee From Card Processing Providers
This is not a significant expense, but we decided to mention it. Card service providers sometimes charge between $70 to $120 annually to recover their expenditure when they help organizations become PCI compliant.
To find out more about PCI certification – Click here
Plan Your Payment Security Budget with PCI DSS Certification Cost. Talk to Our Experts
Types of PCI DSS compliance costs you may come across
As mentioned above, the PCI DSS certification cost is impacted by many variables. Here, we discuss a few salient points that could affect your PCI DSS journey from a cost perspective.
Preparation cost
PCI DSS is not just about going through the audit and passing with flying colors. Before even getting to the PCI audit, you will incur incidental expenses for employee training on security best practices, software and hardware expense, infrastructure expense, and more. So, the cost fluctuates based on the number of changes your organization needs to implement.
PCI DSS audit cost
Based on your organization's PCI DSS level, you must fill out a Self Assessment Questionnaire (SAQ) or a Report of Compliance (ROC). Both are annual recurring expenses. So ensure that you include the audit cost in your cost calculation.
The average market cost for an SAQ ranges between $5,000 to $20,000. And ROCs cost between $35,000 to $200,000.
Cost of PCI DSS non-compliance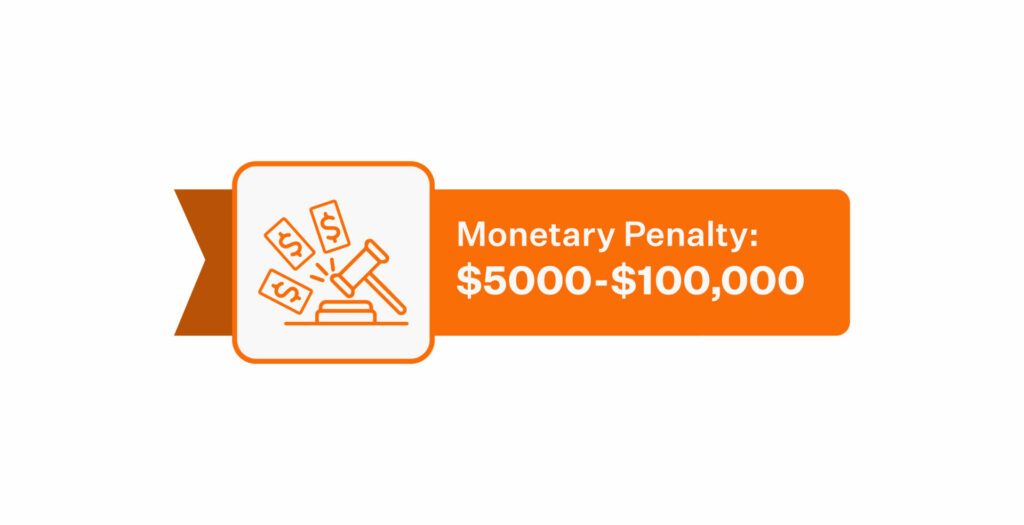 The cost of non-compliance with PCI DSS is high. For example, suppose you become a victim of a security incident, and the incident occurs due to your organization's non-compliance with PCI. In that case, you will be charged a non-compliance fee to recover the damage caused to the card provider due to the breach. These non-compliance fees can go as high as $100,000 a month. The tenure of the recovery period will be based on the duration of your organization's non-compliance. Longer the duration of non-compliance, the higher the tenure.
Card providers could also increase your transaction fee by up to $90 per transaction.
Costs of a data breach
A data breach or a security incident not only opens you up to non-compliance fees but also significantly impacts how you manage your finances internally. For example, a large chunk of your finances will get used up for investigations, hiring lawyers and managing other legal expenses, FTC audits, notifying cardholders, and compensating customers impacted by the breach.
That's not all; whenever your organization becomes a victim of a breach, it automatically gets bumped to a Level 1 compliance status. Unfortunately, you must comply with Level 1 compliance requirements, and setting those security standards is expensive.
A level 1 organization spends between $50,000 to $200,000 annually setting up the PCI compliance requirements and maintaining those systems.
Loss of merchant license
Due to PCI DSS non-compliance, your organization could lose its license to process card transactions from the card provider.
Cut costs on your PCI DSS compliance with Sprinto
With Sprinto, your PCI compliance cost is consolidated. You get in-app staff security training, an MDM solution, and access to Sprinto's team of compliance experts, who help you with the implementation process. Outside of the platform cost, you only need to spend on penetration testing and vulnerability scanning. These must be conducted by a PCI-approved ASV only.
Sprinto was built to ensure organizations of all sizes get the advantage of compliance automation. And so, the costs aren't prohibitive.
Talk to our experts today to understand how Sprinto can help you become PCI DSS compliant at pocket-friendly costs.
FAQs
How much does PCI DSS compliance cost?
PCI DSS compliance cost varies based on the size of your organization, the annual volume of transactions your organization processes, and the costs involved in setting up your existing infrastructure to meet the requirements of PCI.
How do I get PCI DSS certified?
To get PCI DSS certified, you must:
Implement all the security requirements applicable to your business
Conduct quarterly vulnerability scans
Conduct penetration tests if applicable
Fill out an SAQ and a ROC (if applicable)
And send these documents to the PCI council for approval.
How long does PCI DSS certification take?
The PCI DSS process typically takes between 3-12 months, depending on the size of your organization and the time taken by you to align your organization with the requirements of PCI.
Who needs PCI DSS certification?
Every organization that processes, stores, or transmits cardholder data must be PCI DSS compliant.
Vimal Mohan
Vimal aims to make the compliance universe simple to understand for everyday folks. You can also find him in MMA Dojos, Cycling routes, and intense treks!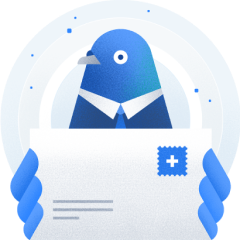 Subscribe to our newsletter to get updates
Schedule a personalized demo and scale business
Subscribe to our monthly newsletter

Sprinto: Your growth superpower
Use Sprinto to centralize security compliance management – so nothing
gets in the way of your moving up and winning big.