Willie Sutton, the infamous twentieth-century U.S. criminal, was allegedly known to rob banks because "that's where the money is." In this digital age, organizations are exposed to financial fraud due to their lax security- leaving sensitive consumer data stolen and misused.
To protect against this, PCI DSS (Payment Card Industry Data Security Standard) was set up by the PCI Security Standards Council (PCI SSC). This standard helps businesses protect and secure cardholder data from malicious attacks and other instances of misuse.
To become PCI DSS compliant, you need to clear an audit from a PCI approved auditor. In this article; we will discuss how you can better prepare yourself when dealing with an upcoming PCI DSS audit.
What does PCI Audit mean?
A PCI DSS audit is an assessment of your organization's security measures around the Cardholder Data Environment (CDE). It ensures physical access control, vendor data protection, and network segmentation are up to date. Essential elements such as application processing power, storage encryption practices, and router securities will be tested thoroughly.
Qualified Security Assessors (QSA) verify your systems and map them against the PCI compliance requirements. These professionals analyze various parts of your business's environment and provide an in-depth risk assessment, enabling you to determine how you stack up on secure cardholder data management standards.
The good news is that PCI DSS audit scope provides a clear path to compliance with its highly prescriptive directives.
How to prepare yourself for the PCI DSS audit?
The PCI DSS requirements are extensive, but many of them can be addressed through common security measures. For example, implementing strong access control measures and limiting access to cardholder data will help reduce the risk of a data breach.
So, as a next step, we've listed down the measures you can take on how to perform PCI DSS audit internally before the official one begins
Here are the six steps to prepare for the PCI DSS audit:
Document all the activities
Monitor the security controls
Track and monitor all access to network resources
Maintain accurate network diagrams
Risk Assessment
Examine your internal infrastructure
Consult with a third-party auditor
Document all the activities
Ensuring security of customer data is paramount and comprehensive documentation is essential to securing card data. You must document all encryption protocols, key management processes, analytics, and procedures for storing information – records show your auditors that you meet various compliance requirements and document your findings every step of the way.
Any changes to your business policies or card data environment need to be documented, as they could affect your PCI compliance status. Here is how you can keep up to date with documenting your activities:
Monitor the security controls
An effective continuous monitoring strategy starts with the development of processes for performing periodic reviews of all security controls relevant to the organization.
Keep your goals in line with the organization's business and security objectives
Make sure to cover all relevant places, such as stores, data centers, and back-office locations
Make sure that you establish and follow PCI DSS requirements
Make sure staff members continue to follow the correct security protocols
Anytime changes to the organization, operating environment, or technologies are being used, you will need to provide concrete evidence that security requirements are still being met
Regular evaluations of the implemented security controls should be conducted to measure performance and ensure maximum protection. This strategy allows organizations to document implementation, view the impact, and assess status to guarantee appropriate daily safeguarding from potential threats.
Track and monitor all access to network resources
Logging mechanisms are crucial tools for forensics and vulnerability management. Audit trails can be used to trace any activity on the system back to its user, ensuring that malicious actors can be identified if something goes wrong.
System logs give invaluable access to system activity and are essential for determining the cause of a security breach. With effective logging, it would be much easier for administrators to accurately track user activities and prevent subsequent attacks from taking place. Logs thus play a vital role in both forensic investigations and cybersecurity defenses.
Maintain accurate network diagrams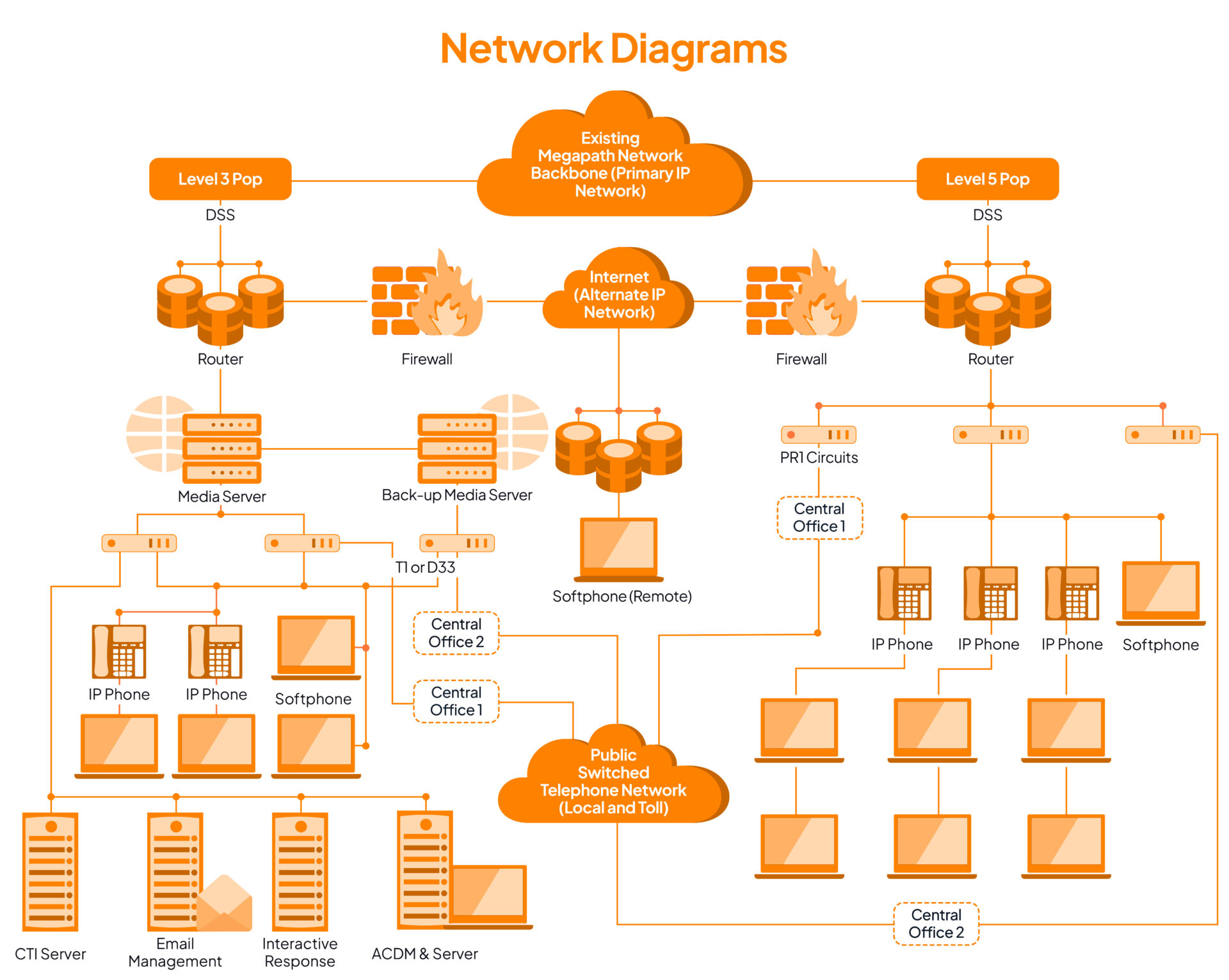 Network diagrams refer to the documentation that identifies the flow of data within an organization. In simple terms, it pertains to data flow across telecommunication hardware.
When it comes to PCI compliance, maintaining accurate network diagrams is an essential step for any merchant that handles card data. Without these diagrams, it can be difficult to safeguard systems, as it is unclear how individual systems interact and which are used for storing, processing, or transmitting card data.
Unfortunately, many companies employ a flat network model with just an edge firewall in place. This makes it difficult to meet the requirements of PCI DSS rules as everything inside the network is considered in scope—which highlights the importance of having up-to-date and correct diagrams.
For example, mapping out the steps taken for cardholder data is a great way to ensure that data flows quickly and securely. You should map out each card flow your network has – many companies have multiple systems that their payment cards can pass through (so make sure they're all accounted for!).
Creating accurate diagrams of your data movement not only enables efficient processing but also helps protect the trustworthiness of your systems. Examining your network is an important step in constructing a secure card-processing environment and to maintain PCI DSS compliance. Ask yourself these questions:
How is my network constructed?
Is there one firewall at the edge for defense?
Is there segmentation between networks to secure them from each other?
Is a multi-interface firewall enabled?
And are there multiple firewalls available?
Answering these questions gives perspective on how prepared your network is and if adjustments are needed. For example, if you find that only one firewall exists at the edge, then a second should be added or existing hardware upgraded. Knowing your network architecture lets you ensure everything is in order and well-defended against threats.
Risk Assessment
Requirement 12.2 of the PCI DSS entails that every company yearly assesses security risks inherent to their organization, particularly their cardholder data environment (CDA). This stipulation helps businesses identify and prevent potential information safety hazards.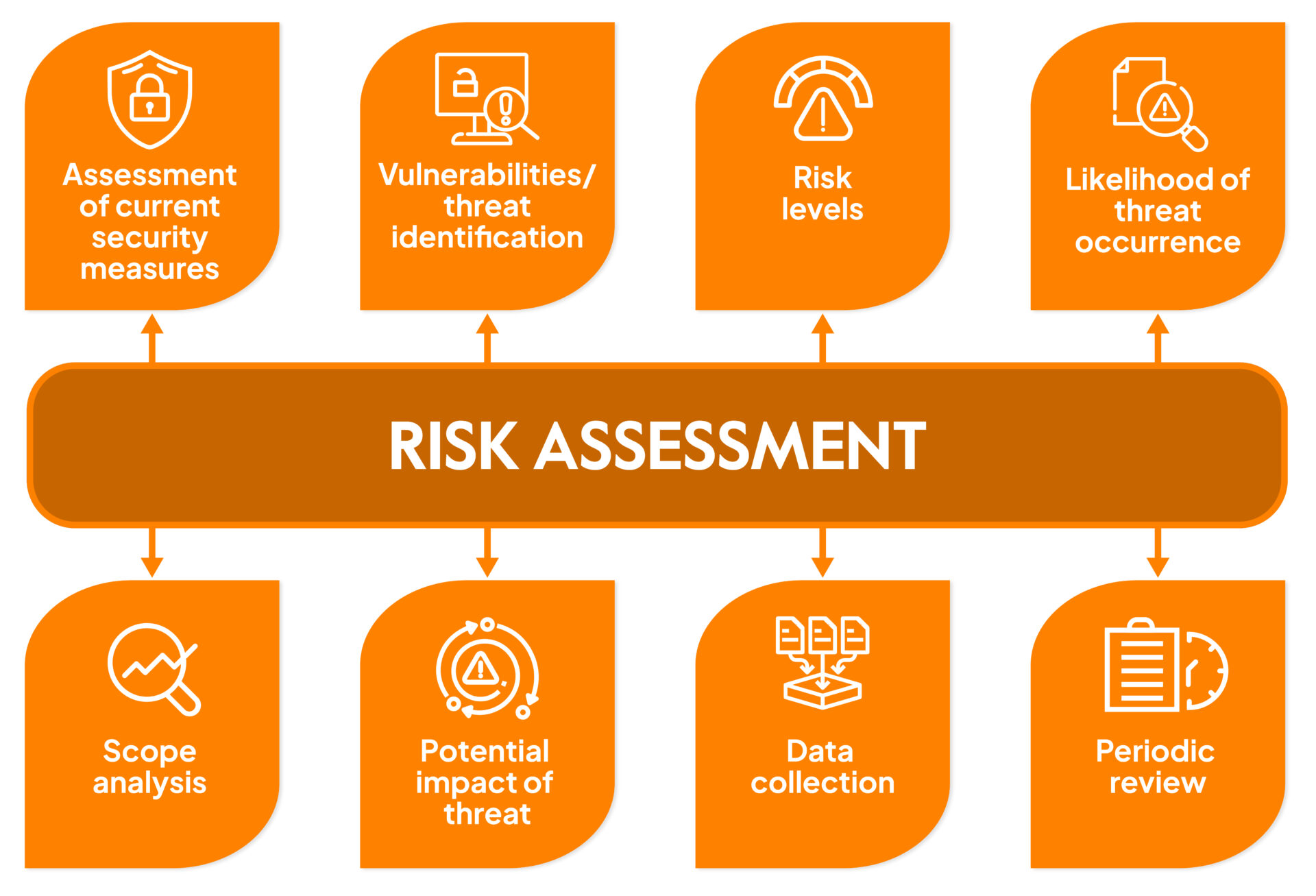 This provides an opportunity for you to analyze the security of your CDE and identify any potential vulnerabilities. For example, these actions include patching systems upfront or revising access controls over valuable assets.
By reducing the window of compromise – the time available to attackers before they can harm the system – it is possible to maximize prevention against serious security incidents. Thus, risk assessments should be regularly conducted in order to prioritize vulnerabilities and stay one step ahead of malicious actors.
While some vulnerabilities may appear harmless at first, remember that not all are what they seem. For example, a seemingly minor misconfiguration could be so complexly interconnected to other system components that an attack would require far too long and intricate preconditions to be met for it to be viable.
In these cases, assessing the vulnerability is not enough – you need to understand risk levels to make informed decisions on how best to protect your IT systems from malicious actors.
In your risk assessment, make sure to include the following information:
Assessment of current security measures
Threat identification
Risk levels
Likelihood of threat occurrence
Scope analysis
Potential impact of threat
Data collection
Periodic review
With that being said, beginning a risk assessment starts with scanning your environment for potential problems. You must ask yourself:
What vulnerabilities exist that could leave your system or process exposed?
What kind of external or internal threats exist in relation to those vulnerabilities, and how likely are they to take advantage?
Suppose an organization with sensitive information on paper has stored it in an unsecured file cabinet. In this case, there is a risk that confidential documents could be accessed without authorization.
The assessment requires you to consider these scenarios to ensure the security and integrity of your operations. The risk levels associated with each vulnerability and associated threat are vital – failure to consider the gravity of the issue could lead to irreversible consequences.
For example, vulnerabilities classified as being of 'high' risk should be addressed first, followed closely by those in which the risk level is deemed 'medium.' The act of an initial assessment and documenting this information can give you a detailed, prioritized list of your underlying security issues.
Examine your internal infrastructure
Examining an internal infrastructure annually is crucial to maintaining PCI DSS controls and assessing security posture. However, it's a task that cannot be done in isolation.
Instabilities can arise in the course of the year that can directly affect PCI DSS compliance – changes in the threat landscape, deploying new applications, personnel adjustments, and revised regulations are examples of potential events that could cause issues. To ensure your website's success, perform the following tests and adopt the necessary measures to safeguard credit card data and other info:
Web application tests – To comply with PCI DSS Requirement 6.6, annual web application testing is required.
Vulnerability scans – To adhere to PCI DSS Requirement 11.2, an authorized scanning provider should assess your external network systems quarterly.
Local network vulnerability scans – You should perform quarterly local vulnerability scans to identify weaknesses in your system.
Penetration tests – To stay up-to-date with PCI DSS Requirement 11.3, you must carry out an annual penetration test.
This emphasizes the importance of retaining PCI DSS compliance over the course of a year to ensure one's internal infrastructure stays secure and compliant.
In the same way that brushing and flossing your teeth can help prevent a more painful trip to the dentist, monitoring and testing internal staff processes and systems year round can help preserve ongoing compliance without having to pay an expensive penalty during annual PCI DSS assessments.
Consult with a third-party auditor
Consulting with a third-party auditor is invaluable when preparing for a PCI DSS audit. They can offer expertise and clarification on expectations and processes and can help proactively identify potential issues before the actual audit.
Additionally, engaging a third-party auditor helps ensure that organizations remain compliant throughout their entire PCI environment, not just at the time of an audit. This kind of support allows you to have peace of mind knowing that you are meeting all standards regarding safely and securely protecting cardholder data.
The consultation of a third-party auditor is helpful as they will help you adhere to the PCI DSS standard. The auditor will:
Firstly, they will verify all technical information given by the organization.
Use their judgment when approving whether or not the supplied standard has been met.
Guide the compliance process.
Validate any scope of assessment and evaluate compensating controls as applicable before producing a final report.
Staying in contact with your QSA throughout the year can be valuable for any business, allowing them to get ahead of their upcoming audit. Throughout the year, businesses tend to expand, card data environments evolve, and PCI DSS regulations become updated- making staying informed on the current changes essential.
For this to work, establishing a relationship with your QSA will also serve as a way to plan for the audit in advance and gives you more time to address any potential issues that could pop up during this process.
But to make this more efficient, the Sprinto way is easier. Sprinto is a compliance software designed to help you get compliant with minimal error and zero-touch audits. With Sprinto, you can automate repeatable tasks, remove the scope for error, and continuously (24×7, real-time) monitor your compliance stance.
Also check out: Guide on PCI DSS compliance checklist
How much will it cost to get PCI DSS audited?
The cost of getting PCI DSS audited can vary drastically. Take, for example, a prominent business processing countless payments each year – they may have to shell out anywhere from $50-200k for their Report on Compliance (RoC). But small enterprises need not fret as much – an Attestation of Compliance or Self-Assessment Questionnaire (SAQ) will cost them no more than $20k annually.
Who must go through a PCI DSS audit?
PCI DSS audits are a necessary evil for many service providers and merchants across the globe. All companies with access to debit card or credit card information must comply with PCI DSS regulations, which usually involve implementing an information security system following 281 directives and 12 core requirements.
For example, a company that processes payments over the internet must go through such an audit to remain compliant with PCI DSS. In this way, companies – and their customers – remain protected from potential threats related to the mismanagement of important financial details.
Find out how Sprinto can help you prepare for PCI DSS audit
Understanding the complexities and implementing practices for PCI DSS can be time-consuming. Luckily, it doesn't have to be. With Sprinto, you can access automated compliance solutions that remove the manual effort from the equation.
Our centralized dashboard helps streamline tasks associated with PCI DSS, and dedicated compliance experts are always available to support you through the implementation and beyond. Ensure your compliance posture is secure with the power of Sprinto's Automated Compliance Solutions.
FAQs
What are PCI DSS audit requirements?
PCI DSS audit requirements include implementing all applicable controls and safeguards, documenting all processes and policies, working with an auditor, and continuously improving to stay compliant post audit.
Do you need to go through PCI audits?
PCI auditing is a necessity for those who run businesses that process a high volume of payment card transactions. Even if your organization processes one transaction annually, you must be PCI compliant.
Who performs PCI DSS audit?
A qualified security assessor conducts a PCI compliance audit. This professional evaluates point-of-sale systems and other components of a business IT architecture to determine whether internal operations meet cardholder information security standards.
What is the penalty for any data breach found during the audit?
A data breach can be a huge financial and reputational cost to your business, so it is important to determine the corresponding penalties if any such breach is found during an audit. For example, suppose compromised cardholder data is identified during an audit. 
In that case, the payment processors and banks involved may issue fines ranging from $50 to $90 per cardholder whose data was accessed in the breach. In addition, those entities may terminate their relationship with your business if a data breach occurs.
How often are PCI DSS audits required?
Level 1 businesses must complete a PCI validation form annually and undergo an annual audit conducted by a qualified auditor. This requirement is mandated by the PCI DSS and applies regardless of how card data is accepted – in-person, online, or mobile.