PCI Compliance Consultants: Responsibilities and Service Providers
Gowsika
Jun 26, 2023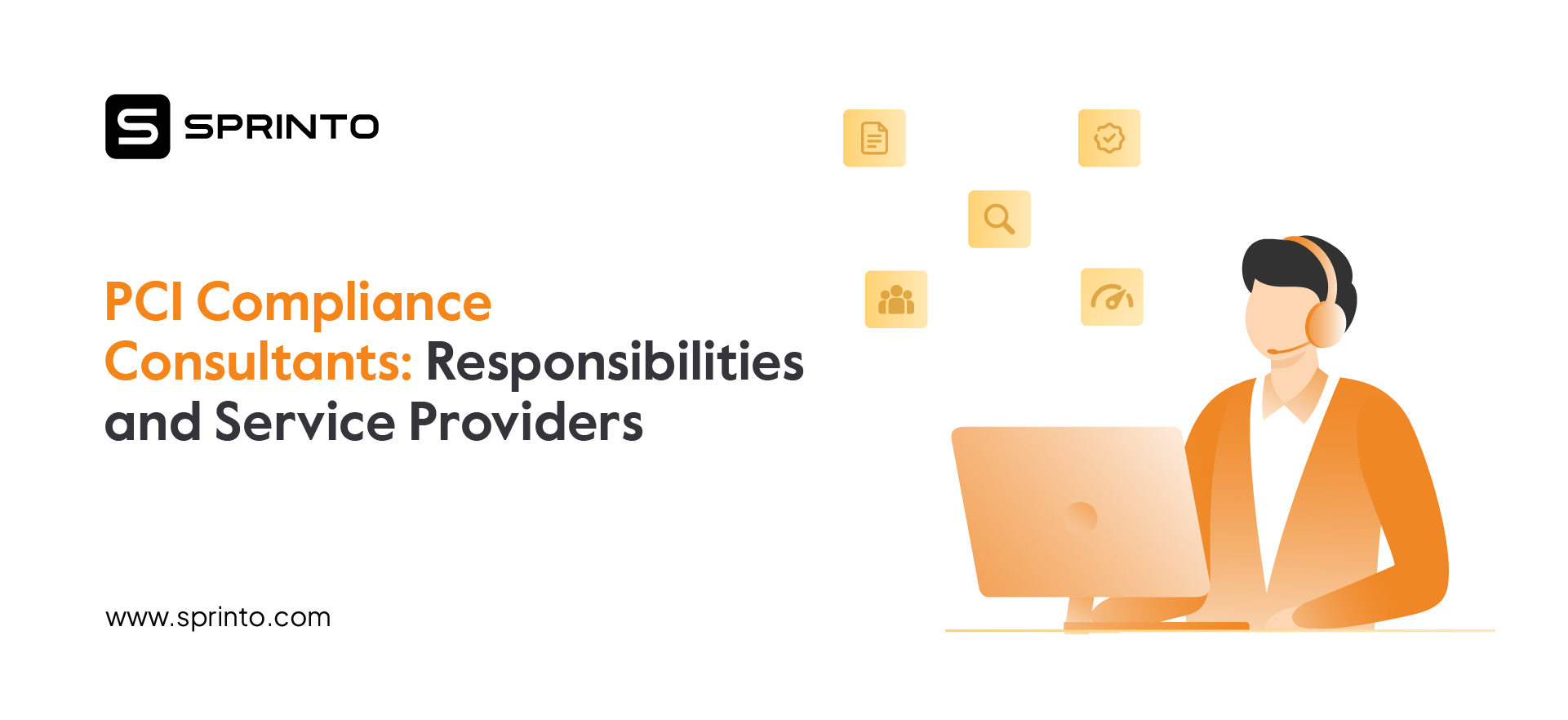 Today digital transactions are the norm, and the impetus of securing sensitive cardholder information is mission-critical. Organizations ensure the safety of payment card data to safeguard their customers' trust and maintain regulatory compliance.
Often organizations bring in a PCI Compliance Consulting service provider for help. These consultants help organizations navigate the intricate landscape of the Payment Card Industry Data Security Standard (PCI DSS) and become compliant.
They enable organizations to understand the PCI DSS requirements and implement robust security measures. In this article, we will talk about how PCI consulting services help you bolster defenses against potential threats and ensure the protection of payment card data.
Who are PCI Consultants?
PCI Consultants are professionals who help organizations that process cardholder data to improve their security measures for complying with the Payment Card Data Security Standard and getting the PCI DSS certification.
PCI Consultants play a significant role in enabling organizations to implement best security practices, train employees who process cardholder data, and continuously access and monitor security measures.
What are the responsibilities of PCI compliance consultants?
PCI compliance consultants have various responsibilities aimed at helping businesses achieve and maintain compliance with PCI DSS. They also train the employees on how to protect themselves against emerging threats and adapt to ever-evolving regulatory requirements.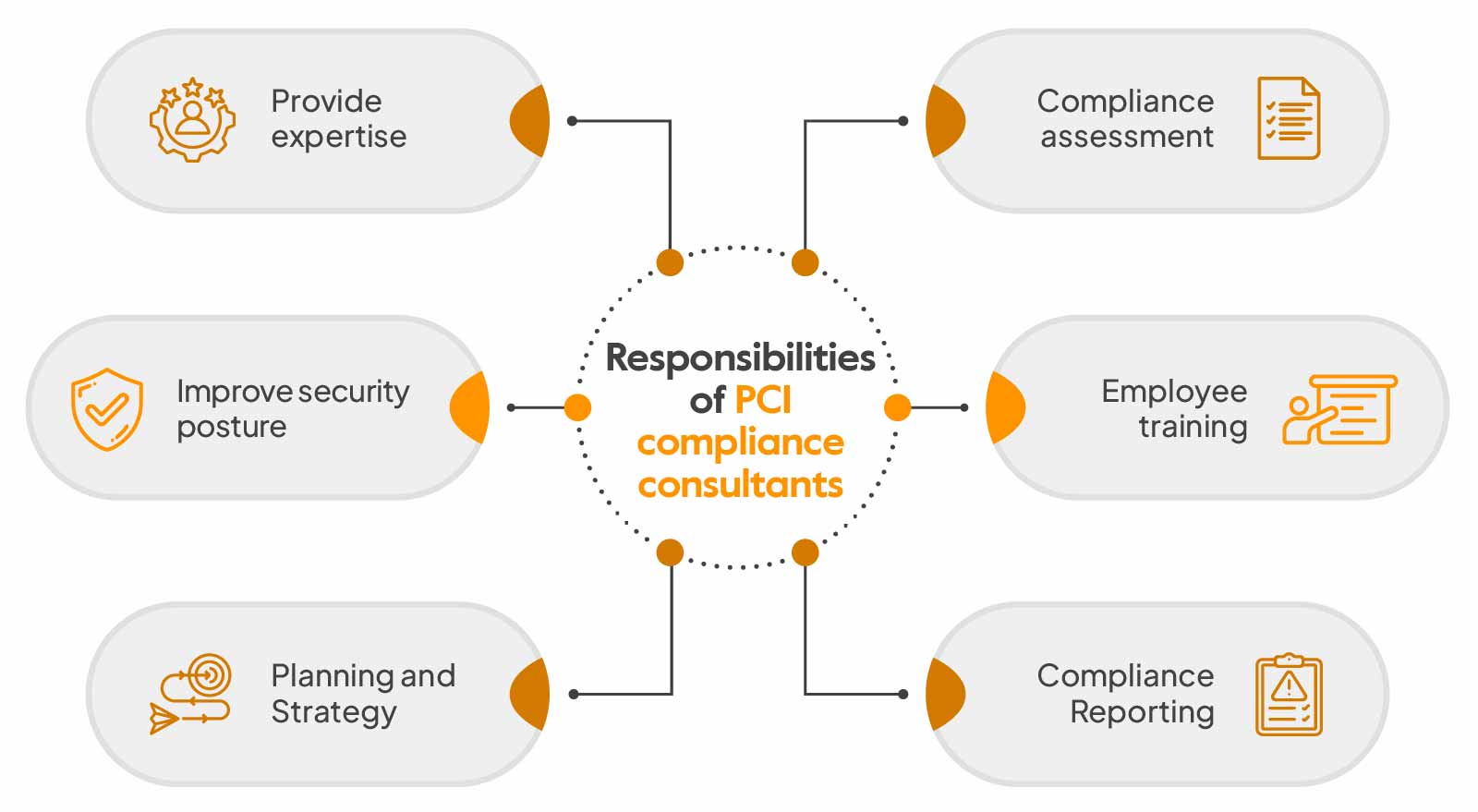 Some of the key responsibilities of the PCI compliance consultants are listed below:
1. Provide expertise
PCI DSS Compliance Consultants possess comprehensive industry know-how. They are also up to date with the latest industry trends and regulations to provide appropriate guidance.
2. Compliance assessment
PCI Consultants are responsible for performing a gap analysis and risk assessments on an organization's systems and processes to identify vulnerabilities and suggest ways of improving compliance and provide remediation assistance.
3. Improve security posture
PCI consultants guide you through the security infrastructure landscape, such as recommending appropriate security controls, encryption methods, etc.,
4. Planning and Strategy
They are responsible for developing compliance strategies that align with your business needs and requirements. Consultants should also develop plans to determine goals, policies, and procedures to initiate security measures and address areas of non-compliance.
5. Employee training
Consultants also play a significant role in implementing best security practices by conducting training sessions for employees to understand the importance of security posture to be PCI DSS compliant.
6. Compliance Reporting
PCI consultants help organizations with documentation for compliance validation. They guide you through the process of assessments for audits and submitting compliance reports. They ensure a smooth compliance certification process.
Continuously monitor security compliance with Sprinto
5 Best PCI Compliance Consulting Services
To effectively achieve and sustain PCI compliance, it is advantageous to avail the assistance of consultants specialized in PCI compliance. Amidst the plethora of companies providing PCI services, selecting the right service provider is imperative to secure optimal outcomes.
Here are the top five PCI compliance consulting services:
1. Berezha Security Group (BSG)
BSG is a cyber security testing company that offers cyber consultancy services. Their services include risk assessment, audit, incident response, and more. The BSG's dedicated team of certified experts will help you get PCI compliant quickly. They follow PCI's best practices and security guidelines to maintain a strong security posture and compliance to secure and streamline your business operations.
2. Fluid Attacks
Fluid Attacks is a new-age company that provides security testing, application security, and compliance services. It offers testing and analysis to determine whether your company meets the various PCI requirements. Their comprehensive approach follows testing of over 200 technical security requirements to guarantee that there are no vulnerabilities or loopholes in your software solution.
3. Nuformat Inc.
Nuformat is a reputed company that offers managed cyber security services to reduce business risk and prevent revenue loss by maintaining security and compliance. They have a group of qualified security assessors that helps merchants, vendors, and financial institutions comply with PCI DSS through a step-by-step, fast, and comprehensive approach.
4. LogicalTrust
LogicalTrust is a cybersecurity firm with over 16 years of experience in security and compliance. From penetration testing, vulnerability assessments, and audits to live training sessions and social engineering tests to provide 360-degree enterprise security, LogicalTrust is a good compliance consultant. They assist you in aligning your systems, applications, and networks with the PCI requirements by verifying the compliance of information security safeguards.
5. IP Services
IP Services is a complete technology solution provider. With the combination of certified IT professionals and the TotalControl system, IP services help you meet PCI DSS requirements and other security requirements with ease. Their approach includes evaluating the current network business environment, assessing the overall security health, and implementing a complete security plan to meet different security compliance requirements.
How much does PCI Compliance Consulting Cost?
The PCI compliance consulting cost varies depending on the size of your organization. It also depends on the vendor/consultant you choose.
For instance, the PCI DSS certification costs from $5,000 to $20,000 for small organizations and $50,000 to $200,000 for medium and large organizations. Similarly, the PCI DSS consulting cost will differ.
However, you can trim down these costs by working with compliance automation platforms like Sprinto that also provide support to help you seamlessly meet the PCI requirements.
What are the pros and cons of PCI Consultants?
Like any consulting service, PCI compliance consulting also has its pros and cons. You need to choose a consultation based on your business requirement, budget, and compliance goals. A few of the pros and cons of PCI consultants are listed below.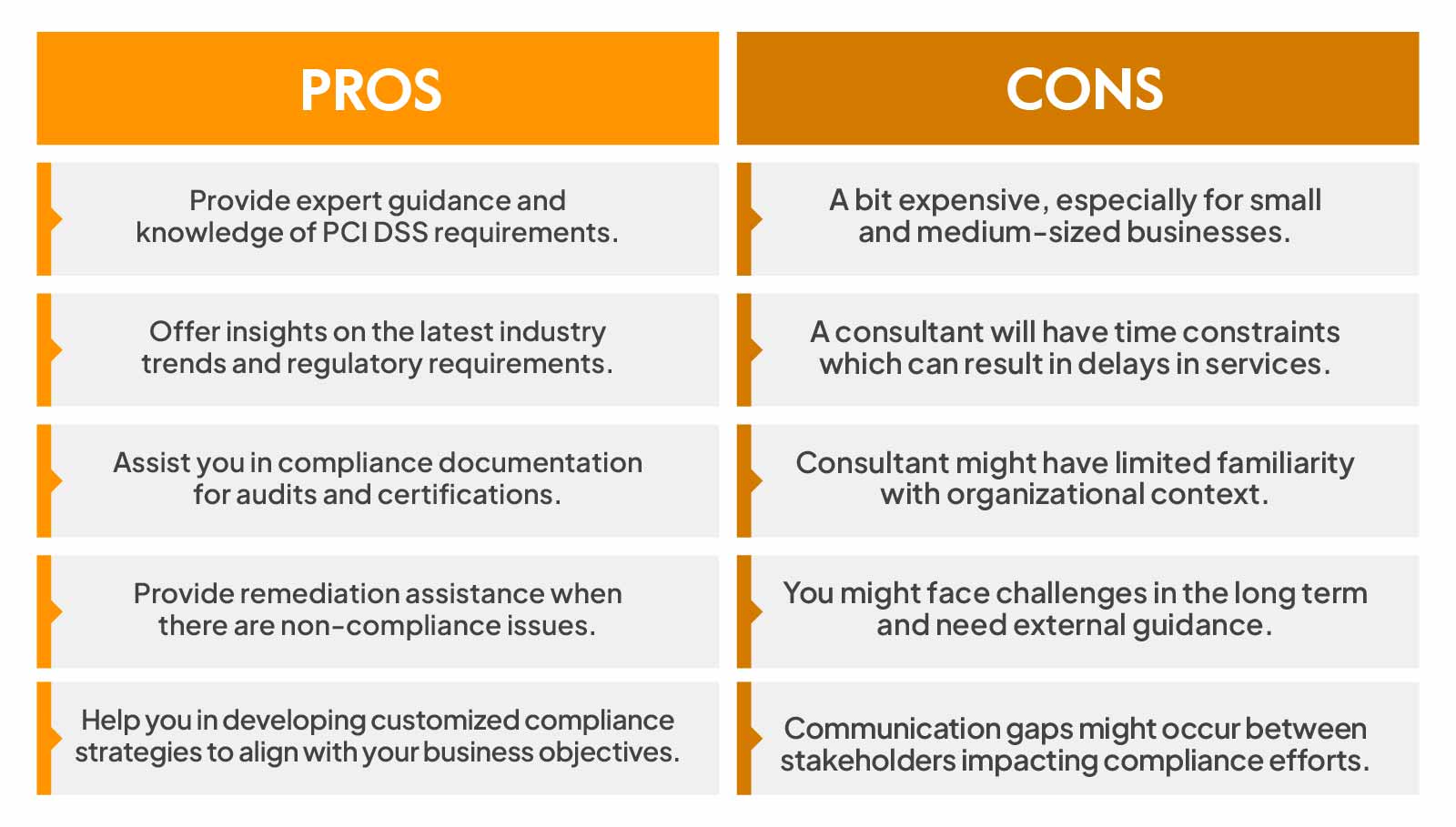 Should you hire a PCI Consultant, or Is there a better way to be PCI Compliant
When it comes to PCI DSS compliance, organizations primarily have two options: to choose a PCI consultant or a compliance automation tool.
Though PCI consultants can provide valuable insights and guidance, compliance automation tools offer both automation and expert guidance. They are a holistic, cost-efficient, and sustainable solution for continuous PCI compliance.
Automation tools enable real-time monitoring and detect compliance gaps promptly. Sprinto is one of the top automation solutions in the market right now.


Compliance automation tools like Sprinto will help you streamline compliance processes, reduce costs, and ensure continuous monitoring. They will enable you to build internal expertise leading to a more efficient way of meeting PCI DSS requirements and maintaining compliance.
Final Thoughts
In an era where cyber threats loom large, it is high time to realize the importance of meeting the PCI requirements.
Achieving and maintaining PCI compliance can be a complex and challenging endeavor for businesses of all sizes. Hence, utilizing a PCI Compliance automation tool like Sprinto can fortify your defenses, uphold the customers' trust, and ensure the smooth operation of your payment card systems.
Compliance Automation is the need of the hour in these emerging threats and evolving regulatory requirements, as it allows businesses to adapt to changes and stay ahead of the curve in the ever-evolving realm of cybersecurity. To learn more about how Sprinto can be a cost-effective and seamless PCI solution.
Continuously monitor security compliance with Sprinto
FAQs
Can I do PCI Compliance by myself?
Yes, you can do PCI compliance yourself using a simple compliance automation platform such as Sprinto, which automates the complex compliance process.
How does PCI Consultant help with compliance validation?
The PCI consultants understand the minute details of PCI regulations and help you create a secure environment for cardholder data to assist you in achieving compliance. Moreover, they help you create comprehensive documentation and reports for compliance validation.
How much is the salary of a PCI DSS consultant?
The average salary of a PCI DSS consultant is $87,701. Although it might vary depending on the experience level.
Gowsika
Gowsika is an experienced content writer, passionate about the cyber security and compliance world. She constantly explores the depths of this ever-changing compliance space to bring new information and insights to her readers. She has a knack for taking complex compliance topics and making them accessible to everyone. On weekends, you can find her dancing her heart out, sitting by the sea, and cracking jokes while watching the waves roll in. Reach her at gowsika@sprinto.com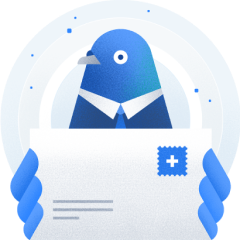 Subscribe to our newsletter to get updates
Schedule a personalized demo and scale business
Subscribe to our monthly newsletter

Sprinto: Your growth superpower
Use Sprinto to centralize security compliance management – so nothing
gets in the way of your moving up and winning big.