How to Implement Risk Management Framework (Quick Guide)
Meeba Gracy
Sep 02, 2023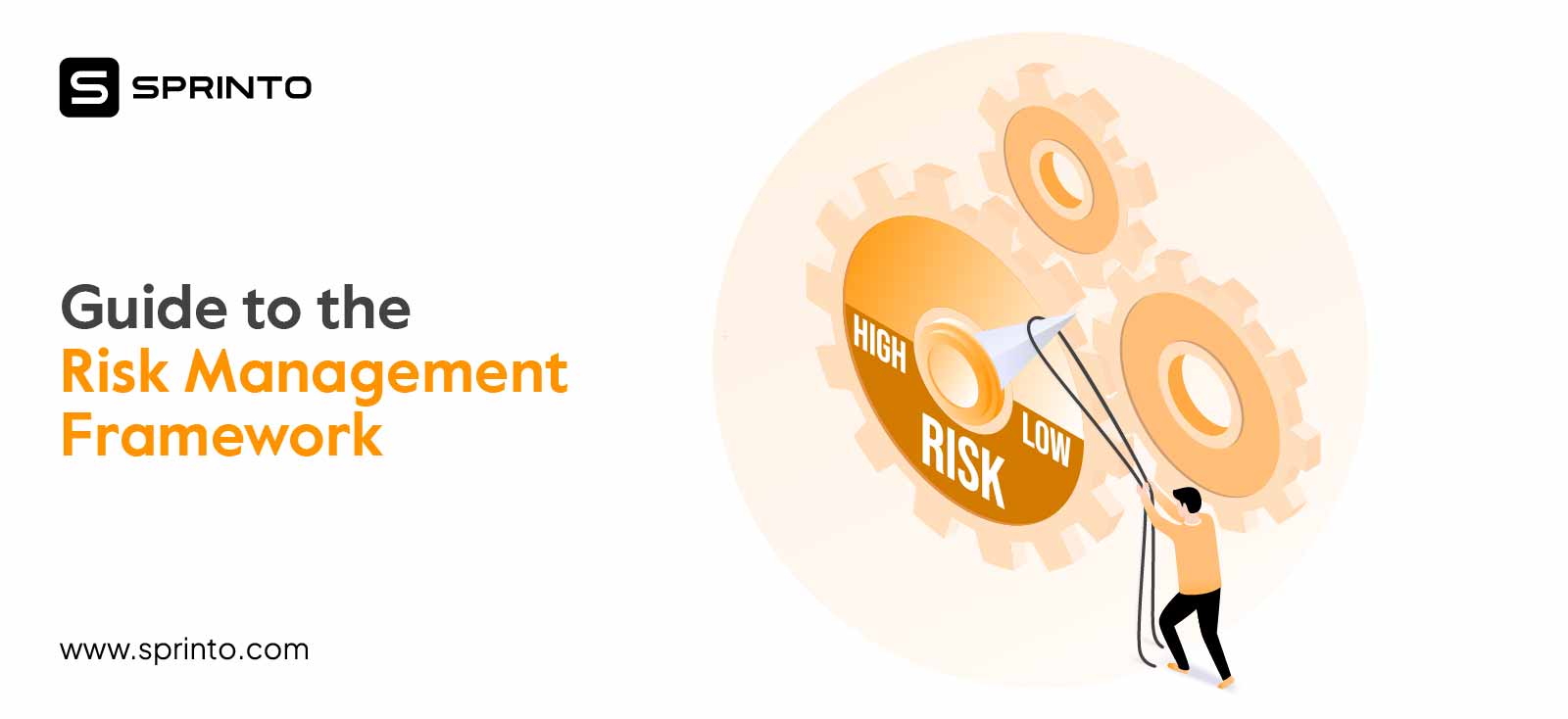 "Risk Management lets you appreciate the risk while you let someone else shoulder all the worry." – Anthony T. Hincks
Risk is a natural part of business and any projects you undertake. Be it the day-to-day operations or financial choices, the risk is always present. But there's a smart way to handle it: Risk management Framework. This approach allows you to understand the risks while others handle the stress.
In this article, we'll take you through it step by step. We'll define risk management, break down its key elements, its importance, and provide core strategies that you can use to navigate risks effectively.
Let's dive in…
What is the Risk Management Framework?
A Risk Management Framework serves as a structured template and guiding principle that enterprises employ to discern, mitigate, and curtail risks. The beginning of the RMF can be traced back to the National Institute of Standards and Technology, which devised it with the main goal being –  safeguarding the information systems of the United States government. Moreover, it also helps prevent losses, like losing advantages over other companies or facing legal problems.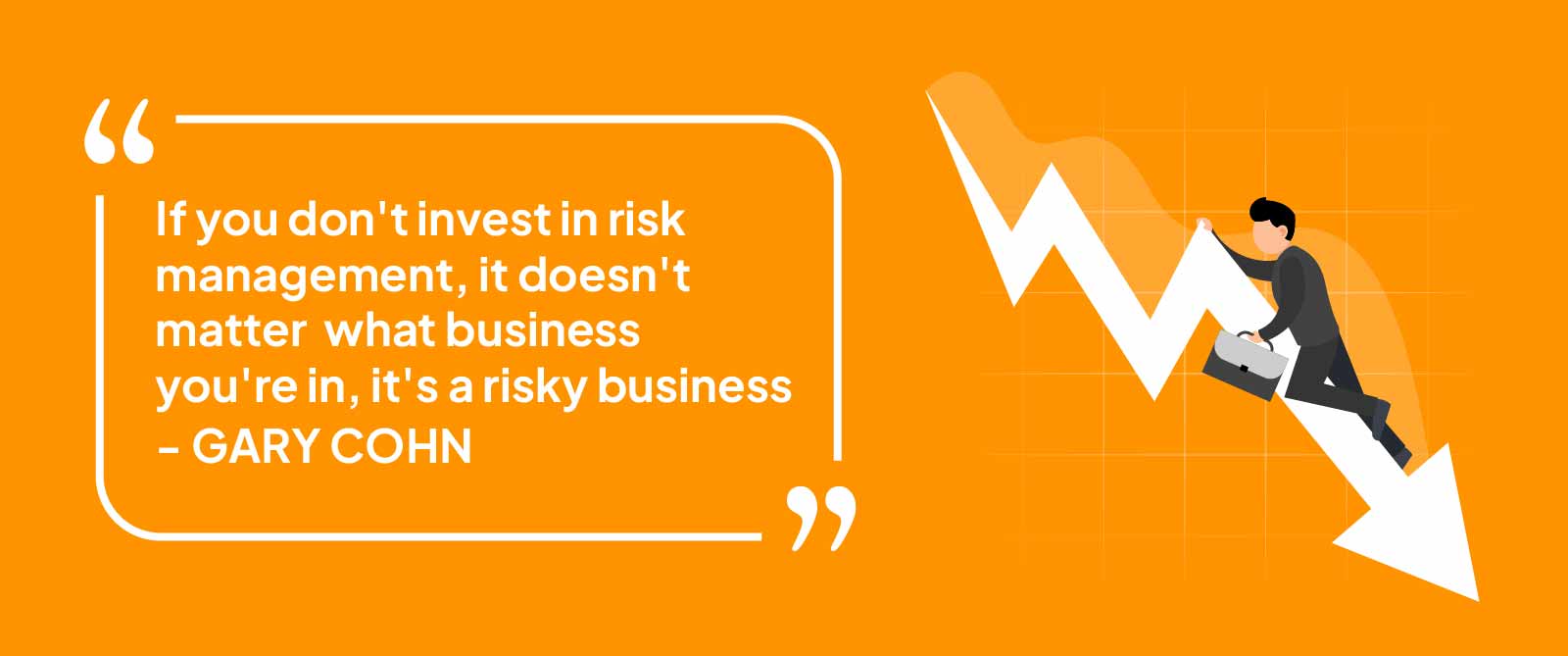 Originally, the RMF was meant for federal agencies to follow better regulations like the Privacy Act of 1974 and the Federal Information Security Modernization Act of 2014 (FISMA). Over time, these guidelines, crafted by NIST, have found usefulness beyond just federal agencies. Now, private organizations also see their value in managing risks effectively.
Importance of risk management framework
A risk management framework is important because it is a go-to strategy that helps you discover possible problems in your company. This plan helps you see the risks already there or might happen in the future.
For example, a company needs a better plan for cybersecurity risks. They store lots of valuable information, like customer data and financial records, on their computers. Without a risk management framework in place, you can fall victim to the following risks:
Data Breach Risk
Reputation Damage
Legal Troubles
Financial Loss
Business Impact
So, having a risk management plan is like bringing that umbrella in case it rains unexpectedly. It keeps the company safe and helps it make smart choices. Also, if a company takes too many risks without a good plan, it can make others see it differently and even affect its money situation.
How to implement a risk management framework?
Implementing a risk management framework is undeniably critical in the risk management process. If implementation falls short, it could mean not using the carefully designed framework you've dedicated significant time and energy to build.
However, with Sprinto all these steps will fall easily into your plan. You don't need to put in so much manual effort, which was a thing of the past. But what is Sprinto? Sprinto is a compliance automation platform that helps you get compliant in no time.
This is because 90% of the efforts inducing the implementation of a risk management framework for your company are automated with the help of Sprinto. To know how it works, just get in touch with our experts and take a demo call. Also, I will get a brownie point if you do 🙂
But first things first, here is how you can start: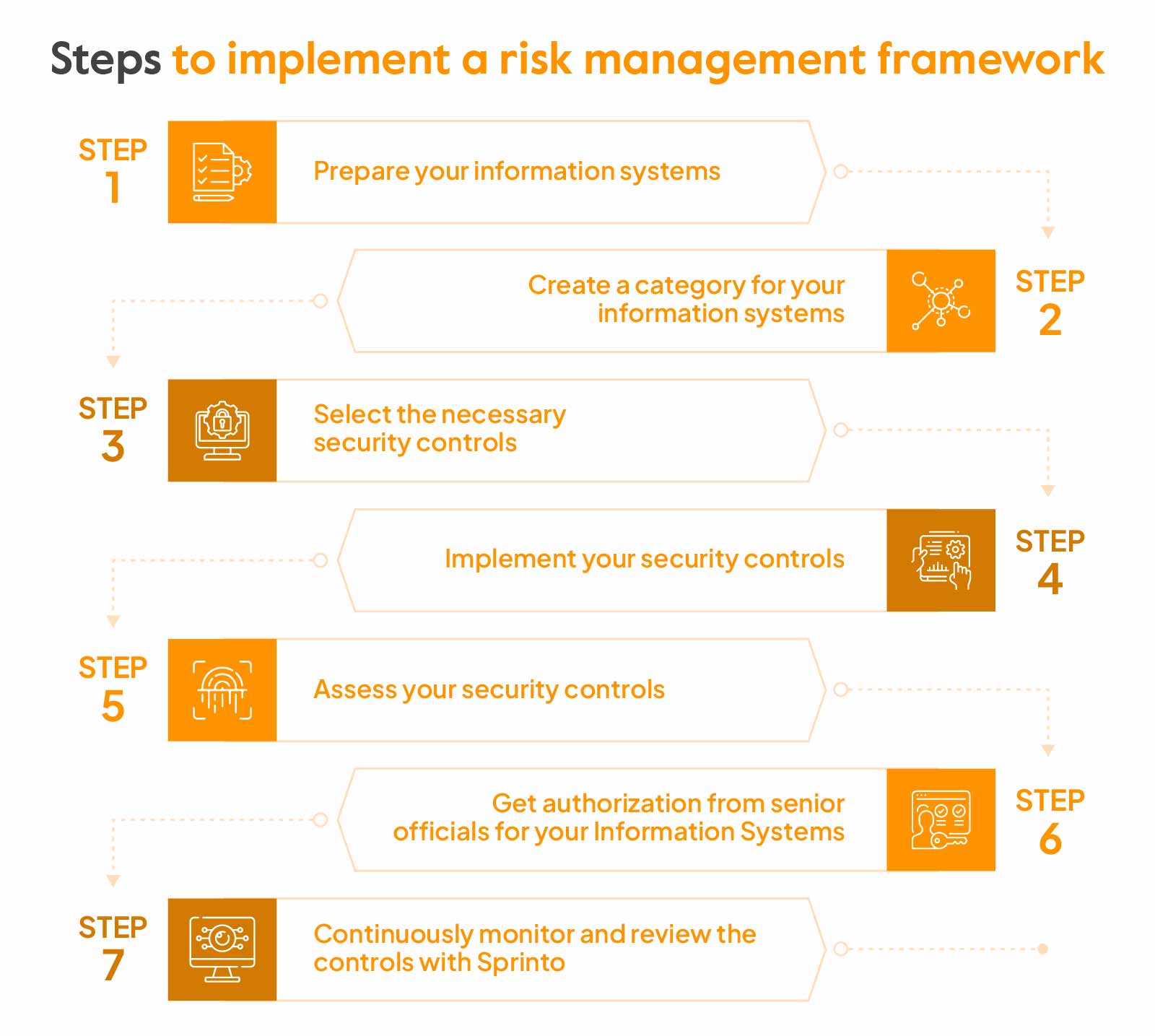 Step 1: Prepare your information systems
This step supports all the other steps we will explore in the framework. It pulls together guidance from different NIST publications and incorporates requirements from the Office of Management and Budget (OMB) policy, or sometimes a mix of both.
Occasionally, your company might have already included some of the tasks from the Prepare step within your existing risk management program.
The main objectives of this step are to:
Simplify the process of implementing your RMF
Advance your IT modernization goals
Save security and privacy resources
Give utmost priority to protecting your most critical assets and systems
Ensure the privacy of individuals
Step 2: Create a category for your information systems
To get the ball rolling, you need to organize your IT systems based on your company's main goals, financial plans, and industry. To better understand security categories and potential risks, you need to follow the guidance provided by NIST in FIPS 199. This helps you determine which information and systems need the highest coverage against internal and external vulnerabilities.
Step 3: Select the necessary security controls
NIST has created a wide collection of security measures you can use for your systems worldwide. Choose the specific controls from this collection that match your security from your organization. Sprinto has control mapping to make it easier and will help you monitor these controls. It's because these controls are important as they will mitigate cyber risks and safeguard the assets of your company.
Step 4: Implement your security controls
Once you've picked the appropriate security controls for your IT systems, it's time to implement them. You can proceed to the next stage if these controls function as expected and meet all required regulatory standards.
Step 5: Assess your security controls
With the initial setup complete, evaluating how well your security controls are performing is now necessary. The aim is to ensure that they consistently meet the set standards. You can perform this evaluation on your own, or you can use tools like Sprinto (Compliance automation platform). This significantly reduces your manual effort, and you don't need to assess it constantly!
Step 6: Get authorization from senior officials for your Information Systems
If the previous steps have produced positive outcomes, you're ready to give the green light for the wider IT risk management framework implementation. If other people are involved in decision-making, like stakeholders and executives, make sure to get their approval as well.
Step 7: Continuously monitor and review the controls with Sprinto
The last step is to continuously monitor and assess your risk management plans. Things change – new risks pop up, old ones shift, some might disappear, and priorities can shift. This is why you must keep an eye on what's already in place, spot any new issues, find trouble areas, and see if your current strategies are still doing the job.
But the manual process of checking every time is simply arduous. This is why you need a continuous compliance tool (like Sprinto). This is your time to transition to a compliance system that operates continuously and seamlessly integrates with your existing systems. (Just look at the screenshot below). Anytime something fails, you will get an alert, and you can navigate to Sprinto's all-in-one dashboard to resolve the issue.
Sprinto gathers high-quality evidence for audits automatically, maintains your compliance status through ongoing monitoring, and sustains compliance progress by automating the resolution of issues and compliance-related tasks.
To understand more about continuous monitoring, read the following case study – Audit & Assurance firm Sensiba LLP on why 'continuous readiness' should be the goal of compliance programs!
Here's the highlighted citation from the firm – "Managing compliance in one place makes visibility easy to achieve and helps everyone keep track of what's happening,"
Risk management framework examples
Here are some risk management framework examples:
Strategic risks
Business vitality decrease from competition, healthcare changes, and pricing pressure
Intellectual property and trade secrets loss
Rising trade barriers due to protectionism and nationalism
Challenges accessing affordable, quality healthcare due to limitations in healthcare systems
Reputation damage and loss of public trust
Compliance risks
Ensuring the safety of clinical trial subjects/patients
Handling personal information following data privacy rules
Prioritizing employee health and safety
Adhering to rules in selling and promoting products, including healthcare compliance and global anti-corruption laws
Meeting requirements for U.S. government contracts/programs
Concerns regarding the quality, safety, and effectiveness of products
Dealing with major legal proceedings, including product liability cases
Operational risks
Disruption in the flow of goods and information within the organization, suppliers, and consumers
Business continuity or resilience getting compromised
Risks with procurement and suppliers, including human rights concerns
Challenges in getting vital materials and labor
Resources being used inefficiently and product costs rising
Financial risks
Unfavorable financial outcomes or economic performance
Shifts in tax regulations leading to possible extra tax responsibilities
Instability in currency exchange rates, alongside inflation and currency devaluation
Errors in financial reporting
Exposure to credit-related risks
Environmental risks
More frequent and intense severe weather events like storms and floods
Rise in pollution because of insufficient waste management
Incorporation of unsustainable materials in the product lifecycle
Cybersecurity risks
Data breach or fraudulent activities
Disruption to the availability of crucial information systems
Security issues arising from critical third-party incidents that affect business operations
Continuous Improvement with Sprinto
No matter your business's industry, dealing with risks is inevitable. It's just part of running a business. Yet, how you handle these risks can determine whether your business flourishes or falters.
Since risk management can be complex, it's smart to rely on a seasoned expert like Sprinto. Integrate Sprinto seamlessly into your tech setup through ready-to-use connections and personalized APIs to ensure nothing is overlooked. Now you can streamline and automate tasks like monitoring controls and gathering evidence.
And then, you will attain a detailed perspective on your compliance status and access to higher levels of efficiency, all in one place.
Schedule a call with us now to know more!
FAQs
What are the 4Ts of risk management?
The 4 Responses to Risks are Tolerate, Terminate, Treat, and Transfer. This is a concise and effective method to outline various approaches for handling enterprise risks.
What are the four 4 elements of risk management?
The 4 elements of risk management are:
Risk Identification
Risk Assessment
Risk Action Management
Risk Reporting and Monitoring
How much does risk assessment software cost?
The cost of risk assessment software varies based on the vendor you choose. If you choose Sprinto, you can get it done within a fraction of the cost. However, the platform cost starts from $5000, and more premium vendors charge up to $25k.
Meeba Gracy
Meeba is a content marketer who is ISC2 certified in cybersecurity. She is passionate about delivering impactful and authoritative content and strives to bridge the gap between complex cybersecurity concepts and the wider audience. In her free time, she can be found with her nose in a thriller novel or exploring new places in the city.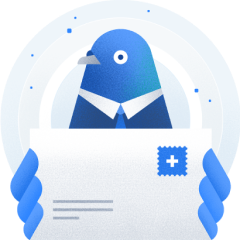 Subscribe to our newsletter to get updates
Schedule a personalized demo and scale business
Subscribe to our monthly newsletter

Sprinto: Your growth superpower
Use Sprinto to centralize security compliance management – so nothing
gets in the way of your moving up and winning big.