Regulatory Compliance 101: What You Need to Know
Meeba Gracy
Oct 31, 2023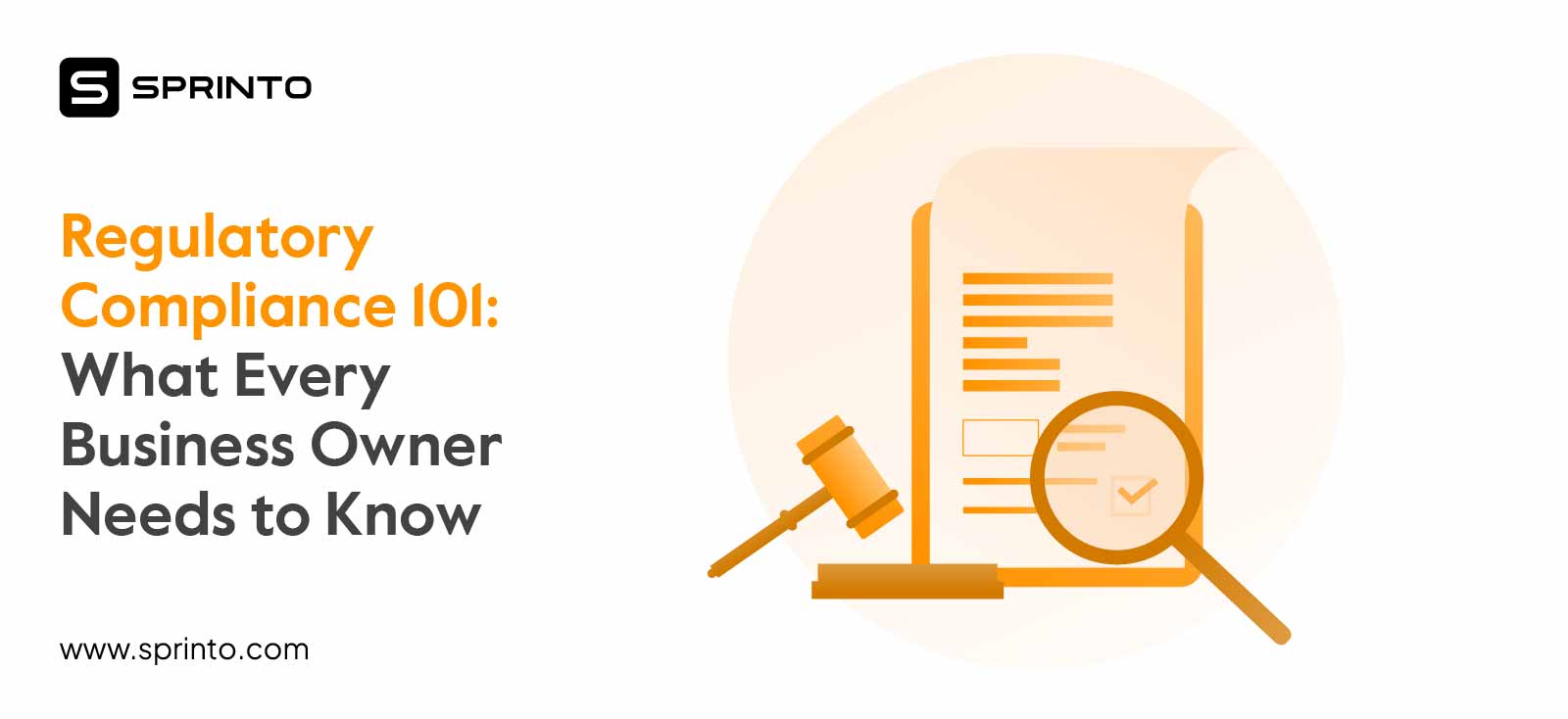 Sometimes, a region's regulatory compliance rules can prevent businesses from entering a region. This was the case with Threads, Meta's new social media platform. This uncertainty arose when it failed E.U.'s Digital Markets Act, which has rules about sharing user data across different platforms.
This issue sets the stage for what we're diving into in this blog.
From creating products to securing funds, entrepreneurs starting their businesses have their hands full. And while compliance may not grab the spotlight, it matters for a wide range of business processes. It's vital to make sure businesses follow the law. Brushing compliance aside could result in hefty fines, legal skirmishes, and reputational damage.
With this in mind, here's your go-to compliance guide to understanding the meaning of regulatory compliance and how to sidestep vital issues and maintain a favorable standing.
What is regulatory compliance?
Regulatory compliance refers to a collection of legal requirements and privacy regulations that organizations must follow to safeguard sensitive information. It's important to note that any company managing data, digital assets, or health protocols falls under regulatory compliance.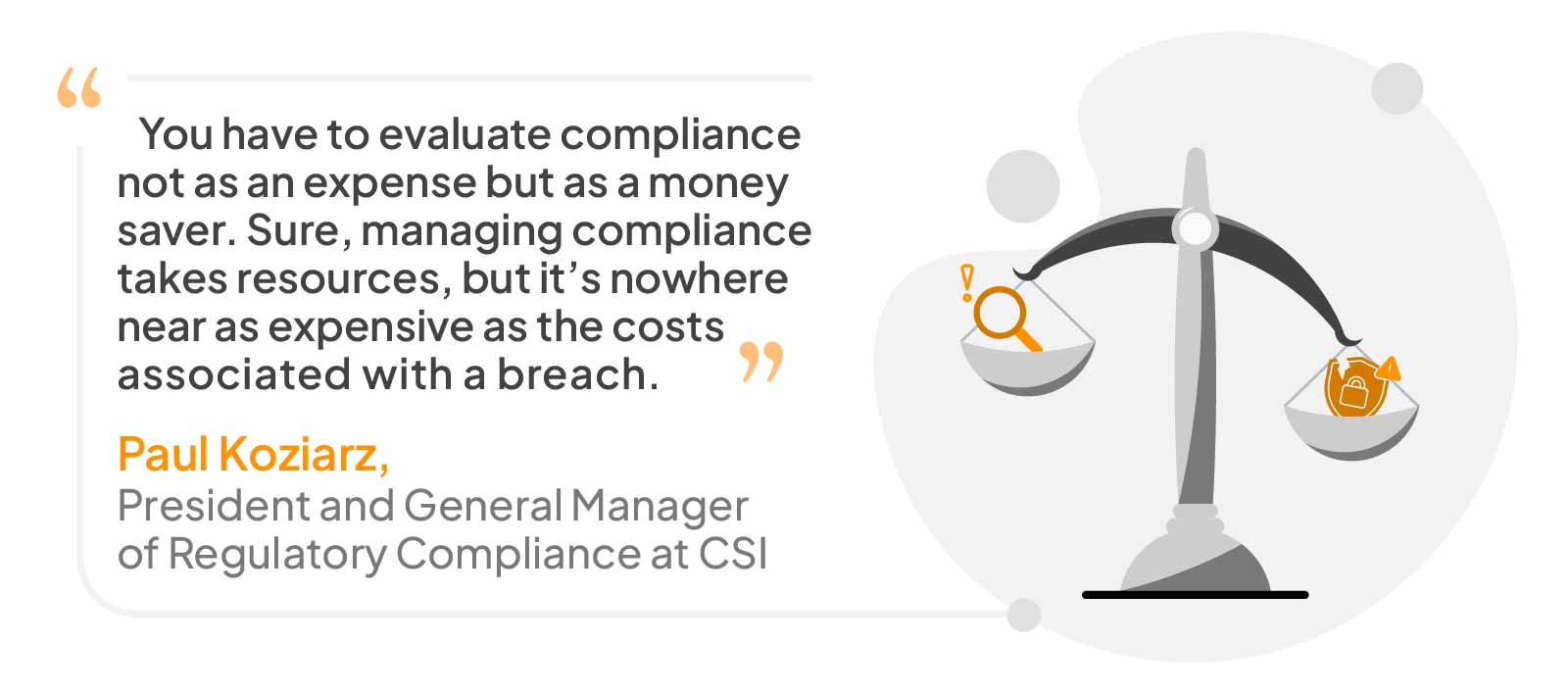 Industries like tech, finance, and healthcare get the short end of the stick regarding compliance standards because they directly impact the economy.
Why is regulatory compliance important?
Regulatory compliance is important because it is critical to mitigating potential cyber risks, including security breaches and data loss.
Regulations are moving targets. They keep changing and evolving. When you think you're done with your compliance exercise, something inevitably shifts, and you need to readjust your game plan to stay in the clear. So, your business needs to be nimble, or you risk leaving it vulnerable.
This constant change is what makes regulatory compliance so challenging.
Not meeting compliance efforts makes your business vulnerable to potential lawsuits and financial troubles. In fact, a study on cyber breach cases in the U.S., U.K., and Canada found that both the number of cases and the total losses associated with them are on the rise. The average cost per case jumped nearly two-thirds in just one year, from $4.4 million to $7.2 million.
Hence, compliance isn't just a box to check; it's vital to safeguard your business from potential harm and maintain a strong, trustworthy image in the eyes of your customers and regulators.
Industries and functions that must adhere to regulatory compliance
Any industry needs to stay on top of specific regulatory compliance requirements. It might be legal, operational, or related to cybersecurity. Here are some of the types of industries and their regulatory compliance procedures to give you an idea of what you can expect:
Healthcare providers' regulatory compliance
Regulatory compliance in healthcare is a bunch of processes and steps that help a healthcare company stick to the rules and laws. These rules can come from different places, like national or state laws, industry-specific regulations, or even agreements between private companies.
The Social Security Act manages Medicare, Medicaid, and CHIP
HIPAA and the HITECH Act safeguard patient privacy, ensuring healthcare providers preserve patient information
The Patient Protection and Affordable Care Act brought fresh insurance rules, including insurance such as Medicaid
The Department of Health and Human Services and the Office of the Inspector General team up to prevent fraud
Corporate regulatory compliance
Corporate compliance involves following a company's rules, applicable regulations, procedures, and behavior standards. This type of compliance isn't limited to internal policies and procedures but extends to federal and state laws governing business operations.
So when you enforce and maintain corporate compliance, your company can ensure that everyone within it is following the rules. This, in turn, helps prevent and detect any violations or misconduct in your compliance activities.
Cybersecurity regulatory compliance
Cybersecurity regulatory compliance includes a set of directives to ensure the security of IT and computer systems. These regulations play a crucial role in compelling companies to protect their systems and data against various cyber threats, including viruses, worms, Trojan horses, and phishing attempts orchestrated by malicious actors.
Federal Government Regulations
Health Insurance Portability and Accountability Act (HIPAA)
1999 Gramm-Leach-Bliley Act,
2002 Homeland Security Act, which includes Federal Information Security Management Act (FISMA)
State Government Initiatives
Complementing federal regulations, individual U.S. states have come up with measures to address cybersecurity concerns. A notable example is California's enactment of the Notice of Security Breach Act in 2003. This legislation requires companies to report security breaches involving California residents' personal data.
Human resources compliance
Simply put, human resources compliance is a set of rules and standards that guide how a company plans and manages its human resources. These rules set the gold standard for how HR should be done, and they need to be in sync with the company's overall goals and compliance process. Human resources managers often become the custodians of compliance. They handle important areas such as
Employment Laws: These cover family leave, fair wages, discrimination prevention, age discrimination, harassment, and disability accommodations
Employee Health and Safety: They deal with workplace safety (OSHA) and employee well-being
Hiring and Firing: This includes managing labor relations, unions, and immigration laws
Compliance for banking
In simple terms, banks must create policies and practices that match the rules they need to obey. These rules stem from different regulatory bodies, such as local government laws, international regulations, and compliance measures set by financial regulatory agencies at a local or international capacity. A good compliance program will:
Train employees about rules and make them accountable
Has strategies to tackle compliance risks
Provides enough staff and tools for compliance tasks
Financial services compliance
Financial services compliance includes a set of rules, regulations, and guidelines that financial institutions and capital markets must adhere to to ensure that they operate lawfully and ethically.
Common Reporting Standard (CRS): For financial institutions in certain countries to counter tax evasion, excluding the U.S.
Consumer Laws: Home Mortgage Disclosure Act, Truth In Lending Act, and more
Cybersecurity: Deals with preventing cyberattacks, with laws dictating how to handle data breaches. Laws like the Sarbanes-Oxley Act and PCI-DSS ensure customer data stays safe
Financial Crimes: Covers money laundering, insider dealing, fraud, and more. Having these policies shows commitment to deter such acts.
Also check out: Guide to Cloud Security Compliance
Steps to implement regulatory compliance
Implementing regulatory compliance from scratch is a big step that requires a wide range of manual planning.
Here are the 9 steps to implement regulatory compliance: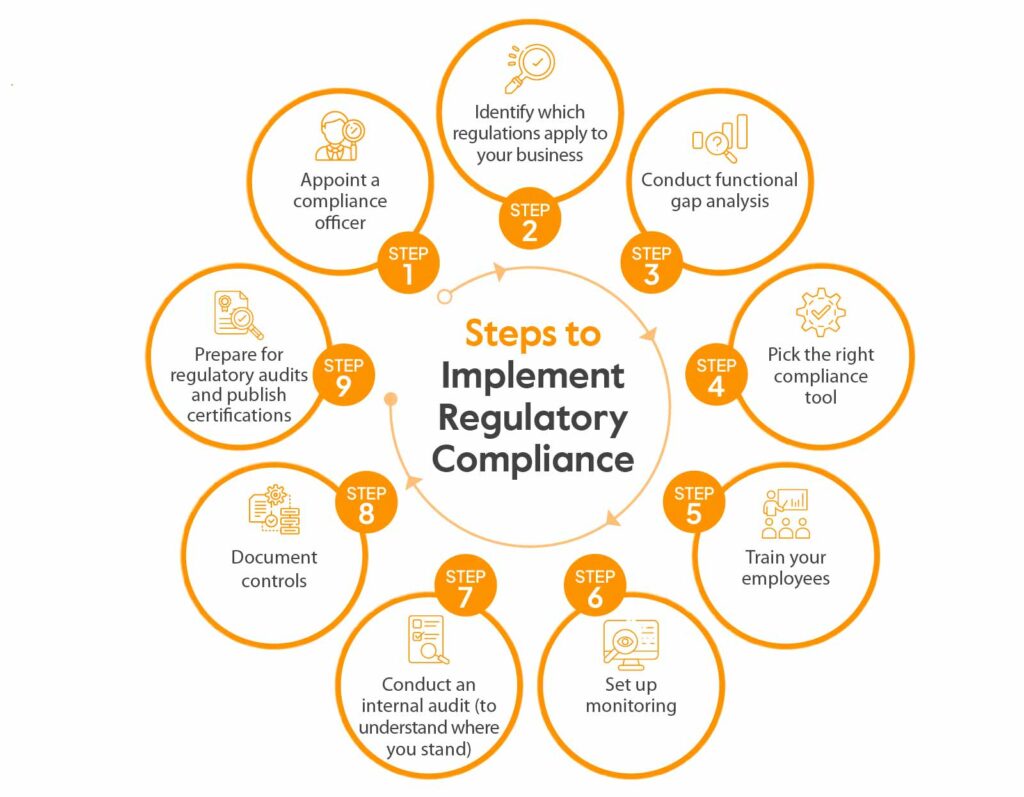 Appoint a compliance officer
Appoint an external compliance officer to take care of your compliance needs or have someone from your internal team shoulder the responsibilities that come with the role. A compliance officer acts as the POC for all compliance-related activities and as a spokesperson for the organization when communicating and liaising with external stakeholders for compliance activities.|

Depending on the size of the organization and the availability of skilled personnel, a compliance officer is appointed internally. CEOs, CTOs, Head of engineering, and CISOs usually wear this hat.
Identify which regulations apply to your business
First, identify all the regulations related to your organization. These regulations can stem from different levels, ranging from federal and state to local authorities, or may apply exclusively to your industry or region. These may most likely be legally binding as well.
Here are some key factors you must consider:
Client base: The types of clients you serve have a say in the regulations you must comply with. For example, if your clients use mainly cloud assets to store their data or their business is dealing with software, they have to comply with SOC 2 or ISO 27001 (these are not mandatory, though).
Industry: Which industry you work in will also majorly influence what regulations apply to you. For example, if you are in the banking industry in the USA, you need to follow the U.S. banking regulations like The Bank Secrecy Act.
Products: The nature of your products will introduce specific compliance requirements. For example, if you work in the healthcare industry, you must comply with HIPAA or HITRUST
Location: Where your business is physically located will influence the regulations you need to stay in tune with. For example, if your business is in California, you must comply with CCPA regulations.
Conduct functional gap analysis
Gap analysis is an assessment of your company's current cybersecurity measures and practices compared to its desired or required level of security. The idea is to find where you're lacking, weaknesses, and places where you don't meet security rules and standards.
For example, financial processes might be inefficient in small businesses, so it's a good place to start your analysis regularly. When doing this analysis, ask yourself some important questions:
Do you train your staff to keep them updated on the latest security threats?
Do you have standard procedures and approvals in place before making changes? And, just as important, do you plan to undo those changes if something goes wrong?
When it comes to granting access to new hires or removing it for those who leave, how do you handle that?
Manually handling these tasks to get compliant takes too much time. That's why Sprinto simplifies conducting gap analysis by automating up to 90% of your gap analysis process to help you simplify regulatory compliance.
Pick the right compliance tool
Compliance management software helps you follow your company's internal rules, legal requirements, and industry standards. This way, you don't have to face problems due to non-compliance; manual effort is just too trying.
However, choosing the right tool makes all the difference, as it will be responsible for 99% of your uptime. Below are some of the tasks that a compliance automation tool can do:
Automate tasks related to compliance
Create and manage documentation, policies, and protocols
Address issues related to risk management
Ensure your policies and procedures meet all the necessary laws and regulations
Also, a typical compliance management software comes with various features like risk assessments, policy management, training management, audit trails, and any aspect of compliance.
Sprinto is a real-time compliance automation software that keeps a watchful eye on your compliance activities. It even alerts you when controls fail so you stay on top of things.
Recommended: How to set up a compliance management system
Train your employees
Without a doubt, training your employees is one of the most important requirements. Frameworks like HIPAA and GDPR require companies to train their employees so that when security incidents occur, they know exactly what to do and when to do it. This helps keep employees aware of their responsibilities and ensures they can confidently carry out their roles in line with internal policies. Basic training can be carried out online through webinars or on-the-job exercises.
However, to make this task easier, Sprinto supports the training of employees with various modules that can be scheduled and monitored within the platform. Here's how. Admins will periodically send out training requests. Employees receive notifications that will prompt them to complete the required modules within a set time frame.
Set up monitoring
When you focus on compliance only once in a while, it can lead to a last-minute rush, scrambling to perform control tests, patching tasks, and hoping for no unexpected issues. This is why we urge you to set up continuous compliance monitoring as a part of your process.
The manual approach to compliance can be stressful and risky. However, having a compliance automation solution like Sprinto can save you significant time and effort. It connects with your systems, constantly monitoring controls against regulatory compliance standards like GDPR or HIPAA. It runs compliance tests, gathers evidence, and intimates security teams when controls fail, ensuring you have enough time to initiate corrective steps and keep your compliance program in check all year round.
Continuous compliance monitoring informs your company of your compliance status, while automated workflows ensure complete coverage. Sprinto offers a solution to navigate complexities and maintain compliance round-the-clock.
The interesting part is that Sprinto provides tailored dashboards that present real-time information based on your preferences. This helps you take immediate action and prevent lapses in compliance and potential fines.
Conduct an internal audit
Conduct an internal audit to view your current regulatory compliance standing and assess how aligned you are with compliance requirements. This process helps identify operations that may have gaps or potential risks. The goal is to ensure you're on the right track and understand where improvements are needed to align more closely with regulatory compliance requirements. This will help you stay in sync with the ever-changing compliance updates, reducing the likelihood of costly issues down the road.
For each of your compliance obligations, here's what you should be assessing:
Alignment with legal: Are your internal processes in sync with the legal requirements relevant to your business?
Employee awareness: Do your staff members clearly understand the rules your business must abide by? Are they working by these rules?
Documentation: Do you have accurate and up-to-date documentation that outlines how you maintain ongoing compliance?
Sprinto's dashboard makes it easy to keep track of the results from internal audits in real time. Once you add all necessary data, the dashboard tracks controls that pass and fail the set parameters. This ensures your security measures meet compliance standards while streamlining the audit process.
Document controls

Documenting controls in your compliance journey ensures there is an auditable log of every control deployed, organizational changes implemented, administrative protocols in the system, and more. These documents (logs) also double up as evidence of compliance when an auditor reviews the internal systems of an organization during a compliance audit.
Prepare for regulatory audits and publish certifications.
Now, the last step is to prepare for the audit based on the regulation you choose to adhere to. But before that, as you prepare for the audit, be ready to present the auditor with evidence. They may inquire about various aspects of your organization's practices, such as employee background verification, code review processes, access management, and endpoint security, among many other functions.
Sprinto has a network of auditors, and you can connect with one of them based on your requirements. Once the audit result is out, you can demonstrate it to the public with the help of Sprinto's Trust Center feature.
The Sprinto Trust Center provides a personalized portal that's easy to use as well as customizable to display the policies, documents, reports, and other resources that matter most to you.
Interestingly, you can bring in control information and display the real-time status of the security and privacy controls you've chosen on your page. And just like that, you've published your certifications for the world to see.
Differences Between Regulatory Compliance and Security Compliance
Regulatory compliance and security compliance are both vital but for a wide range of reasons. Security deals with reducing business risks, while regulatory compliance deals with legal and regulatory requirements. Their objectives are similar—managing risks and securing data but their methods differ.
| | |
| --- | --- |
| Security compliance | Regulatory compliance |
| Security involves using technical measures to shield digital assets from cyber threats | Regulatory compliance means following rules created by the government or regulatory bodies to reach satisfactory inspectional outcomes. |
| Safeguards company assets (IT) | Safeguards business activities |
| Fills security gaps, reduces risk, and preserves reputation | Minimizes risk of penalties and preserves reputation |
Examples of regulatory compliance
Now that you know everything about compliance. Here are some compliance regulations examples:
HIPAA
HIPAA is a set of rules for anyone with protected health information (PHI). Even if your company is not directly into healthcare services, you must adhere to HIPAA regulations when dealing with PHI.
GDPR
GDPR, or the General Data Protection Regulation, is fundamental to the European Union's digital privacy laws. It describes how you collect, process, and share personal information.
FedRamp
FedRamp, or Federal Risk and Authorization Management, is a U.S. government regulatory compliance that promotes adopting secure cloud services. It sets high standards for security assessment and continuous monitoring of cloud products and services.
Ready to get started?
So, regulatory compliance is not an option; it's a must for every business. And noncompliance isn't a simple problem; it can be a complete roadblock that leads to financial penalties, reputational damage, and even business closure. The key, however, is to start early.
Sprinto supports regulatory compliance by automating most of your repetitive compliance tasks. Also, we support various non-mandatory compliance frameworks to cater to your diverse organizational needs.
Are you ready to build an effective compliance program?
Sprinto simplifies compliance with common control mapping and continuous compliance monitoring.
Book a demo call with our experts if you're ready to start.
FAQs
What is the benefit of regulatory Compliance?
The advantage of regulatory Compliance goes beyond evading fines. It safeguards organizations from legal actions, not just financial punishments. Whether these lawsuits are initiated by regulatory agencies or external parties, following the laws and regulations provides a shield. This protective measure helps prevent potential lawsuits and their associated repercussions.
What is the regulatory and Compliance role?
Regulatory and Compliance ensure organizations follow industry rules, standards, and laws. They check how things are done, make plans for Compliance, and manage regulatory risks.
How many types of Compliance are there?
There are mainly two types of Compliance: corporate and regulatory. These types indicate where the rules and guidelines originate from. Whether it's corporate or regulatory Compliance, they both involve rules, regulations, and practices that must be followed.
Meeba Gracy
Meeba, an ISC2-certified cybersecurity specialist, passionately decodes and delivers impactful content on compliance and complex digital security matters. Adept at transforming intricate concepts into accessible insights, she's committed to enlightening readers. Off the clock, she can be found with her nose in the latest thriller novel or exploring new haunts in the city.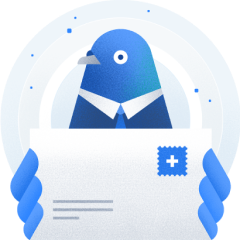 Subscribe to our newsletter to get updates
Schedule a personalized demo and scale business
Subscribe to our monthly newsletter

Sprinto: Your growth superpower
Use Sprinto to centralize security compliance management – so nothing
gets in the way of your moving up and winning big.