Top 12 Cloud Monitoring Tools in 2023
Meeba Gracy
Mar 08, 2023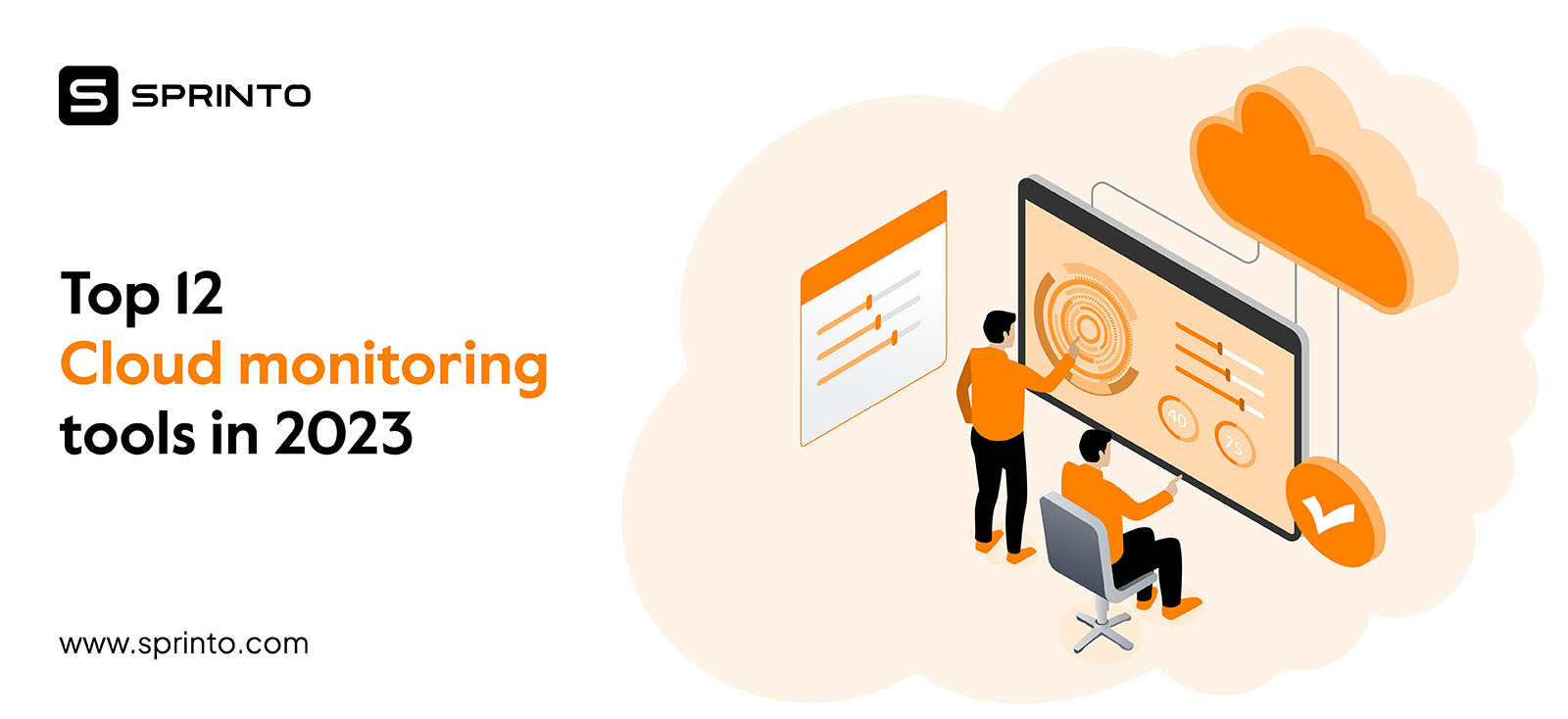 The rise of cloud computing has led to an increase in the need for efficient cloud monitoring technologies. Real-time visibility and control over their cloud environments have become imperative for effective cloud environment management.
The market is now swamped with different avatars of cloud monitoring tools and organizations find it challenging to select the one that ticks off all the checklists. A perfect solution does not exist. That should not discourage you in your security efforts.

This article aims to deep dive into the existing cloud monitoring solutions in the market, analyzing their Pros and Cons.
What is Cloud Monitoring?
Cloud monitoring refers to practices and technologies that help organizations visualize, review, and predict the performance, availability, and overall health of cloud infrastructure.
These tools provide real-time visibility into the performance of an organization's cloud environment, enabling them to make data-driven decisions and take steps in advance to address risks and prevent downtime.
Cloud monitoring includes:
Collecting data from all the sources where an organization's data assets reside, including cloud infrastructure, cloud services, application logs, system logs, metrics, network data, and user activity;
Analyzing these treasure troves of data using techniques like statistical analysis, machine learning, and pattern recognition;
Providing real-time insights into the performance and behavior of cloud systems in a format understandable to humans, like charts, graphs, and alerts.
Cloud monitoring helps organizations optimize resource utilization, boost the performance of cloud-based systems, detect potential risks, secure hardware and software systems, improve compliance with industry standards and regulations, and ensure the reliability and availability of cloud services. With a bird's-eye view of the cloud environment, these tools allow organizations to identify and resolve issues quickly.
Top 12 Cloud Monitoring Tools
Cloud monitoring tools offer a comprehensive feature set to monitor the cloud environment, including ease of integration with existing IT infrastructure, an intuitive interface, the ability to scale, cost efficiency in terms of licensing, implementation, training, maintenance, and scalability, and a support system for troubleshooting assistance.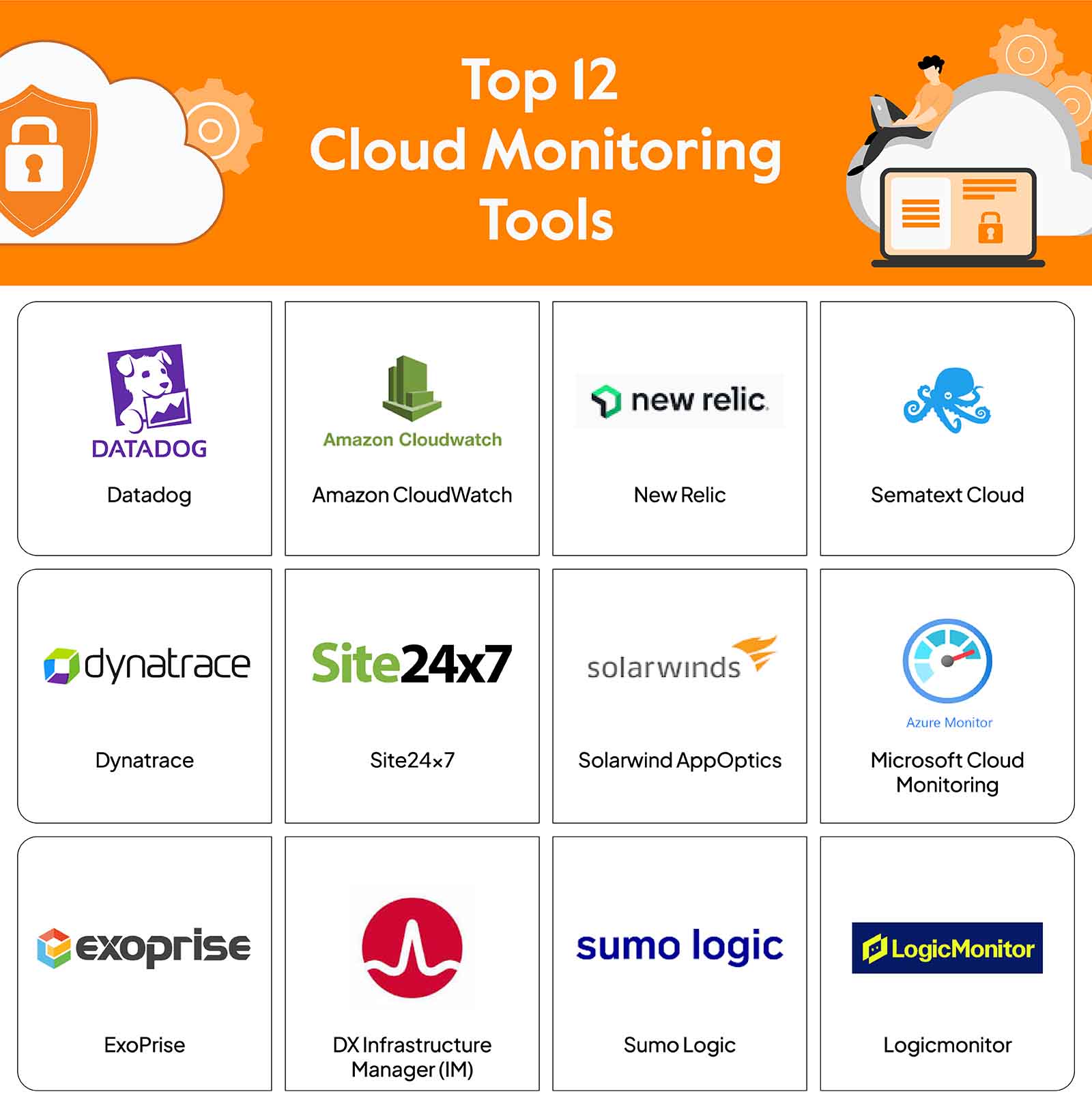 Readers are reminded that no specific mechanism has been used while ranking the top cloud monitoring tools in the 2023 market. We have taken credible sources for reference, not to mention tools recommended by industry experts and those with top ratings on review sites, to hand-pick the top 12 cloud monitoring tools that are trending in 2023. However, carrying out a proof-of-concept or pilot project in advance is suggested.
Datadog
Initially started as an infrastructure monitoring service, Datadog now, a SaaS monitoring solution, provides a comprehensive set of features to monitor an organization's entire cloud infrastructure, including applications, containers, networks, and logs, as well as serverless features like AWS, lambda, and Google Cloud Functions.
Its ability to swiftly integrate with several cloud applications and software platforms enables organizations to gain unified, real-time visibility into the entire technology stack for troubleshooting and optimization goals. As a result, it is preferred by organizations of all sizes, with its principal customers being eBay, Sony, and Samsung.
Pros
Customizable dashboards and alerts
Supports multiple cloud providers and on-premise infrastructure
Advanced analytics and reporting capabilities
Real-time monitoring and alerting
Efficient and effective collaboration and teamwork features
Cons
Steep learning curve for new users
Pricing can be expensive for large scale enterprises
Amazon CloudWatch
Amazon CloudWatch is an AWS monitoring service that enables organizations to gain visibility into applications and resources in AWS as well as on-premises. Its ability to integrate with over 70 AWS services helps organizations collect and analyze both metrics and log data.

This service offers CloudWatch Events to trigger automated actions and workflows. Its integrated log support and synthetic monitoring help organizations quickly set up basic monitoring to gain insights into their system's overall health and performance.
It provides a centralized platform for monitoring the health and performance of various Amazon resources, including EC2 instances, RDS databases, Lambda functions, and more.
Pros
Integration with Amazon Web Services (AWS)
Scalable and flexible
Customizable dashboards and alarms
Low cost
Easy to use
Cons
Limited third-party integration
Limited log analytics
New Relic
New Relic's algorithm seamlessly integrates all data from various resources into one network monitoring dashboard to provide organizations with a precise account of how their cloud applications and cloud servers are running in real-time.
To better monitor systems and applications, New Relic also offers integration with the largest ecosystem of open source technologies, such as Kubernetes, Prometheus, and Apache.
Pros
Advanced and comprehensive performance monitoring
Customizable dashboards and reports
Real-time alerting and notifications
Extensive integrations with multiple technologies
APM (Application Performance Management) and infrastructure monitoring
Cons
Steep learning curve for some features
Pricing can be on the high side for smaller businesses
Sematext Cloud
Sematext Cloud is an easy-to-set-up full-stack cloud monitoring solution that provides in-depth visibility into an organization's IT infrastructure.

It offers both reactive and predictive monitoring to deliver a better experience to users. Its code-level visibility for spotting coding errors and query issues makes it an excellent DevOps tool. In addition, its ability to spot trends and patterns makes it a great tool for diagnosing and troubleshooting tasks.
Pros
Advanced analytics capabilities
Real-time monitoring
Supports multiple cloud environments
Customizable dashboards
User-friendly interface
Cons
Limited integration options with other tools
Steep learning curve for some features
Dynatrace
Available in both SaaS and on-premise models, Dynatrace offers a full-stack observability solution to meet all monitoring requirements of an organization, be it monitoring performance, real users, logs, or infrastructure.

Dynatrace combines comprehensive observability of the organization's systems with a real-time security analysis to produce actionable insights. Its ability to incorporate AI into operations enables intelligent data automation, allowing organizations to streamline their cloud operations and provide end users with an optimal digital experience.
Pros
Artificial Intelligence and Machine Learning-based monitoring
Automated Root Cause Analysis
Real-Time Insights
User Experience Monitoring
Cross-Cloud Support
Cons
Steep Learning Curve
High Cost of Implementation and Maintenance
Site24x7
Site24x7 offers flexible and scalable architecture, which is well-liked by DevOps and IT operations in organizations of all sizes. It enables multi-cloud monitoring from a single console without switching tabs, including AWS, Microsoft Azure, and Google Cloud Platform.

Its drag-and-drop interface and interactive visualization widgets provide a comprehensive view of an organization's entire cloud environment. Its advanced alerting and reporting features allow organizations to proactively manage their IT infrastructure and make necessary changes to intercept or address any issues that arise.
Pros
Robust website and infrastructure monitoring capabilities
Wide range of integrations with popular tools and technologies
Real-time alerts and notifications
Advanced reporting and analytics features
User-friendly interface and easy setup
Cons
Limited scalability compared to other cloud monitoring tools
Limited features compared to more advanced cloud monitoring platforms
Solarwind AppOptics
Solarwinds AppOptics offers unified infrastructure management that helps organizations monitor the performance and health of their IT infrastructure, including applications, storage, servers, and virtual machines.

It provides real-time monitoring, deep visibility, and interactive visualization to provide organizations with actionable insights to manage and resolve issues with their IT infrastructure proactively. The tool is known for its ease of use and customizable dashboards, and it supports both hybrid and multi-cloud environments.
Pros
Scalable platform to accommodate large-scale deployments
Comprehensive performance monitoring for cloud-based infrastructure
Intuitive user interface for ease of use
Advanced analytics and reporting capabilities
Integration with popular cloud providers and tools
Cons
Steep learning curve for first-time users
Limited cloud management capabilities compared to some other tools
Microsoft Cloud Monitoring
Microsoft Cloud Monitoring assists businesses in monitoring the health, performance, and availability of their applications and infrastructure across multiple platforms, including cloud and on-premise systems. Its real-time monitoring and alerting system provides detailed visibility into application performance, infrastructure resources, and network connections.

This tool works with other Microsoft products like Azure and System Center to provide a complete cloud monitoring solution. Its extensive feature set provides valuable insights into resource usage, performance, and overall system health, allowing administrators to make informed decisions and take necessary actions to improve the environment.
Pros
Integration with Azure and other Microsoft products
Advanced analytics and visualization tools
Automated alerts and notifications
Scalable and flexible
Robust security features
Cons
Steep learning curve for non-Microsoft users
Limited third-party integrations
High cost compared to other cloud monitoring solutions
ExoPrise
ExoPrise is a leading cloud monitoring tool that helps organizations ensure their critical cloud applications run smoothly. With its comprehensive SaaS monitoring solution, ExoPrise helps organizations monitor their entire Office 365 suite, troubleshoot issues, identify outages, and resolve issues proactively.
The tool is designed to meet SLA requirements for SaaS and web applications, ensuring that cloud apps are always running optimally. Its security and optimization services help businesses stay ahead of potential problems, ensuring the sound performance of cloud apps.
Pros
Monitors and manages the whole Office 365 suite
Troubleshoots, identifies outages, and resolves issues before they impact the organization
Guarantees all SaaS and Web apps meet SLA requirements
Offers complete security and optimization services for cloud apps
Provides integrated threat intelligence
Cons
May be limited to monitoring a few specific cloud applications
May require significant effort to set up and configure
DX Infrastructure Manager (IM)
Broadcom's DX Infrastructure Manager is a cloud management platform that allows businesses to monitor and manage their on-premises, public, private, and hybrid cloud environments from a single interface.

With its open architecture and zero-touch configuration, this tool provides a proactive approach to addressing performance issues in cloud infrastructure.
DX IM employs cognitive analytics to automate monitoring and make troubleshooting easier. The platform includes a customizable HTML5 console that enables businesses to track end-user experiences and create customized dashboards for better visualization. Its adaptable technology and cognitive analytics make DX Infrastructure Manager a fantastic tool for cloud monitoring.
Pros
Offers control over on-premises, public cloud, private cloud, and hybrid cloud environments in a single location
Uses cognitive analytics for automation of infrastructure monitoring
Adaptable technology with customizable dashboards
Proactive approach to address performance issues
Manages networks, servers, storage databases, and applications
Cons
Limited information available online
May require extensive setup and configuration for larger, complex environments
Sumo Logic
Sumo Logic is the industry leader in cloud monitoring software, serving over 2,000 organizations of all sizes worldwide.
The Sumo Logic Continuous Intelligence PlatformTM automates the collection, ingestion, and analysis of application, infrastructure, security, and Internet of Things (IoT) data to produce actionable insights in seconds.
Its tools, including LogReduce and LogCompare, allow users to view logs from a specific time period, reduce data volume, and identify interesting discrepancies and anomalies.
Additionally, it offers cloud security features for common cloud providers and SaaS solutions, ensuring PCI compliance and integrated threat intelligence.
Pros
Advanced log management and analysis
Real-time data insights and monitoring
Scalable and flexible architecture
User-friendly interface with customizable dashboards
Integrations with popular cloud providers and SaaS solutions
Cons
Steep learning curve for complex features
Limited customization options in free version
Logicmonitor
For two consecutive years (2016 and 2017), Logic Cloud Monitor was named the best network monitoring tool by PC magazine. This cloud-based monitoring system automatically discovers and integrates with all network infrastructure components and offers pre-configured and customizable screening solutions.
It has an infinite number of dashboards for visualizing system execution data in ways that help businesses.
LogicMonitor's SaaS-based unified observability platform ensures clarity across hybrid IT to meet key business demands, and LM Envision enables teams to identify and solve problems quickly, improving operational efficiency for critical services.
Pros
Real-time monitoring and alerting for infrastructure and applications
Cloud-based and supports multiple platforms, including AWS, Azure, and Google Cloud
Automated discovery and configuration of devices and applications
Customizable dashboards and reporting features
Scalable and flexible to accommodate growing needs
Cons
Steep learning curve for new users
Limited customization options for certain features
Benefits of Cloud Monitoring Tools
Here are some of the benefits of using cloud monitoring tools:
Improved performance
With cloud monitoring tools, organizations gain real-time visibility into the performance of cloud infrastructure and applications. It helps them identify the root cause of performance issues that manifest in the forms of slow response time and resource contention.
It also addresses such issues by implementing necessary steps, such as adjusting resource allocation, tuning configurations, or updating software.
Increased availability
Increased availability helps websites, applications, or services run at peak performance, so when users and customers access or need them, they experience it without any interruptions or downtime. Improved uptime, accessibility, and reliability of cloud-based systems achieved with increased availability result in higher revenue, good productivity, and a positive impact on the customer experience.
Cost optimization
Cloud monitoring tools help organizations detect areas where resources are underutilized or overprovisioned. Such insights empower organizations to reconfigure resource allocation and utilization, which results in optimized operational costs.
Furthermore, these tools assist organizations in identifying and eliminating unused or idle resources that gnaw upon operational costs in stealth.
Enhanced security
Real-time monitoring of cloud infrastructure creates security alerts and notifies the respective administrators about unauthorized accesses, policy violations, and network intrusions before such incidents turn into any potential data breaches.
This enforcement of security policies and standards ensures secure usage of cloud resources and protection of sensitive data, ultimately improving the security posture of organizations.
Better compliance
Cloud monitoring tools keep a constant check on data access, data storage, and network security. This continuous monitoring of cloud infrastructure usage, configuration, and security garners remediation suggestions that assist the cloud environment fix issues and bring it back into compliance.
Additionally, these tools can track changes made to the cloud environment and store a historical record of audit logs that organizations can benefit to prove compliance and pass regulatory inspections.
Improved user experience
Real-time visibility into the performance of cloud infrastructure yields insights that help organizations identify issues that impact the end-user experience, such as slow response times, downtime, error rates, resource utilization, and network performance, and help organizations take proactive measures to address them and provide end-users with a more seamless and enjoyable experience for overall satisfaction and loyalty.
Efficient resource allocation
Cloud monitoring tools provide real-time insights into detailed utilization of computing power, storage capacity, and network bandwidth, helping organizations identify underutilized resources for optimization purposes.
These tools are also capable of monitoring resource utilization patterns and predicting future requirements, which helps organizations proactively adjust their resource allocation to keep future changes in check and avoid potential performance bottlenecks.
Also, check out the challenges of cloud computing.
What's Next?
At this point, when a detailed anatomical analysis of the best monitoring tools on the market has been completed, keeping in mind the enormous benefits that each garner and the drawbacks that each inherits, it is now up to you to follow the guidelines engraved in the article to make your decision.
This article leaves you more informed, educated, and wise for available options to decide which strikes the best balance between your wants and the features each offers.
Meeba Gracy
Meeba Gracy is a bold copywriter and marketer. She's on a mission to stamp out gobbledygook to make compliance blogs sparkle. In her free time, Meeba can be found with her nose in a thriller novel or exploring new places in the city.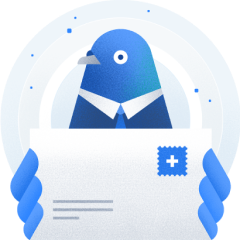 Subscribe to our newsletter to get updates
Schedule a personalized demo and scale business
Subscribe to our monthly newsletter

Sprinto: Your growth superpower
Use Sprinto to centralize security compliance management – so nothing
gets in the way of your moving up and winning big.