ISO 27001 is an information security compliance framework designed to help businesses deploy information management security systems (ISMS) to protect sensitive information. But how does ISO 9001 fit into this? If it does work? Should you get it? And what if you are already ISO 27001 compliant? What would the addon look like?
In this article, we analyze the difference between ISO 9001 and ISO 27001, talk about how when both the ISO subsets show similarities and also look at the benefits of going for ISO 27001 and ISO 9001 in your compliance journey.
ISO 9001 helps organizations implement Quality Management Systems (QMS) to improve their existing products and services continuously.
An ISO 27001 certification demonstrates to your customers that you have the security systems to ensure sensitive information integrity. And the ISO 9001 process shows the importance an organization gives to improving its customer-facing systems by focusing on quality.
When an organization aims to become ISO 27001 and ISO 9001 compliant, it aims to demonstrate its focus on maintaining security without losing focus on quality.
What's the difference between ISO 9001 and ISO 27001?
While ISO 27001 and ISO 9001 behave similarly to an extent, inherently, they exhibit different characteristics. For example, ISO 27001 focuses on Security, and ISO 9001 is designed to enhance quality.
Each subset aims to solve a different aspect of compliance; hence, the efforts to become compliant for each framework are usually paved on different paths.
Note: That's the usual process. But you can be smart about it and rely on compliance automation platforms like Sprinto. Sprinto is purpose-built to enable quick addons to enable scaling while ensuring effective compliance. More on that later.
Let's look at the major differences:
Scope:
Both the subsets require the organization in the compliance journey to define the scope. For example, an ISO 27001 scope should include critical products, information, software, systems, subsidiaries, functions, processes, and geographies that need ISO certification.
The Scope of ISO 9001 is subject to interpretation. It allows for excluding elements from the scope as long as they do not hinder the ongoing customer satisfaction enhancement process.
Commitment from your leaders:
ISO 27001 does not need your leadership and the C-suite team to get hands-on during the implementation. However, ISO 9001 is different in this aspect. In IS0 9001, the leadership team will have to be involved in enabling the legal and technical policies required to maintain and continuously implement a customer-focused approach.
Policy:
A major difference between them both is that ISO 9001 requires you to draft a quality policy that is not mandated for ISO 27001.
Preset controls:
ISO 27001 requires businesses to follow a series of controls to demonstrate compliance with the requirements listed in Annex A of the framework. ISO 9001 does not mandate this.
Resource allocation:
ISO 27001 and ISO 9001 state that internal/external resources should be assigned to implement the policies and controls required for becoming compliant. While ISO 27001 allows organizations to task the same resource with multiple responsibilities, ISO 9001 does not.
In ISO 9001, resources responsible for knowledge, infra, and human resources of product conformities should not be tasked with other compliance duties.
Operational differences:
ISO 27001 requires organizations to implement policies and controls and provide evidence for audits, while ISO 9001 only requires you to define the controls.
Also check out: ISO 27001 checklist
What are the similarities between ISO 9001 and ISO 27001?
ISO 27001 and ISO 9001 share similarities, and the implementation overlap is significant. Here are a few aspects where ISO 27001 and ISO 9001 are similar.
Organization overview:
Both standards require you to map the internal and external aspects required for compliance. The point of view of the mapping process will vary, though.
Involved parties:
The same process used to define the requirements and policies of the security aspect can be used to implement the quality aspect of ISO 9001.
Task allocation process:
Both standards require businesses to assign owners to execute different duties of the compliance process. Therefore, the task allocation process used for implementing an ISMS can be used for implementing a QMS.
Competence, Awareness, Communication, and Documented Information:
The process used to implement the above-mentioned aspects of compliance can be used across ISO 27001 and ISO 9001.
Maintaining compliance:
Both standards require organizations to continuously monitor their business systems to ensure that the desired levels of efficiency are consistently achieved.
Internal Audits and Review:
The processes used to run internal audits and review the ISMS profile can also be used in ISO 9001. Implementation could vary depending on the size of the organization.
Corrective Measures:
Both standards require organizations to implement corrective measures to achieve compliance for those areas of their business environment that record nonconformities.
The same process can be used for security and quality.
Benefits of integrating ISO 9001 and ISO 27001
Unified Approach:
Both ISO 9001 and ISO 27001 share processes and policies. This means duplicating the effort spent for shared processes ensures that your organization does not spend time and financial resources on the same task. Minimizing duplication ensures that overall organizational performance increases.
Become compliant with two global compliance frameworks:
Integrating your ISO 27001 and ISO 9001 compliance efforts ensures that your organization demonstrates strong ISMS and QMS to your prospects.
Gain that competitive edge:
By becoming compliant with ISO 9001 and ISO 27001, you boldly demonstrate your security prowess in maintaining the integrity of sensitive information and your systems in place that is designed to improve your product's quality performance continuously. This gives you an edge over your competitors. In addition, this instills confidence in prospects about how serious your organization is about security and customer satisfaction.
How to integrate ISO 9001 and ISO 27001?
ISO 9001 and ISO 27001 share processes and requirements, eliminating the need for you to draft separate subset-based procedures. That said, the purview of an ISMS framework will significantly differ from the Quality one. The input parameters and respective end results vary drastically even when the same processes are used across both subsets.
Navigating through the similarities and differences between ISO 27001 and ISO 9001 and implementing the required controls and policies to achieve dual compliance is easier said than done. Often organizations consider seeking assistance from experts as an unnecessary expense that could be avoided. But, compliance, when implemented the wrong way, could lead to a failed audit. And the cost incurred and the time spent to implement corrective measures and get audited again is a lot more expensive when compared to the quote from an external compliance expert.
How Sprinto Leverages its purpose-built ISO framework to enable Addons: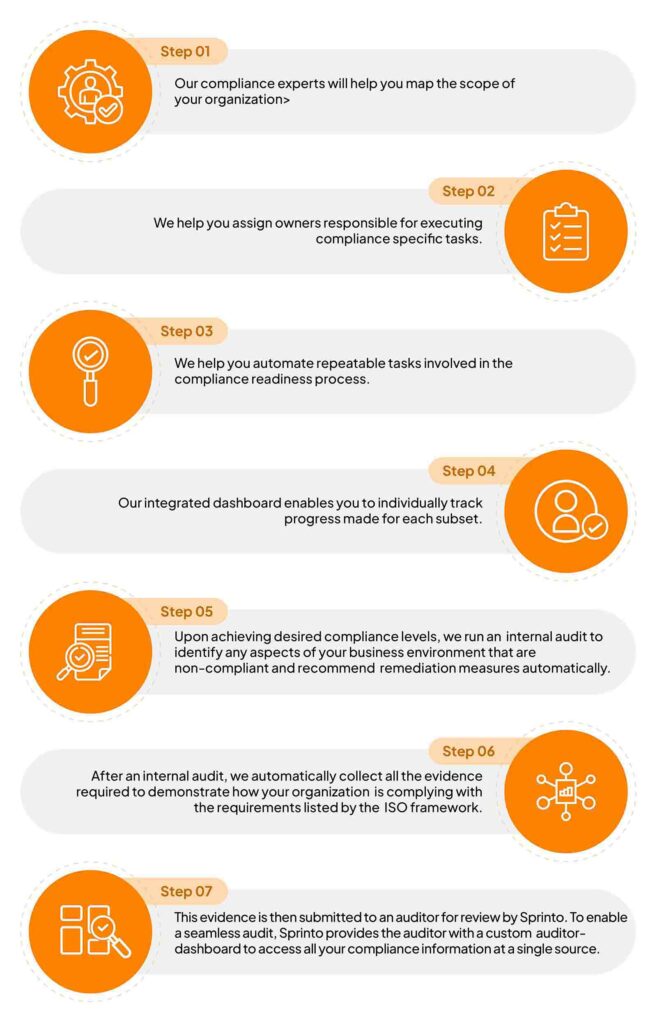 Sprinto has designed its compliance automation solution to solve for scaling. Our Infrastructure architecture enables you to easily add compliance frameworks within the ISO ecosystem. If you are already ISO 27001 compliant with Sprinto, you can contact our experts on discussing the details of your ISO 9001 add on.
If you will be using Sprinto as your compliance partner for the first time, here's a quick low-down of what your compliance journey will entail.
Step 1:
Our compliance experts will help you map the scope of your organization>
Step 2:
We help you assign owners responsible for executing compliance-specific tasks.
Step 3:
We help you automate repeatable tasks involved in the compliance readiness process.
Step 4:
Our integrated dashboard enables you to track progress made for each subset individually.
Step 5:
Upon achieving desired compliance levels, we run an internal audit to identify any aspects of your business environment that are non-compliant and recommend remediation measures automatically.
Step 6:
After an internal audit, we automatically collect all the evidence required to demonstrate how your organization complies with the requirements of the ISO framework.
Step 7:
This evidence is then submitted to an auditor for review by Sprinto. To enable a seamless audit, Sprinto provides the auditor with a custom auditor dashboard to access all your compliance information at a single source. In addition, by streamlining the evidence collation process, Sprinto enables the auditor with all the information they'd need to make their judgement without having to go through endless to and fro on the mail chain with clients.
These steps sometimes take less than 14 business days from start to finish. Talk to our experts today about getting started on your dual compliance journey for ISO 27001 and ISO 9001.
FAQs
Does ISO 27001 cover ISO 9001?
ISO 27001 does not entirely cover ISO 9001. There are a few aspects that are common, but the commonality can not be used to conclude that ISO 27001 covers ISO 9001.
Is ISO 9001 a security standard?
It enables organizations to define processes that help in maintaining a continuous customer-focused approach.
Why is ISO 9001 used?
It is a Quality management standard. It is designed to help businesses set up and maintain a quality management system that aims at improving customer satisfaction and implementing customer-focused processes during product development.