Security Questionnaire: Why You Should Give It Utmost Importance?
Shivam Jha
May 23, 2023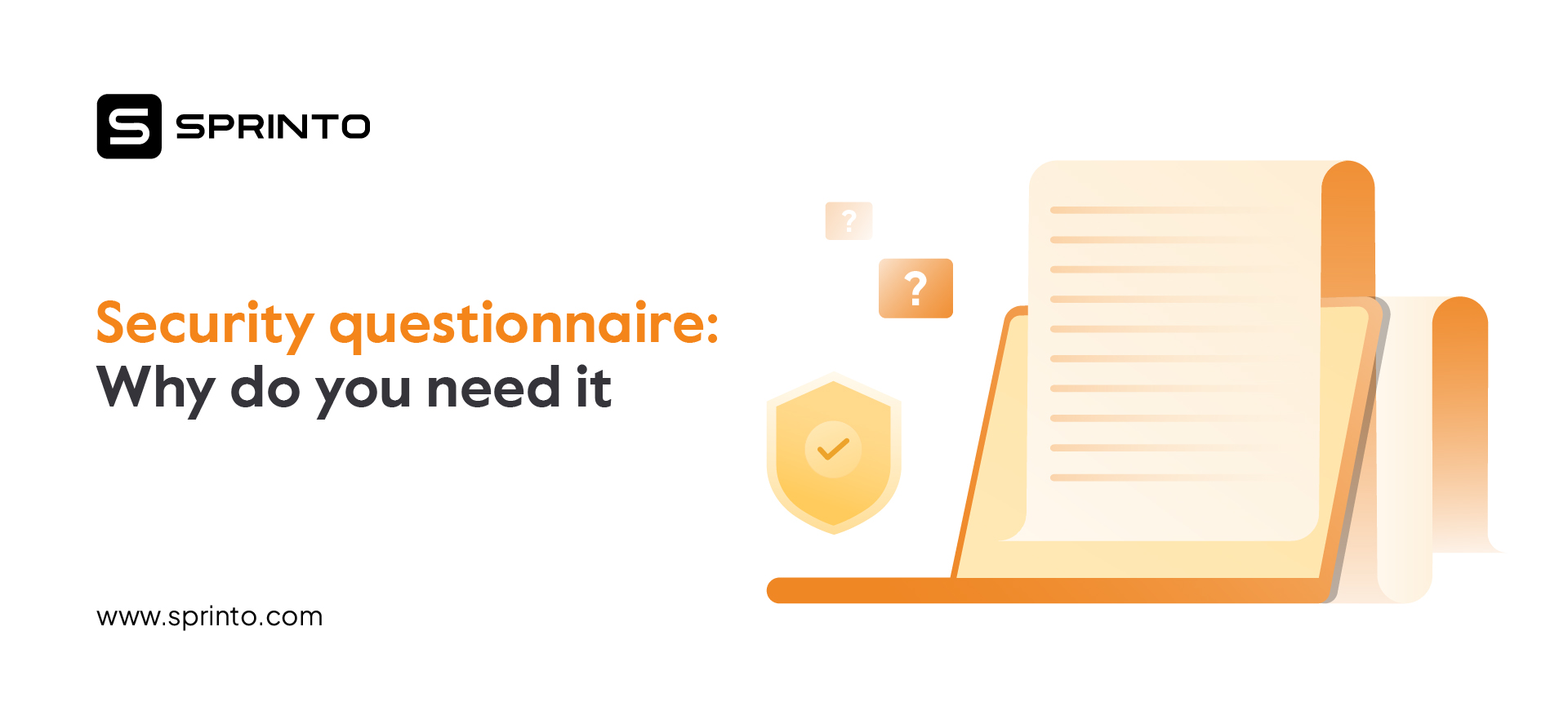 In the present day, sensitive information, intellectual property, and vital infrastructure can all be compromised by a breach in a vendor's system, resulting in significant financial loss and damage to an organization's reputation.
According to a survey conducted by Ponemon Institute in 2022, about 56% of respondents claimed that they suffered some form of a security breach because of a third-party vendor.
Building strong working relationships with vendors may assist businesses in lowering the risk of cyber breaches, enhancing their security posture, and safeguarding their assets. Let's see how.
What is a security questionnaire?
A security questionnaire is a document that contains a set of questions aimed at assisting a company in locating potential cybersecurity flaws among its third and fourth-party suppliers, associates, and service providers. Today, the majority of sectors regard the distribution of security questionnaires to vendor partners to be a best practice in cybersecurity.
Security questionnaires are used by organizations to generate accurate vendor risk evaluations. By ensuring that their information security practices and security policies adhere to both internal and external regulations, they enable organizations to screen potential vendors and other third parties.
Why are security questionnaires important for organizations?
Security questionnaire plays an important role in the client-vendor relationship as it defines the security posture of the vendors and shows if the vendor's ecosystem is complying with various security frameworks related to their industry.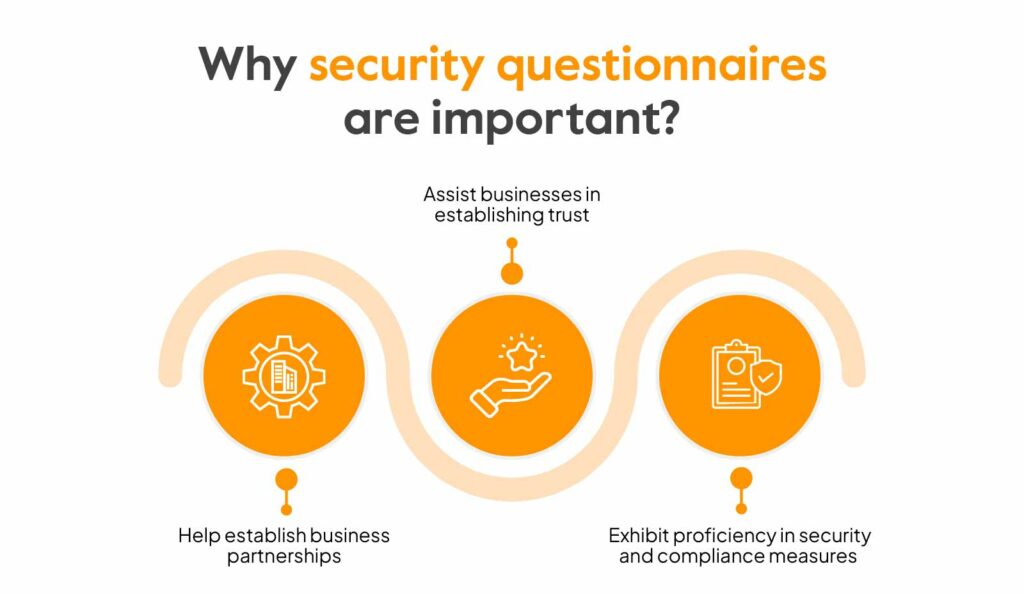 In addition to growing vendor dependency, the dramatic upsurge in the use of remote work technologies sped up digital transformation, forcing security teams to expand defenses and mitigate weaknesses that attackers may exploit quickly.
Here are a few other reasons why security questionnaires are so important for organizations:
Help establish business partnerships
For an organization to be successful, developing commercial ties is essential. Organizations frequently require responses to security questionnaires in order to gain knowledge about the maturity of their security program.
Assist businesses in establishing trust
Building trust requires demonstrating a commitment to security throughout the supply chain and guaranteeing the security of sensitive client information. Questionnaires are a wonderful way to start gathering data and have a better understanding of their vendor's security stance.
Exhibit proficiency in security and compliance measures
Questionnaires are frequently used to offer verifiable proof that a company has the required security and controls in place and is in compliance with relevant regulations.
Hence, consider it as a compliment if your company receives a security evaluation questionnaire. This indicates that your potential client wishes to do business with you. They are already leaning in and want to move forward by confirming your security posture through a documented security assessment guide.
Just like security questionnaires are important for organizations, getting compliant with the relevant frameworks is equally important. Sprinto is a compliance automation platform that cuts down the overall time by more than half compared to what is needed to get compliant manually. Can't believe it? Speak to our experts here.
Topics covered under the security questionnaire
The topics covered in the questionnaire vary from organization to organization, but there are a few criteria that are taken into account when forming a security questionnaire. Some of them are purpose, scope, data classification, relevance, and more.
Here are some of the topics covered under a typical security questionnaire:
Access Control
Data Privacy
Information Security and Privacy
Physical and Datacenter Security
Governance, Risk Management, and Compliance
Incident Response Planning
Web Application Security
Infrastructure Security
Business Continuity Management
Operational Resilience
Threat and Vulnerability Management
Supply Chain Management
It is fairly normal for a security questionnaire to be lengthy but it is equally important for the vendor to answer each of them correctly as any discrepancy can lead to liabilities if a breach occurs.
How to create your own security questionnaire
When joining new third-party relationships, your company must produce and distribute security questionnaires to do efficient vendor screening.
Vendors frequently take their sweet time to respond to extensive, burdensome security questionnaires. This is due to the fact that the accuracy of responses is more important than speed while responding to these questions, as liabilities can be imposed in case of discrepancy.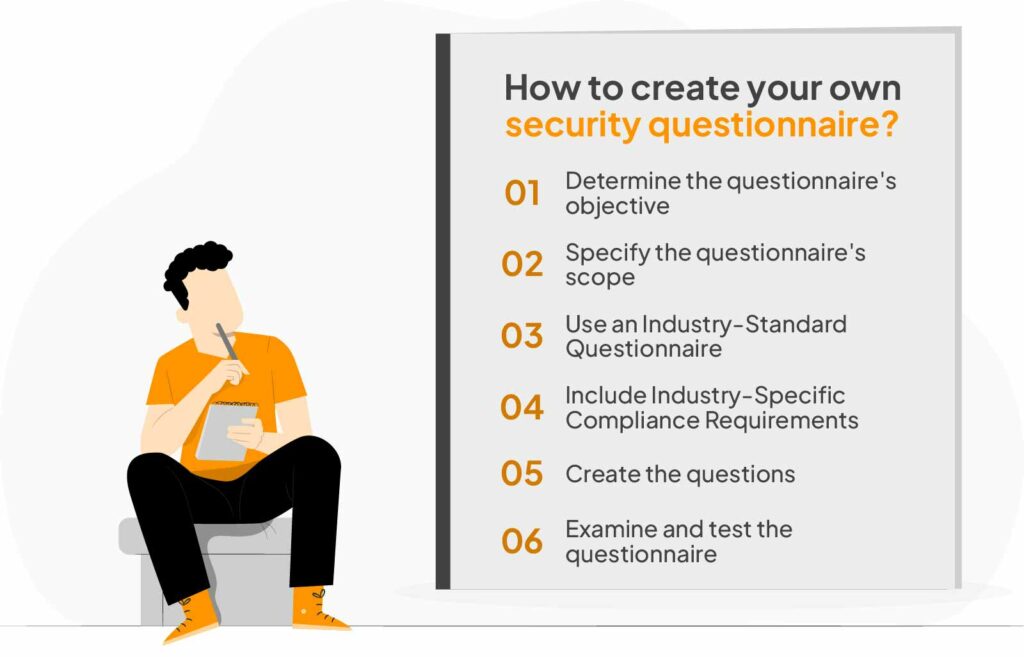 These are the guidelines to create your own security questionnaire:
Determine the questionnaire's objective
Think about the goals and purposes you're looking to achieve with the security questionnaire. You can use this to pick which security-related topics to include in the questionnaire.
Specify the questionnaire's scope
Establish the questionnaire's scope, which should include the security domains you wish to review, the systems or departments you wish to assess, and the categories of threats you wish to address.
Use an Industry-Standard Questionnaire
Using a template from an industry-standard questionnaire and adding to it as necessary, based on the needs of your firm, is common practice. Some frequently used industry-standard approaches include CIS Critical Security Controls, Consensus Assessments Initiative Questionnaire (CAIQ), NIST 800-171, Standardized Information Gathering Questionnaire (SIG / SIG-Lite), and VSA Questionnaire (VSAQ).
Include Industry-Specific Compliance Requirements
There are regulations such as GDPR, LGPD, and CCPA that are more or less applicable to most industries. However, regulations like HIPAA and PCI are relevant to healthcare and finance industries respectively. Hence, it's important to include your organization specific compliance requirements.
In order to guarantee that you deliver the required security assessment questionnaires, it's critical to make sure the team is aware of the specific compliance needs of each possible vendor.
Create the questions
Create the questions that will be part of the survey, making sure they are precise, concise, and simple to comprehend. To acquire replies that are both qualitative and quantitative, think about utilizing a combination of open-ended and closed-ended questions.
Examine and test the questionnaire
Examine the questionnaire to make sure that all pertinent security-related topics have been covered and that the questions are accurate and reliable. To find any problems or areas that could be improved, test the questionnaire with a sample group.
Creating a security questionnaire is one of the fundamental things you'll have to do if you prioritize security. However, most of the companies forget about the role of compliance in this space.
Sprinto provides compliance automation solution for all the major frameworks like PCI DSS, HIPAA, SOC 2, GDPR, and many more. Where is the benefit, you ask? Sprinto cuts down the time to get compliant from months to days. Talk to our experts to know how compliance automation can turn tides for you.
Also check out: SOC 2 questionnaire
How to respond to security questionnaires faster?
The need to answer security questionnaires increases many folds as your business scales. It is well known how drawn out and difficult completing security evaluation questionnaires can be.
There is no prescribed amount of time to finish a questionnaire, and accuracy and honesty are more important than speed, especially when it comes to limiting potential risks.
From the minute your sales team answers a potential client's request for proposals (RFP), your infosec team must be ready to complete any security questionnaires.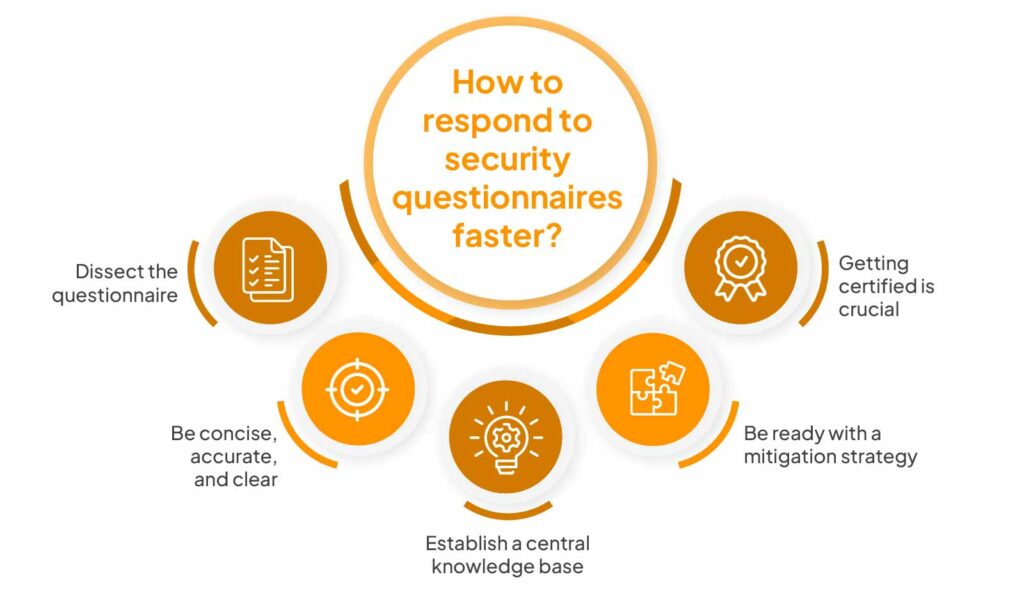 Here are some tips on how to effectively answer a questionnaire in order to develop partnerships with dependable third parties.
Dissect the questionnaire
Start by removing any queries that don't apply to your particular scenario and assembling evidence to show why. To narrow the scope of the questionnaire for your company, refer to your risk assessment as a guide.
Ask for clarification if the question is unclear; otherwise, you run the risk of damaging the customer relationship. Make sure you fully comprehend the question and provide a complete response.
Be concise, accurate, and clear
Answer the question directly, using only the necessary justification and proof to help support your position.
By giving correct information, you can win your client's trust. It also makes any holes you need to fill up more obvious and provides you with a clear picture of the cybersecurity safeguards you have in place to secure consumer data.
For instance, a subject matter expert could learn via a questionnaire that not all client data is encrypted and act quickly to fix the problem before a security incident happens.
Establish a central knowledge base
Your team will gain a lot by creating a common repository for all security assessment answer materials. Keep track of all of your responses for quick, simple access and consistency across tests. Continue to keep an eye on and update the repository, providing fresh content for the answers as they become available.
Be ready with a mitigation strategy
It's crucial to be ready with a time-scheduled repair plan that demonstrates a procedure underway to address the shortcomings and improve your security posture in line with customer expectations when security gaps are discovered by a questionnaire.
After the new controls have been installed, ask the customer whether it is possible to complete another assessment form. Your team works to gain the trust of customers by accepting responsibility for the control gaps and offering a remediation plan. This shows honesty, accountability, and a spirit of innovation.
Getting certified is crucial
Getting certified for well-known frameworks like SOC2, NIST, HIPAA, GDPR, ISO 27001, and FISMA establishes your organization's credibility by proving its security programme complies with global standards.
Obtaining certifications like SOC2 takes a lot of effort and money, but there are great compliance automation tools that cost a fraction of what you would spend doing it manually.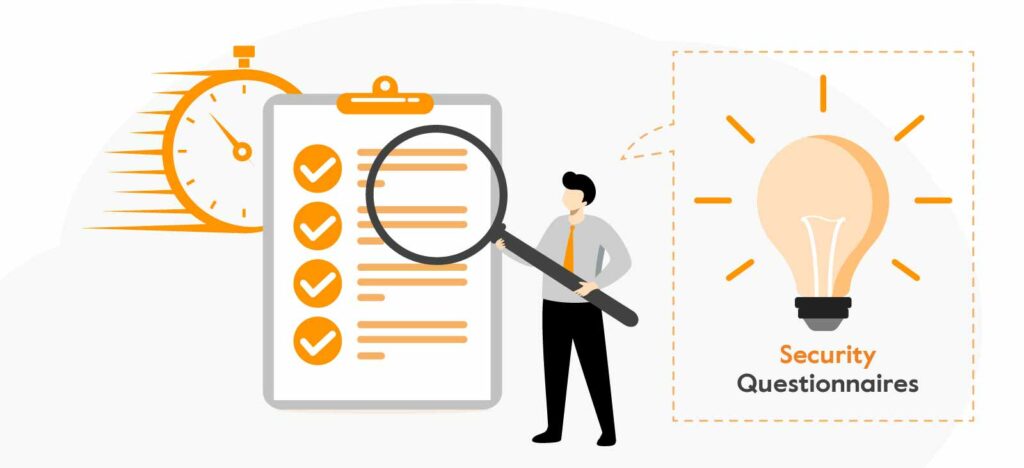 Sprinto's compliance automation tool can help you achieve that and much more. Sprinto saves your team's time and resources by getting you compliant in a matter of days than months. Moreover, there are compliance experts that will assist you at every step so that it's a smooth process for you.
Automating your security questionnaire and how Sprinto can help
Automating your security questionnaire can be very helpful and resource effective for your business. As it is evident by now that answering security questionnaires can be a tedious process, automating your questionnaire can cut down on your team's time by a lot.
There are tools available that can automatically respond to any incoming questionnaire. In order to increase accuracy over time, answer-matching technology makes use of NLP, AI, and ML. You can simply review the responses and make any necessary changes before returning them to the requesting organization.
However, security questionnaire automation tools are still products under development, and relying on them completely at this moment might not be the best move.
The best strategy to encounter this problem will be to focus more on your security posture and getting compliant with frameworks that are relevant to your organization.
Sprinto is a compliance automation platform that makes your compliance process (which too is a very lengthy and resource-consuming process) faster by more than 70% and also keeps you compliant with your frameworks.
When you are sure that your compliances are on track you'll be confident in answering the security questionnaires and it helps your organization put its resources in the right places.

Let's show you how it's done. Speak to our experts here.
FAQs
How do you answer a security questionnaire?
You answer a security questionnaire accurately and honestly as there is liability imposed in case a security breach occurs due to incorrect information in the questionnaire. Moreover, it is essential that you are clear and concise while answering the questions.
What is a vendor security questionnaire?
A vendor security questionnaire is a set of questions asked by the client to reveal the security and compliance posture of the vendor. It also is a testament to the fact that end-users data is safe with the vendor.
How is compliance related to security questionnaire?
Compliance is in itself a testimony of a good cybersecurity posture. It gives clients and end-users assurance that their data is safe with the organization. A security questionnaire on the other hand is a detailed set of questions asked specifically to the vendor to establish that relevant security measures are in place to conduct business properly.
Shivam Jha
Shivam is our in house cybersecurity sage with over six years of experience in cybersecurity under his belt. He is passionate about making the digital world safer for everyone and whipping up Indian delicacies on the weekend.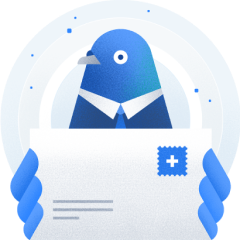 Subscribe to our newsletter to get updates
Schedule a personalized demo and scale business
Subscribe to our monthly newsletter

Sprinto: Your growth superpower
Use Sprinto to centralize security compliance management – so nothing
gets in the way of your moving up and winning big.