Benefits and Challenges of PCI DSS in 2023
Meeba Gracy
Mar 10, 2023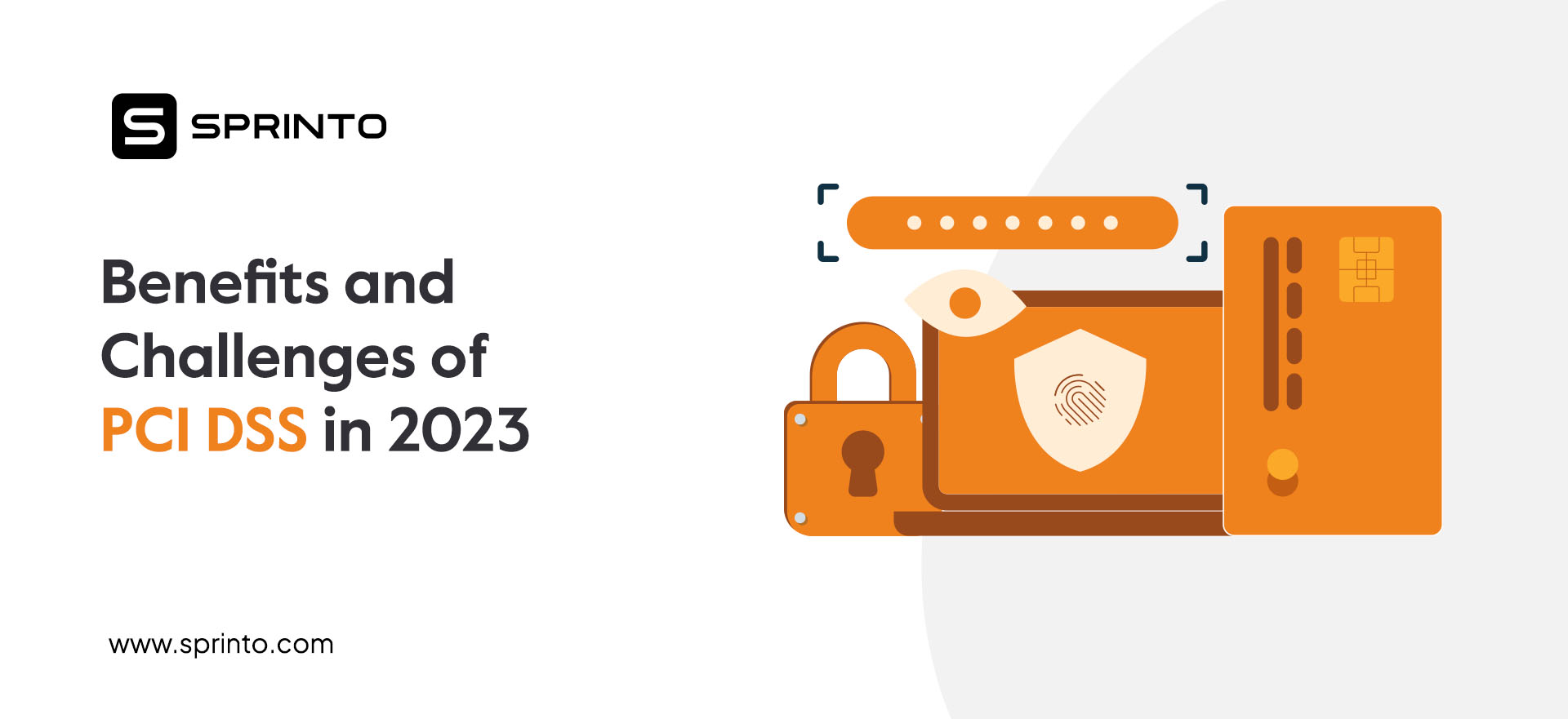 ---
As a company with its assets on the cloud, you know that every move you make has the potential to be a game-changer for your business. From marketing campaigns to production processes, you've probably invested a lot of time and effort into creating detailed strategies for success.
But have you considered how getting PCI DSS certified can propel your plans even further?
According to recent research, overall PCI DSS compliance has increased by 55.4%. However, this still means that nearly half of all businesses in the retail, restaurant and hospitality industries are failing to meet the required standards.
This is where PCI DSS comes in! Failing to comply with PCI DSS (Payment Card Industry Data Security Standard) can incur hefty fines.
Put simply, PCI DSS compliance is essential and an area which should not be overlooked. Let's dive into understanding the benefits of PCI DSS.
PCI DSS compliance by definition
PCI DSS is an internationally recognized information security standard created to ensure the secure handling of debit and credit card transactions.
PCI DSS is a set of requirements developed by the Payment Card Industry Security Standards Council (PCI SSC) and maintained through ongoing collaboration between issuers, acquirers, merchants, service providers and other stakeholders.
Adopting PCI DSS helps organizations maintain compliance with industry regulations while protecting their customers' financial data from unauthorized access or use.
Top 5 benefits of PCI DSS compliance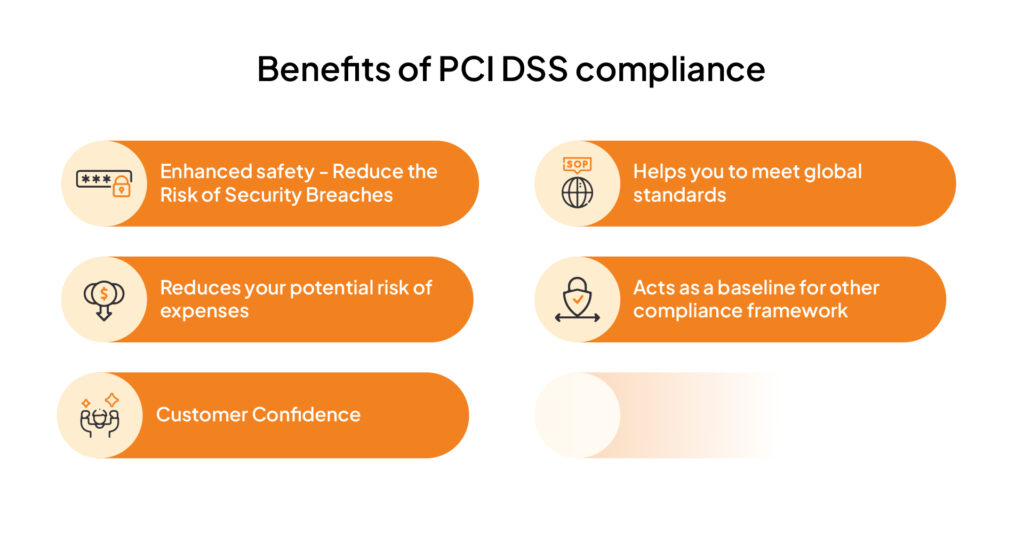 Enhanced Safety – Reduce the Risk of Security Breaches
Today, it's not enough to just make sure all your physical doors are locked at night. With a world filled with online business transactions, and personal data more accessible than ever from multiple devices, the need for proper security measures is essential.
To keep your business and customer data safe, consider implementing access control procedures, two factor authentication processes and making sure you stay PCI compliant.
PCI DSS ensures that everyone's information is protected regardless of where it is stored. For example, a Verizon study revealed that businesses with PCI compliance in place experienced 50% lower rates of cyber-attacks — thus achieving dual results i.e security and data protection.

Helps you to meet global standards
By becoming PCI compliant, you are joining a global community of retailers and businesses who upheld the highest data security standards for their customers.
PCI DSS is a set of regulations developed by five of the world's leading credit organizations to protect consumer information. Compliance with these standards ensures that merchants follow the required security requirements when storing, processing, and transmitting cardholder data.
Achieving PCI compliance gives your business the assurance that customer data is safe and secure from any malicious activity or potential breaches, while also helping you to meet an international standard of protection.
Reduces your potential risk of expenses
Data breach is expensive. And when we mean expensive, just take a look below!
| | |
| --- | --- |
| Card brand compromise fees | $5,000 – $500,000 |
| Security updates | $15,000+ |
| Free credit monitoring for affected individuals | $10 – 30/card |
| Forensic investigation cost | $10,000-$100,000 |
| Lawyer fees | $5,000+ |
| Technology repairs | $2,000+ |
| Breach notification costs | $1,000+ |
| Card re-issuance penalties | $12,000 – $100,000 |
| Loss of customer confidence | Lose 40% of customers after a breach. |
| Merchant processor compromise fine: | $5,000 – $50,000 |
This is why, the wreckage of a data breach, large or small, is not only expensive but can cost you up to an estimated $ 70,000 – $875,000. Undoubtedly the most costly part could be your damaged reputation and lost confidence from customers.
Acts as a baseline for other compliance frameworks
PCI DSS compliance provides businesses with a baseline of data security, helping to ensure that confidential customer information is adequately protected.
When you follow the standards set by PCI DSS, businesses tend to reduce the risk and exposure when it comes to complying with other regulations such as GDPR, ISO, and other international data security requirements.
Customer Confidence
Would you really feel secure about giving out your information to a business again after it suffered a data breach?
A recent survey revealed that two-thirds of US adults wouldn't return to the business following such an event. Customers are increasingly aware of the importance of compliance with PCI standards, and having that compliance certification could make all the difference when it comes to having confidence in your business.
It's not just a key factor in customer loyalty; it can also affect your bottom line. People may be hesitant to spend money at places they don't trust, so making sure you have good security measures and PCI compliance shows them you're taking their sensitive data seriously.
What are the challenges of PCI DSS compliance?
When the benefits are this good, it's no surprise that you have to expect some kind of challenges. Here are the list of challenges common in being PCI compliant: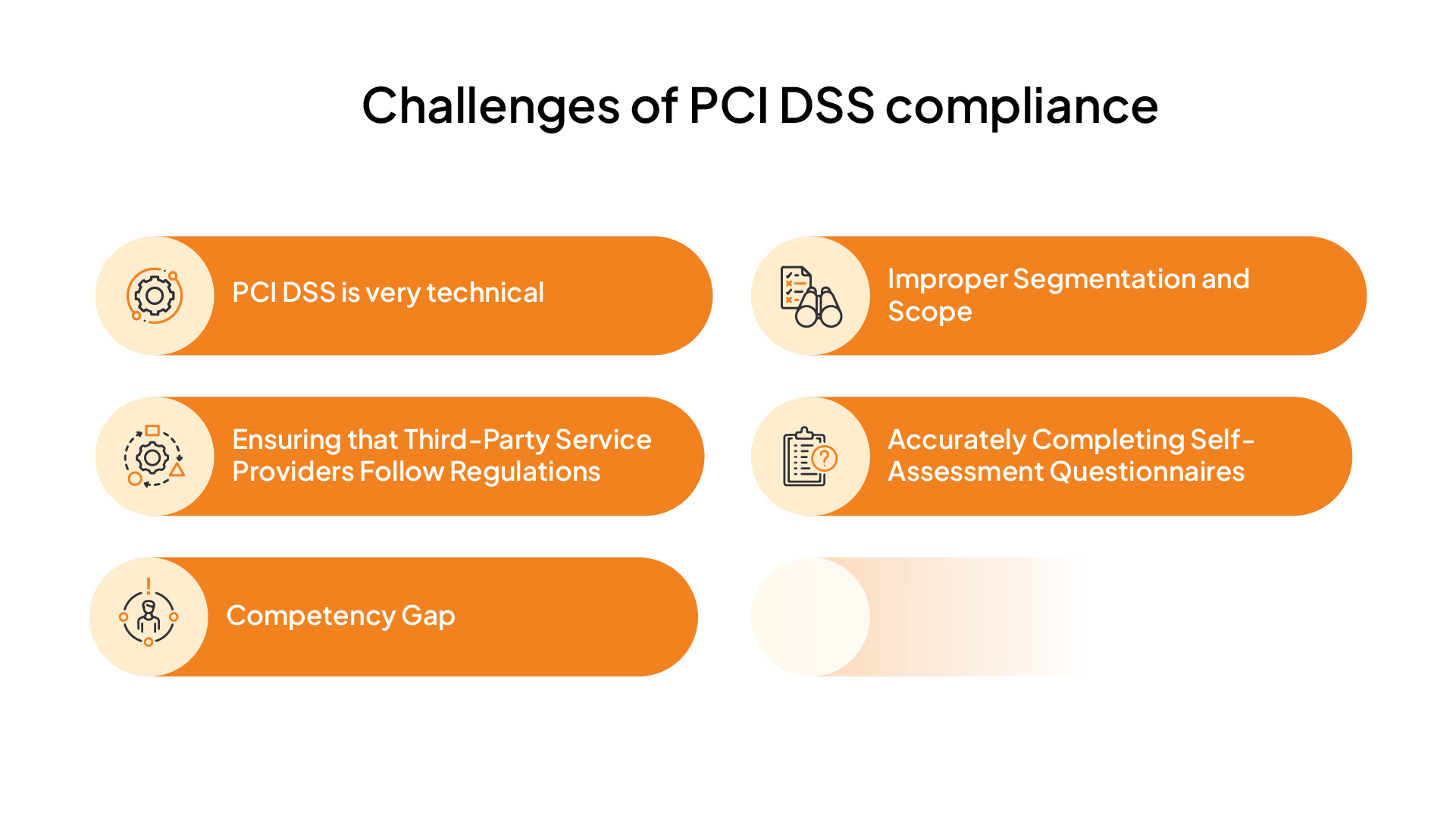 PCI DSS is very technical
If your business handles credit card data, understanding the technical requirements of PCI DSS is an essential part of achieving compliance. The standards dictate the sorts of technology-based protections that should be in place, but also the structure and process for implementing them.
For example, systems must be in place to ensure regular updates are made to software to protect against malicious attacks and encryption tools put in place when transmitting any sensitive data.
Though understanding these requirements might seem daunting at first, there is a wealth of help available through from the experts of Sprinto. You can either choose to get information from our other PCI DSS blogs or get in touch with our compliance experts to automate your PCI DSS journey. Automation allows us to help you save on time and costs to become compliant.
Improper Segmentation and Scope
Now, this is perhaps one of the biggest challenges you face in getting PCI DSS compliant. Having improper segmentation and scope of cardholder data can have serious consequences.
For example, if an organization doesn't separate the cardholder data environment from the rest of its system, there is a greater chance of hackers being able to access sensitive information.
This is why it's important for merchant organizations to take the necessary steps to properly plan and document all areas in scope for their cardholder data environment.
Without this precautionary measure, merchants risk possible financial loss and put themselves in danger of a damaging reputation.
The one thing that can solve this is taking the time to understand exactly which environments need protection when it comes to your customer payment processing.
Find out more about PCI DSS network segmentation
Ensuring that Third-Party Service Providers Follow Regulations
While relying on a third-party service provider can make it easier to meet PCI DSS compliance requirements, it is still important to do your due diligence. The best way to gain peace of mind that the third party is compliant is by performing risk assessments and regular checks.
For example, an assessment should include an inquiry into the entity's history of data breaches and PCI DSS compliance status. Also, implement a process for continuous monitoring to ensure that the firm's security protocols are on par.
These steps will help provide a safeguard against any risks with using third-party service providers while helping you meet your goals of achieving PCI compliance.
Accurately Completing Self-Assessment Questionnaires
Understanding the proper SAQs (Self Assessment Questionnaire) to fill out for compliance is the next challenge you'll face. The problem is that even assuming different criteria can lead to filling out incorrect information in the questionnaire, which results in an inaccurate submission.
Therefore, it's essential to determine the correct SAQ necessary for your company based on its eligibility. There are currently eight SAQs to choose from.
For example, if your organization only handles card-not-present transactions, then you need one questionnaire that requires identifying information found on a card. Other merchants might need an SAQ that just requires imprint machines, while those with payment application systems connected to their environment will need a completely different one.
By knowing exactly which SAQ is applicable and relevant, you can keep up with compliance and avoid confusion or misinformation.
Competency Gap
For lots of companies, the demand to meet PCI DSS comes from third-party entities or their sector without being directly tied to their operations. This scenario produces a knowledge gap concerning what is essential for fulfilling the standards' requirements.
This can lead to an overwhelming task for companies trying to fill the competency gap, resulting in a high financial cost.
Understanding what resources are available and educating yourself on the technologically specific roles involved in meeting these standards can help any company successfully overcome competency gaps. But don't worry, Sprinto is here to help to fill the competency gap effectively. All you need to do is book a time with us!
Benefits of Opting Sprinto to stay PCI DSS compliant
Here are some of the benefits of being PCI DSS compliant with Sprinto:
Sprinto offers an integrated, seamless system of entity-wide controls and automated assessments that makes achieving compliance easy.
Permits direct implementation with experienced compliance specialists – allowing for an efficient and successful transition..
Sprinto enables seamless integration with your cloud-based systems to identify all factors that influence data security, be it in a direct or indirect manner.
Offers improved workflows, segmented notifications, and progress history for PCI DSS checklist.
What Next?
So, did the top 5 benefits of PCI compliance convince you to get compliant with PCI DSS as soon as possible before the authorities do? Then you are at the right place.
Introducing Sprinto, the purpose-built platform that automates the mundane and time-consuming elements of PCI DSS. With Sprinto, you don't need to worry about combing through your system configuration to identify and fix vulnerabilities in IT architecture. Our automation process will do all the heavy lifting for you – leaving you to focus on what matters most: growing your business.
Plus, Sprinto provides visibility over your entire business environment and keeps watch over critical errors, so that after implementation, any potential discrepancies are spotted in a timely manner. With Sprinto, ensuring your businesses stay compliant with PCI DSS has never been easier! Get in touch with our experts to kick off your compliance journey!
FAQs
What is out of the scope of PCI DSS?
To be deemed outside of the scope for PCI DSS assessment, a system must fulfill ALL requirements in the out-of-scope category and NONE from any other higher categories; such as systems with connection to customer cardholder data (CHD) or sensitive authentication data (SAD), which are located within an equivalent subnet or virtual local area network. These systems will still remain in scope for PCI compliance considerations.
Who is in scope for PCI?
The PCI requires that any individual, component or process which stores, transmits or processes cardholder data is within the scope of the security standards – no matter how big an impact it may have on protecting this sensitive information.
Who maintains PCI DSS?
The PCI DSS is regulated and maintained by the PCI Security Standards Council (www.pcisecuritystandards.org), a separate entity created by prominent payment card companies such as Visa, MasterCard, American Express, Discover and JCB.
Meeba Gracy
Meeba, an ISC2-certified cybersecurity specialist, passionately decodes and delivers impactful content on compliance and complex digital security matters. Adept at transforming intricate concepts into accessible insights, she's committed to enlightening readers. Off the clock, she can be found with her nose in the latest thriller novel or exploring new haunts in the city.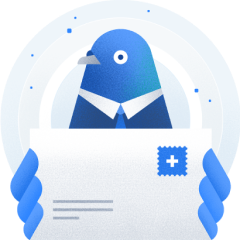 Subscribe to our newsletter to get updates
Schedule a personalized demo and scale business
Subscribe to our monthly newsletter

Sprinto: Your growth superpower
Use Sprinto to centralize security compliance management – so nothing
gets in the way of your moving up and winning big.