Enhance Security with PCI DSS Gap Assessment
Gowsika
May 19, 2023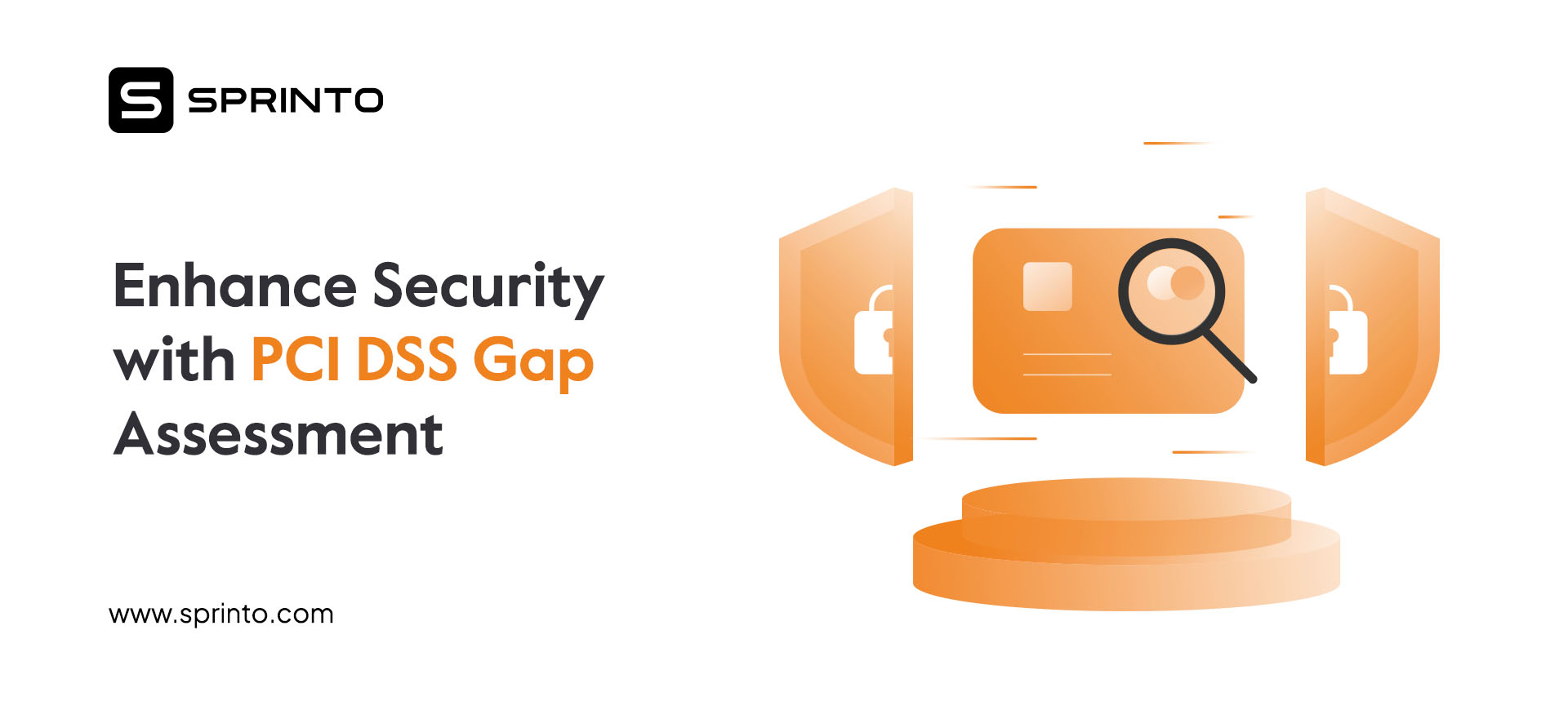 Do you know that only 43% of PCI DSS requirements were met when a data breach was reported? The vulnerabilities that the threat actors used to gain access were covered under the specific PCI DSS sections. That tells us the importance of 100% complying with the PCI DSS.
To make things streamlined and quick, the PCI DSS gap assessment was introduced in the picture. It helps organizations understand their current security posture and highlights the security expectations that need to be fulfilled by the organization to be PCI compliant. In this blog guide, we will explore all you need to know about PCI DSS gap analysis!
What is PCI gap assessment?
PCI gap assessment is a process of reviewing the organization's cardholder data environment to determine if the organization's data security controls are in compliance with PCI DSS standards.
The PCI gap assessment helps organizations and merchants better understand their current security posture with respect to compliance requirements. It also allows organizations to identify and implement the missing PCI controls. The gap analysis is often performed by an assessor or an expert from a security service provider company.
Why is the PCI DSS gap assessment important?
A PCI gap assessment enables businesses to get a comprehensive overview of their cardholder data environment. This allows them to understand how confidential data is stored and processed so organizations can patch any security issues before an official PCI DSS audit.
Here are some other benefits of conducting a PCI gap analysis:
Organizations can effectively determine and define the scope for meeting PCI DSS compliance and conducting audits.
Merchants can get a pre-PCI audit report regarding the security posture of the PCI environment to assess and eliminate vulnerabilities.
Organizations can conduct PCI gap assessments and address the gaps to position themselves as trustworthy and secure. This helps in building trust with customers.
A thorough PCI gap assessment guides the organization through the complete process of PCI DSS compliance.
The gap analysis helps identify security issues that need to be addressed on priority to protect cardholder data.
Organizations can be compliance-ready and enhanced from a security point of view to meet evolving security standards' requirements.
Now that we understand the benefits of PCI DSS gap assessment, let's check out how you can prepare for gap analysis.
How to prepare for PCI gap assessment?
Performing PCI gap analysis can seem daunting as there are many requirements to remember. However, if you prepare for the gap assessment in advance, you can save time and conduct the whole process in a systematic and organized manner.
Let's look at some steps you can take to prepare for PCI gap analysis: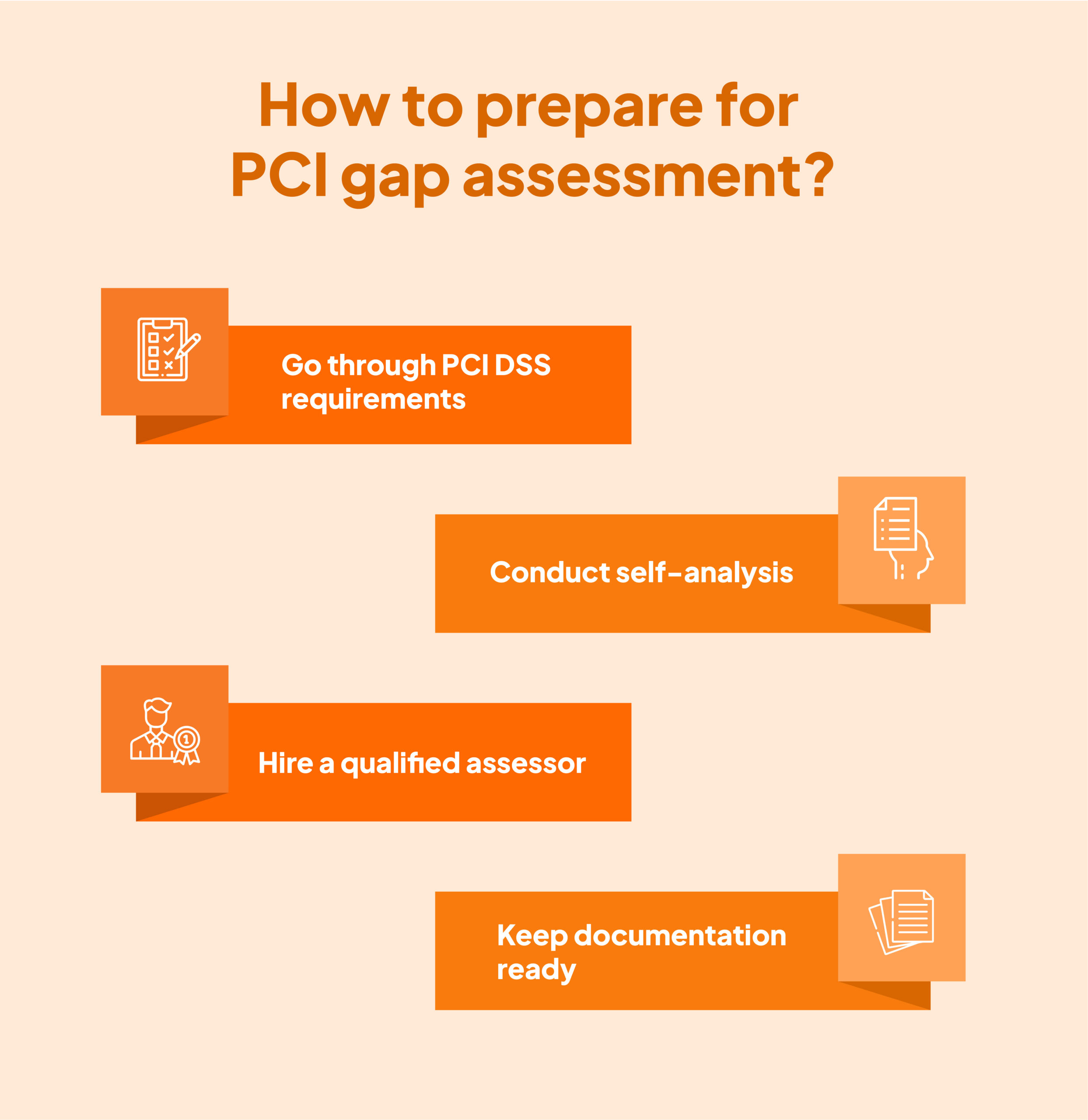 Go through PCI DSS requirements: You need to thoroughly understand the PCI DSS requirements so that you can analyze your company's security posture in a better way. This allows you to understand where you need to focus during the gap analysis.

Conduct self-analysis: By conducting a self-gap analysis before the official assessment, you can understand the issues with the current security systems and how they are not aligning with the PCI DSS requirements. So, when the assessor is performing the gap assessment, you will be prepared to address the gaps.

Hire a qualified assessor: For conducting the official PCI DSS gap analysis, you should select a qualified assessor with experience. The assessor should have expertise in PCI DSS. It is generally a good option to go with a qualified firm as they have experienced experts to perform gap assessments and audits.

Keep documentation ready: Finally, the last preparation step is to keep all the relevant documents related to your organization's compliance with PCI DSS ready. It helps you present evidence regarding your compliance and also assists the assessor while they perform a gap analysis.
How to perform PCI DSS gap assessment?
A PCI DSS gap assessment focuses on identifying the areas of non-compliance with the PCI DSS. The analysis is documented and helps organizations fix the security issues reported in the gap assessment. Here are the basic steps involved in a PCI DSS gap assessment.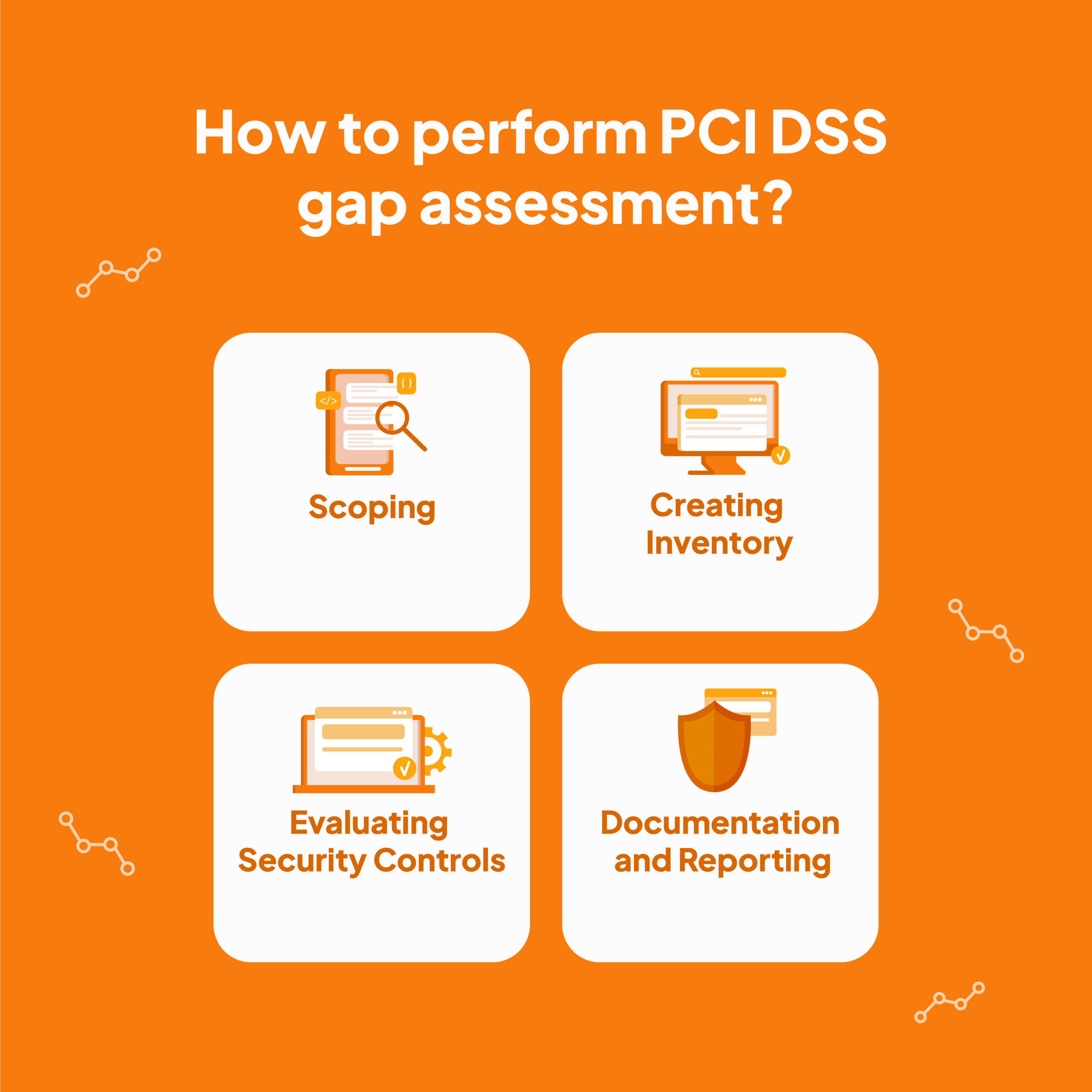 Scoping: The very first step is identifying the scope of the assessment. Generally, the assessor takes an interview with your team to understand the cardholder data environment. This interview process also helps in understanding the organization's current level of adherence to PCI DSS.

Creating Inventory: In this step, the assessor inventories the network devices, facilities, and systems in the scope of the PCI environment. Generally, the inventory of systems is based on prioritizing the systems based on the level of risk. This helps in understanding whether the allocation of resources to secure them is adequate or not.

Evaluating Security Controls: The most essential and comprehensive part of the PCI DSS assessment is evaluating the security controls of the PCI environment against the 12 PCI DSS requirements. By doing so, the assessor identifies whether the security controls in place align with all the requirements or not. This helps in determining compliance status and identifying areas of improvement.

Documentation and Reporting: Once the PCI gap analysis is conducted successfully, the assessor documents the findings and compiles a detailed report. This report contains the identified gaps and steps for remediation. The merchant needs to implement the remediation prior to the official PCI audit.

Closing Thoughts
A PCI DSS gap assessment is a crucial process in an organization's effort to get PCI compliant. But getting PCI compliant can be a challenge even for structured and methodical organizations. And that's why you need a solution to help you understand, simplify, and update your security controls.

With Sprinto, you can seamlessly analyze security controls against the PCI requirements, conduct gap assessments, automate evidence collection, and get audit-ready in a matter of weeks. Want to learn more? Speak to our experts here.
FAQs
Is performing PCI DSS gap assessment mandatory?
No, performing PCI DSS gap assessment isn't mandatory. However, it helps you lay down the foundation for your PCI compliance program. It is a major first step that organizations follow to get audit-ready.
What is the purpose of performing PCI gap analysis?
The primary purpose of performing a PCI gap analysis is to identify the missing/faulty security controls that could result in audit failure. The gap analysis also helps you assess the readiness for the upcoming PCI audit so that you can be completely prepared.
What is the first step of the PCI DSS gap assessment?
The first step of PCI DSS gap assessment includes identifying the scope and assessing the current security that is implemented across the network and devices in the organization.
Who performs the PCI DSS gap assessment?
The PCI DSS gap assessment can be performed by a qualified security assessor or security expert from a security service provider company.

Gowsika
Gowsika is an avid reader and storyteller who untangles the knotty world of compliance and cybersecurity with a dash of charming wit! While she's not decoding cryptic compliance jargon, she's oceanside, melody in ears, pondering life's big (and small) questions. Your guide through cyber jungles, with a serene soul and a sharp pen!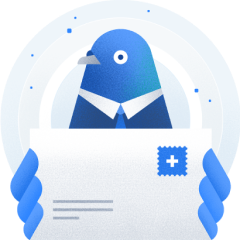 Subscribe to our newsletter to get updates
Schedule a personalized demo and scale business
Subscribe to our monthly newsletter

Sprinto: Your growth superpower
Use Sprinto to centralize security compliance management – so nothing
gets in the way of your moving up and winning big.