Getting started with GRC Implementation: A quick guide
Payal Wadhwa
Oct 26, 2023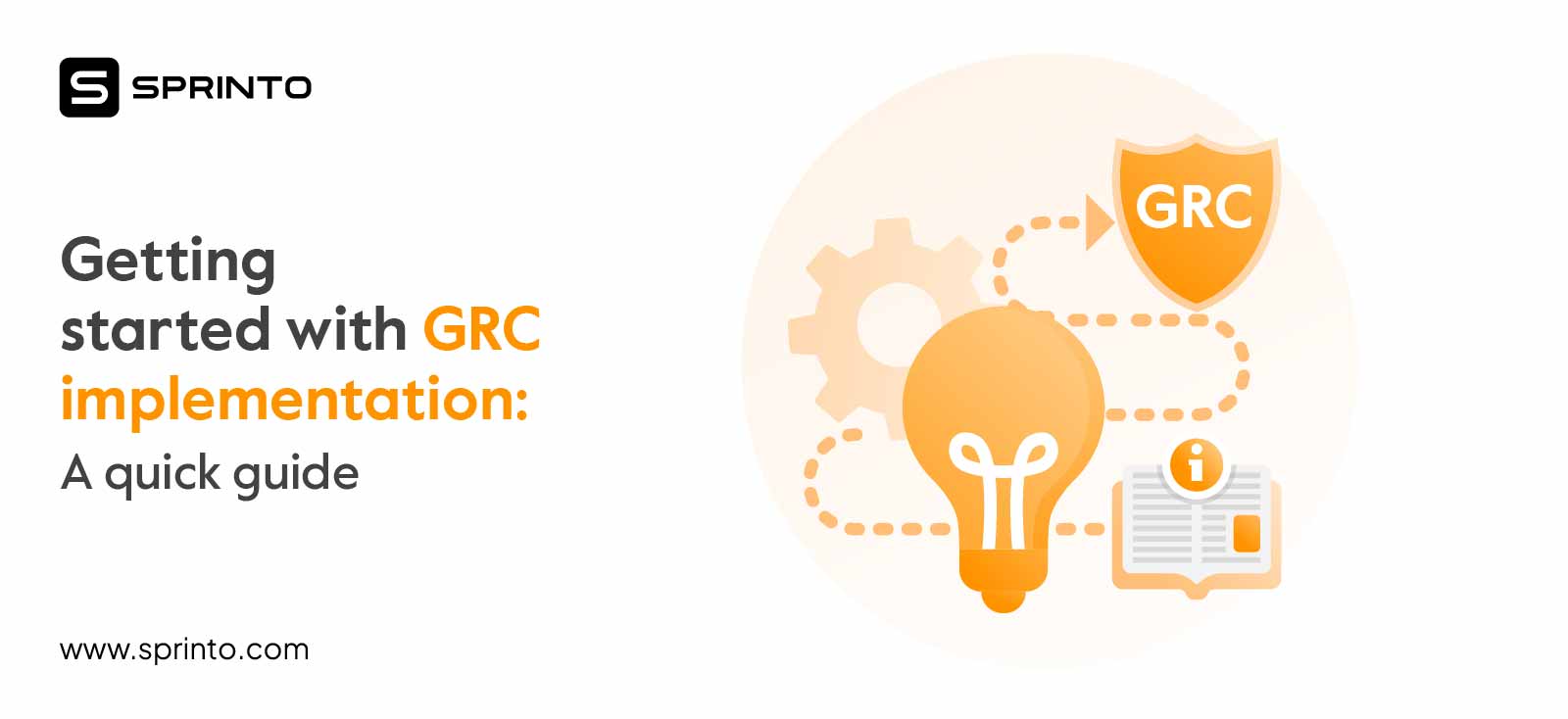 Over time, businesses have experienced their fair share of realizations and revelations that have become the key drivers for GRC implementation. In the face of the interconnected nature of risks, they have learned that sticking to their traditional siloed practices is a recipe for disaster. They have also grappled with regulatory complexities and cyber threats to transition to a more integrated GRC approach.
GRC holds strategic value in its ability to bring together corporate governance with risk awareness and resilience. The capabilities GRC methodologies bring enables businesses to embrace flexibility, tackle challenges, demonstrate regulatory compliance, and achieve operational efficiency.
This blog focuses on GRC implementation steps, best practices, challenges, and how the automation route can help make it a successful endeavor.
What is GRC Implementation?
GRC implementation is the process of creating processes and deploying the necessary technology to implement an effective GRC methodology.
GRC (Governance, risk, and compliance) is a framework that aligns organizational practices and operations with security best practices while effectively managing risks and ensuring regulatory compliance. Organizations use GRC software with various technological capabilities like policy management, risk assessments, compliance monitoring etc. to implement a robust GRC program.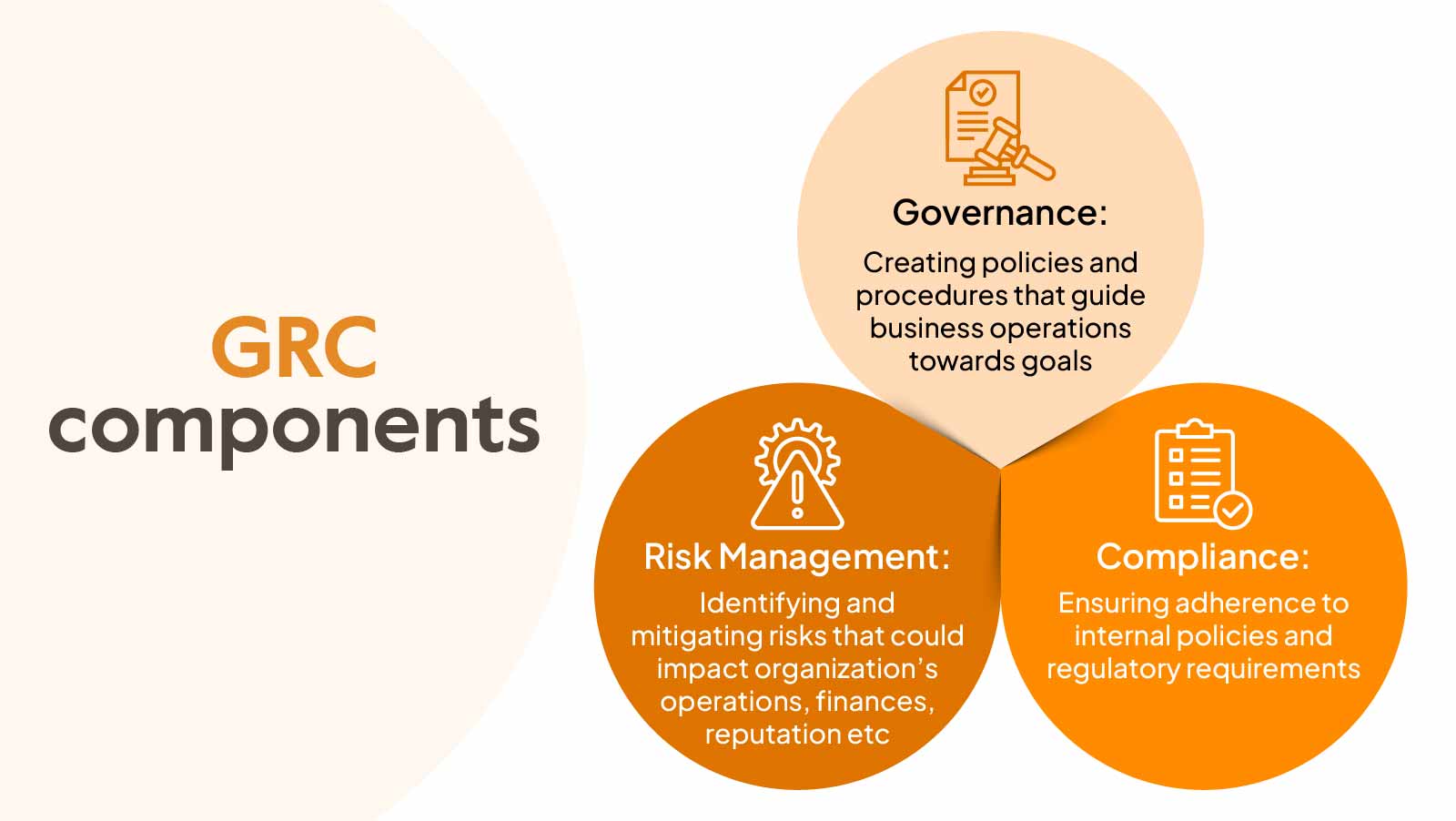 Why is GRC implementation important?
GRC implementation is a strategic move that strengthens the interrelationship between making well-informed security decisions, managing enterprise risk, and carrying out robust compliance programs.
The structured approach streamlines processes and has various benefits such as:
Enabling better decision-making
GRC provides data-driven insights about outcomes from organizational activities. The visibility across functions helps avoid losses from regulatory breaches and initiate mitigation measures based on risk assessments. Therefore, organizations are empowered to make better decisions on allocating resources.
Making the right IT investments
GRC implementation requires identifying vulnerabilities and making investments in the right suite of software so as to minimize cybersecurity, operational, and financial risk. By implementing GRC methodologies, organizations are able to gauge the effectiveness of compliance management and understand how such initiatives enable revenue.
Enhance collaboration across teams
GRC software becomes a centralized place for documentation, data, resources, and reporting on risk and regulatory compliance. An effective GRC methodology clearly defines roles and responsibilities across various teams and specifies ways in which teams can respond and collaborate in specific situations.
Drive scalability
GRC implementation can accommodate changes in the organization's operational landscape, size, and volume of data. By large, GRC implementation is a scalable solution that enhances the scope of your security program and can be tailored to the growing needs of the business and the way it operates.
Also check: Most Recommended GRC Tools in 2024
GRC implementation steps
GRC implementation process can feel overwhelming with its formalized and streamlined approach to risk and governance. Businesses often recognize the importance of giving up their traditional ways of data management and operational silos. It is time-consuming, demands commitment, and requires a continued focus on improvement.
These are the 6 steps for GRC implementation:
Identify areas for implementation
The first step in GRC implementation is to analyze the current mechanisms pertaining to governance, risk, and compliance. These may be siloed depending on how the organization operates. This exercise pinpoints areas that need attention and tells you how replacing redundant processes with an integrated GRC methodology maximizes value.
Create a GRC implementation roadmap
Define the strategic objectives and scope of the GRC implementation roadmap. These must be aligned with business goals, include effective risk management strategies, and centered around compliance activities at a granular level Identify the relevant regulations, cover a list of corporate policies to be created, and detail any support your Security Operations Center requires along every stage.
Get stakeholders onboarded
Identify the key stakeholders to appoint a GRC team for implementation. Communicate the overarching goals, expectations, roles, and responsibilities within the larger GRC objective as well as in specific situations. Ensure that they understand their contribution towards making the program successful and roll out training schedules for all employees.
Select a GRC solution
Choose a GRC software that aligns with your organizational goals and desired state. Understand vendor offerings and set up live demonstrations. Consider user-friendliness, capability spotlight, workflow automation, integration options, and budget, among other factors, before the final selection. Also, check vendor reviews and experience with similar businesses.
Carry out GRC implementation
Collaborate with the teams for execution and set timelines for every task. These tasks must be prioritized based on criticality and impact. The implementation must cover key processes surrounding all these areas:
Governance: Creating policies and ensuring acknowledgments, board oversights, etc.
Risk: Initiating risk assessments, setting up mitigation plans, etc.
Compliance: Continuous compliance monitoring, evidence collection, reporting etc.
Monitor and identify improvement areas
Implement a monitoring mechanism to enable real-time monitoring by taking support from tech. Define metrics and indicators for measuring performance. For long-term improvement, define a review period and evaluate if the learnings have been incorporated and there are smooth periodical audits.
Best practices for implementing the GRC program
It's crucial to power your GRC program with some best practices so that, with time, these become naturally ingrained in the organization's culture. There will be a lot of learning curve, but the business processes will become more efficient over time.
Here are 6 best GRC practices to start with: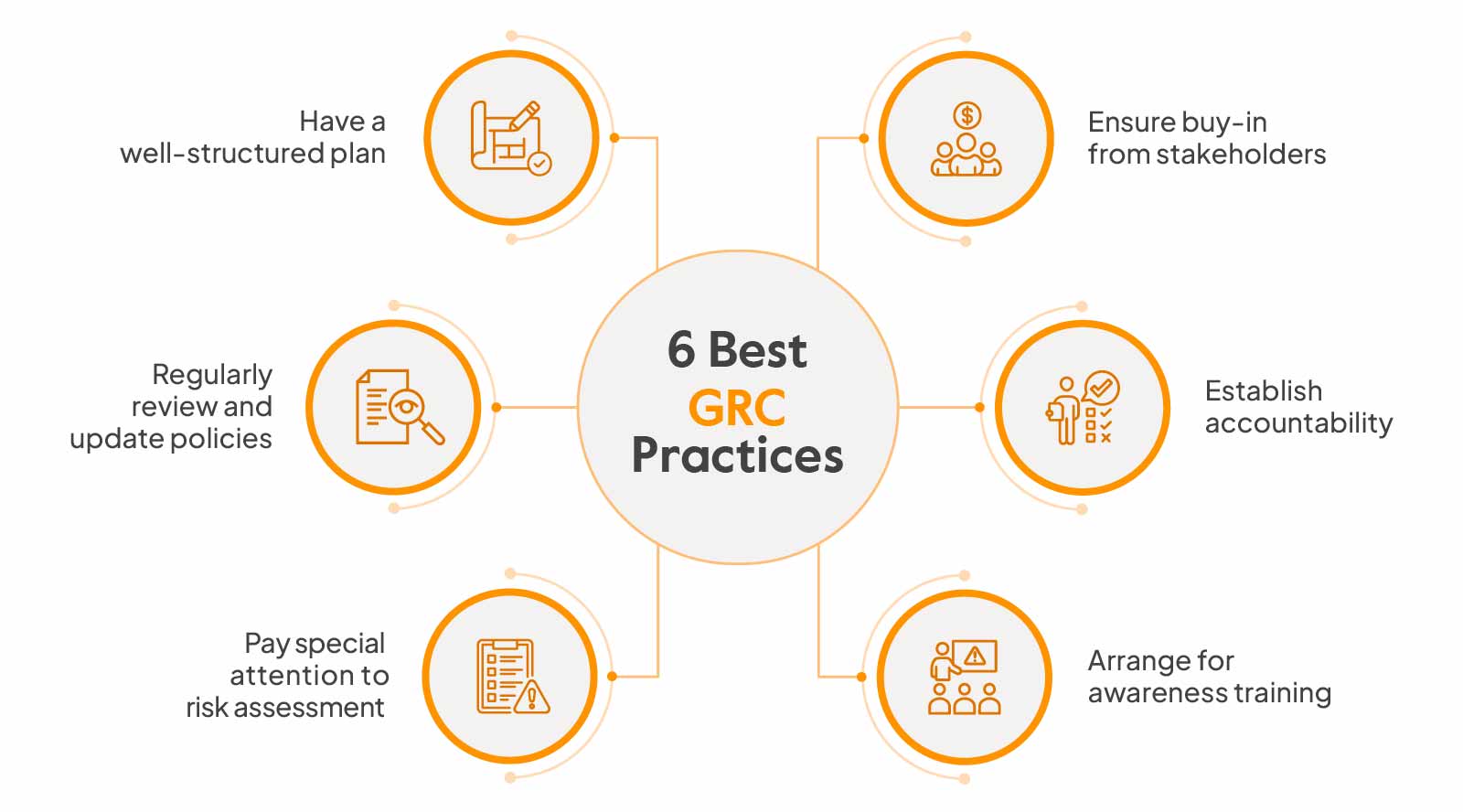 Have a well-structured plan
Establishing a clear GRC strategy sets the right tone for implementation. Set your priorities straight for the people, processes and systems under scope. This will require risk assessments, understanding current compliance maturity, and other preliminary work.
Ensure buy-in from stakeholders
Stakeholders are less likely to resist the cultural and process shift when they are involved at every stage. Engage in a two-way conversation and understand their concerns. It's also important to get the required budget approval from executive leadership and ensure the right allocation of resources.
Establish accountability
It is essential to define roles and responsibilities clearly, along with reporting channels to create accountability. Also, communicate key performance indicators and evaluation metrics that help you discovering your most valuable areas and areas that need help along the journey.
Arrange for awareness training
GRC implementation requires a mindset shift to a security-first culture, adaptation of new technologies, and woking through several process changes. Security training helps empower employees with the necessary knowledge, skill set, and tools that will familiarize thems with new policies.
Pay special attention to risk assessment
Periodic risk assessments help assess and address new threats/vulnerabilities and initiate timely mitigation steps. These are also a part of your compliance monitoring efforts and provide insights into how much the organization's risk appetite and awareness have grown.
Regularly review and update policies
Have a review cycle in place and keep your board and leadership team informed. Update existing internal policies to accommodate changes aimed at driving better outcomes. Communicate the changes to the stakeholders and repeat evaluation exercises to ensure prolonged improvement.
Challenges you may face while implementing the GRC program
To date, many GRC tasks are done on Excel spreadsheets, and it gets harder to manage as operations become more and more complex. Without the right GRC tools, there is a disconnect across various functions that can leaving the employees drained and frustrated.
These are some challenges you may come across while implementing the GRC program:
Alignment mismatch
There are two kinds of alignment mismatches—the non-alignment of business context and GRC software capabilities and the misalignment in culture. Most GRC do not interpret regulatory requirements without manual intervention. This can cause misintepretations, severe delays, and can lead to less-than-favorable results that are not immediately visible. The alignment issues between the organization's culture and GRC practices often result in employee resistance.
Regulatory environment complexity
In the 2022 edition of Deloitte's 'the state of compliance survey report' 57% of respondents called regulatory changes their biggest challenge. Organizations are stuck in a constant loop of conforming to regulatory updates and changing their policies and procedures. Even with most GRC tools, compliance readiness takes months, and businesses that are subject to multiple certifications find the processes slow and frustrating.
Finding the right GRC solution for your business
Different compliance functions have varied GRC goals and requirements. These include policy management, vendor risk management, data security and privacy, customized reports, etc. It is challenging to find comprehensive GRC solutions that address all these aspects while also allowing businesses to budget for a singular solution that fits their strategy.
Persistence of manual processes
There are several reasons why businesses continue with manual processes even after implementing GRC software. The most common include comfort for legacy processes, lack of expertise, tool complexity, and customization challenges among others. The persistence of manual processes undermines the impact that GRC programs may have simply because such processes induce delays and introduce unnecessary complications.
How Sprinto can help you implement the GRC framework?
Sprinto is an automation-first solution that can help you implement GRC while overcoming the challenges mentioned above. Sprinto goes beyond GRC functions and helps you:
Leverage adaptive automation to eliminate manual efforts
Eliminate the need to use outdated technology such as manual spreadsheets and drive links in favor of a centralized platform
Implement the right practices and controls with expert guidance
Activate automated checks for tracking compliance in real time
Raise tiered escalations (based on priorities) with actionable steps

Utilize these Sprinto capabilities to implement the GRC framework:
Policy management: Get out-of-the-box policy templates that lay the groundwork for stronger control management and SOPs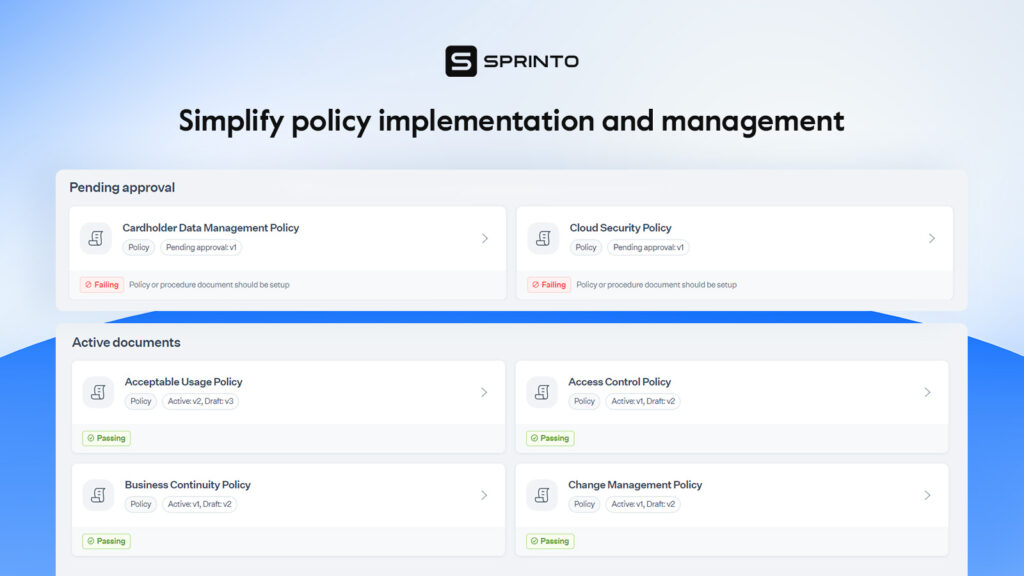 Integrations: Expand the scope of your GRC program—Integrate with over 100 cloud tools and service providers such as HRMS and ticketing solutions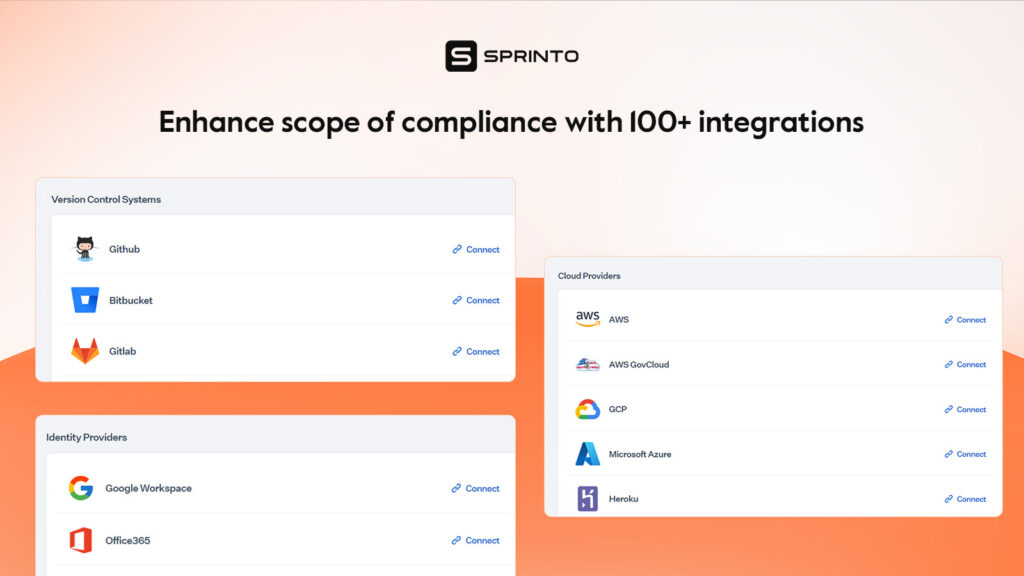 Customizations: Bring your own framework and controls without losing any previous work or having to worry about customization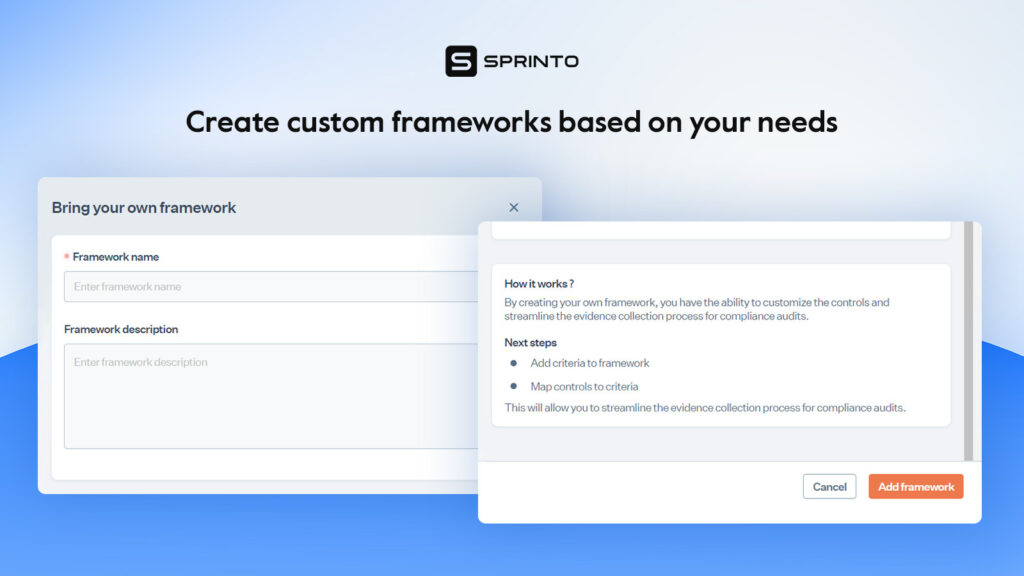 Automated workflows: Reduce administrative overhead by automating repetitive work and focusing on business-critical tasks and strategy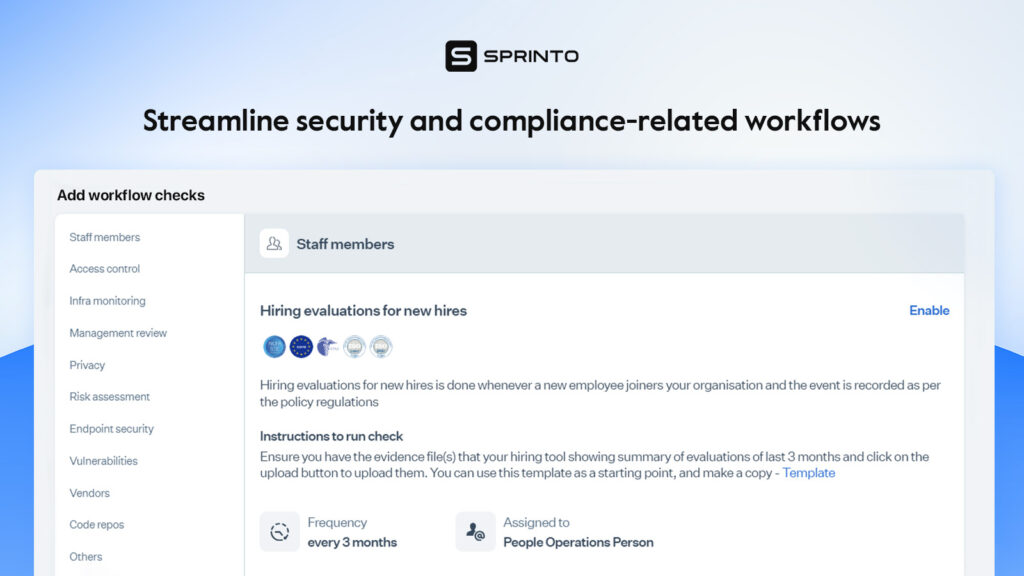 Integrated risk management: Harness an in-built risk registry to track and tackle various risks and gain a holistic view of your risk profile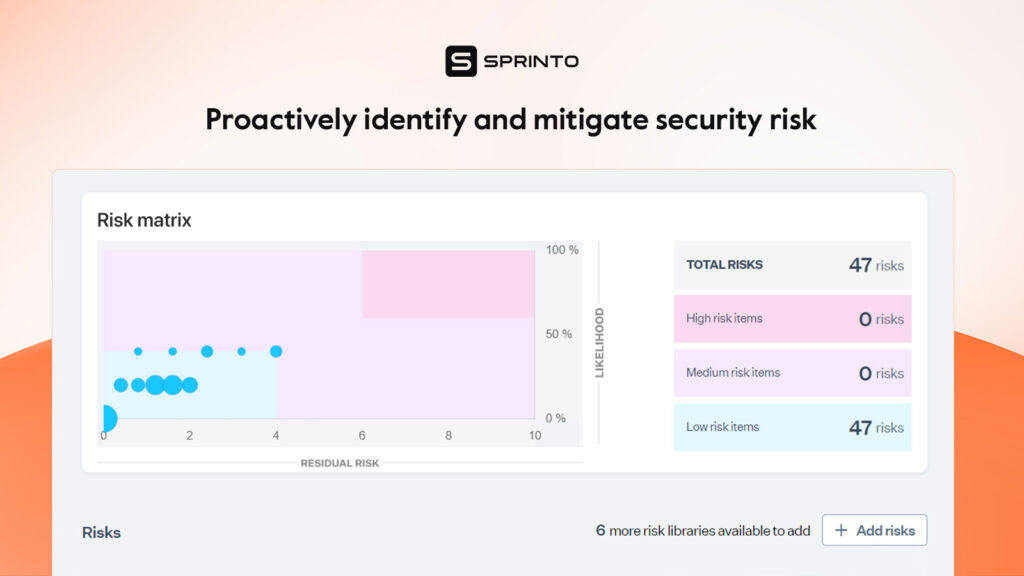 Reporting dashboard: Get a comprehensive view of your compliance health and status in real-time while deriving actionable insights on control performance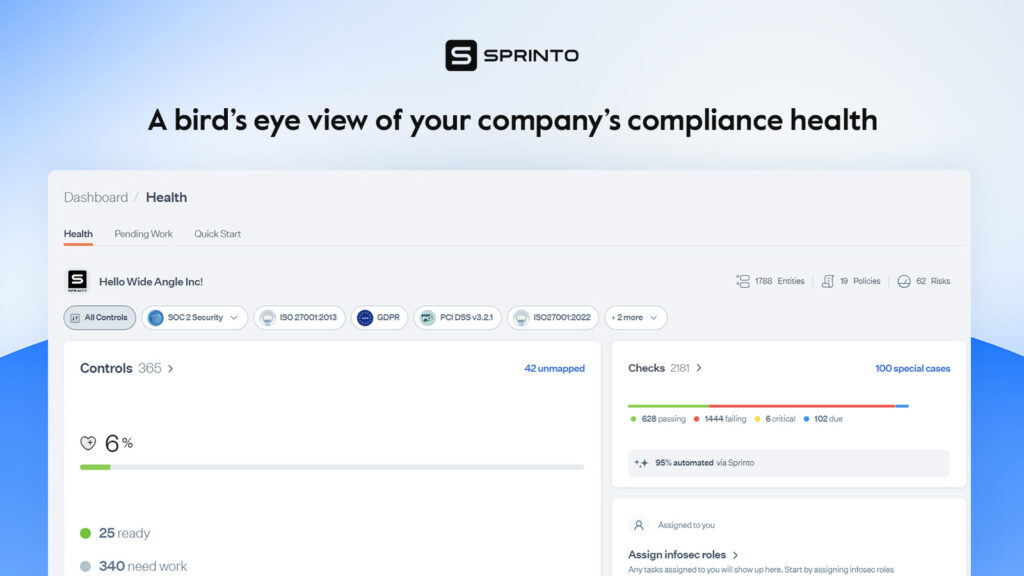 Automated evidence collection: Automate evidence collection and expedite audit-readiness by presenting it to the auditor in an easy-to-comprehend format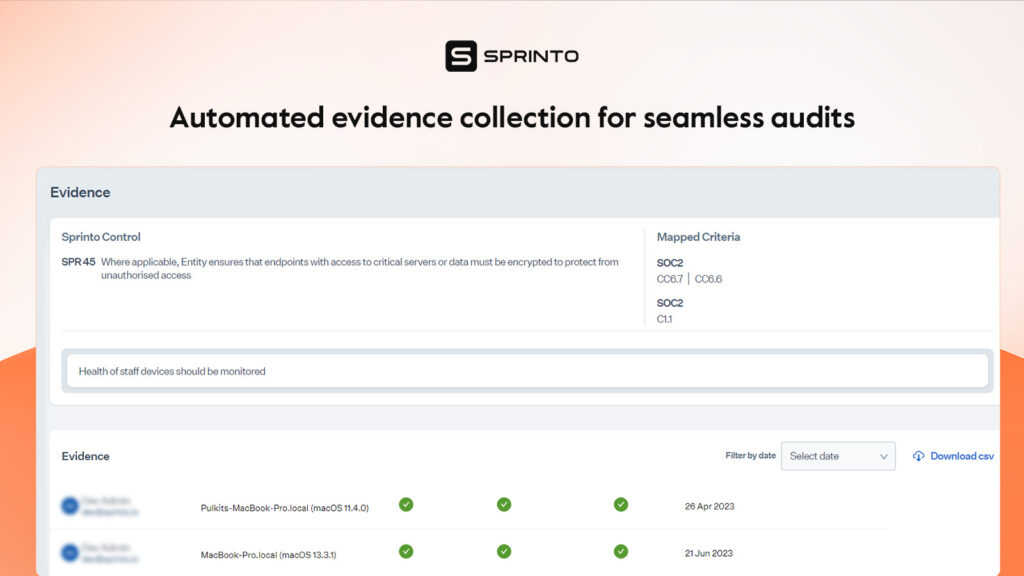 It doesn't end here. Widen the GRC program's breadth with other features like in-built training modules, endpoint detection and response, vulnerability and incident management and vendor management among others. Eager to know more? See Sprinto in action.
Final thoughts
Efficiently executed GRC practices can help businesses operate competently and make them resilient to the regulatory landscape. However, GRC implementation is a multifaceted and long-drawn process. It requires great leadership, a lateral approach, a high level of collaboration, and automation to ensure sustained success.
Sprinto can be an enabler in your GRC journey, providing you the right tools and guidance for implementation. We support 15+ frameworks and ensure continuous compliance is the default state of your organization.
Read how Uncover leveraged Sprinto's integrated risk management and became ISO 27001 and GDPR ready in 4 sessions.
Take a tour of our platform to see how Sprinto expedites your journey into effective GRC implementation.
FAQs
Who all are part of a GRC team?
A GRC team comprises multiple stakeholders across domains depending on the organization's size. Broadly it can include compliance managers, risk managers, SOC analysts, IT specialists, legal counsel, communication and PR and vendor management team among others.
What role does GRC play in cybersecurity?
As cybersecurity concerns continue to be increasingly prioritized by businesses, GRC helps tie IT and cybersecurity initiatives with governance and compliance. It helps uncover cybersecurity risks and threats, enforce the required controls and manage any incidents. Cybersecurity is strategically approached under GRC to ensure business continuity and protection of critical assets.
What are some popular GRC tools?
Some of the popular GRC tools include Auditboard, ZenGRC, Workiva, LogicGate and Ncontracts, among others. As for Sprinto, it goes beyond GRC and helps with comprehensive coverage to expand the scope of your GRC program.
Payal Wadhwa
Payal is your friendly neighborhood compliance whiz! She turns perplexing compliance lingo into actionable advice about keeping your digital business safe and savvy. When she isn't saving virtual worlds, she's penning down poetic musings or lighting up local open mics. Cyber savvy by day, poet by night!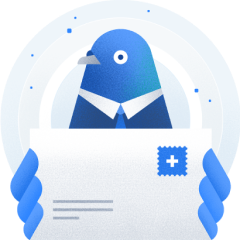 Subscribe to our newsletter to get updates
Schedule a personalized demo and scale business
Subscribe to our monthly newsletter

Sprinto: Your growth superpower
Use Sprinto to centralize security compliance management – so nothing
gets in the way of your moving up and winning big.