Top 7 Compliance Reporting Software in 2023
Gowsika
Oct 03, 2023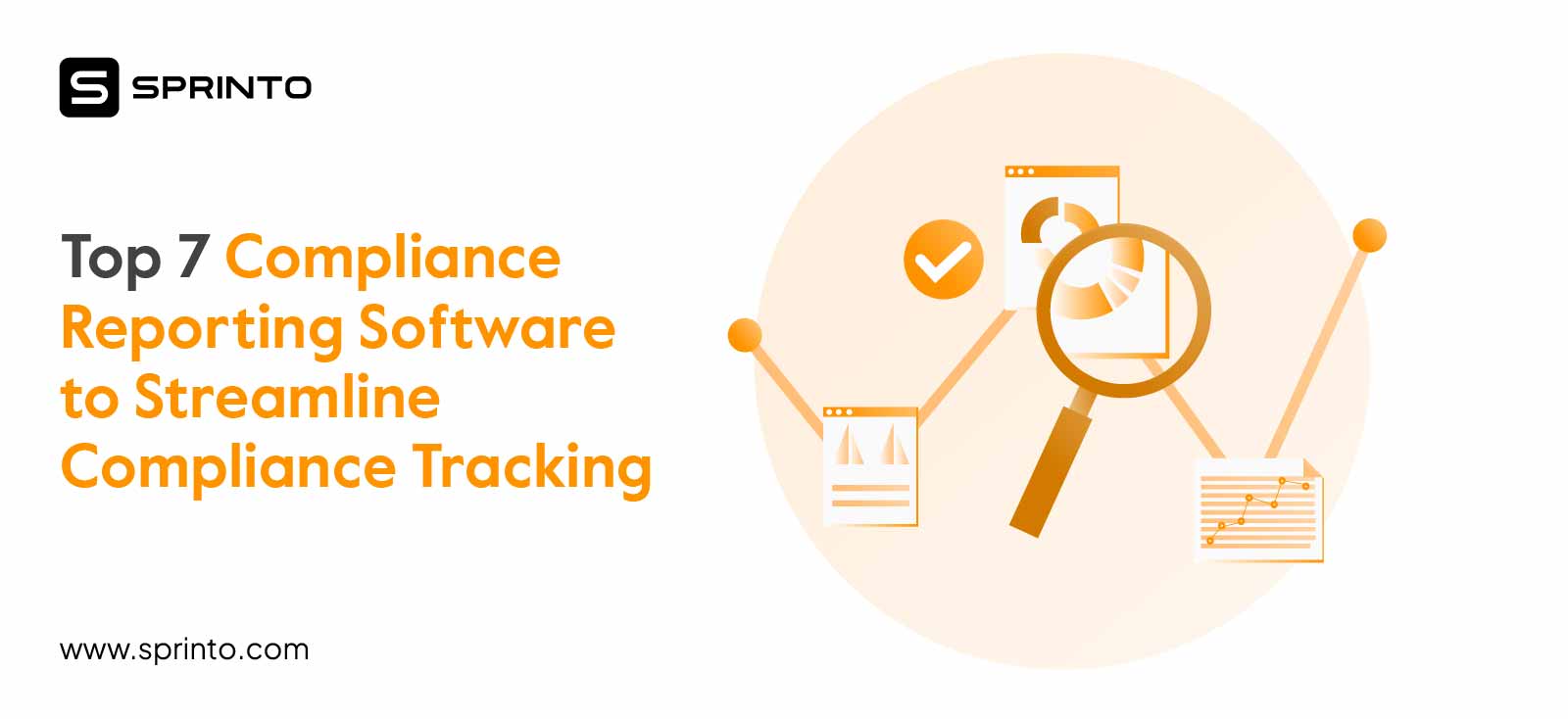 Maintaining regulatory compliance is a familiar challenge for companies, irrespective of their size. Compliance reporting is largely manual and can take up a significant amount of time and resources. And then there's human error. Needless to say, all of these factors add up—whether it results in inefficiencies or duplication of effort, inaccurate reporting can certainly lead to fines and legal consequences if left unchecked.
This is where compliance reporting software comes in.
Imagine a platform that helps align compliance requirements and automate reporting for improved accuracy and efficiency. Compliance reporting software doesn't just generate tailored reports to meet your regulatory needs but integrates with various systems, collects relevant data, and helps organizations maintain compliance.
This blog post explores key features to look for in compliance tools. Learn how to select the right solution based on specific regulations your company follows and the customized reports you'll need to maintain compliance. We also discuss the top platforms based on features, usability, and integration capabilities.
What is compliance reporting software?
Compliance reporting software is an automation solution that helps establish data security accountability for organizations that follow industry regulations or compliance frameworks. The software helps organizations streamline the process of tracking, managing, and reporting regulatory compliance activities.

Compliance reporting software fulfill a very specific set of tasks. To understand this better, it's important to explore some of the salient features every compliance reporting solution must come with.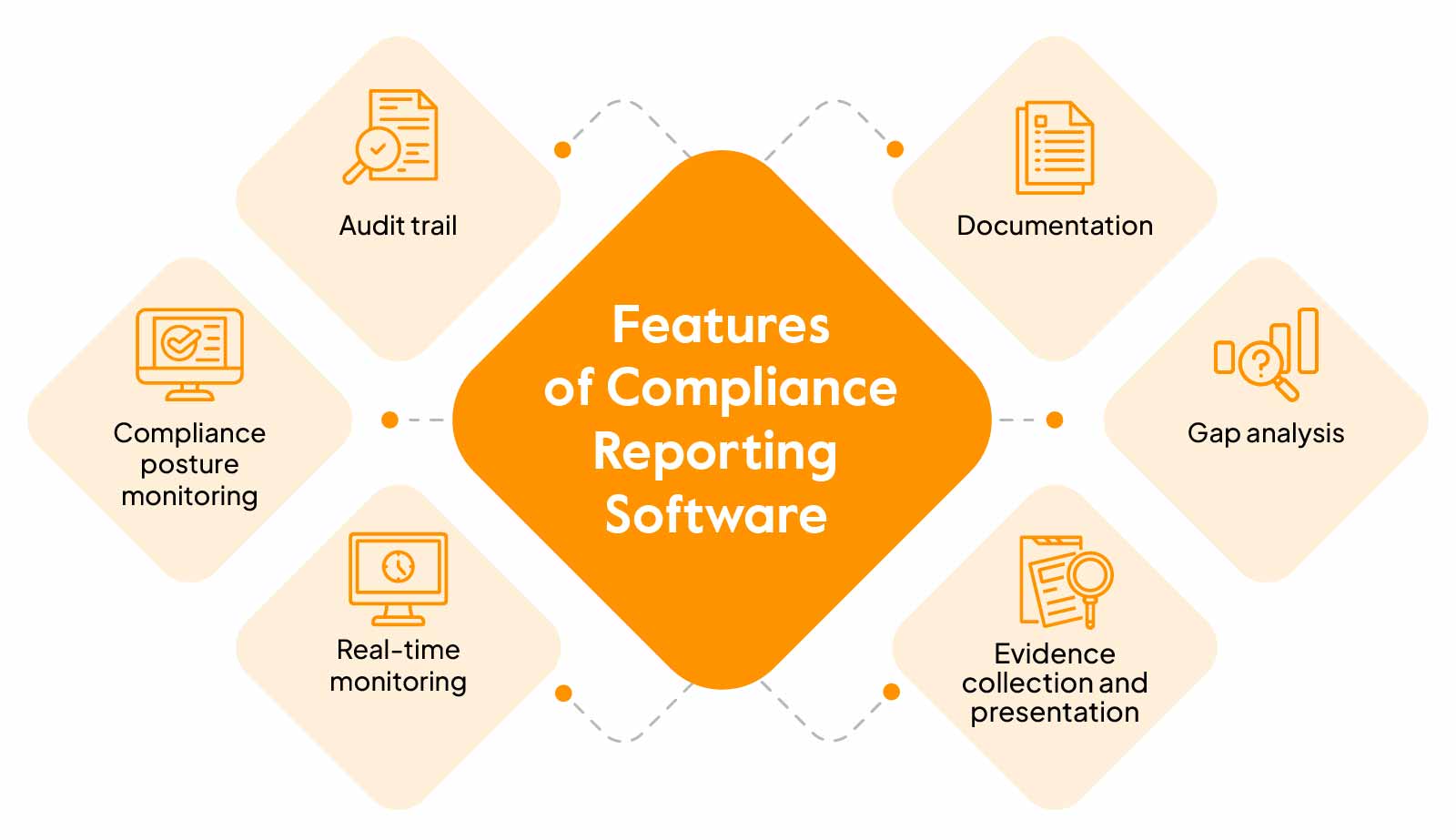 Audit trail – Provides a detailed record of security and compliance activities by tracking actions within the audit like when certain checks were done, by whom, which controls failed, which ones need updating, and more to help with compliance audits.

Compliance posture monitoring – Assesses the organization's overall compliance health across different regulations and helps you showcase compliance status through a Trust Center.

Real-time monitoring – Actively scans systems and security controls to identify compliance risks and gaps as they occur.

Documentation – Keeps record of compliance-related documentation and automatically generates reports needed for compliance audits.

Gap analysis – Compares current policies and controls to regulatory requirements to identify security lapses and compliance gaps.

Evidence collection and presentation – Gathers, organizes, and presents evidence in an easy-to-comprehend format for smoother compliance audits.
7 best compliance reporting software to boost compliance visibility

With a lot of choices out there, it can be a daunting task to pick the perfect compliance reporting solution. Here's a list of the top seven compliance reporting software.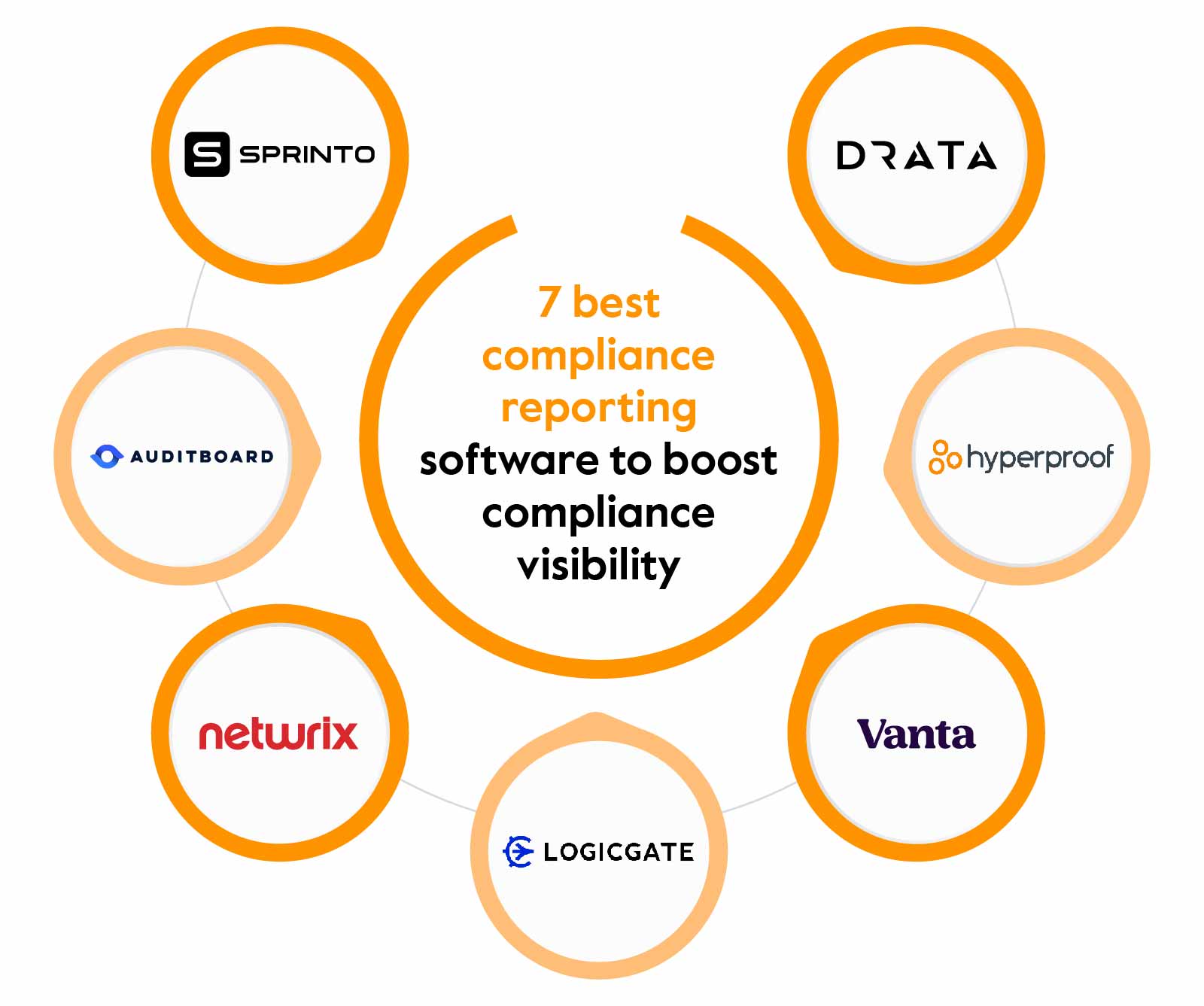 1. Sprinto
Sprinto is an end-to-end compliance automation platform that helps companies streamline compliance tasks, reporting, and audit preparation. It offers comprehensive audit trail tracking, risk scoring, and data analytics to ensure you are audit-ready in the shortest time possible. Sprinto helps you customize automated reports for different compliance frameworks.
The software integrates easily with your existing tech stack, allowing you to connect with different applications and endpoint devices to monitor entity-level risks and controls. This provides you with complete visibility into your security and compliance posture and helps you design comprehensive risk and compliance reports.
With pre-approved compliance programs, Sprinto helps you put your compliance program on auto-pilot, eliminating the burden of figuring out complex compliance and reporting requirements.
Sprinto's smart automation suite features real-time control monitoring and risk assessment. It consolidates risks and alerts the organization when security threats occur or if controls are about to fail.
Features
Interactive health dashboard to see real-time compliance status
Automation features to automate repetitive compliance tasks
Out-of-the-box templates to generate comprehensive compliance and trust reports
Evidence logging and data analytics for audit readiness
Built-in breach management and incident management modules
Pros
Cons
Real-time risk scoring
Customizable compliance workflows
Automated evidence collection
Automated policy distribution
Serves all industries24/7 proactive support
Minor UI glitches
Automate Your Compliance Journey with the Help of Sprinto. Talk to Our Experts Now
2. AuditBoard
AuditBoard centralizes audit, risk, and compliance data for streamlined reporting and management. It improves visibility into security gaps and compliance status through interactive dashboards and reporting. AuditBoard enables automated scheduling of repeatable requests and assessments to build an effective compliance program.
Features
Customizable workflows to automate repetitive compliance tasks
Audit-ready report generation
Collaboration tools to effectively communicate and manage compliance
Customizable risk assessment modules
Audit management features
Pros
Cons
Good report management features
Project management and collaboration features
Automated evidence collection for external audits
Customizable security and compliance modules
Limited risk management functionalities
Interface feels obsolete
3. Netwrix
Netwrix is a platform that helps organizations detect risk, prove compliance, and optimize security operations. It provides automated, risk-based reporting on infrastructure changes and data access to simplify compliance. Netwrix offers interactive dashboards, customizable reports, role-based access controls, and API integrations.
Features
Real-time risk monitoring and alerts
Risk assessment and analysis module to identify risk patterns
Advanced reporting and log management
AI-powered search feature to look for specific security information
Access management features
Pros
Cons
Smart evidence logging
Regular report generation
Customization options to simplify compliance
Risk alerts with real-time monitoring
Incident management module needs improvement
User interface with limited navigation
Why only Sprinto vs others? Experience yourself
4. LogicGate
LogicGate centralizes audit, policy, and risk data to compliance frameworks. It enables risk quantification, control tests/assessments, audit readiness, and reporting to help organizations make better, risk-aware decisions. LogicGate offers detailed reports, interactive visuals, predictive risk scoring, and automation.
Features
Shared risk register for cross-team collaboration
Pre-built reports and customizable dashboards
Real-time risk monitoring and insights
Automated compliance workflows
Automated evidence collection and log management
Pros
Cons
Drag and drop functionality
Excellent customer support
Good reporting features
Easy documentation and record-keeping
Product navigation needs improvement
Also check out: Top 5 LogicGate Alternative
5. Vanta
Vanta is a compliance management solution that provides continuous compliance monitoring, always-on certificates, and APIs. It enables quick report generation, evidence collection, audit preparation, and tracking. Vanta provides real-time status dashboards, automated reminders, and seamless integration with your systems and applications to meet compliance obligations.
Features
Automated continuous risk monitoring
Real-time alerts and actionable insights
Customizable policy templates
Evidence logging and smart reporting
Centralized location to store and access compliance documents
Pros
Cons
Intuitive interface
Excellent support team
Streamlined reporting and compliance
Employee management module
Onboarding can be better
Also Check out: Top 5 Vanta Alternative
6. Hyperproof
Hyperproof is a compliance reporting tool that simplifies report creation, review, and submission. It centralizes evidence collection and enables collaborative workflows for security and report reviews. Hyperproof provides version control, reminders, permissions management, and integrations.
Features
24/7 compliance monitoring
Real-time dashboard to track compliance activities
Built-in reporting modules
Centralized location for document management
Automated workflows and customizable modules for effective compliance management
Pros
Cons
Training material for users
Smart risk assessment features
Intuitive dashboard
Different compliance workflows
Limited customization functionality
Also Check out: Top 5 Hyperproof Alternatives
7. Drata
Drata is a compliance automation platform that offers continuous monitoring, evidence collection, and audit readiness for different popular compliance frameworks. It features control libraries, automated mapping, unlimited assessment customization, and real-time readiness visibility.
Features
In-built self-risk assessments
Real-time compliance and security reports
Actionable insights and analytics
Security training and employee awareness modules
Role-based access controls
Pros
Cons
Document-rich compliance library
Training modules
Advanced control monitoring features
Smart automation
Evidence collection can be better
Feature-based pricing can be expensive for small organizations
Implement Custom Controls to Ease Your Compliance Process. Let's Discuss it!
How to select the right compliance software?
Choosing the ideal compliance reporting solution for your business is crucial. Asking the right questions will help you zero in on the best software for your needs.
Does the software offer pre-configured reports for the industry regulations and compliance frameworks your company follows, such as SOC 2, ISO 27001, PCI DSS, HIPAA, NIST, and more?

Can you customize reports and schedule them? Is the tool flexible as per your reporting needs?

Does it integrate well with your existing systems? Does it sync seamlessly with ERPs, HR tools, etc., for easy data collection?

Is the compliance software solution easy to use and train staff on? Does it have an intuitive interface?

What type of support does the service provider offer? Is there 24/7 customer service and extensive training resources?

How are system updates and new regulations handled? Is the tool frequently updated in line with changing compliance needs?

What are the pricing models and costs? Does it offer a one-time purchase plan, subscription model, or usage-based pricing?

Does the vendor offer help regarding compliance audits? Do they offer audit services or recommend auditors to validate your compliance position?
Closing Thoughts
Compliance reporting is an essential factor that can determine how rapidly and accurately companies meet regulatory and compliance mandates. The right solution not only gives you the visibility to manage compliance properly but significantly simplifies the process.
With a platform like Sprinto, you can accelerate your compliance journey by centralizing compliance data, generating comprehensive reports, and automating crucial tasks like evidence collection and compliance checks to achieve and maintain compliance in record time. In short, it helps you put your security and compliance program on auto-pilot, turning compliance into a strategic, value-adding function rather than just a check-the-box activity.
Schedule a demo with our compliance experts to learn more.
FAQs
1. What is the best way to monitor compliance?
The best way to monitor compliance is by implementing one of the best compliance management solutions that regularly tracks and monitors security controls to ensure continuous compliance. The software reviews records, helps with regular internal audits, and more to monitor compliance processes 24/7 effectively.
2. What types of regulations and laws can a compliance reporting tool help with?
Compliance reporting software helps organizations track and manage different privacy and security standards/laws such as HIPAA, SOC 2, ISO 27001, PCI DSS, GDPR, NIST, CCPA, CIS, FCRA, and more.
3. Can a compliance reporting solution help generate audit-ready reports?
Yes, an efficient compliance reporting solution like Sprinto can help you create customizable, audit-ready reports for different industry standards like SOC 2, HIPAA, ISO 27001, GDPR, etc. The auditor can also get the relevant information and compliance evidence from the tool's dashboard.
4. What features should I look for in compliance reporting software?
The key features to look for in a compliance reporting tool are workflow automation, risk assessment and scoring, custom reporting, automated risk monitoring and threat detection, real-time dashboards, document management, training modules, support for multiple compliance frameworks, automated evidence collection, and access controls.
Gowsika
Gowsika is an avid reader and storyteller who untangles the knotty world of compliance and cybersecurity with a dash of charming wit! While she's not decoding cryptic compliance jargon, she's oceanside, melody in ears, pondering life's big (and small) questions. Your guide through cyber jungles, with a serene soul and a sharp pen!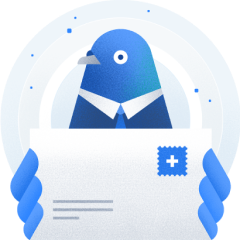 Subscribe to our newsletter to get updates
Schedule a personalized demo and scale business
Subscribe to our monthly newsletter

Sprinto: Your growth superpower
Use Sprinto to centralize security compliance management – so nothing
gets in the way of your moving up and winning big.