Information technology has evolved rapidly over the last couple of decades, with the industry set to top $5 trillion in 2019. The growth of IT is giving rise to a new set of complex compliance and security challenges.
Industry experts are realizing the importance of how companies share, store, and receive information. IT compliance frameworks ensure regulation of data happens securely.
Although security and compliance have synergies, it can be challenging to tell them apart.
If organizations follow a certain framework, they can protect their data accordingly while aligning themselves with the highest security standards.
Although security is a big part of Compliance, organizations must understand that Compliance is not the same as security to ensure proper protection.
Security and Compliance: Understanding Definition
Security refers to the controls and systems that an organization implements to protect its personnel, data, and assets. It comprises of all the different strategies and controls that your organization implements to defend against cyber attacks. Security is highly nuanced and so, it requires consistent maintenance and a dedicated approach to build an effective cybersecurity program.
Compliance, on the other hand, are standards set by third-party regulatory bodies that are generally considered a legal requirement. Compliance proves evidence of security to show clients and customers that your internal processes are secure. This gives them a great deal of confidence that their information is effectively secured when they engage in business with your organization.
Security vs Compliance: The Differences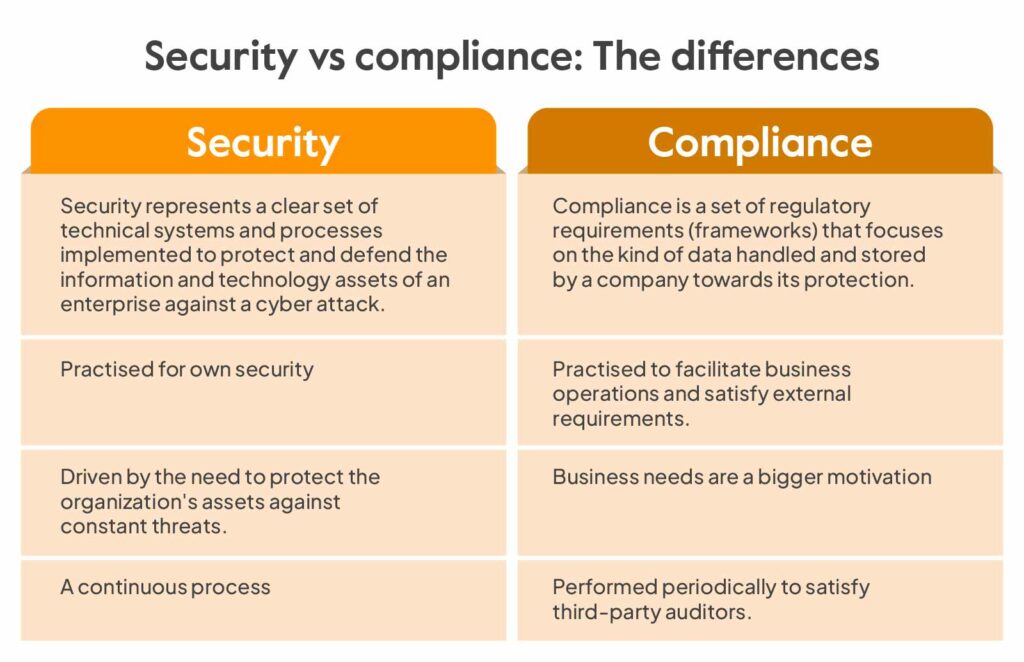 Although compliance and security are two sides of the same coin, security measures are fueled by business risk, whereas compliance is driven by legal obligation and demonstrates your organization's ability to keep their data free from harm.
The key differences between these security vs compliance are:
| | |
| --- | --- |
| Security | Compliance |
| Security represents a clear set of technical systems and processes implemented to protect and defend the information and technology assets of an enterprise against a cyber attack. | Compliance is a set of regulatory requirements (frameworks) that focuses on the kind of data handled and stored by a company towards its protection. |
| Practised for own security | Practised to facilitate business operations and satisfy external requirements |
| Driven by the need to protect the organization's assets against constant threats | Business needs are a bigger motivation. |
| A continuous process | Performed periodically to satisfy third-party auditors. |
Looking to simplify compliance? Try Sprinto's compliance automation solution today.
Similarities between Security and Compliance: Where do they Align
Compliance and security are two sides of the same coin—while security measures are driven by the motivation to protect critical business assets, compliance is fueled by legal obligation and market conditions.
Compliance wins the trust of your clients by demonstrating the ability to keep their data free from harm. It would be next to impossible for clients, without compliance requirements. It helps organizations implement policies and strategies to align with industry best practices and to make sure your organization is compliant with the law.
Ideally, a business' compliance needs and security measures need to be in alignment, but that's not always the case. Sometimes, security control and measures have been implemented, but all of the boxes for compliance needs may not have been checked.
On the other hand, being compliant may not imply being secure. Organizations need to take further steps to assess, mitigate, and transfer risk to keep their system protected against cyber threats. Security ensures the organization is well-protected against all forms of threats, and a compliance certification demonstrates this.
Automate your Security and Compliance with Sprinto

Align your security measures to protect business-critical assets by improving your organization's cyber security posture while automating the tedious compliance process.
Achieve and maintain compliance to win the trust of your clients and customers. Stay up-to-date with third-party security standards and frameworks while being proactive about security, all from a single dashboard.
Sprinto has been consecutively recognized as a Leader in Security Compliance as well as in the Cloud Security and Cloud Compliance categories by G2, where it was rated #1 in User Adoption, Ease of Implementation, Usability, and ROI.
FAQs
Is Compliance equivalent to security?
No, Compliance does not equal security, nor are they the same thing. Compliance is an industry-standard, one-size-fits-all, point-in-time snapshot that validates you meet the minimum, security-related requirements of specific regulatory standards such as ISO, SOX or HIPAA.
What is IT Security & Compliance?
Cybersecurity compliance means adhering to regulatory requirements and standards set forth by some agency, authority, or law group. Organizations must achieve Compliance by implementing risk-based controls that secure the confidentiality, integrity and availability (CIA) of data.
What is the role of Compliance in security?
Compliance ensures that the organization meets all of the security requirements to avert cyber-attacks as well as data breaches. Their duties include conducting audits, creating and maintaining policies and procedures, as well as staying current with security trends, threats, and regulations.