A Quick Walk-through of NIST CSF Maturity Levels and Models
Meeba Gracy
Aug 18, 2023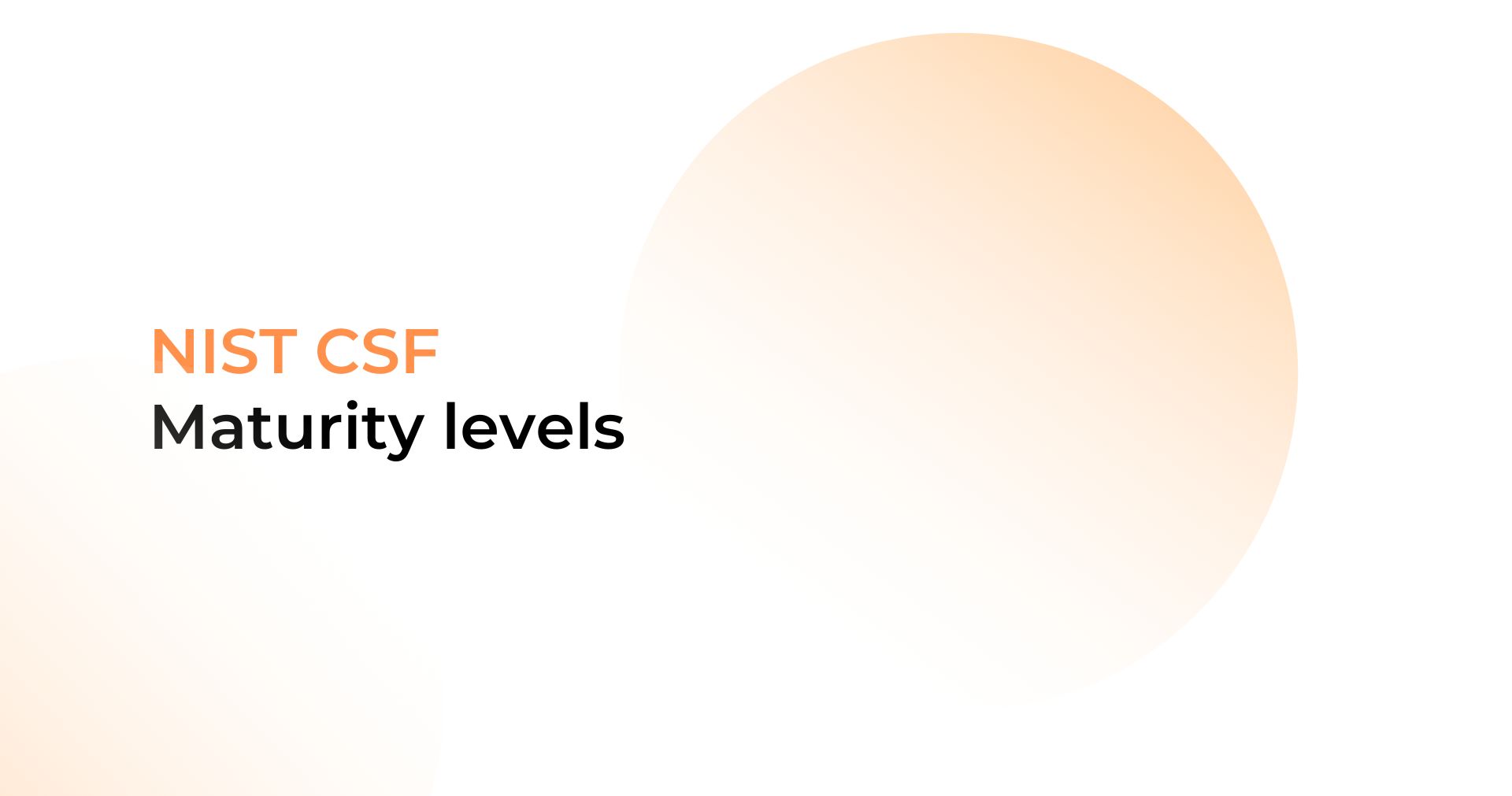 Former U.S. Deputy Attorney General Paul McNulty once said, "If you think compliance is expensive, try non-compliance."
And we firmly believe that, and we know you believe that too, as you are serious about implementing NIST CSF maturity levels.
So, without beating around the bush, let's dive in and understand NIST CSF maturity levels and how you can enhance your company's NIST maturity model!
What are NIST CSF maturity levels?
NIST CSF maturity levels are vital for your company to gauge and enhance your cybersecurity posture and strengths. With 4 distinct levels of maturity, ranging from "Partial" to "Adaptive," each level represents a degree of maturity and capability in managing cybersecurity risks.
Let's take a closer look at what each level means: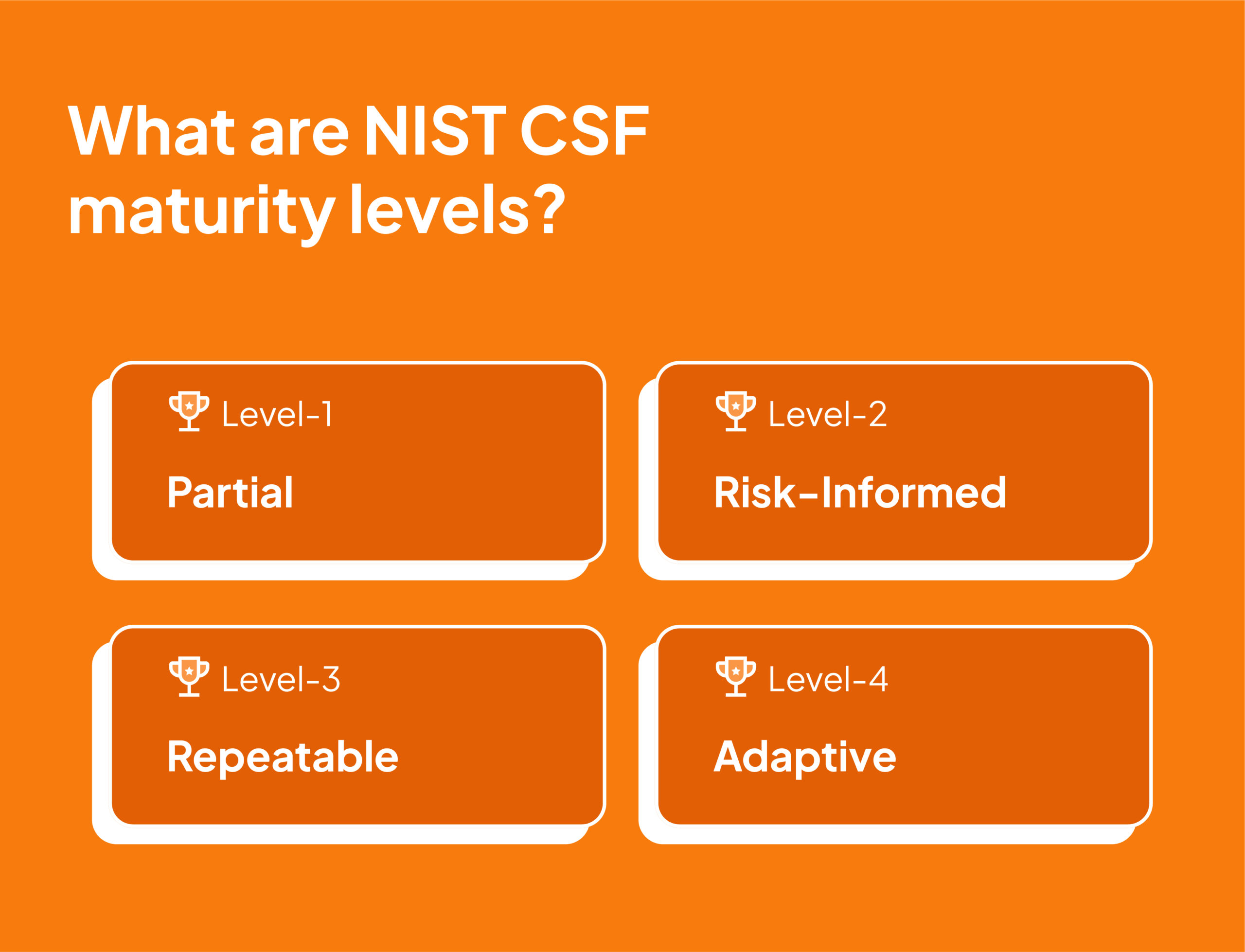 Level 1 – Partial
At this level of maturity, your company needs a structured cybersecurity risk management process. Your practices might be ad hoc and scattered, and your cybersecurity program may be more reactive, needing more ability to identify, assess, and mitigate risks.
Level 2 – Risk-Informed
At this level of maturity, it means you have adopted a risk-informed cybersecurity approach. You already have policies, procedures, and practices for cybersecurity risks.
Level 3 – Repeatable
At this level of maturity, your company has established a standardized approach to cybersecurity risk management. Your cybersecurity processes are now repeatable, and you have a risk management program in place. Also, it means you can detect and respond to cybersecurity events and incidents more effectively.
Level 4 – Adaptive
This is the highest level of maturity which indicates that your company has a proactive cybersecurity posture. Your IT team has continuously improved your cybersecurity practices and can dynamically adjust your measures to address new risks and challenges.
Importance of NIST CSF maturity levels
The importance of NIST CSF level of maturity is in its ability to help you set a clear standard for gauging your company's readiness to deal with cyberattacks. Metaphorically, these levels are like a dipstick in a car.
The dipstick shows the amount of engine oil left and indicates oil quality in your engine while helping you predict when the tentative next oil change should be. Likewise, for an organization, the NIST CSF level of maturity helps you understand how well your company can detect, identify, and respond to relentless cyber threats.
Especially true when cyberattacks are becoming increasingly sophisticated in their execution. So, implementing a solid and standardized framework like NIST CSF is a no-brainer to ensure you are equipped to face the challenges head-on.
With this level of maturity in place, you can now assess your cybersecurity capabilities and continue to make informed improvements to your digital systems.
Difference between NIST implementation tiers and maturity levels
The difference between tiers and maturity levels has caused a lot of confusion. To clarify, the tiers provide valuable guidance on how your company handles cybersecurity capabilities and operational risk management.
They help you assess your current security posture by factoring in your regulatory environment and willingness to take on specific levels of risk. In simple terms, the tiers tell you what you have in place right now.
On the other hand, the maturity levels take things up a notch to up your security practices. They help you measure your company is maturity in protecting itself against cyber threats, identifying and detecting potential dangers, and your incident response plan.
The NIST levels give you an idea of how prepared your critical infrastructure will face the ever-evolving cybersecurity challenges.
Also check out NIST CSF implementation guide in this video
NIST CSF Maturity Model
The cyber maturity assessment framework establishes five clear NIST levels that gauge an organization's security systems and processes optimization level. As a company advances through the NIST levels, it continuously improves and strengthens its security policies.
Each maturity level is defined by specific key process areas highlighting the company's focus and capabilities. Here is the detailed NIST maturity model to follow while maintaining the core functions: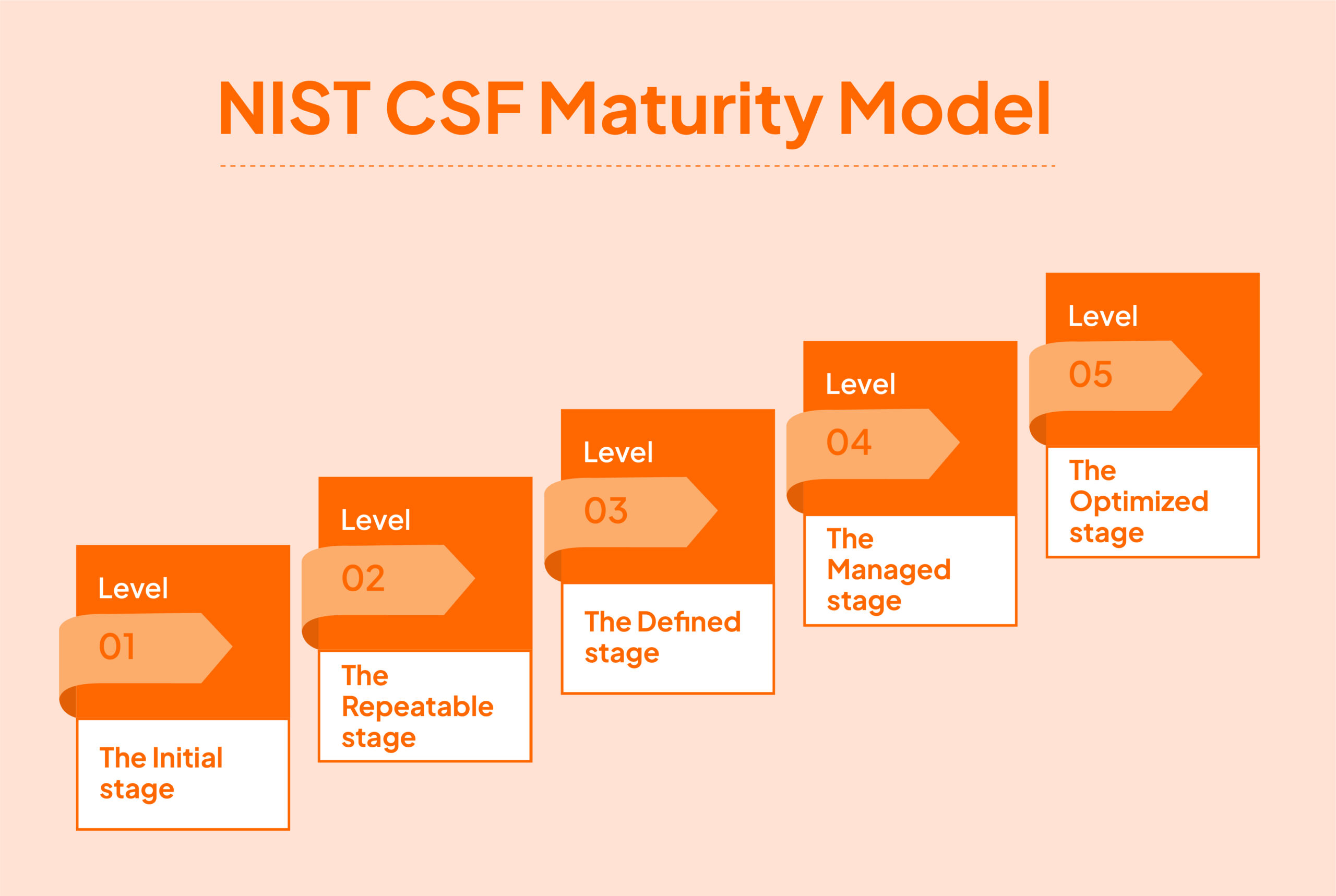 Level 1 – The Initial stage
You start at Level 1, where security is like an unexplored territory. You need to gain more knowledge about your security status, and investment for safeguards requires more dollars-spend. But you're determined to protect your endpoints from malware and mitigate it.
You should equip yourselves with next-gen antivirus + endpoint detection and response solutions. It automatically fends off known attacks and even blocks new, sneaky ones that traditional antivirus often misses.
Level 2 – the Repeatable stage
At this level, you realize that documenting processes and adding layers of security is important. You fine-tune your NGAV+EDR policies to match your risks, and with the real-time endpoint query tool, you quickly patch vulnerabilities when threats strike. More than reactive responses, you should focus on proactive responses.
Level 3 – the Defined stage
Here, you've got a dedicated security team and a more formalized program. With improved visibility and understanding, you can now predict and mitigate issues.
Level 4 – the Managed stage
Your security program is scalable and can handle anything that comes its way. You integrate endpoint data with the rest of your security stack, gain valuable insights and incorporate these insights in your next update. You even create custom watchlists using valuable tools to act fast when any new suspicious instance emerges.
Level 5 – the Optimized stage
In the last stage, your processes are well-documented, efficiently managed, and integrated. You measure your effectiveness, automate where possible, and perfectly balance human expertise and technical efficiency while upholding regulatory requirements.
Also, check out a complete guide to NIST compliance
Tips to enhance your organization's NIST CSF maturity
Having collaborated with numerous companies on their regulatory requirements journeys, we have collected a wealth of experience. Drawing from this experience and expertise, here are some tips that could help you achieve an enhanced NIST CSF maturity level:
Know where you stand with rapid assessment
Before starting on the NIST CSF compliance, you need to figure out where your company currently stands regarding cybersecurity. But please don't get stuck in a never-ending assessment process. It's better to conduct a quick assessment within 60-90 days, focusing on key areas like people, processes, policies, and technology.
This will give you enough information to create a roadmap for improvement without going into every detail of threats and vulnerabilities.
The rapid assessment should include short surveys for key stakeholders, targeted interviews, and gathering info from systems to assess vulnerabilities.
Set your goals with a target maturity roadmap
Now that you know where you stand, it's time to define your cybersecurity measures and goals. Consider your business needs and regulatory requirements to create a roadmap with a mix of initiatives related to process development, technology deployment, and training.
When building your roadmap, remember the order in which initiatives should be executed. Decide whether it should be based on risks or budgets. You can also set organizational goals based on technology, people, external stakeholders, and processes, so don't focus solely on one aspect.
Execute foundational initiatives
You can start by implementing foundational initiatives into your cybersecurity measures to impact your security along with external stakeholders quickly. These initiatives should be achievable (within 90 days) and later become the foundation for further improvements in your risk tolerance.
For example, setting policies for sensitive data or conducting network reviews.
If you are a large organization, you can focus on pilot sites to lead the way in the successful implementation of organizational-wide policy from your current cybersecurity posture.
Build on what you have
As you progress on foundational initiatives, move on to more projects that complement your security efforts and away from limited awareness. Roll out proven tools and procedures to multiple sites and build a multi-layered cybersecurity objective to mitigate security risks.
Monitor, measure, and improve
You can track your achievements, identify areas that need attention, and make necessary course corrections. Your roadmap to achieve an adaptive cybersecurity posture will evolve, so stay vigilant and work towards a stronger security program to safeguard your critical assets against cyber risks.
Remember, the journey to enhanced NIST CSF maturity is unique for every business impact and security event, and the specific tasks and timelines should align with your continuity of operations and objectives.
What can you do to be NIST compliant?
Successfully implementing the NIST Cybersecurity Framework hinges on three critical areas: risk management processes, integrated risk management programs, and external participation. You need to continuously improve based on past experiences and current incidents to safeguard your organizational assets.
It is always better to seek an external perspective if you need clarity about your stance. A fresh pair of eyes will spot hidden issues. This is where Sprinto comes in! Your NIST CSF journey with Sprinto will include an internal risk assessment, control mapping, access management, response planning, automating compliance tasks, and internal audits.

With Sprinto, your NIST CSF journey evolves from achieving one-time compliance to demonstrating daily compliance. Our custom evaluation tool is designed to help you carve out that adaptive cybersecurity posture that keeps your security game on point continuously and consistently. This is the gold standard now!

Talk to our experts today to learn how your organization's compliance journey can be as breezy as our 300+ clients.
FAQs
What is a NIST CSF maturity assessment?
A NIST CSF maturity assessment measures how deeply ingrained and mature cybersecurity procedures are within a company's culture and operations.
What is the NIST cybersecurity maturity model?
The NIST cybersecurity maturity model is called the Cybersecurity Maturity Model Certification. It's an assessment framework and certification program meant to boost trust in compliance with various standards set by the NIST and mitigate cyber risks.
What is the difference between NIST 800-53 and NIST CSF?
NIST CSF and NIST Special Publication 800-53 serve different purposes but can work together. While some overlap between them, they are not subsets of each other. NIST CSF offers a broader cybersecurity structure, while NIST 800-53 provides more specific security control guidance.
Meeba Gracy
Meeba is a content marketer who is ISC2 certified in cybersecurity. She is passionate about delivering impactful and authoritative content and strives to bridge the gap between complex cybersecurity concepts and the wider audience. In her free time, she can be found with her nose in a thriller novel or exploring new places in the city.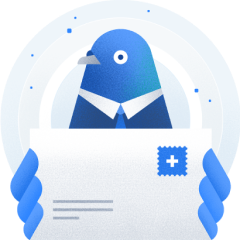 Subscribe to our newsletter to get updates
Schedule a personalized demo and scale business
Subscribe to our monthly newsletter

Sprinto: Your growth superpower
Use Sprinto to centralize security compliance management – so nothing
gets in the way of your moving up and winning big.