In May 2017, hospitals across the U.K and U.S were forced to halt their operations for a few hours. Medical devices, systems, and other infrastructures were rendered inaccessible after having been hit by a series of crypto-ransomware named WannaCry. It delayed surgeries, cancelled appointments, and put the sensitive data of thousands of patients at risk.
While attacks on this scale are not that common, it is not an isolated incident. Ransomware attacks against healthcare organizations grew by 94% in just one year. The aftermath of such incidents is not easy to recover from as just minutes of downtime in the healthcare sector can have deadly consequences.
The Health Insurance Portability and Accountability Act (HIPAA), a US federal law was incorporated in 1996 to secure healthcare services against malicious actors and protect patient health information. These regulations are implemented by HIPAA compliance officers.
This article focuses on the roles and responsibilities of a HIPAA compliance officer. It discusses their required skill set and outlines how a HIPAA privacy officer differs from a security officer.
What is HIPAA compliance?
HIPAA is a series of regulations that sets the guidelines for all applicable parties, to store and access sensitive medical information of patients. This regulation deals with the privacy, integrity, and security of protected health information (PHI) data.
PHI data refers to individually identifiable health information. Any data that contains individual identifiers are always PHI. These identifiers include, but are not limited to name, social security number, vehicle number, medical record number, IP address, full face photo, and more. This data can be in physical, electronic, and spoken form.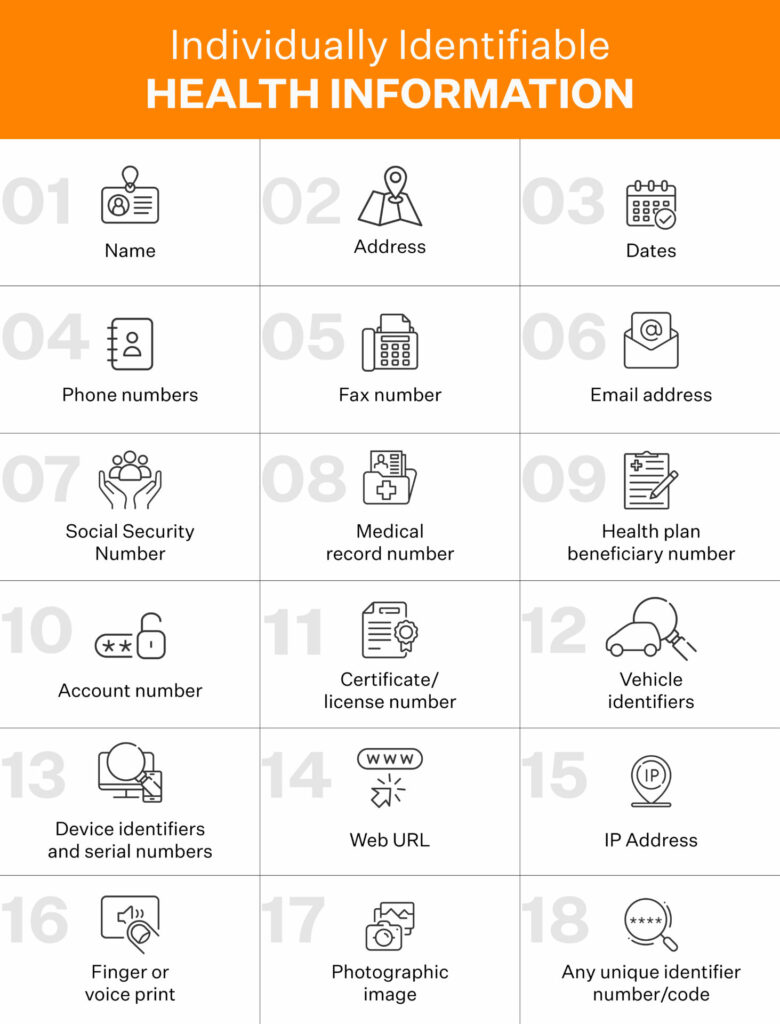 HIPAA is enforced to prevent healthcare businesses or service providers from leaking private medical data without the patient's consent. Patients can demand a notice of privacy practices (NPP), a document that covers policies on their PHI. They also have the right to inspect their profile data or request modifications. Patients can request it to be communicated to them via non-conventional means to alternate locations to maintain confidentiality.
The Department of Health and Human Services (HHS) regulates it and the Office for Civil Rights (OCR) enforces it.
Covered entities, business associates, or subcontractors who deal with PHI must follow these protocols.
Covered entities are those who electronically transmit healthcare related data. Examples include hospitals, health care providers, doctor's offices, health plans, and medical insurance.
Business associates are people who provide a service or work on behalf of such entities with access to PHI. Examples are IT vendors, medical transcriptionists, and consultants.
Subcontractors also have access to PHI and work for a business associate.
All three parties mentioned above must provide proper physical, network, and security measures to ensure compliance to HIPAA and avoid penalties. This is because they work on electronic or computerized systems – a process that simplifies day-to-day work but also involves a risk factor.
Havoc in Healthcare – and how HIPAA helps
A 2021 report by IBM security shows that the cost of breaches for the healthcare sector was the highest for 11 consecutive years.
Healthcare workers deal with highly sensitive data – which in some cases can affect patient lives. This combined with the fact that medical professionals rely on health records for treatment makes this industry a soft target for hackers.
HIPAA enables your healthcare business and its associates to strengthen the security posture by implementing certain measures. These include:
Risk analysis to identify and mitigate potential threats
Install procedures to block malicious software
Train employees to handle data and report risky behavior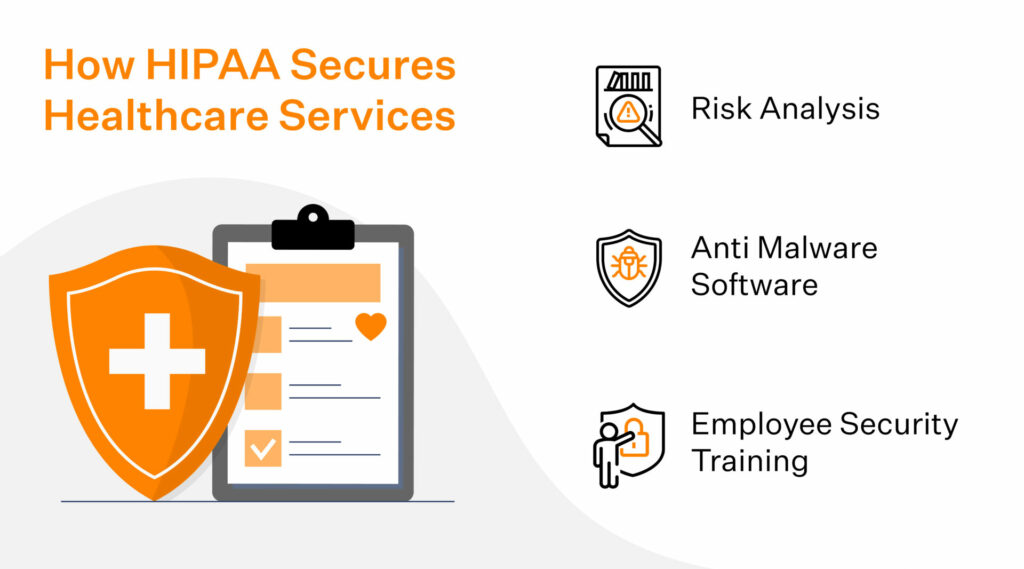 Who is a HIPAA Compliance Officer?
A HIPAA Compliance Officer is the individual responsible for implementing your organization's privacy policies and ensuring the security of protected health information (PHI). They are responsible for developing the organization's policies and procedures per HIPAA regulations.
You can appoint a new employee or assign an existing one for this role.
What are the responsibilities of a HIPAA compliance officer?
The HIPAA security rule 164.308 requires every healthcare organization to appoint a security officer to develop and implement the required policies. Legal requirements aside, it is not near impossible to implement rigorous compliance without an officer. You can appoint a new employee or assign an existing one for this role. 
The roles and responsibilities of a HIPAA officer depend on the size of your organization and the volume of data processed. Commonly, their everyday tasks involve:
Develop, implement, and maintain the privacy and security of PHI policies and procedures.
Have a comprehensive understanding of policies and procedures.
Enforce the privacy policies of the organization and update them as required.
Monitor implementation of policies and stay updated with new HIPAA regulations.
Be a point of contact for all issues regarding the handling of PHI via authorizations, requests, or approval processes.
Training workforce on HIPAA and creating learning materials. The type and level of training depending on the role of that individual. This is recommended at least once a year and the officer must ensure everyone completes it.
Serve as the point of contact and coordination for the government/HSS/state attorneys in case of a breach or incident.
Thoroughly document compliance using screenshots, photos, sheets, and more.
Conduct risk assessments and answer questions on policies. In many cases, HIPAA compliance officers lack the required level of training to conduct it. In such cases, you can hire a consultant.
Document and keep track of employees who violate any policy. Remember, if it has been documented, from a legal standpoint, it did not happen.
Create a risk management plan to counter vulnerabilities documented during the risk assessment.
Modify and implement existing organizational laws in keeping with new regulations.
Communicate to patients about their privacy rights and how their data will be used. Create policies to ensure patient privacy and ensure accessibility for patients to view and modify their records.
Create a contingency planning for data to ensure it is recoverable, frequently backed up, and encrypt it. Test and document the backup and recovery plans.
Ensure inventory tracking for every IT equipment or medical device that contains ePHI (PHI in electronic form).
Actively coordinate with info sec to ensure effective monitoring of systems and restrictions enforcement.
HIPAA compliance officer skills and abilities
Many people want to know how to become a HIPAA compliance officer. No specific qualification is needed to become a HIPAA compliance officer. The HIPAA regulation has not defined any particular degree for this job. However, a college degree in health information management is preferred. Anyone in the organization can take up this designation, but they require more training than an average member of the practice. Many education platforms offer training programs for this field.
Some skills and abilities you should look for in a privacy officer for HIPAA or a security offer are:
Ability to put attention to details
Demonstrate excellent analytical skills
Basic knowledge of release of information guidelines
Good communication and coordination skills
Ability to effectively document processes, plans, and issues in detail
Ability to deal with privacy officers in case of breach and address privacy concerns of patients
It is crucial to provide your HIPAA compliance officer with the authority to make the required changes and implement regulations. With authority, you also must place accountability to ensure that they fulfill their responsibilities.
What is the difference between HIPAA privacy and security officer duties?
The compliance officer is the first point of contact for government authorities if a breach of investigation is required. If your organization lacks a compliance officer, you have already failed and are looking at hefty penalties.
You must appoint at least one person for this position. Most organizations either hire one person to fill the role of both security and privacy officer one for each. Either way, HIPAA does not have a strict set of guidelines for any compliance officer.
Common duties of a HIPAA privacy officer
Ensure confidentiality of PHI and set limits for who can access this data as per HIPAA privacy rule.
Develop and implement privacy plans specific to organizational HIPAA compliance needs.
Ensure that the policies cover the organization's PHI. Develop new policies if required to address existing gaps.
Ensure employee privacy training and overlook the entire process
Conduct thorough investigation of breaches of PHI
Conduct risk assessments and create blueprints to sufficiently address vulnerabilities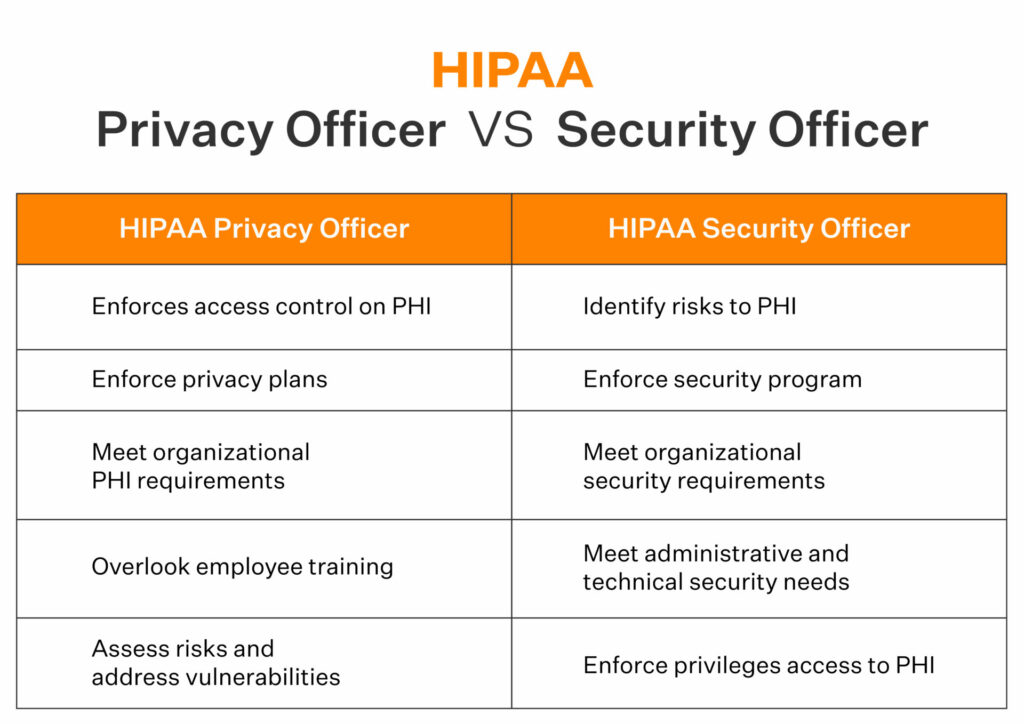 Common duties of a HIPAA security officer
Identify vulnerabilities and risks to PHI. Develop recovery plans in case of a breach
Develop and implement a robust security program for the organization
Ensure that the security program sufficiently addresses the administrative and technical factors
Conduct a thorough investigation of incidents if PHI has been breached
Implement a strong disaster recovery plan
Ensure privileged access to PHI in whichever form it is stored
How Sprinto helps you become HIPAA compliant
Compliance is not a piece of cake. Your business associates can sometimes take months and often years of practice, to ensure their security posture is in line with yours and remains so.
At Sprinto, we enable business associates to meet the technical, administrative, and regulatory requirements of HIPAA. automation platform continuously monitors all the connected devices, trains employees, enforces custom policies, flags suspicious behavior. And much more.
If you are a business associate, get in touch with us today to kickstart your HIPAA journey.
FAQs
What does a HIPAA compliance officer do?
A HIPAA compliance officer develops policies and procedures in keeping with HIPAA regulations. They overlook the security and privacy policy to maintain the integrity of PHI. They also conduct risk assessments and ensure that efficient systems are in place in your organization to remediate breaches.
Is a privacy officer required by HIPAA?
Yes, as per the 164.308 law of HIPAA, healthcare organizations must appoint a privacy officer to overlook the legal requirements. They are the first point of contact for government authorities and must answer questions if an incident occurs.
Is annual HIPAA training required?
Yes, all employees must go through HIPAA training at least once a year.
What are the three rules of HIPAA?
The three rules of HIPAA are the privacy rule, the security rule and the enforcement rule.
The privacy rule protects sensitive patient data and who can access it.
The security rule sets up standards and guidelines for transmitting this information through an electronic medium.
The enforcement rule sets up proper procedures in place to investigate breaches or violations.
HIPAA compliance officer vs privacy officer: What's the difference?
The roles and responsibilities of a HIPAA privacy and security officer are somewhat similar. The difference revolves around PHI.
The privacy officer for HIPAA deals with the confidentiality of PHI. They set the limit of who has the right to access which data and handle requests for patient data.
The security officer for HIPAA deals with all forms of the data itself. They evaluate for threats, monitor risks, and create policies to manage vulnerabilities.