7 Best NIST Compliance Software
Gowsika
Aug 19, 2023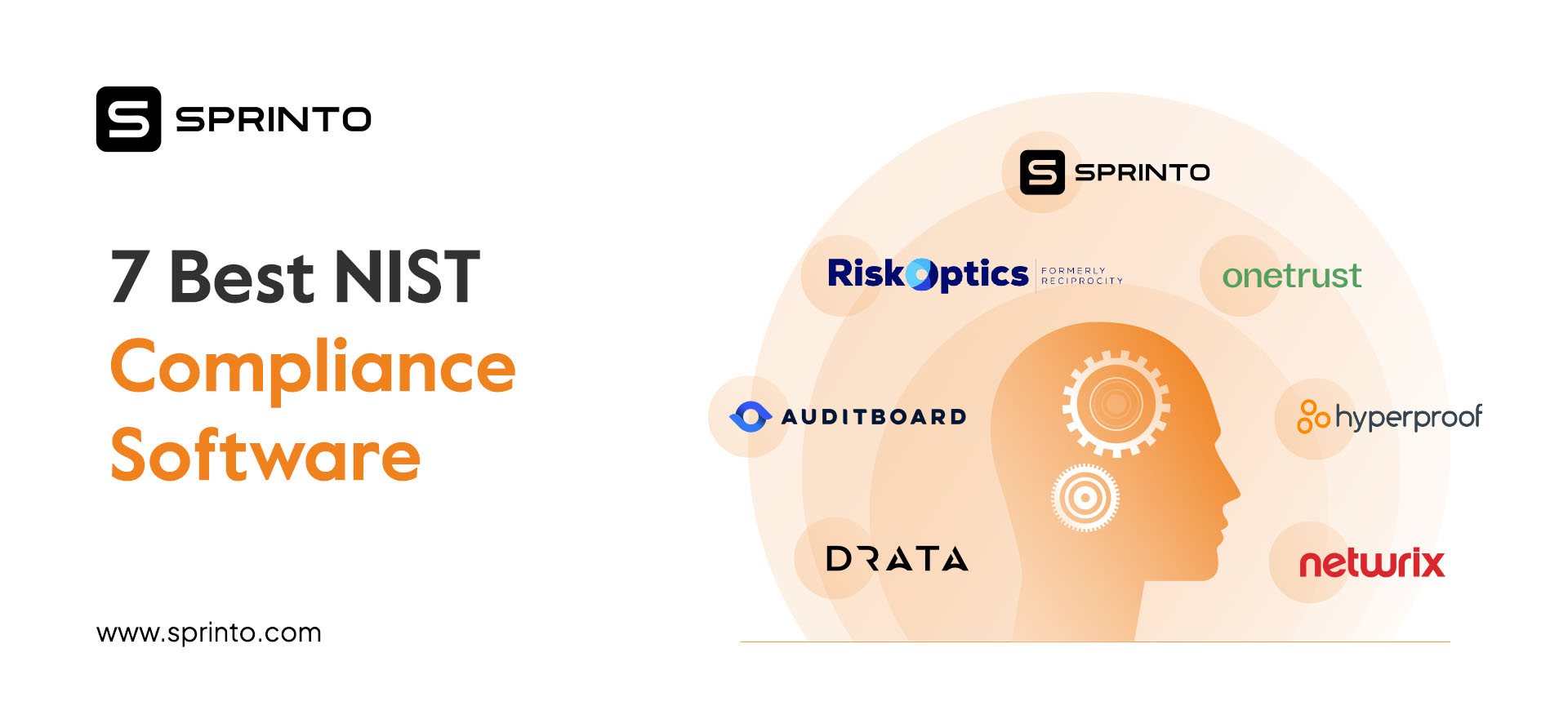 NIST isn't your typical regulatory framework. Companies aren't mandated to become NIST compliant unless they're part of the US federal system. This also means it can be pretty challenging to implement without understanding what to do and how to streamline the flurry of activity involved. And this is where NIST compliance software can help.
But before we go there, let's take a step back and run you through what NIST is. The National Institute of Standards and Technology (NIST) is a compliance framework often considered the gold standard for data security among US federal agencies—it helps you ramp up your security posture and implement strong measures to safeguard sensitive data.
NIST has a number of nuances. And there are a number of NIST compliance software solutions that can help you with these. But which one fits your bill? Let's take you through a few options.
What is NIST Software?
NIST compliance software is an automation solution that helps organizations become NIST-compliant.
Security teams use a NIST compliance tool to be on top of their compliance status in real-time, diagnose gaps, and streamline all compliance-related activities from a single dashboard. This helps organizations with insights to understand their security posture better and make the course corrections required to meet their compliance requirements consistently.
NIST software comes with a set of features that cover critical areas of compliance such as continuous risk assessment and mitigation, real-time control monitoring, policy management, evidence collection and presentation, incident management, and more. Moreover, a comprehensive NIST compliance tool doesn't just help you get compliant but can help you showcase your compliance to potential customers.
7 Best NIST Compliance Software
With endless choices, finding the best NIST software for your business can be a daunting task. You need to consider your organization's budget and requirements while weighing in on the features and functionalities of different tools. We have analyzed a handful of software and listed the top choices for your business.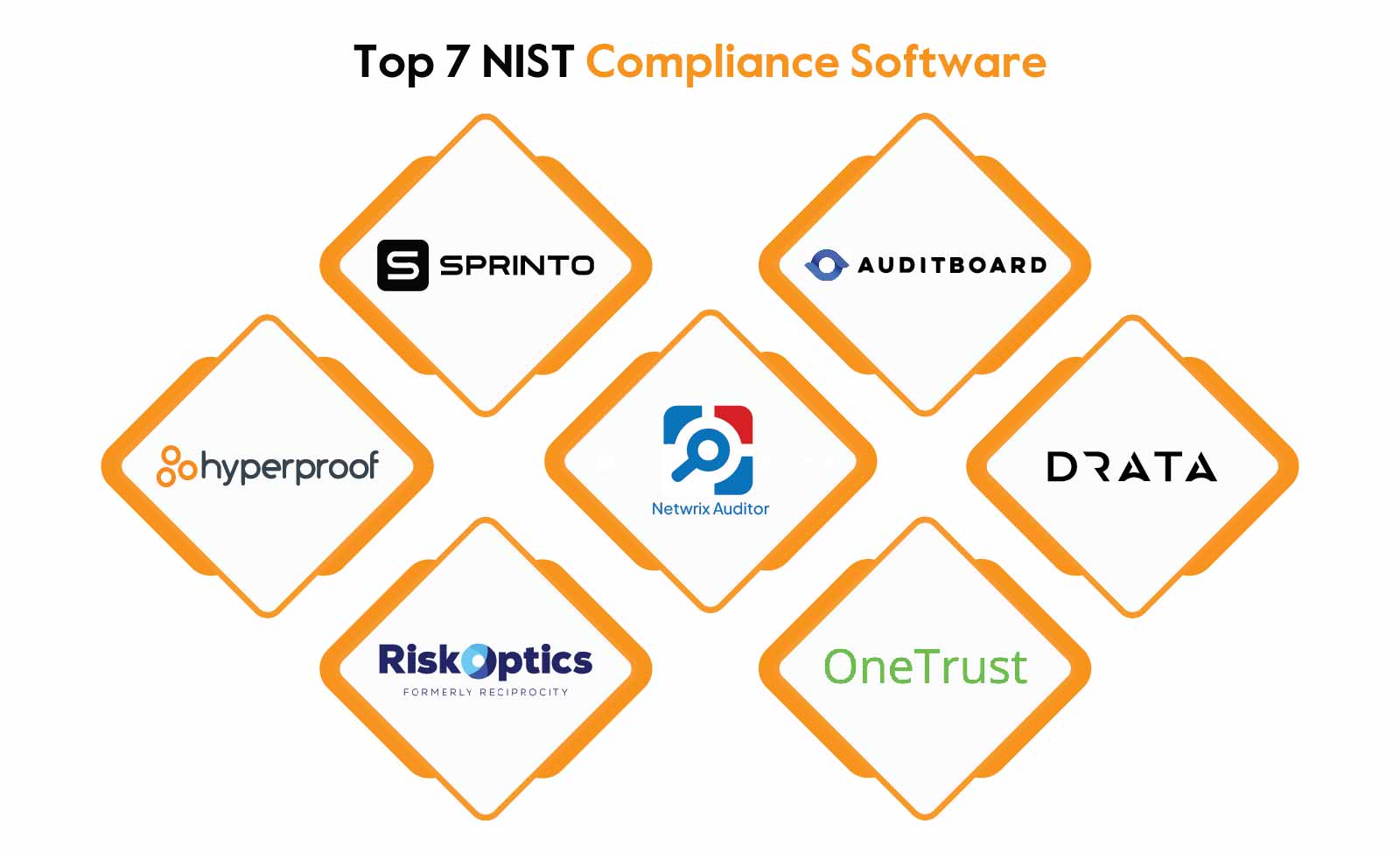 Here is the list of top 7 Nist compliance software:
Sprinto is a smart compliance automation platform that accelerates your NIST compliance program. It helps you streamline the audit process to comply with data security and related requirements effectively. Sprinto integrates seamlessly with your cloud setup to help monitor entity-level risks and controls, giving you a 360-degree view of your compliance program.
Sprinto puts your compliance ventures on auto-pilot by eliminating the burden of figuring out compliance requirements using a pre-approved NIST program. It offers pre-configured NIST-specific workflows and policy templates for an audit-friendly compliance journey.
Sprinto's solution suite features real-time dashboards for control monitoring and has risk assessment, readiness assessments, and gap analysis modules. It consolidates risks and alerts the organization of potential issues/threats before they arise. The platform also has a disaster and incident management module that prompts risk remediation and ensures business continuity and real-time compliance with end-to-end 24/7 risk monitoring.
Moreover, Sprinto automates the evidence-collection process by maintaining logs of the compliance journey. It also helps you generate audit-ready checklists and reports of internal NIST audits. You can then use Sprinto's interactive dashboard to connect and coordinate with auditors to present the evidence and quickly complete audits.
Sprinto goes one step ahead with its built-in security modules that help you train employees on the NIST compliance requirements for a security-first approach. It also conducts tests and documents evidence of completion. Overall, Sprinto is a user-friendly and comprehensive compliance software to be NIST audit-ready in weeks.
Features
Automation features to automate NIST repetitive tasks
Customizable templates to generate clear and concise policy-related documents
Training and awareness modules to train employees on compliance requirements
Built-in data breach and incident management module
Evidence logging, smart audit-ready reporting, and analytics
| | |
| --- | --- |
| Pros | Cons |
| Continuous control monitoring | Analytics can be improved. |
| Easy-to-navigate and intuitive interface | |
| Advanced reporting features | |
| Automation of NIST-related compliance tasks | |
| Automated evidence collection | |
| Serves all industries | |
| Excellent support team | |
Pricing – Custom quotes available as per requirements
2. AuditBoard
AuditBoard offers an intuitive compliance platform to build and scale an effective NIST program. It helps you identify control gaps, assess risks, and develop remediation plans. AuditBoard also offers a comprehensive library of NIST controls and templates to streamline compliance.
Features
Workflow automation for repetitive tasks
Customizable risk assessment modules
Collaboration features for effective compliance management
Control management and audit management features
Audit-ready report generation
| | |
| --- | --- |
| Pros | Cons |
| Good report management features | Interface can be better |
| Easy evidence collection at a centralized location | Limited risk assessment features |
| Flexibility to customize different modules | |
| Project management and collaboration features | |
Pricing – Custom quotes available as per requirements
Also check out: Guide to NIST 800 53 Controls
3. Hyperproof
Hyperproof is a robust compliance software that streamlines your NIST compliance journey. It helps you get audit-ready by reducing manual tasks such as employee training, control testing, and evidence logging. With Hyperproof, you can quickly understand and implement security controls and assign remediations with ease.
Features
Automated workflows to efficiently manage compliance requirements
Centralized repository for compliance documentation
Dashboard to analyze the progress of the compliance program
Built-in reporting and analytics

| | |
| --- | --- |
| Pros | Cons |
| Training and learning material for users | Limited customization |
| Advanced risk assessment features | Lack of automated reporting |
| Centralized dashboard to monitor compliance tasks | |
| Automated workflows | |
Pricing – Free demo and custom quotes available as per requirements
Automate NIST compliance with the help of Sprinto
4. Netwrix Auditor
Netwrix Auditor is an auditing compliance platform that helps you gain complete visibility into your IT infrastructure. You can configure your systems to align with NIST requirements, manage changes, control data access, and more using Netwrix Auditor.
Features
Risk assessment features to analyze risks
Real-time alerts on threat patterns
Access management features to secure sensitive data
Interactive and smart search feature to surface specific information
Advanced reporting and evidence logging
| | |
| --- | --- |
| Pros | Cons |
| Good reporting features | Incident management module can be better |
| Comprehensive evidence logging | User interface can be better |
| Constant monitoring and risk alerts | |
| Advanced customization options | |
Pricing – Custom quotes available as per requirements
5. Drata
Drata is a compliance automation tool that helps you achieve NIST compliance. Using Drata, you can effectively carry out, monitor, and automate activities pertaining to your compliance journey. The platform enables you to create and map custom controls. It also allows you to keep documentation of your compliance processes.
Features
Role-based access controls
Built-in self-risk assessments
Security training and awareness modules
Real-time security reports and analytics
| | |
| --- | --- |
| Pros | Cons |
| Easy automation of NIST-related manual tasks | Evidence collection needs improvement |
| Library that contains all necessary documentation | Expensive (if you want more features) |
| Advanced control monitoring features | |
| Training modules | |
Pricing – Free demo and custom quotes available as per requirements
6. RiskOptics (Reciprocity)
RiskOptics, formerly known as ZenGRC by Reciprocity, offers the ROAR platform that facilitates continuous compliance. Its intuitive dashboard helps you stay ahead of threats to be NIST audit-ready. The platform lets you track all data security guidelines and regulations to meet the NIST standard requirements.
Features
Real-time metrics on prioritized risks
24/7 security monitoring
Build-in evidence request templates
Risk assessment and management features
Central repository for compliance and audit-related documentation
| | |
| --- | --- |
| Pros | Cons |
| Real-time risk monitoring and assessment | Limited support |
| Automation features for compliance tasks | User interface can be better |
| Easy to navigate | |
| Flexible customization options | |
Pricing – Free demo and custom quotes available as per requirements
7. OneTrust
OneTrust is a compliance management platform that helps automate the discovery, assessment, and remediation of security risks. The tool has a built-in module to monitor and manage data privacy risks. With a centralized repository of NIST policies and requirements, you can stay on top of the compliance game.
Features
Automated compliance assessments
Centralized control dashboard
Customizable compliance workflows
Real-time compliance monitoring
Built-in reporting and analytics features
| | |
| --- | --- |
| Pros | Cons |
| Robust risk management module | Complex user interface |
| Offers Data Subject Access Request functionality | Lacks the flexibility to customize workflows |
| Insightful analytics and reporting | |
| Automation features for NIST tasks | |
Pricing – Free trial and custom quotes available as per requirements
Automate NIST compliance monitoring with Sprinto
Benefits of NIST Compliance Software
A NIST compliance software can help organizations build a continuous compliance program managing security operations end-to-end. It can enable security assessments, compliance tracking and workflow automation for making the journey smoother.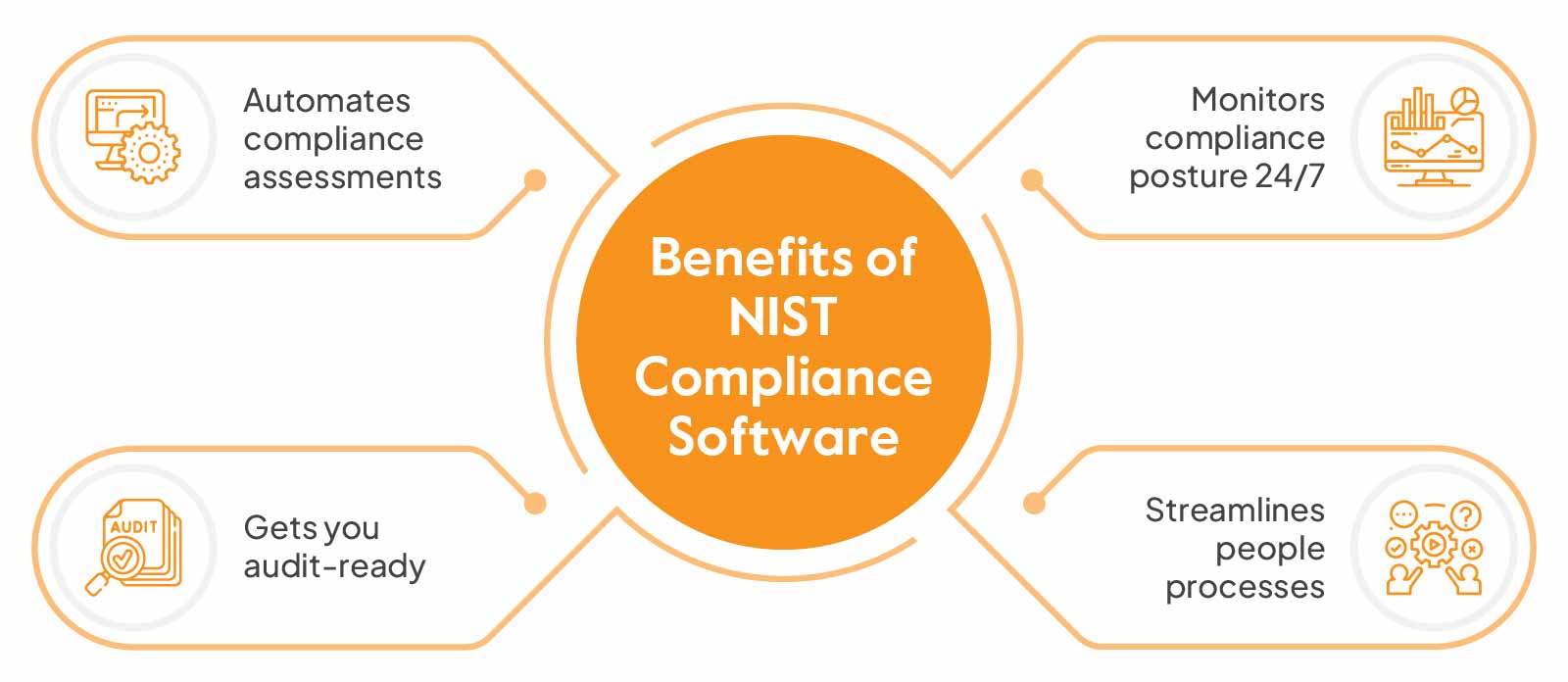 Here are some of the benefits that NIST compliance software brings to the table.
Automates compliance assessments: Processes like risk assessments, evidence logging, and policy creation can be extremely time-consuming. A NIST software automates these processes to enable faster, more accurate compliance. Needless to say, this saves companies a significant amount of time and resources
Monitors compliance posture 24/7: A single misstep can cost companies dearly. And so, it is vital to ensure companies are able to monitor their security controls in real time. A NIST compliance software helps with this—it enables companies to identify threats, misses, or misconfigurations while sending real-time alerts for faster response times.
Gets you audit-ready: By streamlining the NIST compliance approach, the software ensures that you have covered all the crucial steps needed to get audit-ready. A NIST platform helps conduct internal audits, collect evidence, and present it in a format that auditors will find easy to consume and approve.
Streamlines people processes: A NIST compliance tool helps you organize and rollout awareness and training programs. These help convey the changes in policy, create new roles and responsibilities, and convey information on risks and the steps to avoid security breaches.
Closing Thoughts
The guidelines set forth by NIST benefit organizations looking to strengthen their security posture as a whole. Choosing a comprehensive NIST software like Sprinto can help you streamline your compliance efforts and make processes more efficient.
Not only can you put your compliance program on auto-pilot, but you can meet the complex requirements of a vast array of compliance standards without doing the bulk of the legwork. Reach out to our team for a quick demo, and we will have you NIST-compliant in no time.
FAQs
How does Sprinto come out better than its alternatives for NIST compliance?
NIST CSF is a framework to implement and not specific controls. It has to be interpreted for cloud companies. Most consultants and GRC software have a generic approach which leads to a lot of going back and forth during audits. Sprinto offers tailored solutions for cloud-hosted SaaS companies and translates controls in an audit-friendly manner for expediting the process.
What are the five principles of NIST?
The five core principles of the NIST compliance framework are:
Identify
Protect
Detect
Respond
Recover
What is the difference between NIST and ISO 27001?
The primary difference between NIST and ISO 27001 is that NIST 800-53 was introduced for US-based federal agencies and related organizations, while ISO 27001 is a global standard for any organization looking to enhance its compliance posture.
How much does NIST certification cost?
In general, the NIST certification costs between $5,000 to $15,000. The cost can increase and range from $35,000 to $115,000 if issues need to be remediated.
Gowsika
Gowsika is an experienced content writer, passionate about the cyber security and compliance world. She constantly explores the depths of this ever-changing compliance space to bring new information and insights to her readers. She has a knack for taking complex compliance topics and making them accessible to everyone. On weekends, you can find her dancing her heart out, sitting by the sea, and cracking jokes while watching the waves roll in. Reach her at gowsika@sprinto.com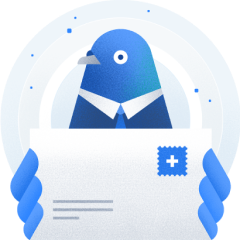 Subscribe to our newsletter to get updates
Schedule a personalized demo and scale business
Subscribe to our monthly newsletter

Sprinto: Your growth superpower
Use Sprinto to centralize security compliance management – so nothing
gets in the way of your moving up and winning big.