#1 Rated security compliance automation platform
Move fast without breaking things
Ambitious cloud companies all over the world trust Sprinto to power their security compliance programs and sprint through security audits without breaking their stride.
Integration-first
Automation-enabled
Audit-aligned
Security compliances
don't have to be hard
The broad nature and the difficulty of the regulatory language make it incredibly hard for tech companies to launch compliance programs that sufficiently minimize risk and raise the bar on security.
Push beyond compliance
Sprinto produces the most comprehensive view of your security compliances. With clear markers that tell you exactly where you are scaling and sliding, updated in near real-time, Sprinto enables you to act fast and act well. Abstracted, these insights not only underscore the health but also all the ways in which you can incrementally improve and exponentially elevate your overall security compliance practice.
Scale compliance programs without compromising engineering bandwidth or disrupting product roadmaps.
Track entity-level compliance journeys to measure progress and adoption.
Measure the depth of compliance and identify opportunities for strengthening security.
Hotwire success
The point of compliance is the significant part it plays in giving a business confidence and legitimacy. It also marks maturity and resilience. Sprinto exists to enable this. It helps build and sustain behaviors that reduce org-wide risk and put companies on the fast track to growth.

Automation-led compliance
Sprinto comes baked with framework-specific workflows, policy templates, and training modules for various security compliances. But it's the adaptive automation capabilities that carry out their implementation.

Widest compliance coverage
Sprinto supports the most security compliances of any software in the market. The platform is built in a way that you can easily layer multiple compliance programs on top of one another and monitor.

Expert-led implementation
Sprinto's compliance experts hand-hold you through the process of platform implementation, key tasks, and important milestones, making sure you are moving towards stronger security and successful audits.

Cloud expertise
Sprinto is a cloud-native platform, purpose-built to solve the security compliance needs of fast-growing cloud companies. With its pre-approved security compliance programs, you are covered end-to-end.
100% async audit
With Sprinto, you can connect and coordinate with an auditor directly from your dashboard. Because the platform collects audit evidence automatically and in an auditor-approved way, you complete audits fast.

Maximum integrations
Sprinto is compatible with most cloud services that drive modern businesses. It integrates easily, brings down barriers to mapping controls, and culls out security checkpoints for thorough risk assessment.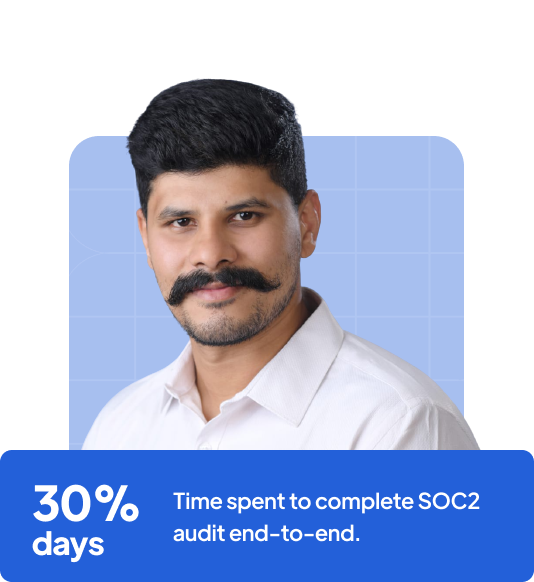 ---
"This is the fastest I have ever seen anyone get their SOC2 report"
Prashanth Ganesh
Co-founder and COO at PreSkale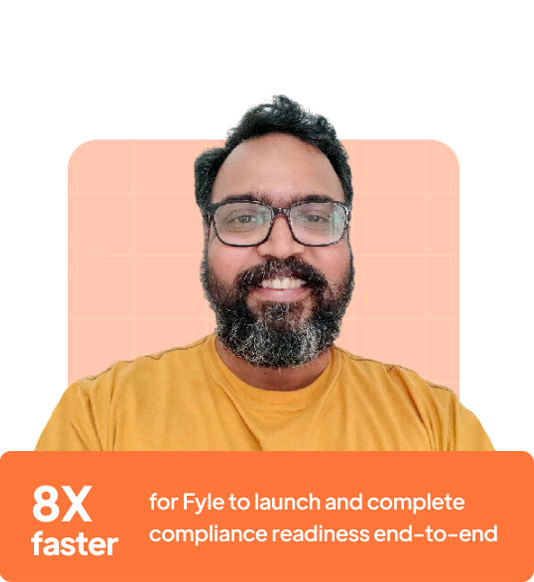 ---
"Switching to Sprinto has been an absolute lifesaver!"
Siva Narayanan
Co-founder & CTO at Fyle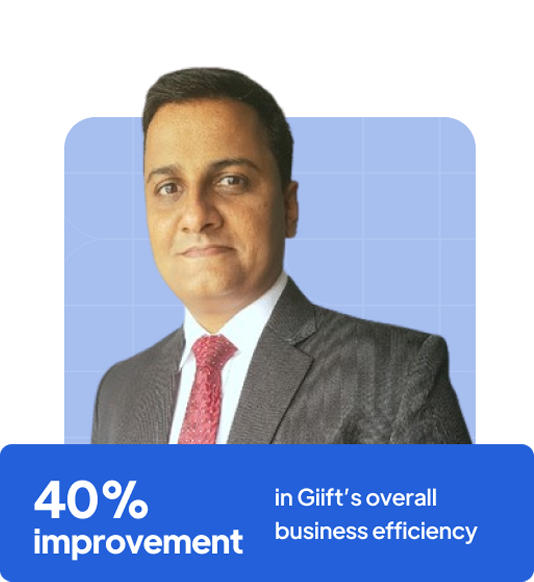 ---
"Sprinto keeps us compliant by moving us towards the right behaviors and practices."
Shreerang Gondegaonkar
CTO at Giift
---
"Sprinto helps us ensure trust in the systems we have in place."
Harishankaran K
Co-founder and CTO at HackerRank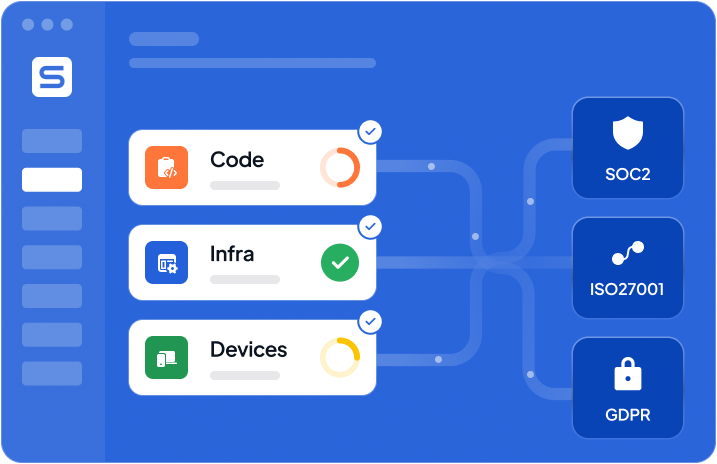 Make compliance your default state
Sprinto named
Category Leader by G2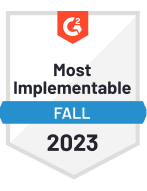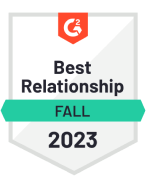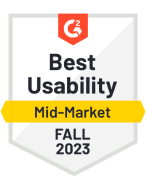 A compliance stack for smooth scaling

Integrated audit success portal
Engineered with the audit process in mind, Sprinto naturally defaults to orchestrating compliance programs that are auditor-friendly and audit-easy. The platform is also provisioned to let you onboard an auditor of your choosing or one from Sprinto's audit network to complete audits fast and asynchronously.
Shareable security posture
Use Sprinto to produce a comprehensive account of your security measures, policies, and compliances to give your stakeholders the assurance of safety and build trust proactively. Publish these details on-site or share them selectively as a confidential link.
Dr. Sprinto MDM
Sprinto comes equipped with a responsive, privacy-aware MDM, built on the tried-and-tested foundation of the Netflix opso project. Dr. Sprinto collects data on-demand, and only when granted permission by the end user, not the admin. Customize Dr. Sprinto to factor in exceptions, edge cases, contract workers, and freelancers to effectively scope out risks, without slowing down.
Continuous control monitoring
Keeping tabs on security controls is key to satisfying compliance and successful audits. Sprinto is oiled and geared for real-time monitoring of security controls – at scale and right down to the entity level, saving you the need to watch over the checks.
Systematic escalations
Sprinto does not stop at monitoring controls and outlining compliance tasks. The platform is designed to divvy up tasks in a rule-based, organized manner. Instead of clobbering employees with tasks, Sprinto divides tasks across team members in a clear order of priority – critical, due, and failing – to ensure smooth remediation and maintain the status quo.
Vulnerability & Incident management
Sprinto comes ready with capabilities to manage and document vulnerabilities and security incidents. Unlike other security compliance software, Sprinto does not stop at raising incident tickets. It is designed to prompt actions and produce proof of corrective measures in a way that helps with audits.

Sprinto: Your growth superpower
Use Sprinto to centralize security compliance management – so nothing
gets in the way of your moving up and winning big.